The results of the National Shooting Sports Foundation's (NSSF's) annual surveys of gun retailers are in and, as it turns out, Americans bought a helluva lotta guns in 2021 — and a large percentage of them did so for the very first time.
Based on its retailer surveys and adjusted National Instant Criminal Background Check System (NICS) numbers from the FBI, the NSSF reports an estimated 5.4 million people in the United States became first-time gun buyers last year. They account for nearly 30% of all firearm purchases in 2021.
While 30% and 5.4 million are big numbers, believe it or not, they represent a decrease from the 40% piece of the gun-sales pie and 8.4 million background checks first-time buyers racked up in 2020.
An estimated 18.5 million firearms were sold in 2021 — not much of a decrease from the 21 million gun-sale background checks performed the year before, which was an exceptional year. A good number of those gun newbies from 2020 bought another gun last year.
"Combined with 2020's survey estimates of first-time gun buyers, nearly 14 million people have become gun owners for the first time in the past two years," Mark Oliva, NSSF director of public affairs, told Free Range American. "This year's surveys also show that many of last year's first-time gun buyers have returned to purchase subsequent firearms. Those new gun owners are learning and participating in the variety of shooting sports that are available to them."
RELATED – Browning Hi-Power Reborn: How 3 New, Updated Versions Stack Up
About 23% of retailers reported people who bought their first gun in 2020 came back in 2021 to buy at least one more firearm. The surveys also found that nearly 47% of first-time gun buyers in 2021 inquired about training at the point of sale, and 43% actually signed up for training.
"We are encouraged that more and more of today's first-time gun owners are seeking professional training," Oliva said. "Safe and responsible firearm ownership and marksmanship are perishable skills. Good gun habits are learned, and those lessons are mastered with constant vigilance."
When the organization broke the numbers down by demographics, it found 33% of 2021's first-time gun buyers were women. The number of Black people purchasing firearms increased by 44%, Hispanic buyers increased by nearly 40%, and gun buyers of Asian descent increased by more than 27%. More than 18% of retailers reported an increase of Native American gun buyers in 2021. Retailers told the NSSF that the number of first-time buyers from those demographics remained unchanged from 2020 to 2021.
"We welcome these new gun owners to the greater community of law-abiding Americans who choose to own a firearm for lawful purposes, including self-defense, recreational target shooting, and hunting," said Joe Bartozzi, NSSF president and CEO, in a release. "The surveys revealed that new gun owners are continuing to embrace their Second Amendment rights and nearly half of them are seeking out professional training. These trends show that not only is there still a strong interest in gun ownership but also that these new gun owners are interested in learning more about the safe and responsible handling, use, and storage of firearms."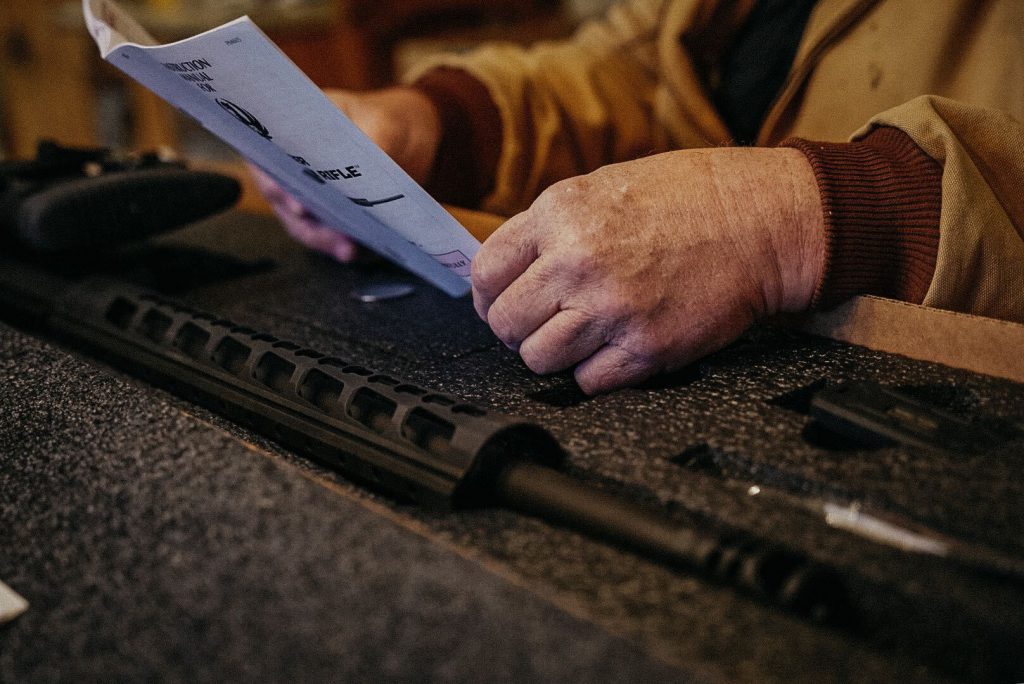 RELATED – Ohio Constitutional Carry Bill Passes Senate, Competes With House Bill
If you assume most of the 18.5 million guns sold in 2021 were purchased in gun-friendly "red" states, you'd be wrong. Some of the biggest sales numbers from last year were posted in states with strict gun control laws, the NSSF says. Of the seven states that processed more than a million NICS checks in 2021, two have Democratic governors, Democratic state legislatures, and strict gun control laws.
The NSSF's data says Illinois led the way for "blue" states with 8.4 million NICS checks processed in 2021 (that total includes background checks run and rerun for state-required Illinois Firearm Ownership Identification cards and Concealed Carry Licenses). California came in second with 1.5 million.
The District of Columbia processed nearly 13,000 NICS checks, up from 11,000 in 2020 — the district processed less than 6,000 NICS checks for gun purchases in a year pre-pandemic.
Connecticut posted its highest estimated gun-sales numbers since a 2016 buying surge ahead of the presidential election that year, with 277,000 background checks performed in 2021.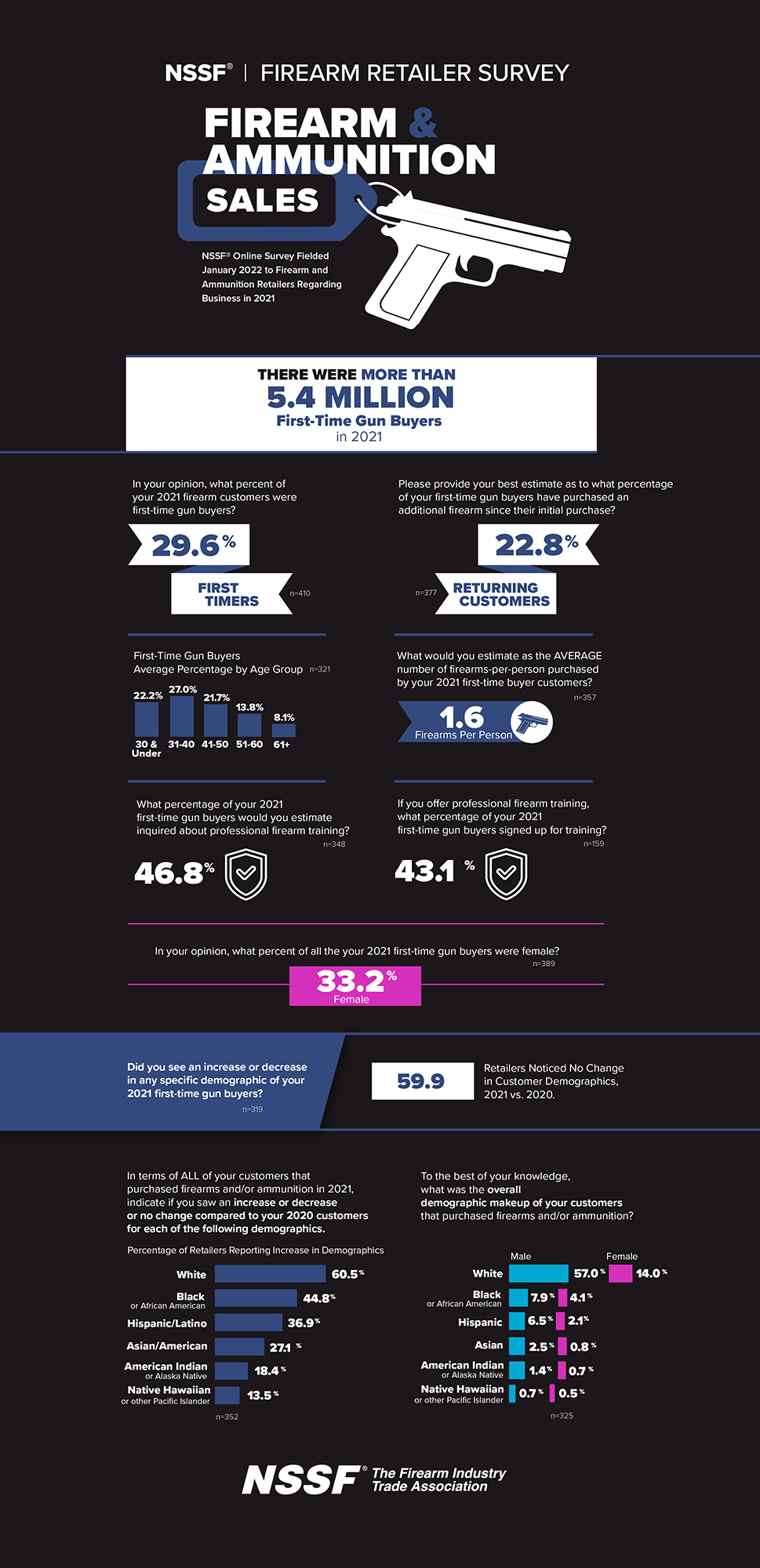 "Americans from all walks of life are taking ownership of their Second Amendment rights. The firearm industry celebrates this," Oliva said. "Gun owners no longer fit into the tidy little boxes gun control groups wish to put us in. Today's gun owner is younger, more urban, and more representative of the different demographic groups we see across America. The reason is simple. Gun ownership is a God-given right of all Americans. More Americans are embracing that right."
It should be noted that the exact number of gun sales in the US cannot be accurately tracked. These statistics are estimates because they are partly based on the number of NICS checks performed by the FBI. These figures do not correlate exactly to the actual number of guns sold — NICS checks are performed for reasons other than gun sales, not all states participate in the NICS system, and not all gun sales in the US require a background check — but they're close and the best indicator available.

---
READ NEXT – Supreme Court Gun Cases 2022: Concealed Carry in the Spotlight