Magazines compatible with Hi-Point 1095 carbine
New textured grips
Standard 1913 Picatinny accessory rail
Threaded .578 x 28 barrel
Lifetime warranty
MSRP: $225
Although thrifty firearms aficionados and lovers of guns that are so hideous they're cool have been waiting with bated breath for Hi-Point to release its highly anticipated YC9 (an update to the company's C9 pistol with a nod to its special edition Yeet Cannon G1), the company head-faked fans by introducing an even yeetier 10mm model first. The JXP10 10mm pistol is the newest addition to the Hi-Point line-up.
The JXP10 comes with a 10-round magazine that's compatible with the 10mm Hi-Point 1095 pistol-caliber carbine. 
This absolutely hideous handgun has all the features Hi-Point promised in its still forthcoming YC9, including forward slide serrations, a slightly curvier slide, and an enhanced textured grip featuring the oh-so-suave Hi-Point logo.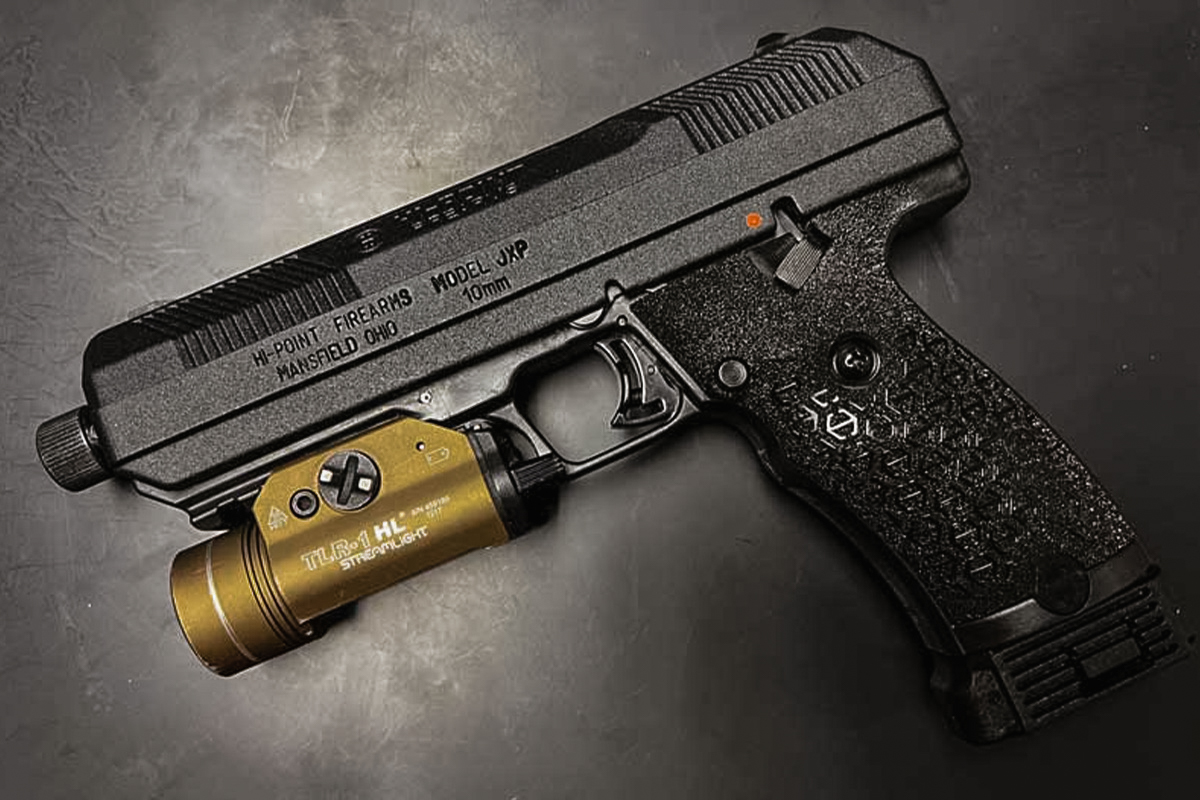 The pistol also comes with a recontoured polymer frame featuring a Picatinny rail under the dust cover, so you can double the value of the firearm by slapping on a Streamlight tactical weapon light.
Hi-Point also added replaceable sights, including a front sight compatible with Glock. If you want to Barbie-doll up this uber-clunky junk box with some super bougie tritium night sights, it's totally doable. It might be similar to slapping a spoiler on a 1989 Buick LeSabre, but you do you. We won't judge (much).
The JXP10 has a slightly more streamlined profile than its predecessors, but this thing still has all the Hi-Point hallmarks, including the janky trigger and bent-piece-of-metal thumb safety. It's also boxy and super chunky, just like the classic Hi-Points we've all come to know and ridicule.  
Tipping the scales at a whopping 49 ounces without ammo, the JXP10 weighs 10 ounces more than a fully loaded Glock 20, which holds five more rounds. There's a reason for this — since it's a straight blowback design, like the other Hi Points, the slide has to have sufficient mass to function correctly — and for the powerful 10mm, that means lots of mass; and that you're going to need a super sturdy belt, a hefty chest rig, or maybe a tow truck to haul this thing around.
On a positive note, you can use it as a pretty formidable club if you run out of ammo in a defensive situation.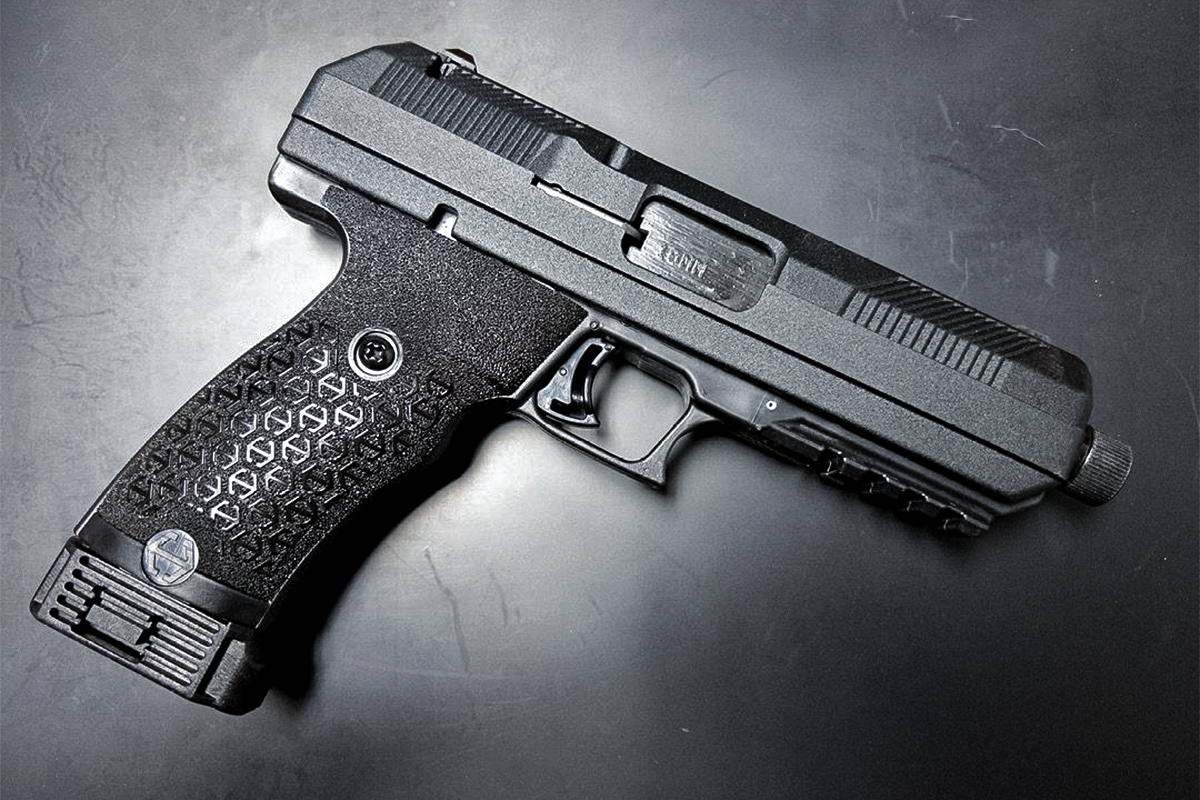 While the Hi-Point JXP10 is a chunker, its price tag is anything but. This one costs less than half the price of a new G20.
While Hi-Point products offer plenty of meme fodder, if they have one major perk, it's the low price tag and their reputation for reliability and damn-near indestructibility. Hi-Point has always been a favorite among penny-pincher gun buyers. The JXP10 is no exception, coming in at a bargain basement price point of just $225.
This gun is practically cheaper than the ammo that feeds it. Even pimped out, this gun is far from sexy, but the reliability-to-dollar ratio is hard to beat. Just be prepared to get a major ribbing from your buddies or anyone who happens to break into your house, for that matter.
If you need a super-affordable truck gun, cabin gun, or reliable door stopper, the Hi-Point JXP10 fits the bill.
GOOD GEAR – Conquer Your Taste Buds With the BRCC AK-47 Espresso Roast
---
Hi-Point JXP10 Specs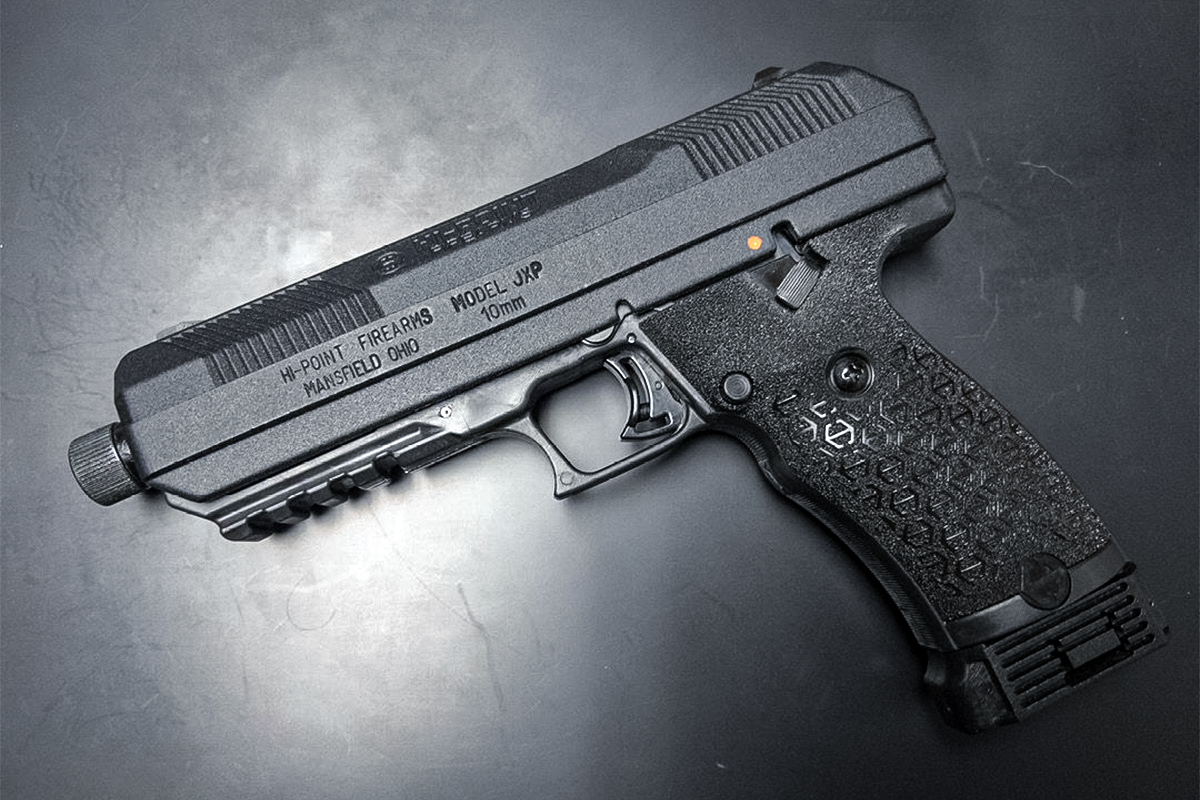 Caliber: 10mm
Action: Striker-fired blowback
Capacity: 10+1
Weight: 49 ounces
Overall length: 8.5 inches
Barrel length: 5.2 inches
Frame: Polymer
Slide: Zymak zinc alloy
Finish: Black powder coat
Rear sight: Fully adjustable and red dot ready
Front sight: Compatible with Glock front sights
MSRP: $225
---
READ NEXT – Dan Wesson DWX Finally Released After a Nearly 4-Year Wait