The modular lightweight load-carrying equipment (MOLLE) platform has been an integral part of the standard-issue military backpacks since the early days of the Global War on Terror. Since then, first responders have also embraced elements of this versatile system. So have hunters, backpackers, hikers, and extreme outdoor athletes. Here's how the MOLLE system works, why it works so well, and how it's evolving from chest rigs and backpacks to motor vehicles and hard goods.
MOLLE was first designed to replace the ALICE (all-purpose lightweight individual carrying equipment) of the Vietnam conflict. ALICE was a major improvement over the designs used in previous military conflicts. The packs carried by troops in World War I and World War II were essentially cotton bags wrapped around steel frames. They were heavy enough when dry. But when saturated by rain, they were unbearably heavy. ALICE, adopted by the US military in 1973, dramatically reduced the backpack weight but proved uncomfortable on long marches.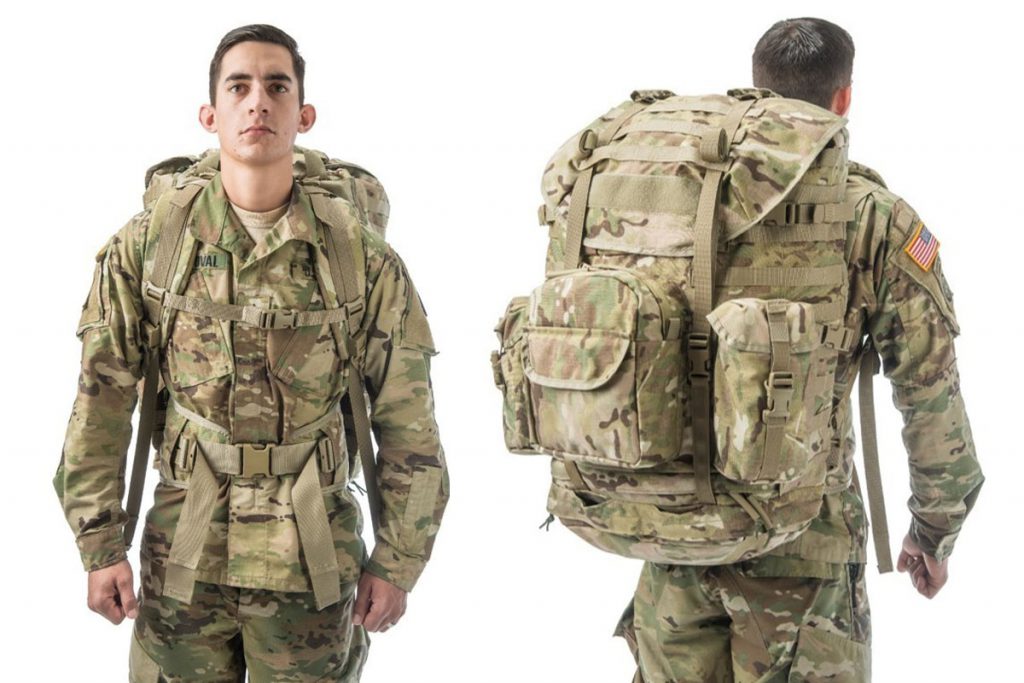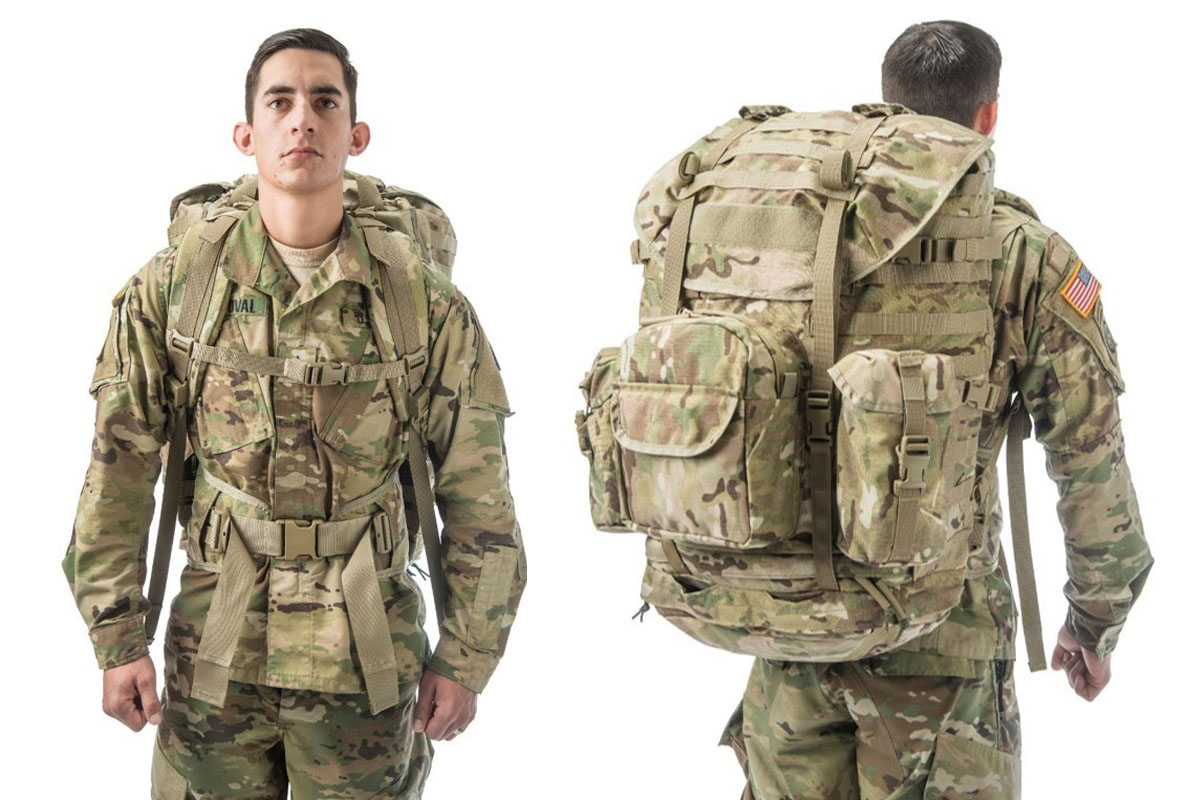 The US military began researching a replacement for the aging ALICE design in the mid-to-late '90s. The requirements included:
Tactical assault panel (TAP):

A biblike chest rig that can be used alone or mounted on other gear.

Rucksack:

A backpack with 2,000 to 4,000 cubic inches of capacity, designed to be worn over body armor and support loads up to 60 pounds. It is often used to carry items such as a hydration system, mortar rounds, and radios.

Hydration bladder:

Plastic, 100-ounce vessel to supplement other canteens for on-the-go hydration.

Modular pouches:

Pouches of various sizes and shapes that can be attached to the exterior surfaces of the various packs and panels. These are commonly used to carry items like meals ready to eat (MREs), ammunition, gas masks, flares, and handgun holsters.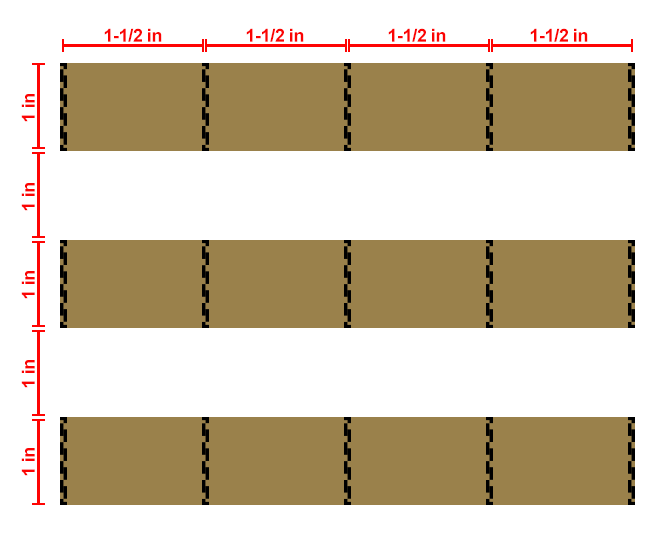 The secret sauce of the MOLLE design is the versatile attachment system for the modular pouches: PALS, or pouch attachment ladder system. PALS is a webbing of durable nylon straps permanently attached to the exterior surfaces of the main MOLLE packs and vests. The webbing consists of horizontal rows of 1-inch-wide straps, spaced 1 inch apart, and sewn to the backing at 1.5-inch intervals.
Pouches and other accessories attach to the grid via integrated vertical straps that interweave through the horizontal webbing. The leading end of the strap fastens with a push-button snap. This fastener method, known as the "Natick Snap," was originally developed by the US Army Natick Soldier Systems Center (NSSC).
Since the rollout of the original MOLLE design, several companies have developed variations of the Natick Snap. For example, Tactical Tailor introduced a similar strap-and-fastener design that substituted polymer Malice clips for the snaps. Once fastened, the Malice clips must be separated with a flat-blade tool, such as a screwdriver. Unlike the Natick Snaps, which are permanently sewn into compatible gear, Malice clips are independent of the accessory, making it possible to attach items that were not specifically designed for PALS mounting.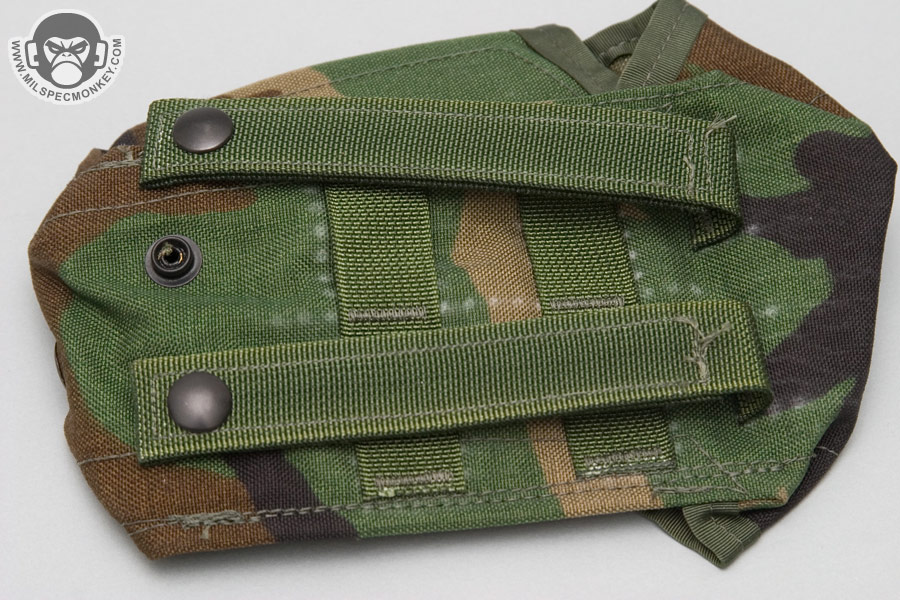 While the MOLLE platform was patented by the US Army in 1996 and introduced to branches of the armed forces in 1997, it was not widely accepted due to some early problems. Among other complaints, the Army found that the initial design utilized a plastic framework that was prone to breakage. Even more concerning was the ball-and-socket interface between the frame and rucksack belt, which formed the waist belt of the MOLLE vest. This mechanism caused numerous lower back injuries when the ball missed the socket interface on the belt and impacted the user's body. These issues were eventually addressed, and MOLLE became the standard-issue equipment for post-9/11 troops fighting in Iraq and Afghanistan.
It's important to make a technical distinction. The MOLLE acronym refers to an entire system of integrated components — TAP or chest pack, assault pack, rucksack, etc. — most of which utilize the PALS webbing subsystem. PALS was actually developed years before MOLLE but never patented. Many popular tactical products, marketed to nonmilitary customers, incorporate PALS to add functionality and "tacticool" design. Often this feature is incorrectly referred to as "MOLLE" when it should really be called "PALS" or "MOLLE webbing."
MOLLE Outside the Military
Since 2012, Army Ranger veteran Rick Elder has headed up the Beyond Clothing brand, now owned by 5.11 Tactical. His background in military equipment research and development made him a perfect fit for that role. Between 2001 and 2010, Elder worked as a US federal program manager at the Natick Soldier Systems Center in Natick, Massachusetts, developing equipment to support the United States Special Operations Command. MOLLE wasn't directly under Elder's purview during his tenure, but much of its development took place right down the hall.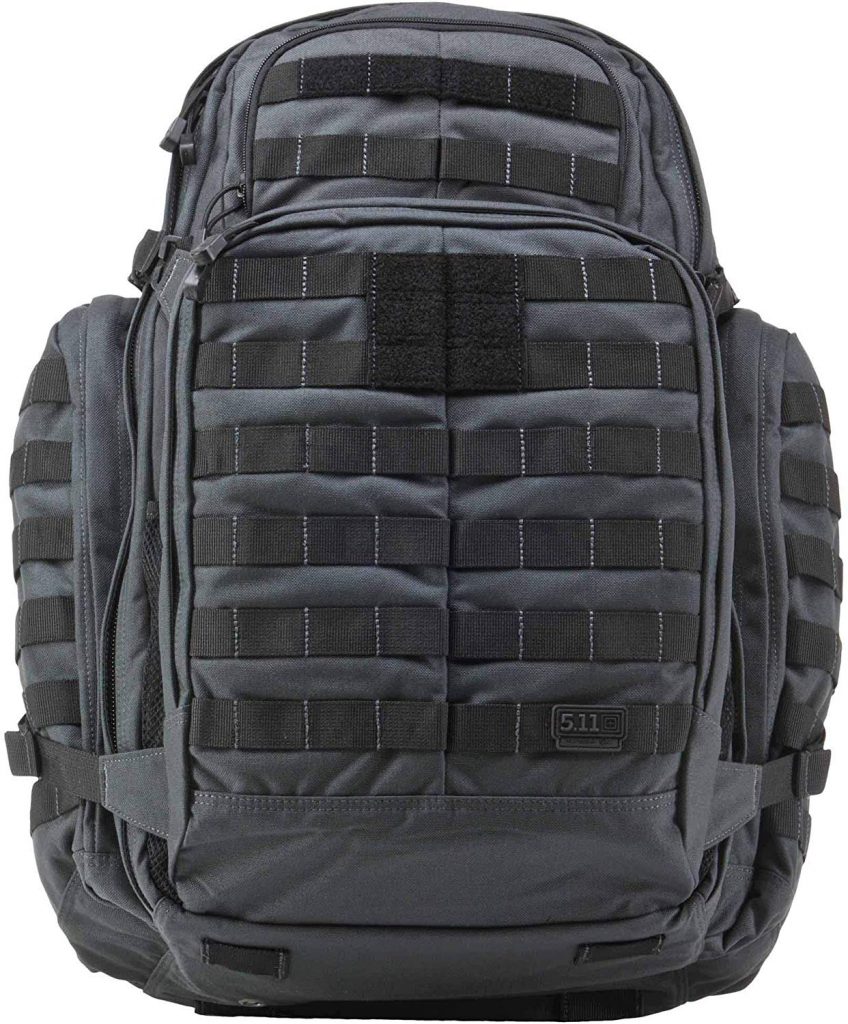 "I was there for all of it," he said. "The good and the bad. Twenty years down the road, it's cool to see the way MOLLE has been embraced, not only by tactical equipment manufacturers but by the fashion industry as well."
Elder points to Beyond Clothing's parent, 5.11 Tactical, as a prime example of a company that has been successful at marketing MOLLE-style webbing to nonmilitary customers. The retailer has about 60 brick-and-mortar stores across the country and commands a strong online presence as well. You can trace its roots back to 1968 when mountain climber Royal Robbins, for his own clothing company, marketed a line of specialty pants using the 5.11 name — a reference to the most difficult climbing level on the Yosemite Decimal System, which Robbins helped develop in the 1950s. In 1999, he sold his 51% stake in the company to a restaurateur named Dan Costa.
After discovering that 5.11 pants had become popular with FBI agents at Quantico, Virginia, Costa purchased the entire company in 1992, sold Royal Robbins Clothing back to Robbins in 2003, and retained rights to the 5.11 brand. Later that same year, Costa spun off a new company called 5.11 Tactical, catering to the needs of public safety officers, first responders, and private military contractors. In 2016, 5.11 was acquired by investment holding company Compass Diversified Holdings. Ironically, 5.11 has come full circle since that acquisition, widening its brand to target outdoor sports enthusiasts.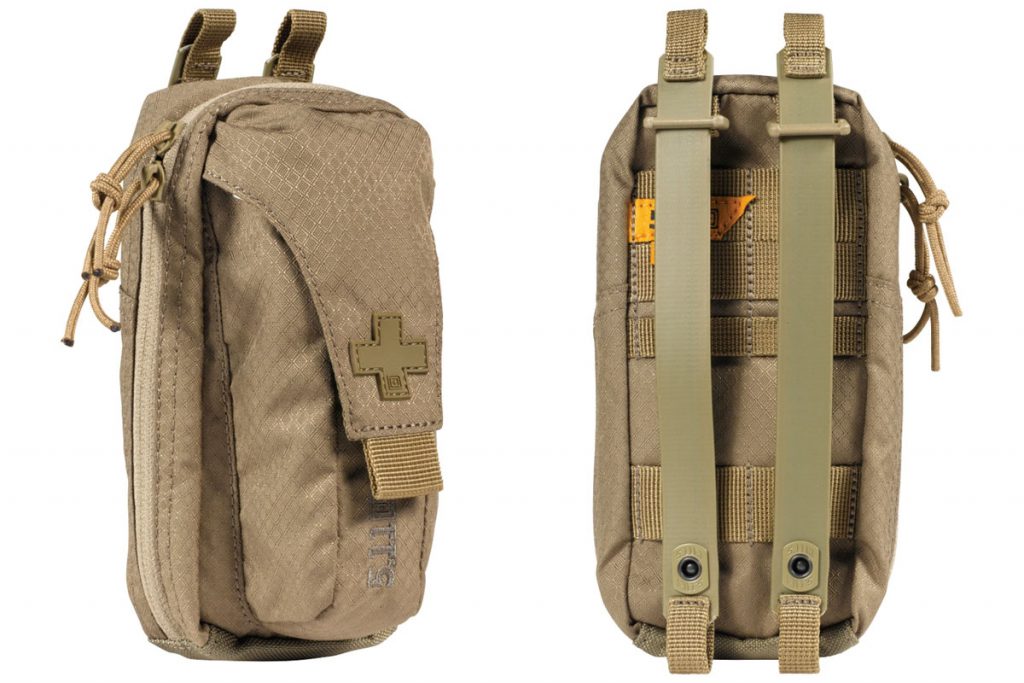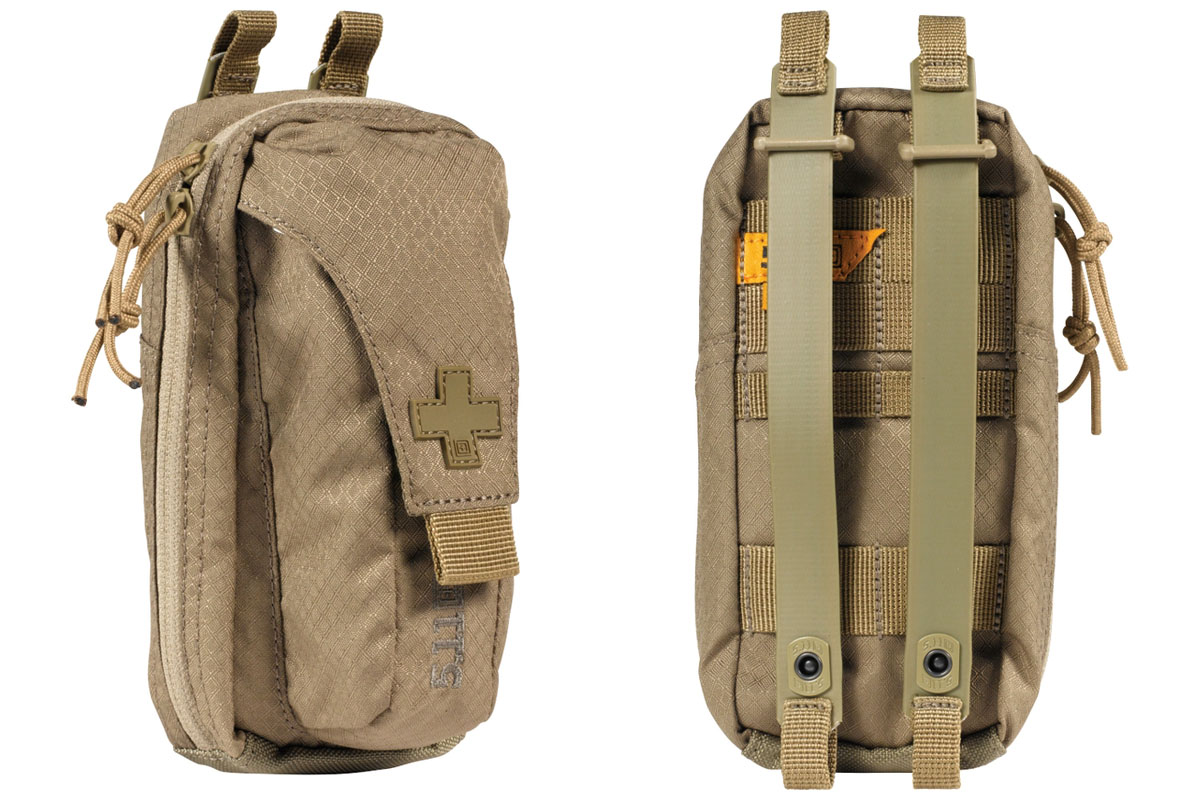 Items in the 5.11 catalog that incorporate MOLLE webbing are numerous. One of the most popular is the Rush collection of backpacks. For many, Rush sets the standard by which other packs in the industry are measured.
The webbing follows true Mil-Spec design, matching the PALS system still used by the military today. The expansive grids on the Rush 10, 24, 72, and 100 models allow customers to customize their packs for just about any mission, regardless of the application. As you might expect, 5.11 also sells myriad compatible attachment accessories, from specialty pouches to holsters. Most of these items utilize the proprietary SlickStick system — semirigid straps that slide through the webbing and fasten with a Natick-style snap. Many packs in the 5.11 lineup, including most Rush models, include one or more hook-and-loop panels for morale patches and name tapes. This feature allows customers another way to personalize their adventure.
On the opposite end of the spectrum is the "costume jewelry" merchandise that sports a look inspired by camo and MOLLE but is more geared toward fashion than true tactical function — low-cost replicas of military gear with flimsy webbing that may support the weight of a keychain but not much else. There's certainly nothing wrong with these products, as long as the buyer clearly understands the limitations.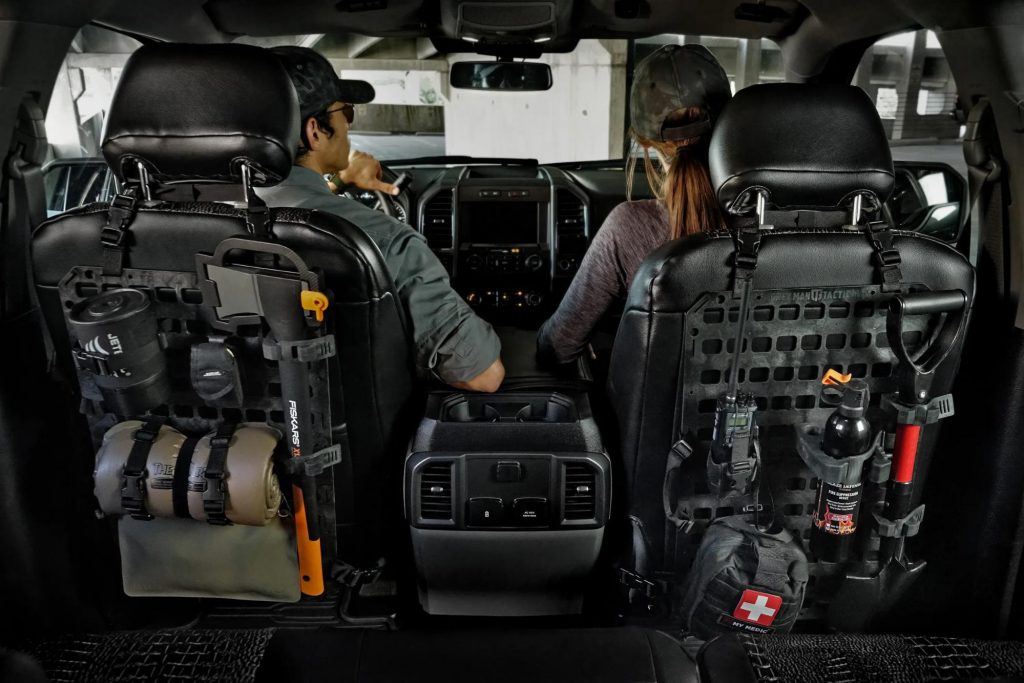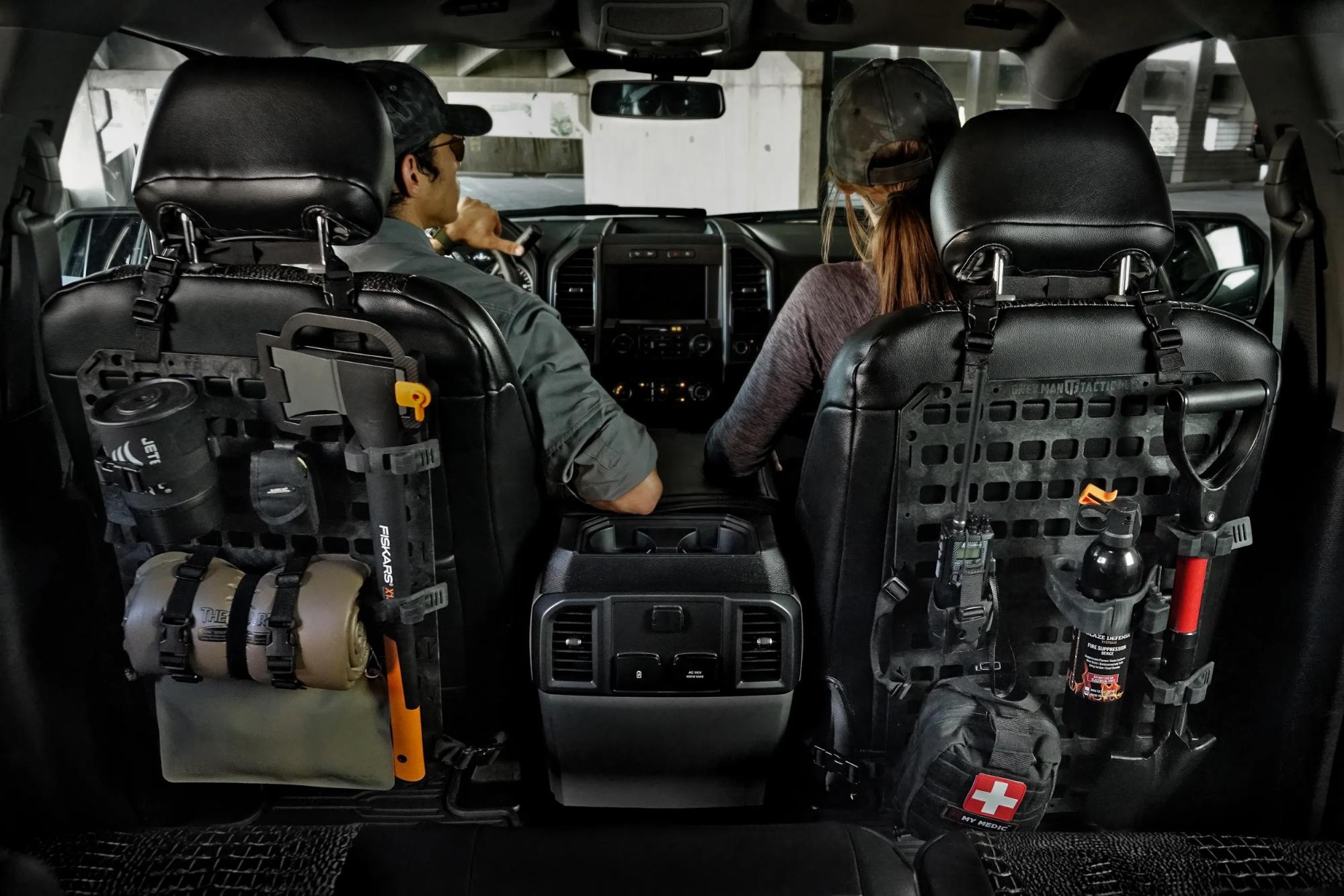 However, somewhere in between the true Mil-Spec product offerings and the cheap knockoffs, consumers can find products that combine elements of MOLLE with proprietary designs for truly innovative applications.
Case in point is the Rigid MOLLE Panel (RMP) series by Lafayette, Louisiana-based Grey Man Tactical. The foundation of the RMP platform — which is available in more than 40 different configurations — is a durable, glass-reinforced nylon polymer grid panel, loosely patterned after the PALS system. The panel's rigid design prevents sag and sway, characteristic of competing, fabric-based products. For this reason, the patented RMP grid is the perfect solution for mounting and organizing heavy gear — tools, firearms, emergency equipment, and just about anything else you can imagine — in challenging locations.
In 2012, Grey Man Tactical CEO and founder Paul Capdepon was living in an area where he preferred to keep his personal, everyday carry (EDC) gear private. Using a military-style backpack that screamed "tactical" seemed counterintuitive, so he tried a nondescript commuter-style backpack to keep himself organized. That option quickly proved unsatisfactory due to its limited capabilities. Capdepon decided to create his own solution, adapting the traditional MOLLE-style grid and designing the prototype of things to come — a rigid insert for his backpack.
After garnering some interest in his designs, Capdepon launched a basic website in 2014 to begin selling products to the general public. Since then, interest in the RMP platform has expanded beyond the consumer market. Grey Man Tactical products have been deployed by federal, state, and local law enforcement agencies, as well as the US military — both domestically and in theaters of combat abroad.
"It is our ongoing passion to serve the prepared citizens, outdoorsmen, law enforcement, first responders, and armed forces communities," said Capdepon. "We look forward to continuing to create gear that enables you to perform at the highest standard."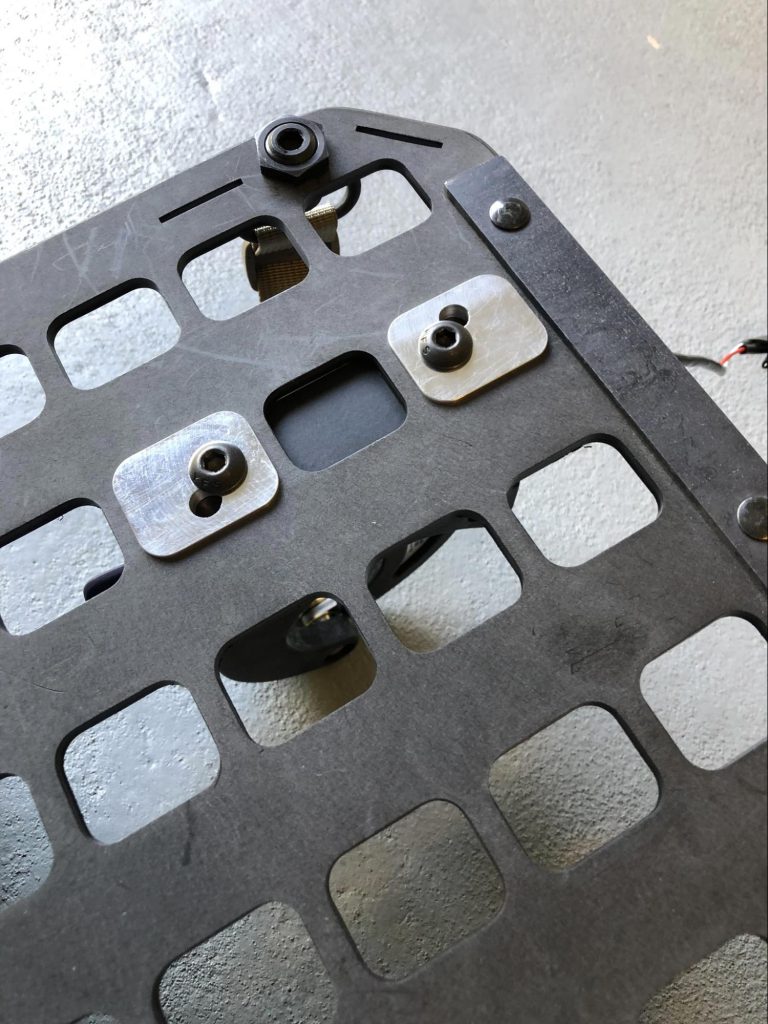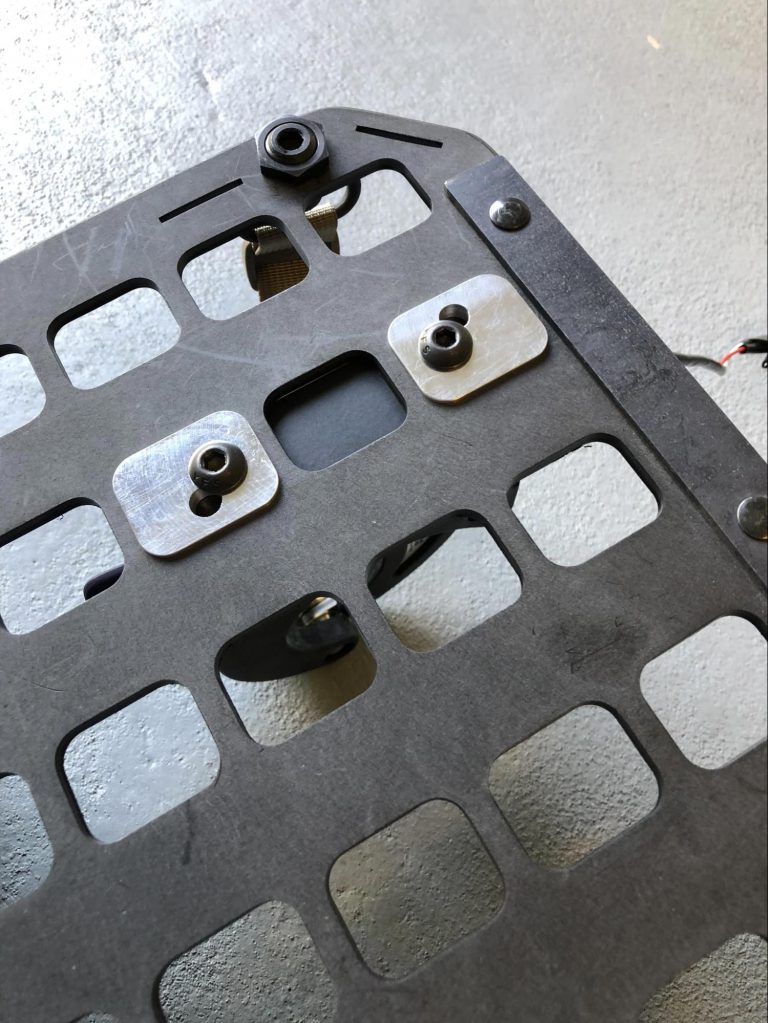 One of Grey Man Tactical's bestselling products is the Seatback RMP, which adds valuable and highly configurable vertical storage to the back of any vehicle seat. Available in a variety of dimensions to fit both car and truck seats, this panel includes two heavy-duty straps — one cinches the panel's upper end to the headrest posts and the other wraps around the base of the seatback to attach the lower end. Installation is straightforward, takes just a few minutes, and requires no drilling or tools.
While compatible with gear designed for conventional MOLLE webbing attachment, customers may find they have to skip a few slots when weaving straps through the RMP grid. That's because these MOLLE straps are designed to pass through a much thinner fabric grid. The additional thickness of Grey Man Tactical's panel creates a slightly longer pathway. This isn't a problem because the rigidity of the RMP provides a secure point of connection, even if the straps only pass through a few slots.
Harnessing the full power of RMP requires accessories offered by Grey Man Tactical. Most of these add-on components rely upon a proprietary RMP Backer Plate system, small plates that are precisely cut to fit into the gaps in the RMP grid. They have pre-drilled, threaded holes that accept the provided machine screws for mounting the desired accessory. The grid panel is essentially sandwiched between the backer plate and accessory, resulting in a secure mount that is absolutely rock-solid.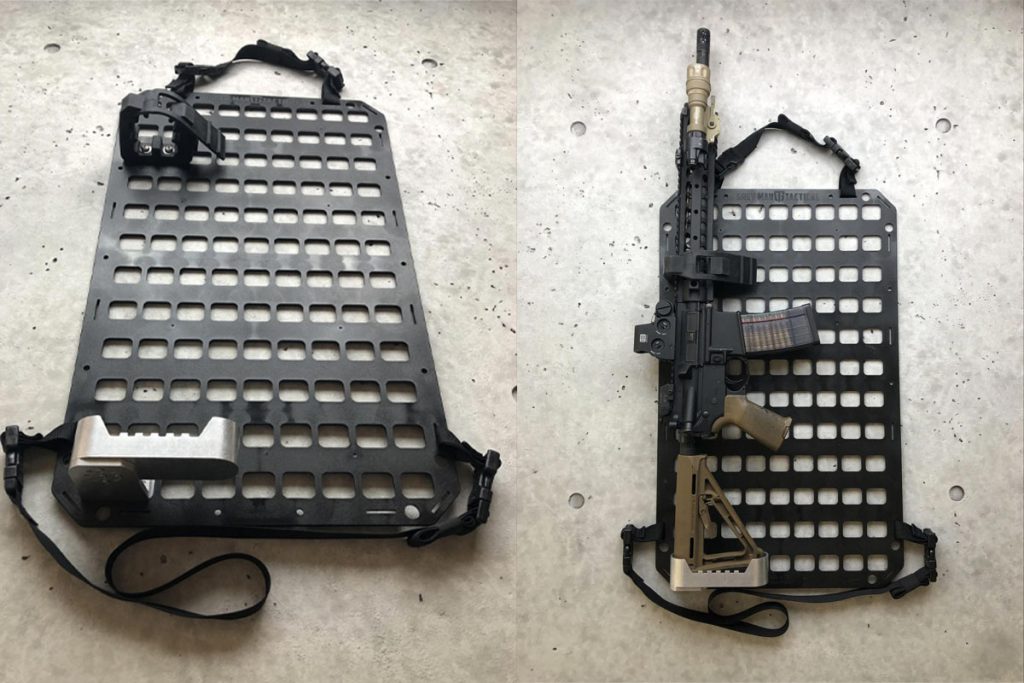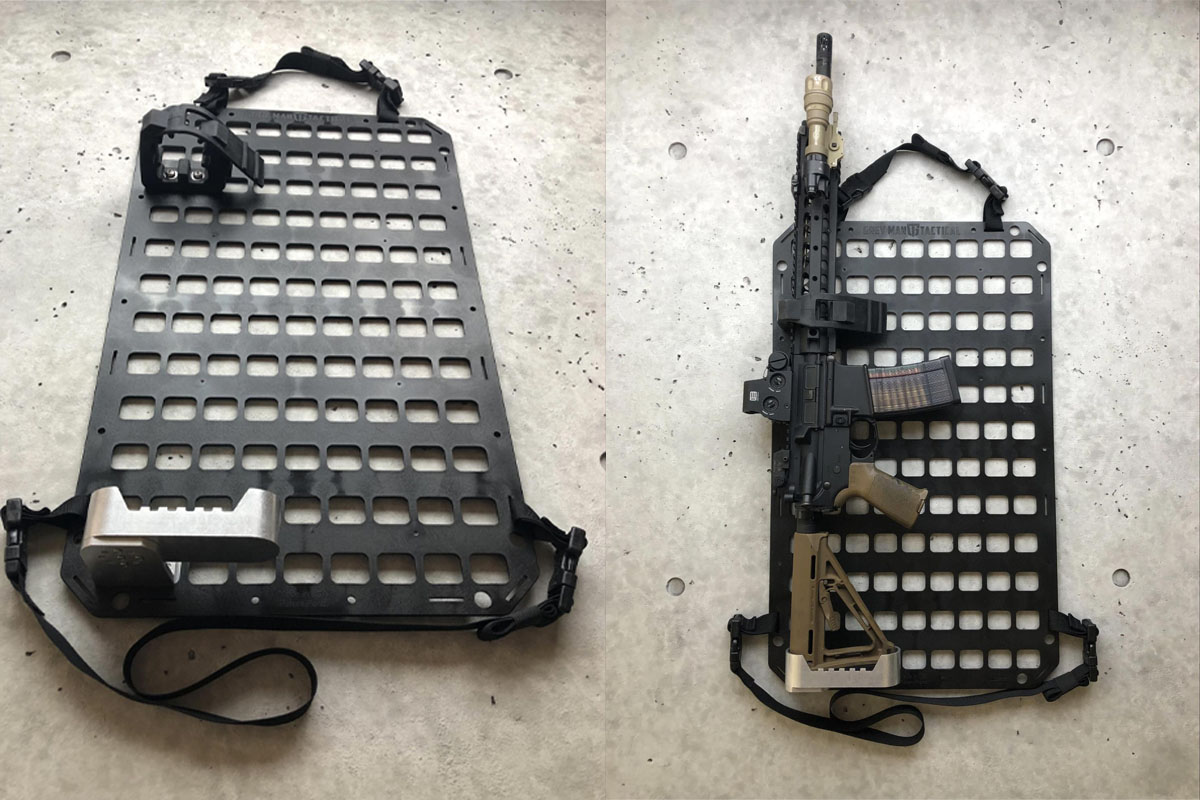 Grey Man Tactical items compatible with the backer plate system range from various weapon mounts (buttstock cups, handguard straps, security locks, etc.) to numerous brackets and straps for custom gear and DIY mounts. Another popular accessory is the RMP cover — a nylon sheet with elastic gathering at the edges that discreetly conceals your gear from prying eyes.
Like any traditional MOLLE system, RMP offers a storage system that is completely customizable to one's needs. As the mission changes, so can the equipment, accessories, and grid orientation. However, as you can imagine, making these modifications while cramming into the backseat of a vehicle can be difficult. For this reason, Grey Man Tactical smartly designed the RMP seat straps with quick-disconnect buckles, allowing users to easily remove the panel from their vehicle, reconfigure it as necessary, then reinstall with zero adjustments. RMP is also available for under-lid trunk mounting applications, safes, backpacks, and just about anywhere else you can imagine.
The fact that the RMP platform has been picked up by branches of the military and many federal, state, and local law enforcement agencies speaks volumes to the quality of Grey Man Tactical's products. This stuff has been literally battle tested — rest assured it will handle just about anything you can throw at it.
While the MOLLE organizational platform is already familiar to veterans and the tactical prepper crowd, campers, fishermen, hunters, and related outdoor sports adventurers are discovering its benefits as well. Like the Erector Set parts and Lego blocks we played with as children, half the fun of owning a MOLLE-based rig is customizing it to make it your own. But be warned — once you build one out, you may very well become obsessed with the never-ending quest to build another one, and another, and another.