Your odds of dying in a plane crash are minuscule; let's just get that established up front. A Harvard University study found the odds of being in a plane crash are 1 in 1.2 million, and the odds of dying in a plane crash are just 1 in 11 million — compared to 1-in-5,000 odds of dying in a car accident. 
Planes do occasionally crash, but even then, your chances of survival are relatively high.
The National Transportation Safety Board reported that 95% of airplane occupants survived accidents, and about 40% of fatalities could have been prevented had passengers taken proper action.
For some, however, surviving the impact is just half the battle. These plane crash survivors all improvised off the grid when help didn't arrive for days. 
---
1971 – Peru
Teen Used Father's Survival Lesson to Reach Help in the Rainforest
On Christmas Eve 1971, LANSA Flight 508 en route from Lima to Pucallpa, Peru, was carrying 17-year-old Juliane Koepcke, her mother, and 90 other people when the plane was struck by lightning and exploded midair. Koepcke, still strapped into her seat, fell nearly two miles into the Amazon rainforest.
When she woke the next day, she located water and remembered her father's advice to follow a stream to locate civilization. On her fourth day moving downstream, Koepcke found a bag of candy among some wreckage from the plane crash — the only food she ate while in the rainforest. 
On day nine, she came across a hut belonging to a group of Peruvian missionaries. They let her sleep there for two nights, then took her to a nearby hospital. Koepcke was the lone survivor of the crash that killed 90 others, including her mother. She suffered a broken collarbone and other injuries, but she fully recovered. 
RELATED – That Time Mike Rowe Almost Died in a Shark Suit
---
1972 – Andes Mountains
Rugby Team Resorted to Cannibalism After Surviving Crash, Avalanche, Starvation
On Oct. 13, 1972, Uruguayan Air Force Flight 571, aka Miracle Flight 571, was carrying a rugby team and their loved ones from Montevideo, Uruguay, to Santiago, Chile, when it crashed in the Andes Mountains. Twelve of the 45 people on board were killed in the actual aircraft crash. It became one of the most famous — and infamous — aircraft crash stories ever; infamous because of the lengths the survivors went to to stay alive.
They built a shelter out of the plane wreckage, melted snow for drinking water, and rationed what food they could scavenge from pieces of the plane — all great first steps for survival.
Over the next few weeks, an avalanche, exposure, and starvation claimed the lives of 17 more passengers and crew members. Eventually, several of the remaining survivors resorted to eating pieces of the passengers and crew.
In a last bid for rescue, two of the rugby players trekked 38 miles to get help — and they made it. The remaining survivors were finally rescued 72 days after their plane crashed in the Andes.
---
1992 – Vietnam
Sole Plane Crash Survivor Lasted Eight Days in the Jungle Off Rainwater
On Nov. 14, 1992, 31-year-old Annette Herfkens boarded Vietnam Airlines Flight 474 for a romantic getaway with her fiancé.
On approach to Nha Trang Airport, the fairly small plane — a Yakovlev Yak-40 regional jet — lost control amid a tropical cyclone (a remarkable weather occurrence known as Cyclone Forrest) and crashed 10 miles from the nearest village.
Herfkens woke up several hours later, badly injured, and saw her fiancé's lifeless body across the aisle. She managed to drag herself out of the plane and survived the next eight days on rainwater she captured using insulation from one of the plane's wings.
A rescue helicopter that was dispatched to search for survivors also crashed nearby due to the Cyclone Forrest, resulting in several more deaths.
A search crew finally reached the crash site; it was carrying body bags having expecting no survivors. Although not every other person was killed in the initial plane crash, Herfkens was the only passenger on board to make it out of the jungle. She sustained a collapsed lung, a broken jaw, and over a dozen fractures.
RELATED – Survival Tactics: Life and Death Lessons From Our National Parks
---
2015 – Colombia
Mother Left Breadcrumbs for Search Crews in the Jungle After Carrying Infant From Plane Crash
On June 20, 2015, a plane carrying just a pilot, 18-year-old Maria Nelly Murillo, and her infant son went down in the Colombian jungle and burst into flames.
The pilot was killed outright, but Murillo managed to rip open the cabin door and escape with her baby as well as some coconuts from the plane's cargo.
As she walked along a nearby river, Murillo left a trail of coconut peels for rescuers to follow. She also built a crude shelter with vegetation and used large leaves to collect rainwater for herself and her son.
Rescuers reached the pair five days after the plane crash, and they were airlifted to a nearby hospital. Murillo was treated for burns, dehydration, and a broken ankle; her baby was miraculously uninjured.
---
On the Way Down
Realistically, there's little you can do if you find yourself in a crashing plane that will change the course of events, but experts advise taking a few steps to mitigate risk in a plane crash. 

Choose your seat wisely. According to a 2015 Time magazine study, the least desirable spots on a plane — middle seats in the back third of the plane — logged slightly higher survival rates than anywhere else in the cabin. Another analysis of 100 plane crashes by University of Greenwich professor Ed Galea found drastically higher survival rates for passengers seated within five rows of an emergency exit. Wearing practical shoes and fitted clothing that fully covers your limbs for the flight could also help you quickly exit the plane unscathed in case of emergency.
Once you board the plane, slide small bags under the seat in front of you rather than stowing them in the overhead compartment. This could prevent your legs from sliding underneath the seat in front of you and getting stuck, thereby injuring your lower legs.
Buckle your seatbelt low and tight and keep it on for the duration of the flight.
Pay attention to the flight attendants' safety presentation or at least read the safety card located in the seatback in front of you — even if you've flown hundreds of times before. When US Airways Flight 1549 landed on the Hudson in 2009, only 10 of the 150 passengers on board knew to evacuate with their life vests.
Resist the temptation to snooze and stay alert for takeoff and landing. Investigators have found 80% of plane crashes occur during the first three minutes after takeoff and the last eight minutes before landing.

If your plane is going down, brace for impact. Cradle your head with your arms and lean forward to prevent secondary impact. When oxygen masks drop, put yours on immediately.
As soon as the plane makes its crash landing, get out. On average, you'll have 90 seconds before the fuselage goes up in flames.
RELATED – Alaska Plane Crash: Helicopter Rescues 2 From Island Ruled by Bears
---
Into the Grey — Expert Advice for Staying Alive AFTER Surviving a Plane Crash
While you might imagine yourself going all Liam Neeson on a pack of wolves after surviving a plane crash, there are a few practical things you can do to stay alive in the wilderness.
I consulted Shane Hobel, founder of Mountain Scout Survival School, who trains everyone from military and law enforcement to urban families in tracking, foraging, and emergency preparedness.
Hobel says as soon as you evacuate the plane, you should begin triage. Find out who needs help and perform first aid with the limited supplies you have. Try to signal for help and keep everyone safe until rescuers arrive.
But if help doesn't come soon and you're stranded, Hobel says to focus on four tenets just like you would in any other survival situation: shelter, water, fire, and food. Although a lot of variables come into play, including where your plane crashes, who's with you, and what materials you have on hand, these necessities take priority regardless of the conditions.
Determine if your location is safe, and if not, how far and how fast you need to go to reach a secure spot. Find some type of shelter where you're not exposed and make people as comfortable as possible.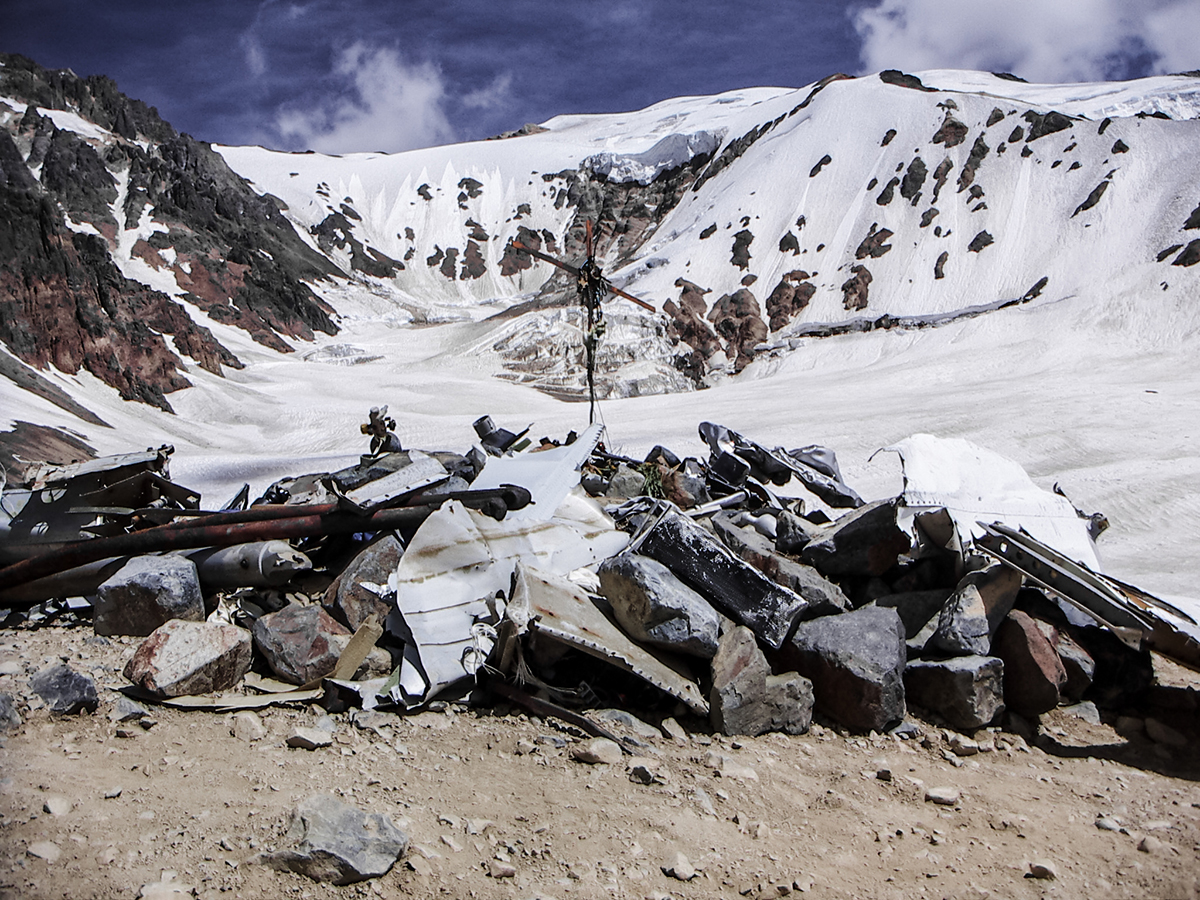 Locate a water source and a means to purify it. This is where fire can come into play. It can also provide warmth and cook meat from animals you can kill. You should search for plant food sources, too.
Hobel always travels with a water filtration device and first aid kit in his go bag as well as a field kit, fishing line and hooks, a signal mirror, and fire-making supplies in his luggage. But whether you have access to your gear or you're stuck with zero supplies, Hobel says it all boils down to your skillset.
"Even if I don't have my bag, I still have to know how to do these things regardless," he said.
"Having first aid and CPR certification doesn't take up any room in your bag. It's knowledge — it doesn't take up any space in your backpack. What you do put in your backpack usually is a substitute [for] knowledge. Having skills makes your bag more refined, more efficient, and you become less dependent on it. It's empowering to know that you can move in a landscape or situation with or without your bag and still be able to do the things you need to do."
So the best way to live through a plane crash — or any survival scenario? Brush up on your primitive survival skills now.
---
READ NEXT – How To Survive an Earthquake: Inside or Outside Every Second Counts