Remember when you were a kid, and you used to draw all kinds of zany inventions that could never work in real life? Every so often, somebody's bizarre contraption makes it into the real world. In the world of firearms, there might be no better example than the Standard Manufacturing DP-12 shotgun.
Someone there had the hair-brained idea to mash up bullpup, pump-action, and double-barrel shotgun concepts into one gun. What's even more astonishing: SM had the ability to actually pull it off. The company swung big with this innovative design and showed it off to the industry at the 2015 SHOT Show, guaranteeing wall-to-wall publicity — for better or worse.
What almost certainly began with, "Hey, so I have this crazy idea. . .," eventually became a truly innovative and effective tactical shotgun. It turns out there aren't many things more reassuring than a stack of 16 12-gauge buckshot shells standing by to back you up. What is this weird and wonderful shotgun, how does it work, and can you actually buy one? Glad you asked.
---
DP-12 Shotgun History

Prior to 2015, pump-action shotguns and double-barrel shotguns were mutually exclusive. Kel-Tec had paved the way for bullpup pump-action shotguns with two magazine tubes with its highly successful KSG and following variants. Soon after, the Turkish-made UTAS UTS-15 tried to mimic the KSG's success with a different design that had significant problems that took several iterations to fully iron out.
With the DP-12, Standard Manufacturing created a 12-gauge shotgun that combined the capacity of a dual-mag-tube pump gun with the instant follow-up shot capability of a double-barreled shotgun. Initial reviews were full of curiosity and a healthy bit of skepticism regarding the groundbreaking design.
Shooters wanted to know if the DP-12 was a gimmick or a true innovation in firearms design. Did it hold promise like the KSG or was it a janky mess like the early UTS-15?
Two years later, in 2017, the NRA recognized the DP-12 with a Golden Bullseye Award for Shotgun of the Year. The design was wacky, yes, but the damn thing ran as reliably as a freight train and hit just as hard.
GOOD GEAR – Embody the Ethos of the Quiet Professional With the BRCC Silencer Smooth Roast
---
The innovative combination of dual barrels with a mag tube for each and a pump action made the DP-12 wildly effective in its intended role as a personal defense shotgun. Some of its success is undoubtedly due to its unique place in the market, but high-quality design and manufacturing play a role as well.
According to SM, the principles behind the DP-12's design came from big-game hunting, but are just as relevant to home defense:
"Two instantaneous shots for reliability, no cycling, and no downtime are the reasons for a double-barreled design. The system reliability of double-barreled guns is time-proven, and no costs are spared as we do extensive testing on every gun," the company explained in a video about the shotgun.
Today, the DP-12 is largely unchanged from its original form, aside from a wider range of color options. Standard Manufacturing expanded its product line and currently builds a range of pistols, rifles, and shotguns. These firearms range from classic designs, such as the 1911 pistol and AR-style rifles, to more unusual firearms, such as the folding Switch Gun.
RELATED – New Mossberg Turkey Guns: Red-Dot Ready M500s, 835 Ulti-Mag
---
Breaking Down the DP-12 Shotgun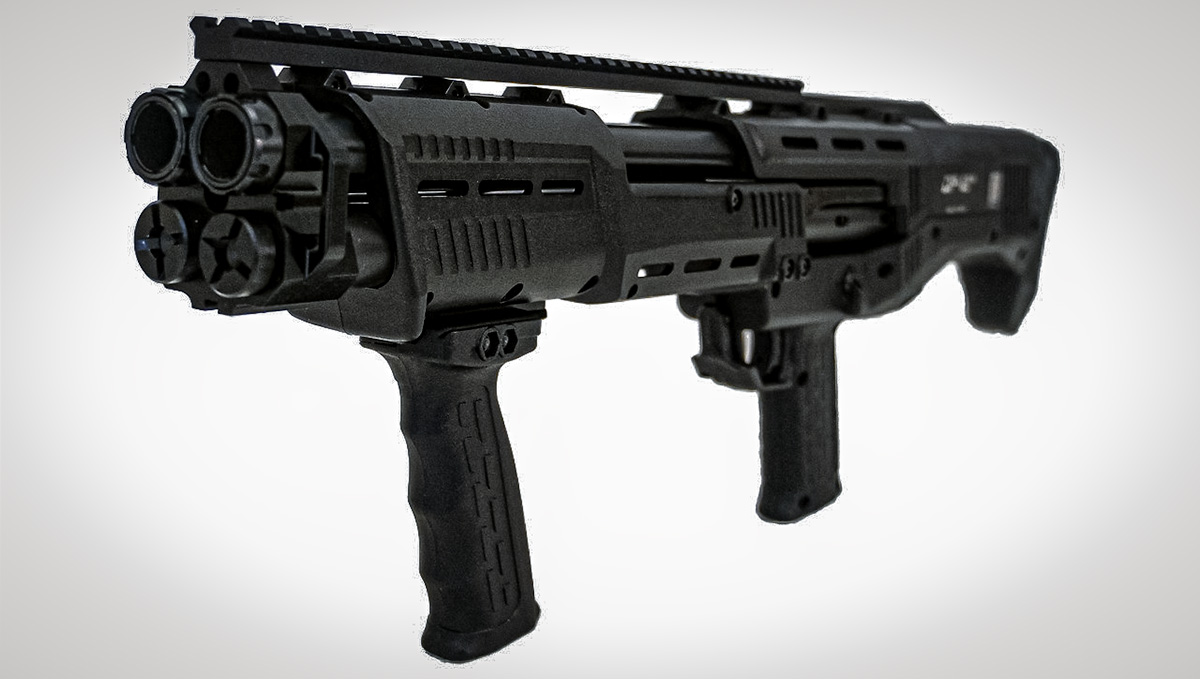 The DP-12 might look like something a kid dreamed up after playing too many video games, but it's actually state-of-the-art and built to a very high standard. Materials include aircraft-grade 7075 aluminum, a thermal-coated receiver, and a co-molded, non-slip rubber pistol grip.
The foundation of the 12-gauge DP-12 is a pair of 18.875-inch barrels, but thanks to the bullpup design, the gun only has an overall length of just over 28 inches.
Each barrel sits above its own magazine tube. As with any other pump-action shotgun, cycling the action feeds one shell from one seven-round tube magazine into the chamber — except, in this case, there are two actions working simultaneously. The actions will cycle 2 3/4- or 3-inch shells.
Once the DP-12 has a round in each chamber, it works like a side-by-side shotgun. One trigger pull fires the right barrel, and a second fires the left. At that point, it reverts to being a pump-action shotgun, and you'll need to manually cycle the action to chamber two more rounds. The gun cannot cycle until it fires both rounds.
Included spreader choke tubes focus patterns at 25 yards for maximum effectiveness in a defensive situation, but they are swappable. Included accessory rails and slots allow for the mounting of optics, lights, and lasers as needed.
Color options include black, flat dark earth, olive drab green, black-and-blue two-tone, and black-and-gold two-tone. You can also get an all-gold model that's straight out of Call of Duty and costs $2,750.
Recoil is entirely manageable thanks to a spring-based recoil management system. Plus, this is not a lightweight firearm; after all, it has two steel barrels and two mag tubes on board, and when fully loaded, 14+2 shotshells. Unloaded, it weighs a whopping 11 pounds, which also helps soak up recoil.
The bullpup design keeps all that weight close to the body, which makes the DP-12 easier to wield than a shotgun of the same weight with a longer profile that would be extremely front-heavy. Add in ambidextrous controls, and the DP-12 is a more approachable firearm than it looks to be.
GOOD GEAR – Show Your Support for the 2A With the BRCC SBR Flag T-Shirt
---
How to Buy a DP-12 Shotgun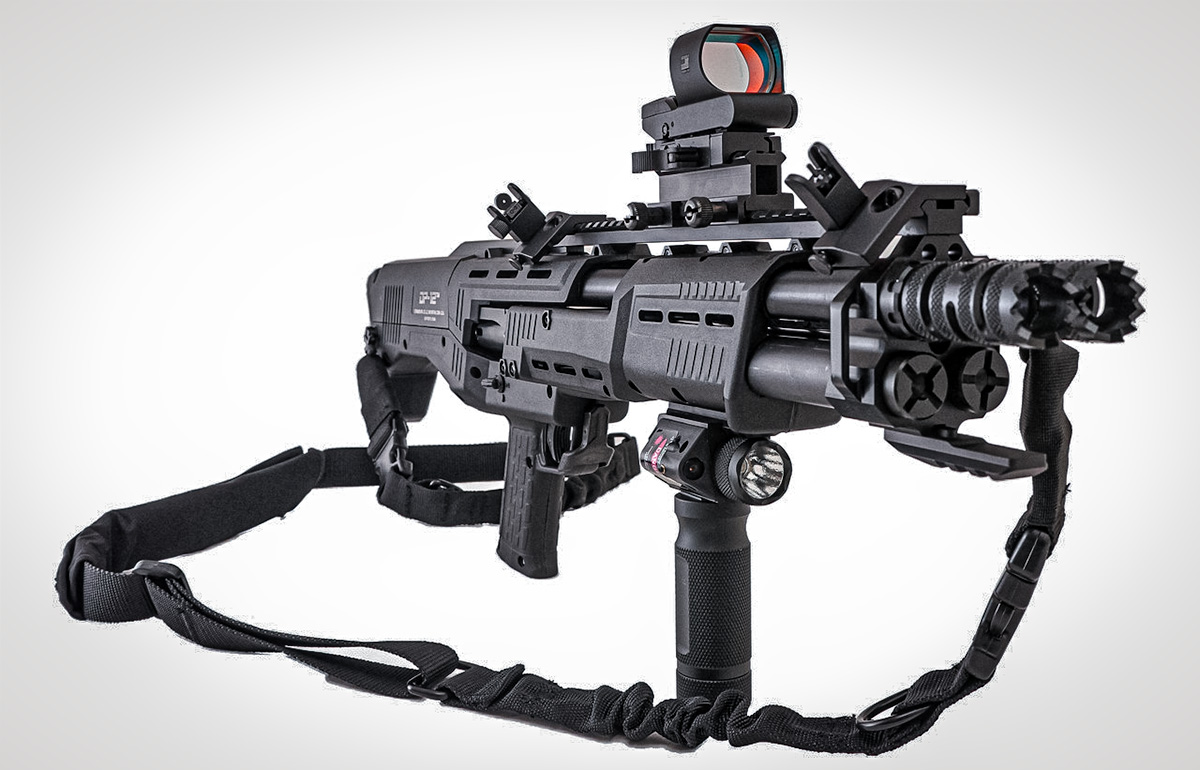 The first step in choosing a DP-12 is determining if your state has applicable firearm restrictions. It's classified as a pump-action shotgun. There are three California-compliant DP-12 models, so you should be in luck no matter where in the US you live. 
Beyond legal compliance, you're just dealing with color combinations when you shop for a DP-12. Black, FDE, and OD green shotguns have an MSRP of $1,495. The gold DP-12 has an MSRP of $2,750. Standard Manufacturing prices two-tone guns at $3,250.
These shotguns are otherwise similar, with the exception of the two-tone DP-12 Professional, which comes with a reflex optic, a front-hand grip, and PVD-coated surfaces on certain components to protect against wear and produce smoother operation.
Standard Manufacturing currently offers two versions of the DP-12 that come equipped with accessories out of the box. The Works #1 comes with a red-dot reflex optic, offset iron sights, additional mounting rails, a foregrip with a laser and flashlight, a two-point sling, and your choice of two choke tube styles.
The Works #2 comes with a different optic, light, and laser, but it is otherwise very similar. Both packages cost between $1,825 and $1,900.
RELATED – Military Shotguns: The History of Scatterguns Issued by the U.S.
---
The Growing World of Tacticool Shotguns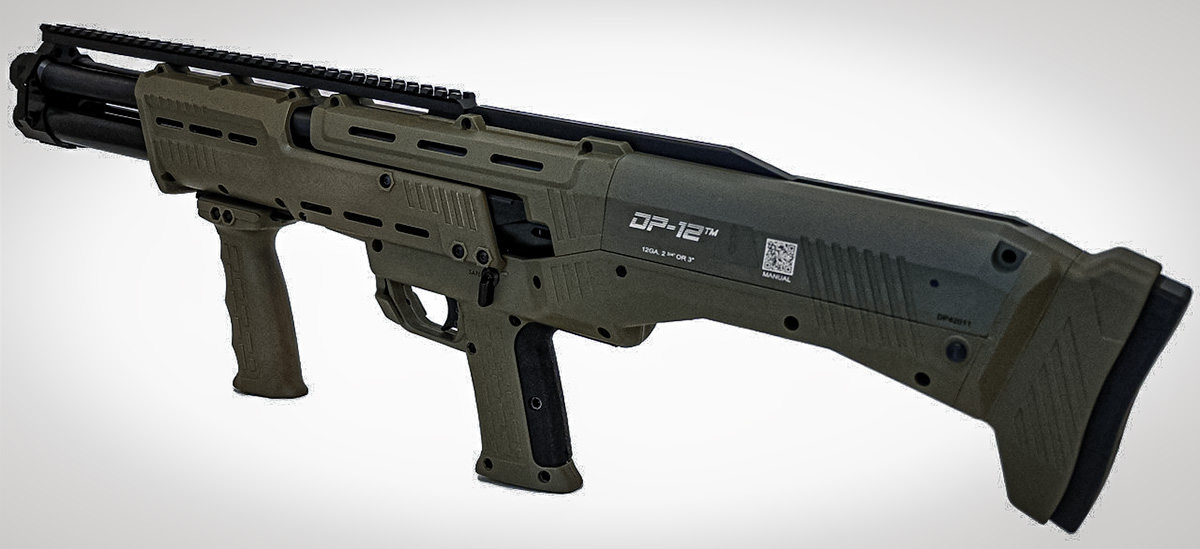 If the DP-12 catches your interest, there are a few other shotguns that deviate from conventional hunting and sporting options. The KelTec KSG is certainly still around with several variants.
The KSG uses two magazine tubes to feed a single barrel, weighs 7 pounds without ammunition, and has a much more affordable MSRP of $825. Another is the newer Smith & Wesson M&P 12.
The M&P 12 splits the difference in terms of price at $1,185, but smaller magazine tubes limit its capacity to six 3-inch shells or seven 2 3/4-inch shells. If you don't have your heart set on a pump-action shotgun, the tactical market widens, and you can get cool alternatives like the Kalashnikov KS-12 or Tristar Sporting Arms Compact Tactical.
These shotguns aren't just fun to use in video games like Call of Duty — they're serious contenders for home defense.
Whether or not you can hunt with any of these will ultimately come down to the laws in your area. Bird hunting with a DP-12 or one of its rivals seems like a horrible idea, and please note that you'd probably have to make your own plugs to keep it compliant with capacity regulations.
It's probably best suited to hog hunting or protecting your kitchen from Kodiak bears. I personally consider it to be the best piece of snake-hunting gear on this side of a flamethrower.
GOOD GEAR – Enjoy Your Extra Dose of Freedom With the BRCC 10 Cup Chemex
---
Parting Shots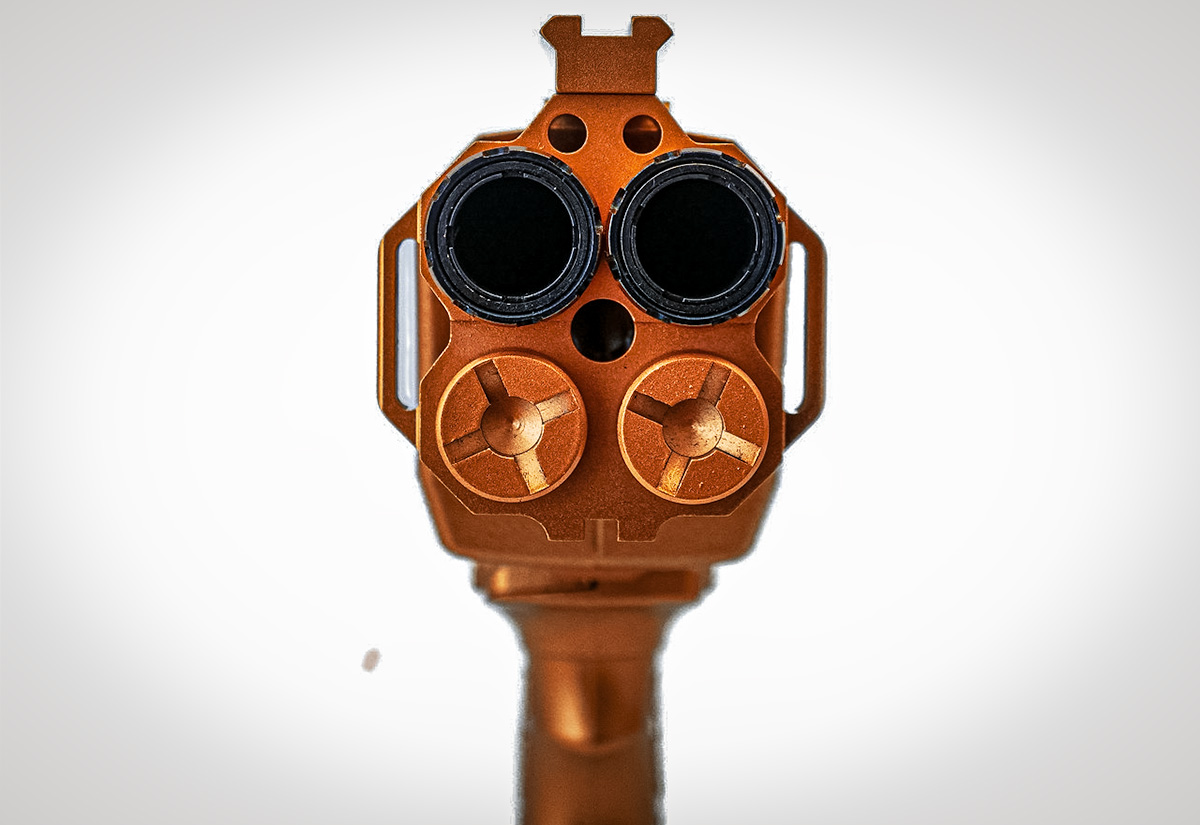 The DP-12 has been in production long enough that if it was a cheap gimmick, we'd know by now. Instead, this extraordinary shotgun made a name for itself as a reliable, well-built firearm that you can trust for home defense.
No, it's not as versatile as a conventional shotgun. Yes, it's way heavier than a pistol-caliber carbine or even the most extensively accessorized AR carbine. But in terms of effects on target, you just can't do better than a shotgun that quickly fires 16 rounds of 12-gauge buckshot.
If you're still not convinced (or ready to spend this much money), there are plenty of other great home defense guns out there that we recommend.
---
READ NEXT – Hottest New Guns and Ammo From the 2023 Shot Show!