The concept of a shotgun is fairly simple by firearm design standards. At its most basic, a shotgun is a hammer, trigger, chamber, a smoothbore barrel or two, and a stock. It's kind of amazing to think that a contraption consisting of little more than these parts can be worth millions of dollars depending on its adornments and history.
These are the most expensive shotguns that have ever existed. All told, the five scatterguns on this list have a combined value of $7.6 million. Technically, some of the entries are more than one gun — there are two sets of three and one pair — but since they are sets that should never be separated, they're counted together.
Grifnee Engraved & Gold Inlaid Holland & Holland Royal Deluxe Shotgun Pair
SALE PRICE: $299,000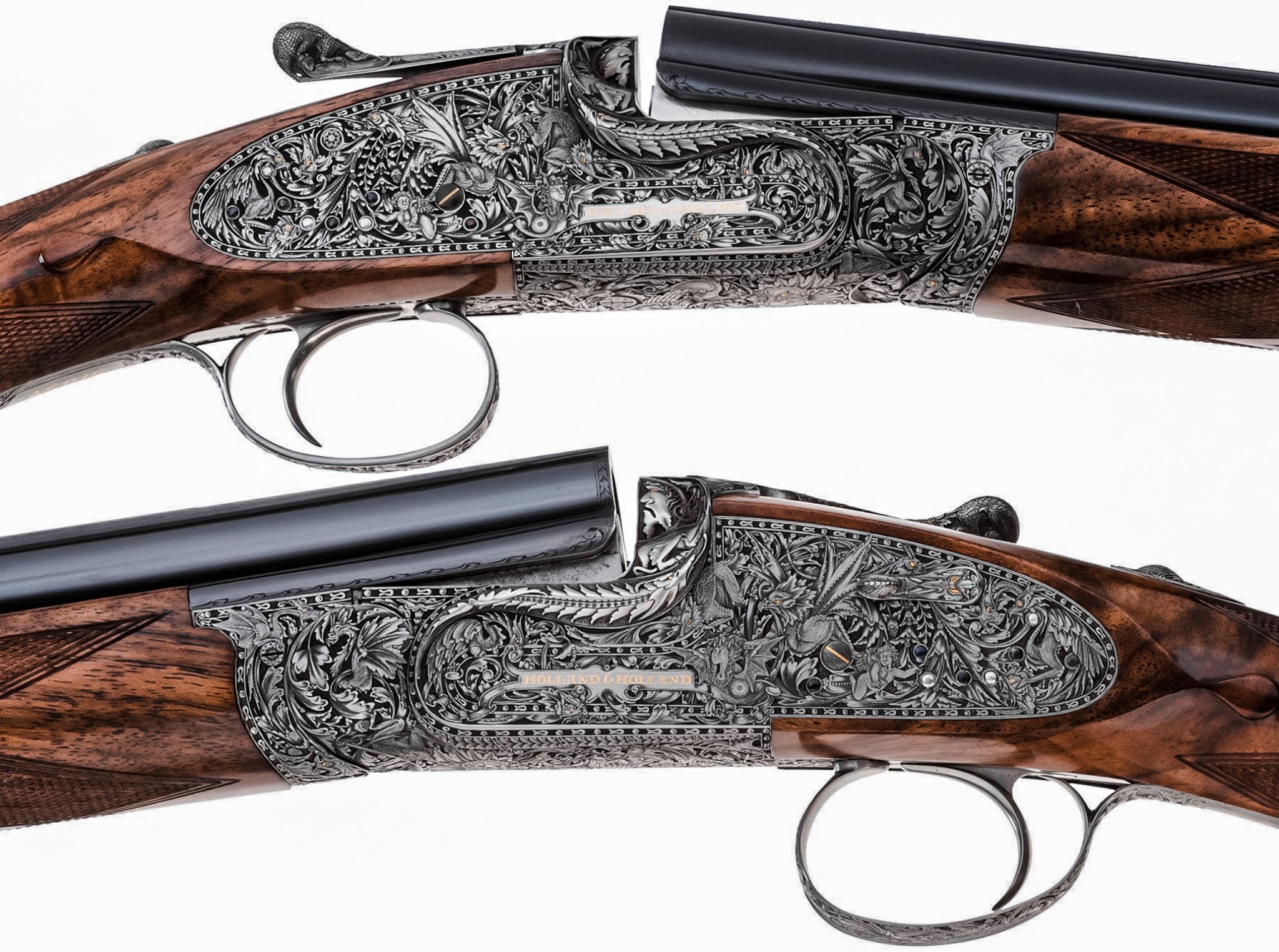 This pair of shotguns is incredible for the three names associated with it: gunmaker Holland & Holland, Belgian master engraver Philippe Grifnee, and gun collector Robert E. Petersen.
Holland & Holland is known the world over for making some of the finest shotguns money can buy. Therefore, it should come as no surprise that this pair of 28-gauge shotguns were beautifully engraved and inlaid with gold by Grifnee. The owner of the two guns, Robert E. Petersen, was a renowned gun collector and publisher of magazines such as Motor Trend and Guns & Ammo, to name a couple.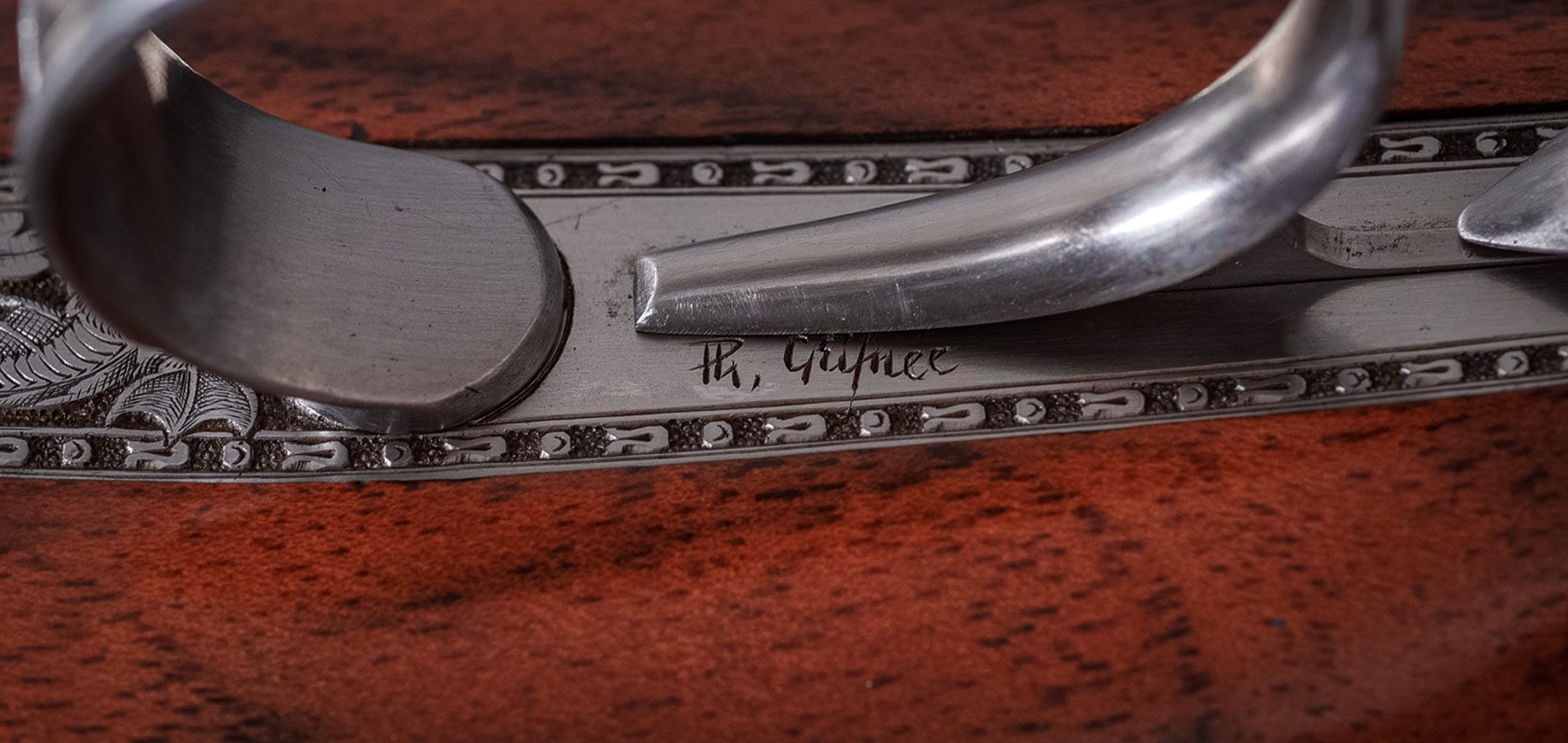 The frame and detachable side plates on these shotguns feature full-coverage fantasy-themed relief engraving depicting both human and dragon-like winged mythical creatures with gold inlaid eyes and other fine gold embellishments. This pair of shotguns testifies to Grifnee's unmatched skills in engraving, Holland & Holland's gun-making prowess, and Petersen's skill in picking out the best of the best for his collection.
When this pair of H&H shotguns sold in 2017 for $299,000, they fell right in line with the presale estimate of $220,000 to $380,000.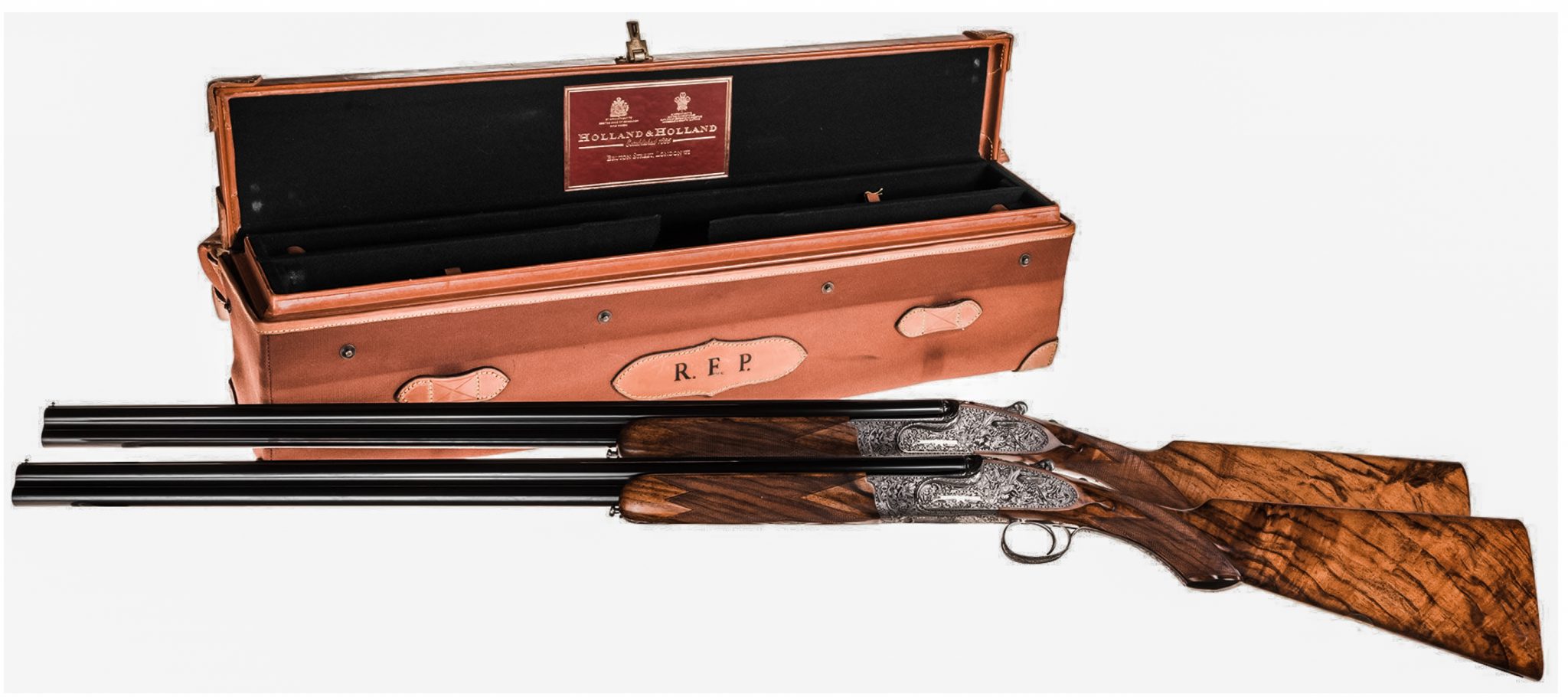 RELATED – Most Expensive Guns: The 6 Priciest Firearms Ever Sold at Auction
---
Torcoli Engraved Fabbri Over & Under Shotgun Trio
SALE PRICE: $402,500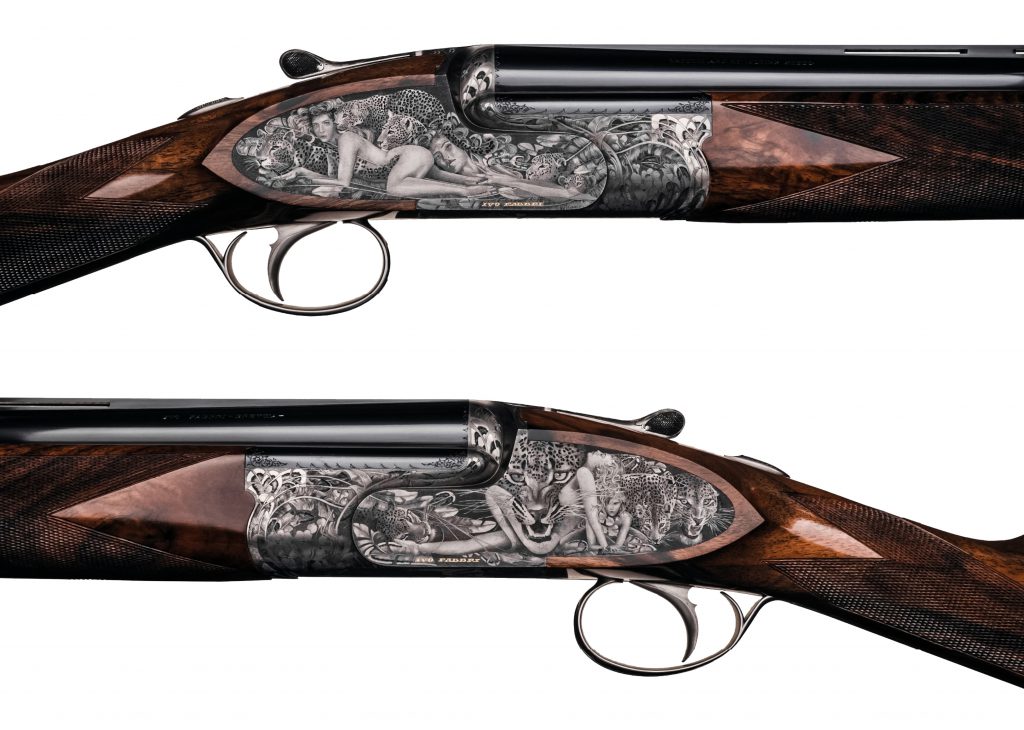 This trio of 12-gauge shotguns is an inseparable consecutively numbered set. Manufactured by Ivo Fabbri of Italy and engraved by famous Italian engraver Manrico Torcoli, the three shotguns are stunning works of art featuring cougars, leopards, lions, and several nudes.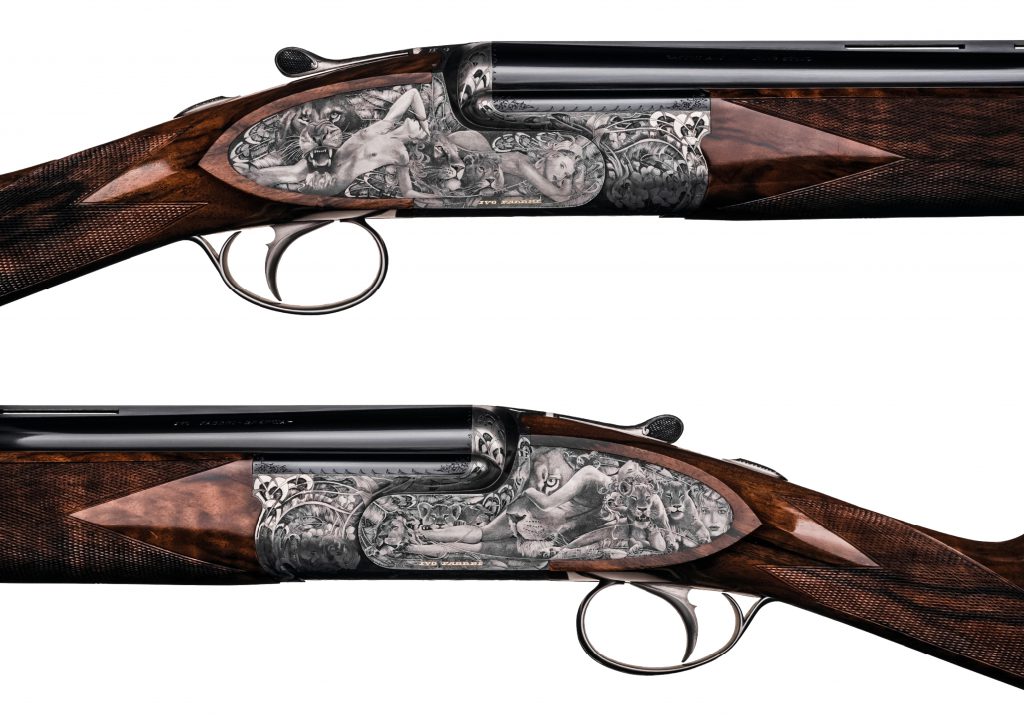 Executed with Bulino-style engraving, these guns are a feast for the eyes. To match the astonishing engraving, they've each been fitted with extra fancy Circassian walnut furniture.
When this Torcoli-engraved trio sold in 2020 for $402,500, they lived up to their presale estimate of $300,000 to $500,000.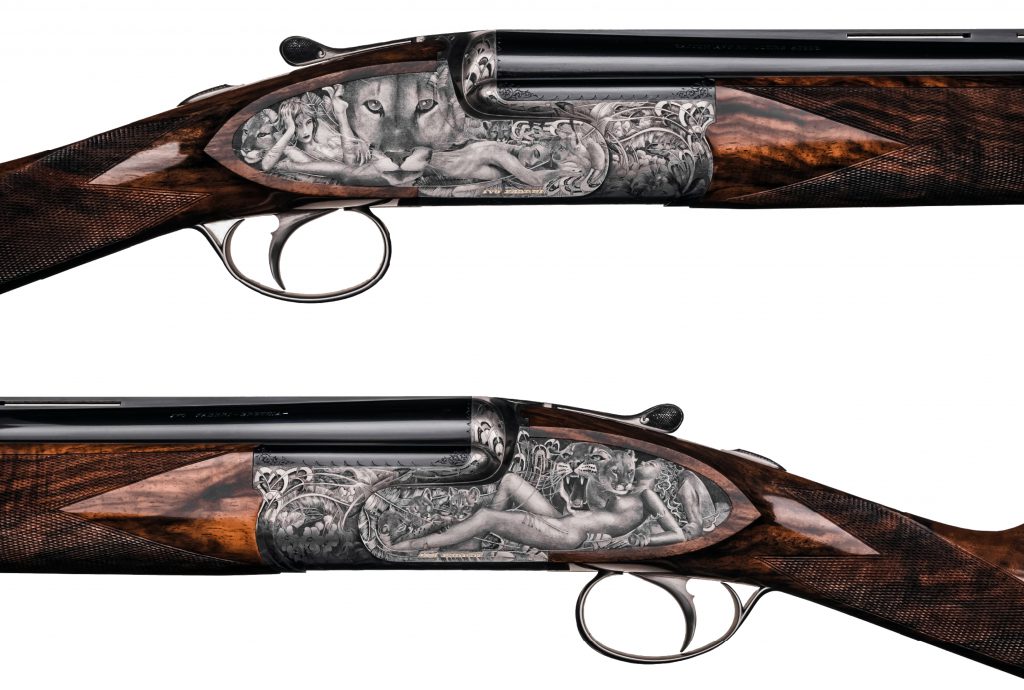 RELATED – How the Winchester Model 70 Nearly Made Lever-Actions Obsolete
---
Theodore Roosevelt's Fox Side-by-Side Shotgun
SALE PRICE: $862,500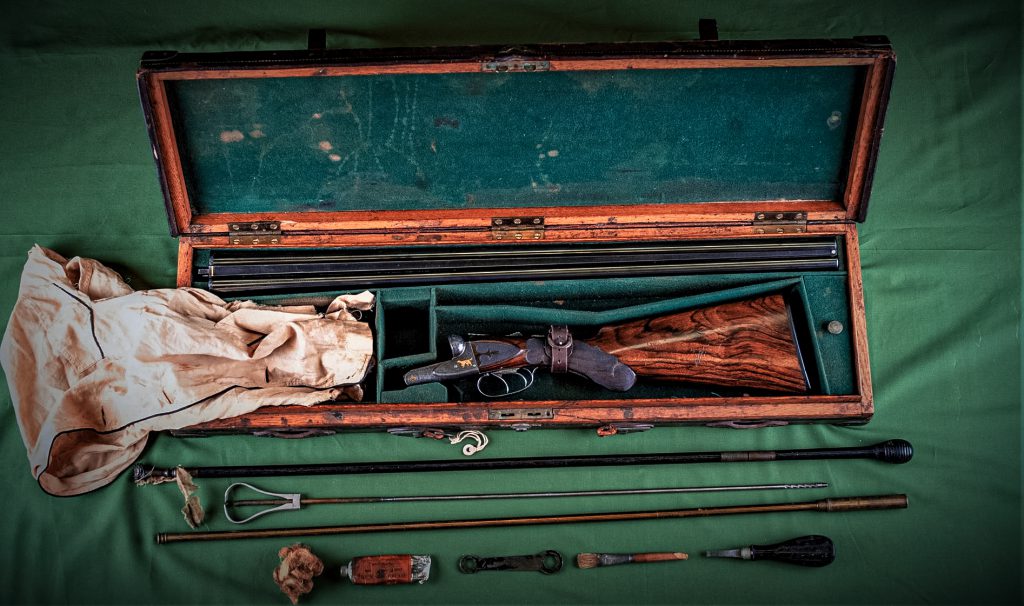 The 26th president of the United States owned a tremendous number of firearms. Some were regular off-the-rack pieces, but this bespoke shotgun was made by Fox especially for Roosevelt. The gun even made the journey to Africa with him on his epic 1909 safari, during which he collected hundreds of specimens for the Smithsonian.
The shotgun is a 12-gauge Fox F Grade double-barrel side-by-side that was presented to Roosevelt while he was in office. It was actually presented to him by another president — that of the Fox Gun Company.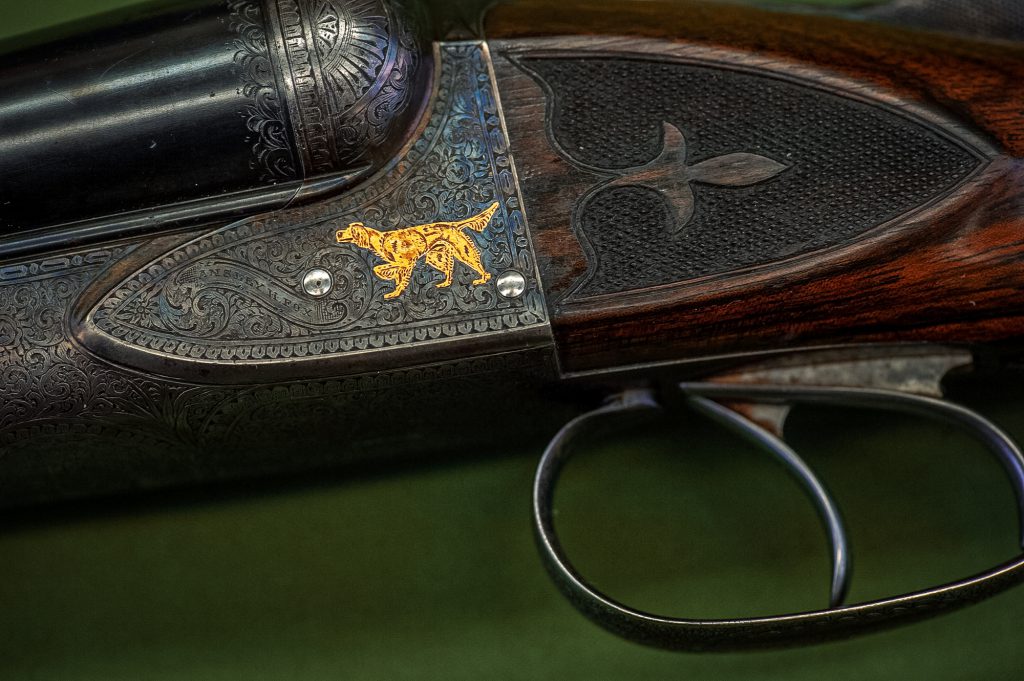 To leave no doubt as to whom this exquisite gun was created for, it bears the inscription, "Made Expressly for Hon. Theodore Roosevelt."
The shotgun remained in the Roosevelt family until 1974. It was later sold in 2000 and then one more time in 2010, when it crossed the auction block for $862,500.
RELATED – Why Germany Wanted to Ban America's Pump-Action Trench Shotgun During World War I
---
Billy the Kid's Whitney Double-Barrel Shotgun
SALE PRICE: $978,312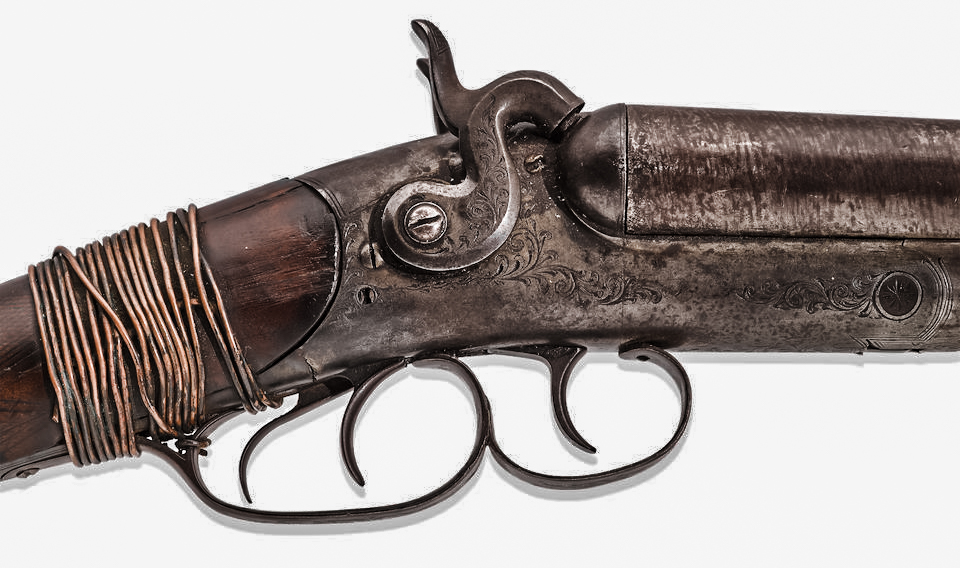 Few names from the myth-steeped Wild West are better known than that of outlaw Billy the Kid, aka William H. Bonney. This Whitney shotgun was originally owned by Deputy Bob Olinger. In a cruel twist of fate, Olinger met his demise at the muzzle of his own gun when Billy got hold of it during his escape from the Lincoln County Jail in 1881.
Olinger had loaded his Whitney shotgun that morning in front of Billy, taunting the young outlaw as he poured 18 pellets of buckshot in each barrel and saying, "The man who gets one of those loads will feel it" before leaving it in the jailhouse.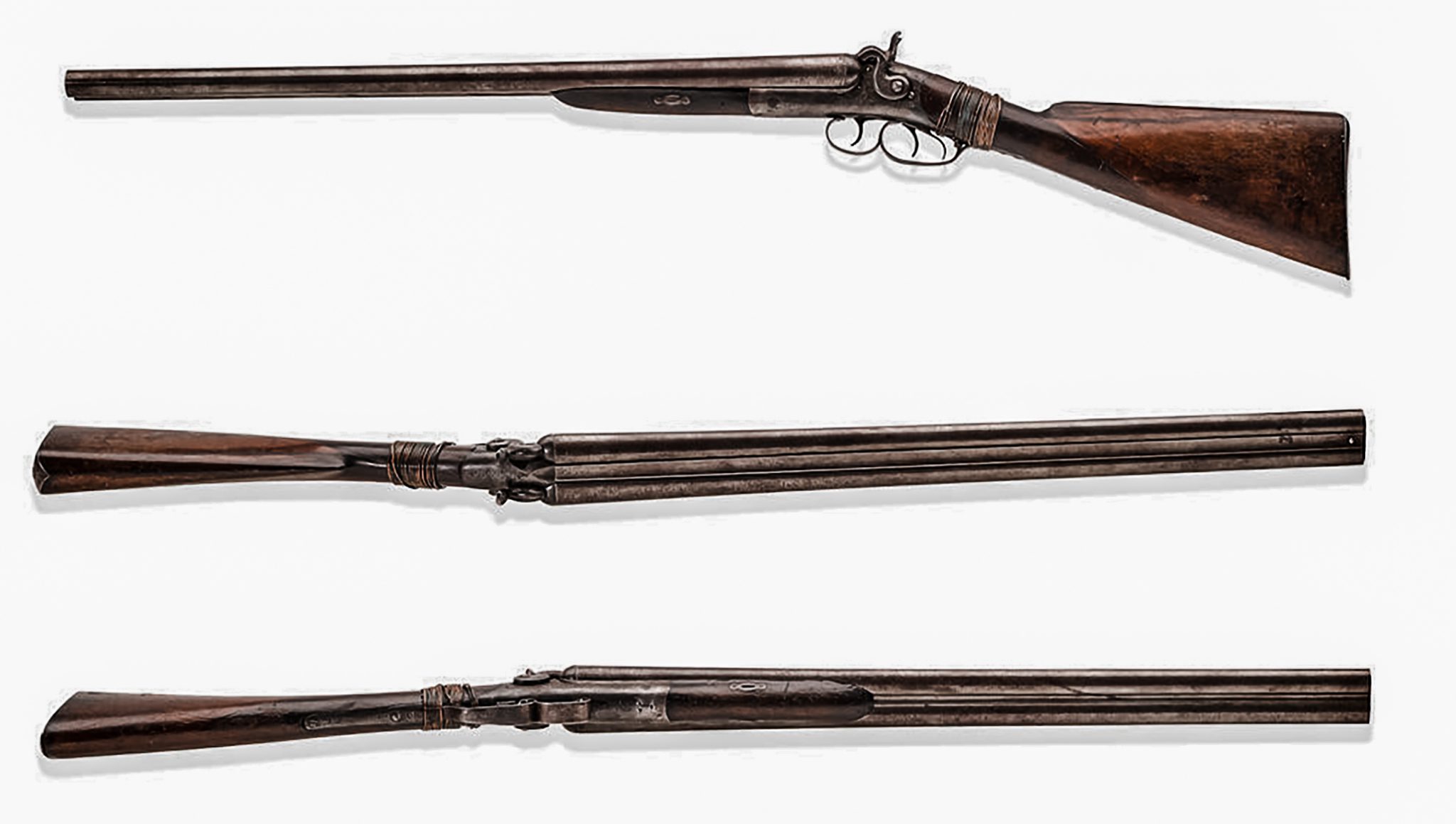 When the initial shots rang out as the escape commenced, Olinger ran back across the street, where Billy was waiting. He fired the first barrel, hitting Olinger right in the chest. Billy then touched off the second barrel and hit Olinger in the same spot. Billy then broke the gun's stock at the wrist across the balcony railing, threw it down at Olinger, and said, "Take it damn you, you won't follow me anymore with that gun."
When this infamous shotgun, with its broken stock held together by wire, sold in 2021 for $978,312, it fetched more than triple the high end of the presale estimate of $300,000.
RELATED – Where Have All the Side-By-Side Shotguns Gone?
---
Parker Invincible Shotgun Trio
SALE PRICE: $5,100,000

In 1923, Parker introduced the highest grade of shotgun they would ever make: the Invincible grade. When Invincible-grade guns became available as a cataloged option, they were priced at $1,250 each, or just north of $20,000 today. At a time when a Ford Model T could be had for around $300, the Parkers were definitely a premium offering.
The first Invincible was made to commemorate Parker's 200,000th gun, and it bears that serial number. Within just a few short years of the introduction, the United States would be thrust into the Great Depression. These guns, which were affordable to only a few people when times were good, became affordable by no one. As a result, only three Parker Invincible grade shotguns were ever made, two in 12-gauge and one in 16-gauge.

Each of the guns was in separate private hands for decades before Robert E. Petersen (remember him?) managed to track down the owners and convince each of them to sell to him so he could reunite the trio. Upon Petersen's death, they became part of the NRA Museums' collection.
Since the guns were each bought separately and privately at different times, it is unknown what they sold for. However, we do know that the museum has an insurance value on the trio of $5.1 million. That comes out to $1.7 million per gun, earning them the top spot on the list of most expensive shotguns ever.
---
READ NEXT – The Most Expensive Rifles Ever Sold at a Gun Auction