If you've been hiding under a rock somewhere, you might think Mad Pig Customs is just a small Connecticut-based gunsmithing and Cerakote shop. But these guys crank out some super-cool, cowboy-tactical lever action rifles with a dystopian vibe you just can't replicate with a semi-auto. They also have a way of giving people who feel a lever gun should be all blued steel and walnut stocks panic attacks and general fits.
The guys at Mad Pig take beat-up old cowboy guns that reek of gun-twirling John Wayne one-liners and, through some pretty wicked hoedown hocus-pocus, turn them into ultra-modern 21st-century firearms.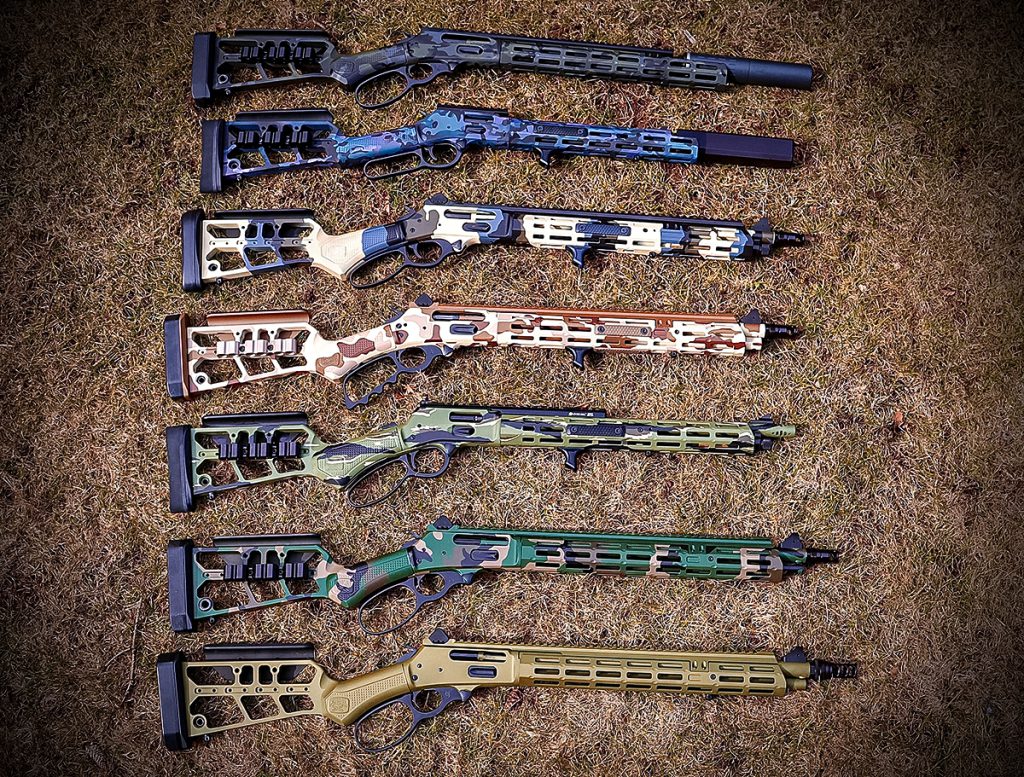 Their mods have major drip, not just because of what they do to a lever gun's looks. The internal work Mad Pig does is what makes them super legit. Plus, they make lever guns suppressor ready, and who doesn't want to suppress all the things?
Like most custom shops, Mad Pig's price tags aren't for the faint of heart. Its Classic Thumper package pushes two grand. The V2 package on my wish list will set Santa back by a healthy $2,575. And that doesn't even include the gun itself.
However, for that monetary investment, you get back a lever gun that runs smoother than a clean-cut, sarsaparilla-drinking, guitar-strumming, 1950s silver-screen cowboy. You also get a freakin' awesome piece of tactical art. But not the kind of art you have to sit on a shelf and hope the kids don't bust. It's the kind of art you can take to the range and use to burn through ammo.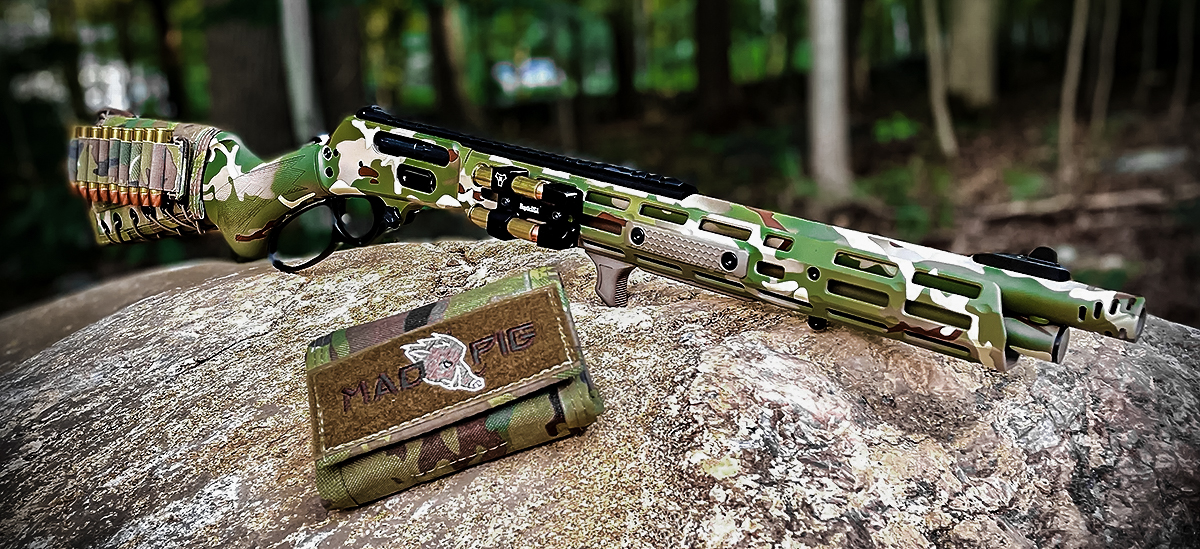 Free Range American caught up with Steve Tyliszczak, the owner of Mad Pig Customs LLC, to chat about the company, its super-sick lever gun mods, and all things Mad Pig.
"My guns are never going to be cheap. I know that people save up for a long time to get a gun done by us, and we take that as a pretty awesome responsibility," Tyliszczak told FRA.
"It's a lot of money, but the work that we put in reflects that price tag. We're not just slapping a gun together with parts and Cerakoting it. There's so much more that goes into it. We put a lot of work into each and every gun."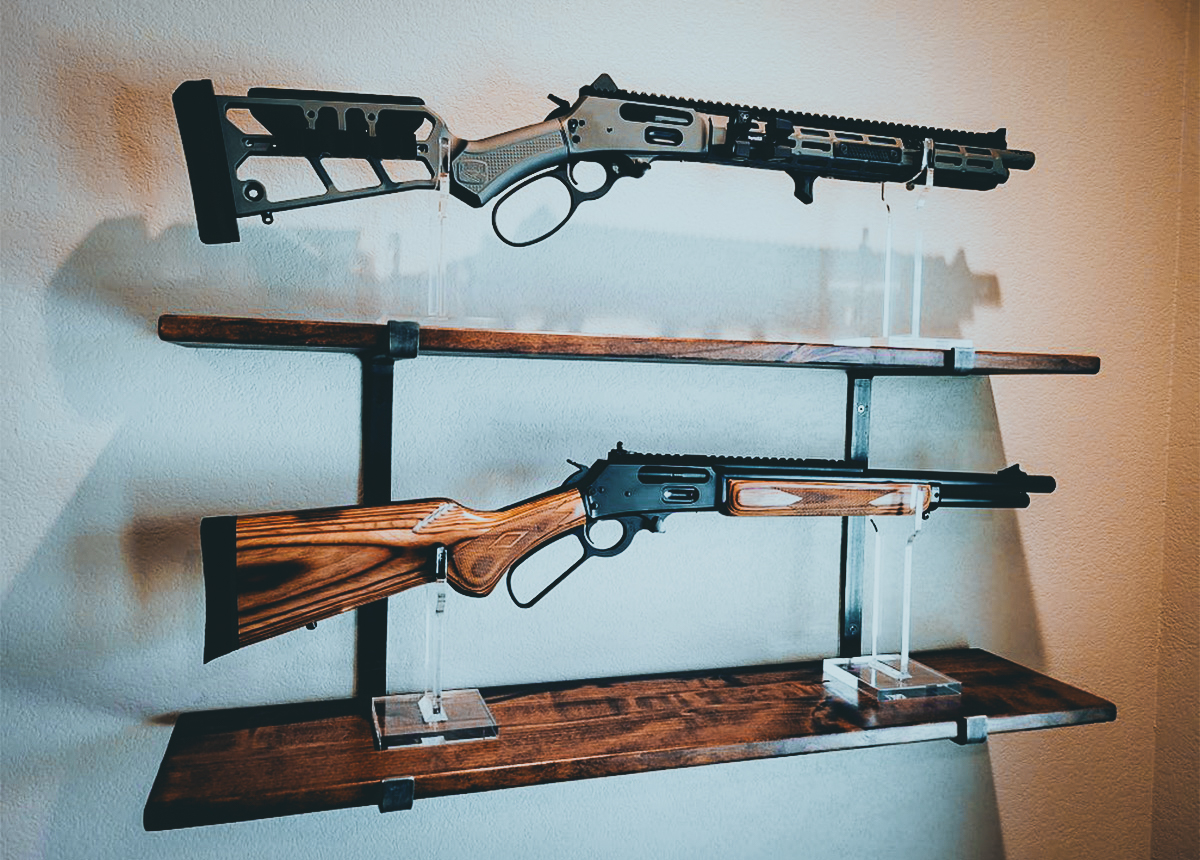 RELATED — The Lever Action Shotgun: Why It's Only Popular in Movies
---
Beauty Is More Than Skin Deep
Even if you aren't a big fan of modernizing traditional platforms, you still have to step back and appreciate what Mad Pig puts into its builds. While Barbie-dolling up an AR is cool, a tricked-out lever gun just hits different. These things are about as far from vanilla as you can get in the gun world.
And while these guns look dope AF, their true beauty lies under their pimped-out surface. After all, Mad Pig is a gunsmithing shop that takes its responsibility seriously.
Its custom packages include a shit-ton of internal work, including cleaning and deburring the inside of the receiver and the trigger plate, chamfering the magazine, polishing the chamber, tuning the bolt assembly, and working all kinds of lever action magic that I don't fully understand.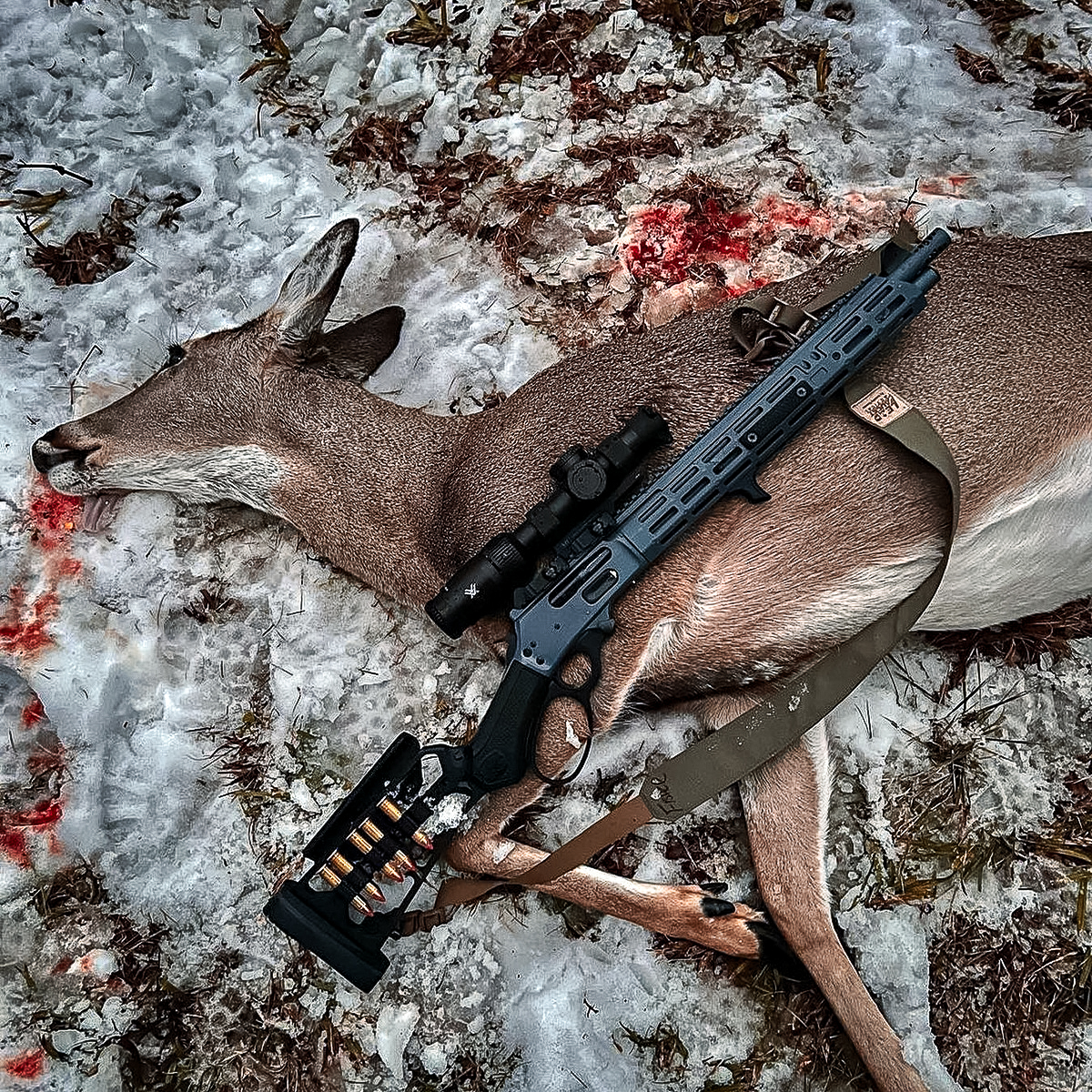 Of course, exterior beauty is somewhat in the eye of the beholder, and there are plenty of traditionalists out there who firmly believe any lever gun that isn't blued or color case hardened with a walnut stock is an abomination so severe it will give you anal polyps.
In 2021, Mad Pig lightheartedly thumbed its nose at the haters by posting pictures of what it dubbed "The Fudd Breaker," a three-stamp Marlin 1894, one tax stamp each for the SBR, the suppressor, and a freakin' grenade launcher. It might just be the most American thing our star-spangled eyes have ever seen.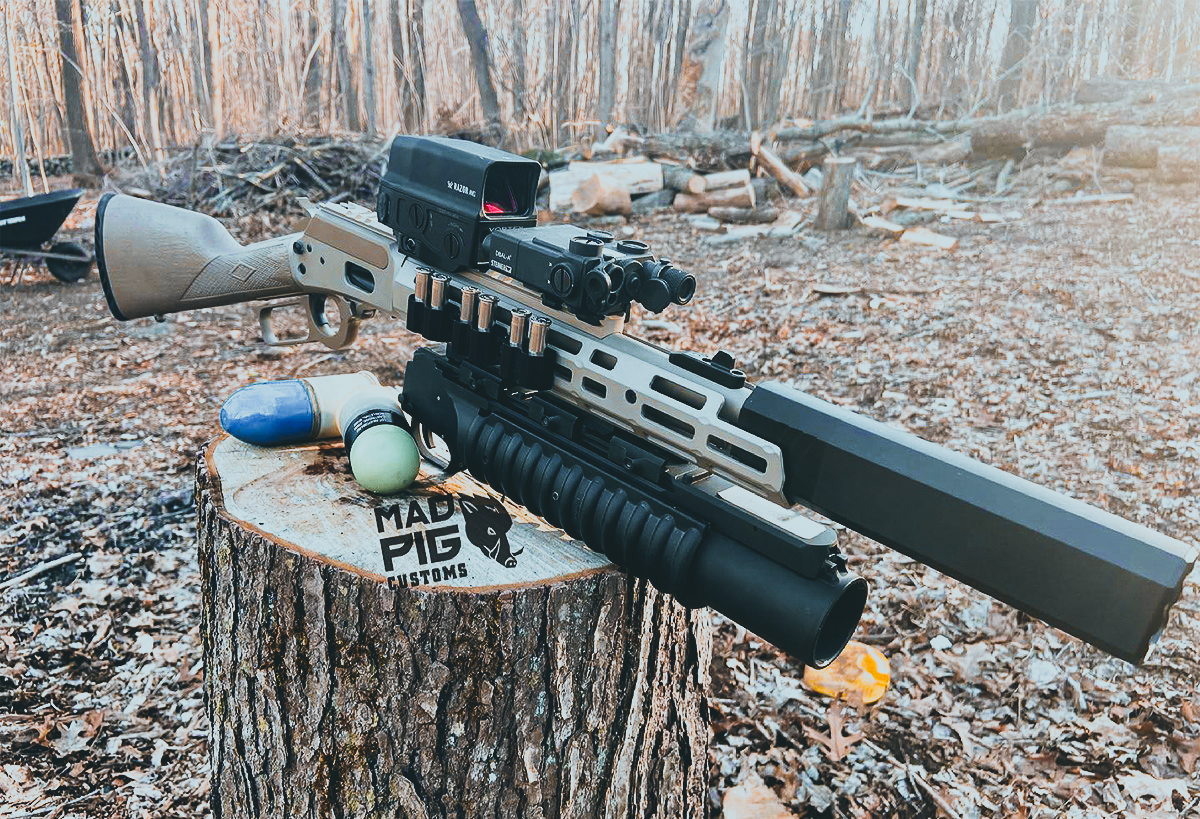 GOOD GEAR – Embody the Ethos of the Quiet Professional With BRCC's Silencer Smooth Roast
---
Getting in on the Lever Action
In the beginning, Mad Pig had nothing to do with lever guns. It started as a simple Cerakote shop in 2015, a side hustle Tyliszczak could run evenings and weekends.
However, Tyliszczak's buddy Phil Larocca is a veritable Marlin magician. He was picking up lever action rifles, tuning them up, and threading them for suppressors just for funsies. He was riding a surging wave of products hitting the market at the time that were trying to drag old cowboy guns hootin' and hollerin' into the 21st century. At the time, lever guns with M-LOK handguards were popping up everywhere (much to the dismay of surly cowboys and curmudgeonly grandpas everywhere).
After Larocca worked his magic, he would drop them off with Tyliszczak, who would further tart them up with a sick Cerakote job.
"[When] lever gun modernization was getting traction, people seemed to like what we were doing, and it just took on a life of its own," Tyliszczak said. "We stopped doing Cerakote and just focused on gunsmithing. That's all we do now is build lever action rifles. We might Cerakote stuff here and there, but that's not the business anymore."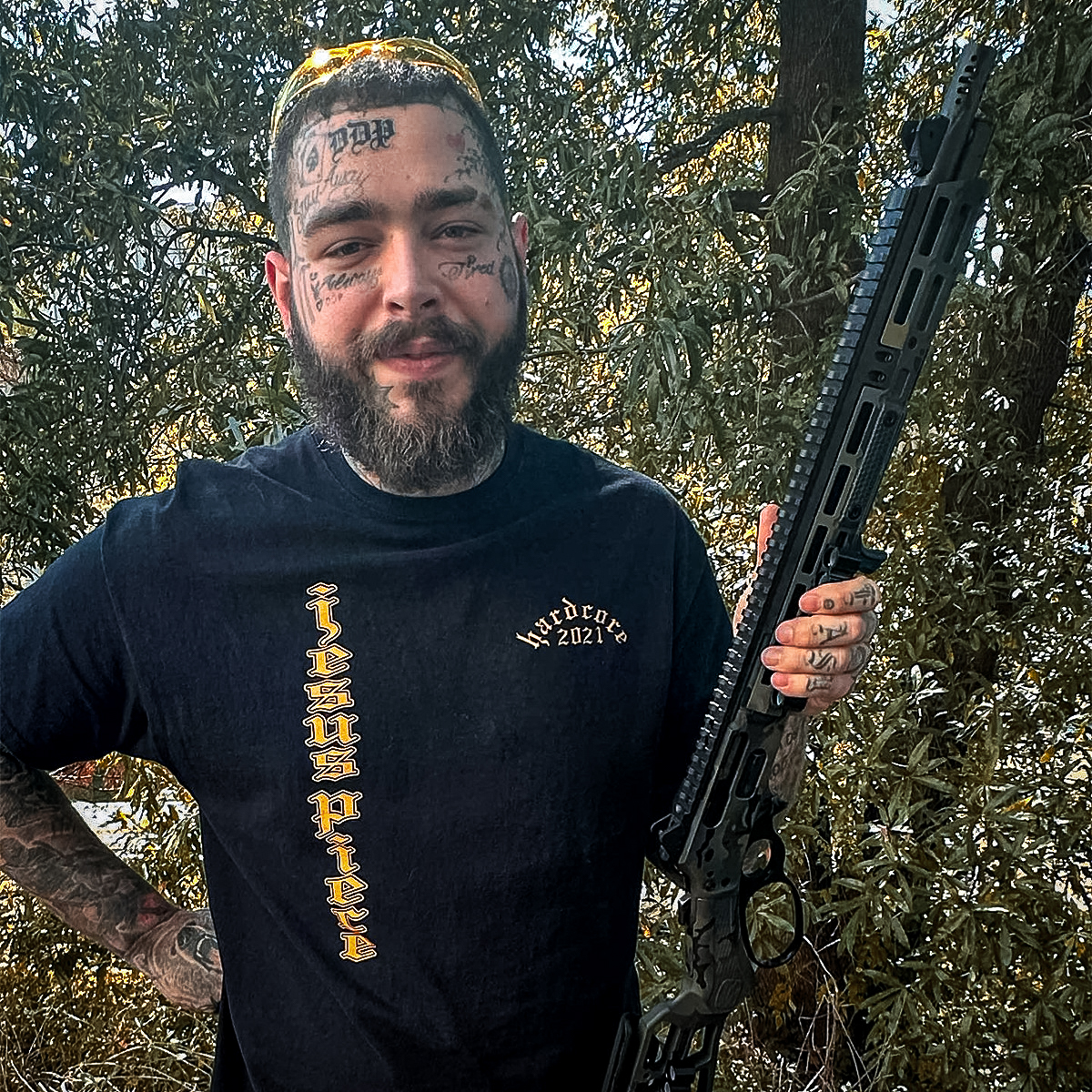 Updating and tactifying lever action rifles is uber-trendy right now, largely thanks to Mad Pig and its cult-like social media following. But Tyliszczak is more than willing to give credit where credit is due.
"I give full credit to Midwest Industries," Tyliszczak said. "Some people try to say we started the tactical lever gun trend, but we didn't. We might have made it a little more well-known, but that Midwest Industries Marlin handguard, that's what really made this thing take off."
RELATED — The Marlin 336 Is Back! Ruger Reintroduces a Classic Lever Gun
---
What's in a Name?
With a name like Mad Pig Customs, you would think there has to be some super rad story behind the name. And the deep sigh Tyliszczak gave when I asked about the brand backstory had me leaning forward in hopes of a good story.
"Oh, God," Tyliszczak said. "I'll be honest. It's not a good story."
And that made me lean forward even more because those words most often precede what ends up being a very good story.
I thought for sure I was about to hear about some run-in with a rabid hog or maybe a late-night barroom brawl with a biker gang.
"It's just unremarkable," Tyliszczak said after a long pause. "It's the only name my original business partner, and I could agree on.
"I really wanted something that had some serious relevance and meaning. I had my military background, and he didn't. And then, finally, someone threw out Mad Pig Customs. It has no special significance."
Although Tyliszczak seemed mildly embarrassed that there isn't some badass story behind the company name, the significance of Mad Pig isn't in how it got its name but in what the company has become. And in the world of tactical lever guns, Mad Pig is pretty freakin' significant.
"I tried to change the name a few years ago, and people got pissed," Tyliszczak says. "So we just kind of embraced it. We're Mad Pig."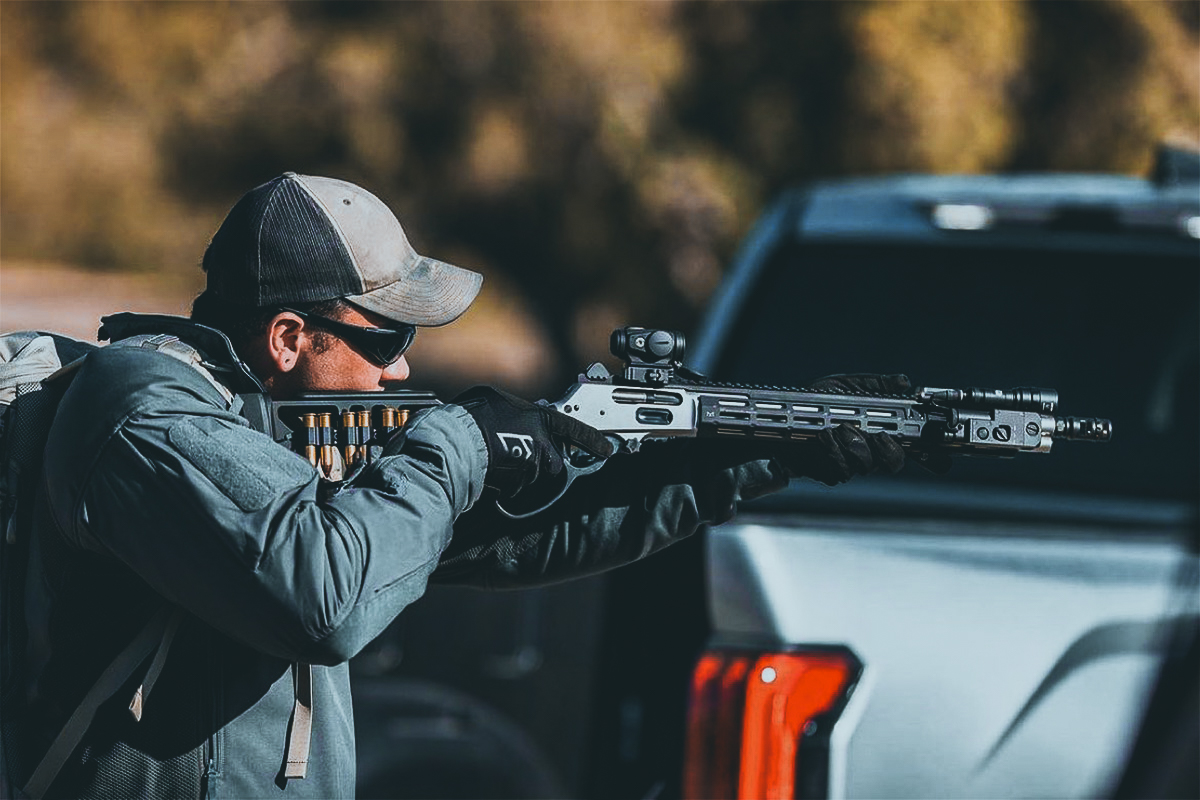 GOOD GEAR – Keep Your Freedom Engine Running With BRCC's Freedom Fuel Coffee Roast
---
Mad Pig Customs Has Mad Hustle
Although Mad Pig has grown into a heavy hitter in the tactical lever gun world, it remains Tyliszczak's side gig. He still works full-time as an MP with the Connecticut Army National Guard.
He hesitates to call Mad Pig a part-time job because of all the hours and energy he invests, but it really is his second job.
"I've been in the Army for going on 18 years; I'm a master sergeant," said Tyliszczak, who once re-enlisted wearing a banana costume. "I went to a military college, Norwich University, and then deployed to Afghanistan with the Vermont Guard in 2010. When I came home, I transitioned to the Connecticut Army National Guard, and I've been here ever since."
Most of Mad Pig's staff also has some sort of military background or connection.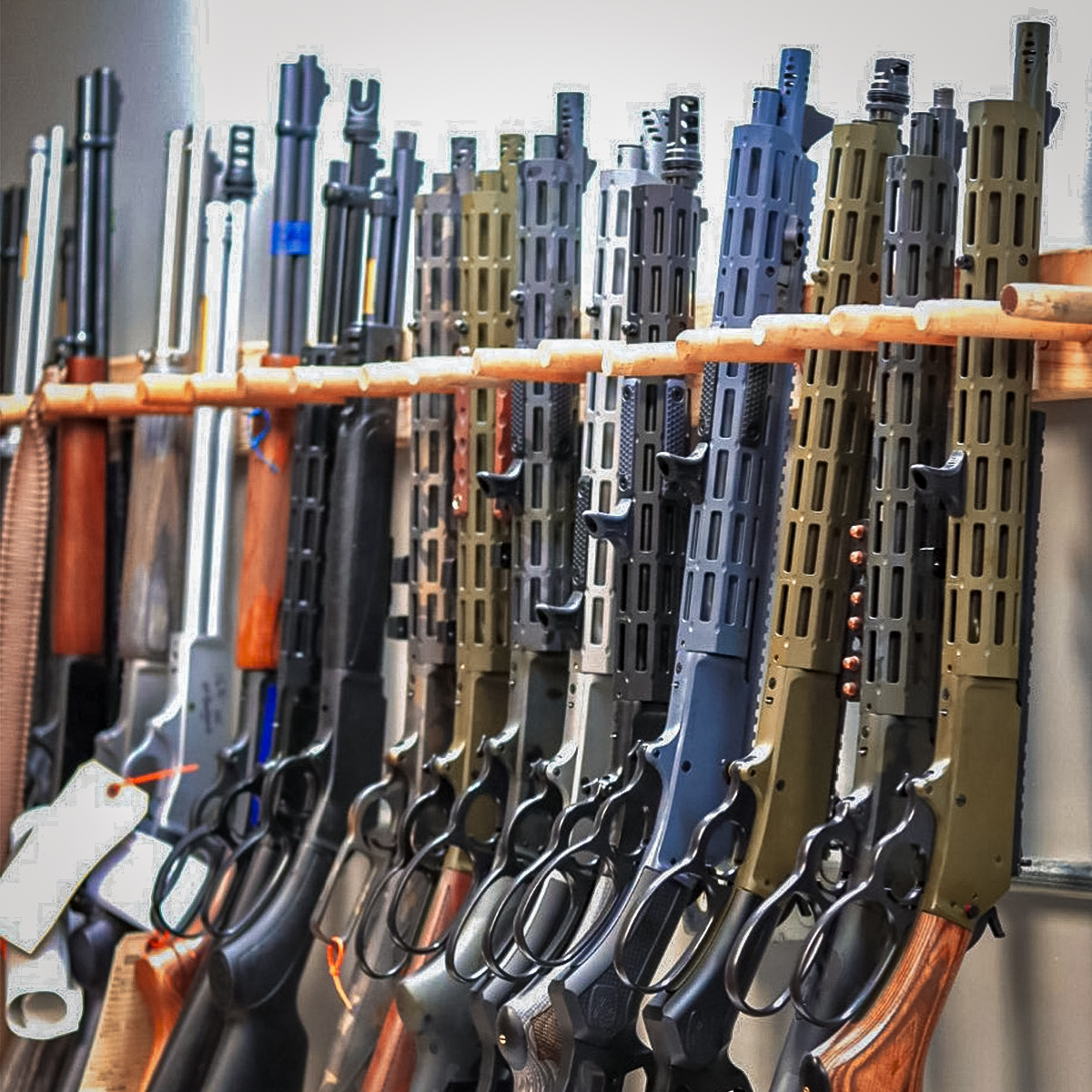 "Pretty much everyone who works here is someone I served with," Tyliszczak said. "I've got one kid who is a small arms repairman in infantry battalion. I've got another one who is an MP. I guess we gravitate to what we're comfortable with."
Tyliszczak also admits that Mad Pig's explosion in popularity is quickly turning the business into a full-time job, which isn't necessarily a bad thing, especially with his retirement on the horizon.
"We've made our name as gunsmiths, and in that time, we've learned a lot about these guns," he said.
Tyliszczak knows a thing or two because he's seen a thing or two. Because Mad Pig is intimately familiar with the internal workings of classic lever guns, the company has tweaked a few factory parts that don't work as well as they could.
"Not that they're bad, but I thought maybe we could do something better," Tyliszczak explained. "So we started creating our own parts that we only used internally. Now we're making those parts, and we'll be releasing them for retail sale soon."
For now, the name of the game is customizing Marlins and Henrys for their customers. How many guns has Mad Pig run through its shop? Tyliszczak said he doesn't have an exact count, but it has to be close to 1,000.
"We've built a lot of guns, and we've found what works and figured out how to make something that will appeal to other people," he said. "We do so many guns that we can't even photograph them all. We're putting out a lot more guns than we post on Instagram."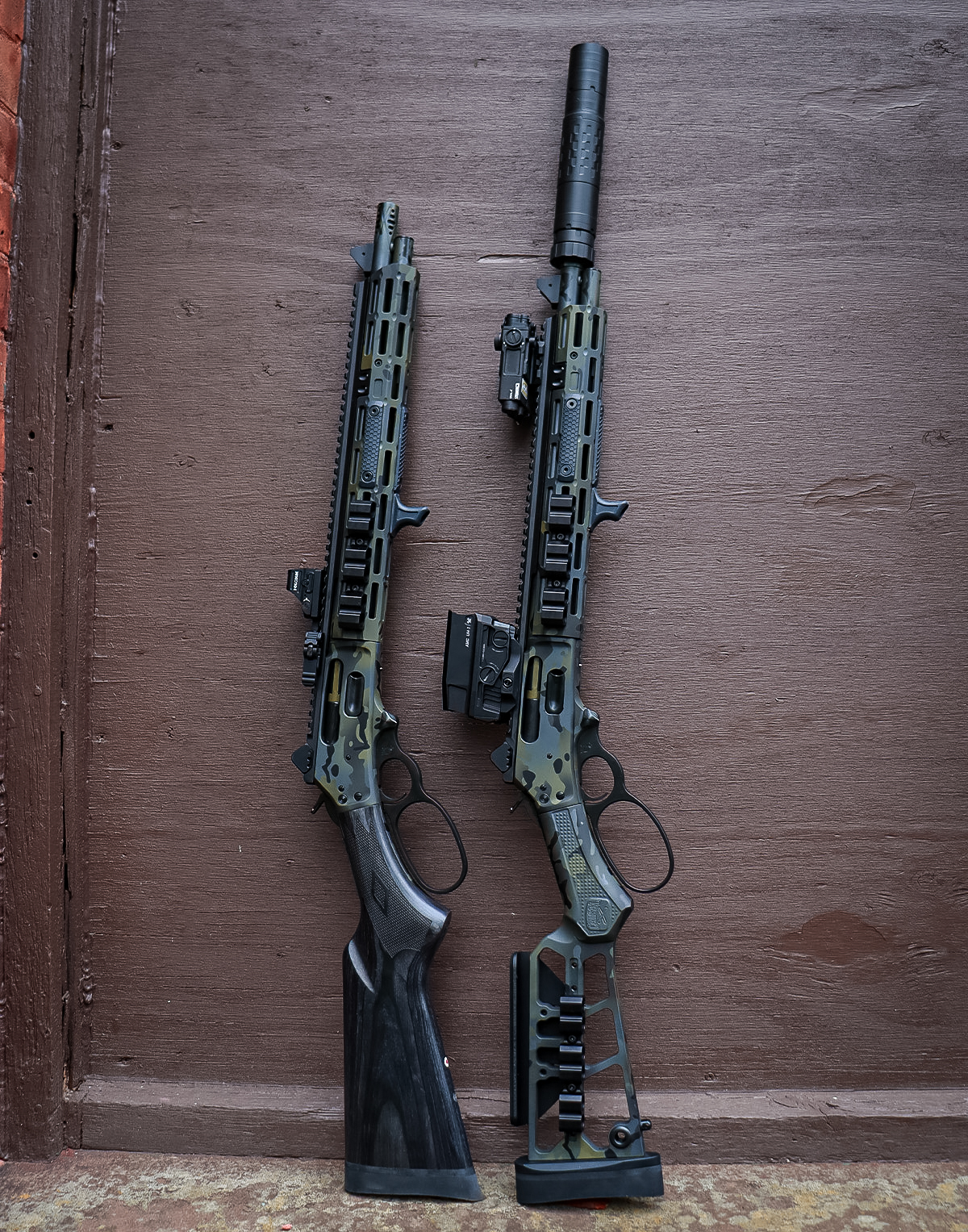 RELATED — New XS Lever Rail Models Fit Henry Carbines in .357, .44 Mag
---
Mad Pig Customs Does John Wick
While all of Mad Pig's custom mods are head-turners, the fictional Mr. Nobody's takedown Marlin 1894 is the gun that caught my attention. It's the coolest gun in the whole John Wick franchise. Although plenty of fans probably will disagree with me, I'll die on this hill.
But Mad Pig was turning heads long before John Wick: Chapter 4 came out earlier this year, including the head of Hollywood weapons specialist Rock Galotti, a dude who worked on blockbuster hits like The Matrix franchise, Transformers, Platoon, Avengers: Endgame, and 13 Hours.
In January 2021, while Tyliszczak, like pretty much everyone else in the National Guard at the time, was in Washington, D.C., for the presidential inauguration, he got an unexpected phone call from Galotti.
Galotti had seen the custom .45-70 Thumper Mad Pig made for Chris Costa and wanted something similar for the upcoming Wick installment
"We wanted it to have the ability to have a suppressor. We didn't want it to be a factory gun. We wanted it to be unique," Tyliszczak said. "It needed to be a distinct gun, and it needed to be a takedown."
While I've been crushing hard over Mad Pig's final product since I first saw it on the big screen, Tyliszczak admits he had to make a ton of compromises to get the end result.
"For better or worse, those guns were one-off prop guns with some serious compromises in their design," Tyliszczak explained. "Part of it was what the director wanted, part of it was what I wanted, and part was what needed to happen to make it look right for the movie."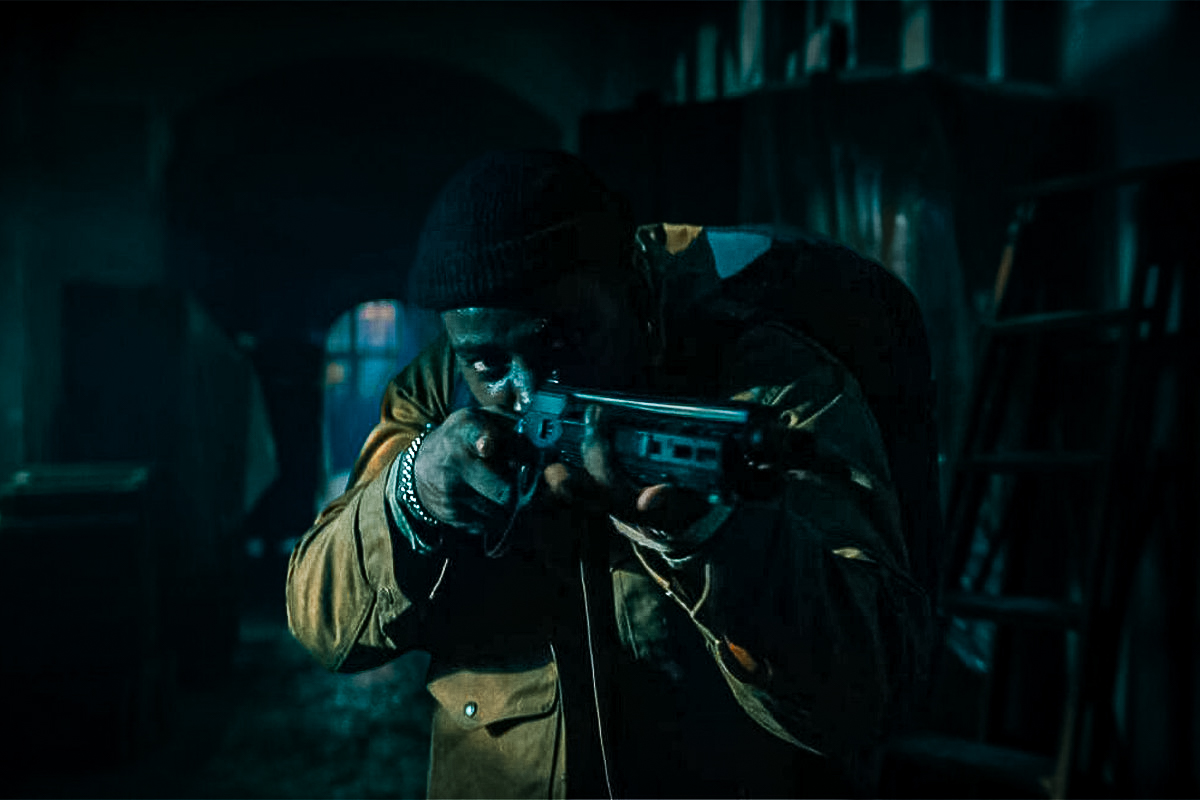 Tyliszczak was also working on a timeline that was tighter than a tick.
"We only had a couple of months to build these guns, and a lot of what people saw in the movie had never been done. We had to build a lot of the elements from scratch. Plus, there were multiple filming locations, and each location needed its own set of guns."
Mad Pig made a total of 13 guns for the movie in just a couple of months, and in the first few weeks of the timeline, Tyliszczak was stuck pounding pavement in D.C.
But before any of the modifications could go down, they first had to find the base guns, which wasn't exactly easy, especially at a time when both new and used guns were flying off the shelves.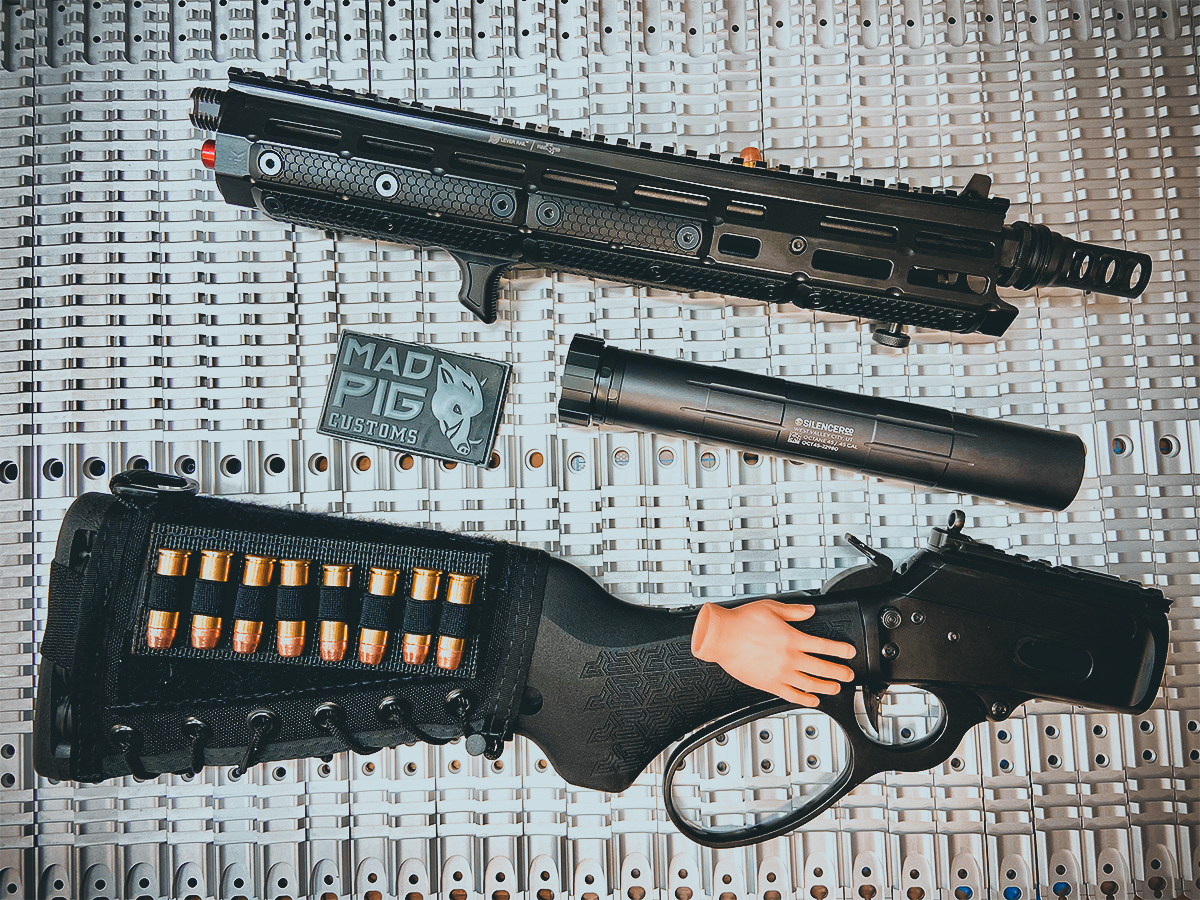 "Ruger had just bought the Marlin division of Remington, but they weren't even set up in a factory yet. None of that existed. They had literally just purchased them, but Rock was somehow able to get 13 Dark Series Marlin 94s in .44 Mag."
Even though Galotti has a major network and some serious string-pulling capabilities, getting hands on that many of those particular guns was no easy feat.
"The 94 Dark is a rare gun in .44 Mag," Tyliszczak said. "Only like 130 of those guns were ever produced, and we somehow ended up with 13 of them."
One of the most significant compromises Mad Pig had to make between reality and filming for the John Wick design was the takedown process.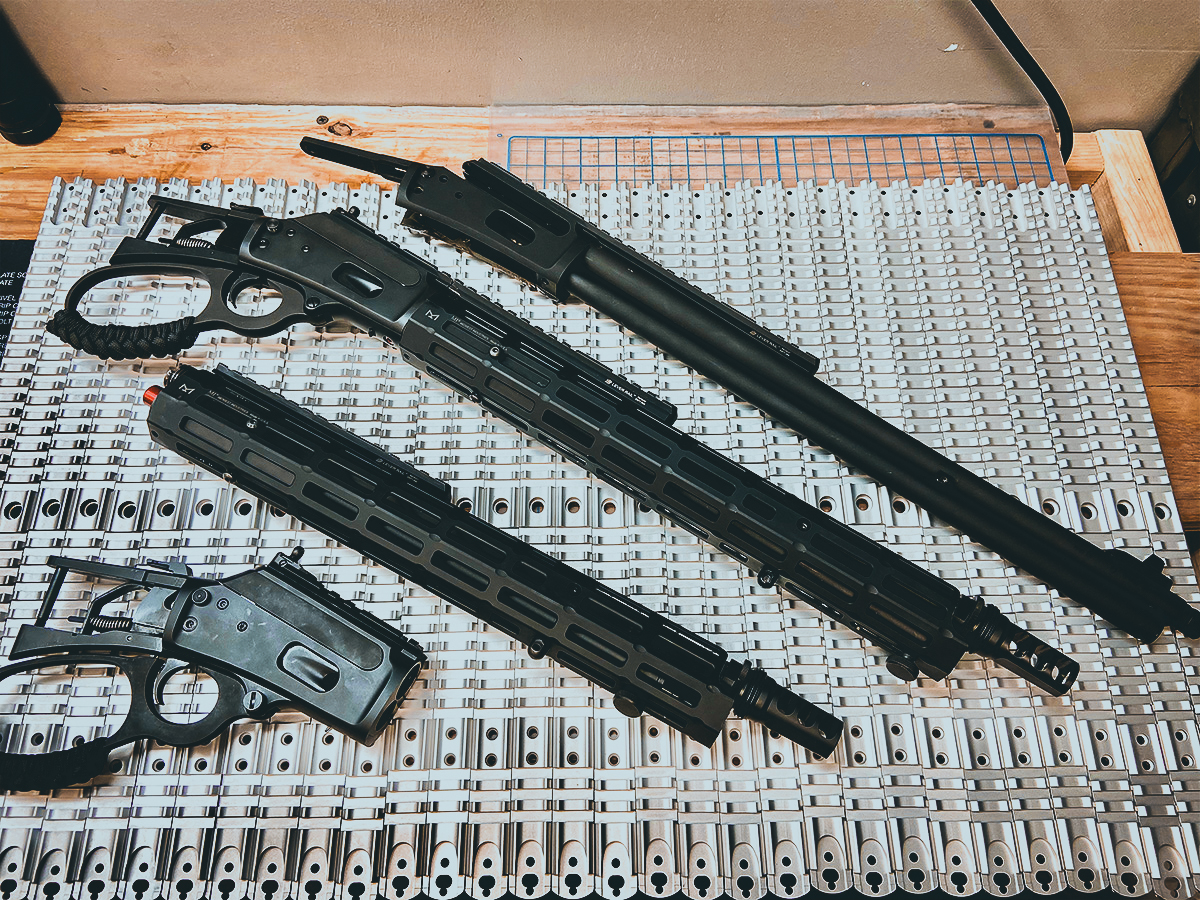 "They wanted a gun that snapped together and twisted. The ones you saw in the movie were Hollywood takedowns. We had to cut interrupted threads so Nobody could do that click into place, which was literally only in one scene.
"Frankly, they don't work that way. There are safety issues, and a snap-together takedown isn't going to stand up to a prolonged firing schedule. Real takedown guns aren't made that way. They're made with full-circumference threads."
Mad Pig made two Hollywood takedowns with interrupted threads just for that scene. The rest had full-circumference threads or were designed to look like an actual takedown.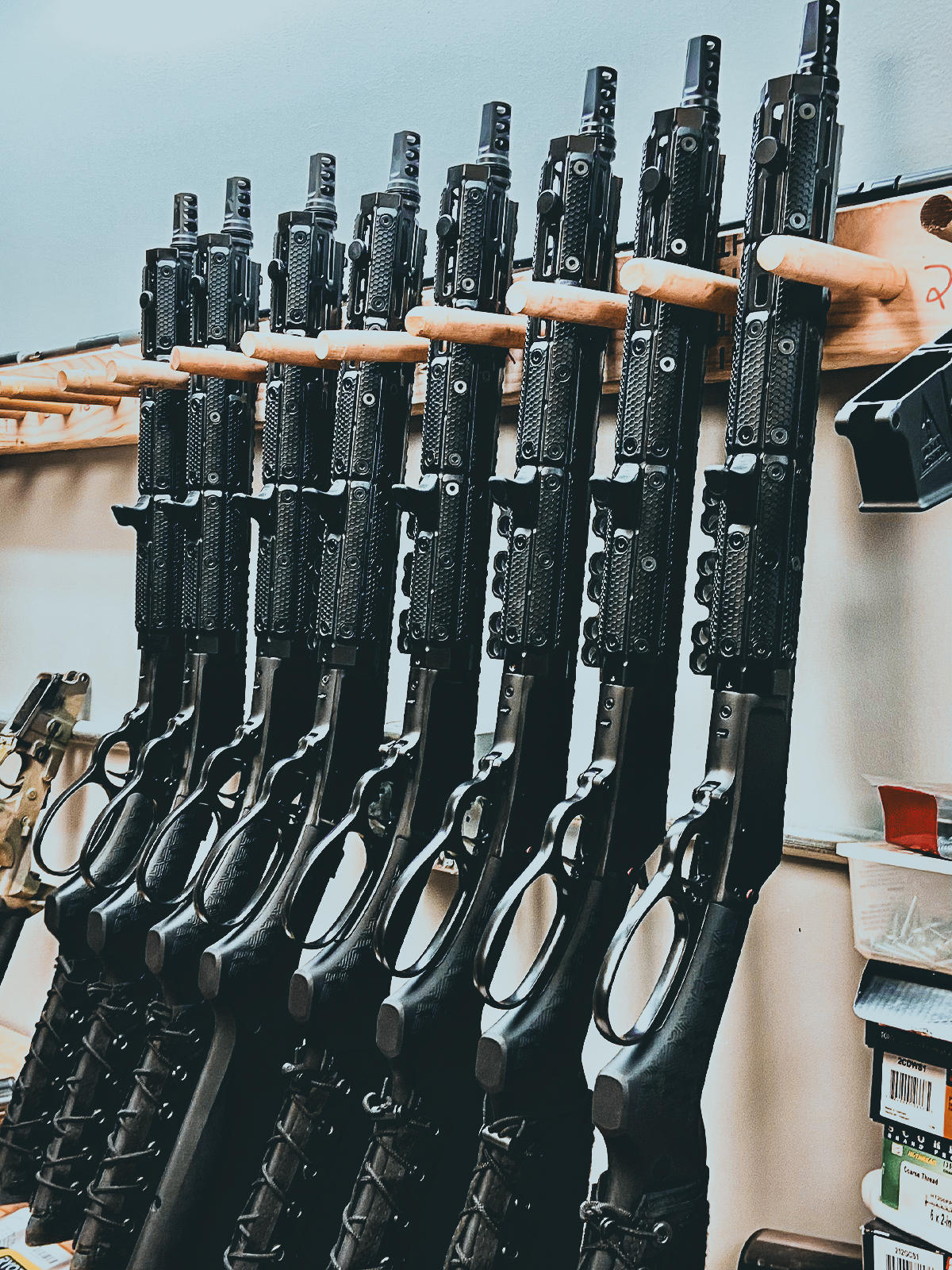 "You've really got to know what you're looking for to see the difference. Even I can't tell in 90% of the shots, and I built them," Tyliszczak said.
Movie directors also wanted to ditch the standard XS Sights optic rail for one that extended all the way to the muzzle. Since nothing like that existed, it had to be prototyped on the fly. And although the movie version is one badass-looking rail, Tyliszczak claims it isn't a viable production item.
"It kind of bit us in the ass because now everybody wants the gun from John Wick, and I'm like, you kinda don't. We build them a lot better now."
GOOD GEAR – Show Your Support for America's Coffee With the BRCC Black Rifle AR Cuffed Beanie
---
The BRCC Custom Guns from Mad Pig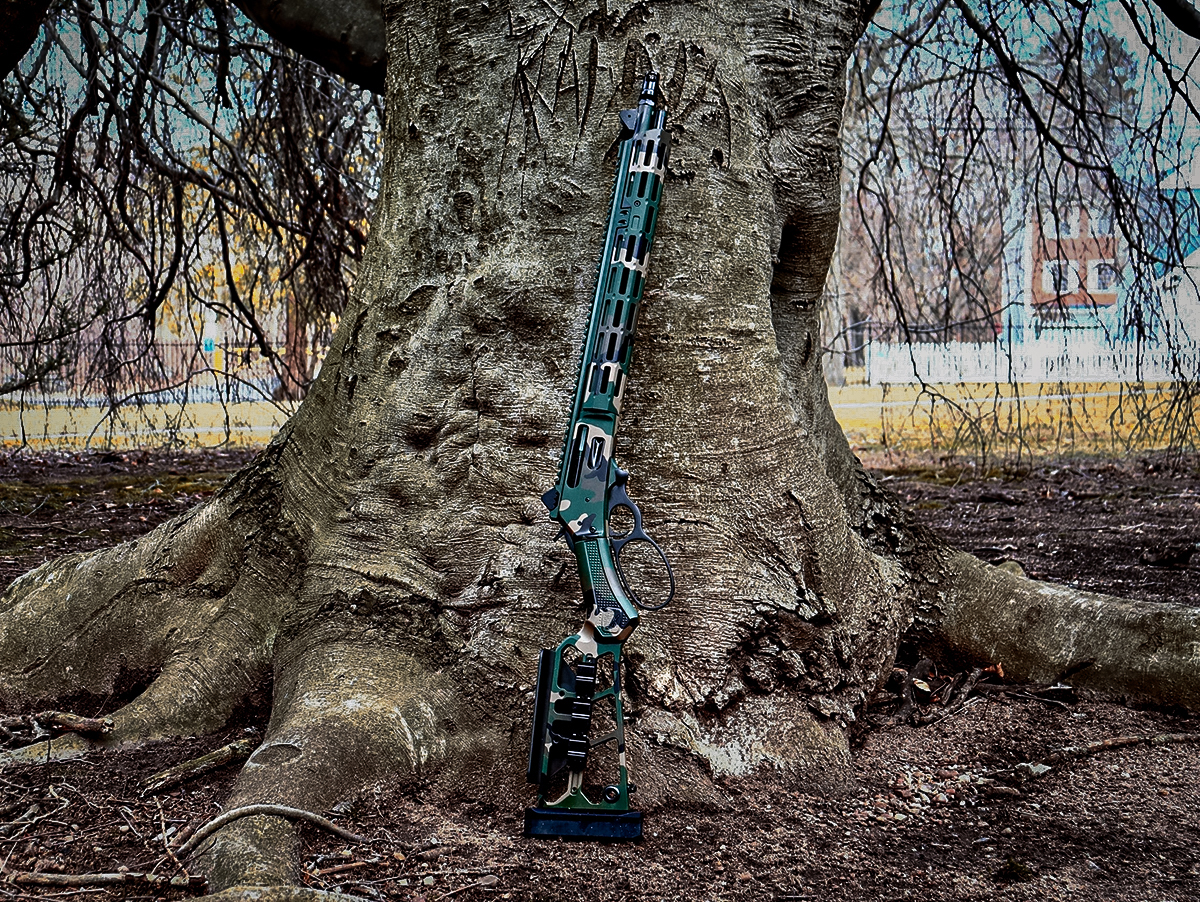 While the John Wick Marlin 1894 takedown is pretty fucking dreamy, Mad Pig has turned some major league real-world hotties for some pretty cool people, including Garand Thumb (Michael Jones), Medal of Honor recipient Sgt. Kyle White, and Post Malone.
He's also made some dope-ass lever guns for Black Rifle Coffee Company founders Evan Hafer, Mat Best, and Logan Stark.
When the BRCC guys asked Mad Pig to build them each a custom lever gun, Tyliszczak said they all told him the same thing.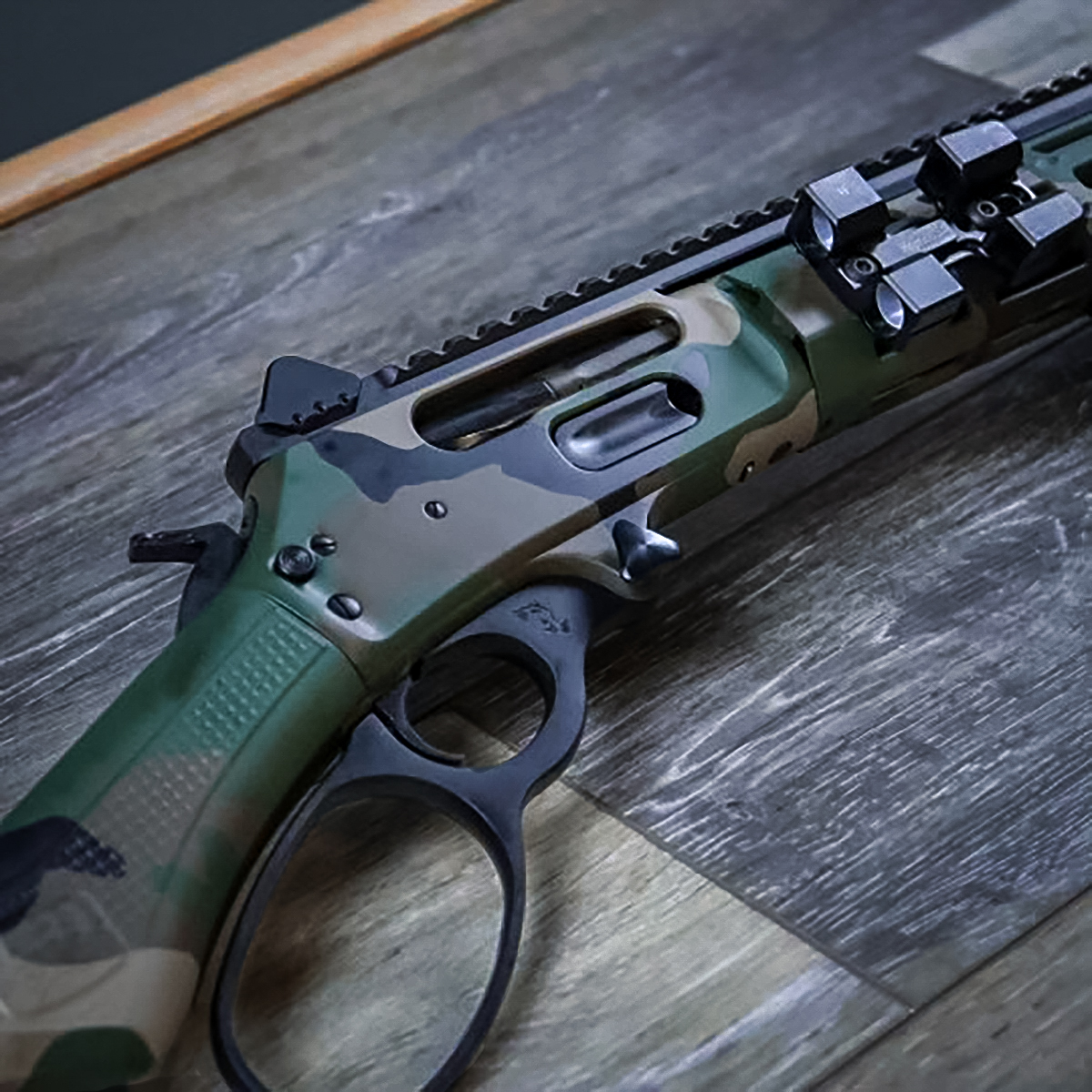 "I just want it to be cool, but it has to be better than the other guys'."
For Best's gun, Mad Pig started with an older Marlin 336 in .35 Remington and converted it to .450 Bushmaster. The company used its V2 style custom package, so it is suppressor-ready, with a Chisel Machining skeletonized stock, a Midwest Industries full-length rail and handguard, so he can top it with thermal, night vision, or pretty much any optic his tactical heart desires.
And then Mad Pig wrapped the whole thing in M81 Woodland Cerakote.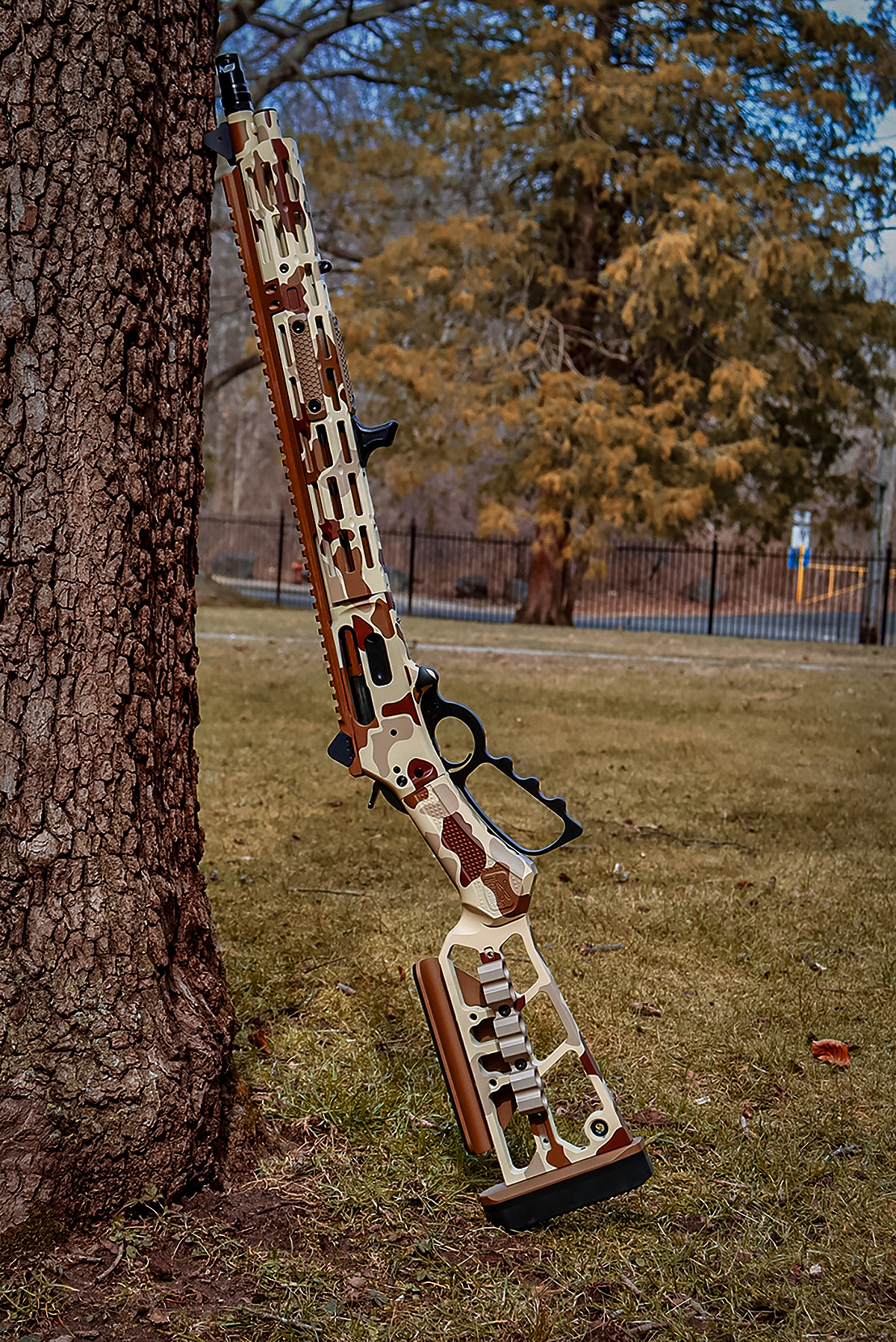 "Logan's was a .45-70 because he wanted that big bore power," Tyliszczak said. "Going on his Marine Corps background, we used a knuckle duster lever from BearTooth Mercantile as a little nod to Marine Raiders.
"He also wanted it in Duck Hunter camo, so his gun looks like it's straight out of Tarawa. It would fit right in on the beach."
Tyliszczak said Mad Pig is still finishing up Hafer's rifle, but it's a .45-70 short-barreled rifle like Stark's but with a tucked suppressor that fits inside the handguard.
Super-rad builds for badass war heroes, self-deprecating internet personalities, and famous face-tattooed rappers may look dope on a resume, but Tyliszczak claims Mad Pig's best stuff is when people are just plain happy. His favorite builds are when guys get an heirloom rifle they can proudly pass on to their kids.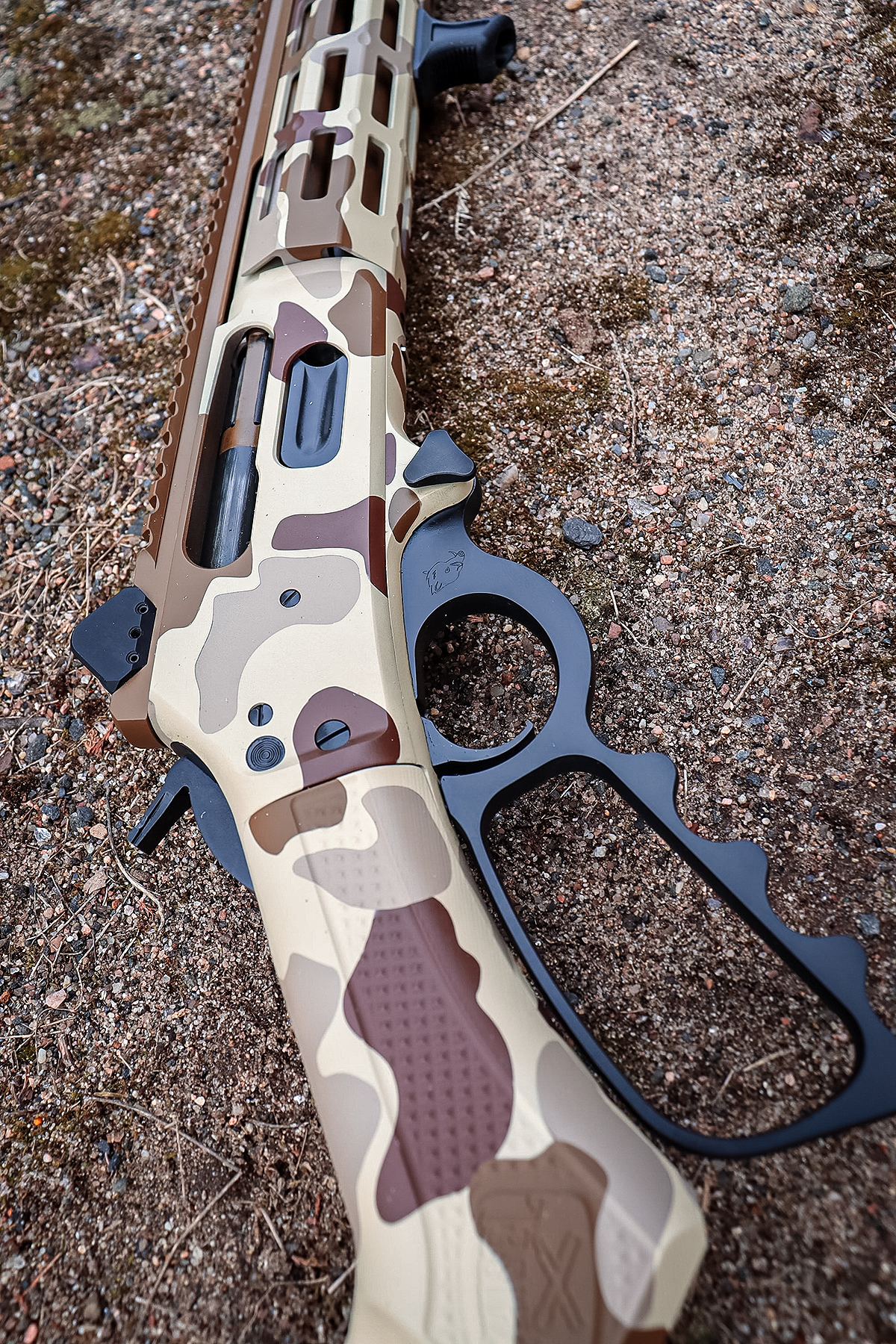 "There's one rifle that really stands out," Tyliszczak said. "This guy, Joe Dawson, a former SEAL, sent me his grandfather's .30-30. It was very important to him."
The gun was an early Marlin from the 1940s with an old "waffle top" receiver. Dawson inherited it when his grandfather passed. He wanted Mad Pig to give the gun a major tune-up and update it to meet contemporary standards, but it was an absolute nightmare to build.
"The parts just didn't interchange because it was such an old gun, so everything had to be hand-fitted, and people on the internet got very upset that we were desecrating a waffle top.
"We made the stock from a piece of wood that was a takeoff from an older Marlin that finished out beautifully.
"That is one of my favorite guns we've ever done because it was special for his family. It means something special to me that it was his grandfather's gun that I was able to clean up and make relevant for him and his kids to use moving forward. I just thought that was a really cool thing."
---
READ NEXT — Dream Guns: How We Would Spend $6,000 on One Firearm