In Hawaiian, mahi-mahi means "very strong" — but through a linguistic process called reduplication, the Hawaiian people say the word twice to signify greater intensity.
In other words, these fish will beat you up.
Mahi-mahi, aka dolphinfish or dorado, are typically found offshore in moderate, tropical, and subtropical waters, from Texas to the Caribbean to Massachusetts on the Gulf and East Coasts, Peru to Oregon on the West Coast, and as far west as Hawaii.
While mahi-mahi hunt reefs in deeper water, they are also surface-roaming predators that are drawn to floating debris like moths to a flame. Floating wood, palm fronds, foam or sargasso weed lines, reef markers or buoys — even single pieces of trash like a bucket lid or plastic container — will attract the baitfish that attracts mahi and frigate birds.
Whether casting bait, trolling squid patterns, or throwing big streamers with a fly rod, dorado attack with reckless abandon, fight like hell, throw in some acrobatics, and put on a display of otherworldly colors the entire time. And they get big, so the experience only gets more intense in proportion to their size.
Of course, they're a damn fine eating fish, too.
Let's dig into the mahi-mahi and see what they're about.
RELATED – 5 of the Best Shark Fishing Spots in the Nation
---
Quick Breakdown: Mahi-Mahi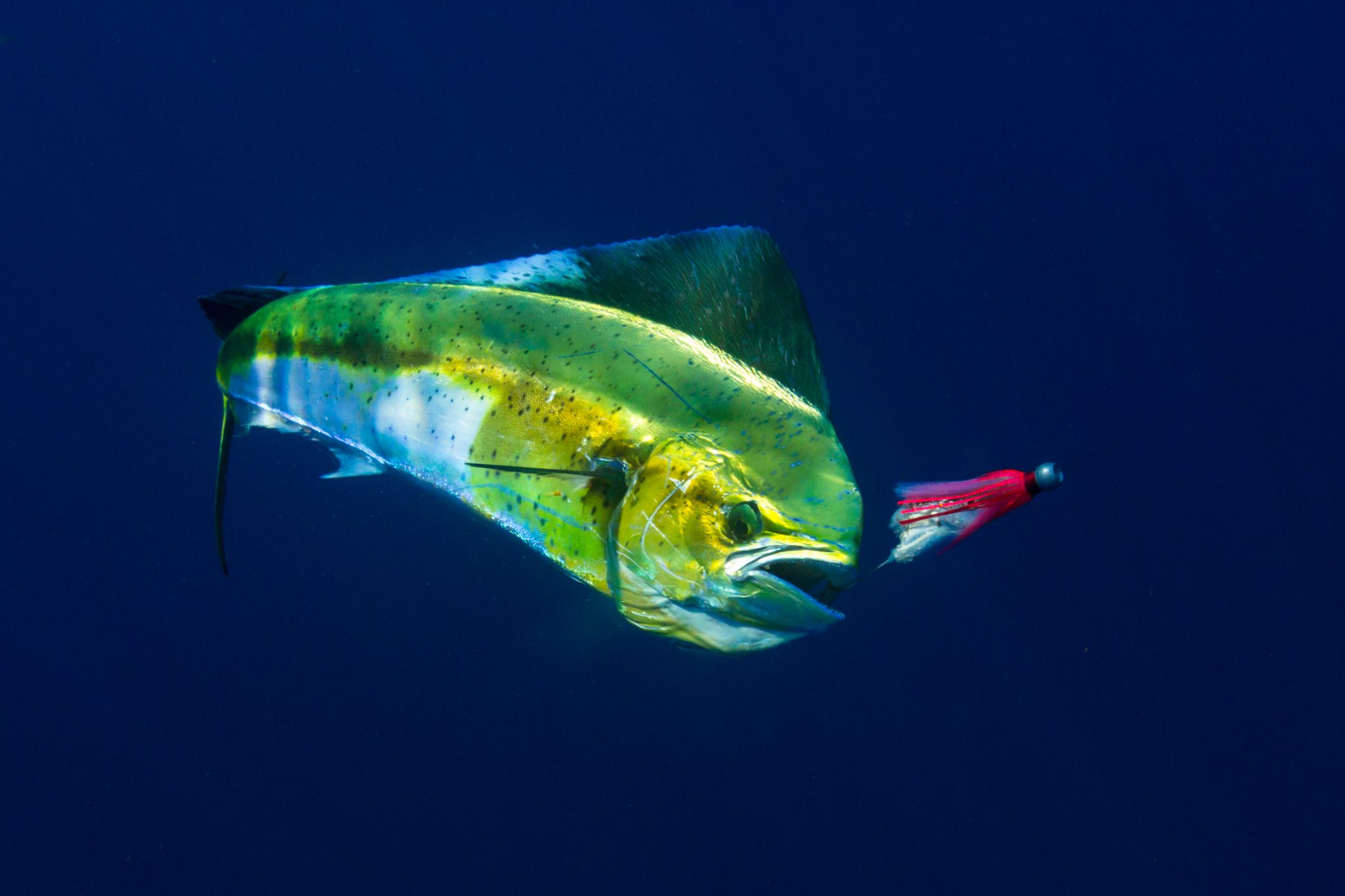 Aside from perfectly grilled fish tacos with veggies and cold beer, mahi-mahi are best enjoyed when they're battling at the end of your line.
With a brightly colored back of electric greenish-blue, a lower body of gold or sparkling silver, and sides dotted with a mixture of dark and light spots, these fish explode in technicolor bursts every time they change direction and catch the sun. But all that flash fades almost immediately after they hit the ice chest.
Growing up to 88 pounds, almost 7 feet in length, and living roughly five years, adult males (bulls) have a square head, while females are rounded. Mahi-mahi are sexually mature at four to five months old and can spawn every two to three days during the spawning season, releasing between 33,000 and 66,000 eggs each time.
They start out moving in larger packs as juveniles. As they get bigger, they'll start to break off into mating pairs.
Mahi are voracious eaters, dining on small pelagic fish, juvenile tuna, invertebrates, billfish, jacks, pompano, and the pelagic larvae of nearshore, bottom-living species. Of course, until they get big enough to command a spot higher up the food chain, they're the target of predators like large tuna, sharks, marlin, sailfish, and swordfish.
RELATED – Huge Bluefin Caught Off New Jersey Coast
---
The Top 6 World Record Destinations for Dorado
---
Panama – 43 Records
The Humboldt Current, which flows north up the west side of South America, pushes nutrient-rich water up into the Gulf of Panama, bringing lots of microscopic life that support the constant, huge numbers of baitfish that congregate. Of course, abundant baitfish in tropical water is the dorado dinner bell.
Panama holds an insane 43 IGFA World Records for dorado, including Nikki Wilson's 55-pound, 2-ounce, 20-pound tippet-class record caught in 2020. Even more insane — every record was produced by Tropic Star Lodge in Piñas Bay.
---
Florida Keys – 30 Records
The Florida Keys have a well-earned reputation for being a burly, sprawling, abundant fishery. Located between the southern tip of the Sunshine State and the Dry Tortugas, the Gulf Stream brings in the mother of all baitfish buffets from the Caribbean and Gulf of Mexico, making a perfect geographic chain for mahi-mahi to hunt around.
The IGFA 12-pound line class world record of 77 pounds, 2 ounces was caught by Monte Green 10 miles off the coast of Islamorada.
---
Cabo San Lucas, Mexico – 28 Records
Cabo is where the Pacific Ocean meets the Sea of Cortez. It gets crazy deep just offshore and, between the warm water, an abundance of nutrients, and endless structure, baitfish like sardines and herring gather in massive numbers. So do the dorado.
The women's IGFA 80-pound line class world record is an 82-pound, 2-ounce beast that was caught in Cabo by Tera Allegri in 1993.
---
The Bahamas – 24 Records
The Bahamas share many similarities with the Keys. The movement of warm water, and all the bait that moves with it, pours into the Bahamas' crystal-clear water, reefs, and deep cuts.
These are perfect hunting grounds for big dorado, like the 32-pound, 8-ounce women's 4-pound tippet-class world record caught by Jodie Johnson in Abaco.
---
Florida Mainland – 14 Records
The Atlantic Coast of Florida gets dirty with dorado when they start to spawn. From April through September, Palm Beach, Port Canaveral, St. Augustine, Stuart, and Jacksonville Beach light up, and you can get into more dorado — and big dorado — than you have the energy to fight.
The 20-pound class record of 76.5 pounds was caught just off Palm Beach Inlet (aka Lake Worth Inlet) by Rene Viau in 1993.
---
Costa Rica – 7 Records
Mahi-mahi can be caught throughout the year in Costa Rica but are most prevalent from May to November. This Green Season is when the rains wash out a bunch of debris from river mouths into the ocean. This is the window when ho-hum mahi-mahi specimens run between 20 to 40 pounds and giants over 50 pounds are on the hunt.
The IGFA world record mahi-mahi was caught by Manuel Salazar in Costa Rica in 1976 and weighed a whopping 87 pounds. It probably just left Panama.
RELATED – Watch: Airborne Sturgeon to Tarpon — 'Hold My Beer'
---
The Gear You'll Need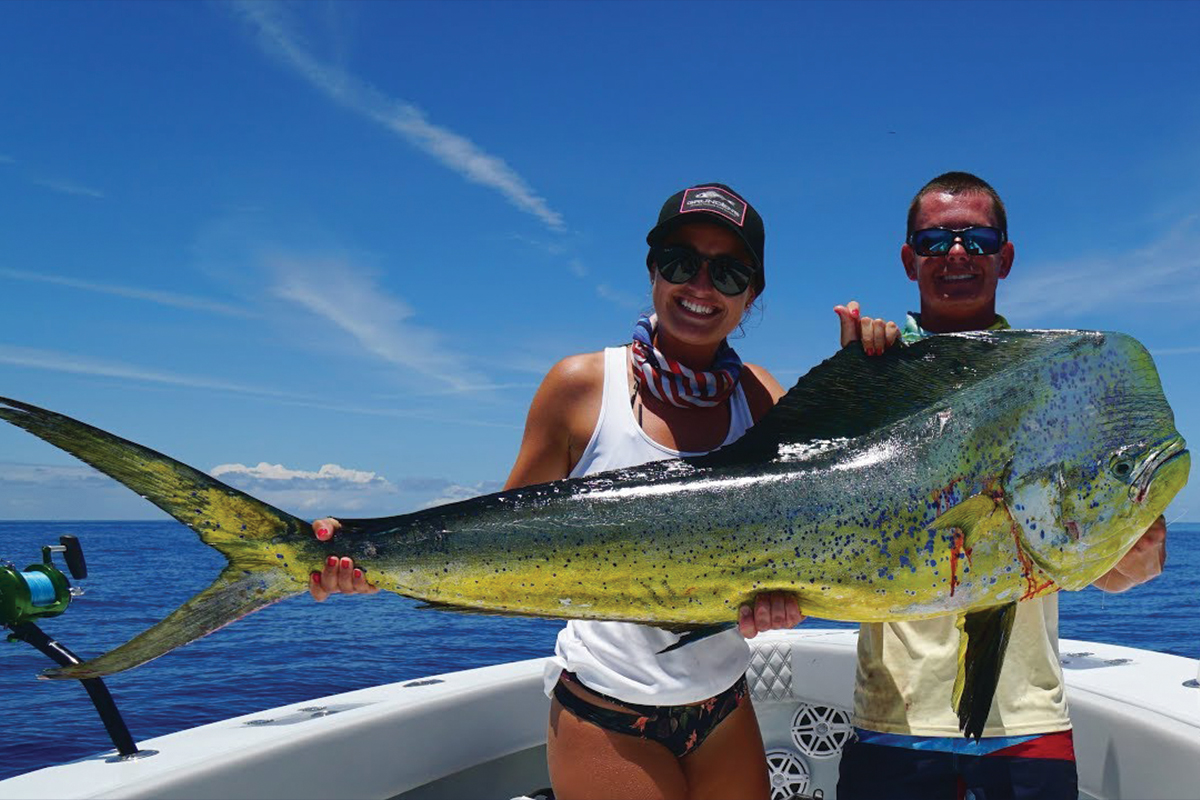 These are run-and-gun offshore fish that you'll be booking a charter to chase. You can expect 30-to-50-pound rod-and-reel setups for trolling. Squid and big baitfish patterns or arrays are the go-to for attracting dorado and getting them fired up. Ballyhoo or a net full of live sardines tossed into the water can excite them into a feeding frenzy, too.
Fly fishing for dorado is a riot. If you can drift into a weed line or find other debris and birds diving for bait, you can sight cast to them. In the absence of surface debris, captains will troll fish to the surface and into range with hookless teaser plugs or arrays. Once the fish are up and hunting, the teasers get pulled and you cast a fly to intercept their chase: the old bait-and-switch technique.
RELATED – Striped Bass: The Phish of the Sea
---
Before You Go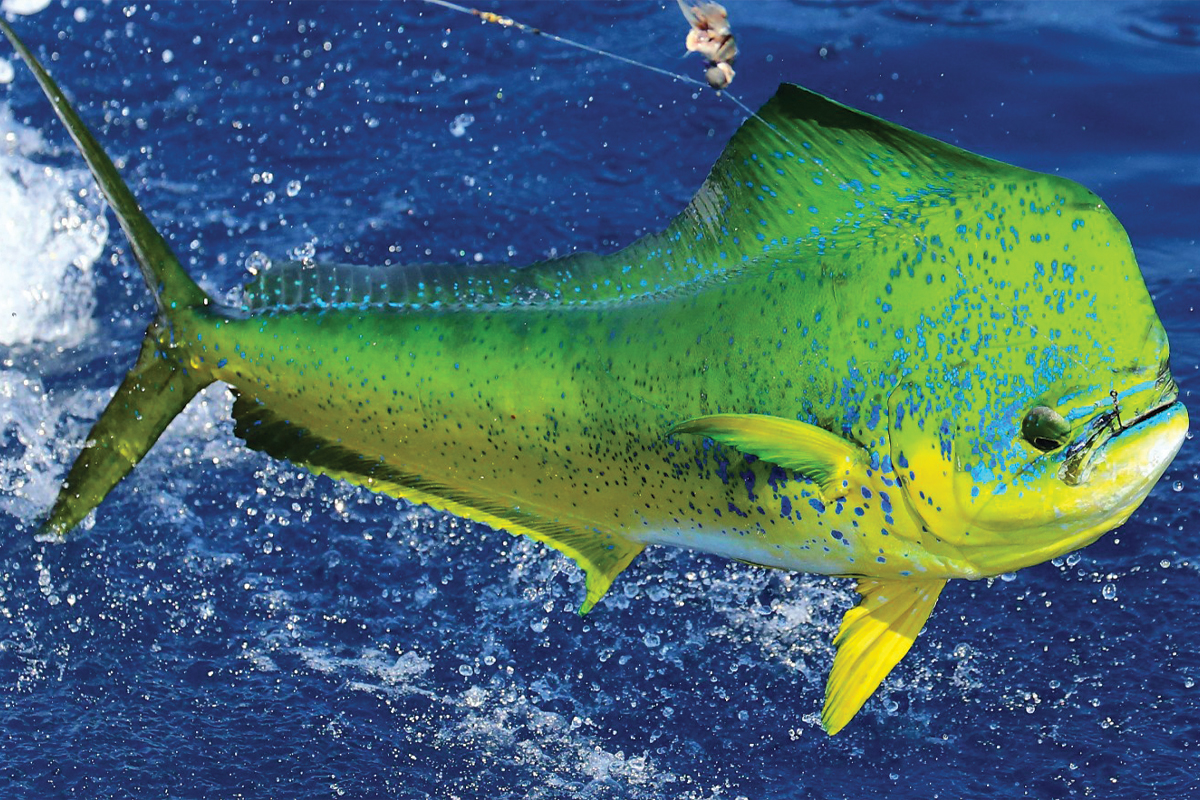 As with any trip to fish in new water, make sure you do your research on size and bag limits — even if you've booked a charter. Speaking of charters, it's a solid idea to call around and speak to different outfits before you decide on booking. Read reviews and see which lodges have the happiest customers. Sometimes it's not about numbers. Anglers are loyal to guides who are worth their salt, and they'll let people know.
Also, plan ahead. Depending on when you want to go, and how many people are entertaining the same idea as you, availability could be a challenge. You may need to book outside of the "hot" part of the season your first trip out. Even so, with the weather patterns changing as much as they are, you may find yourself in the right place at an unexpected time.
---
READ NEXT – Rooster Fish: Get Tropical and Be Ready for a Fight