New Mossberg Turkey Guns:
Compatible with Shield RMSc baseplate red dots
Top-mounted ambidextrous safety
Mossy Oak Greenleaf camo
Mossberg is expanding its hunting lineup to include three new turkey shotguns from the pump-action 835 Ulti-Mag and 500 lines. These new gobbler getters are available in 12-gauge, 20-gauge, and .410 bore. The 12-gauge model has a $693 price tag, and the 20-gauge and .410 are both going for $644. In other words, all three are extremely affordable and built on time-tested pump action shotgun platforms.
To better serve turkey hunters chasing accuracy and speed, these new models are optics-compatible and machined for the Shield RMSc pattern for those who prefer low-mounted red dots over irons.
Even without a red dot, these Mossberg turkey guns should perform well in all kinds of environments thanks to a long fiber-optic front sight, which can absorb lots of ambient light. A vented rib keeps the sight nice and high, right where most hunters want it. The synthetic stock features a traditional grip rather than the pistol grip found on many turkey guns, a fixed buttstock, and a 13.9-inch length of pull.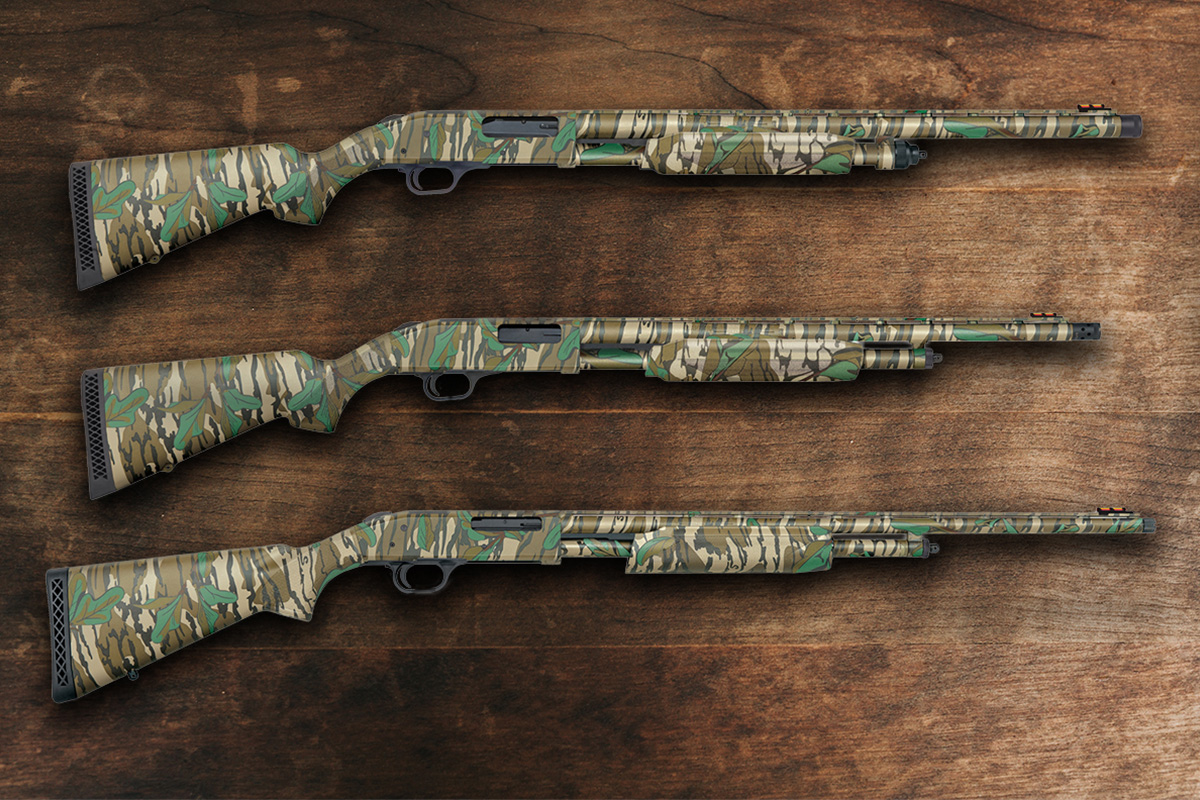 All three shotguns sport Mossy Oak Greenleaf camouflage from muzzle to buttstock. This gives Mossberg's new turkey guns a look that stands out from other models, with a bit of a retro vibe. It strikes a sweet spot between modern camouflage and the soulful retro style of Sauer's Fred Bear line — although at a much more accessible price.
Both Model 500 Turkey shotguns have a standard 3-inch chamber; the beefy 835 Ulti-Mag Turkey can handle 3.5-inch magnum shells, making it the obvious choice for turkey hunters who want to reach extra far and pack a serious punch (though there are fewer and fewer 3.5 magnum turkey hunters these days). Magnum power means it's also capable of pulling double duty as a hard-hitting goose gun. The 12-gauge barrel uses a full-length,10-gauge profile to keep shot patterns tight and consistent by reducing pellet deformation, even when used with magnum loads.
The 12-gauge and .410 use a 24-inch barrel; the 20-gauge gets a 22-inch barrel. Muzzles are internally threaded to accept interchangeable choke tubes, and each shotgun ships with a Mossberg turkey choke tube: The 12-gauge 835 Ulti-Mag Turkey comes with an Ulti-Full choke, the 20-gauge 500 Turkey comes with an X-Factor ported choke, and the .410 500 Turkey comes with an X-Full choke.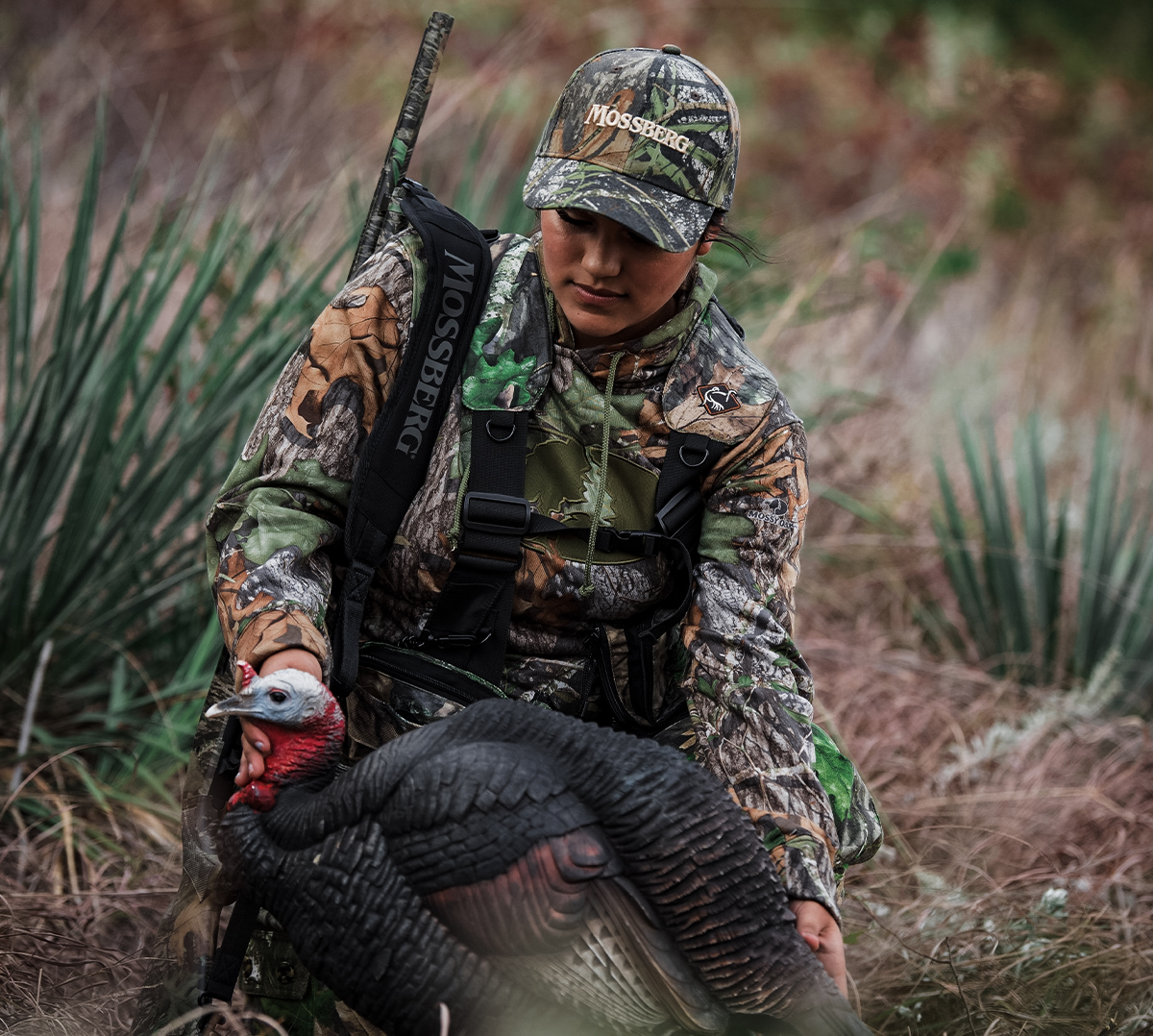 Compared with other species, turkeys are a relatively cheap animal to hunt, and it's a great, rewarding way to get newbies introduced to the sport. Getting the right gear for turkey hunting doesn't cost a lot, and these shotguns are a good example of that.
Buying a quality pump-action shotgun, some camouflage, and a turkey call is a lot more affordable than investing in the kind of gear required to pull off many other hunts. And the setup will last you for years and can be quite versatile if you choose wisely. Even adding a red dot doesn't cost much, and these platforms have been beat to hell for a few generations — they're fairly basic, but the Model 500 and Model 835 are workhorses in the turkey woods.
After getting your gun and gear squared away, the best thing you can do is focus your energy on patterning your shotgun and learn a few tricks from a seasoned local.
GOOD GEAR – Embody the Ethos of the Quiet Professional With the BRCC Silencer Smooth Roast
---
New Mossberg Turkey Guns – Specs
835 Ulti-Mag Turkey – 12-gauge

Barrel Length: 24 inches
Capacity: 5+1
Price: $693
---
500 Turkey – 20-gauge

Barrel Length: 22 inches
Capacity: 5+1
Price: $644
---
500 Turkey – .410 bore

Barrel Length: 24 inches
Capacity: 5+1
Price: $644
---
READ NEXT – 10 Gauge Shotgun: Is There a Reason for It to Still Exist?