German firearms manufacturer J.P. Sauer & Sohn now offers its SL5 semi-automatic shotgun in three new waterfowl configurations inspired by legendary hunter Fred Bear. One features full-on Fred Bear Old School Camo, one uses the pattern on the stock and forearm with brown Cerakote on the barrel and receiver, and one is all black.
The semi-automatic SL5's inertia drive offers hunters simplicity and clean operation compared to gas-operated shotguns. Barrels come in lengths of 26, 28, and 30 inches with chrome lining, a stepped rib, and a bright LPA fiber-optic front sight that's easy to pick up during early-morning hunts. All three models have a capacity of 3+1 rounds and have 3.5-inch 12-gauge chambers; the black synthetic version is also available in 3-inch 12-gauge.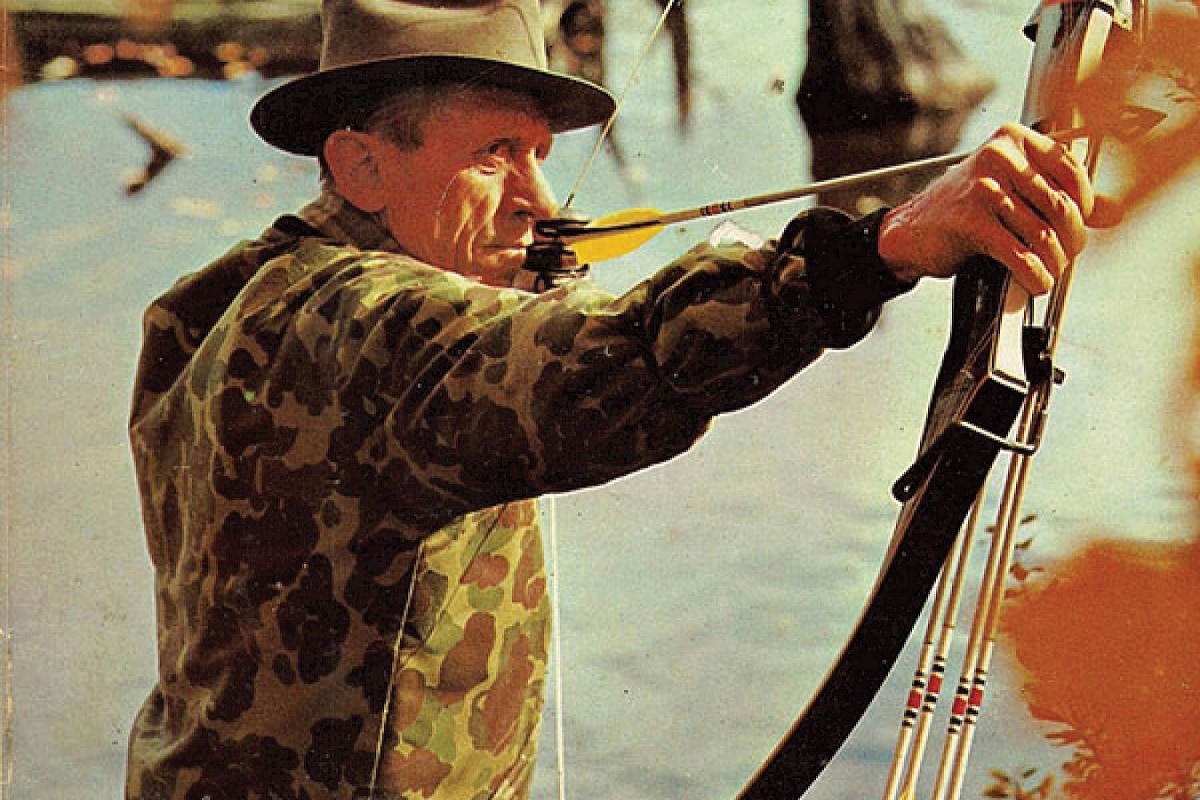 What do you get for a starting MSRP north of $1,500? The SL5 has received praise for being rock-solid — even when cycling underpowered 2 3/4 inch shells — and comfortable to shoot, thanks to its inertia drive and slim profile. Since anyone firing 3.5-inch shells is probably going to be freezing their fingers off, Sauer gave the SL5s featuring a 3.5-inch chamber, an oversized bolt handle, and a release button that is easy to operate while wearing gloves.
Each SL5 also comes with five different Benelli Crio Plus choke tubes: cylinder, improved cylinder, modified, improved modified, and full. The main attraction of these new waterfowl guns, though, is the optional Fred Bear Old School Camo.
Invoking the name of legendary hunter and Archery Hall of Fame inductee Fred Bear is an interesting choice since Bear was a bowhunter (and the founder of Bear Archery). He also took a jab at people who obsess over camouflage in his 10 Commandments of Hunting by pointing out, "Your grandpa hunted deer in a red plaid coat." Nevertheless, a basic camouflage pattern worn by Bear decades ago is making a comeback, and it looks fantastic on the sleek SL5.
The retro look is in high demand, and Jason Evans, CEO of Blaser Group, is excited to give waterfowl hunters what they've been asking for in the form of the new SL5s.
"They are designed to withstand the brutal elements waterfowl hunters experience throughout the season, year after year, and the Fred Bear Old School Camo pattern is a true classic that is popular with many hunters of all ages," he said. "We've had a lot of requests for this pattern and are happy to finally meet the demand."
GOOD GEAR – Sneak Up on Waterfowl With the BRCC Reticle Duck Camo Pullover Hoodie
---
Fred Bear Old School Camo SL5 Specs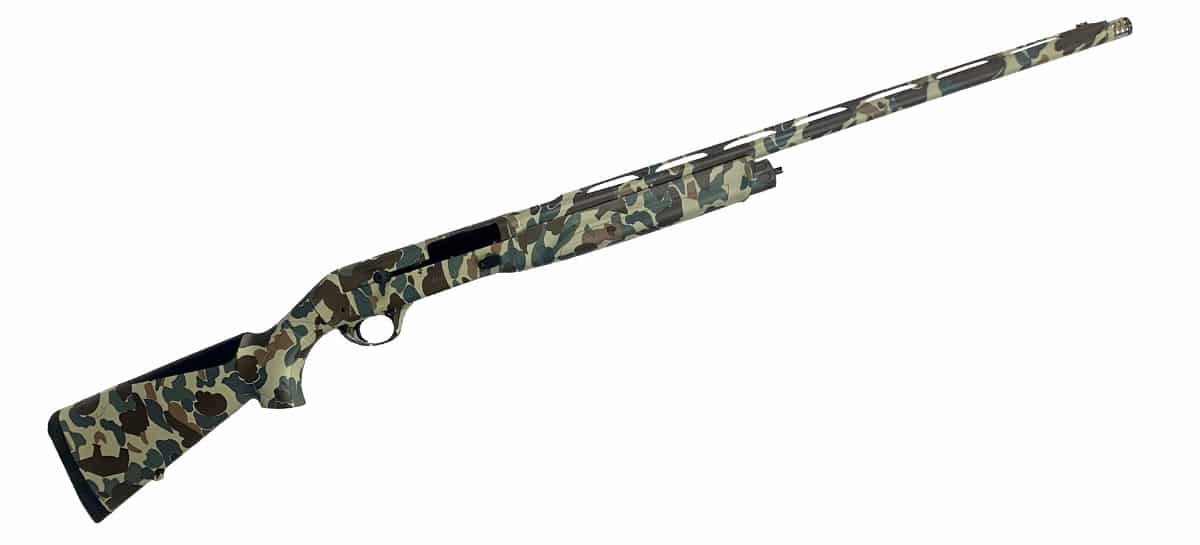 MSRP: $1,679
Chamber: 12-gauge, 3.5-inch
Barrel: 26, 28, or 30 inches
Capacity: 3+1
Features:
Inertia drive
Stepped rib, chrome-lined barrel
Steel upper, aluminum lower
Extended bolt handle and release button
LPA front bead sight
Sling attachments
Cervellati recoil pad
Rubber comb
Five choke tubes
10-year factory warranty
Made in Italy
---
Fred Bear Old School Camo / Brown Cerakote SL5 Specs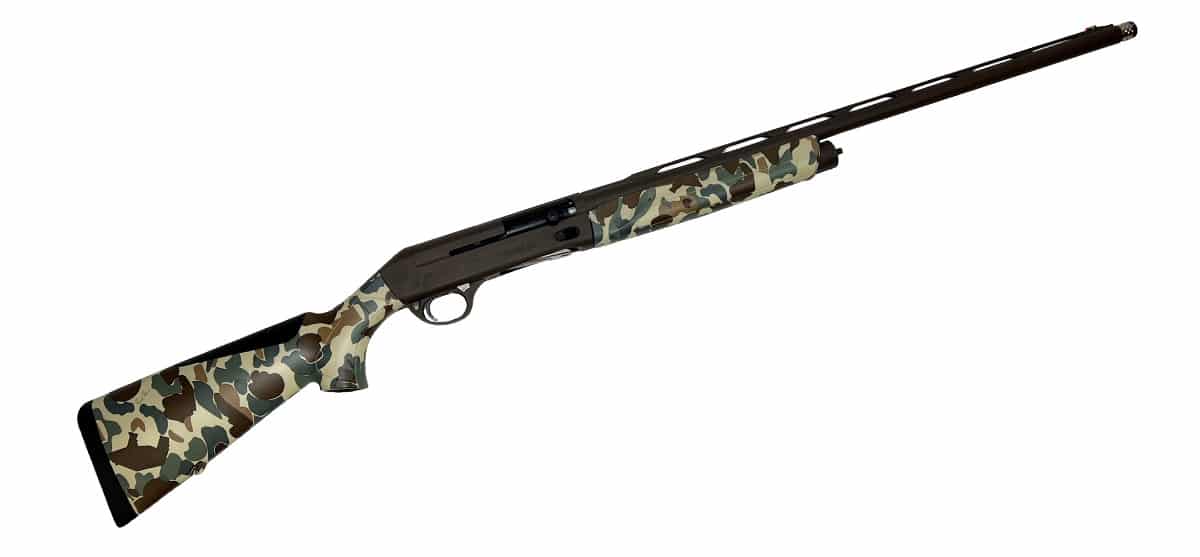 MSRP: $1,779
Chamber: 12-gauge, 3.5-inch
Barrel: 26, 28, or 30 inches
Capacity: 3+1
Features:
Cerakote coating on the barrel and receiver
Inertia drive
Stepped rib, chrome-lined barrel
Steel upper, aluminum lower
Extended bolt handle and release button
LPA front bead sight
Sling attachments
Cervellati recoil pad
Rubber comb
Five choke tubes
10-year factory warranty
Made in Italy
---
Black Synthetic SL5 Specs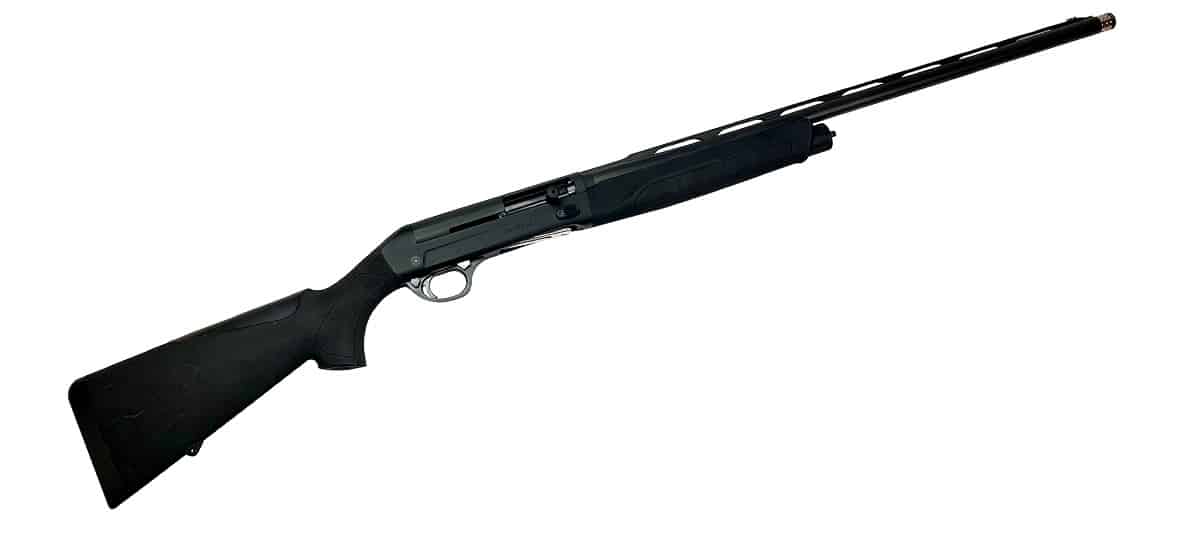 MSRP: $1,579
Chamber: 12-gauge, 3.5-inch or 3-inch
Barrel: 26, 28, or 30 inches
Features:
Inertia drive
Stepped rib, chrome-lined barrel
Steel upper, aluminum lower
Extended bolt handle and release button (3.5-inch version only)
Standard bolt handle and release button (3-inch version only)
LPA front bead sight
Sling attachments
Cervellati recoil pad
Rubber comb
Five choke tubes
10-year factory warranty
Made in Italy
---
READ NEXT – Why Hunters Pattern Their Shotguns: Dialing-in Your Turkey Killer