It's that magical time of year. The hordes descend upon the city in the sand that has no earthly right to exist: an oasis of light and sin in the middle of the desert that plays host to the hunting and shooting world — and all the coolest new guns — every January when the National Shooting Sports Foundation's annual Shooting Hunting and Outdoor Trade Show, better known as SHOT Show, kicks off.
This week somewhere between 50,000 and 60,000 people will fill convention hall after convention hall to visit 2,500 booths from vendors and companies from every facet of the firearms, ammunition, and hunting industries. They will fill about 18 acres of show floor space and nearly 20 miles of aisles. We could never bring you all the new products from the show, but here's a selection of the most important and interesting announcements for new rifles, handguns, shotguns, firearm accessories, and hunting gear from the 2023 SHOT Show!
Check back regularly, as we will be adding to this list constantly throughout the week.
---
NEW RIFLES
---
Bergara B-14 Squared Crest
Price: $2,000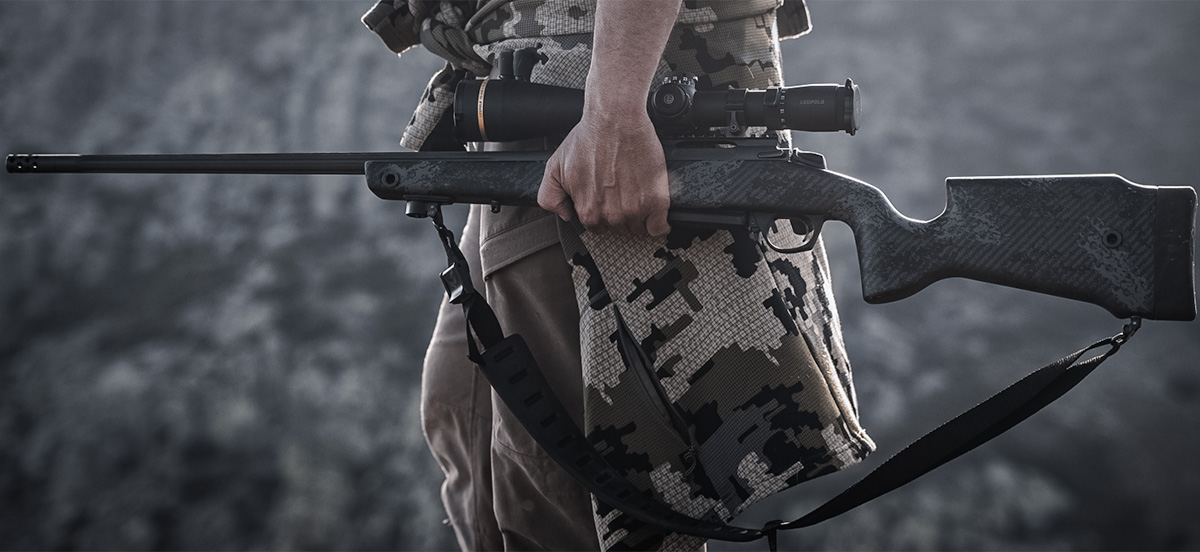 Spanish gunmaker Bergara introduced a new line of its flagship rifles called the B1-4 Squared Crest. What separates it from other B-14 rifles is the new Monocoque stock. According to the company, high-tech processes were used to manufacture the 100% carbon fiber stock, which is then topped off with hand-injected resin. The biggest takeaway, though, is the carbon spine that runs throughout the stock and makes it nearly indestructible.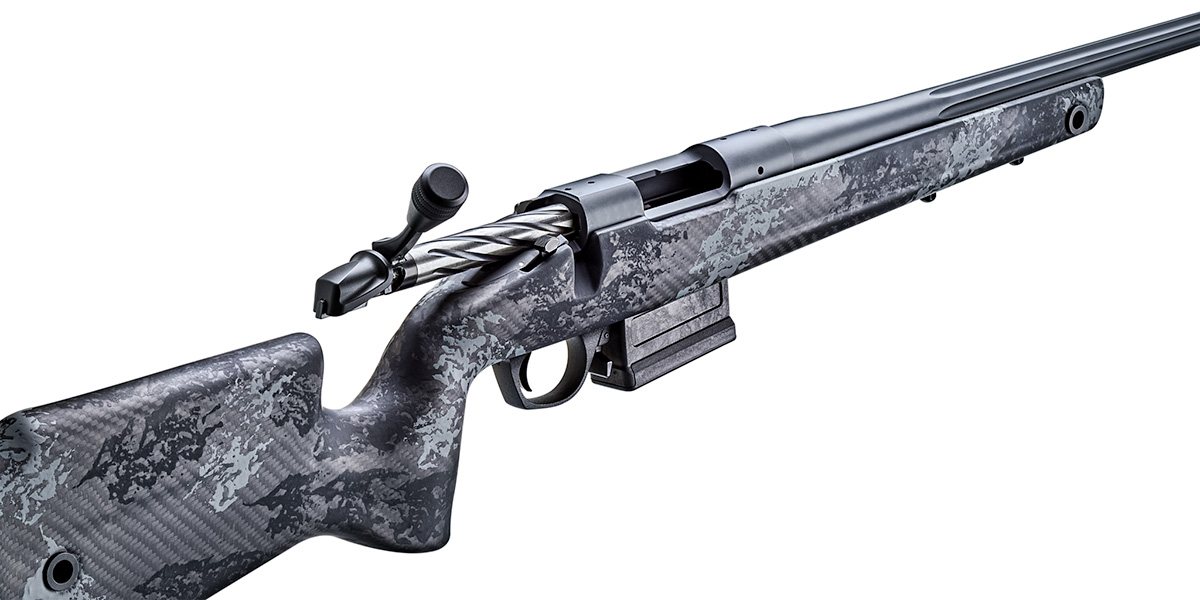 Besides the stock, the Bergara B-14 Squared Crest features a 4140 CrMo steel precision barrel with 5/8-inch x 24 threading on the muzzle (and it also includes a Bergara Omni Muzzle Brake); an AICS-style three-to-five-round magazine; and a sniper grey Cerakote finish. All models come with a 20-inch barrel, except for the .300 Win Mag, which comes with a 22-inch barrel and weighs 6.9 pounds. According to Bergara's website, the B-14 Squared Crest is available in stores now.
SPECS:
Caliber: .308 Win, 6.5 Creedmoor, 6.5 PRC, and 300 Win Mag
Barrel Length: 20 to 22 inches with 5/8-inch x 24 threading
Weight: 6.8 to 7.2 pounds
Capacity: 3 to 5 rounds, depending on caliber
Overall Length: 40 to 43.5 inches
---
Bond Arms Unnamed Lever-Action AR Rifle
Price: N/A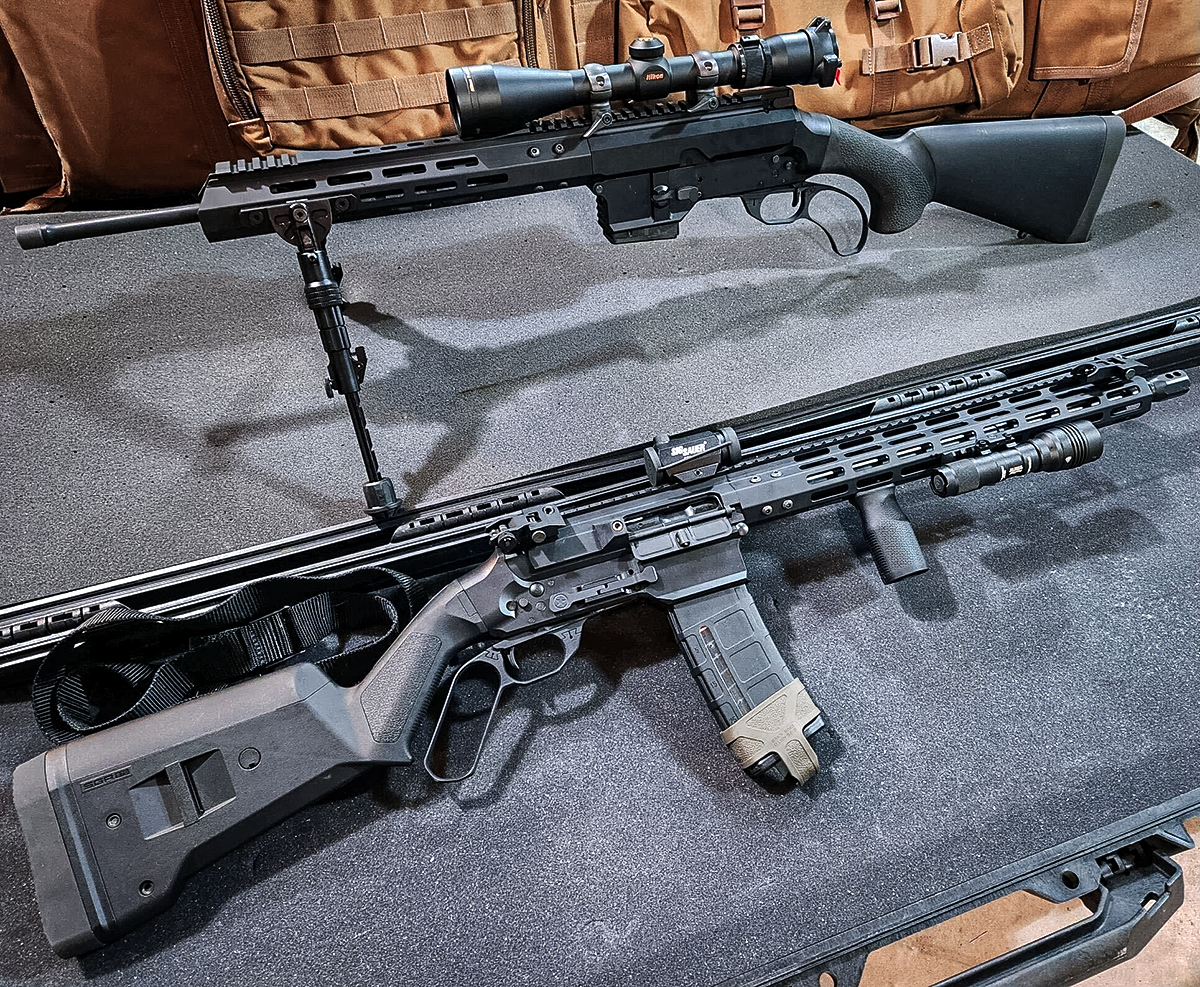 It turns out the guys at InRange TV have been working with Bond Arms since last year on developing the company's currently unnamed lever-gun project. It appears Bond Arms has created a lever-action lower that will fit an AR upper. While that may seem nutty, it opens up all kinds of possibilities. And while most tactical lever guns have a certain look to them, this gun definitely has a high badassery quotient, especially that display model with the Magpul stock.
That version seemed set up for offhand shooting, with a lever loop angled to match the Magpul stock, loaded with a 30-round PMAG, and an upper with a full-length M-LOK handguard. It's topped with a red dot and offset folding irons, a weapon light, and a vertical fore grip. The muzzle is tipped with a substantial brake, which means it's threaded.
Of course, the lever action means there's no charging handle. The AR safety selector seems to have been traded for a push-button cross-bolt-style safety, and there's an extended lever on the right side of the receiver that allows the shooter to activate the mag release with the index finger of the shooting hand. The other model on display had way fewer bells and whistles. The stock is a more traditional pistol-grip rifle stock with a sharply curved lever loop. This gun is sporting a shorter handguard, a scope, a bipod, and a 10-round magazine. The point is, I assume, to show off the potential versatility of this Bond Arms AR lever gun, which will hopefully be coming soon.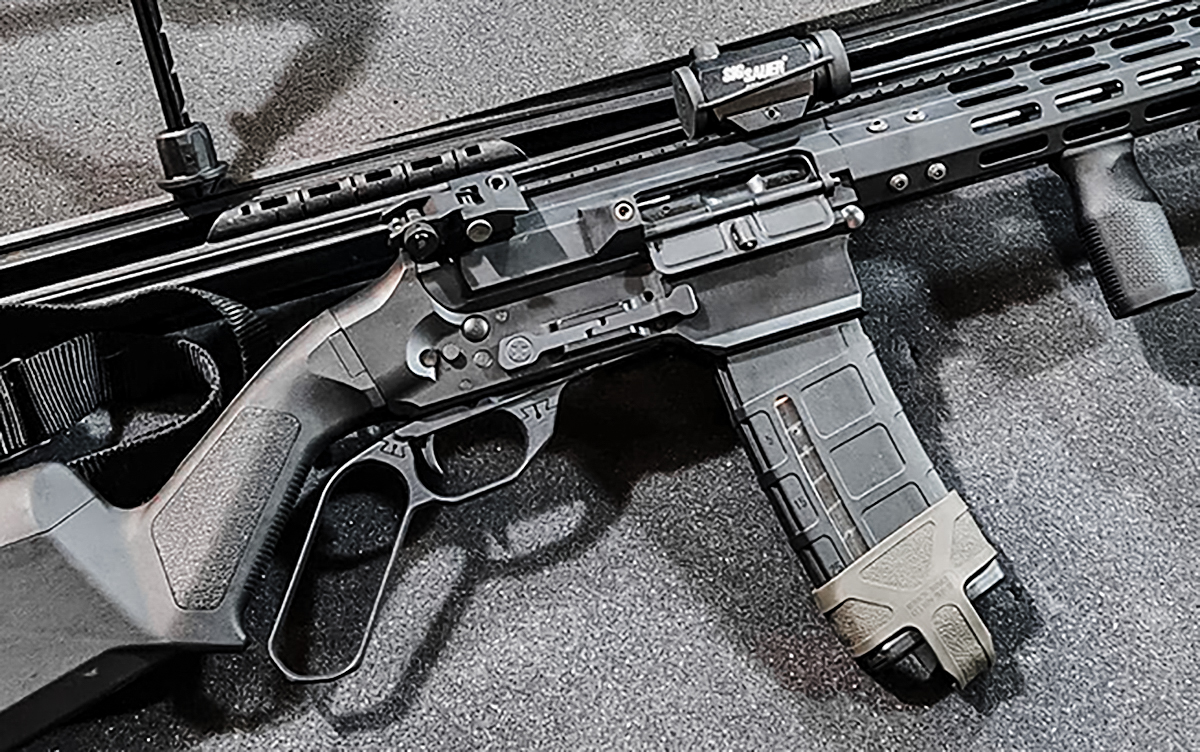 In a Facebook post, InRange said, "InRange TV has been in design conversations well before SHOT Show with the lead engineer of the unnamed but now publicly announced Bond Arms lever gun. If it turns out the way it sounds it will, it this [sic] will truly be the next great thing in lever gun tech.
Stay tuned for some future videos and deep-dive analysis of what is finally what a modern lever gun should be."
Well, that sounds promising. Until it drops and can be tested, we're here for it and for all the arguments about whether this rifle should even exist, if it's just kowtowing to needlessly restrictive gun laws in many states, or if this is basically the most awesome suppressor host ever made. When details about this project — and its name — are finally introduced, we will let you know. —DM
---
Price: $1,429.99 to $1,529.99

Browning extended the X-Bolt line of hunting rifles by adding a variant of the X-Bolt Speed — the Browning X-Bolt Speed Suppressor Ready rifle. The main difference is — you guessed it — it's suppressor ready. The match-grade barrel has a muzzle with 5/8 inch x 24 threading, so you can attach a silencer.
When it's unsuppressed, you can keep the radial muzzle brake attached or add a thread protector. The X-Bolt Speed SR is available in 12 different chamberings, including 204 Ruger, 6.5 Creedmoor, the new 6.8 Western, and more. Price ranges from $1,430 to $1,530 and varies by caliber. – DT
SPECS:
Caliber: 204 Ruger, 223 Rem, 22-250 Rem. 6.5 Creedmoor, 308 Win, 6.5 PRC, 6.8 Western, 7 PRC, 7mm Rem Mag, 28 Nosler, 300 Win Mag, and 300 PRC
Barrel Length: 18, 20, and 22 inches
Weight: 6 pounds, 2 ounces up to 6 pounds, 10 ounces
Capacity: 3 to 5 rounds
Overall Length: 37.5 to 42.75 inches
RELATED – Smith & Wesson Drops $699 M&P 5.7 Pistol With 22-Round Mags
---
Chapuis Armes X4 Double Rifle
Price: $7,299 (9.3x74R), $7,599 (.30-06)

French gunmaker Chapuis Armes introduced a double rifle with a barrel that you don't need to re-regulate when you use a new cartridge load. For most of us, that means absolutely nothing, but for those who can afford to own and shoot a double-rifle, it's pretty significant.
Regulating and re-regulating double rifle barrels is an expensive and time-consuming task that very few gunsmiths are capable of doing. But with the new X4 Double Rifle, Chapuis used a new patent-pending technology that separates the barrels and simplifies the task. Basically, instead of constructing the barrels so they're connected at the rib, Chapuis only connects the rib to the left barrel and then allows the right barrel to free float.
"Using this system, a professional gunsmith can easily adjust the guiding ring to re-regulate the point of convergence for a new load," the company said in a statement. "With the X4 double rifle, shooters can find their best load or change loads with the confidence of accurate barrel regulation without the major work traditionally associated with this alteration."
SPECS:
Chamber: 9.3x74R or .30-06
Action: Break with ejectors
Barrel Length: 22 inches
Overall Length: 40 inches
Average Weight: 6 pounds
Sights: Adjustable standing rear, ramp front
Stock: AAA-grade Circassian walnut
---
Colt CBX Precision Rifle System
Price: $1,899

Colt has gone beyond the realm of AR-platform rifles for the first time since its earliest firearms. At this price point, the new Colt CBX Precision Rifle is a great entry-level gun for people who want to get into precision shooting. The CBX is an advanced bolt-action chassis rifle that boasts features for today's competitive shooters. As such, it's also customizable to fit a shooter better, and its modular design accommodates a wide array of aftermarket accessories like suppressors, weights, AICS magazines, and various optic mounts.
The new CBX aluminum chassis has user-adjustable length-of-pull and cheek-weld along with a 15-inch extended fore-end featuring an ARCA rail, M-LOK slots for accessories, and an aggressive barricade stop. The rifle also features an angled pistol grip, a built-in thumb shelf, QD sling cups, and an ambidextrous magazine release.
The flat-bottom receiver reduces flex and improves accuracy, and the CBX's 60-degree bolt throw allows for faster cycling and great compatibility with a wide array of optics. A use-adjustable trigger rounds out the package behind a carbon steel, button-rifled barrel. The 6.5 Creedmoor model has a 26-inch barrel, while the .308 version comes with a 24-incher. Both have 5/8-24 UNEF threaded muzzles and a black nitride finish. The CBX also comes with Remington 700 compatible scope mounts and a 5-round Magpul AICS magazine. —DM
SPECS:
Caliber: .308 Win; 6.5 Creedmoor
Barrel Length: 24 inches in .308, 26 inches in 6.5 Creedmoor
Weight: 10.75 pounds (unloaded)
Capacity: 5+1
Twist Rate: 1:10RH 6 GR .308 Win; 1:8RH 6 GR 6.5 Creedmoor
Overall Length: 47 – 49 inches
Trigger Pull: 2.5-5 lb (user-adjustable)
GOOD GEAR – Enjoy the Coffee That Started It All With the BRCC Just Black Roast
---
Price: $839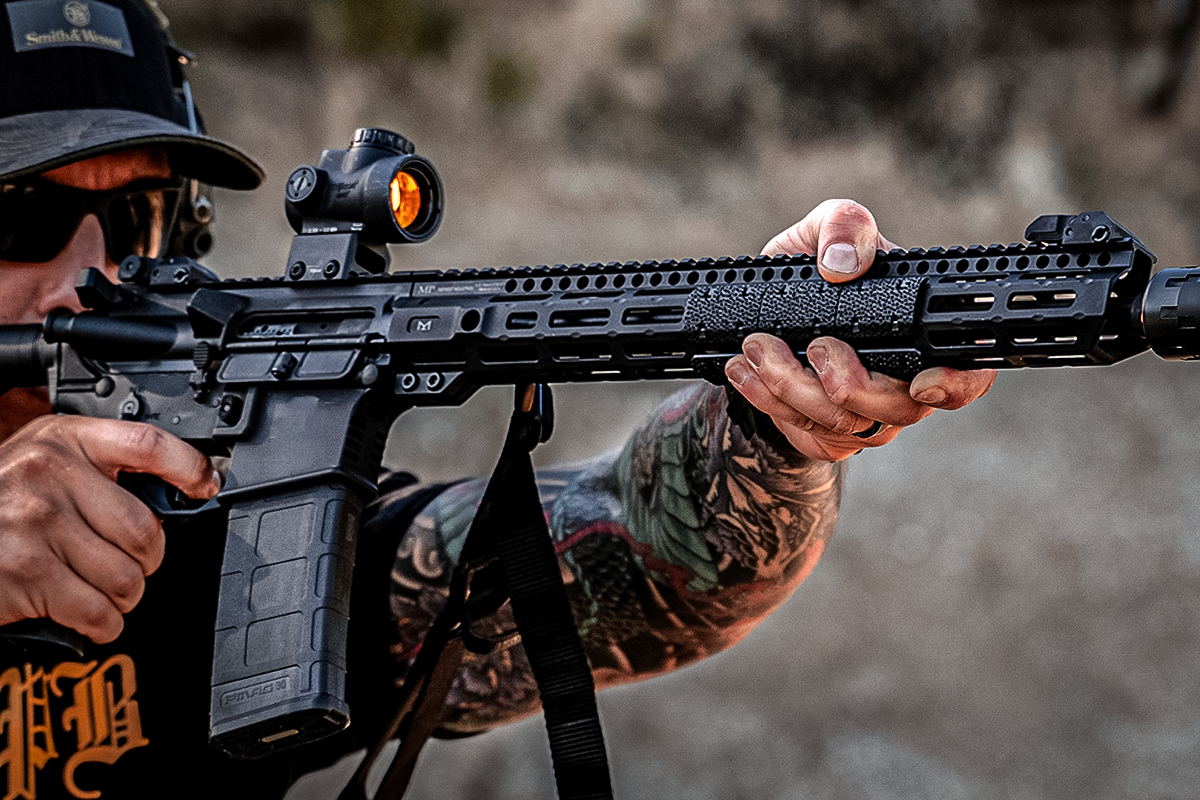 Also debuted is the new Gemtech GVAC upper receiver group chambered in 5.56 NATO. What does the trademarked "GVAC" mean? That's a good question. Gemtech doesn't explain it in any of the marketing materials. But the GVAC is Gemtech's only upper receiver, and it also happens to be "optimized for suppressed shooting" as opposed to just suppressor-ready.
How Gemtech optimized the design exactly was by using a "re-imagined barrel profile, enhanced bolt carrier profile, enhanced bolt carrier group, and an ETM muzzle device." That translates into a direct-impingement operating system with a pinned low-profile "GVAC" gas block.
Additionally, the GVAC upper receiver features a nickel boron-coated steel barrel with a 1:8-inch twist; a carpenter steel BCG, a 15-inch Midwest Industries handguard with accessory top rail and M-LOK side rails, a Gemtech EMT flash hider and 1/2 inch x 28 threaded muzzle. —DT
SPECS:
Barrel Length: 16 inches
Barrel: Nickel boron finish
Twist: 1:8"
Muzzle: 1/2 inch x 28 threading
Handguard: 15-inch M-LOK
---
Price: $4,950

Yes, you too can afford a 1,000-yard Gunwerks rifle. The long-range-accuracy guru of a company dropped its new Werkman rifle at SHOT, and it includes all the features necessary for a rifle system to be up to par with the company's standards. It's just missing some extra bells and whistles that can jack up the price tag.
It features a Gunwerks Gen 1 Magnus carbon fiber stock that is ARCA compatible and a stainless Gunwerks GLR receiver fitted with a custom TriggerTech trigger and a Gunwerks S30 stainless, cut rifled barrel that's tipped with a Gunwerks two-baffle indexing directional muzzle brake.
It comes with a Revic RS25 Werkman 5-25×56 scope with a Revic RH2 MOA reticle and a custom BDC turret with yardage and MOA markings that are matched to the individual rifle ballistics and Hornady ELD Match ammunition. All this adds up to a 1,000-yard performance for less than $5,000. The Werkman rifle is available in 6.5 PRC, 7 PRC, and .300 PRC with a Tan Fracture camo finish on the stock. You can choose to have the rifle optimized for Hornady Match ammo or Hornady Precision Hunter ammo. —DM
SPECS:
Caliber: 6.5 PRC, 7 PRC, .300 PRC
Stock: Gunwerks Gen 1 Magnus carbon fiber + ARCA compatible
Action: Gunwerks GLR stainless receiver
Trigger: Custom TriggerTech trigger
Barrel: Gunwerks S30 stainless, cut rifled barrel
Barrel Length: 22 Inches
Barrel Twist Rate: 1:8
Muzzle Thread: 5/8 inch x 24 (suppressor ready)
Brake: Gunwerks 2 baffle indexing directional muzzle brake
Overall Weight: 9.6 pounds
Optic: Revic RS25 Werkman 5-25×56 rifle scope with Revic RH2 MOA reticle
Turret: Custom BDC Turret with yardage and MOA markings — matched to the individual rifle ballistics and Hornady ELD Match ammunition
Ballistics Package: Complete Gunwerks ballistics data package for 1,000 yards out-of -the-box performance
Metal Finish: Graphite finish
Magazine Inlet: GW Floorplate Bottom Metal
---
Henry Repeating Arms H27 Homesteader PCC
Price: $928 to $959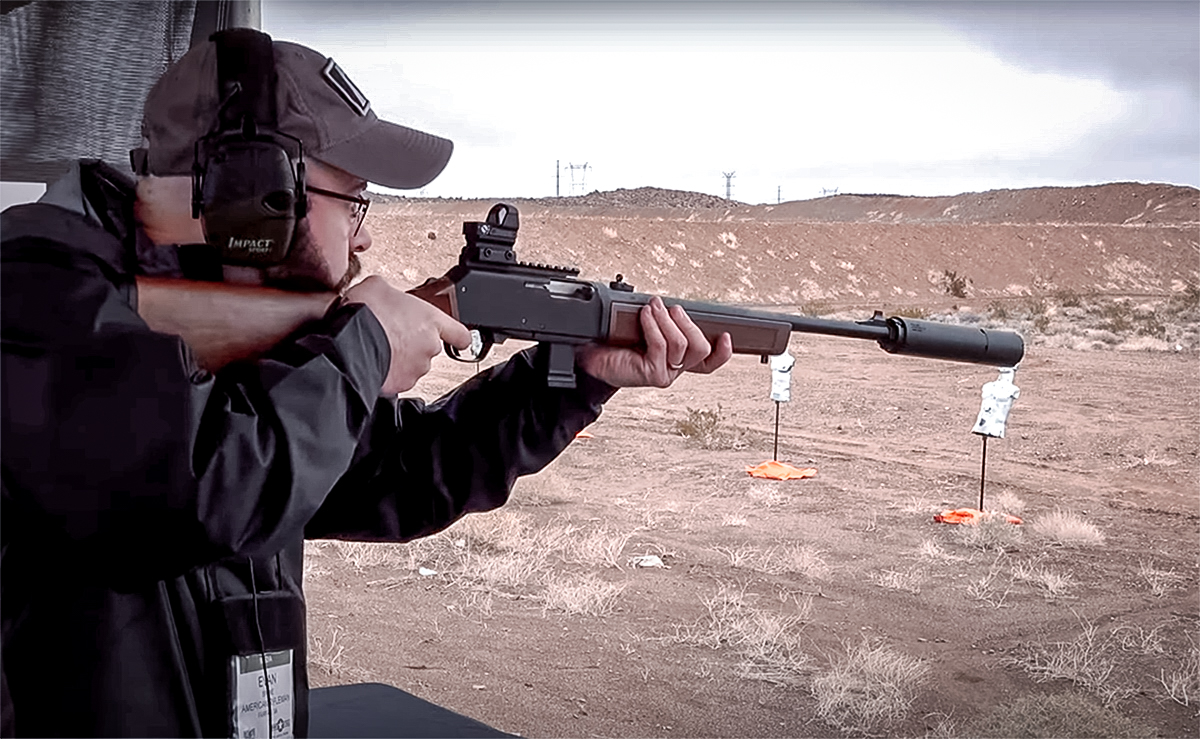 Henry Repeating Arms is best known for its lever-action rifles, both classic and modern models. The company has had only one semi-automatic rifle in its catalog, the odd-man-out .22LR AR7 Survival Rifle, but that's all changed. Henry showed off its new semi-auto H27 Homesteader pistol caliber carbine in 9mm at SHOT this week.
The carbine is fully ambidextrous with a 16.5-inch threaded barrel that was sporting a suppressor for this year's Industry Day at the Range. It has a traditional wood stock and fore-end and comes with a rear peep sight, but the receiver is drilled and tapped for an optics rail. The tang-mounted manual safety (something hardly any Henry firearms has) is similar to what you'd find on a Mossberg 500 shotgun. The bolt catch is on both sides of the trigger guard and the mag release is also centrally located.
The Homesteader accepts Henry's proprietary magazines but there are also adapters available for 9mm Glock mags, SIG P320 mags, or Smith & Wesson M&P magazines with an included magwell adapter. The gun will be shipped with either an adapter for Henry mags, for Glocks, or with an adapter that works for both SIG and S&W mags. The only problem is the price — it's pretty steep for a 9mm PCC at $928. It's $959 if you want a non-Henry magazine version. The Homesteader is expected to ship on Feb. 1. —DM
Specs:
Caliber: 9mm
Barrel: 16.5 inches, threaded
Safety: Tang-mounted ambidextrous
Sights: Peep included, drilled and tapped for optics rail
Magazines: Henry mags, or Glock, S&W M&P, or SIG P320 mags
Capacity: Varies depending on magazine used
RELATED – Uintah Precision Drops Cool New AR-15 Muzzleloader
---
Price: $1,799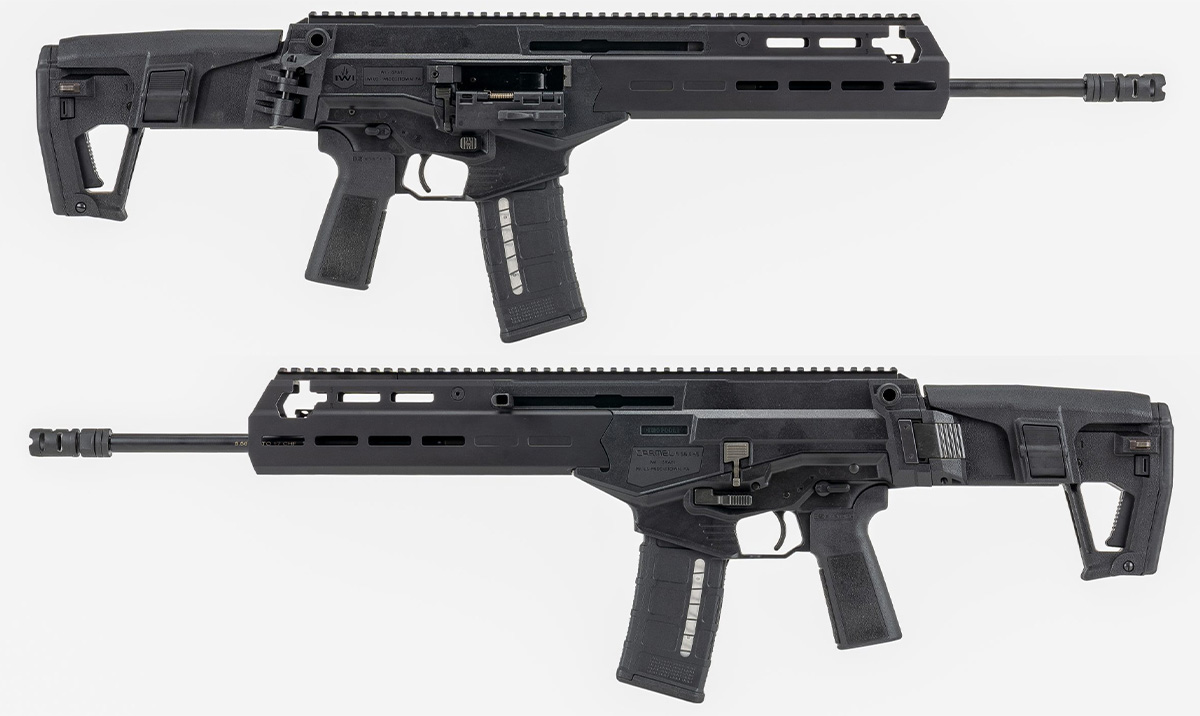 IWI is bringing its Carmel rifle to the U.S. for the first time this year. The Israeli gun company introduced the Carmel at the 2019 LAAD Defense & Security expo in 2019 as an assault rifle for the military and law enforcement markets, but now, it's coming stateside as a semi-automatic, short-stroke, gas-pistol rifle.
The Carmel is similar to an AR in its controls and has a STANAG magwell that accepts AR mags. It's built from a combination of steel, aluminum, and polymer with fully ambidextrous controls. The charging handle can be moved from one side of the receiver to the other, and while the ejection port isn't reversible, it is equipped with a generous brass deflector. And, the ejection port also has a dust cover.
At the back is a folding stock with adjustable length-of-pull and comb height. The Carmel can be fired with the stock folded, not that it's something you'd want to have to do. The rifle has a locking, rotating bolt, and M-LOK rails at the 3, 6, and 9 o'clock positions for adding accessories at will.
So what's the big deal and why is this any different than an AR? The Carmel has a reputation for being a beast of a rifle that can take a lot of dirt, grime, and punishment, and for being extremely user-friendly. While the controls aren't identical to those of an AR, they're pretty damn close, so that no retraining is necessary. It's also designed to require as little maintenance as possible and has been proven on the battlefield for a few years now overseas.
All in all, the IWI Carmel promises to be a robust, adaptive, and reliable rifle. —DM
SPECS:
Caliber: 5.56 NATO
Action: Semi-auto
Operating System: 2-position gas regulator, rotating locking bolt
Barrel Length: 16 inches
Overall Length: 26 3/4 inches — stock folded; 33 3/4 to 37 1/4 inches deployed
Weight: 8 pounds, 2 ounces unloaded
Rifling: 1:7-inch twist, 6 RH Grooves
Barrel Material: Free-floating, chrome lined, cold hammer forged
Magazine Type: Magpul PMAG GEN M3 with Window — 30 rounds
---
Price: N/A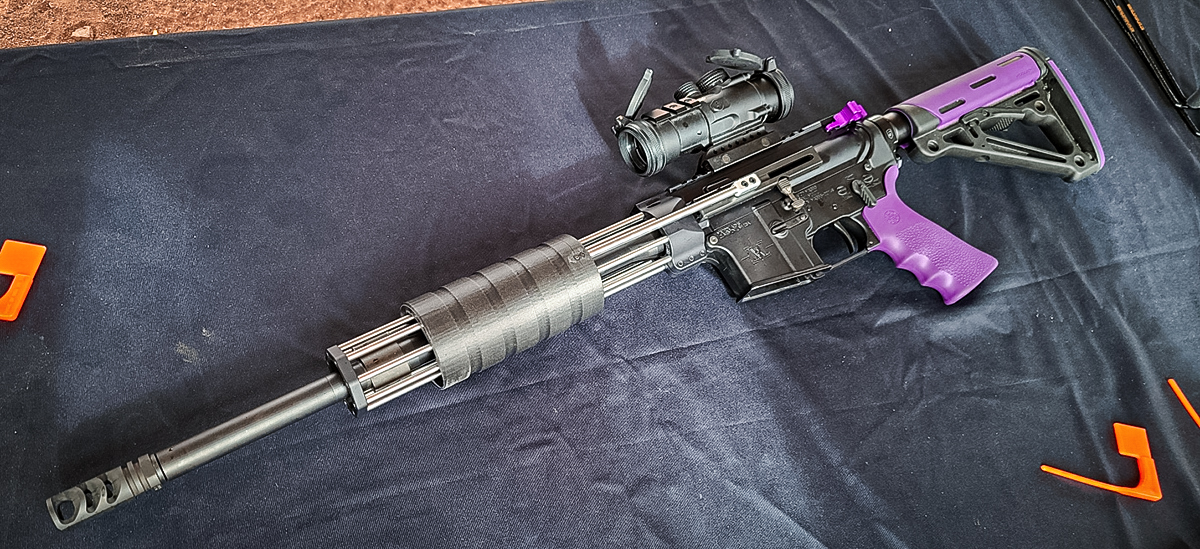 This is a weird new AR that stands as a glaring example of how the gun industry is reacting to the ever-increasing number of states placing heavy restrictions on semi-automatic firearms deemed "assault weapons" and the constant threat of a federal assault weapon ban from the Biden administration. The Matrix Arms Cage AR works as a gas-operated semi-auto, or the gas system can be removed and the gun becomes a pump-action.
Matrix is billing this gun as a 50-state-legal AR solution. Most assault weapon bans focus solely on semi-autos and leave pump-action, lever-action, and bolt-action firearms out of the equation — for the most part. If a rifle is a pump gun, then all of the features that would make it illegal are suddenly legal.
In semi-auto mode, the pump on the Matrix Cage can be used as an alternate charging handle so you can work the bolt with your support hand and never come off the gun.
You'll notice that the pump replaces a handguard, which means there is nowhere to mount accessories, but Matrix says accessory mounts are on the way that can be attached to the rails supporting the pump.
It may make your skin crawl, but for the millions of gun owners and would-be gun owners who live in restricted states and want to use the same grips and stocks, and lowers that the rest of us do, a rifle like the Cage can be an attractive option.
It's expected to be priced in the $800 range, but depending on state laws, if it ships with the gas system affixed or even included, the Cage might still be illegal.
Matrix was also showing off its all new MX19 all-aluminum "Glock" pistol. The company makes most of the parts, including the frame, slide, and barrel, which are all compatible with G19 Gen3 parts. The frame is a unique design, and inside the frame is a nylon buffer found at the front of the front block while the slide reciprocates along rails formed by the front and rear blocks. That buffer is meant to reduce felt recoil and is a replaceable component designed to wear out eventually. —DM
---
Price: $1,085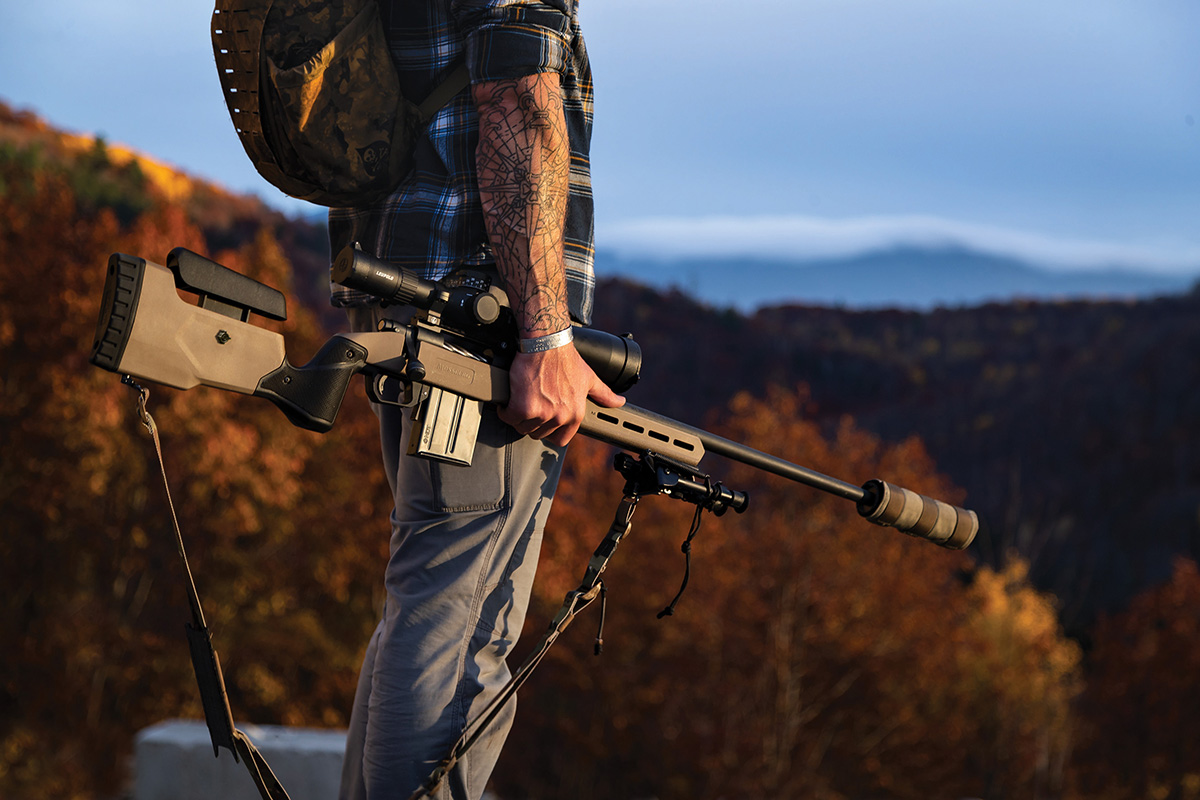 Mossberg has added another entry to its line of bolt-action rifles with the new Patriot LR Tactical. It features the same twin-lug, push-feed action that you'll find on the other entries in the Patriot family, along with a medium bull barrel with a threaded muzzle (5/8 inch x 24) and an 11-degree match crown. The Patriot LR Tactical is built for long-range and PRS shooters looking for a solid entry-level rig, and as such, it's available in 6.5 Creedmoor, .308 Winchester, and the hot and relatively new 6.5 PRC. Every model comes with a 20 MOA optics rail.

The 6.5 CM and .308 models sport 22-inch barrels, and the 6.5 PRC comes with a longer 24-inch barrel. The action is housed in a customizable and adjustable chassis system that uses AICS-style magazines. The MDT Field Stock chassis system features V-Block aluminum bedding and a Magpul M-LOK compatible fore-end with slots at 3, 6, and 9 o'clock for various accessories. The buttstock is adjustable for length-of-pull and comb height. The oversized trigger guard has an integrated magazine lever just forward of the trigger guard. The straight-wrist grip is textured, and the chassis has a flat dark earth finish. The rifle is fed from an all-metal AICS-style mag with a 7- or 10-round capacity. —DM
SPECS:
Caliber: 6.5 PRC, .308 Win, 6.5 Creedmoor
Action: Bolt-action
Barrel: Medium bull, threaded
Barrel Length: 24 inches
Barrel Finish: Matte blue
Capacity: 7+1 rounds
Length: 44.25 inches
LOP: Adjustable, 13.50 to 14.25 inches
Rail: Picatinny
Stock: MDT Adj LOP, Comb – Synthetic (Flat Dark Earth)
Twist: 1:8"
Weight: 9.4 pounds
GOOD GEAR – Brew the Best Coffee With the BRCC 10 Cup Chemex
---
Proof Research Ascension
Price: $7,700

Ordinarily, a Proof Research barrel is enough of a selling point for a firearm, but with the Proof Research Ascension, the Montana-based company gives more of what people love about them. While the new rifle is equipped with Proof's patented carbon fiber–wrapped barrel, it also has a carbon fiber stock. Together, they create an incredibly lightweight medium-bore rifle. For the $7,700 price point, you get a host of premium features, performance, and options when you buy the Ascension.
According to Proof Research, the Ascension was designed for the "high country hunter," meaning those who like to do a bit of mountain hiking before bagging a deer. The rifle is available in nine different chamberings, and depending on the cartridge, it comes with a 20-to-26-inch barrel and weighs between 5.5 and 6.5 pounds. The rifle also features a TriggerTech trigger, a BDL-style magazine, a Zermatt Arms titanium receiver, and a guarantee of sub-1/2-inch accuracy.
Proof Research Ascension Specs:
Caliber: 6.5 CM, 6.5 PRC, 7mm Rem Mag, 7mm PRC, 28 Nosler, 308 Win, 300 Win Mag, 300 WSM, and 300 PRC
Barrel Length: 20, 22, and 26 inches with 5/8 inch x 24 threads
Weight: 5 pounds, 5 ounces to 6 pounds, 4 ounces
Colors: Flat Dark Earth, Olive Drab, Black, Tungsten, and Sniper Gray
---
Price: $439 synthetic stock, $489 Turkish walnut stock

The Stevens 334 from Savage Arms is a practically priced firearm for practical shooters — as in it will cost you less than five Benjamins out the door. The new rifle features a two-stage adjustable trigger and a free-floating, button-rifled carbon steel barrel with an 11-degree target crown. This bolt-action rifle also has a 60-degree bolt lift for faster loading and quick follow-up shots.

Shooters can choose from three models chambered in .308 Win., 6.5 Creedmoor, or .243 Win. Savage Arms is offering the Stevens 334 in two attractive options. The synthetic black stock with matching matte black action works well in even the roughest outdoor shooting conditions. However, if you want a real looker, splurge the extra 50 bucks for the Turkish walnut furniture. — AJW
SPECS:
Caliber: .308 Win. / 6.5 Creedmoor / .243 Win
Action: Bolt
Capacity: 3+1
Magazine: Detachable box
Barrel length: 20 inches, 22 inches, 20 inches
Barrel material: Carbon steel
Length of pull: 14.5 inches
Overall length: 41.25 inches, 43.25 inches, 41.25 inches
Front sight: Fiber optic
Rear sight: Ventilated rib
Stock material: Turkish walnut
Receiver: Carbon steel
---
Price: $1,599.99 to $2,149.99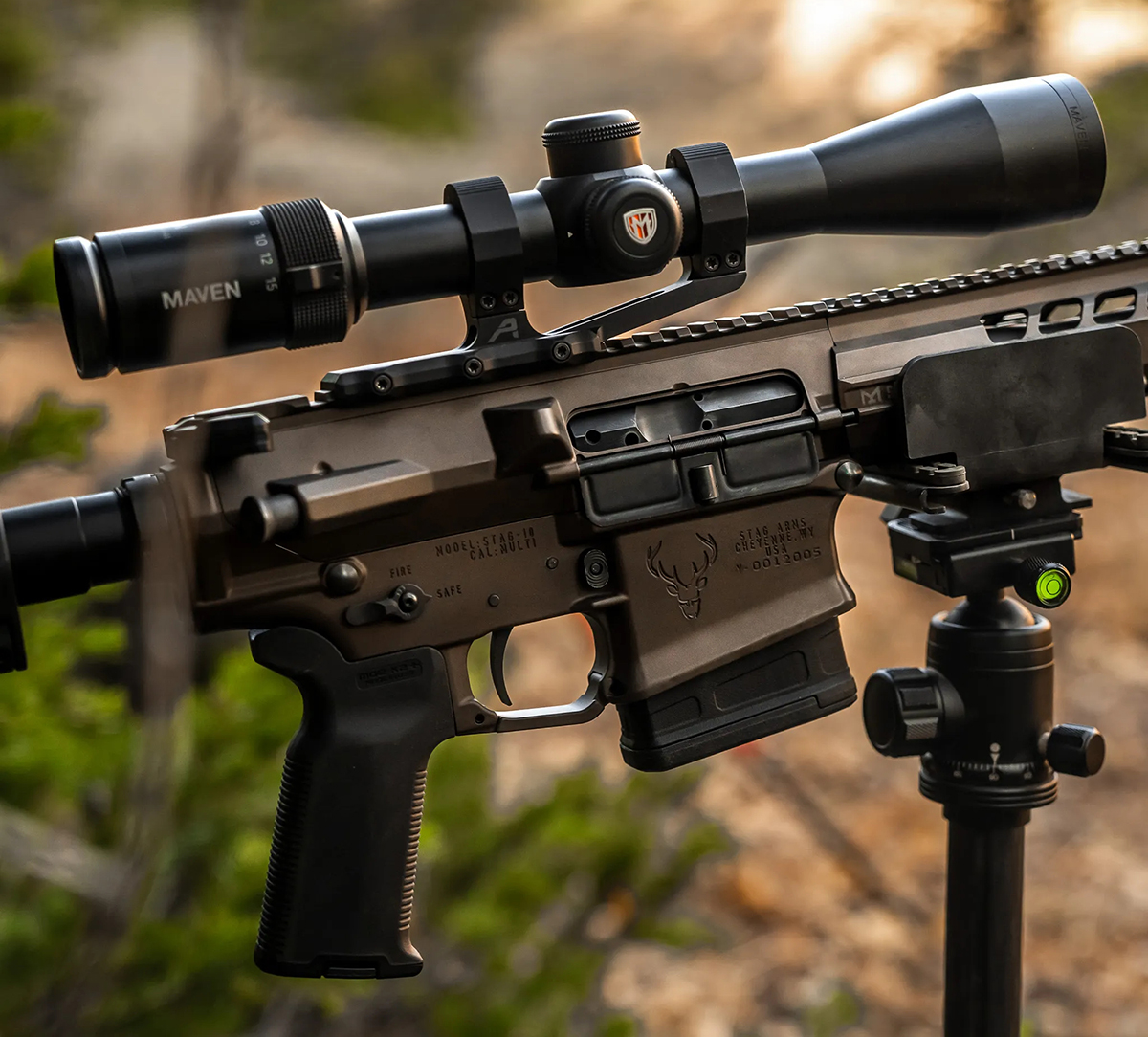 Stag Arms set out to design a rifle for hunters from the ground up that keyed into the company's home state of Wyoming and what hunters there want out of a rifle — which translates pretty much to what hunters all over the country want. The company wanted to make a hunting AR that could be trusted absolutely and that was made to be carried for miles on a hunter's back — that means it couldn't weigh enough to make someone think twice about bringing it. What came out of that design initiative was the Stag Pursuit Hunting Line of AR-platform rifles.
The rifles are available in Stag 15 and Stag 10 variations and come chambered in a choice of .350 Legend, 6.5 Grendel, 6.5 Creedmoor, or .308 Winchester — something for pretty much any size of large game in North America.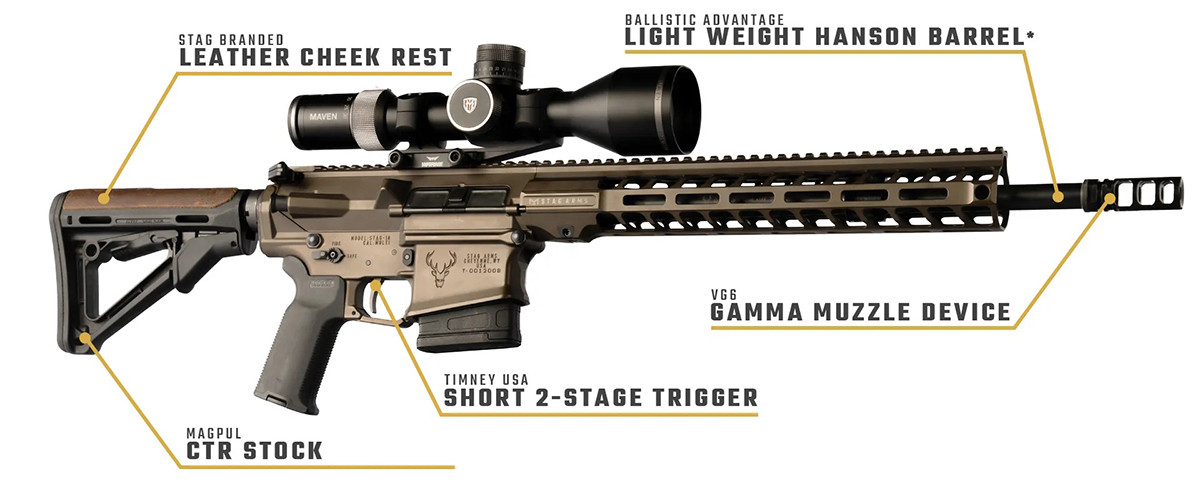 The rifles are built around a lightweight Ballistic Advantage Hanson Profile barrel and come with a Midnight Bronze Cerakote finish with an adjustable Magpul CTR stock and a custom Stag Arms branded leather cover over the cheek weld.
The line will ultimately include 16 models in total with various barrel lengths. All models also include a VG6 Gamma muzzle brake and a Timney USA Short 2-Stage trigger. Stag is building these rifles to order, which requires a two- to four-week lead time. —DM
SPECS:
Platform: Stag 10 or Stag 15
Gas System: Direct impingement
Safety: Stag Arms ambidextrous configurable 90-degree safety
Color: Midnight Bronze
Caliber: .350 Legend, 6.5 Grendel, 6.5 Creedmoor, .308 Winchester
Barrel Length: Various
Barrel Material / Finish: 4150 CMV – Nitride
Muzzle: Threaded 5/8 inch x 24 RH
Muzzle Device: VG6 Gamma brake
Handguard: Stag Slimline
Handguard Material: 6061 aluminum
Charging Handle: Stag Arms Breach Ambidextrous
Bolt Finish: 9310 nitride
Bolt Carrier Finish: Full auto 8620 Nitride
Trigger: Timney curved short 2-stage
Pistol Grip: Magpul MOE K2+
Stock: Magpul CTR Pursuit Leather Edition
Magazine: Magpul PMAG
RELATED – 338 Lapua: A Beastly Long-Range Rifle Cartridge
---
Price: $1,776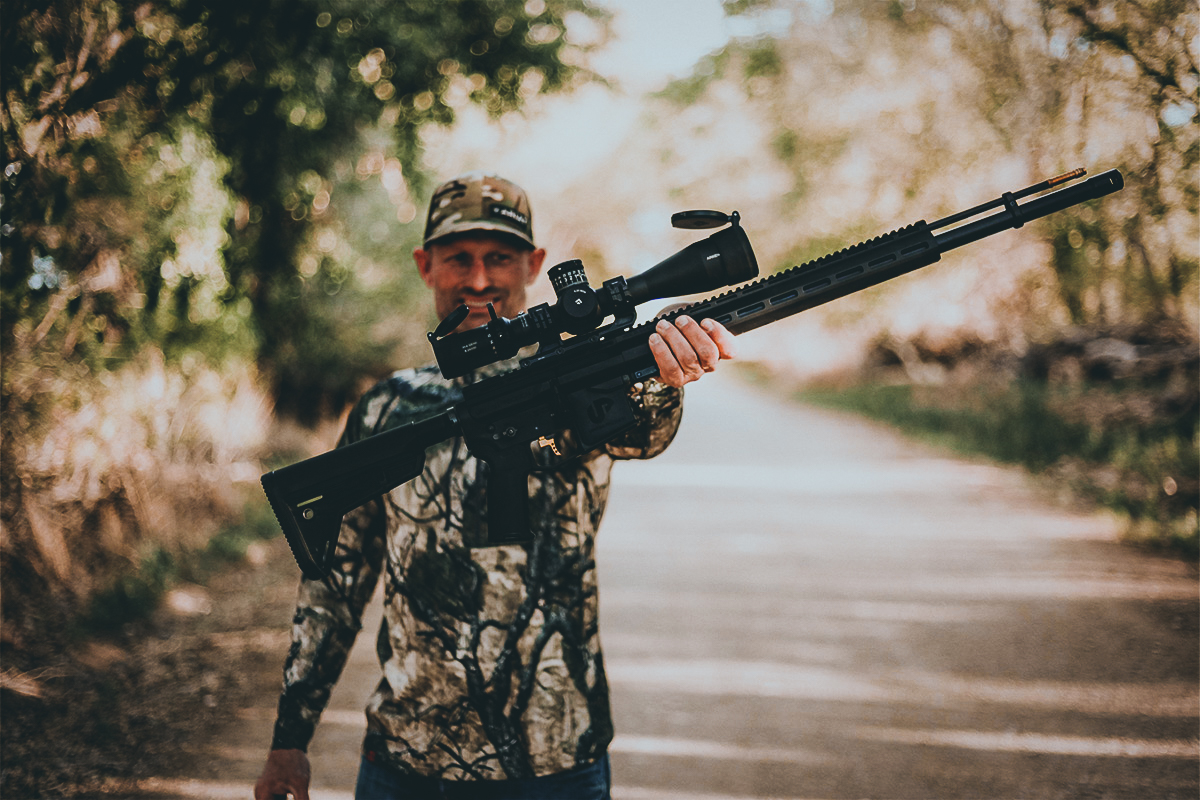 It might not seem like muzzleloaders and modern sporting rifles go together, but Uinta Precision makes it work with a cool new mashup that brings together the best of both worlds (cue Hannah Montana theme song).
At first glance, this thing looks like a run-of-the-mill AR-15, but you look closely, and you'll see a telltale muzzleloader ramrod just over the top of the barrel. Uintah took an AR lower and topped it with a muzzleloader upper, resulting in an ultra-modern spin on the traditionally primitive black-powder rifle.
The Modern Sporting Muzzleloader boasts a 24-inch barrel with a 1:20 twist rate that helps stabilize full-bore diameter projectiles and sends them well beyond the typical muzzleloader range with surprising accuracy.
One of the coolest perks of this setup is that you can easily swap out the muzzleloader upper for a semi-auto or bolt-action upper and use one fantastic firearm for the entire hunting season. But an even better perk is that you'll be the most tactical badass in the field during muzzleloader season.
Specs:
Caliber: .45
Barrel Material: 416R stainless steel
Barrel Finish: Black Cerakote
Barrel Length: 24 inches
Twist Rate: 1:20
Lower Receiver: 6061 billet aluminum
Upper Receiver: 6061 billet aluminum
Grip: Polymer Magpul MOE
Stock: Adjustable Magpul PRS Lite
Trigger: Velocity Classic 3-pound single stage
GOOD GEAR – Keep Your Brew Hold or Cold With the BRCC Coffee Saves Tumbler
---
Price: $349.99 / $369.99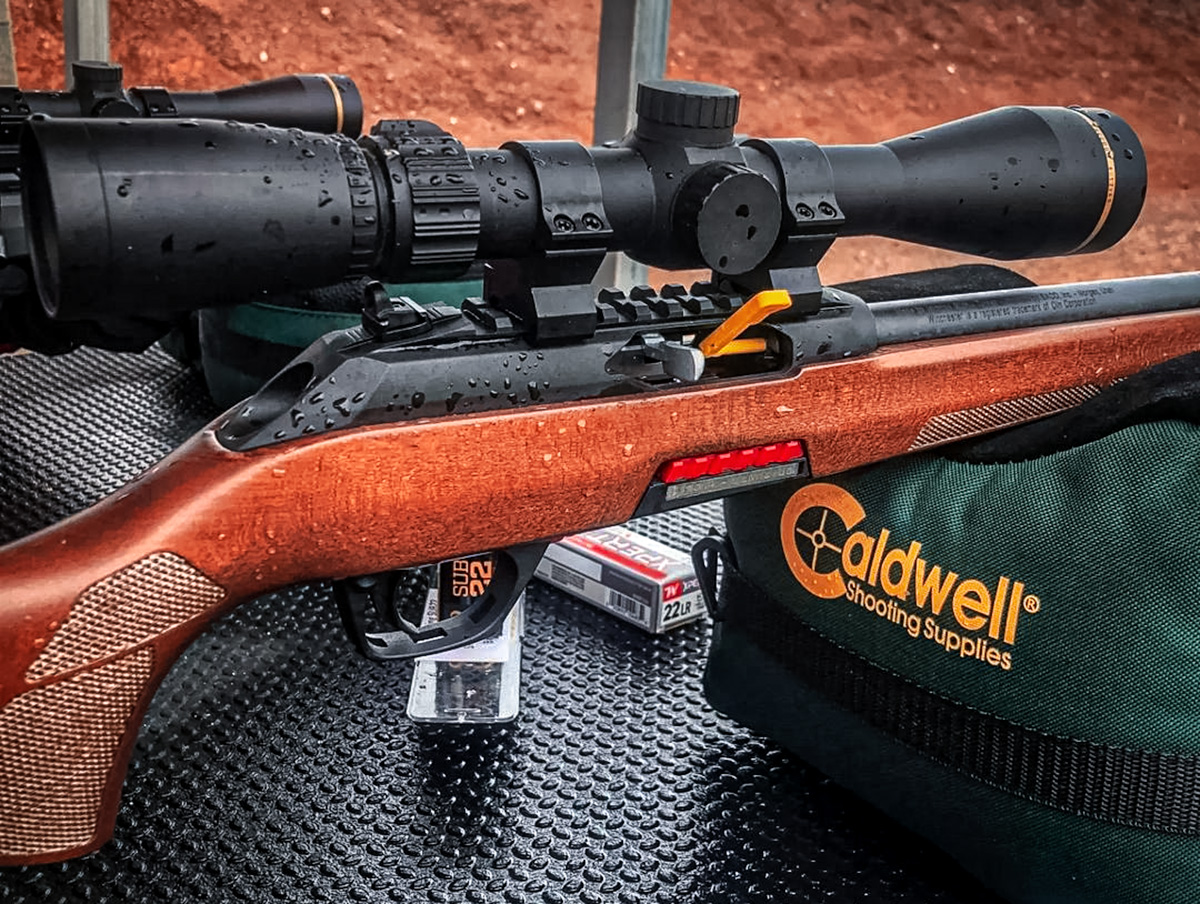 The new Wildcat Sporter is an extension of the Wildcat 22 line, a series of – you guessed it – .22-caliber rifles. What's new about the Wildcat Sporter is that this semi-auto blends traditional style with modern-day features. In other words, it has a wooden stock as well as an accessory rail, ghost ring sights, and a reversible safety, and it's available with or without a silencer-ready (SR) barrel.
According to Winchester, the Wildcat Sporter has a stock with a slightly longer length of pull than the composite models. And if you buy the basic model, it comes with an 18-inch precision button-rifled steel barrel with a recessed target-style crown. The silencer-ready model, on the other hand, features a 16.25-inch barrel with a 0.5 inch x 28 TPI threaded muzzle.

SPECS:
Caliber: .22 LR
Barrel Length: 18 inches / 16.25 inch threaded
Weight: 4 pounds 8 ounces / 4 pounds 4 ounces
Capacity: 10 rounds
Overall Length: 36.25 inches / 34.75 inches
---
Price: $319.99 / $349.99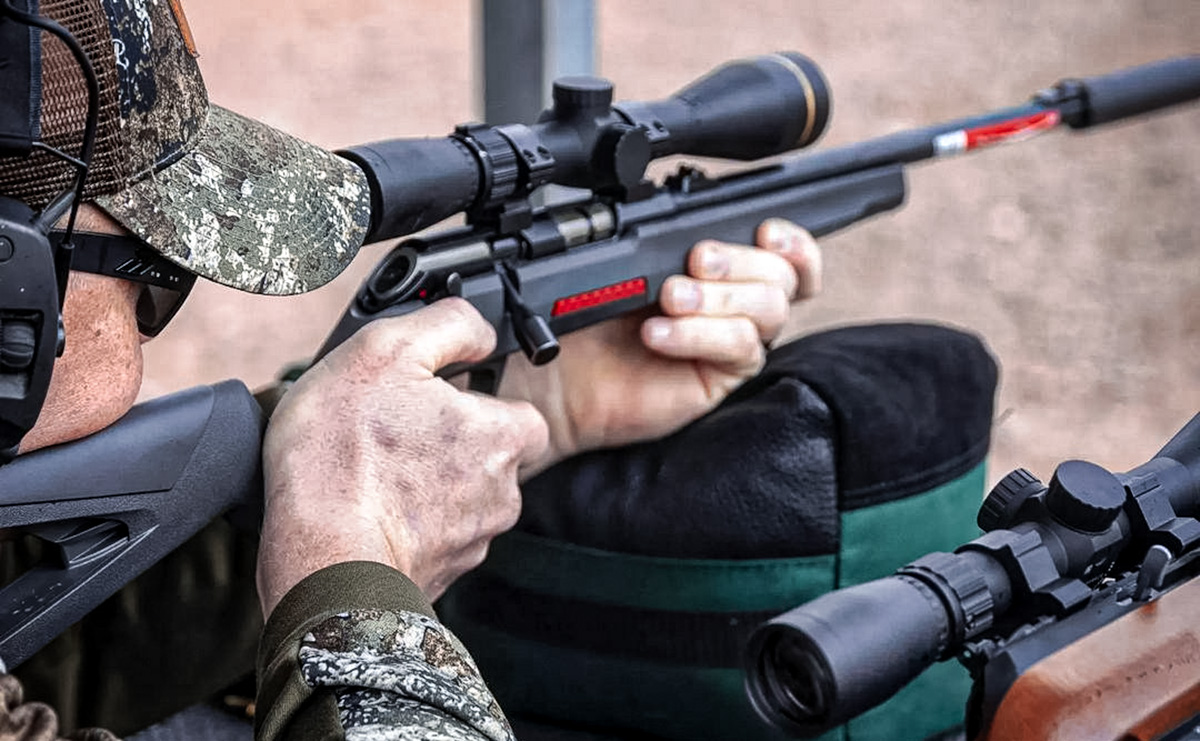 The Winchester XPERT has all the accoutrements you'd want in a precision rimfire rifle – an MOA trigger, button rifle barrel, Bentz-style chamber, and a recessed target crown – but it's priced at $320. While Winchester lists it as an extension of the Wildcat rifles, it's noticeably different in that it's a bolt-action rifle and equipped with a polymer stock.

SPECS:
Caliber: .22 LR
Barrel Length: 18 inches / 16.25 inch threaded
Weight: 4 pounds 8 ounces / 4 pounds 4 ounces
Capacity: 10 rounds
Overall Length: 36.25 inches / 34.75 inches
---
NEW HANDGUNS
---
Price: $799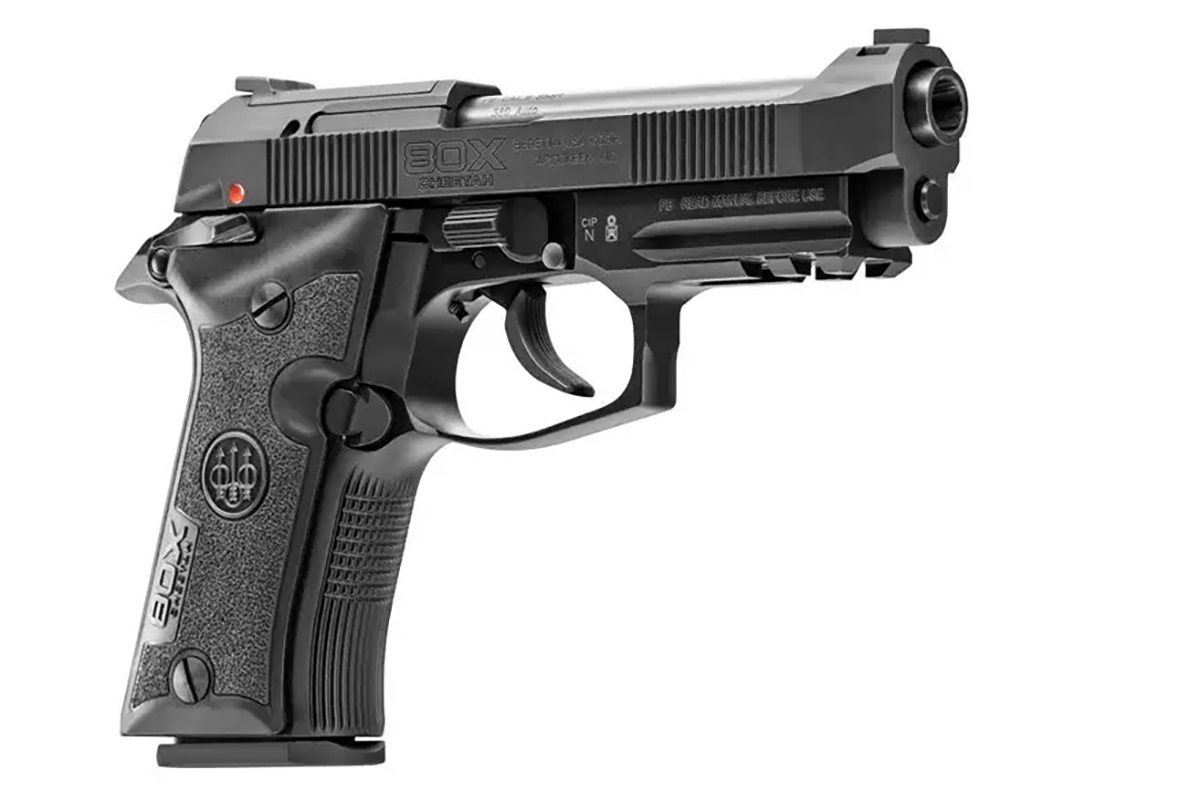 Beretta has introduced a new .380 pistol with the company's classic style as part of its resurrected Cheetah line of compact pistols. The new Beretta 80X Cheetah features design updates and enhanced features, along with new ergonomics that align with modern concealed-carry handgun standards.
The pistol includes a smaller Vertec-style grip profile, an X-treme S Double/Single trigger with a 1mm reset, a skeletonized hammer, and a solid 13+1 capacity. And like all new carry guns do these days, the new Cheetah is optics-ready. Beretta says the slide is easier to rack, and recoil has been reduced thanks to tuning of the slide weight and spring rates combined with the .380 chambering.
Out of the gate, Beretta is offering the 80X Cheetah in an assortment of color options, including limited-edition multitone variants. The Vertec grip includes a frame-mounted safety and an accessory rail for a light or laser. —DM
SPECS:
Action: DA/SA
Caliber: .380 ACP
Capacity: 13 rounds (10 round mags available)
Barrel Length: 3.9 inches
Action: Blowback
Height: 4.9 inches
Overall Length: 6.8 inches
Width: 1.4 inches
Weight (unloaded): 25 ounces
RELATED – Illinois Assault Weapons Ban: What's in the New Law
---
Price: $439.99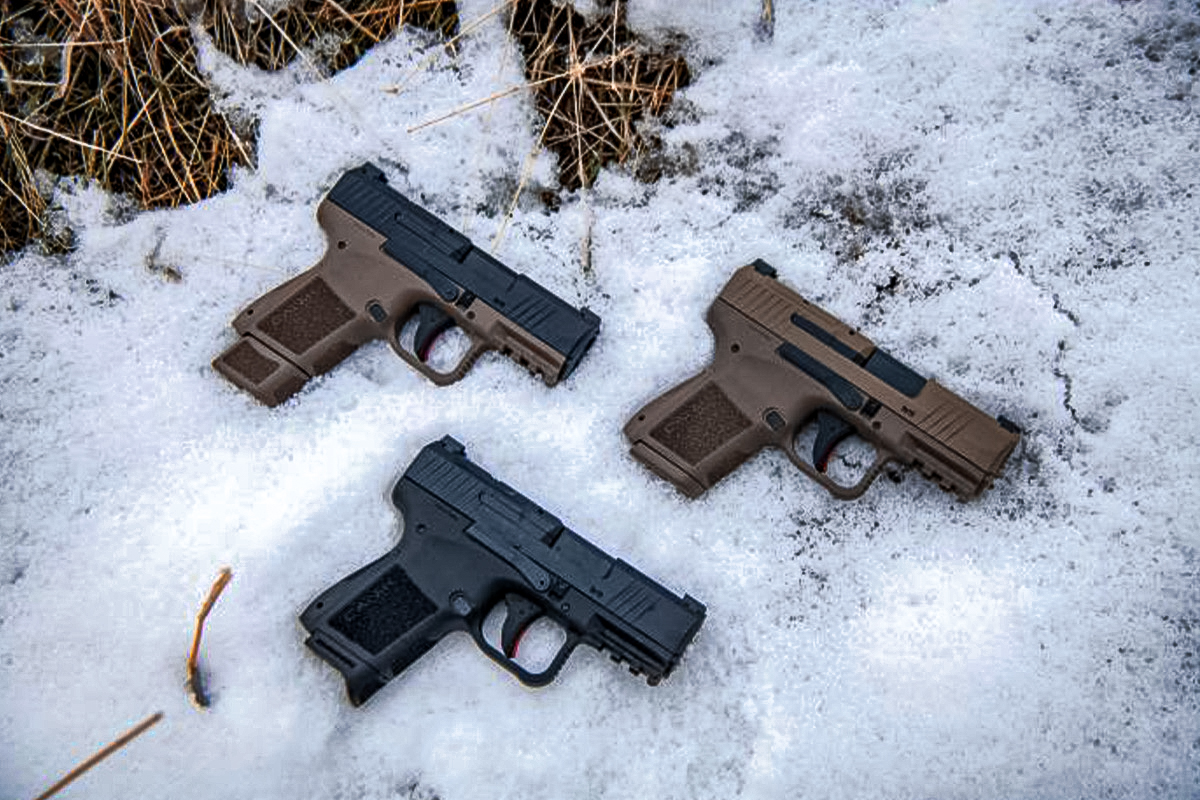 Canik's popular Mete handgun line has entered the micro pistol arena with the new MC9. According to Canik, the MC9 has been in development for three years. In that time, the tiny semi-auto has undergone several internal and aesthetic changes to achieve the right feel and function for concealed carriers.
The new Canik Mete MC9 sports a 12+1 flush magazine, although shooters can opt for an extended mag for a boosted 15+1 capacity on part with the original SIG P365.
The MC9's overall length is just a hair over 6 inches, and it is an ultra-slim 1.12 inches wide, making this pint-sized pistol super easy to conceal. Tipping the scales at just over 21 ounces, the MC9 is just a smidge heavier than the single-stack Glock 43 but provides twice the capacity.
Each optic-ready MC9 comes with two magazines, three grip backstraps, an IWB holster, a speed loader, a finger extension base plate, and a cleaning kit.
The Mete MC9 will be available in standard black, flat dark earth, and two-tone black/earth. —AJW
Specs:
Caliber: 9mm
Capacity: 12 +1 / 15 +1
Action: Semi-auto
Weight: 21.27 ounces
Frame material: Polymer
Length: 6.1 inches
Barrel length: 3.18 inches
Height: 4.52 inches
Width: 1.12 inches
Front sight: White dot
Rear sight: Blacked-out dot
---
Price: $899.99

This new Turkish-made competition pistol from Canik takes the SFx's features and wraps them in an all-steel frame. The new optics-ready Canik SFx Rival-S adds the weight shooters need to manage recoil when every shot placement counts against fierce competition. This new handgun will initially be offered in a striking chrome finish and in all black (SFx Rival-S Dark Side).
In the box, you will find a ton of accessories. Each Rival-S includes two 18-round magazines with two aluminum magazine base plates, a mag loader, an external magwell, a custom holster, a Canik punch, tool kit, a cleaning kit, five optic plates, additional fiber optic sights, three grip backstraps, three different sized magazine release extensions, and a water-resistant "tier 2" travel case. —DM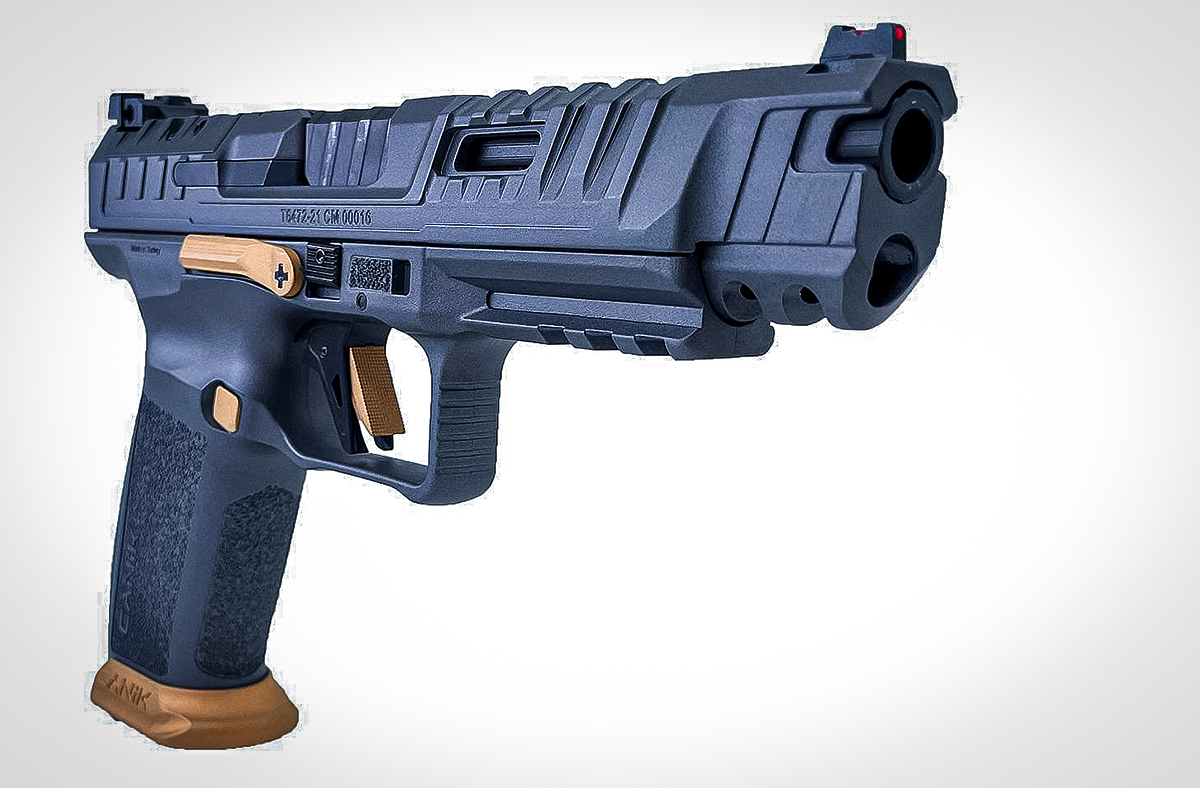 SPECS:
Caliber: 9mm
Weight: 42.72 ounces
Capacity: 18+1 rounds
Overall Length: 8.09 inches
Barrel Length: 5 inches
Height: 5.75 inches
Width: 1.41 inches
Front Sight: Fiber optic
Magazine: Canik full-sized Magazine
Magazines: Two 18-round magazines
Rear Sight: Adjustable
Finish: Chrome or black
Frame: Steel
GOOD GEAR – Show Your Support for the 2A With the BRCC Black Rifle AR Cuffed Beanie
---
Price: $1,139 each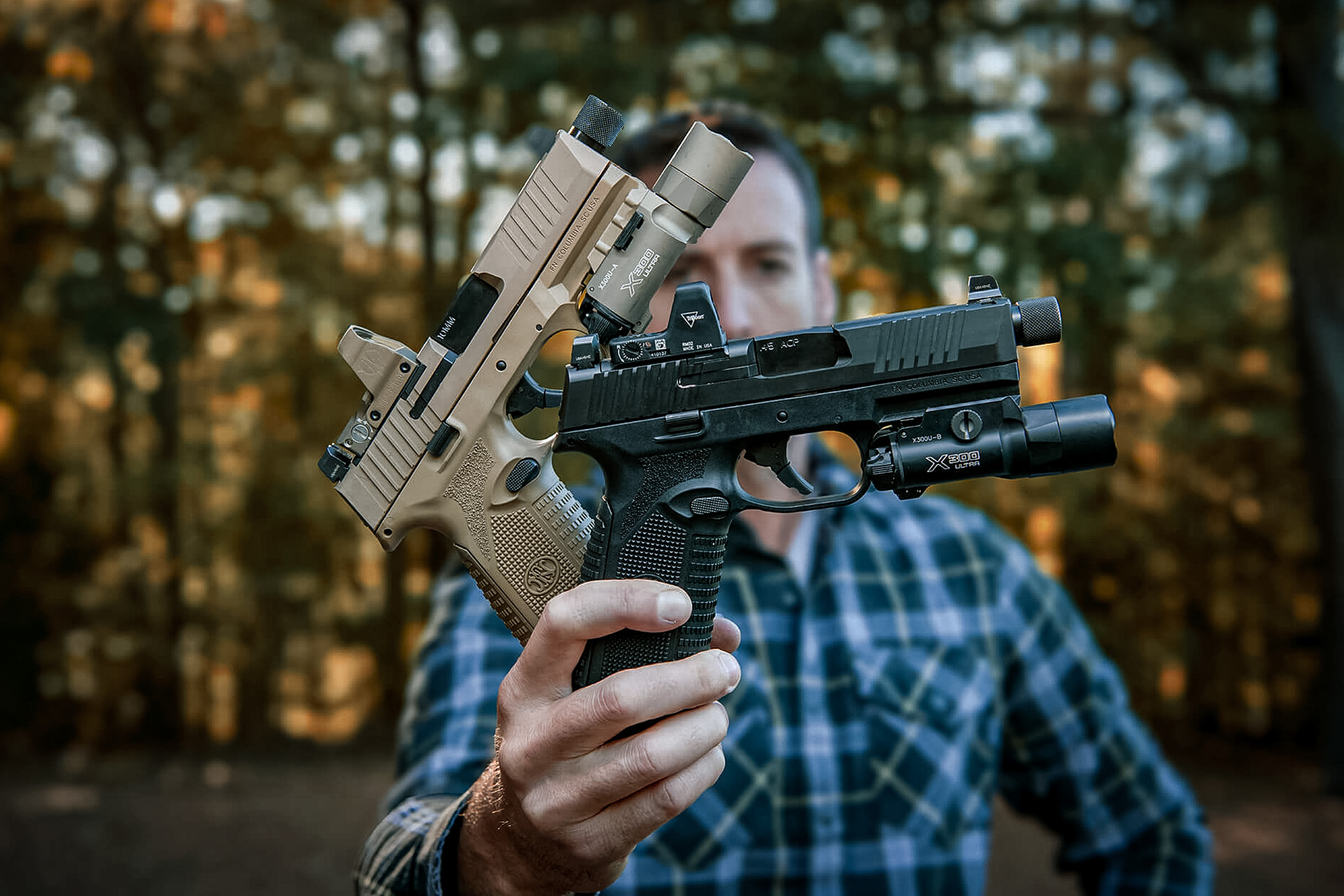 With the FN 545 and FN 510, the designers at FN America do three main things. First, they expand their tactical pistol line — which started with the FN 509 pistol — to include .45 ACP and their first-ever 10mm handgun.
Second, the handguns come with extended magazines, so you not only get to carry a "big bore" cartridge, but you can also carry 22 rounds of 10mm or 18 rounds of .45. Third, both handguns come decked out with all the tacticool features you'd want in a tacticool gun — things like optics-cut slide and a threaded barrel. —DT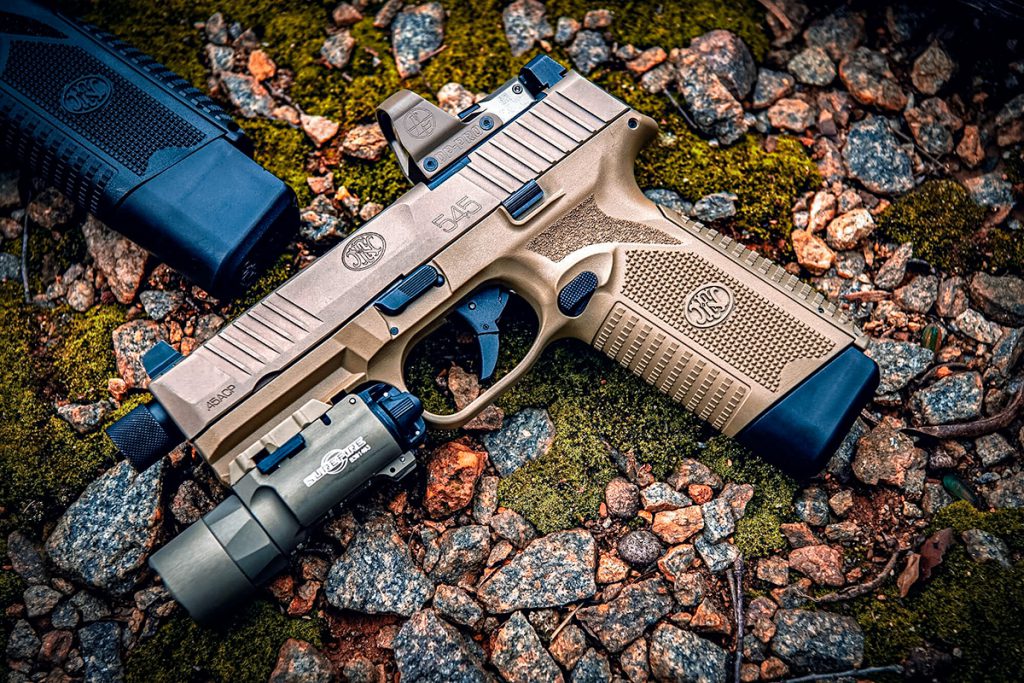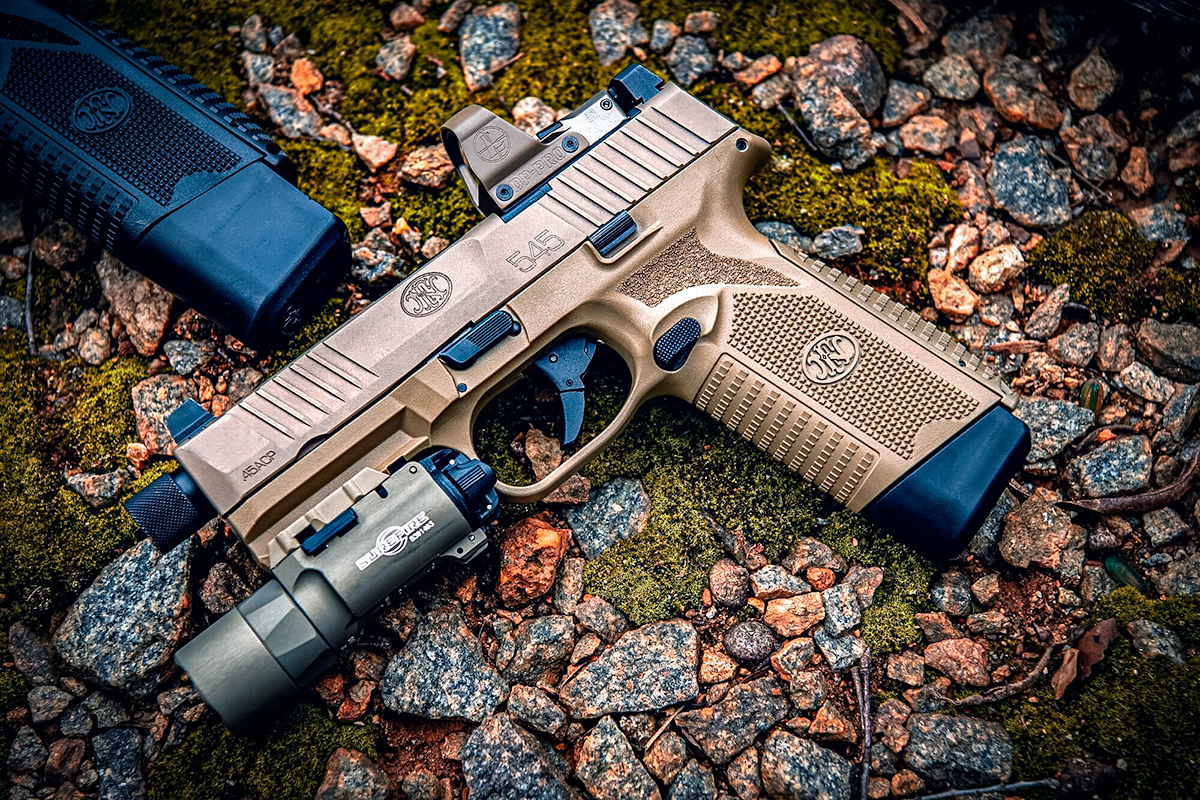 SPECS:
Caliber: 10mm Auto / .45 ACP
Operation: DAO, striker-fired
Weight: 32 ounces / 31 ounces
Barrel Length: 4.71 inches
Overall Length: 6 inches
Twist Rate: 1:16″ RH
Height: 6 inches
Width: 1.45 inches
Trigger Pull: 4.5 to 6.7 pounds
Sights: Suppressor-height Trijicon 3-dot night sights
RELATED – 357 Magnum: The OG Magnum Revolver Round Is Still Relevant
---
Price: $99.99, $1,274.99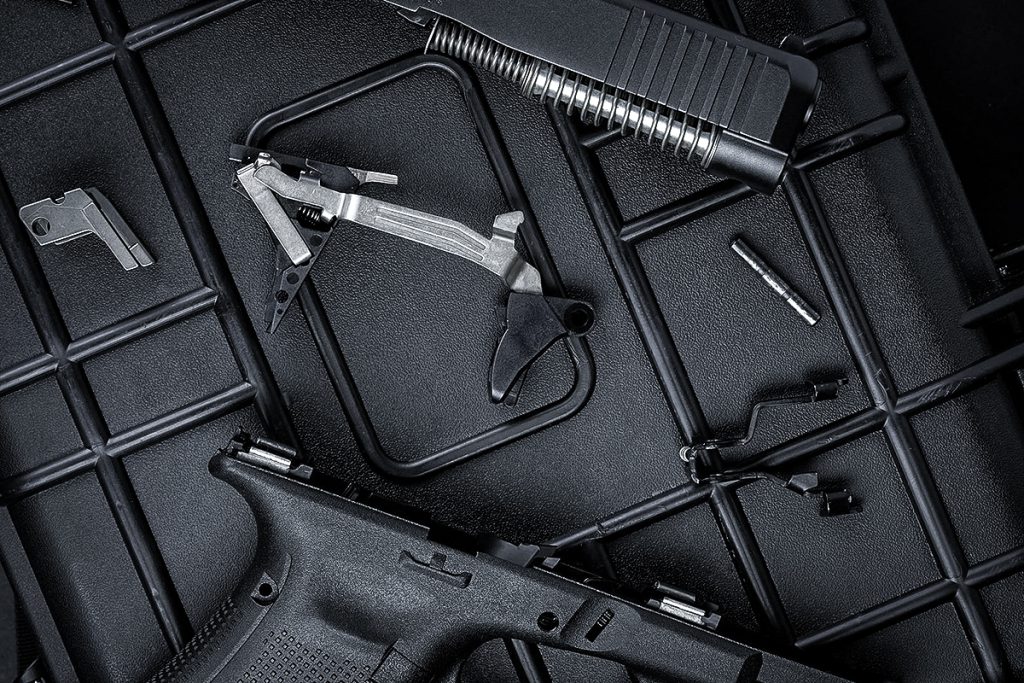 While parts and accessories for Glocks are more commonplace than cracks in a sidewalk, Glock has announced the release of what it's calling "the first Glock pistol accessory, the Glock Performance Trigger." This new trigger, which "must be installed by a certified Glock Armorer," is compatible with the following handguns:
G17 Gen5
G19 Gen5
G19X
G26 Gen5
G34 Gen5
G45
G47 MOS
According to Glock, the new Performance Trigger "meets a different set of criteria for those looking for a lighter trigger pull and ergonomics in a performance setting, all while utilizing a newly designed flat-faced trigger and maintaining the same safety features of the Glock Safe Action System."
The company says its new trigger will not come installed in any of its factory pistols and will only be available as an accessory. It's currently available from the Glock Store.
---
Gunsite Glock Service Pistol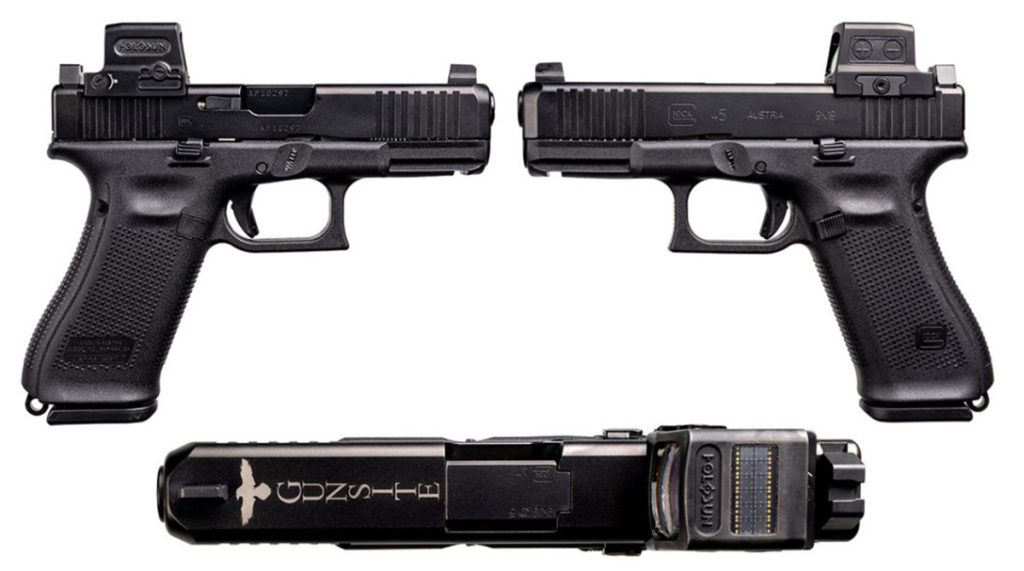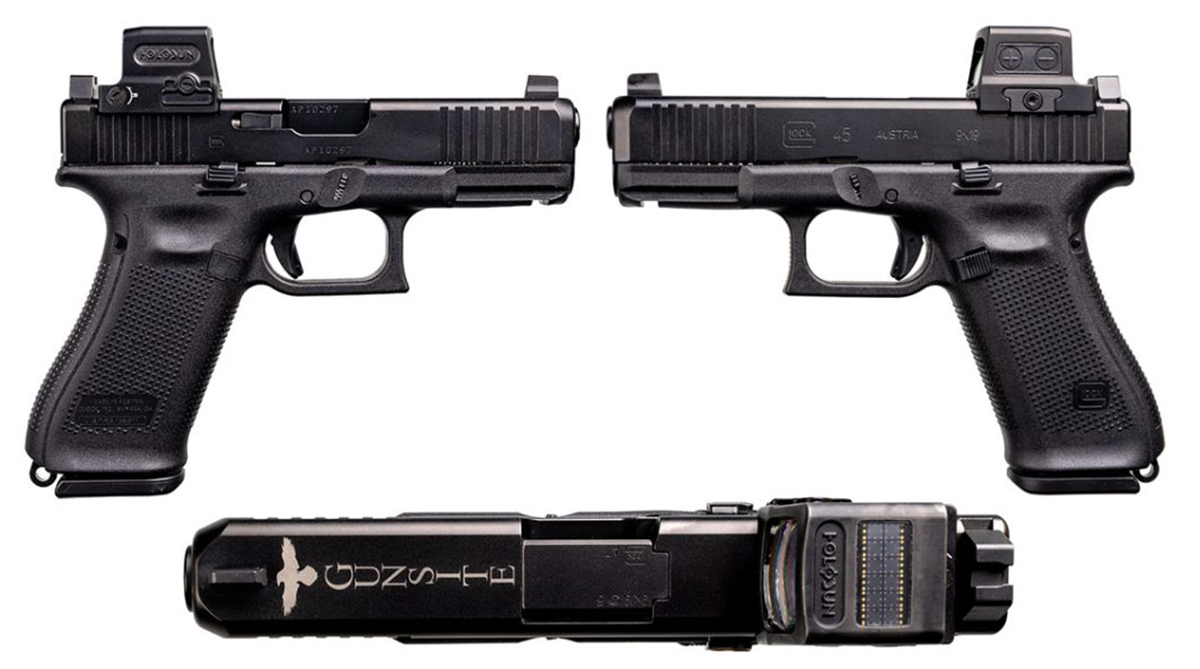 A special G45 was officially released on Jan. 16 at the 2023 SHOT Show Industry Day at the Range event. The new Davidson's Exclusive Gunsite Glock Service Pistol is available exclusively through Davidson's and the Gunsite Academy ProShop.
The pistol was designed in conjunction with the folks at Gunsite Academy and includes several custom features. A red-dot sight, the Holosun HE509T-RD X2 is mounted directly to the slide with no plate in between for a more rock-solid mount.
The pistol is also fitted with Ameriglo suppressor-height sights that can co-witness with the Holosun, an FBI rounded magazine release that's bigger than a stock release but not competition size, and a lanyard loop, which is a Gunsite must. Inside is the Glock factory "minus connector," which reduces the trigger pull weight to about 4.5 pounds. The top of the slide is engraved with the Gunsite logo and the academy's signature raven.
Glock also released the new G20 Gen5 MOS, G21 Gen5 MOS, and the G47 MOS is now available for civilians to purchase — get all the details here. —DM
---
Price: $1,699 – $2,999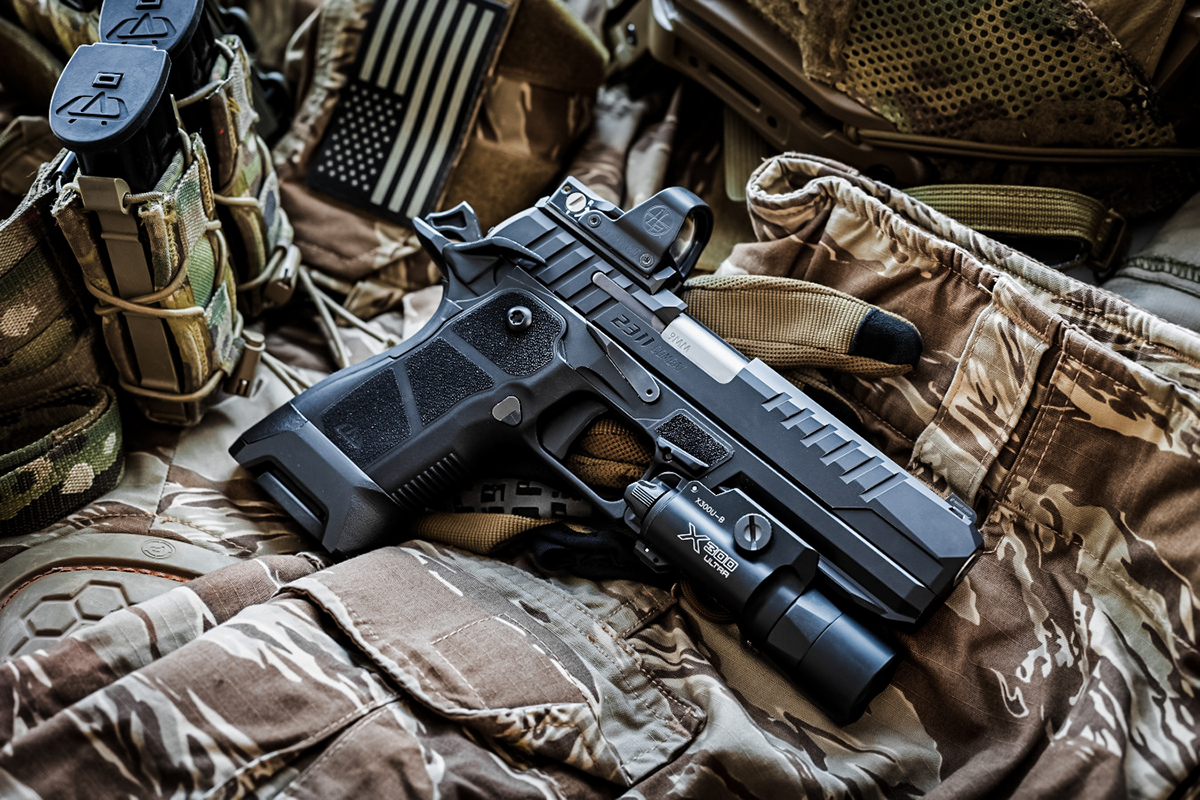 If we're learning anything from the 2023 SHOT Show and the handgun releases surrounding it, single-action, double-stack, 1911-style pistols are all the rage. But this gun — the Oracle Arms 2311 — is getting a ton of attention at the show for how much it stands apart.
The new 2311 is a high-capacity hammer gun that's a fascinating mashup of a SIG Sauer P320 frame and a double-stack 2011 9mm pistol.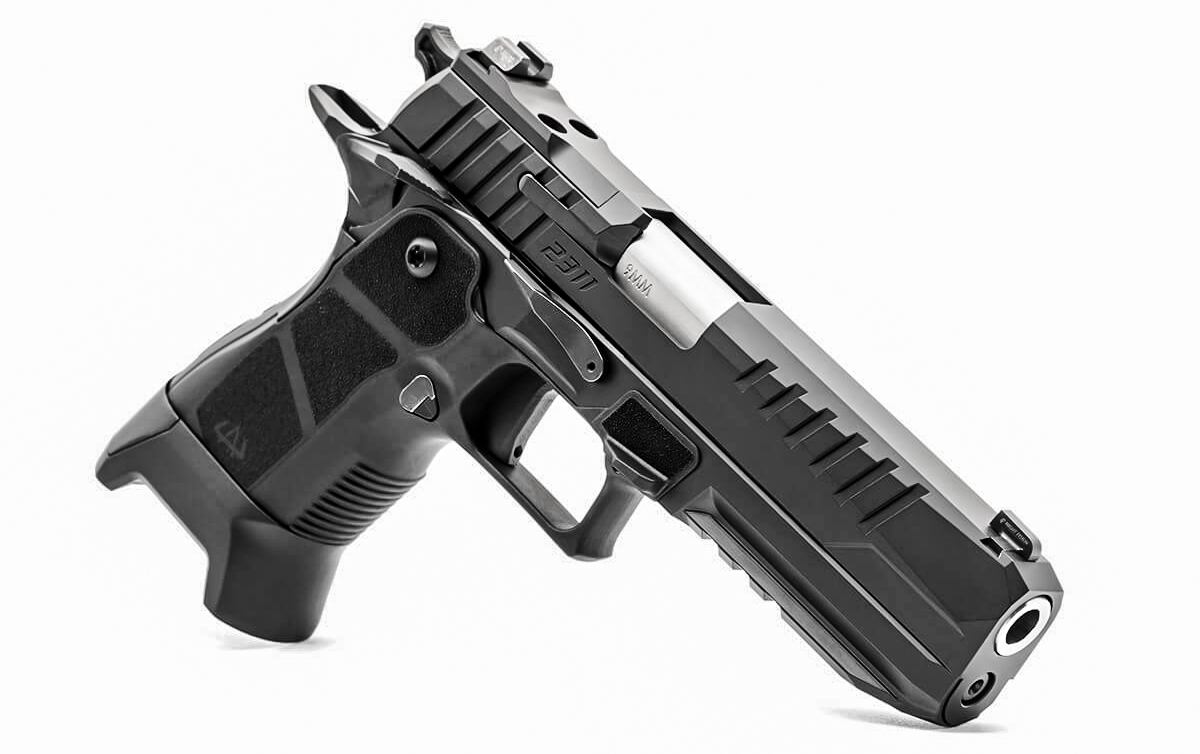 Controls are fully ambidextrous, and the modular polymer grip has a steel frame and slide assembly with an ambidextrous manual thumb safety, but there's no 1911-style grip safety. On top of the slide are tritium night sights, and word is that mounting plates for red dots are on the way. The pistol uses SIG P320 double-stack 9mm magazines (win!) and will be offered in five configurations when released: Compact, Compact Elite, Combat, Combat Elite, and a Competition model.
The out-of-the-gate all-black Oracle 2311 that was on hand at SHOT has a 5-inch barrel and uses a 17-round P320 mag. It had a pronounced thumb safety and a flared magwell, which sound more like competition features than anything else. But, it's a pre-production prototype still, so it could just be a mashup of features that will be on the various forthcoming models. —DM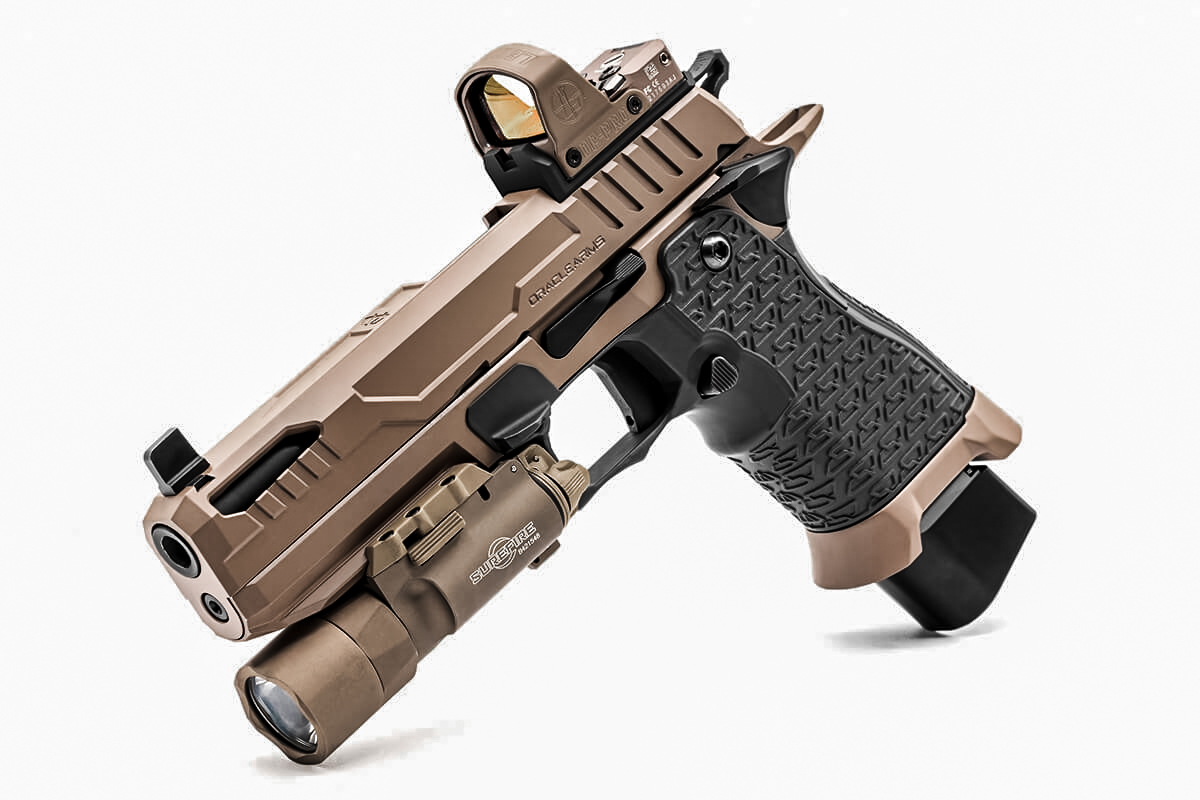 Features:
5 models forthcoming: Compact, Compact Elite, Combat, Combat Elite, and Competition
Uses P320 modular grip and magwell
SIG P320 magazine compatibility
SIG P365-style external extractor
Patented debris clearance channels in critical areas
Includes right-side slide lock with ambidextrous controls
Optics ready with four interchangeable slide plates expected
Linkless barrel and bushing-free design for easy disassembly
MSRP: $1,700 to $3,000
---
SIG Sauer P320 AXG Comp Legion
Price: N/A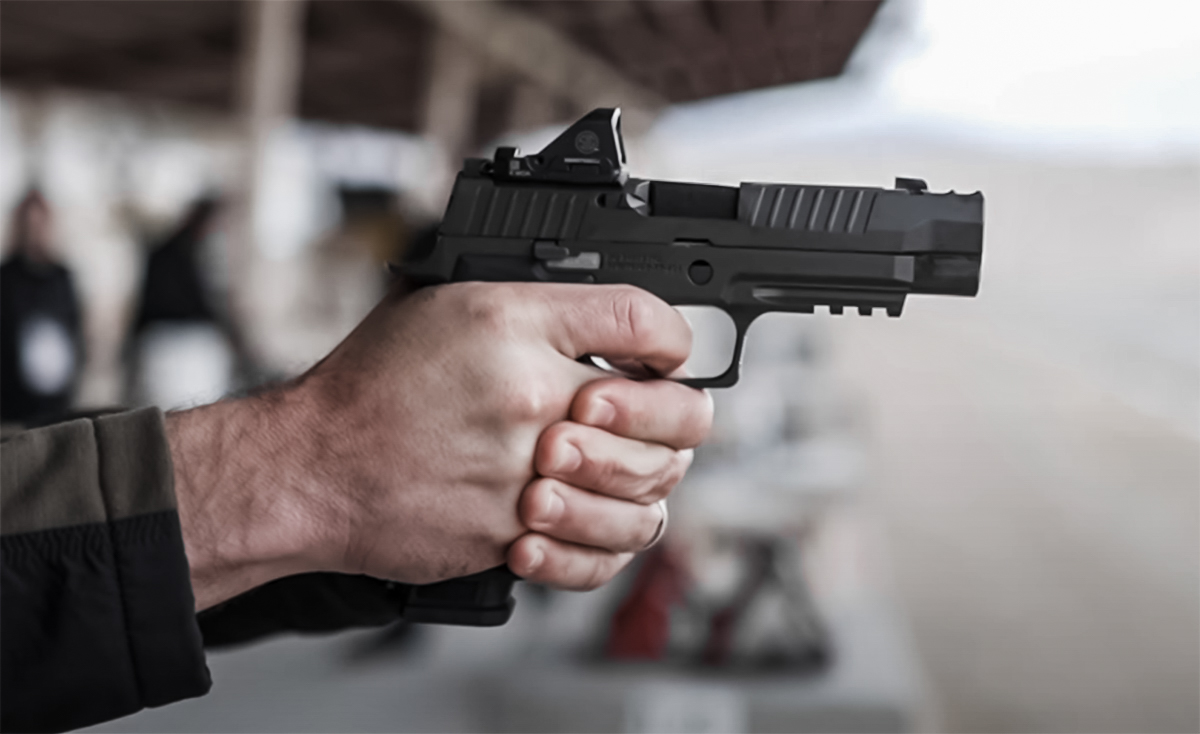 While SIG Sauer doesn't have a booth at this year's SHOT Show, that didn't stop the company from dropping some new guns. SIG held an exclusive range event the day before the show started and has released a new version of its P320 AXG pistol and added it to the company's prestigious Legion family of handguns. The biggest addition to this Legion P320 is the ported slide, which adds the "comp" to its name.
It looks quite a bit like the newer SIG P365 Spectre Comp pistol but on a bigger platform, and that's because SIG has taken that ported slide design and scaled it up to a full-size P320.
SIG says that the larger platform actually makes the porting, which could loosely be called a built-in compensator, work even more effectively. It reduces muzzle flip and felt recoil significantly, much like a comp would. The slide also comes optics-ready with all the features you would expect from a Legion entry. It's a little different in that the grip doesn't bear the typical Legion medallion. Instead, the logo is stippled right into the polymer.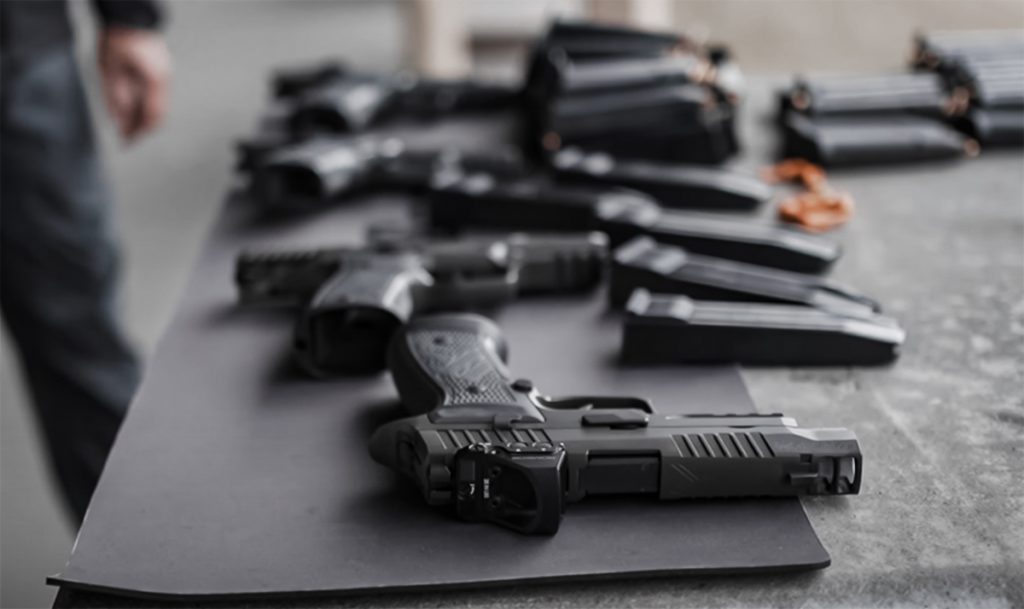 Many were skeptical about the effectiveness of this kind of compensator when the Spectre was first introduced. You heard a lot of the same claims people often leveled against bushing compensators on 1911s: if it's not attached to the barrel, it can't possibly do any good. Well, that just isn't so. SIG knows it, and it wouldn't be surprising to see their comp slide on more pistol variants in the future. —DM
SPECS:
Caliber: 9mm
Barrel: 3.9 inches
Sights: Irons included, optics ready
Capacity: Three 21-round mags included
Magwell: Flared
Accessory Rail: Yes
GOOD GEAR – Show Your Support for the 2A With the BRCC Gun Club Mug
---
Price: N/A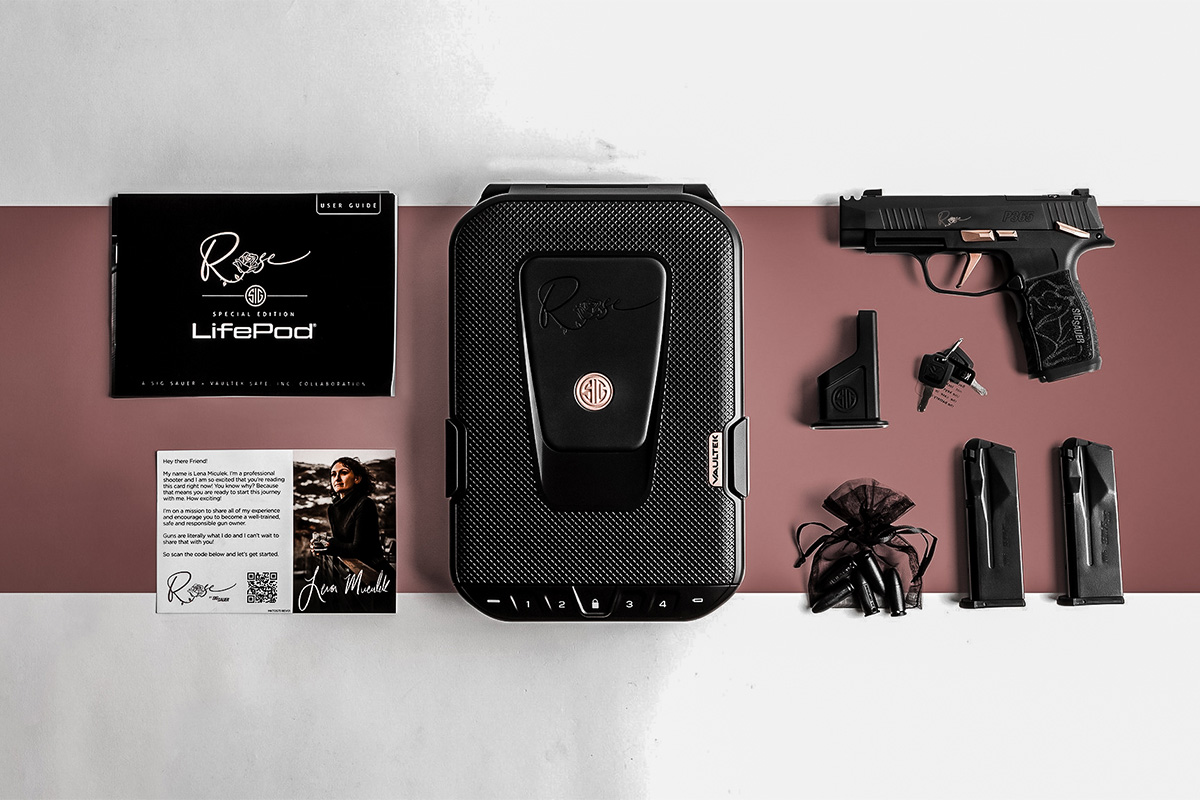 Although SIG isn't at SHOT Show, the company did coordinate the release of its new line of pink-trimmed P365 concealed carry kits to coincide with the show.
Designed in collaboration with legendary pro shooter and world champion Lena Miculek, each complete ROSE kit includes an optics-ready P365 in either .380 ACP or 9mm, a TSA-approved custom ROSE Vaultek Lifepod pistol safe, five polymer dummy training rounds, a magazine loader, and access to a full online training course.
Although the pistols have the appearance of another tacti-cute accessory, the entire kit is actually aimed at developing confidence for new female shooters through an online community and an extensive library of how-to videos hosted by Miculek.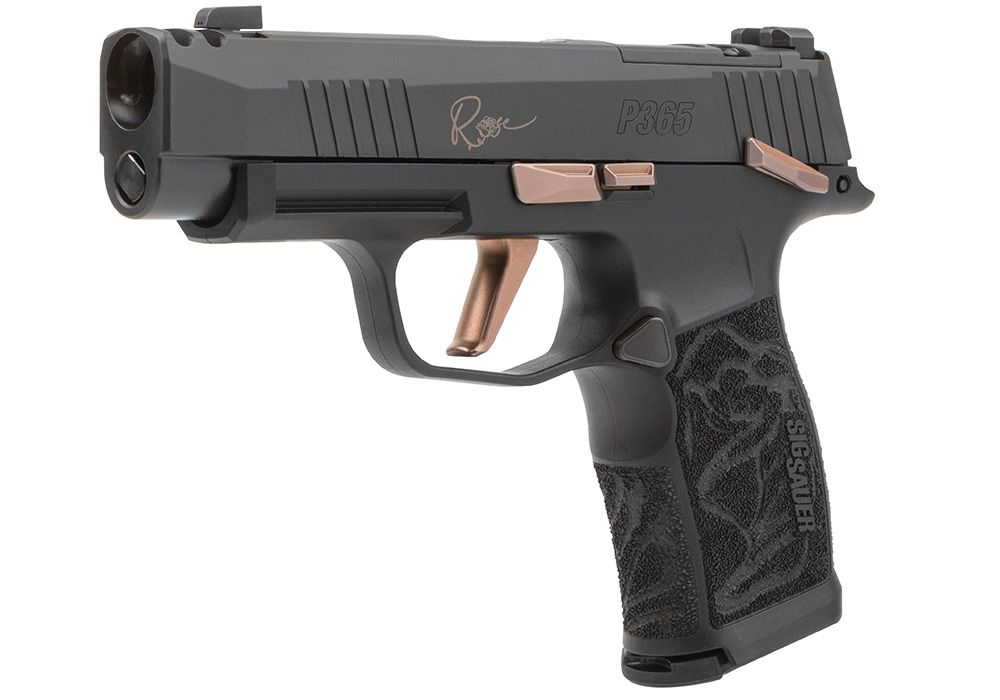 It's a good move for SIG not to relegate their new feminine firearm line to soft-shooting .380 AUTO only. In addition to a P365 in .380 AUTO, SIG is also offering their ROSE kit with a 9mm P365XL-COMP. However, both options are micro pistols, which puts the ROSE in the rampant pink-it-and-shrink-it category of firearms marketed to feminine shooters. —AJW
SPECS:
Caliber: 9mm / .380 AUTO
Capacity: 12+1 / 10+1
Overall Length: 6.6 inches / 5.8 inches
Overall Height: 4.8 inches / 4.2 inches
Overall Width: 1.1 inches / 1.1 inches
Barrel Length: 3.1 inches / 3.1 inches
Sight Radius: 5.1 inches / 4.9 inches
Weight with Magazine: 20.7 oz./ 15.7 oz
Frame: Stainless steel
Slide: Stainless steel
Slide Finish: Nitron
Grip Type: Polymer
Sights: X-RAY3 day/night sights
RELATED – ATF Drops New Pistol Brace Rule: It's Not Good
---
Price: $699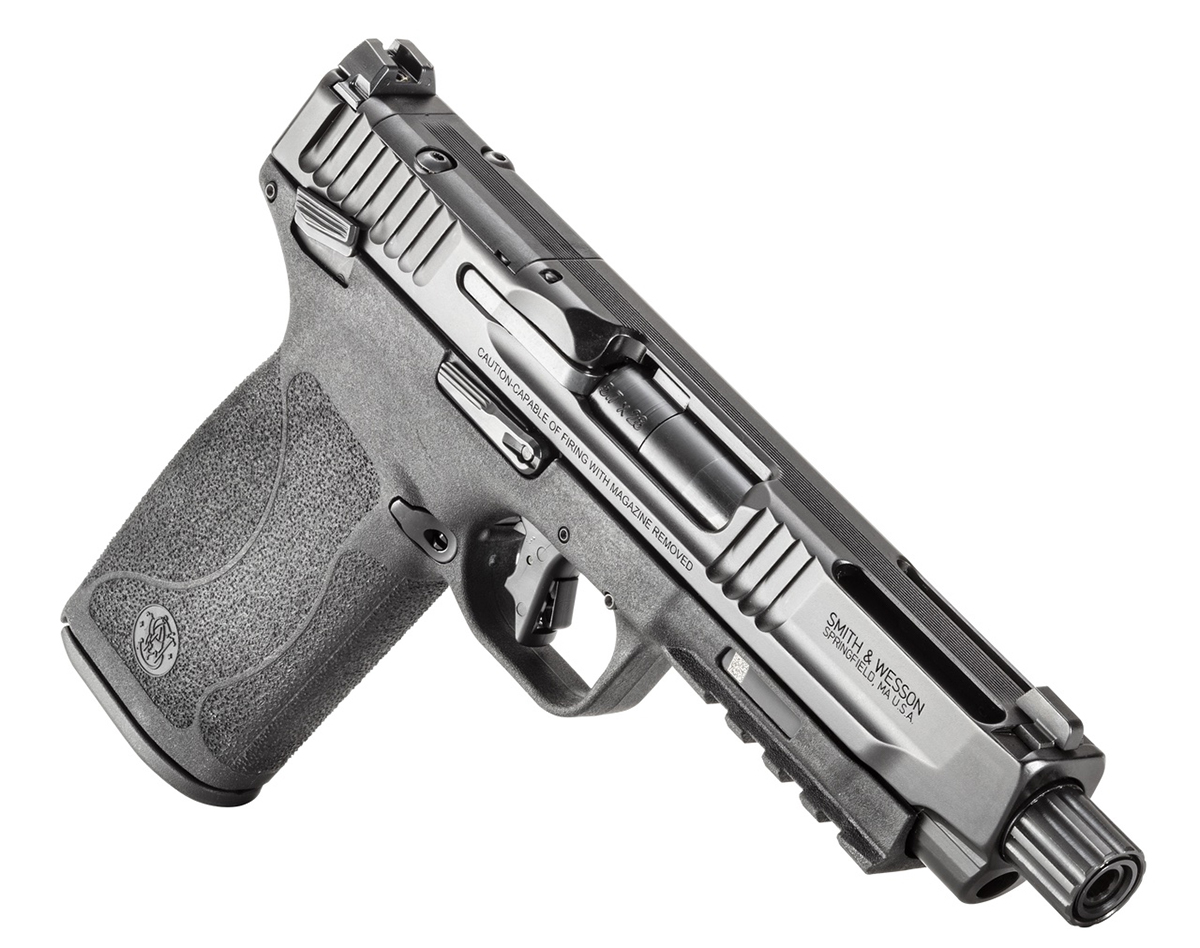 Smith & Wesson has officially jumped on the 5.7 bandwagon with its newly released M&P 5.7 pistol. This super slim, fat-gripped handgun uses a new rotary-locked barrel system and represents the storied gunmaker's first firearm chambered in 5.7x28mm, aka 5.7 NATO, known for being tiny but ultra-speedy and flat-shooting — and for a somewhat erroneous reputation for being able to punch holes in body armor.
The new M&P 5.7 has a 5-inch barrel with the company's new rotary-locked Tempo barrel system. It consists of a lock-breech two-part barrel with a proprietary gas system. The Smith ships with flush magazines that hold 22 rounds — two rounds more than its main competitor, the Ruger 5.7, with a 20+1 capacity — same as the FN Five-seveN.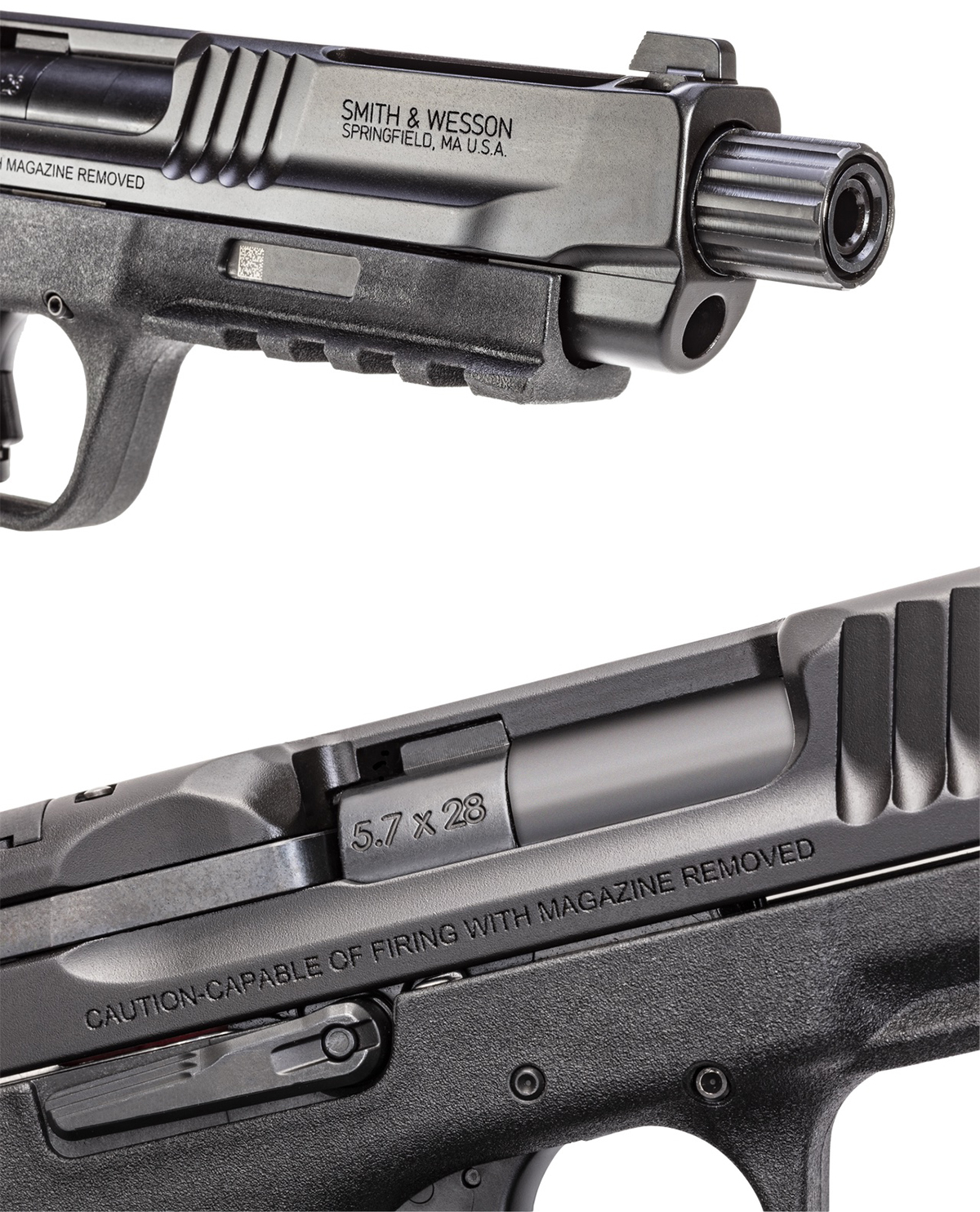 The slide is optics-ready, so this pistol certainly has the potential to be a handy varmint or squirrel gun if that's your pleasure. Or just a fun range gun like the Ruger 5.7. But here's the rub: The Ruger has an MSRP of $899, the FN is breathtakingly expensive at $1,400. The new S&W M&P 5.7 has an asking price of just $699.
The M&P 5.7 isn't a striker gun, it has an internal hammer along with an ambidextrous slide stop, an optional manual frame-mounted thumb safety, and a reversible magazine release button. It also sports a flat-faced single-action trigger and an accessory rail plus forward serrations on the slide. The pistol comes with two 22-round mags. Currently, a compliant model is not available for restricted states. —DM
SPECS:
Caliber: 5.7x28mm
Capacity: 22+1
Action: Internal Hammer Fired
Barrel Length: 5 inches, threaded
Grip: Polymer
Sights: White dot
Optic Ready: Yes
Safety: Optional thumb safety
Frame: Polymer
---
Stoeger STR-9F Combat
Price: $629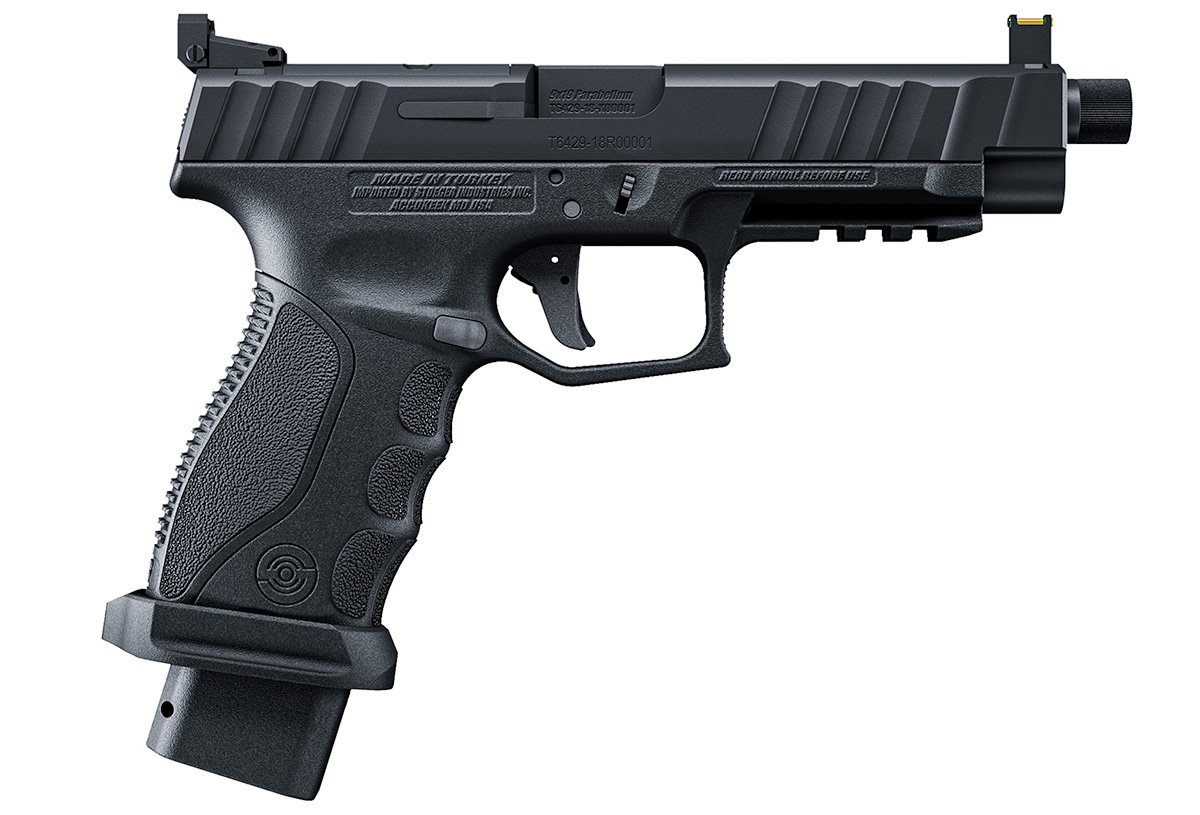 Stoeger Industries extended its economical pistol line – the STR-9 series – with the new Stoeger STR-9F Combat. "It's just like the combat gun we currently offer, but with some added features," said Keith Heinlein, a Stoeger representative with a Baltimore accent.
He added the new gun has a Tungsten Cerakote coating on the barrel cap, slide, back strap, and mag well. As an added bonus, Heinlein explained it also comes with a hard case and a Kydex holster. "It's one heck of a gun with a heck of a lot of features," he said.
Otherwise, you have probably already guessed – because it has "combat" in the name – it's a full-sized, duty-style pistol with an optics-ready slide and a barrel with a threaded muzzle. But the STR-9F Combat also features raised sights for when you mount a silencer. Plus, it comes with three magazines, including an extended 20-rounder.
SPECS:
Caliber: 9mm
Action: striker-fired
Barrel Length: 5.18 inches
Overall Length: 7.95 inches
Weight: 26.4 ounces
Capacity: 3 magazines — 20 and 10
Finish: Black synthetic, nitride slide
Optics Ready: Yes
Sights: Tall, adjustable fiber-optic
Includes: Extended magwell, threaded barrel
---
Price: $1,069.99, $1,269.99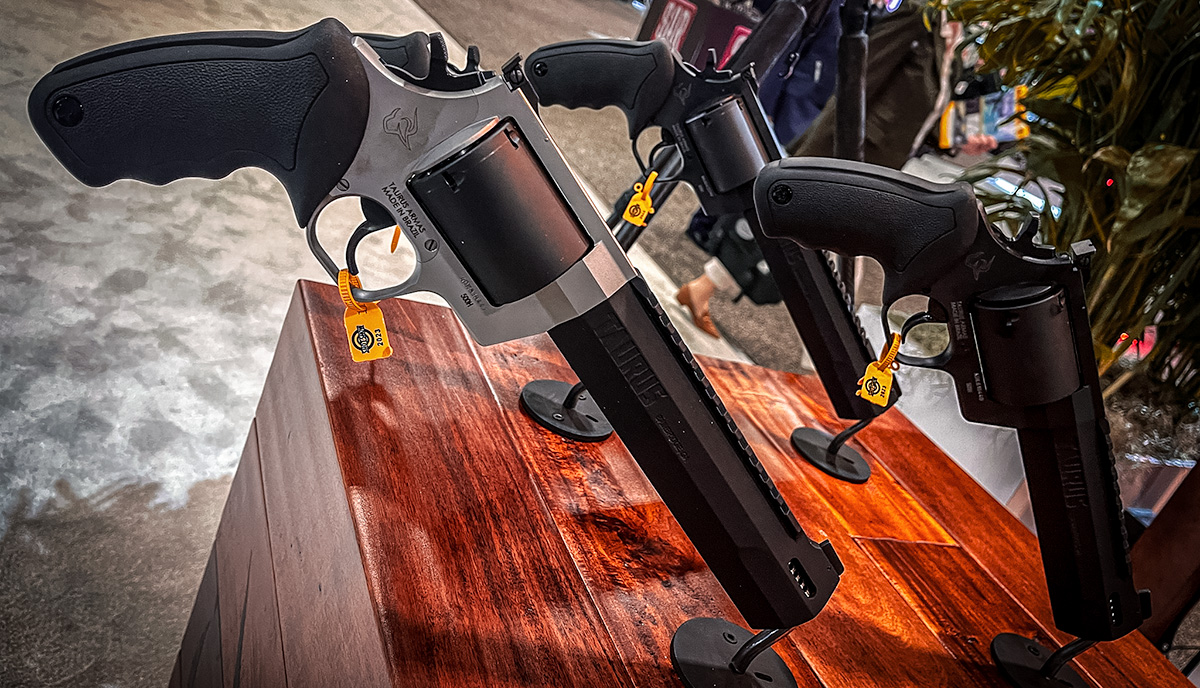 Among several big reveals from Taurus at SHOT was the expansion of its Raging Hunter revolver series with new .500 S&W Magnum model and .460 S&W Magnum models, the latter of which comes with a huge 10-inch barrel.
The appeal of the .500 Magnum is that it's the most powerful revolver load available. The gunmaker described the new revolver as "the perfect companion as a backup gun for dangerous game hunts, or a primary gun for anything that walks on four legs."
To help tame the .500 S&W's significant recoil, the new Raging Hunter includes custom porting, a cushioned grip, and a heavier unfluted cylinder.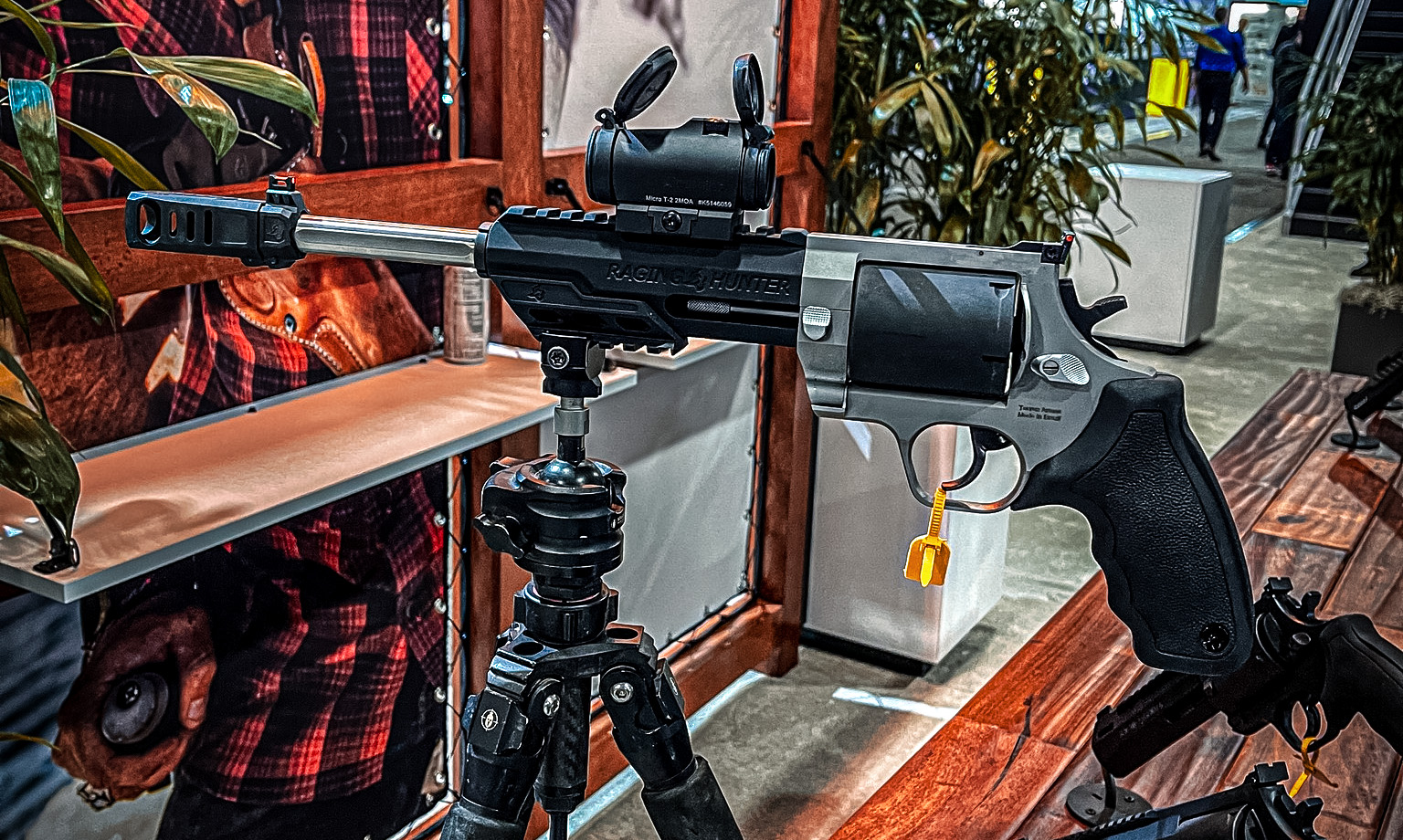 Look at it. It's huge. Yuugge. It's like something out of a Robert Rodriguez movie. But there is a point to the length and girth. The new Taurus Raging Hunter with a 10-inch barrel is equipped with a proprietary compensator designed to manage the recoil of the potent .460 S&W Magnum load, up to 25% the company says. —DT
SPECS:
Caliber: .500 S&W Magnum / .460 S&W Magum
Capacity: 5
Sights: Fixed front, adjustable rear
Action: DA / SA
Overall: 13.1 inches / 16.22 inches
Barrel: 6.75 inches / 10 inches
Weight: 63.6 ounces / 71.26 ounces
---
Price: $460.99, $450.99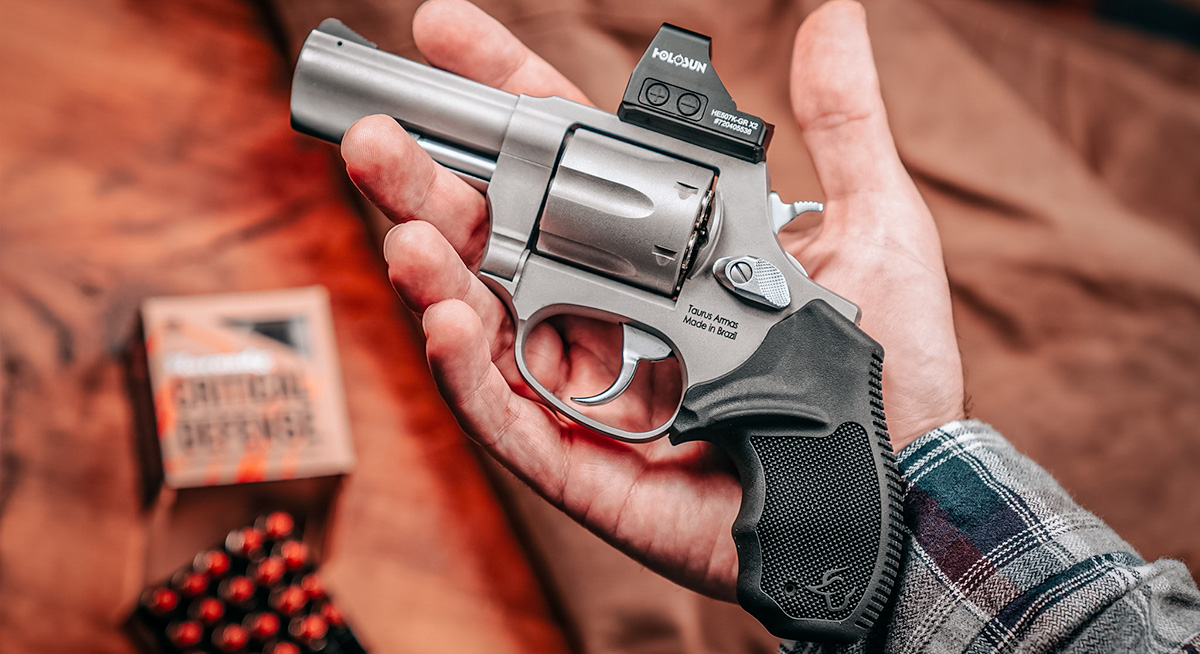 If you like red dots and revolvers, you're in luck. Taurus introduced two revolvers equipped with the Taurus Optic Ready Option, or TORO. The feature allows you to mount any compact red-dot optic that'll fit the Holosun K-footprint on two new wheelguns.
The Taurus Defender 856 TORO is a small-frame revolver chambered in .38 Special, but it can also fire +P loads. It features a 3-inch barrel, night sights, a double-action trigger, a six-shot cylinder, and it's available in stainless steel.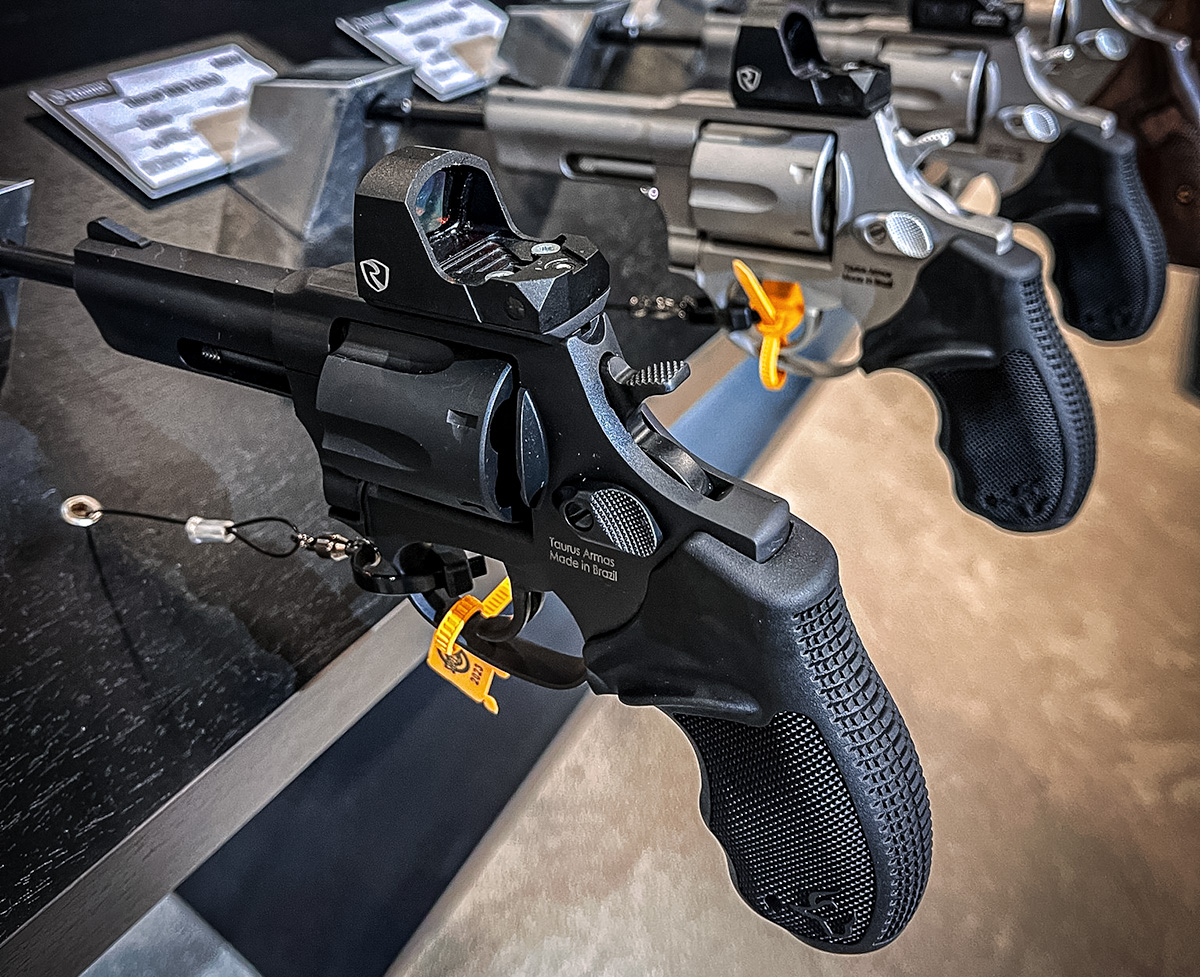 The Taurus 605 TORO is nearly identical to the Defender revolver, but it's chambered for .357 Magnum (so it can also fire .38 Special), and it comes with a black matte finish.
SPECS:
Caliber: 856 TORO: .38 Special +P / 605 TORO: .357 Magnum/.38 Special
Capacity: 5
Sights: Removable front, fixed rear
Action: DA / SA
Overall: 7.5 inches
Barrel: 3 inches
Weight: 23.5 ounces, 23.52 ounces
---
Price: N/A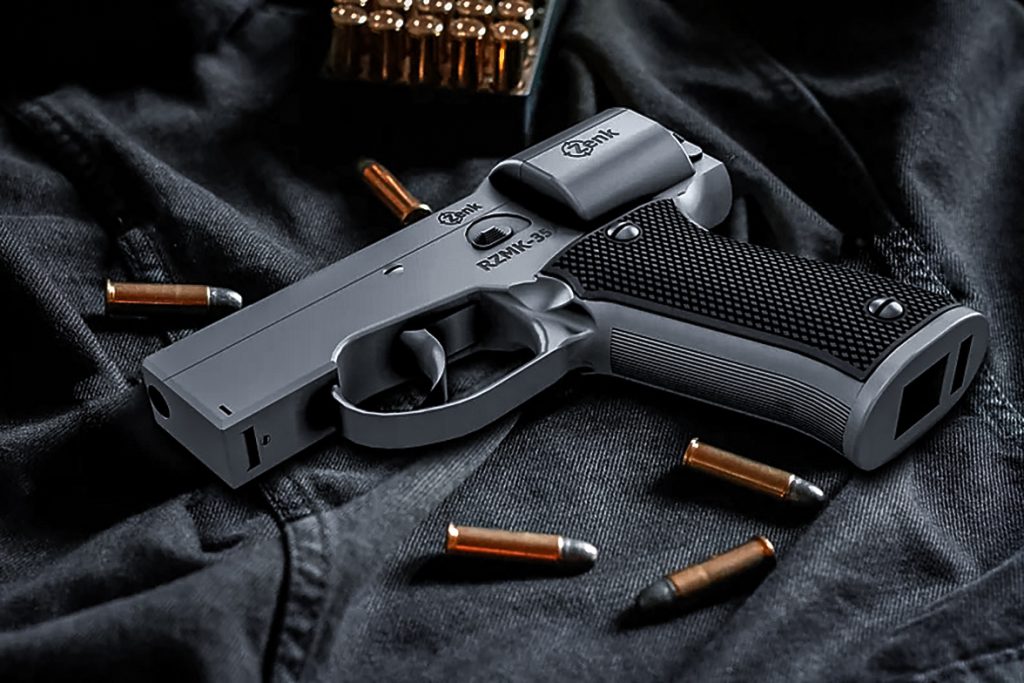 Imagine a top-break revolver; only move the cylinder all the way to the back, and move the hinge from the bottom and rear of the barrel to just near the muzzle.
"Zenk LLC has revolutionized the Revolver," the company says in an interestingly worded description of its one and only product. "This revolutionary design is a cross between the revolver and a conventional pistol."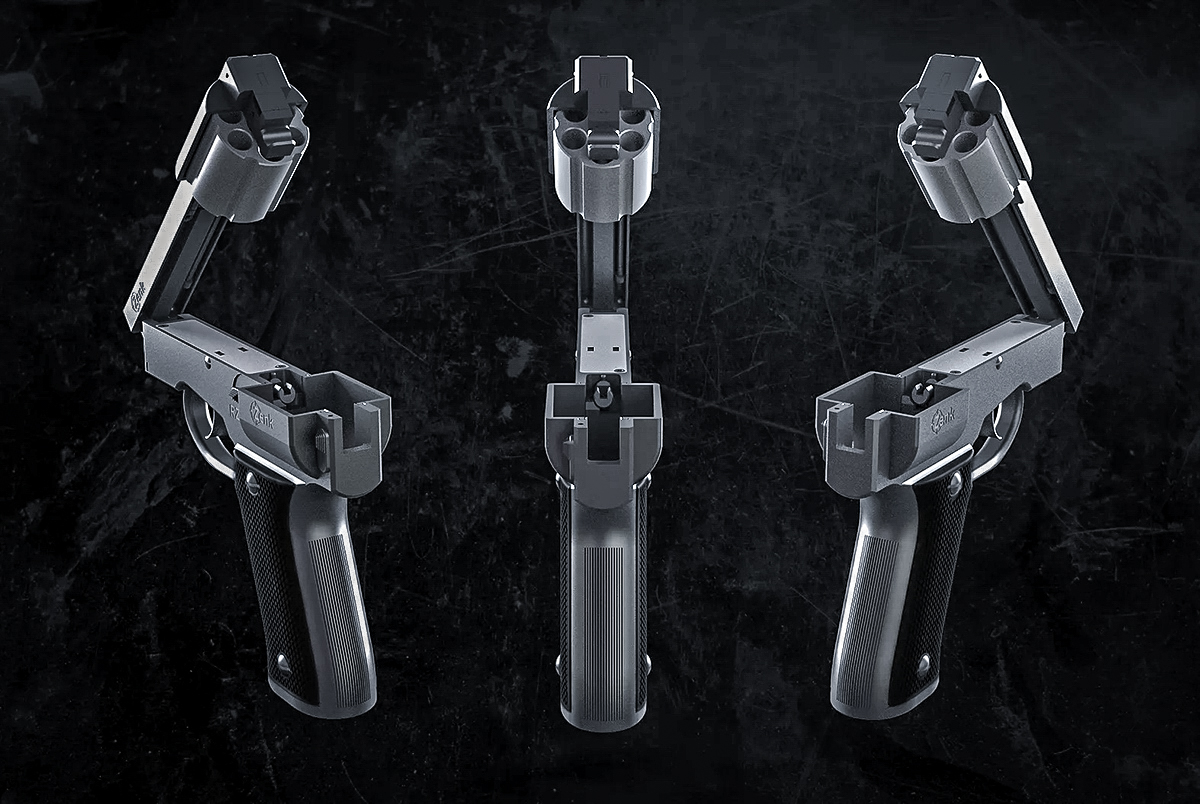 Moving the cylinder so its position above the shooting hand closer to the wrist would even out weight distribution and make the gun feel extremely balanced. But there are questions. What is the firing mechanism like? And how about that hinge near the muzzle; how is that going to hold up? What's that locking mechanism built like? Where can I shoot one? Check out a deeper look at this revolver here. —DM
SPECS:
Action: Double action only
Caliber: .357 Magnum and .38 Special
Capacity: 6 rounds
Length: 6.85 inches
Barrel Length: 4.75 inches
Weight: 33.5 ounces
Height: 5.67 inches
Finish: Silver or black
GOOD GEAR – Everything From the Press to the Pour Is Perfect With the BRCC Fellow Clara French Press
---
NEW SHOTGUNS
---
Price: $1,099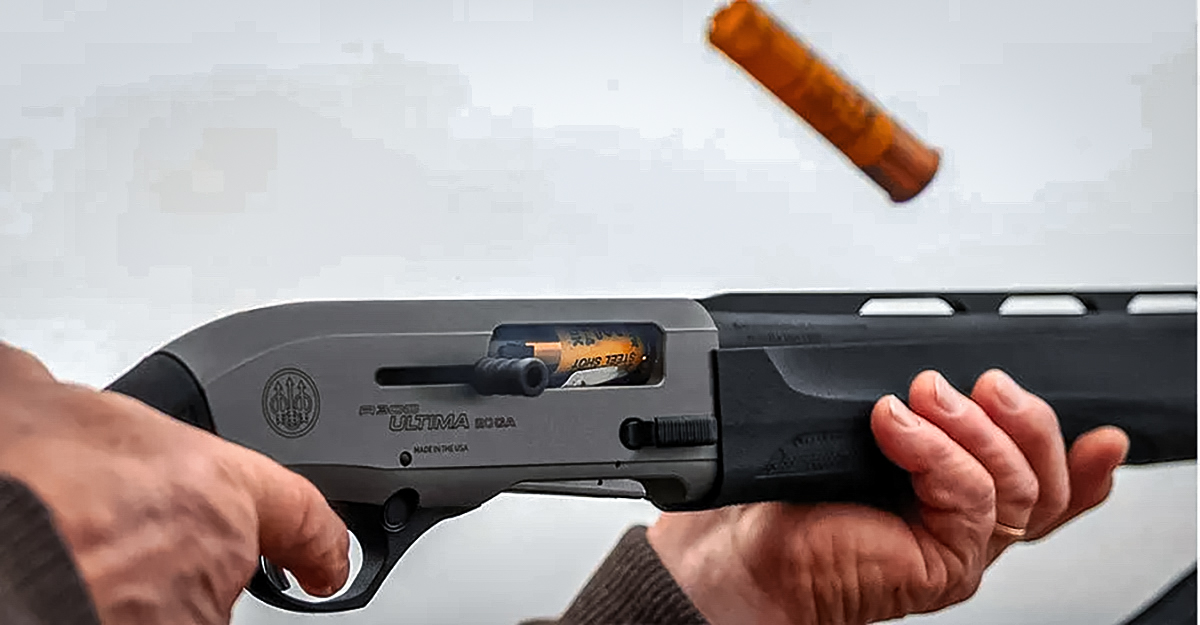 Based on Beretta's respected A300 model, the Ultima Patrol is a dedicated defense scattergun loaded with a ton of features, and it's made right here in the good ole U.S. of A. at the company's Tennessee factory.
Beretta looked to the 3-Gun world for inspiration on this one. The A300 Ultima Patrol features a shortened tactical stock for easy maneuverability in tight indoor environments. It also has easy-to-manipulate, oversized controls and an enhanced loading port for rapid reloads.
The A300 Ultima Patrol comes with convenient ghost ring sights and an accessory rail, so you can easily add an optic if that's more your speed. The gun also has a custom barrel clamp with M-LOK capabilities for attaching tactical accessories.

Aggressive texturing in the fore-end and the grip area allows for more confidence and control for high-stress shooting, situations where you're wearing gloves, or during rapid strings of fire.
Beretta is also releasing a duo of A300 Ultima turkey guns dressed in Mossy Oak DNA and Realtree Edge. — AJW
SPECS:
Caliber: 12 gauge
Chamber: 3 inches
Capacity: 7+1
Total Length: 38 inches
Barrel Length: 19.1 inches
Weight: 7.1 pounds
Choke: MobilChoke interchangeable choke system
Color: Black or gray
RELATED – FN Introduces 'Big-Bore' Pistols: New FN 545, FN 510
---
Price: $1,829
First announced in Sept. 2022, shooters finally got to pull the trigger on Beretta's new 28-Gauge A400 Upland this week at SHOT Show. Although it's built specifically for upland wingshooting, this gorgeous scattergun would look just as at home hanging over the mantle as it does swinging over the back of a good bird dog.
It features a dark, brushed nickel finish on the receiver with prominently engraved 28s and a handsome laser-engraved walnut stock.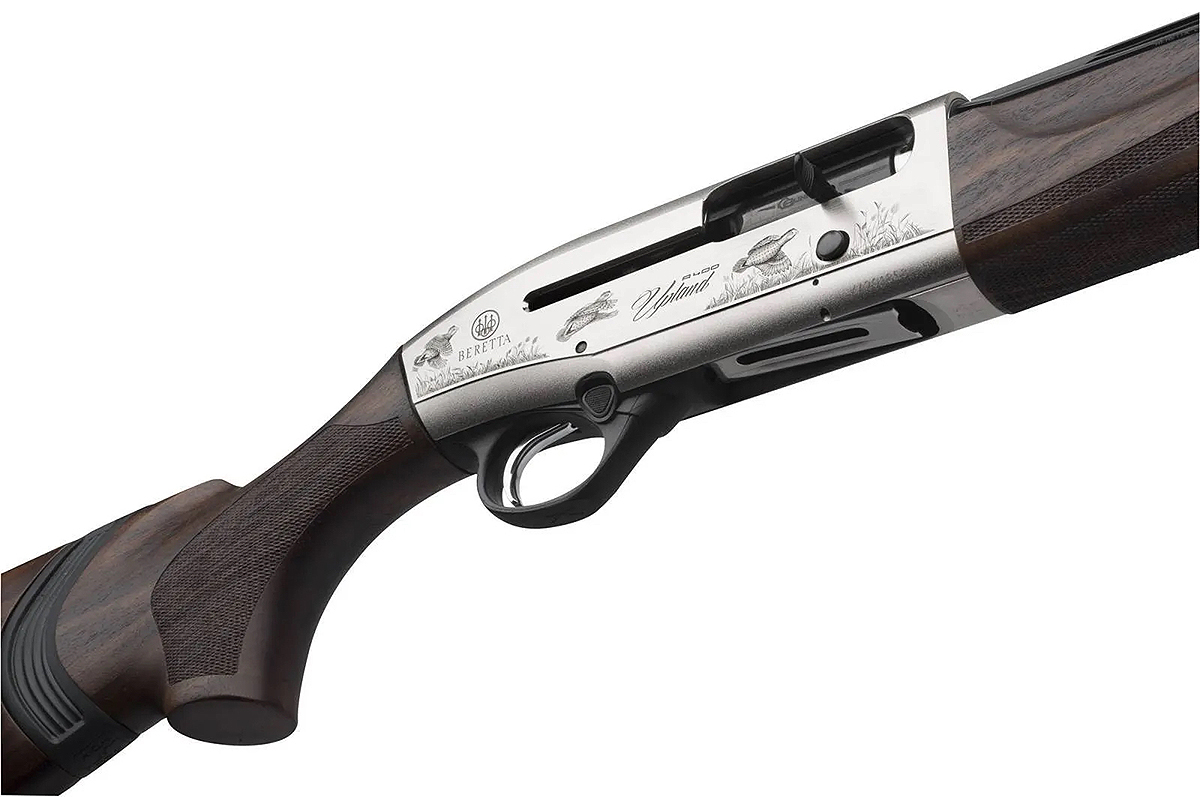 Straight out of the gate, the A400 Upland's diminutive bore size and gas system make this gun perfect for recoil-sensitive shooters. However, Beretta went one step further with this baby, adding the first walnut stock with the company's innovative Kick-Off Plus technology designed to reduce recoil by 50%. This gun shoots like an absolute pussy cat.
The A400 Upland Magnum is also well-balanced, making it super easy to swing on moving targets, whether those targets are clay or feathered. —AJW
SPECS:
Gauge: 28 gauge
Chamber: 3 inch
Capacity: 7+1
Barrel Length: 28 inches
Choke: Optima HP
Stock material: Walnut
Receiver: Nickel-plated
GOOD GEAR – Wear the Perfect Veteran Shirt With the BRCC ParaMug Company Logo T-Shirt
---
Price: $495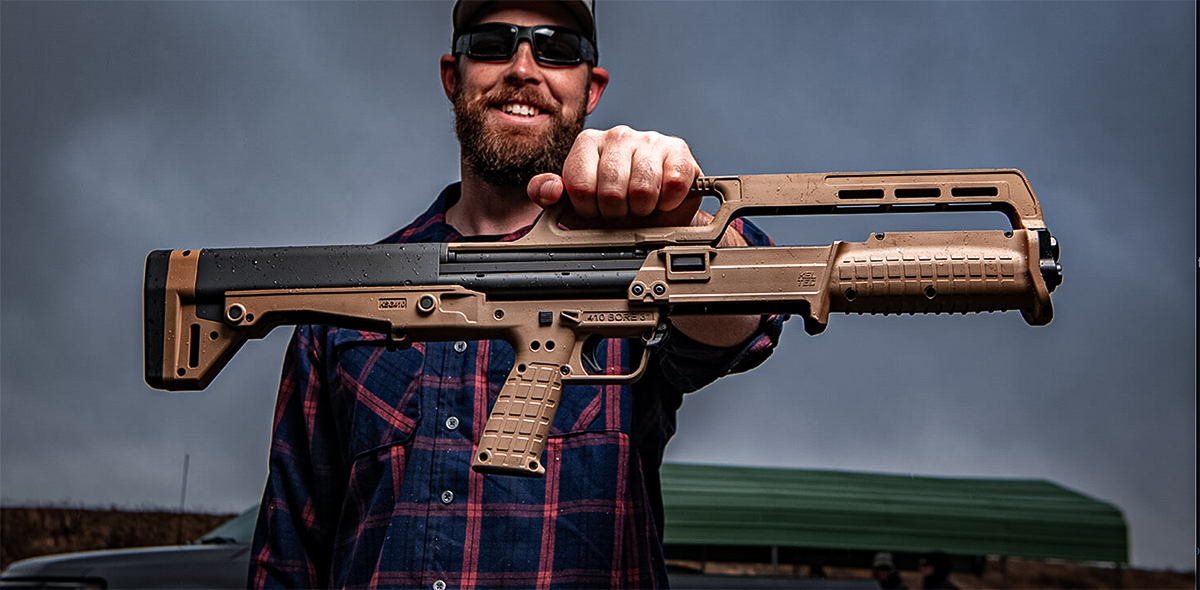 Unlike some folks out there, I genuinely love KelTec's KSG platform. The KS7 is one of the handiest little shotguns I've ever used, with an impressive capacity. But one thing all of the models in this family have in common is that their light weight and inline design means they kick like a mule.
Now, there's a pure range-fun version of the KSG that won't beat the shit out of your shoulder and that will be a little easier on the ammo budget.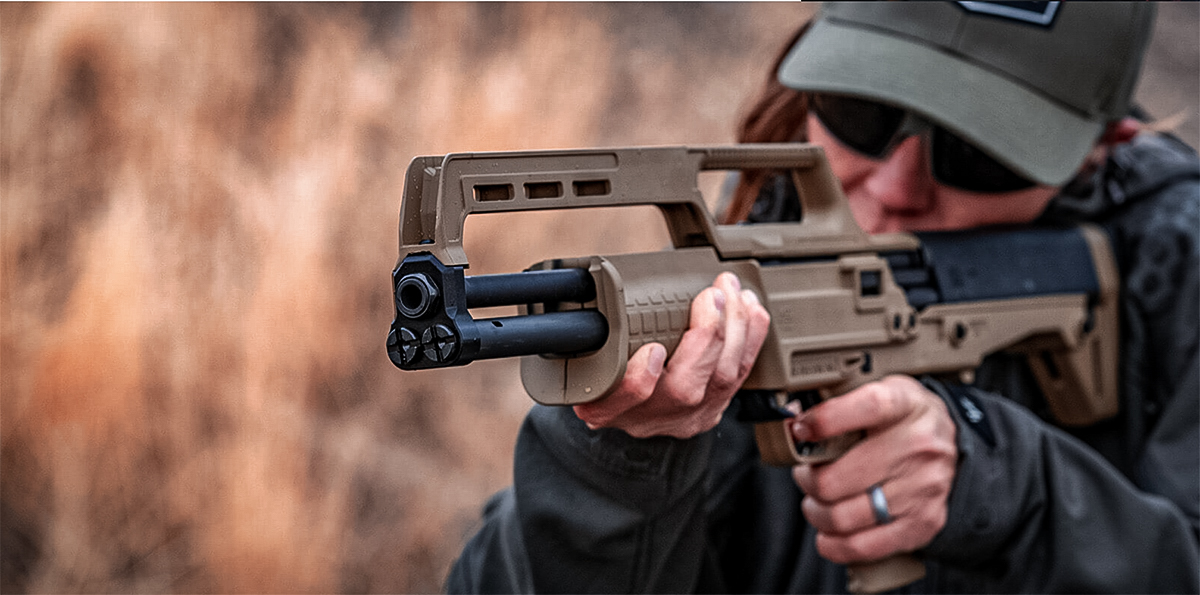 The new KSG410 chambered in — you guessed it — .410 bore is the lightest, thinnest, and shortest .410 bullpup shotgun in the world, according to KelTec. It has dual magazine tubes running beneath the barrel like the original KSG with the carry handle/fiber optic sighting system of the KS7.
That last part is not such great news for the many, many, many KS7 owners who ditched that big plastic thing in favor of a simple rail.
This is a small shotgun, measuring just 1.7 inches wide, and holds 5 shells in each tube for a total 10+1 capacity with 3-inch shells. It weighs in at just 5.4 pounds and is only 26.1 inches long — but long enough not to have to deal with NFA BS.

KelTec says that thanks to the chambering and the gun's weight, it has virtually no felt recoil, which isn't surprising and should make for some killer range sessions. Or, if you happen to have a whole lot of pests to deal with, it could be a useful tool. The KSG410 is expected to ship in Q3. —DM
SPECS:
Caliber: .410 Bore
Weight Unloaded: 5.4 pounds
Magazine Capacity: 5 + 5 + 1 (3-inch shells)
Overall Length: 26.1 inches
Barrel Length: 18.5 inches
Trigger Pull: 5 pounds
LOP: 13 inches
RELATED – Gemtech Gvac: The First 'Suppressor Optimized' AR Upper
---
Price: $499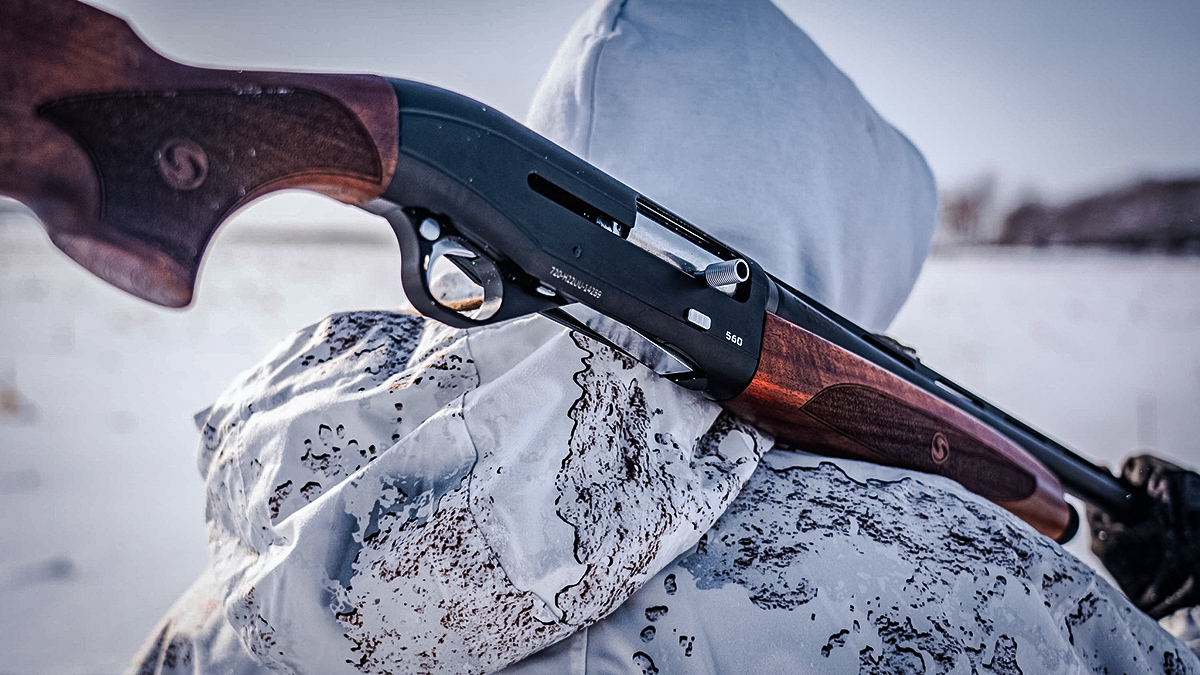 Perfect for wingshooting, sporting clays, and wild turkey, the new semi-auto Stevens 560 Field shotgun from Savage Arms comes in both a full-size model and a compact model that's perfect for smaller shooters.
This gas-operated semi-auto features oversized controls, a raised ventilated rib with mid-bead rear and fiber-optic front sights, and three removable chokes (modified cylinder, improved cylinder, and full).
With Turkish walnut furniture and a hard chrome-lined matte-black barrel, the Stevens 560 Field model 12-gauge is pretty enough to hang over the mantle but rugged enough for hard outdoor use. — AJW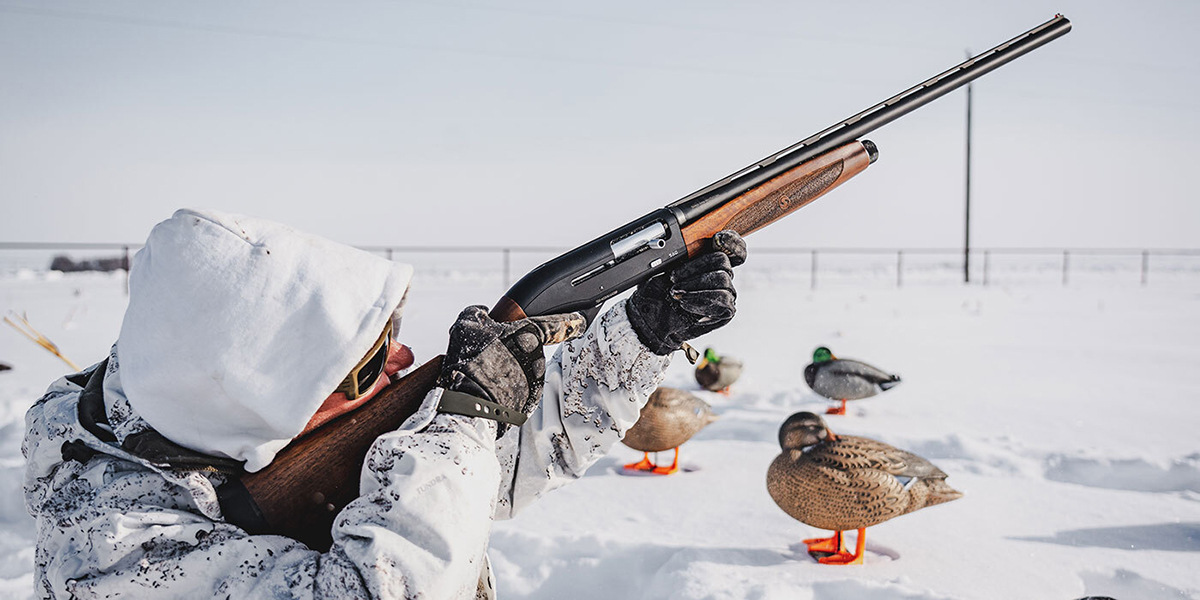 SPECS:
Gauge: 12
Chamber: 3 inch
Action: Semi-automatic
Capacity: 5+1
Barrel length: 28 or 26 inches / 28 inches
Length of pull: 14.5 inches / 13.5 inches
Overall length: 48.75 or 46.75 inches / 47.75 inches
Chokes: Improved, modified, full
Front sight: Fiber optic
Rear sight: Ventilated rib
GOOD GEAR – Embody the Ethos of the Quiet Professional With the BRCC Silencer Smooth Roast
---
Stoeger Upgrades M-Series Shotguns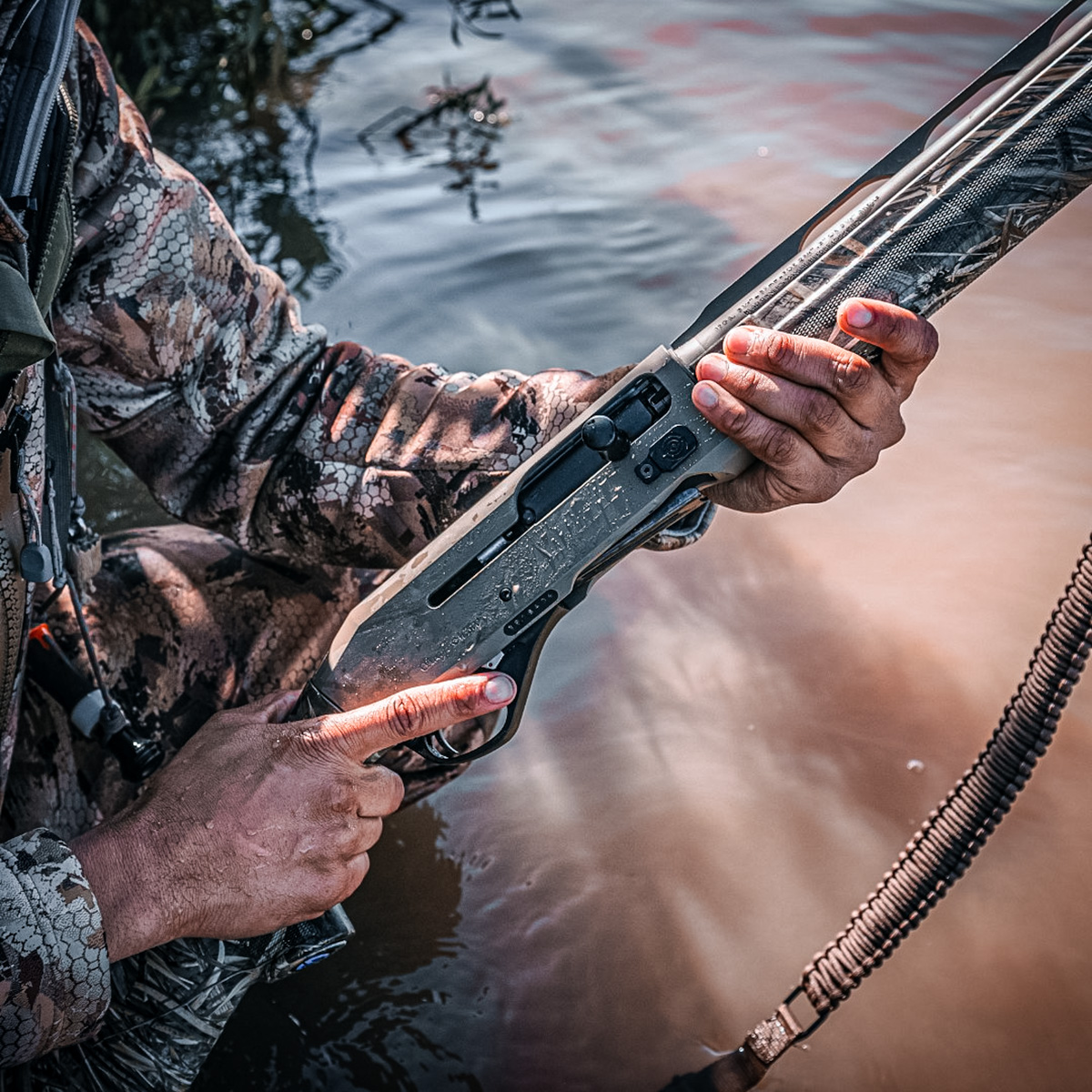 Stoeger Industry gave its entire M-series line of semi-auto shotguns an upgrade. Keith Heinlein, a company representative, explained how just about everything on the gun was improved. "When you guys shoulder this gun, it's going to feel like a different gun," he said, comparing it to older models. "We took an already proven platform and made it better."
Heinlein said almost every part of the stock and receiver that you interface with was redesigned. Engineers touched up the ergonomics like the comb and the grip angle, and controls like the safety, bolt handle, and mag cap. Plus, the receiver itself was trimmed down, giving it a lower profile for improved aiming.
M3000
Price: $559 to $669
In the M3000 series, Stoeger is offering nine new models that vary by stock, barrel length, and finish, but what sets them apart from older models are the functionality and ergonomics. The new models feature new recoil pads and removable cheekpieces. The M3000 is also available with a pump action in the P3000 for $389.

SPECS:
Caliber: 12 gauge
Barrel: 24, 26, and 28 inches
Finish: Satin walnut, black synthetic, Mossak oak bottomland, Realtree Max-7, Max-7/burnt bronze, satin walnut/burnt bronze, and Realtree Max-7
M3500
Price: $669 to $929
For this year, Stoeger improved the M3500's design, saying engineers gave it a slimmer profile for improved handling and a lower vent rib for easier aiming. The company explained these "purposeful features" will benefit clay shooters and bird hunters alike. And the new variant will be available for two barrel lengths with a pump action going for $439.

SPECS:
Caliber: 12 gauge
Barrel: 26 and 28 inches
Finish: Black synthetic, Realtree Max-7, Realtree Max-7 and Cerakote burnt bronze, mossy oak bottomland, satin walnut, Snow Goose distressed white Cerakote, Waterfowl Special, Realtree Max-7 and Cerakote Flat
---
Price: $855 to $1,050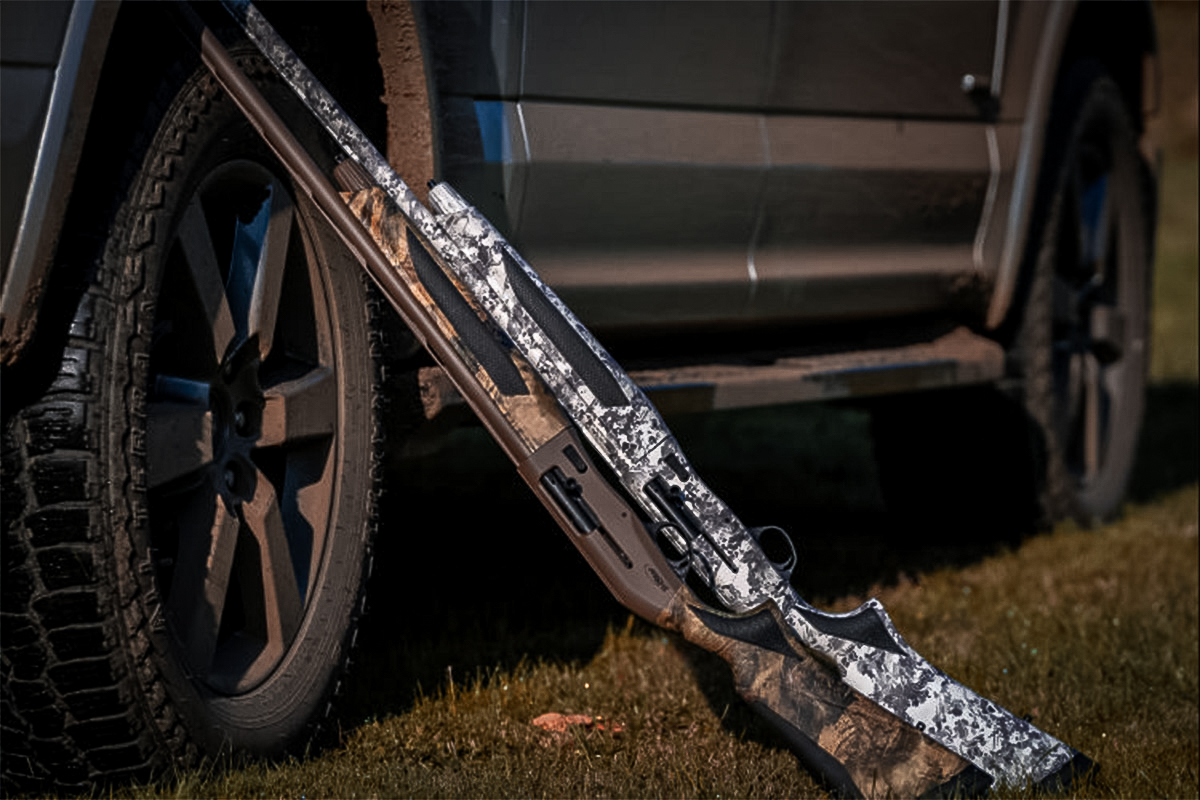 In a shotgun world full of expensive Benellis and Berettas, TriStar guns sometimes get a bad rap for being "cheap." However, while TriStar is the king of affordable scatterguns, its firearms are far from junky. TriStar shotguns are sturdy, budget-priced firearms that really shine in the field.
Before SHOT Show, TriStar announced that it was going PRO with a wide range of upgrades to its cost-effective Viper G2 lineup. The company added a slew of gauge options ranging from 28-gauge to 12-gauge, plus a few .410 bore options.
The new TriStar Viper G2 PRO series is packed with upgraded features, including oversized safeties, bolt releases, and bolt handles. Viper G2 PRO shotguns also come with over-molded rubber grips on the stock and fore-end for better control, especially when you're wearing gloves.

The gun is available in five models at the moment — a silver or bronze receiver with wood furniture, an FDE receiver with Terra Bayou camo synthetic furniture, or a snow goose model in all TT-Viper Snow camo. Prices run from a super-affordable $855 on camo-covered models to a still-economical $1,050 on PRO Bronze models in 16-gauge and 28-gauge.
SPECS:
Gauge: .410 bore, 28 gauge, 20 gauge, 16 gauge, 12 gauge
Length of Pull: 14.25 inches
Barrel Length: 26 to 30 inches
Weight: 5 to 6.8 pounds
Capacity: 5+1 rounds
Sights: Fiber-optic front sight
Chokes: 3 Beretta/Benelli Mobil style chokes included (improved cylinder, modified cylinder, and full)
---
NEW AMMO
---
Price: N/A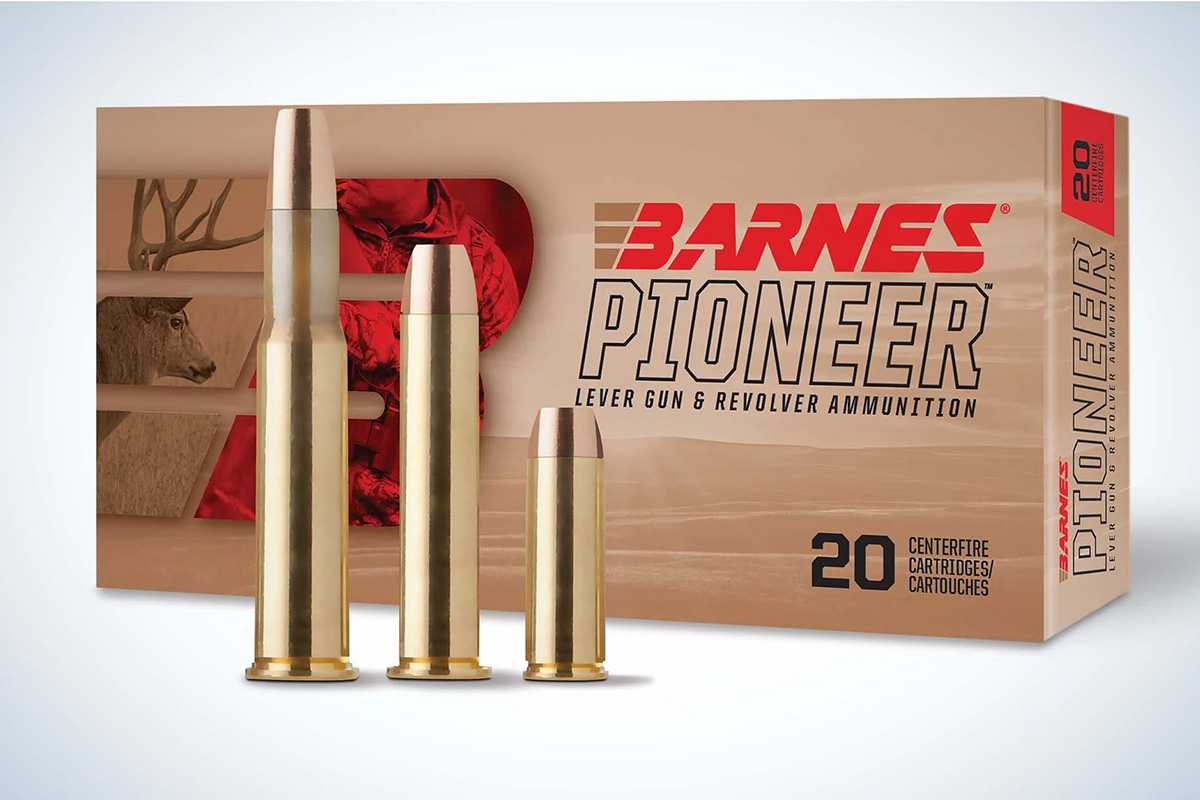 Barnes' designed its new Pioneer line to provide polished function in old-school lever-actions and revolvers. Barnes Pioneer will initially offer revolver loads in .357 Magnum and .45 Colt. Shooters can opt for loads topped with Barnes all-copper bullets or heavy-for-caliber Barnes Original bullets made by pressure-forming pure copper tubing around a lead core.
Barnes Pioneer will deliver loads for rifles chambered in .30-30 Winchester and .45-70 Government for lever-action lovers.
For .30-30 shooters, the Pioneer line will offer options topped with 150-grain all-copper TSX bullets or 190-grain Barnes Original. If you're toting a lever gun in .45-70, you can opt for a 300-grain TSX or a heftier 400-grain Barnes Original.
The line isn't available just yet, but it should be available well before next hunting season. — AJW
SPECS:
Designed to perform reliably in classic lever-actions and revolvers
Initial offerings include .357 Magnum, .45 Colt, .30-30 Winchester, and .45-70 Government
Available in all-copper and copper-jacketed lead loads
---
Price: N/A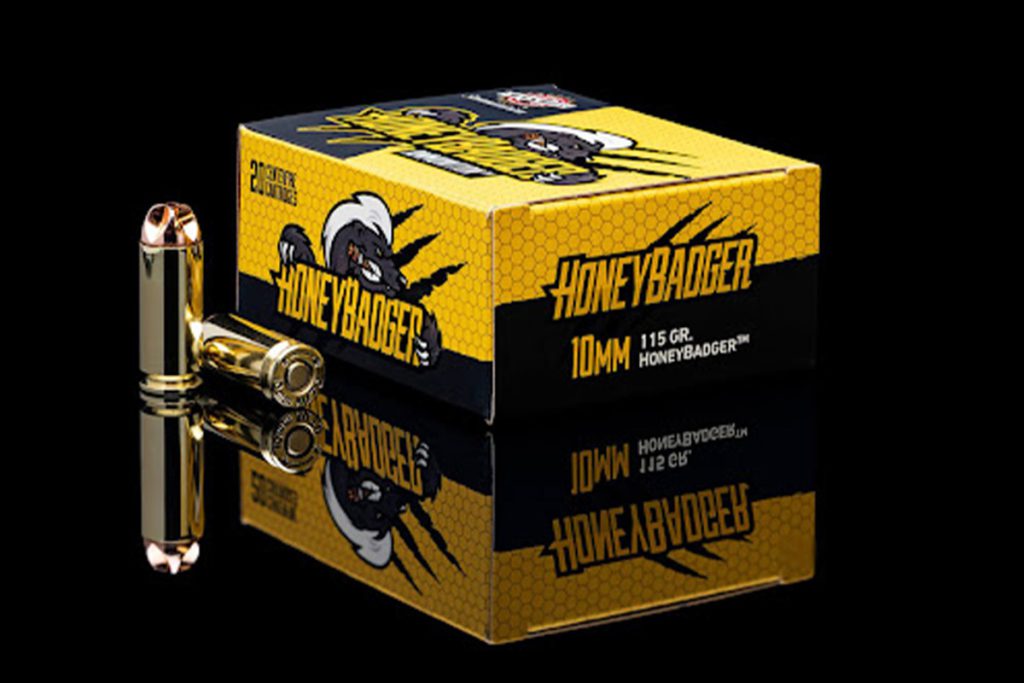 While Black Hills didn't announce any groundbreaking new ammo, the company has a few exciting line extensions that are well worth mentioning.
The company's HoneyBadger defense loads will now include 10mm auto. HoneyBadger ditches the traditional hollow points for a solid copper bullet with a sharp, fluted nose. The on-target performance is pretty violent. The flutes grab tissue and force it radially away from the initial wound, creating a cavity comparable to those carved by the best HPs. This one is worth serious consideration if you're looking for ammo to feed your backcountry bear gun. — AJW
---
Browning Ammunition MaxPoint Hunting Loads
Price: N/A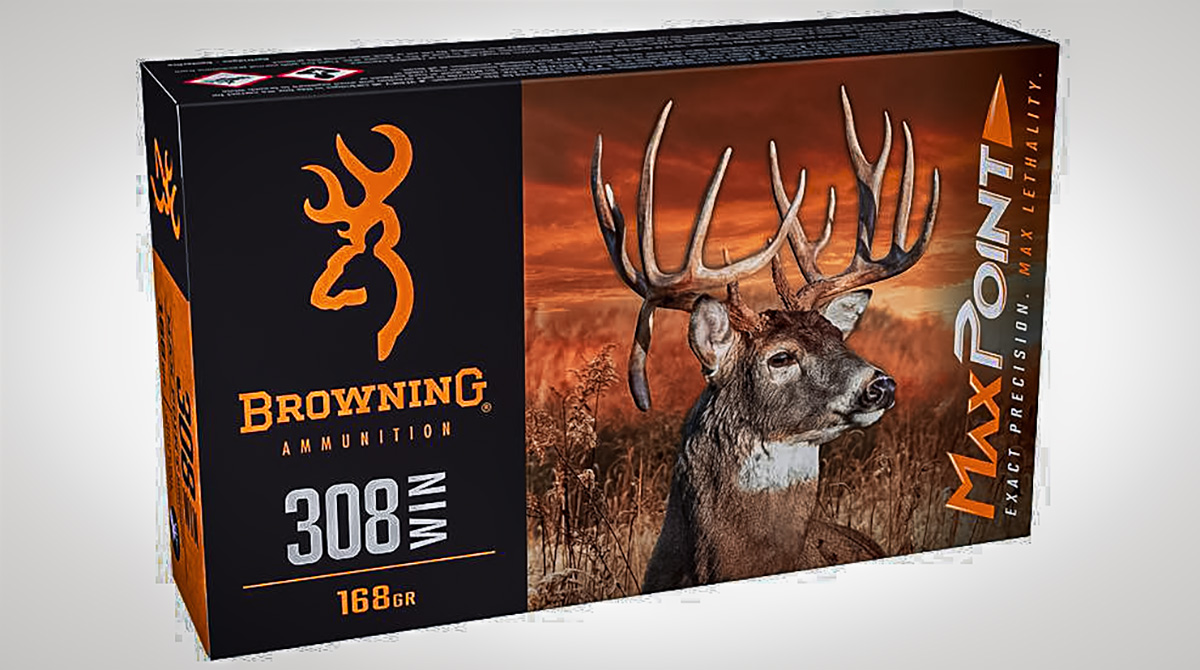 At the 2023 SHOT Show, Browning Ammunition introduced a new line of hunting ammo called MaxPoint. The company described the new ammo as "meticulously manufactured [and] designed to quickly transfer expansion energy for maximum lethality on game."
According to Browning, MaxPoint cartridges will be constructed from bullets that use thick-walled copper jackets, polymer tips, and polished nickel-plated shell casings.
The MaxPoint ammo line will be available in 14 different small and mid-bore calibers. They will include popular offerings like .308 Win, .300 Win Mag, 6.5 Creedmoor, and even the new 6.8 Western.
And, on paper, MaxPoint cartridges deliver some decent results. For instance, a 168-grain .308 has a muzzle velocity of 2,670 fps, which is about average, but it'll deliver a 2,659 ft-lb of punch, which is a little above average.
RELATED – 8.6 Blackout: A Subsonic Cartridge With Supersonic Capabilities
---
Price: N/A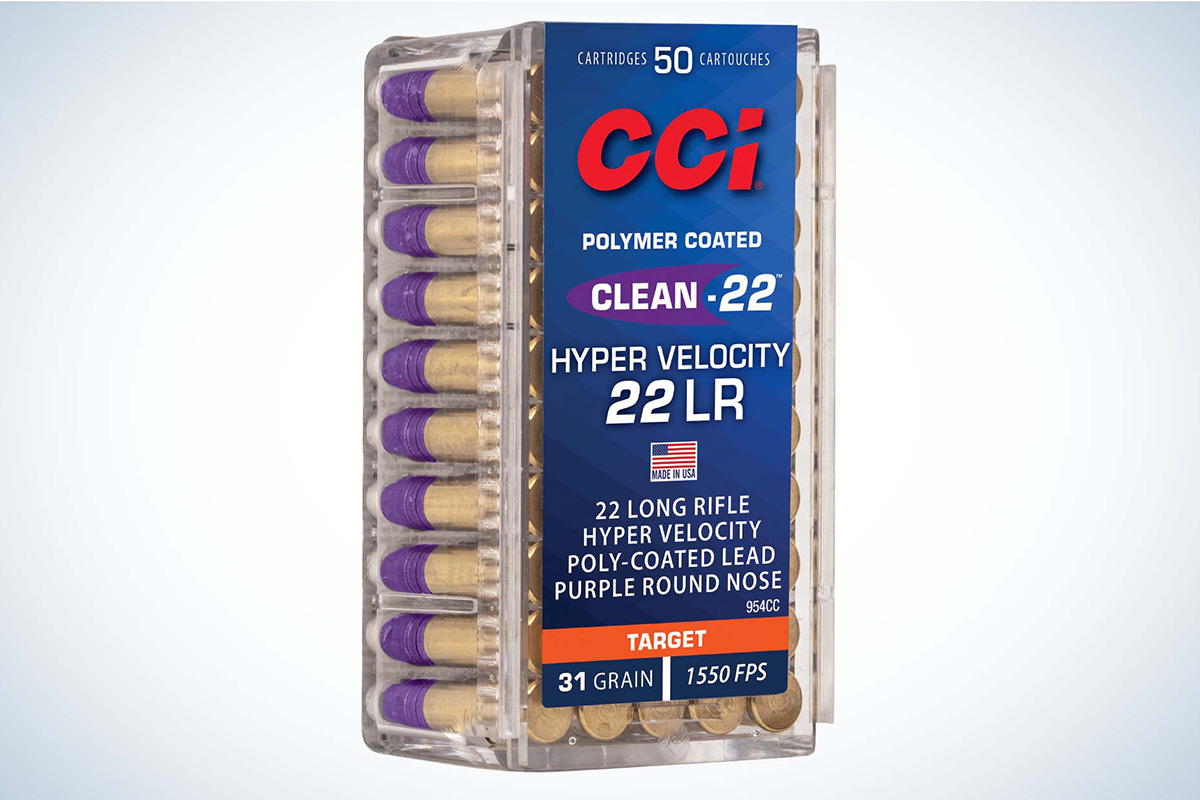 CCI Clean-22 Hyper Velocity loads feature a lightweight 31-grain bullet coated in a purple polymer engineered to reduce barrel fouling. CCI boasts that these hyper-fast, hyper-clean loads will minimize lead fouling in suppressed .22s by as much as 80 percent. These loads are perfect for high-volume target shooting, whether you're running a suppressor or not.
Leaving the muzzle at a blistering 1550 fps, these loads are super hot. For comparison, CCI's Clean-22 High-Velocity loads are only cruising at 1235 fps when they exit the muzzle. — AJW
SPECS:
.22 LR
31 grains
Polymer-coated lead purple round nose
1550 fps
---
Price: N/A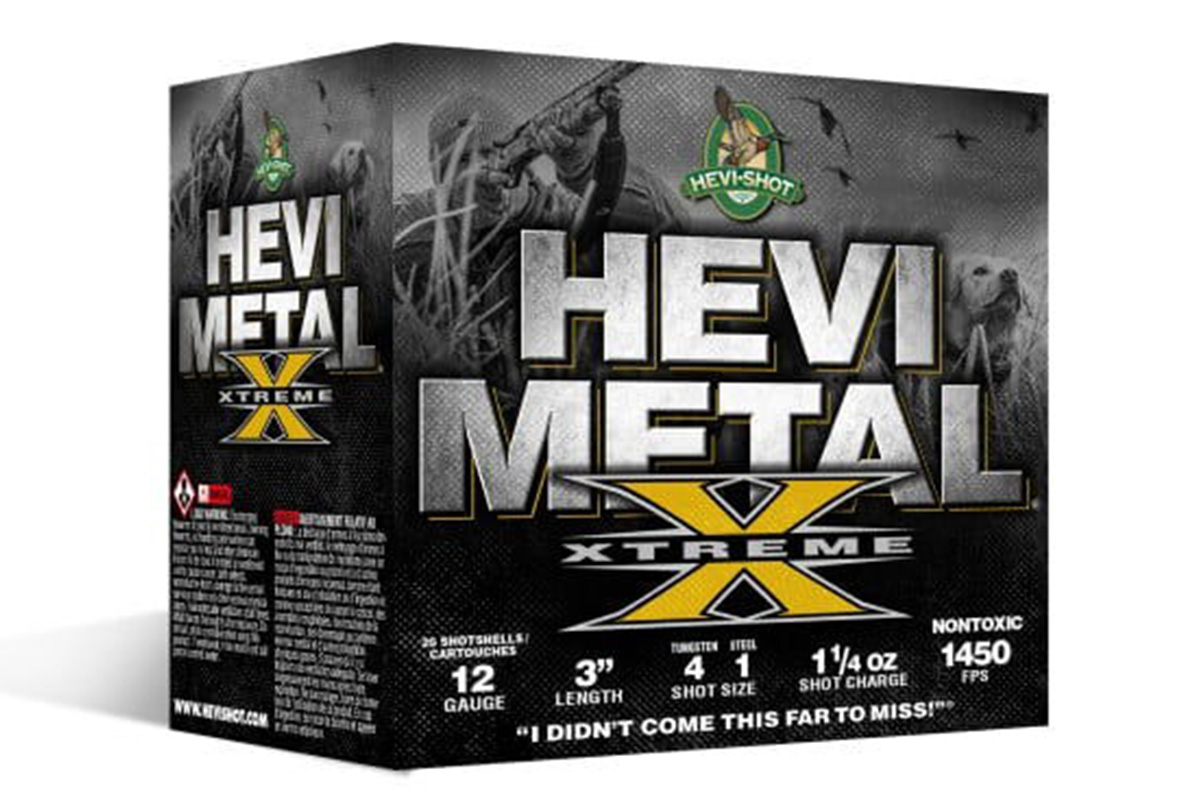 The 1991 federal lead ammo ban for waterfowl left many hunters crying "foul." Then HEVI-Shot hit the market with the first non-toxic, denser-than-lead pellets, and waterfowlers rejoiced. Next season, duck and goose hunters will have even more to celebrate. HEVI-Shot's new HEVI-Metal Xtreme is poised to hit shelves next fall, and this stuff is major rockstar material.
Packed inside the new HEVI-Metal Xtreme is a lot of the same stuff we've come to know and love about HEVI-Shot loads, including FliteControl Flex wads and the cool voodoo magic the company dubs "Pattern Density Technology." The loads should offer the same beautifully tight patterns that made us HEVI-Shot fans in the first place.
However, HEVI-Shot took this scattergun ammo to the next level by layering its original HEVI-Shot,12-density tungsten over top of a thicker layer of precision-steel pellets. The leading tungsten shot carries that signature duck-walloping downrange energy that smacks over 50 percent harder than comparable steel pellets.
Just because the tungsten is backed by steel doesn't mean we're sacrificing tungsten-level on-bird performance. However, as anyone who's priced duck loads recently knows, tungsten is freakin' expensive. By adding precision steel behind the tungsten shot, HEVI-Shot should be able to keep the price tag on these loads fairly reasonable. Maybe those misses won't sound so much like cash register cha-chings.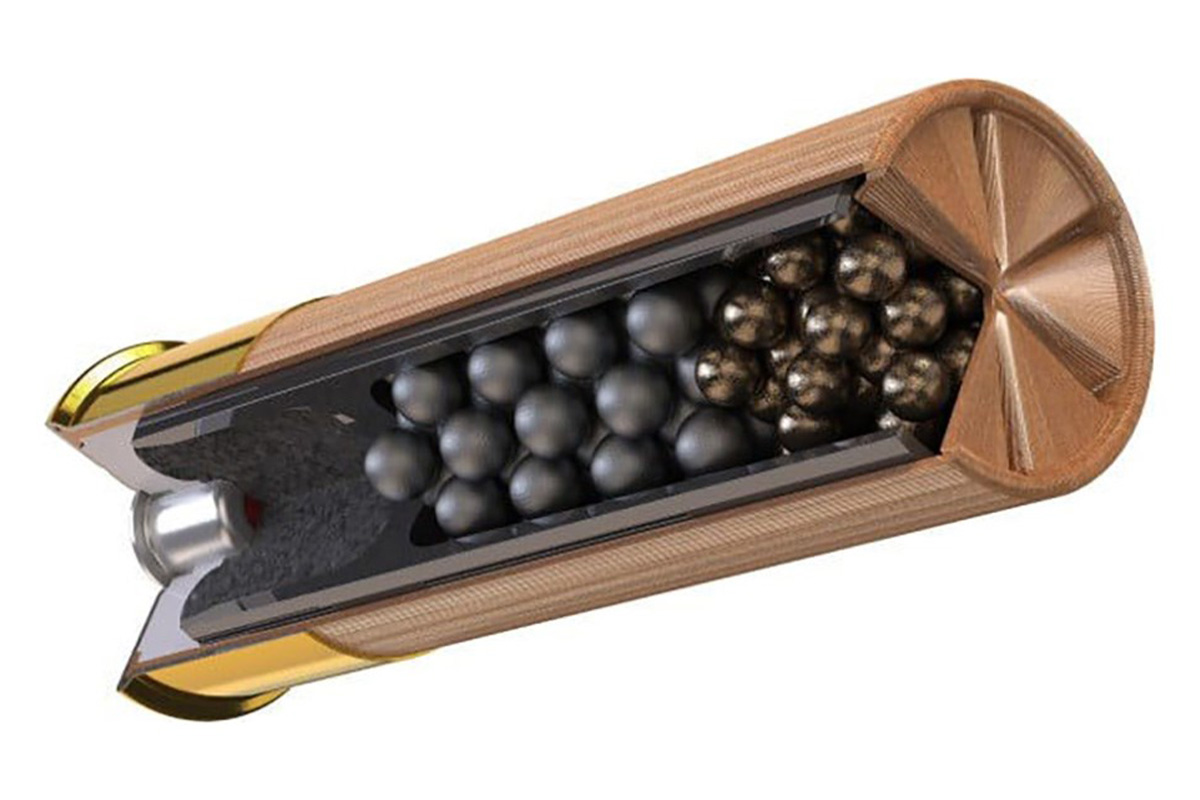 HEVI-Metal Xtreme loads will be available for 12-gauge and 20-gauge scatterguns and are safe to use with any steel-rated chokes. Loads will blend No. 4 tungsten and No. 1 steel or No. 6 tungsten and No. 3 steel. — AJW
SPECS:
Nontoxic
Shells contain 30 percent tungsten shot and 70 percent steel
FliteControl Flex wad
Safe to use with steel-rated chokes
Available in 12- and 20-gauge loads
1450 fps 12-gauge muzzle velocity
1350 fps 20-gauge muzzle velocity
Sold in 25-count boxes
---
Hornady 7mm PRC
Price: N/A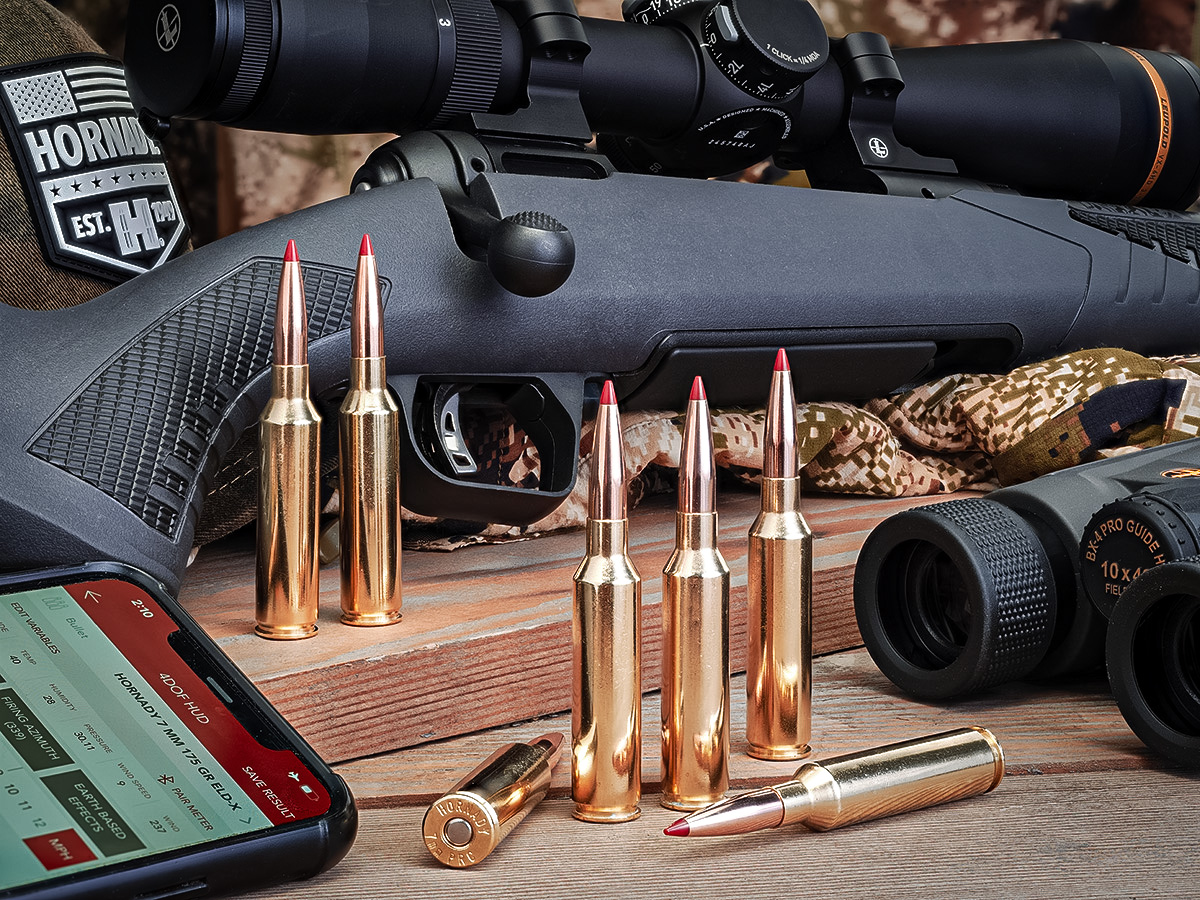 While Hornady always seems to introduce a lot of new stuff at SHOT, this year the big takeaway was the 7mm PRC. The Nebraska-based company called it "a 21st-century 7mm magnum." What they did was make a 7mm magnum cartridge using modern-day techniques to build the cartridge and construct the bullet.
"In the past, cartridge designers would try to increase range performance by simply increasing muzzle velocity. Now, with the precision rifle cartridge line, we let the efficiency of the bullet do the work," said Seth Swerczek, Hornady's marketing communications manager.
Hornady manufactured the load in three different series, including the CX Outfitter, ELD Match, and ELD-X Precision Hunter. They probably wanted to offer the variety because a dozen or so new 7mm PRC rifles were introduced this year as well.
Depending on the series, the loads with be available with 160-, 175-, and 180-grain bullets. On paper, though, muzzle velocity measures in around 3,000 fps, but energy varies from about 3,200 to north of 3,400 ft-lb depending on the bullet's weight.
"The 7mm is a full-long action just like you'd get with a 30-06, a 270, 7mm Rem Mag, or 300 Win Mag, so with a 7mm PRC, you don't have to have a 26-inch barrel. You're going to get all the performance you need out of a 22- or 24-inch barrel," said Neil Davies, Hornady's marketing director.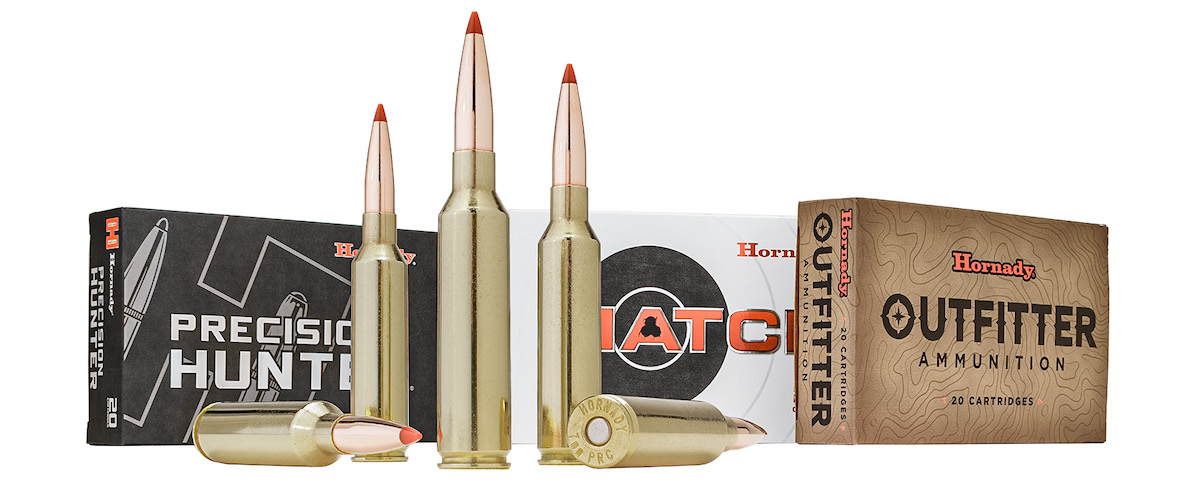 SPECS:
Series: CX Outfitter, ELD Match, and ELD-X Precision Hunter
Bullet: 160, 175, and 180 grains
Box count: 20
---
Price: N/A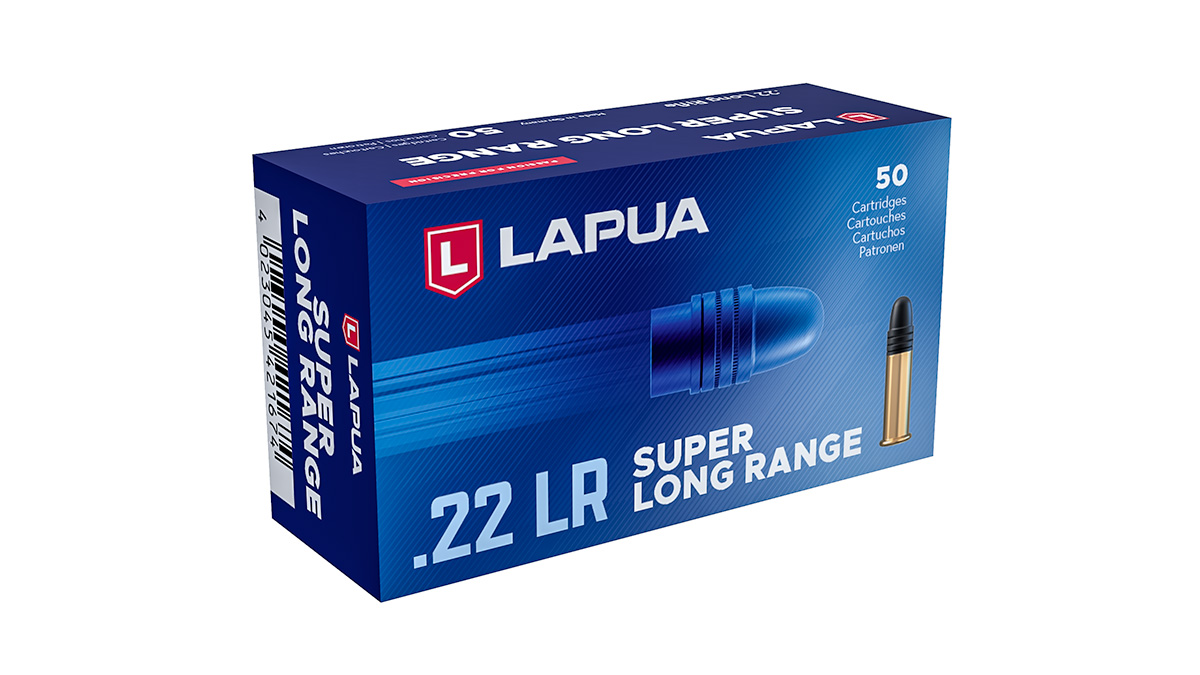 Finnish ammo maker Lapua introduced two new .22 LR cartridges for long-range shooting: the .22 LR Long Range and .22 LR Super Long Range.
Upon hearing the name, you might be wondering: What's considered long-range for a .22? Well, Lapua recommends both cartridges for shooting at targets beyond 100 yards and even out to 300 yards.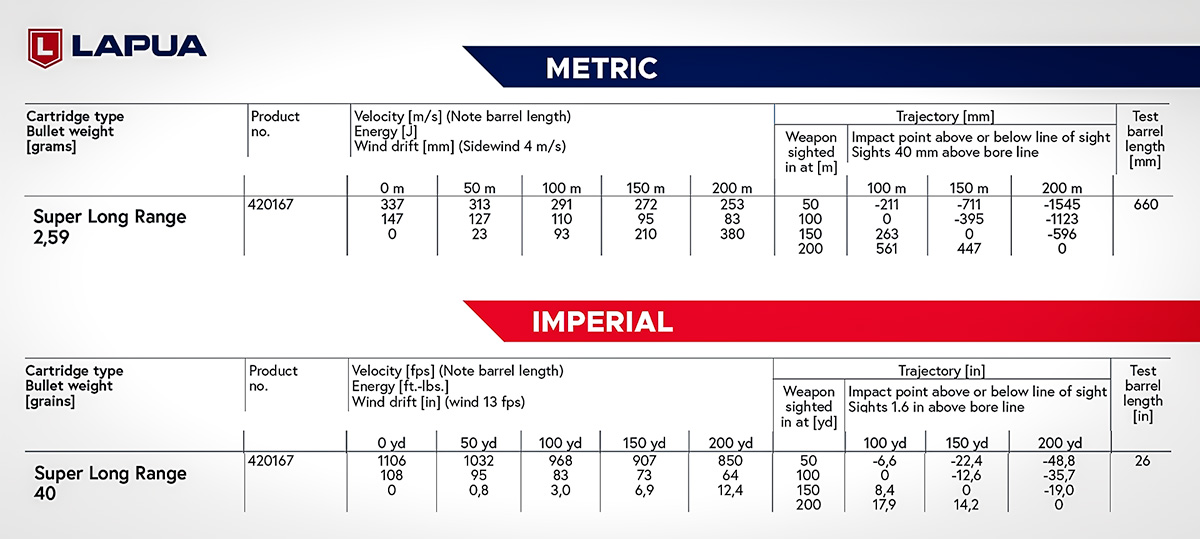 Lapua's U.S. Sales Director Jeff Knowles explained the cartridges were designed specifically for activities like competition or precision shooting and racing in a biathlon – so a little more intense than your average plinking.
"Lapua's new Long Range offerings are a game-changer for shooters seeking a competitive advantage in today's most popular rimfire disciplines," Knowles said.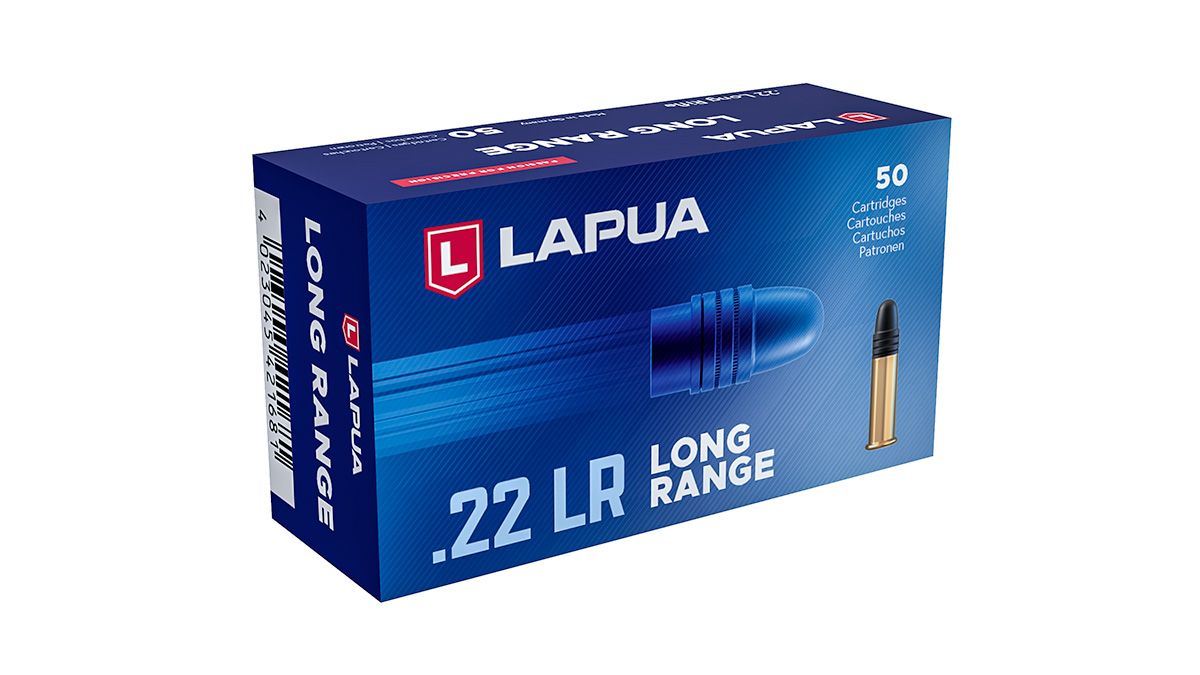 However, on paper, there's not much of a difference between the two new cartridges. According to the company, they both use a 40-grain bullet and will deliver a muzzle velocity of 1,106 fps, and the velocity for both cartridges will only drop by 256 fps at 200 yards.
According to Lapua, both the .22 LR Long Range and .22 LR Super Long Range will be available in stores during the first quarter of 2023.
GOOD GEAR – Embody the Ethos of the Quiet Professional With the BRCC Silencer Smooth Roast
---
Price: $36.99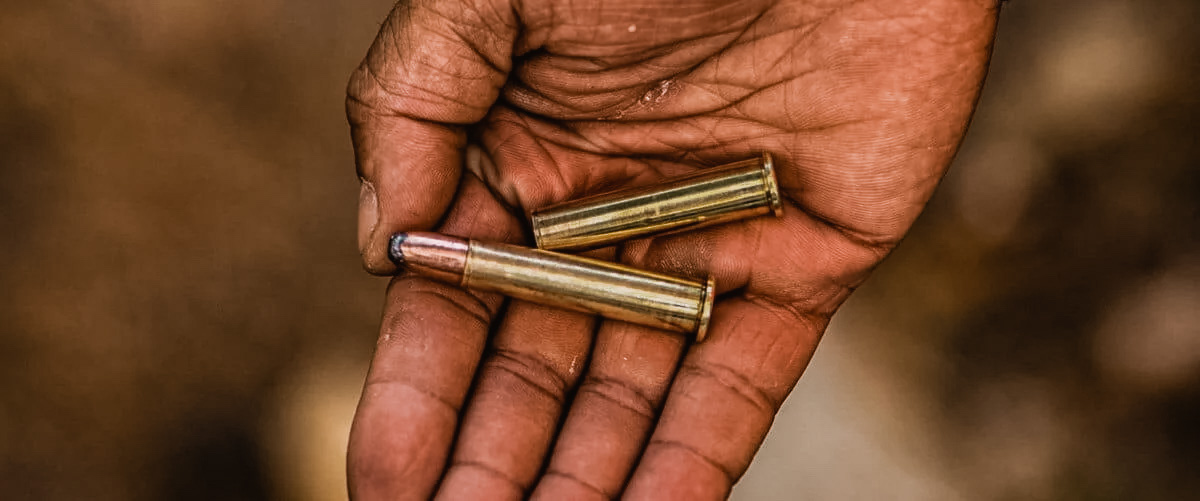 In a super intense video (below), Remington Ammunition introduced a new straight-walled cartridge designed specifically for lever-action shooting. The company calls it the 360 Buckhammer.
In a statement, Remington Ammo President Jason Vanderbrink explained the new ammo was the result of a collaboration between Remington and Henry Rifles.
"Whitetail hunters in much of the country needed a straight-wall cartridge that functions flawlessly in a lever-action rifle – and doesn't compromise on accuracy or terminal performance," Vanderbrink said. He called the Buckhammer round a "game changer."
According to Remington, the 360 Buckhammer has 35% more energy than the .350 Legend cartridge but has less felt recoil, and it'll be accurate and deadly out to 200 yards. Remington compares it to a .30-30. On paper, the round has a muzzle velocity of 2,215 fps using a 180-grain bullet and 2,400 fps with a 200-grain bullet.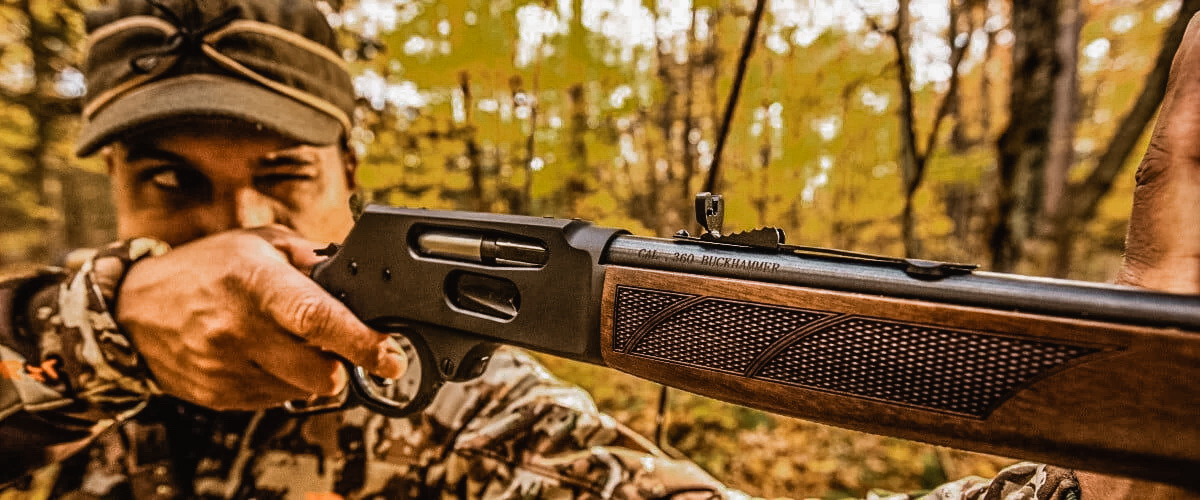 Although neither 360 Buckhammer guns nor the ammo is currently available, Remington said that'll change by spring of 2023: Henry Repeating Arms will release four rifles chambered for the round, and Remington will release the ammo to feed them.
---
Price: N/A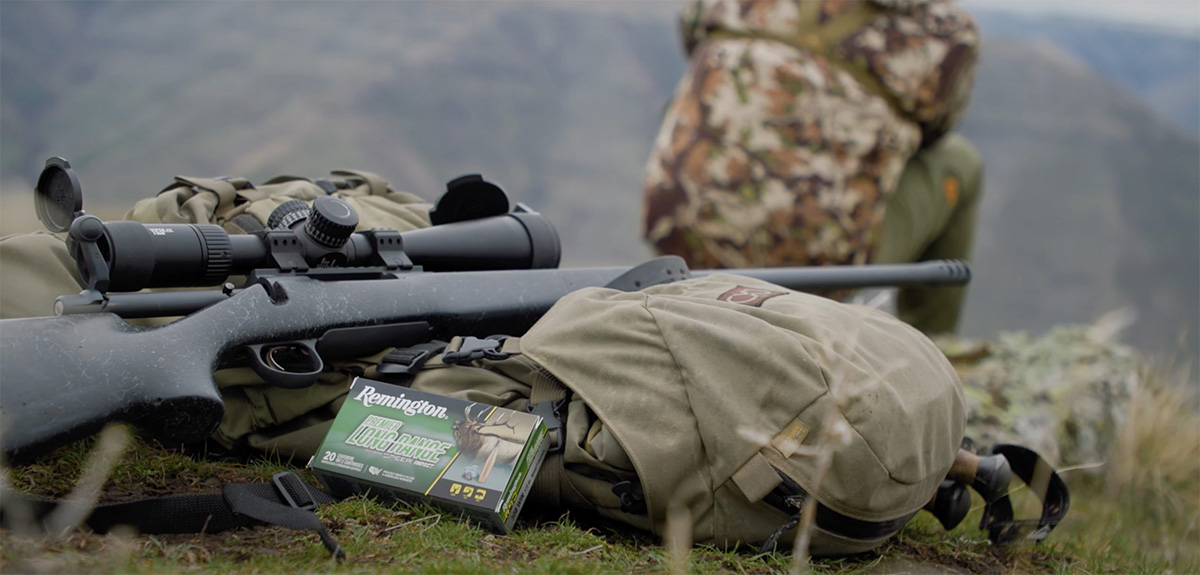 Remington "Big Green" rifle loads have long been a favorite for big game, and their newest line aimed at long-range hunters is destined to be a hit. Topped with Speer's high BC, high weight retention Impact bullets, Remington Premier Long Range loads promise to deliver surgical precision shots at longer ranges than ever before.
Speer Impact projectiles bring a highly aerodynamic design to the big-game hunting sphere. With a patented Slipstream polymer tip, a boat tail design, and a rear-adjusted center of gravity, these bullets are capable of long-range accuracy usually reserved for match competition.
But these aren't your typical match-grade bullets. Speer Impact features a jacket chemically fused to a softer lead core that holds weight and expands reliably to tear through tissue and crush through bone even at lower long-range velocities.
Remington tucked all the awesomeness it could muster behind Speer's high-performance projectiles, including top-notch Remington primers and propellants specially formulated for optimum performance across a wide range of environmental conditions.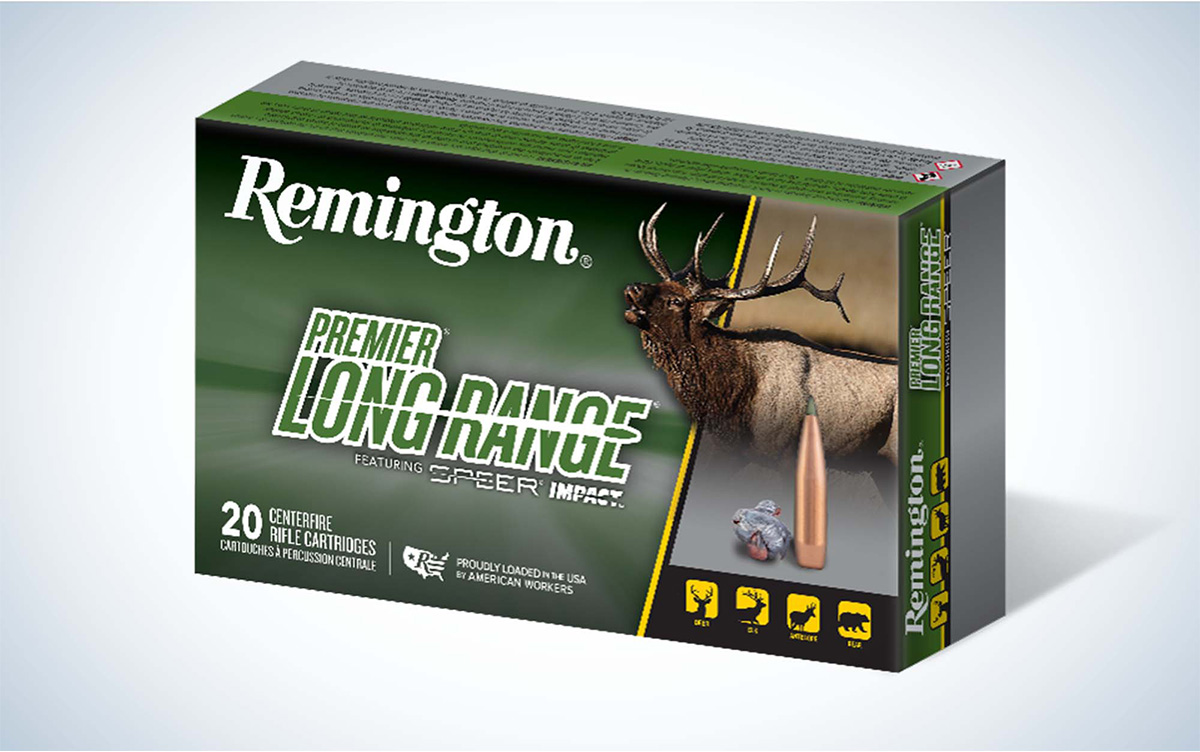 The Premier Long Range lineup will initially include seven popular big game cartridges, including 6.5 Creedmoor. 270 Winchester, 7mm Rem Mag, .308 Winchester .30-06 Springfield, .300 Win Mag, and .300 RUM.
The line isn't available yet, but we should be able to get our hands on it well before opening day. — AJW
SPECS:
Speer Impact projectiles
Slipstream polymer tip
Boat tail bullet design
Rear-adjusted center of gravity
Jacket and core chemically fused for excellent weight retention
Premier powder and primers
---
Price: N/A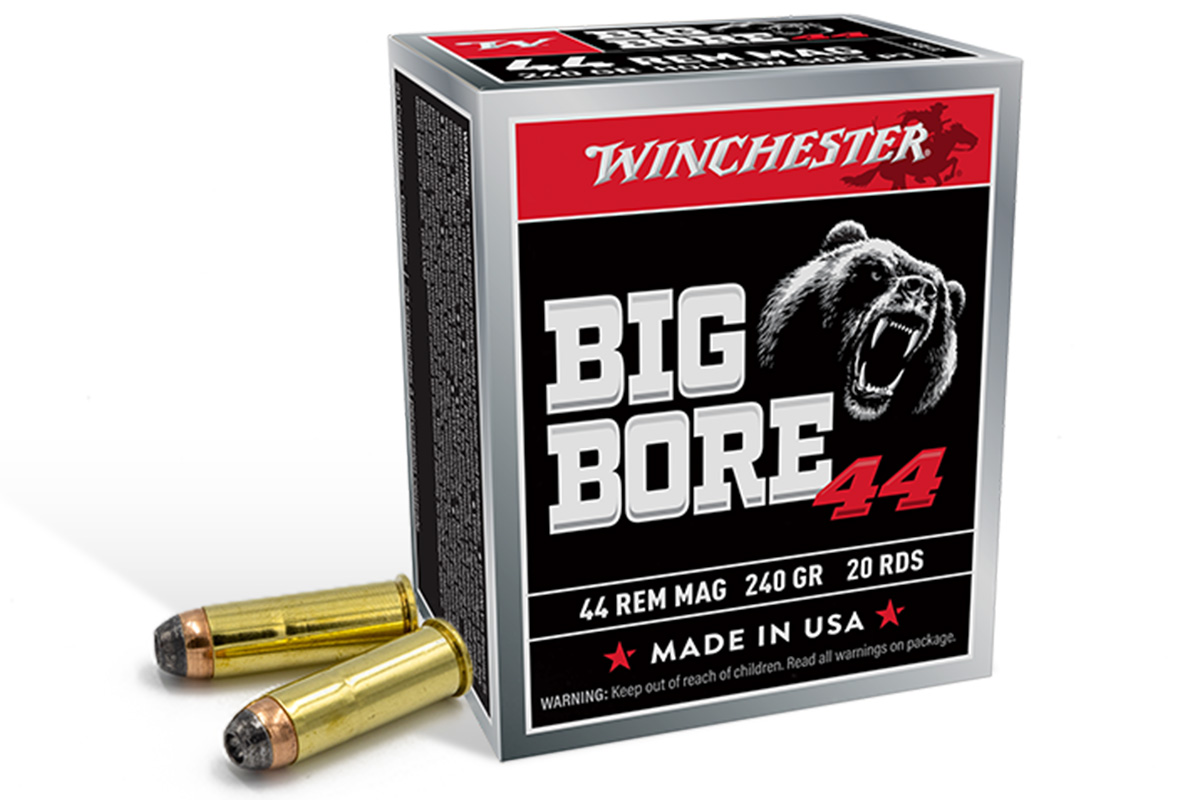 Getting within handgun range of a big animal is an adrenaline-pumping experience. Whether you end up there by accident or design, you want the best possible ammo. Winchester developed its new Big Bore line for personal defense situations and hunting applications with magnum-size handguns.
Winchester Big Bore features semi-jacketed hollow points designed to deliver massive energy transfer, deep penetration, and devastating wound channels.
Initially, Big Bore options will include .357 Magnum in 158 grains, .44 Remington Magnum in 240 grains, 10mm Auto in 240 grains, .45 Colt in 250 grains, .454 Casull in 250 grains, .460 S&W Magnum in 250 grains, and .500 S&W Magnum in 350 grains. — AJW
SPECS:
Optimized for big-bore handgun hunting and self-defense
Semi-jacketed hollow points
Engineered for delayed expansion and deep penetration
Available in .357 Mag., .44 Rem. Mag., 10mm Auto, .45 Colt, .454 Casull, .460 S&W Magnum, and .500 S&W Magnum
---
READ NEXT – 338 Lapua: A Beastly Long-Range Rifle Cartridge