If you love historic military guns and have spent embarrassing amounts of cash just to fire a couple of magazines through some rare WWII-era hardware, then you're going to want to keep an eye on Palmetto State Armory's website this year and its upcoming Battlefield line of throwback guns. They had their take on the WWII-era German StG-44 on display at the 2023 SHOT Show, the first in a line of firearms that will have gun nerds lining up shouting, "Take my money!" Meet the PSA STG, which will be available sometime later this year.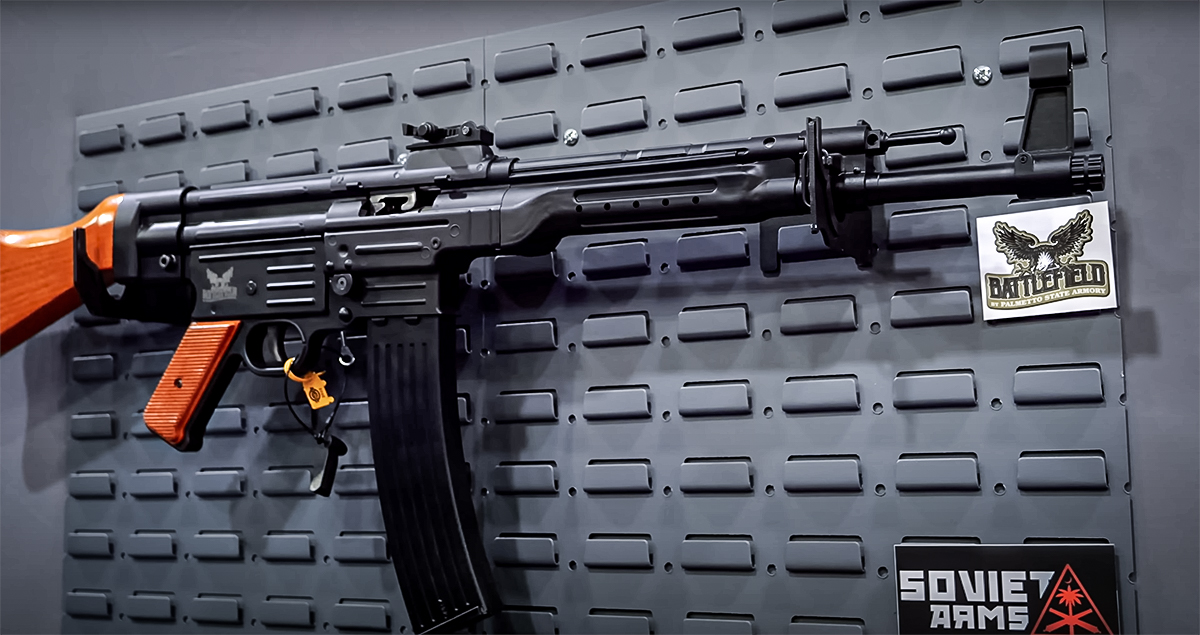 PSA's new brand of retro reproduction rifles will give modern shooters a chance to experience firearms they've only read about and seen in movies. The twist is that these new guns have lots of modern touches under the surface that add convenience and ease of use for today's shooters because these guns are meant for the range, not the museum.
To that end, if they're meant to be shot, regular people also must be able to afford to shoot them. That's why the PSA STG will be available in the original 8mm Kurtz for people who want to keep it old-school, as well as 5.56/.223, .300 Blackout, and 7.62x39mm. A blank-firing adapter will also be available so reenactors can use readily available 5.56 blanks.
The STG and the rest of the Battlefield line are being produced in partnership with Hill & Mac Gun Works. People have been pre-ordering a modernized StG from HMG for a while now, but the gun has been held up by a legal dispute between the gunmaker and True Position, Inc. involving intellectual property rights related to the design.
In an interview with The Firearm Blog, Everett "Mac" Steil, one of HMG's two co-founders, said that the legal dispute has been resolved, which is why the rifle was at SHOT this year.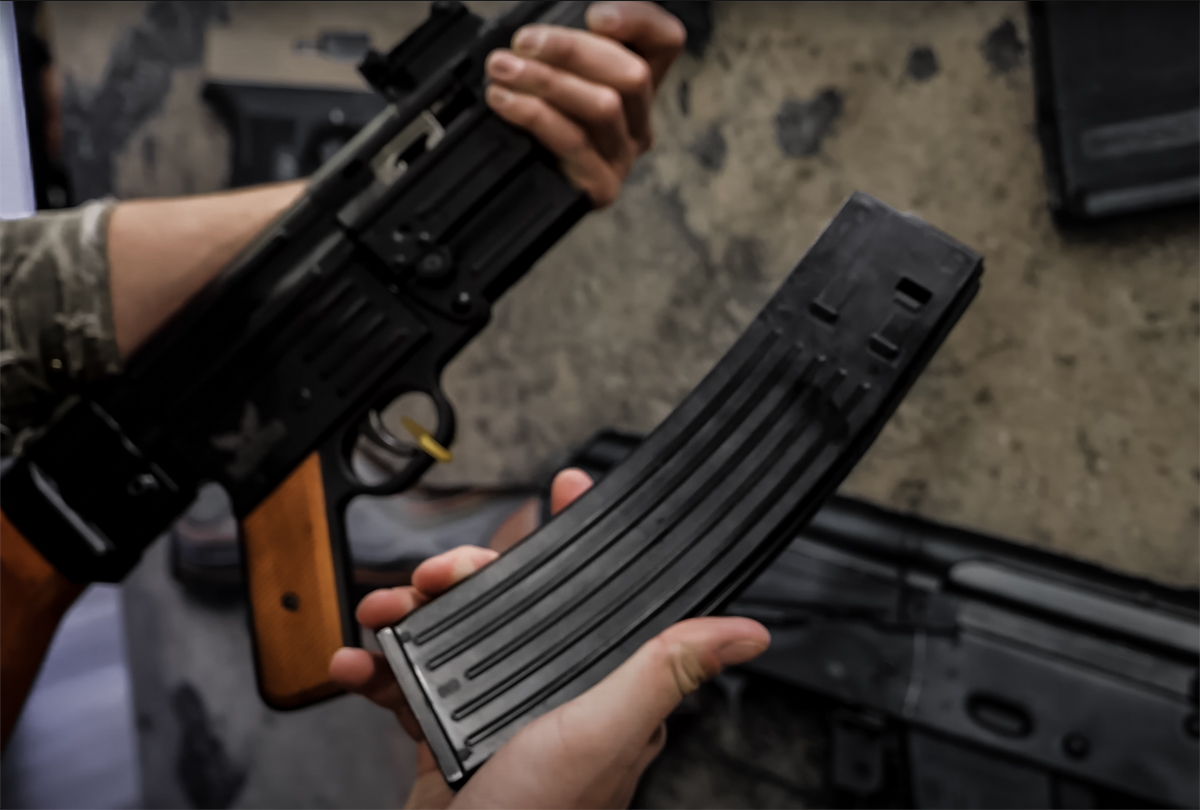 GOOD GEAR – Enjoy the Founding Father's Coffee With the BRCC Freedom Roast
"[The Battlefield line] is new production stuff that, while iconic, you want to go out and shoot it and not feel bad about dropping it or, you know, putting crap ammo through it and maybe hurting it and then being able to get spare parts, which is kind of key," Steil said.
The Palmetto STG 44 is made of stamped sheet metal, like the original, but has a barrel nut under the handguard that allows you to remove the barrel and gas system and swap them out for a different caliber, which can be done by changing the barrel, magazine, and bolt.
The magazine has also seen some changes. Steil says the original 8mm Kurtz mags were very specifically engineered for that round. So, it was converted to a standard AR magazine pattern. Yep, that means this thing can run any AR mags, but PSA is making magazines that look the part and allow you to feed and chamber different rounds.
Plus, the barrel is threaded to accept modern muzzle devices and suppressors. You can even swap out the included rear sight for a Pic rail or any other suppressor-height optic. By the end of the year, it is entirely possible you will see somebody at the range running a brand new STG 44 in .300 BLK with a PMAG and a can — and that somebody could be you.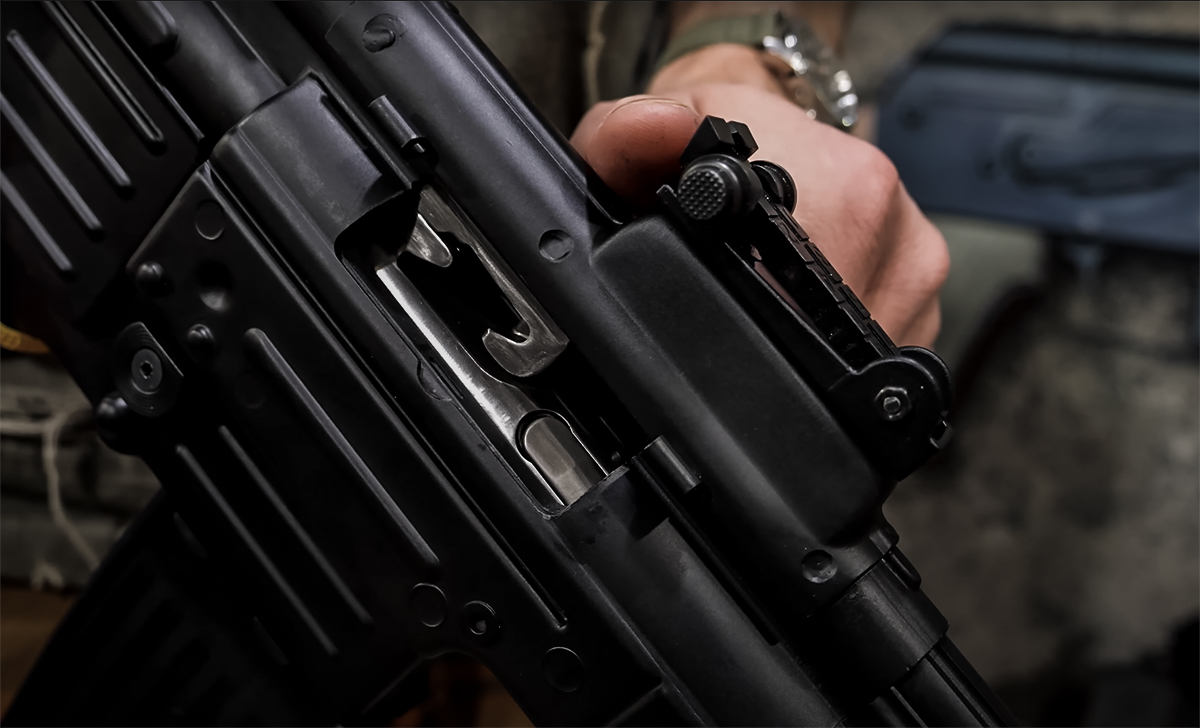 Steil added that there will be additional accessories available for the PSA STG 44, including stock options.
"It suppresses fantastically. If you've ever shot a suppressed FAL, it's very similar to that," Steil said. He couldn't say, however, when the gun will begin shipping, but reports say we'll have to wait until Q4 2023. He also couldn't comment on the price, but it ain't gonna be cheap. He could only say that it would cost more than the pre-order version from HMG, which was priced at $1,799.99 and $1,959.99, depending on options.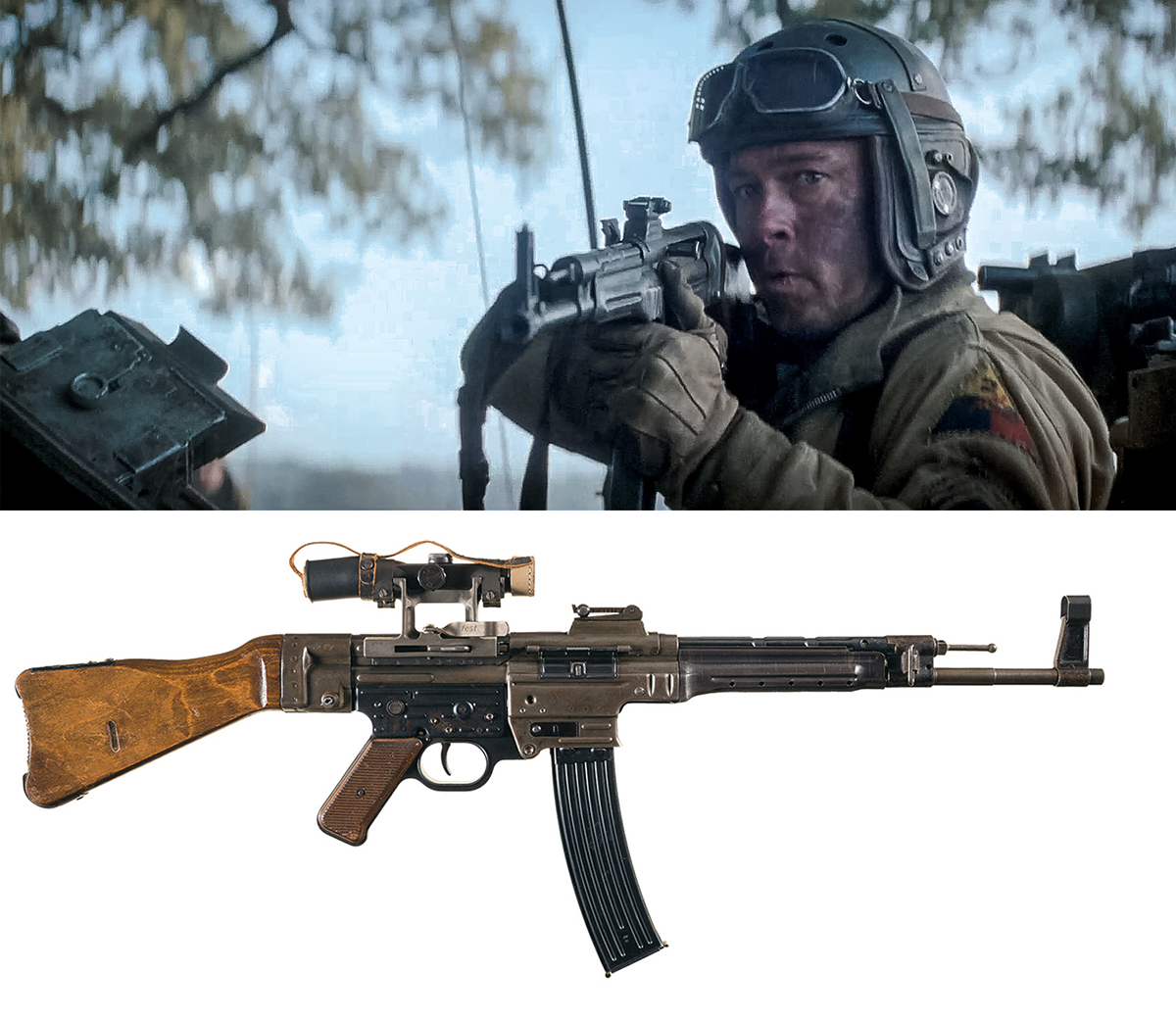 The original StG 44 (full name: Sturmgewehr 44, which translates to "assault rifle 44") was a German rifle developed during World War II by Hugo Schmeisser. It was also designated as the MP 43 and MP 44. It was the first successful rifle that combined what we consider today as the features of modern assault rifles: the use of an intermediate cartridge, controllable full-auto fire, and a compact design with higher ammo capacity than a traditional battle rifle optimized for engagements at moderate to close range.
The StG 44 was used mostly on the Eastern front and strongly influenced the design of the Soviet AK-47 and its many variants.
---
READ NEXT – Magpul Daka Grid: What Your Gun Cases Always Wanted