Rappelling down a waterfall in Maui is a bucket list adventure. If you've been to Hawaii, specifically Maui, chances are you've heard about the Hana Highway, also known as the "Road to Hana." It's an infamous 64-mile-long stretch of serious curves, crazy drivers, ocean views, and lush green rainforest.
If you can find a parking spot, you can hop out and trek into the rainforest to discover one of several hidden waterfalls or swimming holes; maybe even take a dip and go for a swim. If you travel a bit farther, you can do more cool stuff, like jungle canyoneering.
I got a chance to do just that with an experienced team who brought me along for the ride — and you know we had all the tactical toys with us on this adventure. The average person has to haul considerably less.
---
What Is Canyoneering?
A growing and popular sport, canyoneering (or canyoning) is a type of mountaineering that involves traveling in canyons using a variety of techniques or following the river's footpath. You walk, scramble, climb, rappel, and swim. From an adventurer's perspective, it's dynamic and a lot of fun; you are required to do all sorts of movements to continue your journey. There is plenty of problem-solving, and it's great to do with a group.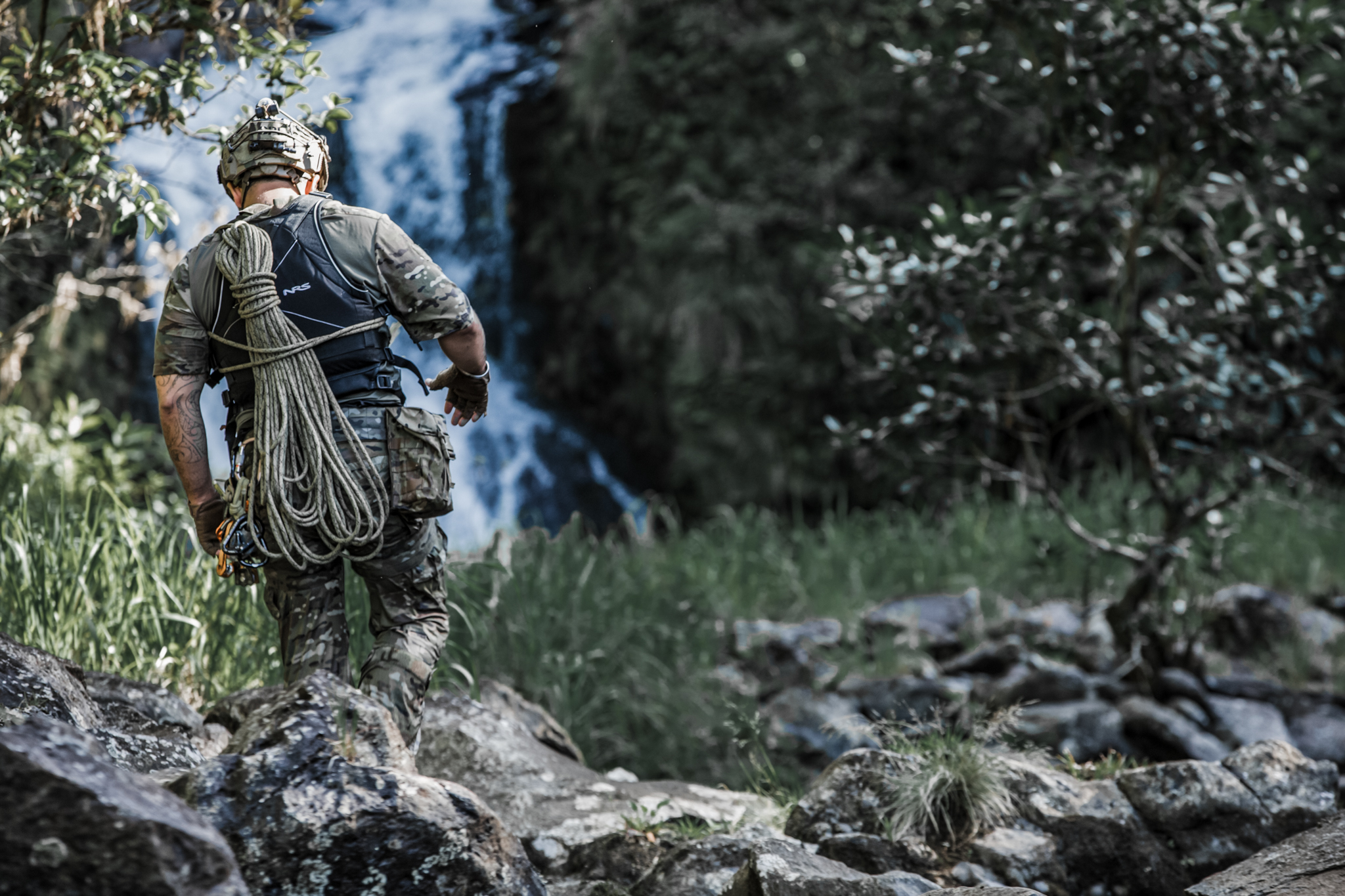 From a military perspective, canyoneering is an invaluable tool for movement. Rainforests, or the jungle, are incredibly dense with vegetation. The environment is characterized by a unique vegetative structure consisting of several vertical layers, including the overstory, canopy, understory, and shrub layer. The term "triple canopy jungle" refers to those layers, minus the shrubs.
The thickness of any given rainforest differs from place to place. Its exceptionally challenging to move people, weapons, and equipment around in such an environment. Ask anyone who served in Vietnam. To avoid booby traps or an ambush, soldiers would stay off well-trodden paths. Instead, they would opt to cut through the rainforest with a machete, blazing their own trail and clearing the understory as they went. It was slow going and treacherous.
Tactically, the option of canyoneering starts to look like an attractive alternative to beating brush while also avoiding trails. While not on the high ground, you can still move quickly and efficiently through the unobstructed path of the river. The only caveat is that you need the skill and equipment to do so.
RELATED – 5 Ways to Ensure Medical Preparedness
---
Welcome to the Jungle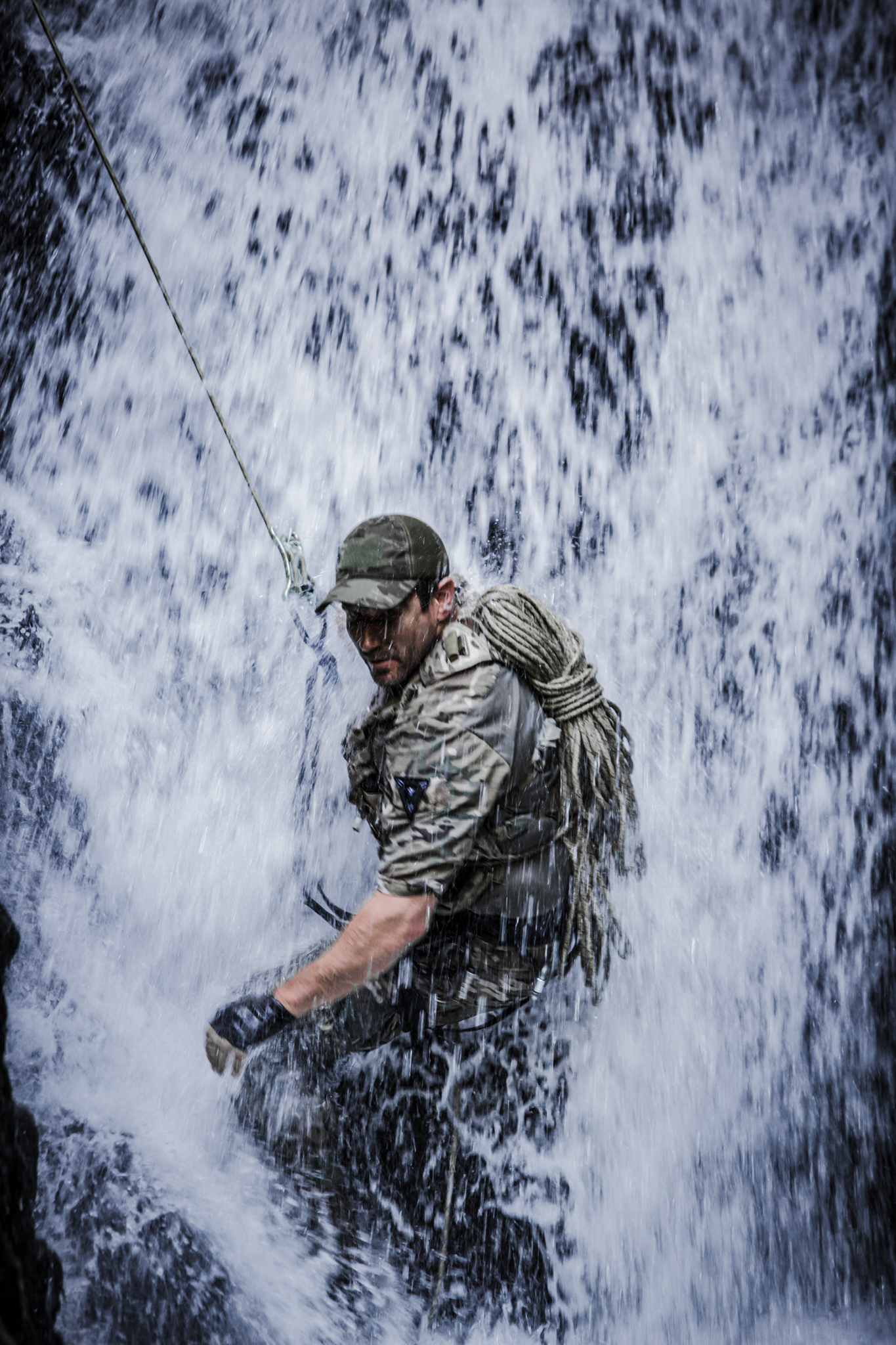 I received my first taste of jungle canyoneering on the road to Hana. But let's be honest, the Maui jungle isn't the Panama jungle. There's nothing really as poisonous here as there is in the jungles of Panama or Borneo, and the jungle itself isn't quite as formidable. The team I was with had an enormous amount of experience climbing through these canyons. They knew the spots, they knew the equipment, and they had the training. I was along for the ride.
After 30 minutes of weaving along the roads, spilling our coffee everywhere, we exited the vehicles and began our trek.
We walked, carrying our huge packs with hidden weapons and equipment, passing plenty of tourists and visitors. About a quarter-mile in, there was a well-trodden swimming hole and waterfall. Tourists splashed everywhere; their gear was scattered all over the rocks. The scene was ripe for any fun-filled sunny day, but it wasn't our stop. We were headed farther in to access the big canyons. After two hours of marching, we were there.
The equipment lift for this endeavor was intense; there was the adventure loadout and the tactical one. Five Ten Water Tennie was the footwear of choice. They grip on wet, smooth, and jagged rocks, they drain well, and they're light enough for swimming. A standard old-school jungle boot might work too. For the nontactical folks: Your top and bottom should consist of a pair of board shorts and a rash guard.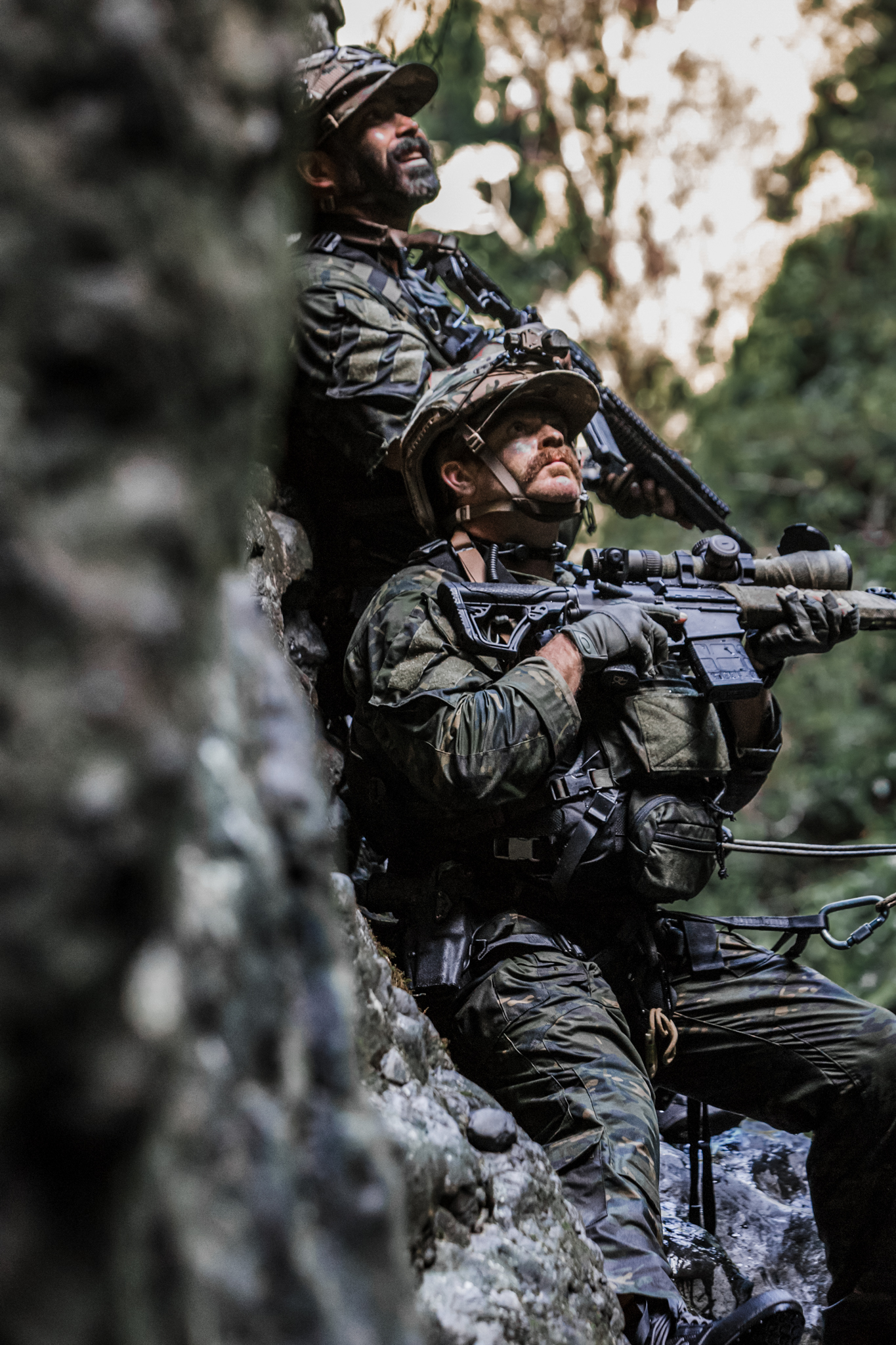 Our clothing was a hybrid of traditional BDUs and TYR Tactical Huron Hot Weather Uniform. The TYR stuff is soft, breathable, and dries super quick. We each also had a climbing harness, a minimalist life preserver, helmet, hat, gloves, and the will to not die. Since the trip, many have asked why we wear a hat under a helmet. The answer is simple: The hat's brim helps keep the water from pouring into your eyes during a waterfall descent.
In addition to clothing, safety gear, and rappelling gear, we had a variety of weapon systems in tow. This was a tactical training exercise; we trained as we fight, so we brought all the toys.
RELATED – Going Solo: Preparing to Face the Backcountry on Your Own
---
Rappelling Gear and Setting Anchors
Once equipped, we set up a line to rappel down into the canyon. The Sterling ATS Belay Device is the best tool for the job. It's straightforward and lets you belay and rappel; plus, it has auto-lock features.
The drop-in was way more than a 45-degree pitch down, and we had to avoid brush and trees on the way, but it was only a 60-second movement. Lean back, keep a hand on the rope, break when needed, and let the rope pass smoothly through the belay device.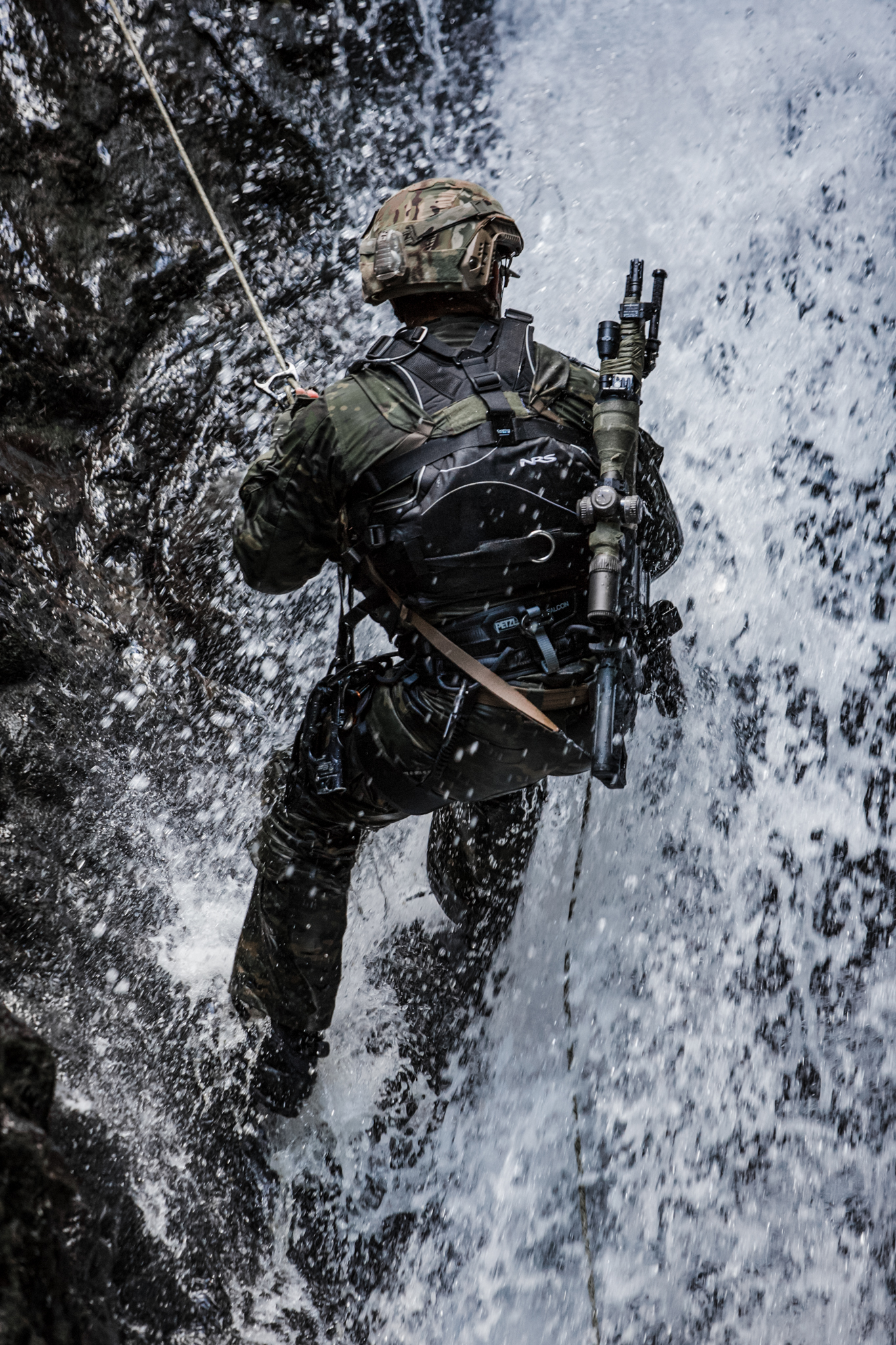 Once we were safely in the canyon, it was time to move out. Walking through a canyon or river is treacherous. Everything is slippery; it's easy to fall and slip. Generally, there is nothing to hold onto, and you can't see where you are placing your feet in the dark water. Expect to fall. Walk where it's shallow, swim where it's deep, and skirt the banks from time to time. Movement was pretty seamless until the first waterfall.
Each waterfall presents its own challenges. They vary in height, entry, strength of water flow, and landing. A solid anchor is extremely critical. If you don't have an anchor or method to affix the rope, don't bother with the waterfall and walk around. Your life literally hangs on that anchor. The most common type used is a bolted anchor, and setting one correctly is an experienced technique.
You can also use expansion bolts, drills, and hammers. Big picture: Be with someone who 100% knows what they're doing when it comes to setting anchors in rock. Your entire journey depends on this guy.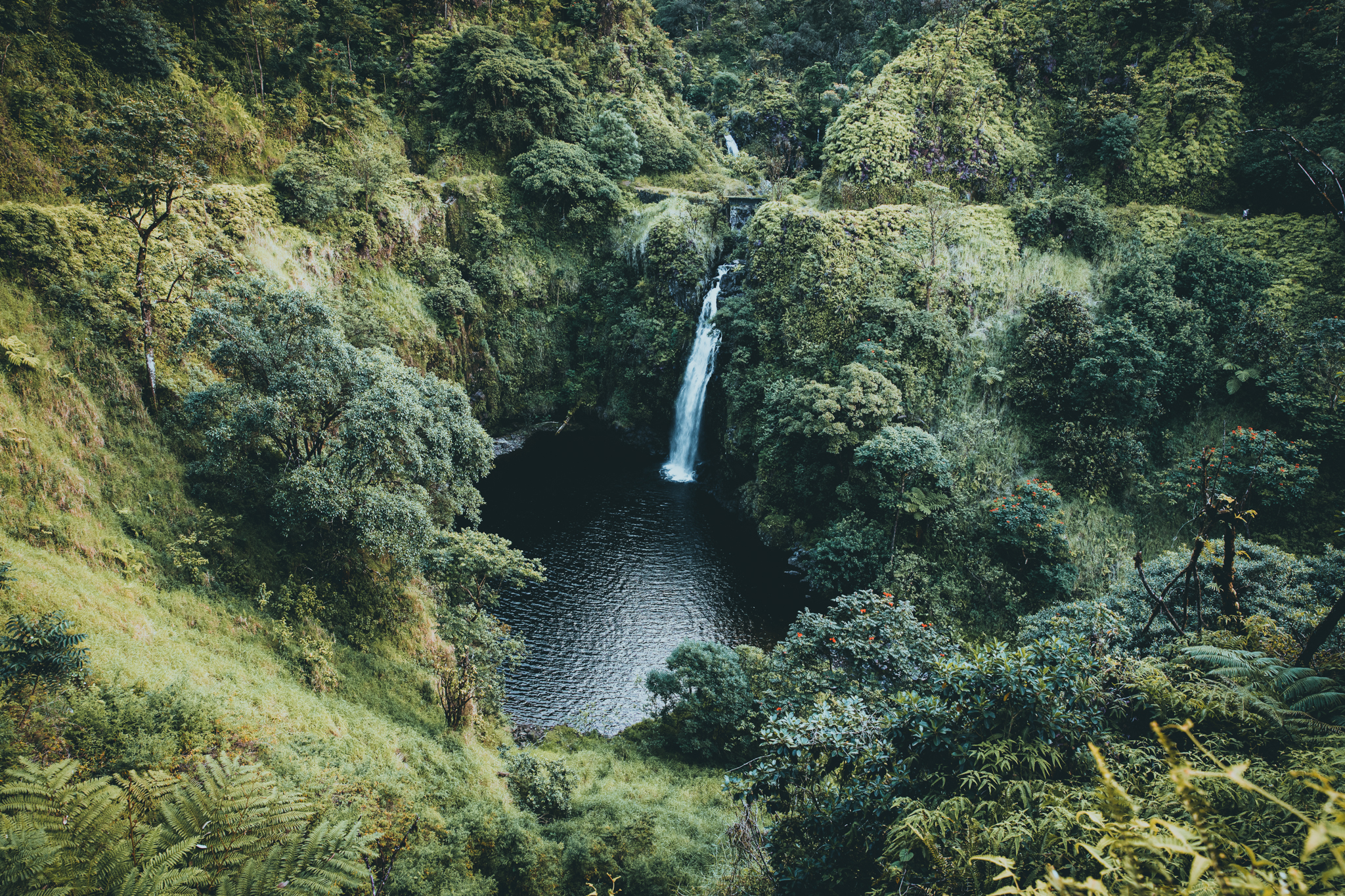 Some people ask, "Why not just jump over the waterfall into the pool below?" Many reasons. First, you can't always see the landing. You have no idea what lies at the bottom. Second, even if you can see the fall's base, you don't know what's in the pool below. Third, your entry is just as crucial as your landing. Ever see someone take off on a cliff dive and slip? It doesn't go well for them.
You don't want to ruin the entry. Trust your anchor, trust your rope; trust your equipment.
---
The Rhythm of the Journey
At the entry point to the waterfall rappel, there were multiple anchors. It was so slippery that we had to remain hooked at all times. Once it's the next guy's turn to rappel down, they unhook from one line and hook up into the mainline to begin.
Rappelling down a waterfall is different from rappelling down a steep hill or rockface. After the first 10 feet, you are suspended in the air most of the time, with water crashing down on top of you as you slowly descend to the unknown below. You periodically look down to see the pool below. Don't look up unless you want a face full of water, and keep an eye on the pool below until close enough to unhook and drop in.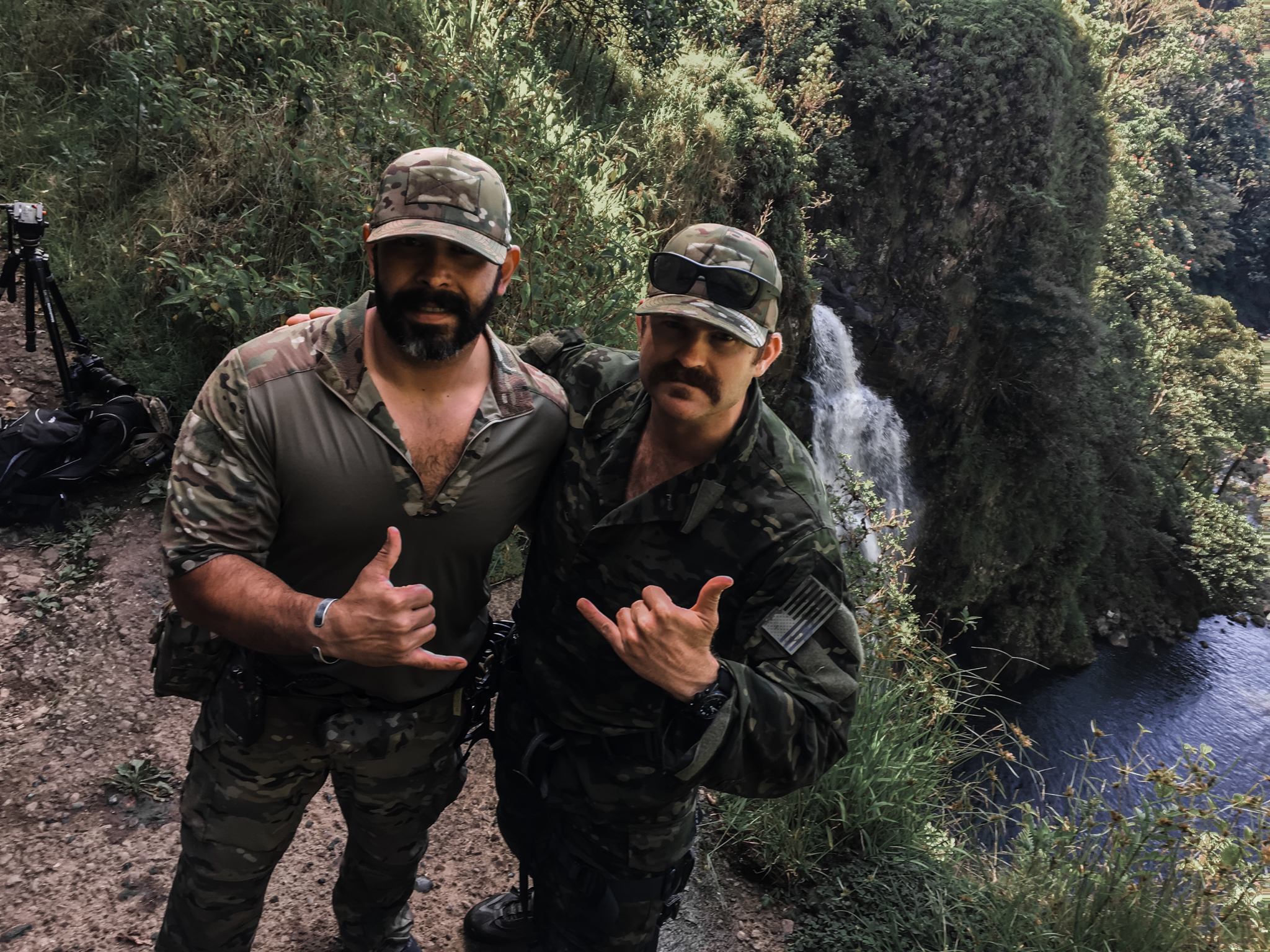 On my go, the pool was swirling with the weight from the falls. The heavy waterfall made me feel like I was drowning as soon as I entered. I swam out with the help of my buoyant life vest and began making my way across to the other side. The rest of the team descended, retrieved the rappelling rope, and gathered on the other side.
This is the cycle of canyoneering. After one waterfall, there is a pool of water. That pool exits into a stream; that stream becomes another waterfall, another pool, and so on. That's the rhythm of the journey, and it's the easiest way to traverse through a jungle. It's continuous problem-solving, it's dangerous, and it's fun.
Traveling anywhere is always about finding the path of least resistance. Sometimes you need to get a little creative to make it happen.
---
READ NEXT – Screaming Barfies: Necessary Intel for Your First Ice Climbing Adventure