"Screaming barfies" was the first term I learned on my inaugural ice climbing adventure. Amid all the dangers accompanying this venture, that highly un-technical term got my attention. Imagine feeling your hands go completely numb and then for feeling to return in the form of extreme pain — pain that makes you want to scream and barf at the same time. While experiencing this unique sensation, the rest of your body is also freezing, and you're 100 feet up a wall of ice, hanging on for your life with an ice ax. That's the screaming barfies.
Okay, sign me up.
---
Lake Placid, NY
The prospect of physical pain aside, I was easily lured to Lake Placid, New York, to participate in my first ice climbing experience. I have climbed before, just not in cold temps. My rope-work experience began in the Mountain Phase of the US Army Ranger School. I suffered through that phase in the mountains of Dahlonega, Georgia, but it wasn't anything too technical.
After that, my experience varied from developing essential tactical rope skills to recreational excursions to rock climbing gyms. I know all the basics of rope safety and the proper terminology. I own a pair of rock-climbing shoes, but by no means is climbing a consistent weekend activity for me.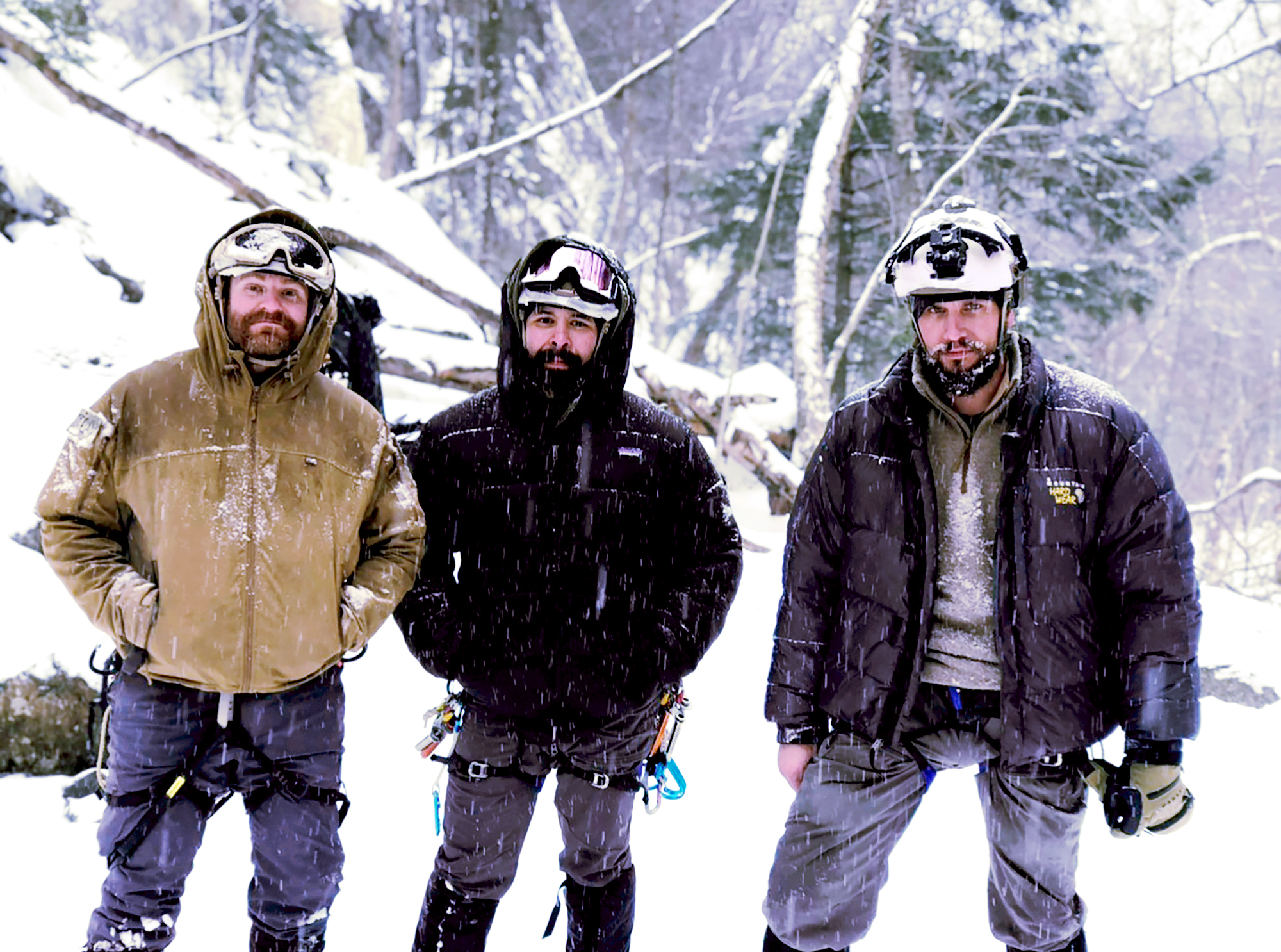 This trip would be outside my comfort zone, but in all seriousness, I had no reservations about going. I was in the company of good friends and some of the best tactical rope experts in the country. Revac USA, based out of Ohio, is a small group of firefighters-turned-rope-experts who know their way around climbing in any environment. They have trained multiple Tier 1 military units and lots more. If it's an ice wall, a waterfall in the jungle, or an office building, they can climb it. Hell, they can climb a frozen waterfall. It wasn't my first trip under their wing, so my confidence was high.
Lake Placid is renowned for its world-class ice climbing, among other draws. Home to the 1932 and 1980 Winter Olympic games, the area is an adult playground for any alpine enthusiast. The facilities used for the games remain intact and functional — the most charming spot is the Olympic Oval on Main Street, which is open to the public.
Our first ice climbing destination was in Keene Valley, about 20 minutes southeast of Lake Placid. Our guides had been here multiple times before, so they knew all the secret spots.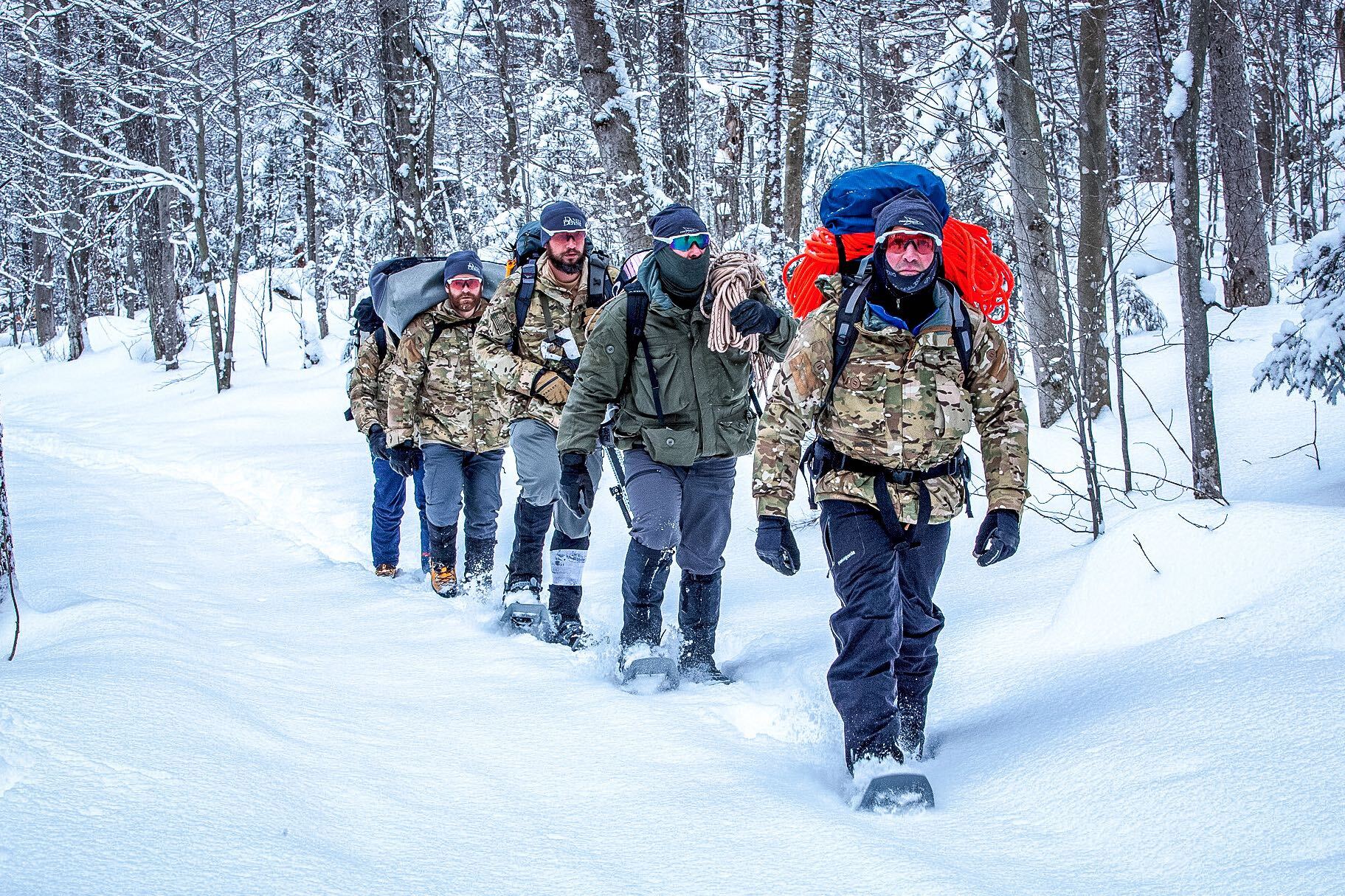 RELATED – The Best and Worst Climbing Movies Ever Made
---
The Ice Climbing Equipment
Ice climbers rely on a lot of essential equipment. This fact was apparent as we geared up and left the truck to begin walking through the wilderness toward our climbing site. The older I get, the more I appreciate doing things that require a lot of task-specific gear. That's not to say I don't enjoy the simplicity of surfing; all you need most days is a board, some wax, and a pair of boardshorts. But more equipment means a higher level of technical difficulty, and great attention is paid to every detail. If my safety relies on multiple pieces of equipment, it makes me appreciate the discipline and intensity of such an activity.
An ice climber's first consideration is always the weather. This kind of climbing requires freezing temperatures for strong ice. The ideal range is between 14 and 30 degrees; any warmer and the ice won't hold.
And since you're operating in such low temps, having the appropriate outerwear and a layering system is critical. You need a proper base layer, mid-layer, softshell, insulated outer layer, and more, depending on how cold it is.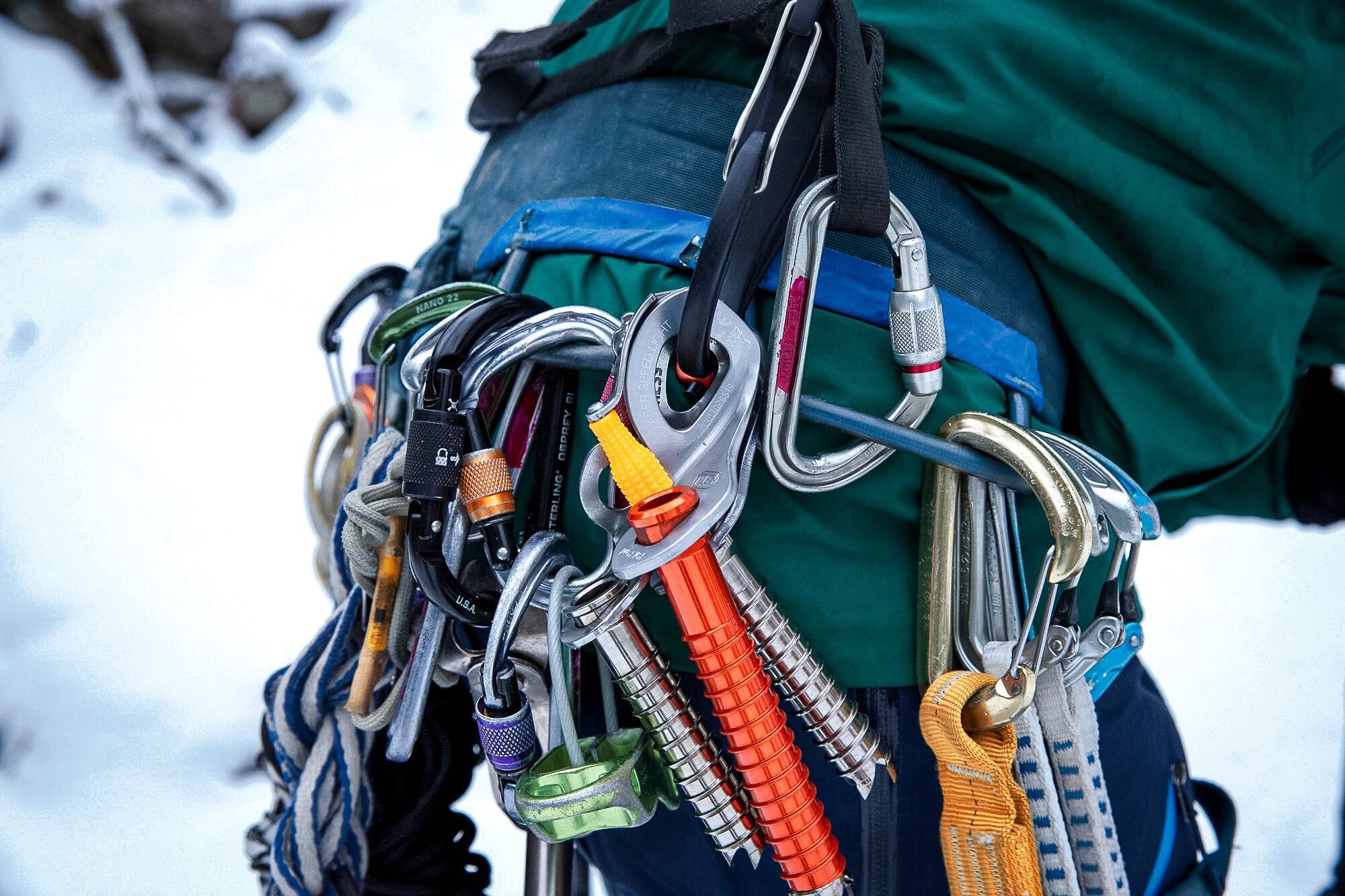 Ice climbers also need several different gloves and head and face protection. This is an exertion-heavy activity, and the ability to switch between layers based on how hard you're working is vital. If you wear too many and don't shed them when you exert yourself, you sweat your ass off. Once the climb is through, you're wrapped in a puddle of your own slowly freezing sweat. Not ideal. You need a good layering system, and you need to know how to optimize it based on exertion.
Next, climbers have to think about their infill. You don't usually find ice-climbing sites 3 feet off the road. You're going to have to walk in through ankle-, knee-, and even waist-deep snow. Snowshoes are a must, as is a comfortable pack that can haul all your ice climbing gear and clothing layers. Layer down for the hike, then layer up when you arrive at your site.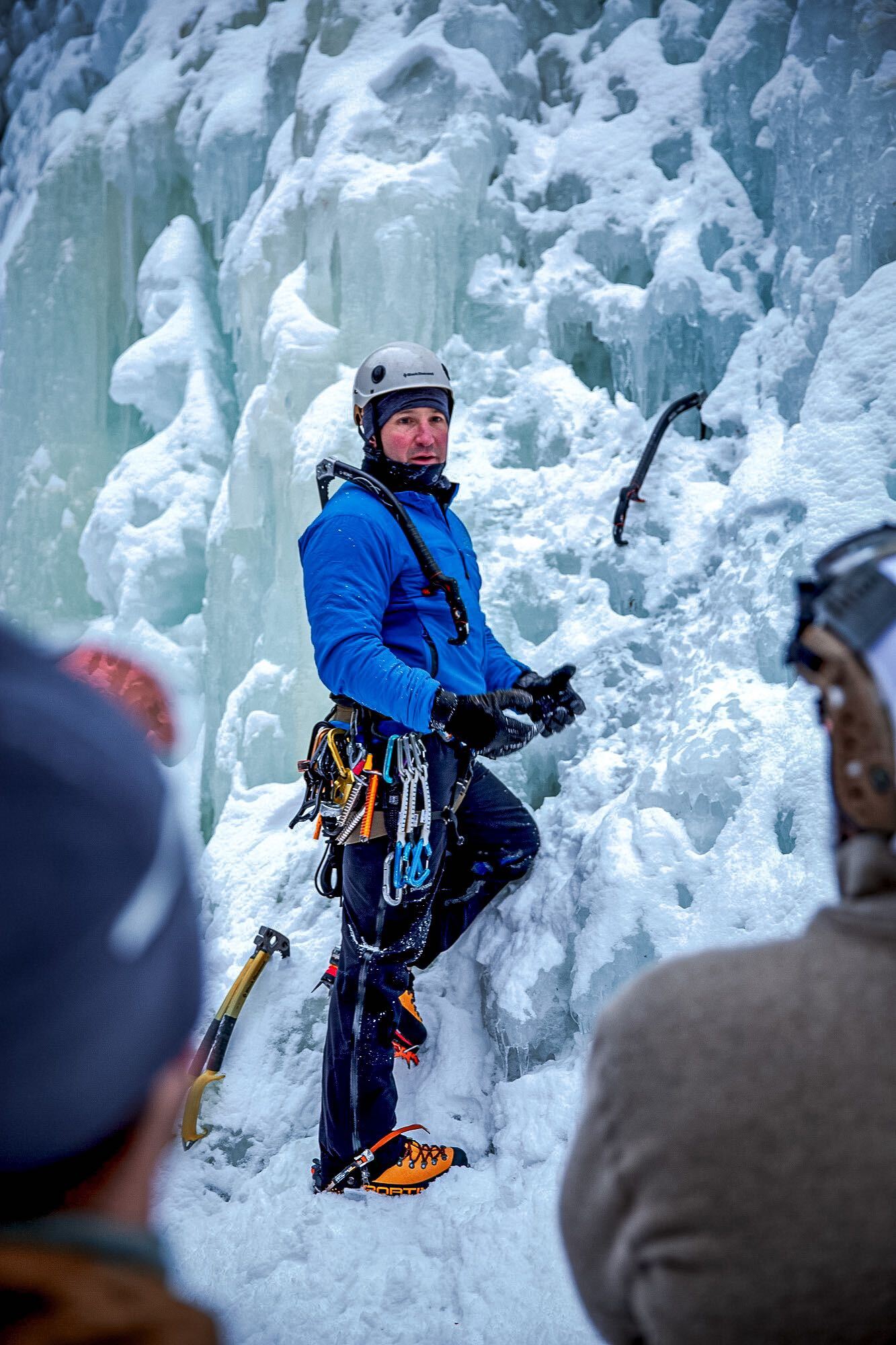 Finally, there's the equipment needed for the climb itself:
Boots
A good pair of mountaineering boots is essential. They must be well insulated to keep feet warm and must fit properly to ensure good blood circulation. Generally made of leather or waterproof materials, well-fitting and comfortable mountaineering boots are worth their weight in gold. There are many tales of alpine enthusiasts losing their toes to frostbite.
Crampons
Crampons have been in the mountaineer's toolkit since the early 1900s. They fit snugly to the boot, and their robust points greatly aid in getting solid footholds on an ice wall.
Tools and Rope
The other tools I had on my person included an ice ax for each hand, a harness, a helmet, and multiple carabiners and ice screws. And I absolutely needed each and every piece of gear to scale the ice wall, but let's not forget one of the most essential tools: the climbing ropes. We used a 9.8mm rope from Sterling Rope.
RELATED – 'Captain America' Brings Home First-Ever US Climbing Medal
---
The Ice Climbing Technique
Armed with all the right equipment and in the company of the best guides in the world, I was ready to climb. The tutorial was simple enough; the technique we learned was "front-pointing."
Front-pointing means kicking into the ice with your toes until the front points of your crampons gain purchase. Only two of the points on your crampons will be touching the ice. This technique allows you to create a secure foothold in the ice, along with a little ledge to stand on, which proves invaluable as you ascend.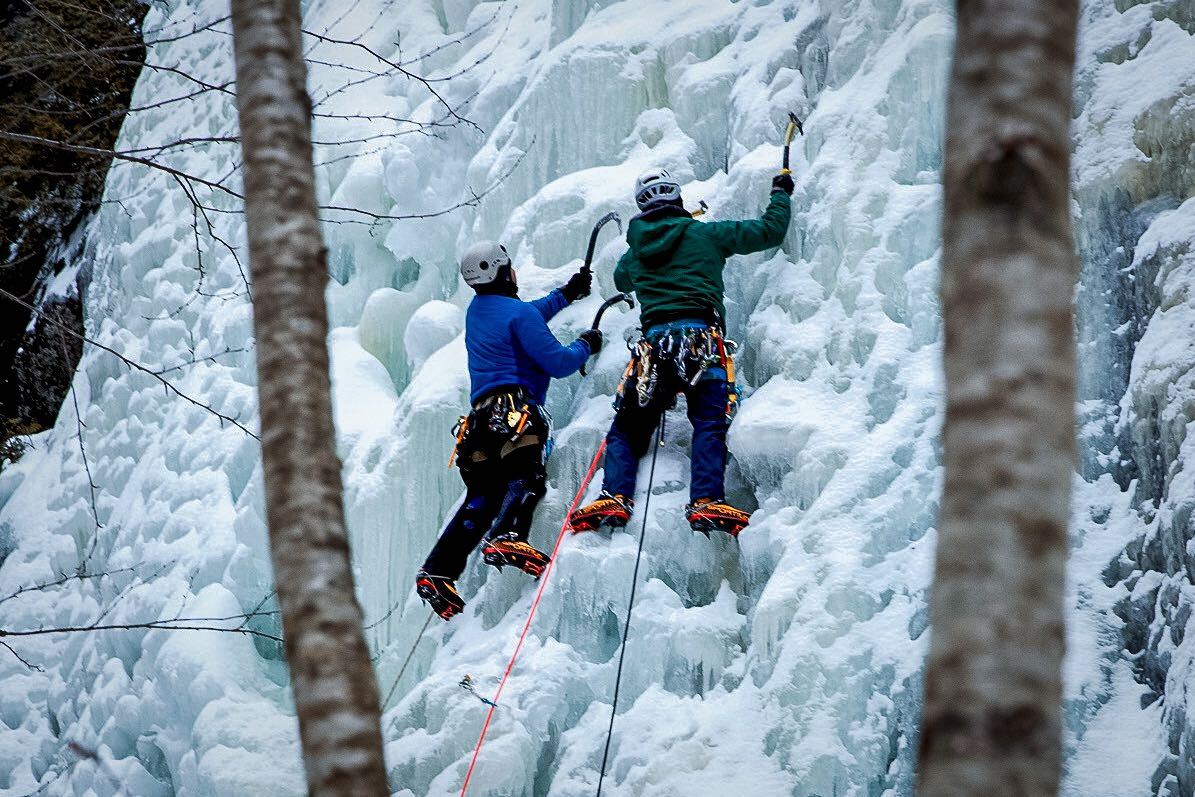 As you kick into the ice with the crampons, you use the ice ax to reach up and create a handhold by burying in the ice. One solid swing is all you need.
As a rule, you move your feet about three times for every time you move your ax. You place an ice screw every 10 to 15 feet as you ascend. The rope is routed through the screw via a carabiner. You do this so if and when you fall, you have a nearby anchor point.
RELATED – 'The Alpinist' Should Be the Next Climbing Documentary You Watch
---
The Climb
Here's where we come full circle. As an inexperienced ice climber, it didn't take long for me to feel the first stirrings of the "screaming barfies on the ascent. As I climbed, my hands remained overhead with a firm grip on both axes most of the time. My circulation wasn't doing so great with my arms above my heart. With the intense cold and lack of blood flow, my hands quickly become numb.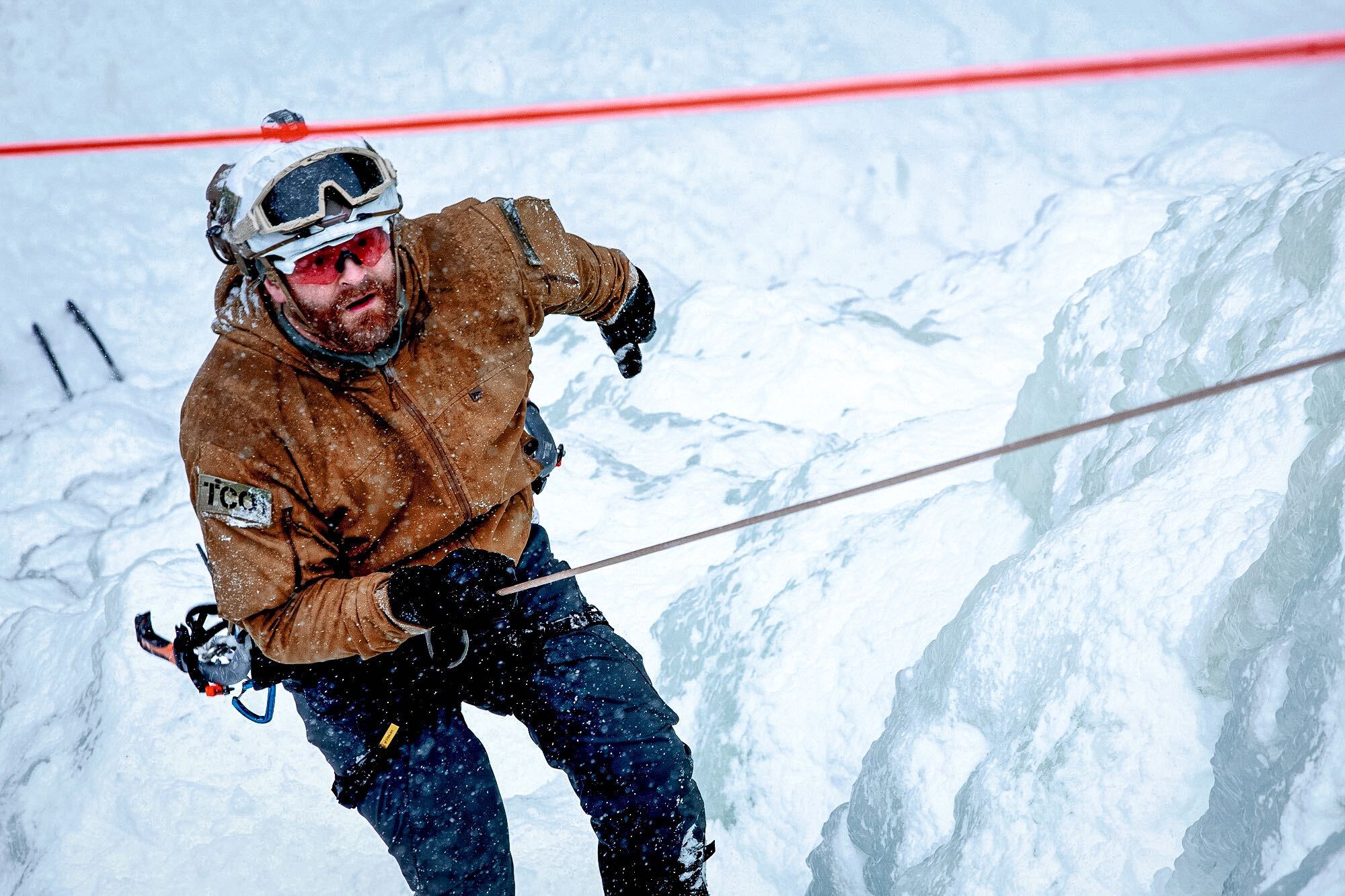 I tried to use the small ledge I've created with my crampons to bring my hands down by my side for a few seconds. That's when a burning sensation in my hands became so intense that I literally felt it in the pit of my stomach. I wanted to throw up, but I couldn't be that guy. I could only stand on my crampons so long before my calves started burning from holding all my weight. So my hands went back up, and I started moving again.
This is ice climbing, at least for a first-timer: intense bouts of movement punctuated by pauses while attempting to beat the onset of the screaming barfies.
In the end, I was successful. I have a high threshold for pain, and I knew it would end once I hit the summit. That was my focus. The reward was surprisingly profound. Unknowingly, I had climbed a good 80 feet. While I have seen better views, the effort it took to get there and the skills I learned along the way made it a bit sweeter. The best part was rappelling down: running backward down a vertical piece of ice with just a rope. It only lasted 5 or 6 seconds, but it was super fun.
For a more experienced ice climber, a typical climb is much different. It's a sport of pace, technique, and patience, benefiting from sport-specific fitness. Climbing is problem-solving. Climbers look at the terrain and figure out how to ascend safely and efficiently.
Ice climbing stands apart in many ways. The fundamentals are all the same, but you use a different canvas, different brush, and different paint. For me, ice climbing was as exhilarating as it was rewarding. But for my next climbing excursion, I'm going to Hawaii.
---
READ NEXT – Numb Decisions: An Essay on Ice Climbing