The annual antler drop — a remarkable few months when antlered critters drop their headgear — is a time period that's as eagerly anticipated as the mule deer and elk ruts. For many shed hunters, the time of year is all about family and friends; large groups assembling to push through timber and cover sage-sprinkled hillsides in search of brown gold. For others, shed hunting season is about finding one or both sides of the buck or bull they chased last fall.
Some do it for financial gain. Antlers are worth a lot of money; they're currently valued at $16 per pound. Regardless of why someone chases fallen headgear or how often, all can benefit from the following advice from Connor Clark, a veritable shed-finding machine. Doing so will undoubtedly increase your chances of finding shed antlers.
Clark is a Colorado native, and one of the finest outdoorsmen I've ever had the pleasure of being around. He has been scanning the ground for sheds since he could walk. Connor's father, Randy Clark, owns Traders Rendezvous, a massive shed and taxidermy store in Gunnison.
"When I was younger and had lots of time in high school and college, I shed-hunted for a living," Clark says. "Not only did I learn a lot about mule deer and elk behavior, but I also got good at finding their horns. I love it. It's great exercise, helps you learn the country, and it's exhilarating."
One of Clark's best tips for shed hunting success in the West is to keep tabs on mule deer and elk throughout the winter. Where deer and elk drop their antlers depends on how heavy the winter snow is and how long that snow holds at different elevations.
Late-winter deer and elk aren't hard to find. Snow drives them out of the high country into lower elevations. Food sources are easier to find in these locales, and south-facing slopes with the most sun exposure are popular feeding and bedding areas.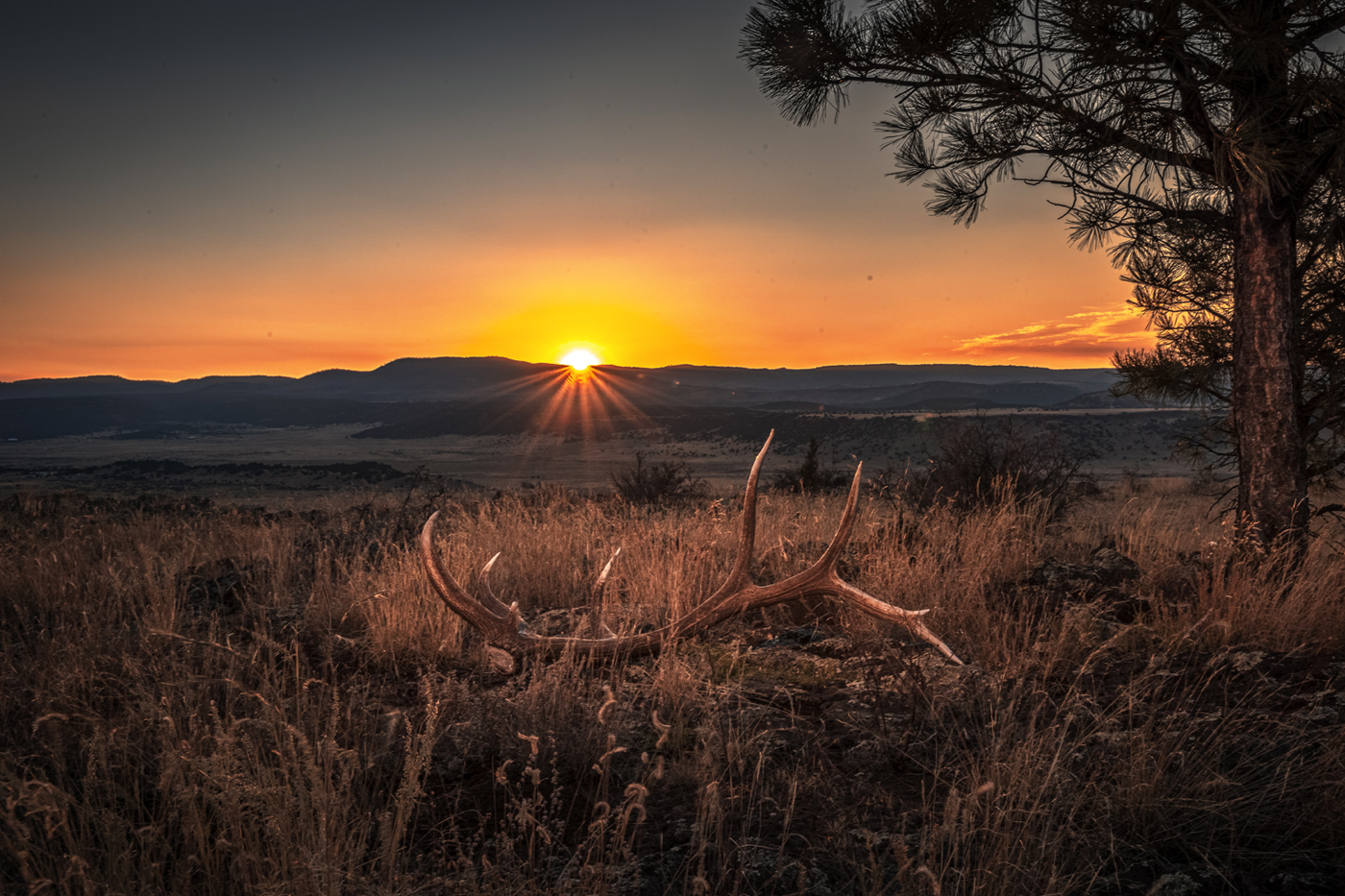 RELATED – First-Time Hunter, Grandmother Tags Bull During Wisconsin Elk Season
"Your mature bulls will drop their antlers first," Clark said. "Stress from the rut is a big reason why, but I also believe it to be a survival instinct. Those antlers are heavy, and the quicker they get rid of them, the less stress they have on their head and neck.
"Big bulls start dropping in mid-January and shed entirely out by the end of February. Depending on the terrain and weather in your area, these sheds will typically be found at lower elevations where the elk are feeding and bedding.
"If you find one side of a big antler, start making tight circles working out from where that antler was on the ground. Big bulls don't carry a second horn far, and I find most within 400 yards of where I found the first."
When it comes to raghorn bulls, Clark doesn't discriminate by size. He likes them all and recommends chasing the snowline as temperatures warm.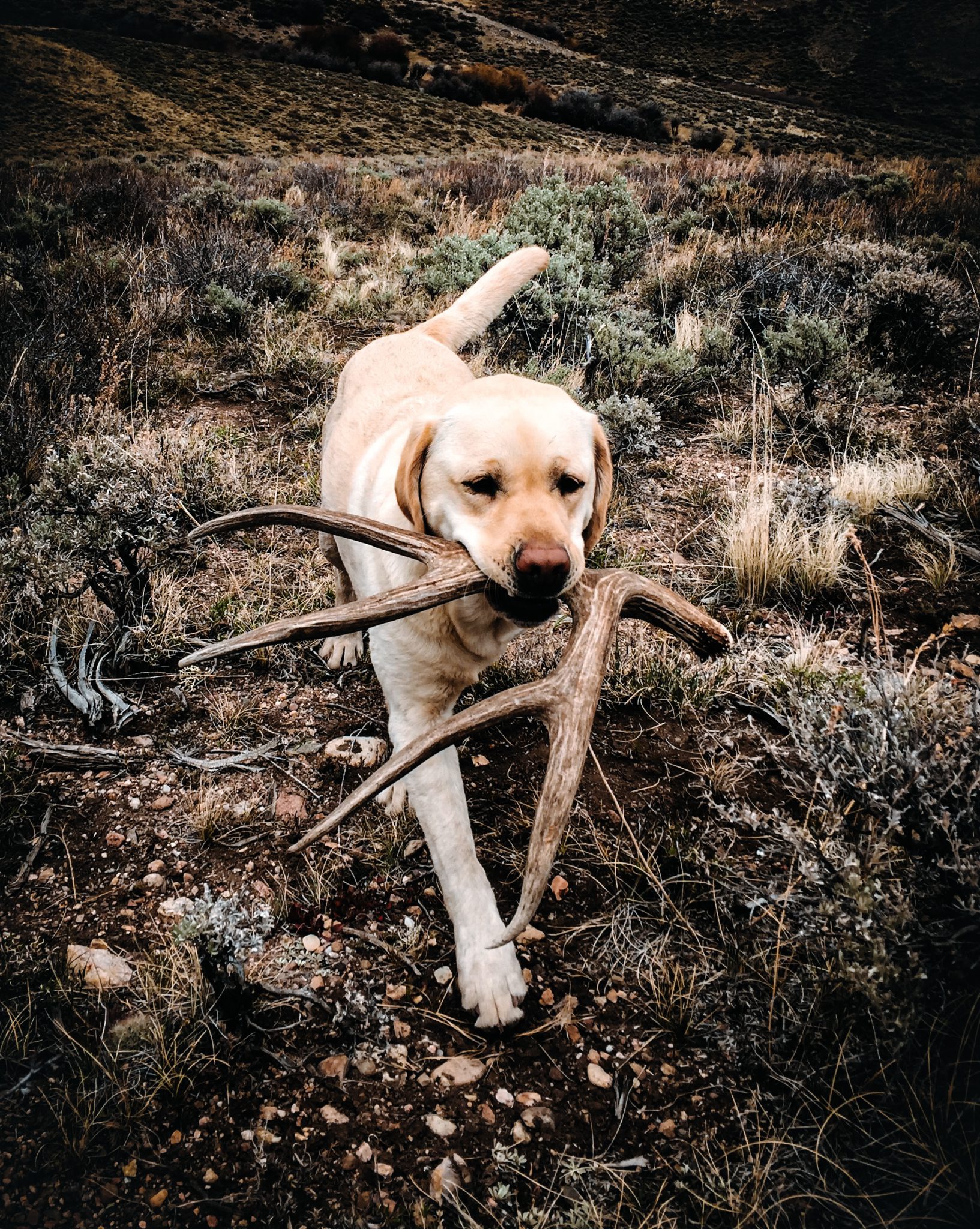 "Lesser-sized bulls hold their horns longer," Clark continued. "I see most small bulls start losing their antlers in March and April. By this time, weather and terrain depending, the snowmelt will be in full swing, and the elk will be chasing that melt up the mountain. Chase the snowline, and you'll find more elk sheds. Deer are the same."
When it comes to putting your hands on a massive 6 x 6 elk shed or a big muley side, Clark recommends spending lots and lots of time behind the glass. I saw this firsthand. While hunting bighorn sheep with Clark last August, he spent as much time glassing up brown and chalky white antlers as he did sheep. Clark is methodical about how he goes about glassing. He uses the best optics he can afford (15-power Swarovski) mounted on a lightweight, high-end tripod. He gains elevation, always ensuring he can see to the bottom of a canyon or drainage and starts picking the country apart.
"The West is enormous, and I love to walk, but glassing is a great way to find a red-hot shed area. Hunting for elk sheds is feast or famine. You can walk 20 miles one day, not find a shed, return to the exact location the next day, hit a new line, end up in a different drainage, and boom — brown town, baby.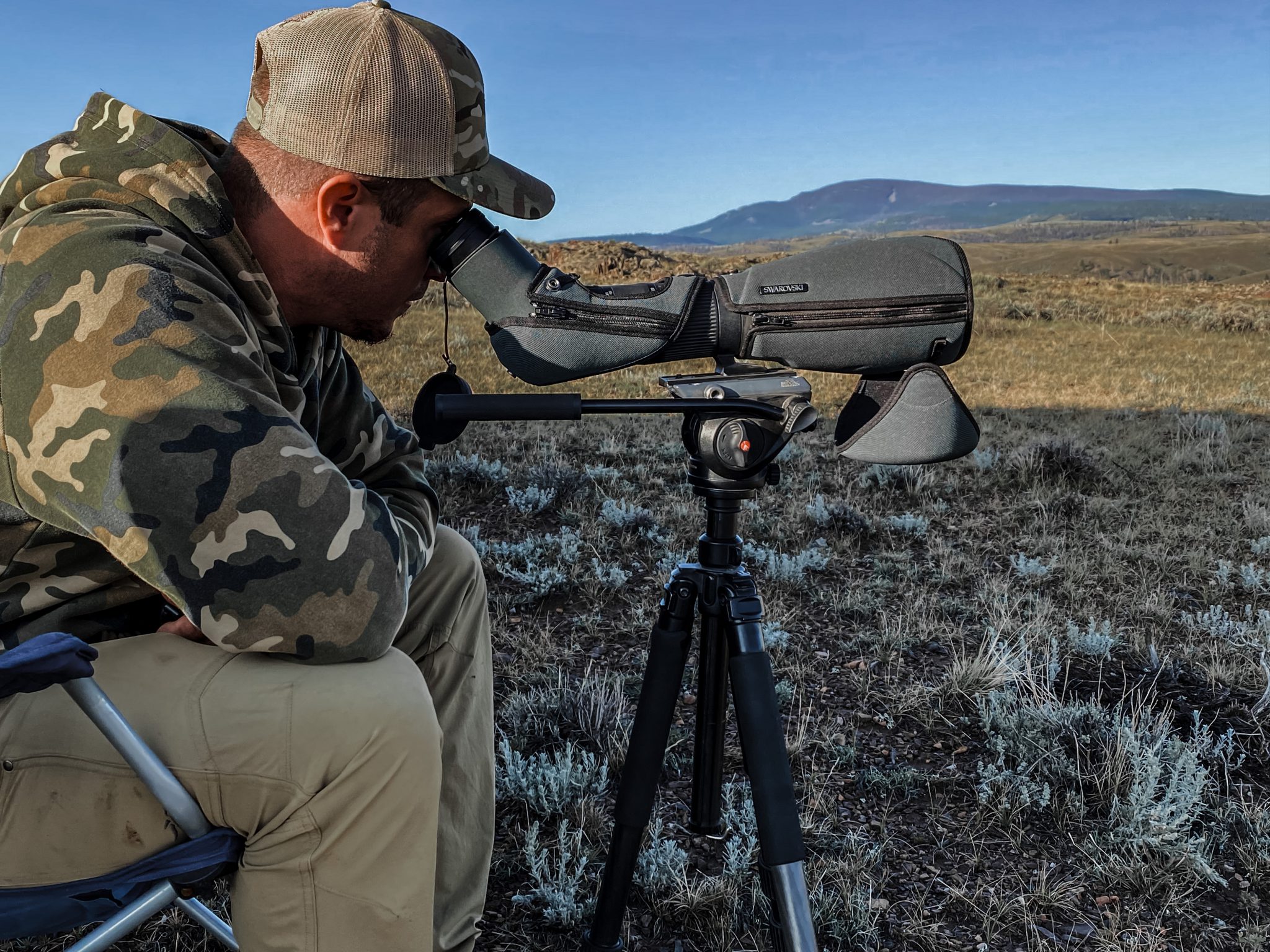 RELATED – Goose Hunting: How to Kill Late-Season Canada Geese on Public Land
"I like glassing because if I pick out an elk shed, the chances are high that there will be numerous sheds when I get to that location. Elk tend to drop a lot of antlers in small areas. Deer sheds will be more spread out, but if you find an elk shed, chances are you just hit some serious pay dirt."
Clark recommends staying patient when glassing, and choosing areas devoid of thick cover where you can easily pick the landscape apart. Don't start scanning. Pick a line, grid that line, and keep an eye out for anything that looks out of place. Clark mentioned that white pedicles stand out very well when glassing. He also said to investigate anything that can't be fully distinguished or seems out of place.
"White is easy to see, and though chalk won't excite you like a brown horn will, you may go to pick up that chalky side and find a pile of brown. So many times, I've walked a mile to investigate what I thought was a shed horn and had it turn out to be a stick. Sometimes you're sure of what you find, and other times, not so sure. You must look either way. When you go toward a horn, you don't have to make a straight path to it. Mark it on a digital mapping app or be sure and get some good landmarks. Keep your eyes on the ground during your approach. I've found lots of sheds on my walks to pick up sheds I have glassed."
Being the West is so very vast, Clark likes using his dogs as well. Shed dogs will save you a lot of walking and will help you cover areas a lot faster.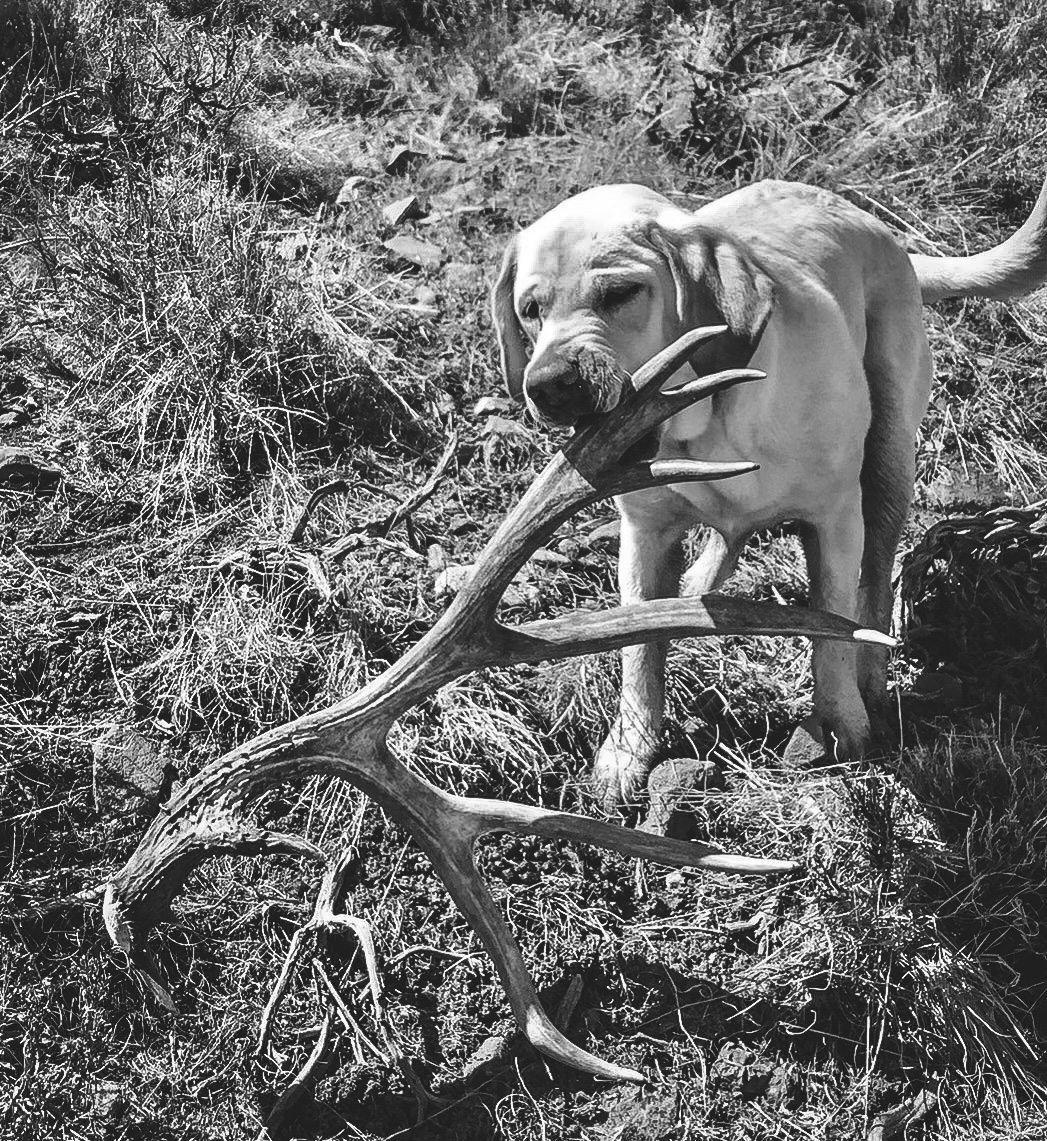 "If the dogs are good, they don't miss much," Clark said. "They know what they're looking for and want to find antlers as bad as you do. The advantage to a dog is their go-power and their nose. They will help you find more sheds, and they can cover three times the amount of ground you can in less time."
Clark has shed hunting spots he won't take his best friends to, and I don't blame him. They have come from years and years of work — some areas passed to him by his father — others discovered on his own. He will give those waypoints to his newborn son Cannon and daughter Harper, but no one else.
"Shed spots are sacred, man. For me, they are more sacred than public-land hunting spots. When you find a good area, be sure to mark it on a quality digital mapping app. The chances are good the location will produce several antlers each year. When you return, the trick is to take the same line you did the year before.
"I've been going to some spots for more than a decade, and my first walk-through will mirror the line I took 10 years ago. Each time you return to the spot throughout the year — don't make the mistake of checking it only once per year — take a new line. You'll be surprised what you'll find six feet away from your last line behind a log or piece of sage."
---
READ NEXT – Duck Boats You Should Totally Buy, From Functional to Fully Tricked Out