Duck hunting presents three big problems to overcome: getting to your duck spot, retrieving the ducks you shot, and hiding from the ducks still circling overhead. Duck boats typically solve the first two problems, but some badass boats solve all three. Let's cover a few waterfowling watercraft basics to help you choose the boat that's right for you.
---
What To Look For in a Duck Boat
In general, ducks love shallow water. That shallow water comes with vegetation, mud, and gnarly twists in turns. Duck hunters need a boat that runs shallow and has good maneuverability.
Then, consider specific hunting scenarios you'll face. Are you floating creeks or small rivers to jump ducks? Do you want to hunt a marshy pond where you'll need to tuck into the reeds? How about a boat that keeps you off of the bank and hidden on a river?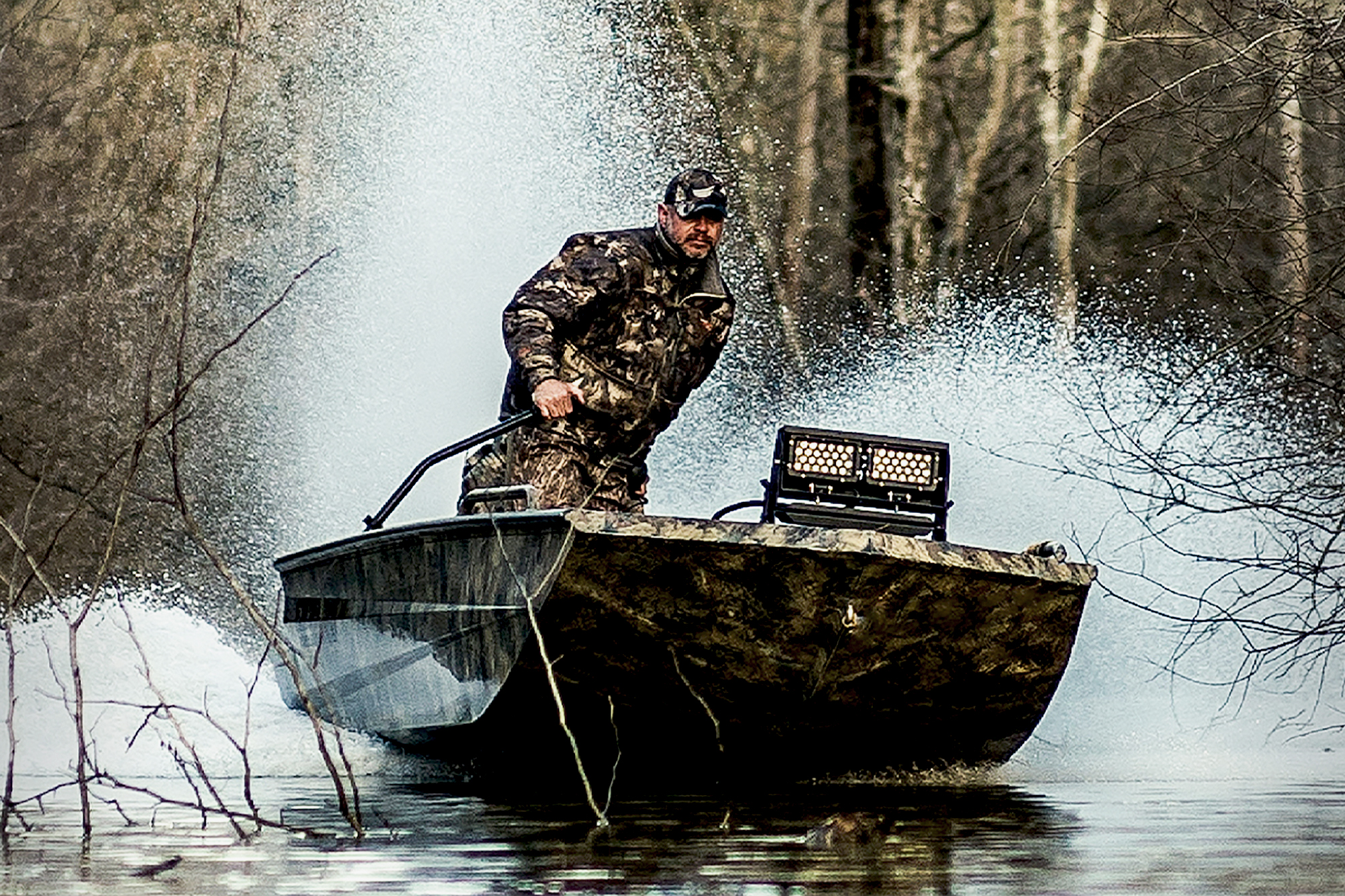 And don't forget propulsion. Are paddling or pushing and pulling your only options? Can you run an electric motor? Is an outboard necessary to get the job done?
Consider what additional features you want your boat to have based on the gear you'll be hauling and how you'll be hunting. Are you running a big decoy rig that begs for storage? Do you hit the water by your lonesome, or are you one of a band of merry waterfowlers?
You'll find the solution to your problems and the answers to these questions below. The duck boats listed here progress from the simple and self-propelled to the baller and totally decked out.
RELATED – Ducks and Coffee: Three Days in Oklahoma With FowlCo Outfitters
---
If you hunt marshy ponds, coves, and small lakes, take a look at the Mallard Marine Marsh Rat. The Marsh Rat is a kayak and layout blind in one. Its wide base makes it stable, so you can pop up to shoot and also reach for ducks or decoys in the water without the fear of dunking your head into the drink. Add included blind cover, and you have a floating layout blind.
It comes with a stainless steel bow eye for easy towing behind a larger boat so that you can cover water fast and then use the Marsh Rat as your hide. Keep in mind that the wide design limits paddle propulsion power and causes some side-to-side drag. Add a motor mount and attach an electric trolling motor or small outboard if you have a lot of water to cover in the Marsh Rat alone, with no larger boat to tow it. MSRP: $699
---
Have 4 or 5 inches of water at your disposal? Then you can float the Stealth 2000. Want to sit upright in a blind? Yep, it does that, too. And if you're not into paddling, run yourself around the lake, pond, or river with an electric trolling motor or small outboard. The Stealth 2000 handles up to 2 horsepower.
Like the Marsh Rat, the Stealth 2000 is great for small lakes, ponds, navigable creeks, and calm rivers. It comes with a foam platform for your dog and is plenty big enough to get you, your decoys, and man's best friend to your duck spot — but you'll have a hard decision to make if a buddy wants to come along. The Stealth 2000 fits two people or one person and one dog. MSRP: $899-$1,099
RELATED – Cold Weather Duck Hunting Gear That Will Keep You Warm and Shooting
---
Go-Devil, out of Baton Rouge, Louisiana, started making boats during Ronald Reagan's first term in office. After four decades building boats to run Lousiana swamps and bayous, they know some shit about making craft that run through mud, heavy vegetation, and shallow water.
Their Duck Hunting boat also scoots you across open water while kicking ass in tough aquatic terrain. It comes in eight sizes: from 16 x 38 to 20 x 56. All models have a hull and transom built to run surface drive motors. MSRP: starting at $6,425
---
The Excel F4 boat series kicks ass. Designed with a transom and tapered chine for running surface drive motors, these puppies maneuver through mud and vegetation like Barry Sanders through the line of scrimmage.
All models come with a convenient step-deck for getting into and out of the boat. The F4s come with ample storage and the option to add LED lights to the bow. Choose from seven different models, all between 17 and 19 feet, with horsepower ratings that range from 50 to 70 hp. Round yours out by wrapping it in one of eight camo options. MSRP: $22,000+
RELATED – Waterfowl Starter Kit: Everything You Need to Slay Ducks and Geese
---
The Bankes 17' Freedom is a versatile sumbitch. It's built for a variety of duck-hunting scenarios. The 17' Freedom cruises open water while also running shallow enough to get you into and out of a marsh. Add a blind cover and brush it in to give yourself a mobile hide.
You can store up to four dozen decoys on the shelves that run the length of the cockpit, which sports a molded, non-skid floor, so you don't slide your ass from port to starboard when your boots get wet. How about the bow? It's reinforced with Kevlar for breaking ice, helping you get to where you want to be without going down like the Titanic. MSRP: $22,000+
---
Draft in 4 inches of water; haul four of your buddies; brush in and hide wherever you damn well please. Those are the basics of what the Gator Trax Gator's Camp does. A front deck storage rack, interior shelves, and full-length brush rail pipes all come standard with the Gator's Camp duck boats. You also get gun holders, interior gear racks, and shark eye navigation lights with the standard package.
You can even add to its sexiness by decking this sucker out with a folding stove shelf, propane box, and pop-up blind panels. There are also 10 different camo wrap options available. Fully tricked out, the Gator's Camp is a floating duck camp that takes you to just about any honey hole you want to hunt. MSRP: $18,192+
Whether you're buying your first duck boat or adding to your fleet, these are all killer options for waterfowling in 2022.
---
READ NEXT – 6 Simple Steps for Duck Hunting Creeks: Guns, Gear, and Tactics