My brother was right, I thought, as I looked over three tables filled with machine gun after machine gun. We'd been to Washington County Machine Guns years ago while on a road trip. And since then, my brother Sam said they'd "expanded their operation." He wasn't lying.
He brought me back because I was getting married in a week. For my bachelor party, he got me, my dad, and himself the Commando Package, which, for us, consisted of 30 machine guns, 15 bonus guns, a field full of bowling pins to shoot at, and a full stick of dynamite to end the day.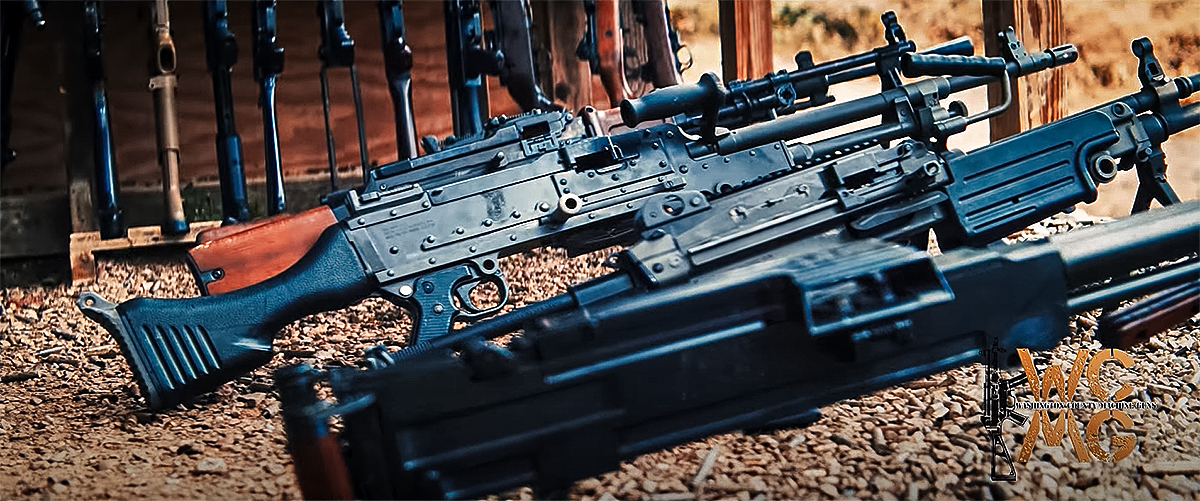 I picked up one of four AK-47s from the table, put it to my shoulder, and held down the trigger, working my way across a berm of targets. Then it was on to the next in a long line of bucket-list firearms I'd never seen in person, let alone had the chance to shoot.
A few hours later, we threw the lit stick of dynamite into a puddle and plugged our ears.
A few days later, I still had a burn from a shell casing on my forearm and a bruise on my shoulder. 
I'd been to machine gun rental ranges before, but that trip set a new standard for me. First off, it was safe, but not over-the-top, chain-the-machine-gun-to-the-table safe. (I've done that, and it's boring.)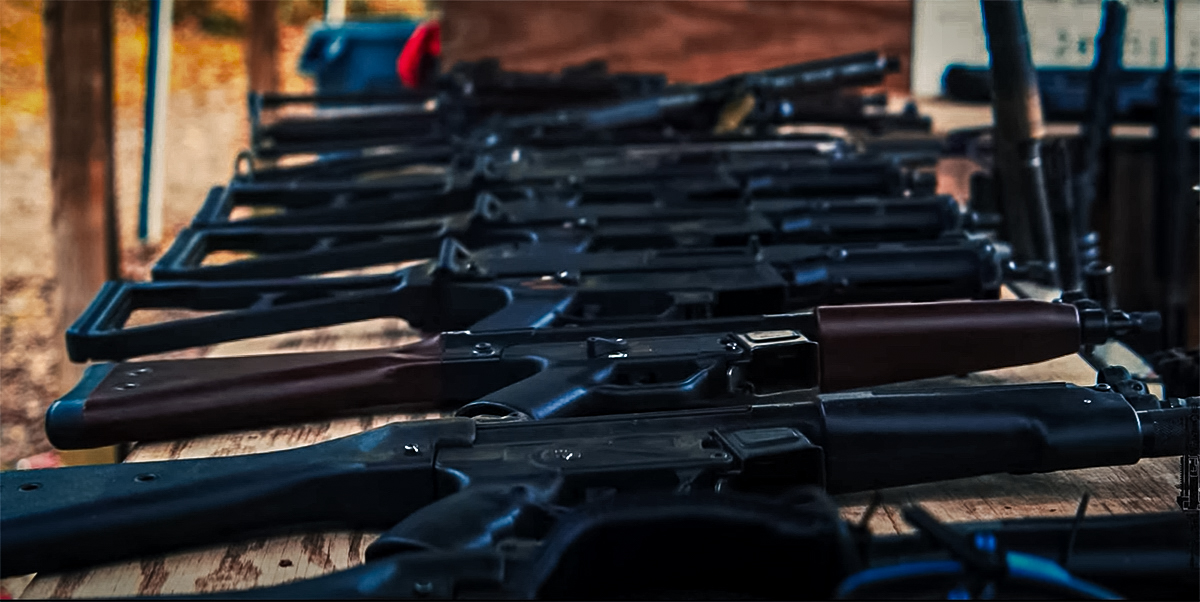 Second, we were shooting reactive targets, not paper. And third, they weren't afraid to let us one-hand an M60 like Rambo if we wanted, and we wanted — that alone was worth the trip. 
If you want to have a similar experience, you have the following six ranges to choose from. They're a few of the best spots in the country where regular people can flick the fun switch on a rifle, or submachine gun, or something bigger — and some of these places even let you blow things up. 
RELATED – Precision Rifle Series Shooting: 6 Keys for Beginner Success
---
West Alexander, Pennsylvania
We'll start with my favorite. Washington County Machine Guns (WCMG) is the largest machine gun rental business in the Eastern U.S. It's also one of the only places in America where you can legally throw sticks of dynamite, live grenades, shoot 40mm grenade launchers, pull the trigger on a flame thrower, and fire military-grade RPGs, and I'm not talking just dummy rounds. 
But the best part about shooting WCMG's 80 machine guns is that they've built an outdoor range specifically for getting the most fun out of full-auto fire. Once they see that you can handle each gun, you can spray bullets left and right and watch the dirt fly.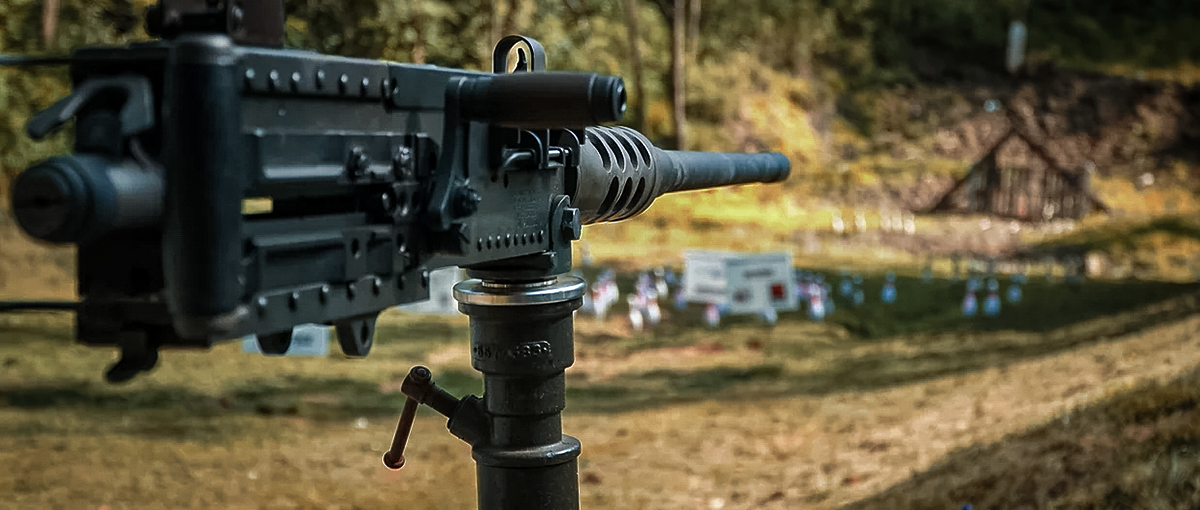 "When you're indoors, they hand you the gun, you shoot a paper target, and you're done," says Tredd Barton, owner and operator of WCMG. "We do things you can't do indoors, like opening up a Ma' Deuce on a field of bowling pins."
WCMG can host groups big and small by appointment. When we went, we had the place to ourselves and plenty of time with each gun, plus all of the staff's attention. You can also apply for membership to the eight other ranges at WCMG that offer move-and-shoot style courses and targets out to 300 yards.
Lastly, WCMG offers high explosives classes to the public, and I don't think there's any place else in the U.S. where you can do that. 
---
Las Vegas, Nevada
Battlefield Vegas is perhaps the largest and most well-known machine gun rental range in the country. They have 650 guns, an indoor range in the heart of Sin City, and they offer "outdoor experiences" in the desert. They're known for over-the-top guns and ordinance (like a minigun that fires 4,000 rounds per minute). And with 24 hours' notice, the staff will find you a car and let you crush it with a tank in their parking lot (yes, you read that correctly).
If you're a gamer, Battlefield Vegas has video-game-inspired packages like the Counter Strike Extreme Package or the Black Ops Gamer Experience, which are basically collections of full-auto guns from the games. They have packages based on movies and historical events, too, like the D-Day Package.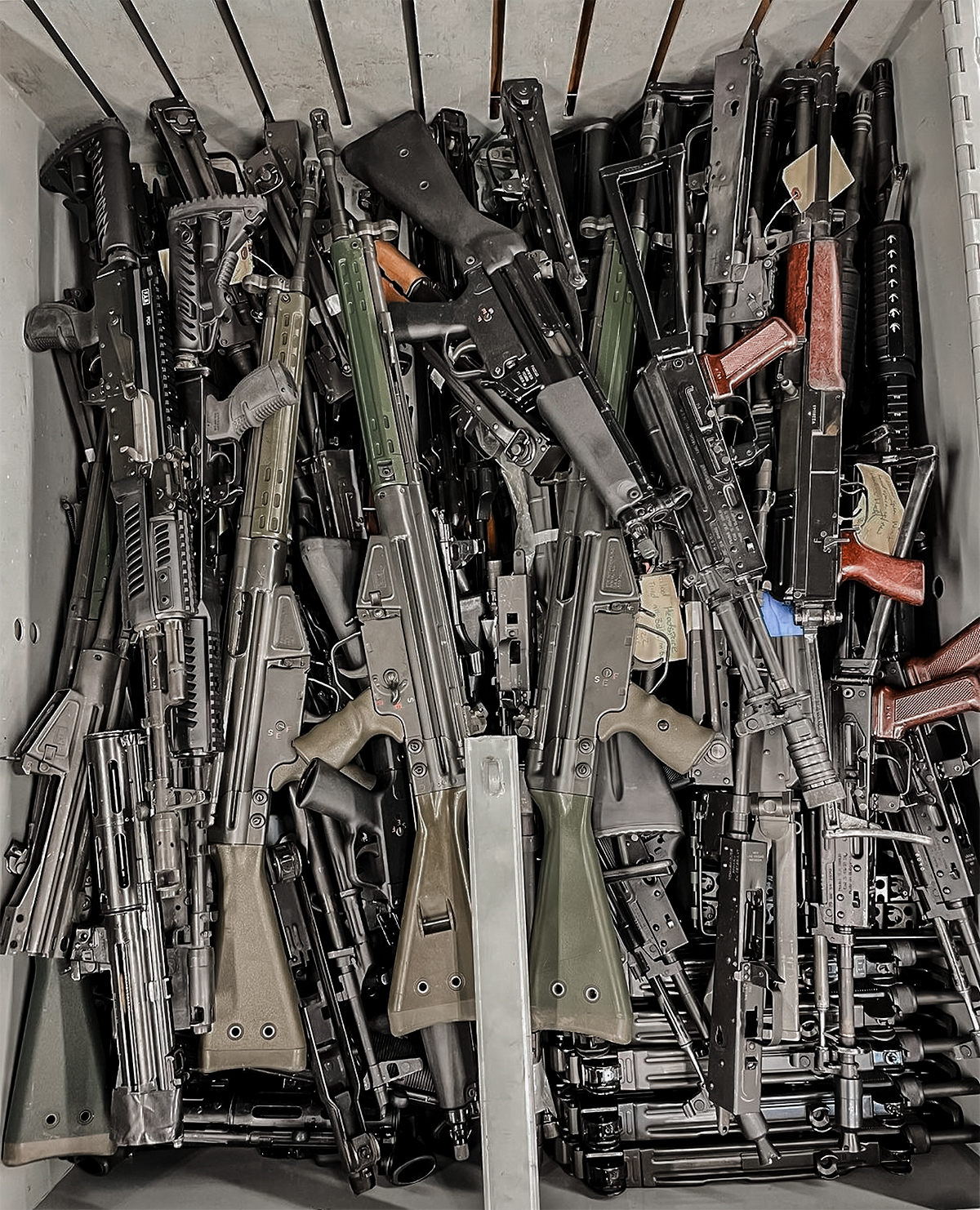 Take a trip outside of town to their outdoor range, and you basically enter a real-life version of Grand Theft Auto. There, you can shoot the main gun on an M60 Battle Tank, take out long-range targets with a .50-cal, fire off grenade launchers, shoot flame throwers, and tool around in an APC (Armored Personnel Carrier) with your buddies. There are also more machine guns at the outdoor range, which kind of seems obvious. 
Battlefield Vegas offers machine guns al-la-carte at $25 per gun. Packages start around $125 and go way up from there for things like car crushing and flame-thrower shooting.
RELATED – Mad Pig Customs: Dragging Lever Guns Into the Modern Age
---
Ox Ranch and Drivetanks.com
Drive Tanks, Shoot Tanks, Shoot Belt-Feds, Feed Giraffes
Uvalde, Texas
Tank driving, check. Tank shooting, check. Machine gun shooting and a belt-fed 50 cal, check, check. Yoga and giraffe feeding, check? 
That's right, the 18,000-acre Ox Ranch in Uvalde, Texas, is home to a bizarre cocktail of activities. Among giraffe feeding, yoga, and machine guns are spelunking, bass fishing, hunting, and more. But the main attraction is the tanks.
Ox Ranch has partnered with Drivetanks.com, and short of joining the military or building the next Killdozer, it's one of the only tank-driving and shooting experiences available to the average Joe. 
Instead of just letting you drive a tank around in a circle, Drivetanks.com has set up a tank course on the ranch with barricades and obstacles. You can shoot the tank's main cannon, fire dozens of machine guns, plus let loose a battery of artillery pieces, anti-tank weapons, high explosives, and a flamethrower.
While you're there, you can even buy a tank from Drivetanks.com. (As they say on their website, "If you can own a tractor, you can own a tank!")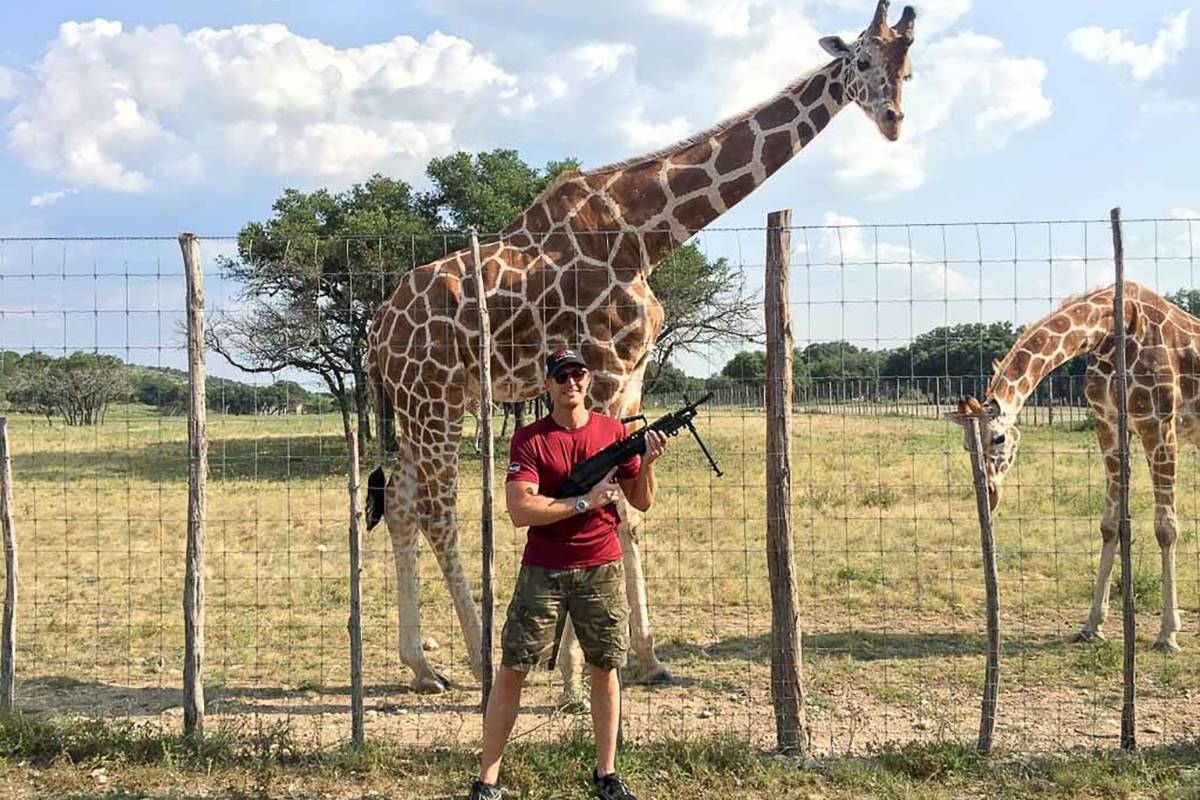 Ox Ranch's side activities are cool, too, especially for members of your party who don't want to go to war for vacation. There's also lodging in rebuilt 1800s-era log cabins, which were transported to the ranch from Kentucky and placed so they overlook a lake where you can watch imported game animals from all over the world come to drink.
Honestly, it all sounds like a fever dream Joe Exotic would have while he's on ketamine. But it's probably way better than going to Disney World, and about half the price. And who doesn't want to feed a giraffe?
---
The Gun Store
The Pulse Rifle From Aliens – Enough Said
Las Vegas, Nevada
The Gun Store was the first gun range to open in the city of Las Vegas in 1988. It's completely indoor, but this makes it easy to get in some machine gun shooting while you're staying on the strip. Compared to the tank-driving, flame-thrower madness above, The Gun Store's offerings are a bit more chill. But they more than make up for it with their unique sci-fi tribute guns. 
Other machine gun ranges offer movie-themed packages, but few, if any, do it like The Gun Store. They've built working replicas of famous firearms from films like the Star Wars series and Aliens.
For example, you can shoot a full-auto Stormtrooper E-11 blaster (based on a Sterling submachine gun just like the OG movie prop) in the Galaxy Wars Package or an M41A Pulse Rifle replica (built on a Thompson sub gun) in the Xenomorph Hunt Package.
The Gun Store also has more traditional machine guns and a .50-cal waiting for you to lean back on its trigger. Pricing runs from around $90 to $1,400, depending on what you'd like to shoot. 
RELATED – Beretta 1301 Tactical: The Must-Have Semi-auto Shotty
---
Ozark Machine Gun
Shoot History With Huge WWII-Era Collection
Lebanon, Missouri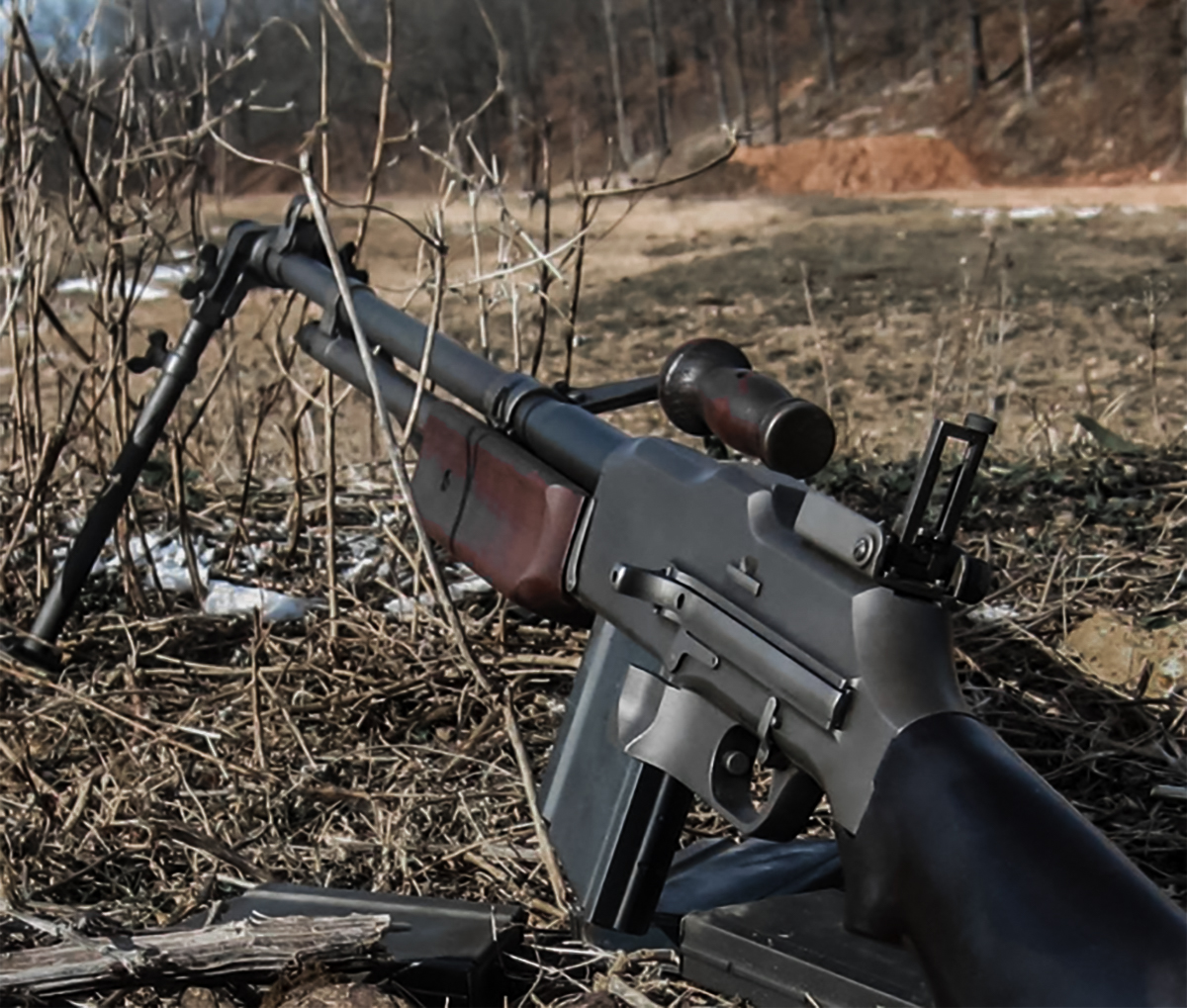 This is the place to go if you want to get your Saving Private Ryan on. Ozark Machine Guns bills itself as a "live fire museum." They have dozens of historic, fully-automatic firearms that you can rent for the day, including MG42s, BARs, Thompsons, STEN guns, an M2 carbine, and even a "Sturmgewehr" StG-44.
Prices start around $200 for a reservation and fluctuate depending on ammo prices. Ozark Machine Guns can also handle big groups, but those expecting to shoot over 3,000 rounds need to book a reservation well in advance.
Ozark Machine Gun's facilities include a covered firing area and reactive targets out to 400 yards, making it a great place to test your skills with vintage hardware. Along with the historic guns, Ozark Machine Guns has more modern weaponry like Uzis and M16s. You can also shoot plenty of semi-auto and bolt-action WWII guns while you're there.
---
Middle of Nowhere, Arizona
Big Sandy is the largest machine gun shoot in the world. It's not a rental range like the places above—it's a festival. (Think the Coachella for machine-guns.) Twice a year, about 10 miles northeast of Wikieup, Arizona, you'll find hundreds of machine-gun owners in all of their glory.
Gun enthusiasts from around the world travel to Big Sandy to experience each two-day show. There's night shooting with tracer rounds, exploding targets, RC planes to shoot down, and thousands of machine guns to ogle. Shooters pay $350 at the gate, spectators $40, and vendors $175. Bring good ear-pro.
---
READ NEXT – Bullpup Shotgun: The Good, the Bad, and the Ugly