You see it all the time — shotguns from various manufacturers, big and small, billed as as tactical shotgun. They're usually all black with a full-length mag tube, but other than that, what makes a "tactical" model different from a field or target model, and where did the concept of tactical shotguns come from?
The first shotguns that can be called tactical were issued by Allied forces in World War I. Known then as trench guns, trench brooms, and trench sweepers — firearms like the Winchester Model 1897 were used to literally clear trenches of enemy soldiers by laying down a devastating wall of slam-fired buckshot. These early tactical shotguns were essentially sporting guns that were converted into combat weapons.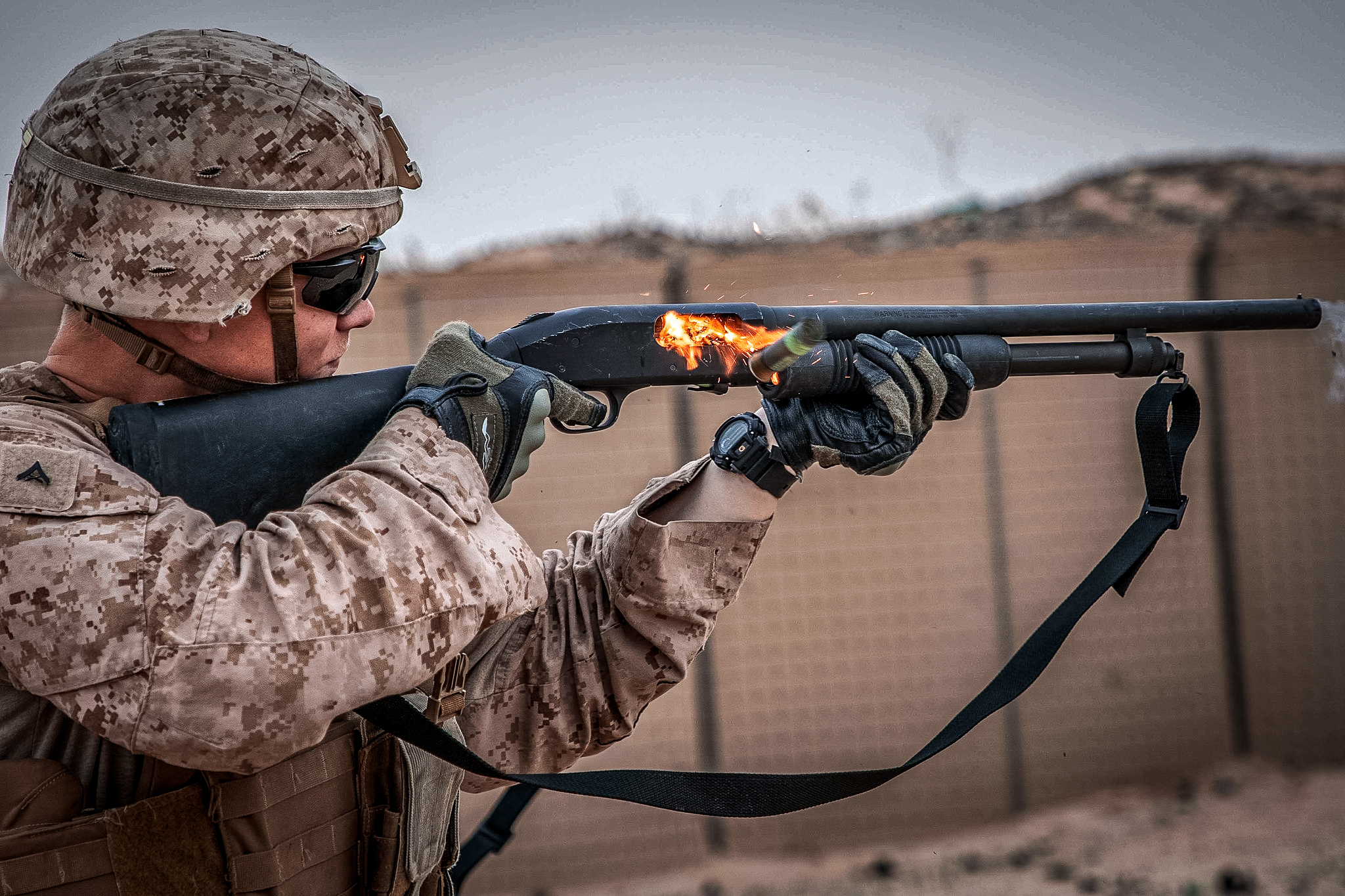 Germany even wanted to ban these guns from the battlefield, saying they were unfairly brutal. In reality, trench guns were great when they worked, but they had their limitations — mostly due to the ammunition: plastic shotshell hulls weren't a thing yet, cardboard shells were highly susceptible to moisture, and full brass hulls were expensive and heavy.
Over time, the tactical shotgun has evolved from a steel and wood-stocked pump-action to rugged, high-end synthetic-stocked semi-automatics, though there are still a plethora of tactical slide-action repeaters in use, which are preferred by law enforcement who may have to cycle less-lethal ammunition or buckshot or breaching rounds through the same shotgun.
In short, tactical shotguns are more readily adjustable in terms of LOP – some have folding stocks, shorter barrels (typically 18 – 20 inches for non-NFA guns), larger magazine capacity, and rail options for add-ons, such as lights and optics. Simply put, they are built for maneuverability and accuracy, and to save your ass in life-threatening confrontations.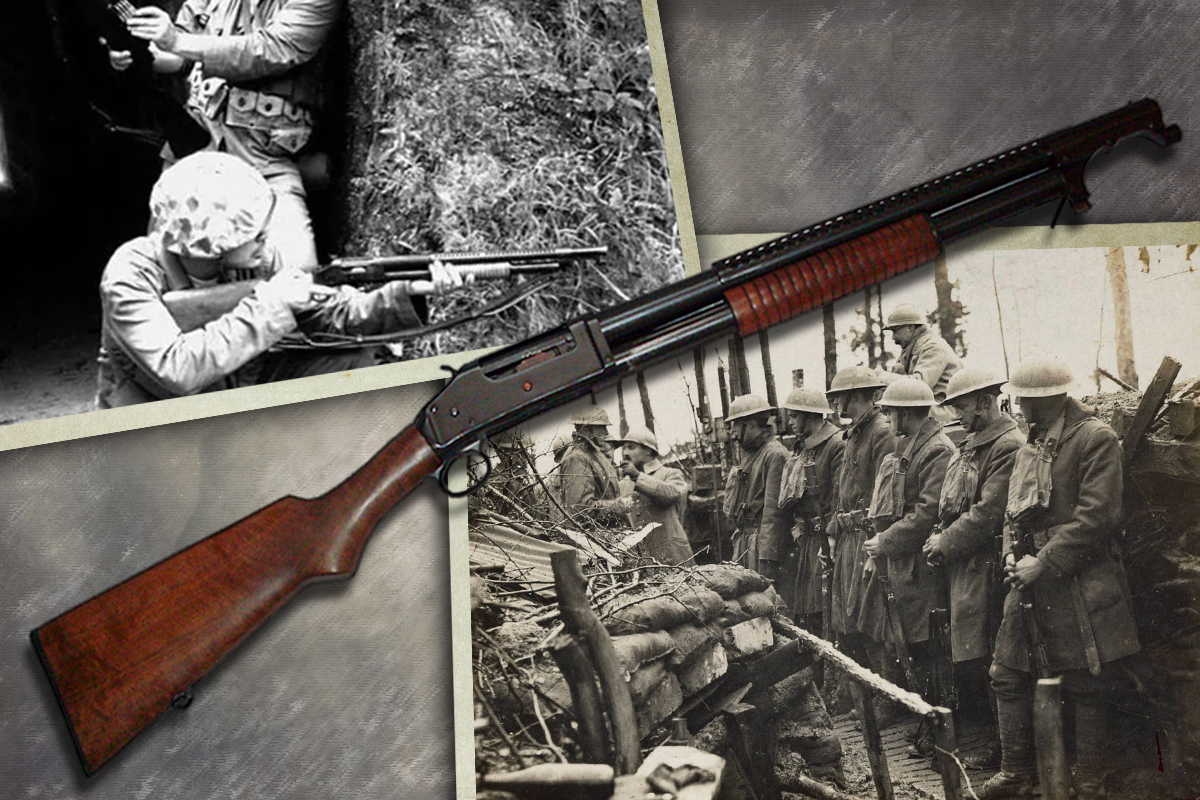 Some will also include features borrowed from competition shooters like a flared magwell and oversized controls to make reloads faster. Though red dots are the go-to sighting system for most people these days, plenty like good ol' ghost ring sights on a tactical gun, which offers a more precise sight picture than a simple bead.
---
The Purpose of Tactical Shotguns
There is no more versatile firearm than a shotgun. Sure, rifles and handguns are capable of things a shotgun is not, but if you're looking for a weapon that can serve almost any purpose a firearm is suited for, the shotgun is an ideal choice. Militaries and police forces carry shotguns for this very reason.
A shotgun loaded with buckshot can stop multiple threats at close range. Slugs can extend a shotgun's lethality and be used to breach doors and otherwise impenetrable barriers, and shotshells are large enough to house less-lethal ammunition options, like beanbag rounds and rubber slugs.
Civilians also often choose tactical shotguns for personal and home defense for various reasons – firstly being they have so many ammo options, and because they are traditionally excellent close-quarters firearms if they are maneuverable enough — though this capability is often overblown. You will often encounter people who say you hardly have to aim a shotgun — which isn't true at any distance, regardless of ammo.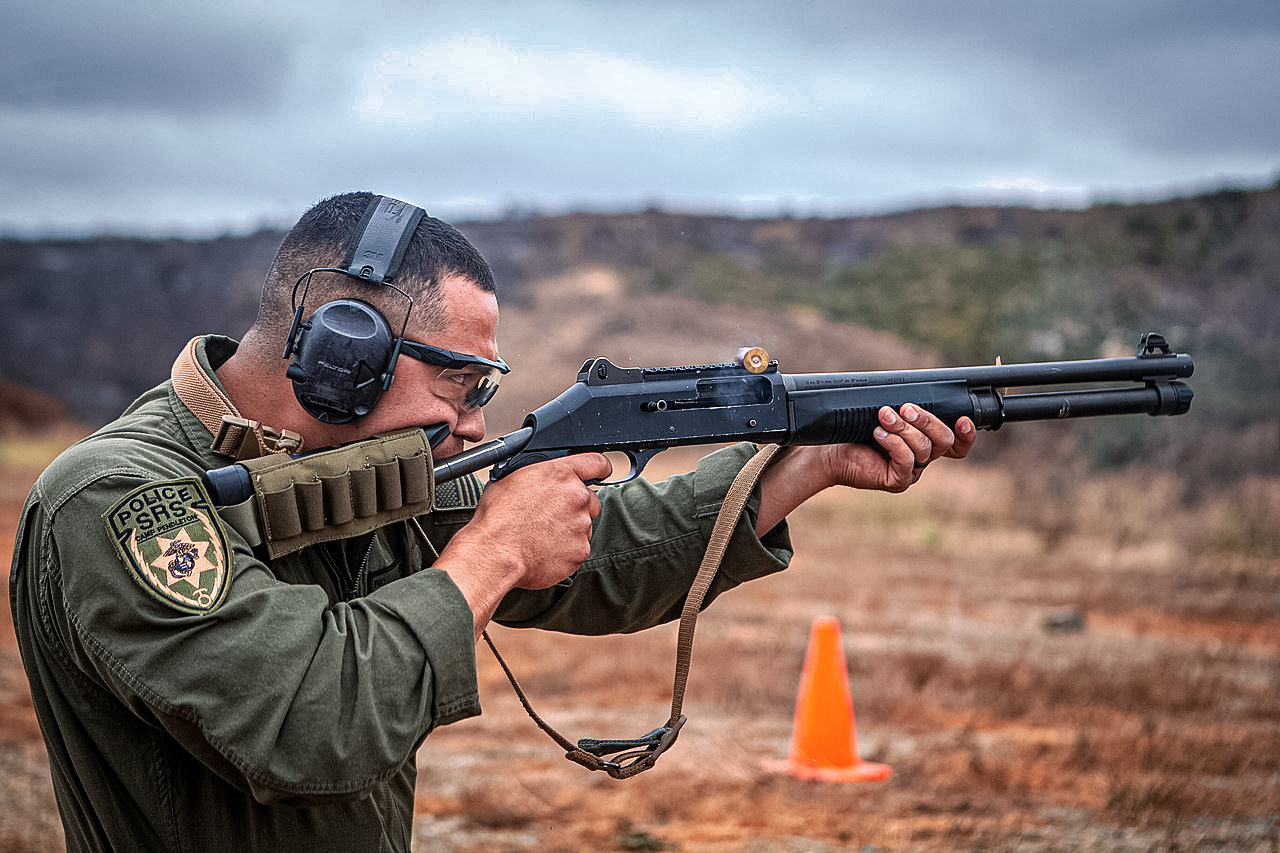 ---
The Sporting Shotgun vs. The Tactical Shotgun
Tactical shotguns and traditional sporting smoothbores are not terribly different from one another. In fact, most tactical shotguns were derived from a firearm built for hunting. The difference comes in their application.
A traditional Remington 870 is made for killing game and busting clay birds at the skeet range. The 870 MCS, for example, is a military firearm modified precisely for combat. Both variants can perform the same tasks, but each design is fine-tuned for a specific job.
The 870 is a good example of this transition. It was initially designed as a walnut-and-steel pump-action for wingshooters (the 870 Wingmaster), small game hunters, and clay sports enthusiasts. It was a sporting 12-gauge with a 26- or 28-inch barrel, a vented rib, and a single-bead front sight.
The stock (14-inch length of pull) on the OG 870 could be minimally adjusted with aftermarket spacers, and it had a paltry 4+1 magazine capacity. There have been countless sporting variants produced, including the discontinued Express and new Fieldmaster, in every gauge but 10.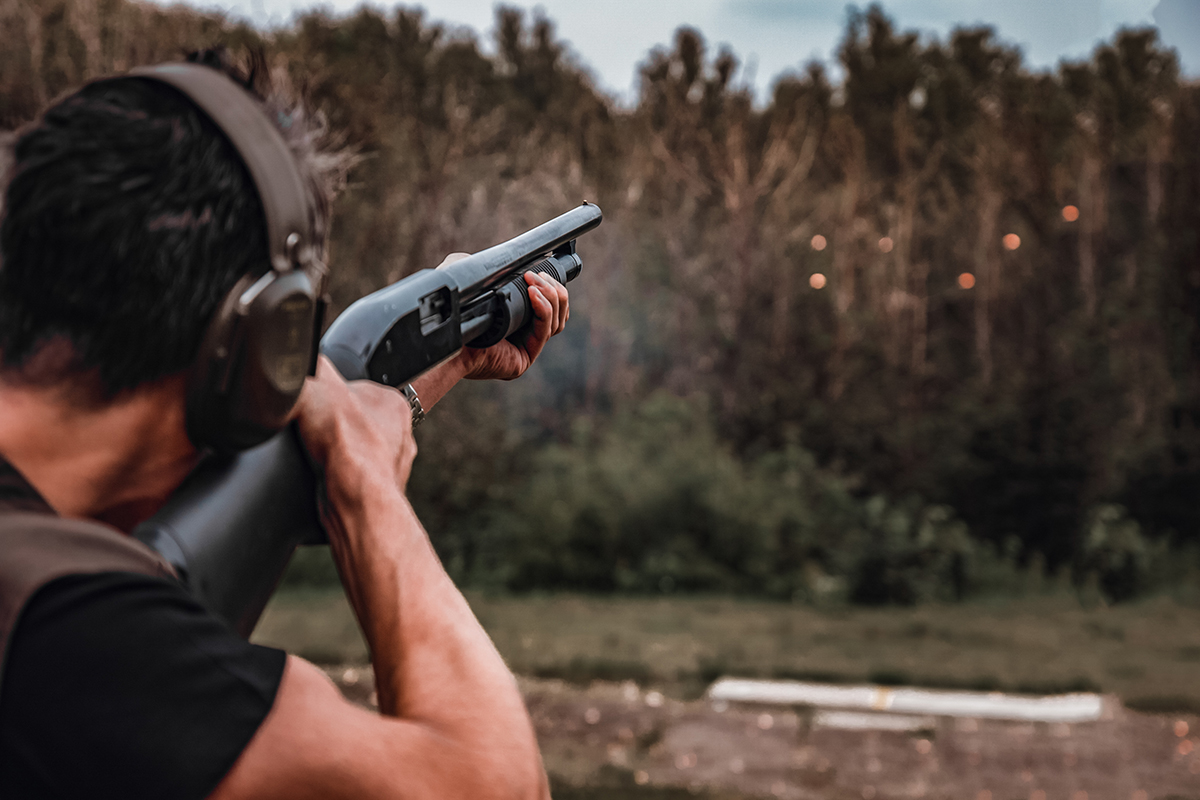 Likewise, Remington has released multiple tactical 870s that are quite different from the original Wingmaster. Most of these models have heavier barrels paired with a synthetic stock and forend. The barrels on these tactical variants are often short — typically 18 1/2 inches — to make the gun easier to maneuver in tight spaces.
Magazine capacity is increased by giving the gun a full-length mag tube. For example, the 870 Tactical 6-Position Stock can hold seven rounds. It also has a pistol grip stock for better control. The stock can be lengthened or shortened to better fit the shooter.
Many tactical shotgun models, like the Mossberg 590A1, are outfitted with Picatinny rails for mounting aftermarket reflex sights and lights. An optic increases accuracy, and a gun-light is always a good accessory for a defensive firearm to aid in accurate target identification in low-light situations.
All shotguns are built with quick target acquisition in mind, but tactical models take that concept a step further with their adjustability and size, as well as red-dot options.
---
Pump v. Semi-Auto Tactical Shotgun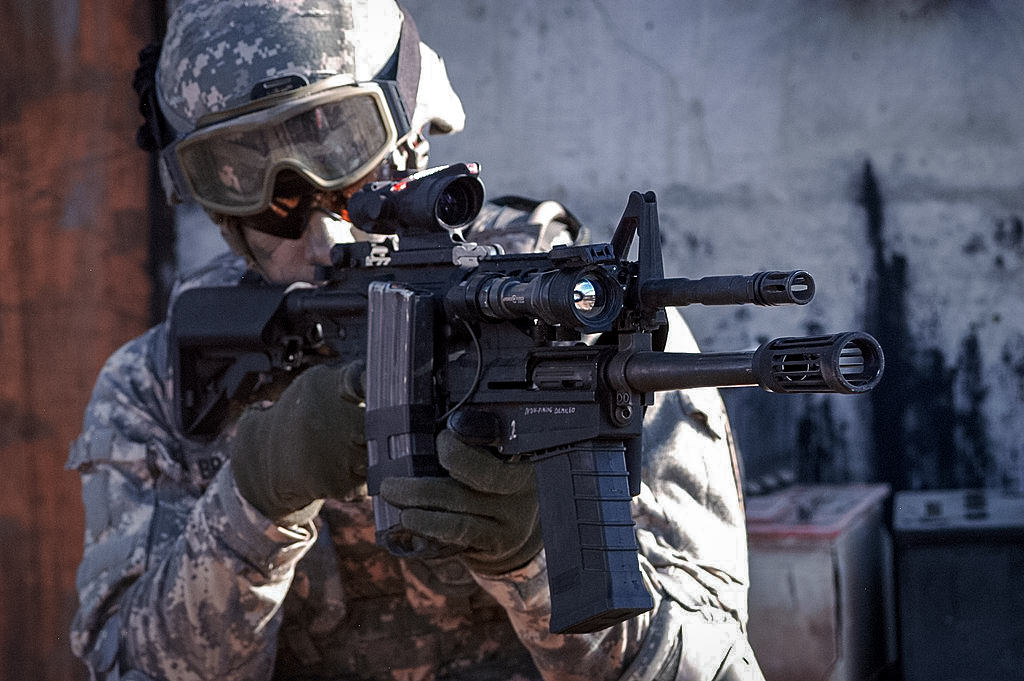 There is give and take with any firearm platform. A tactical pump shotgun is a reliable choice because the gun's functionality almost solely relies on the shooter's ability to slide the forearm backward and forward so a spent hull can be ejected and a new one collected. But your shotgun will only be as fast as you can work the action under pressure and full of adrenaline.
In most cases, a semi-auto shotgun will cycle faster than a pump, giving you the advantage of sending more lethal payloads downrange in a smaller window of time. However, since the action is driven by a gas or inertia operating system, you may not always get the same reliability a pump offers.
This is especially true with inertia guns because they rely on recoil to function properly. So, if the stock isn't firmly placed against the shooter's shoulder, the gun may not collect a second shell and place it into battery because the gun has nothing to recoil against. That's not good when you're in a combat or personal defense scenario.
READ NEXT – Dead Drift: Fly Fishing Apparel You Want To Wear off the Water
---
Tactical Shotgun Ammunition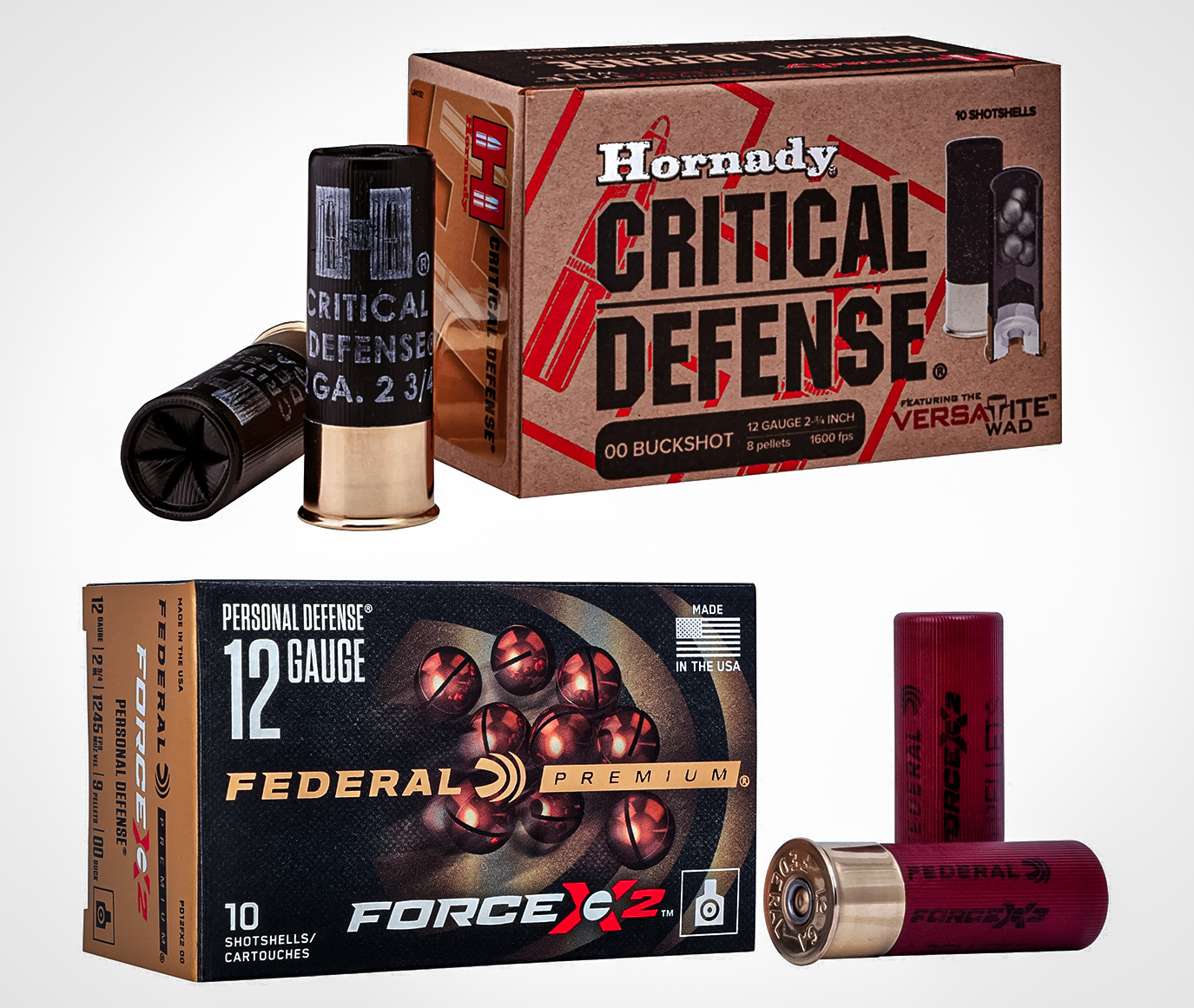 Birdshot, buckshot, and slugs can all be used as defensive shotshell loads. Birdshot is much smaller than double-ought buckshot. You get a dense, pellet-rich pattern from lead birdshot (No. 9 to BBB), but they are far less lethal than buckshot because they have less mass per pellet than buckshot, which means less force and less penetration. For instance, a 00 buckshot pellet weighs 53.8 grains versus 10.2 grains for lead BBBs.
Tungsten Super Shot is 60% denser than lead, so stepping up to a TSS load can deliver a heavier wallop. However, TSS is much more expensive. Slugs will increase the range of your shooting distance, but most defensive situations occur in close quarters, so it doesn't make as much sense to send just one projectile downrange versus multiples — and slugs tend to over-penetrate like crazy through multiple layers of drywall.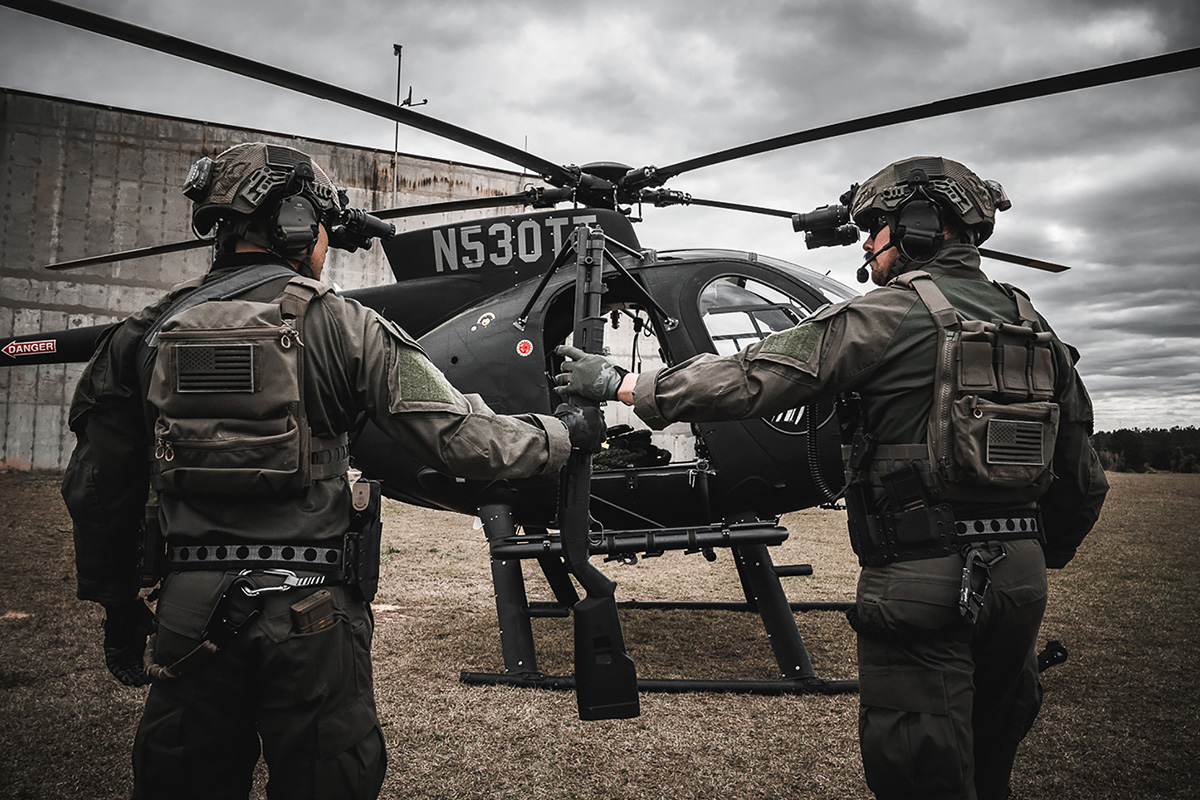 There are also specialized defensive shotgun loads, like Hornady's Critical Defense shells, Winchester's PDX1 Defender line, and G2 Research's R.I.P. rounds. The Hornady and Winchester shotshells pair a slug with plated buckshot, making your firearm more capable at a wide range of distances.
G2's R.I.P. is a brass slug that fragments upon impact to create multiple wound channels. Most of these offerings are available for 12- and 20-gauge shotguns (the most common bores for tactical shotguns), but some are available in other sub-gauge offerings, mostly .410.
When selecting defensive ammo, always consider over-penetration. You want a shotshell that can subdue the threat but not one that can easily penetrate drywall. The last thing you want is a payload to create unintended injuries, which can happen if a projectile travels through a wall your loved ones are behind.
GOOD GEAR – Embody the Ethos of the Quiet Professional With BRCC's Silencer Smooth Roast
---
Best Civilian Models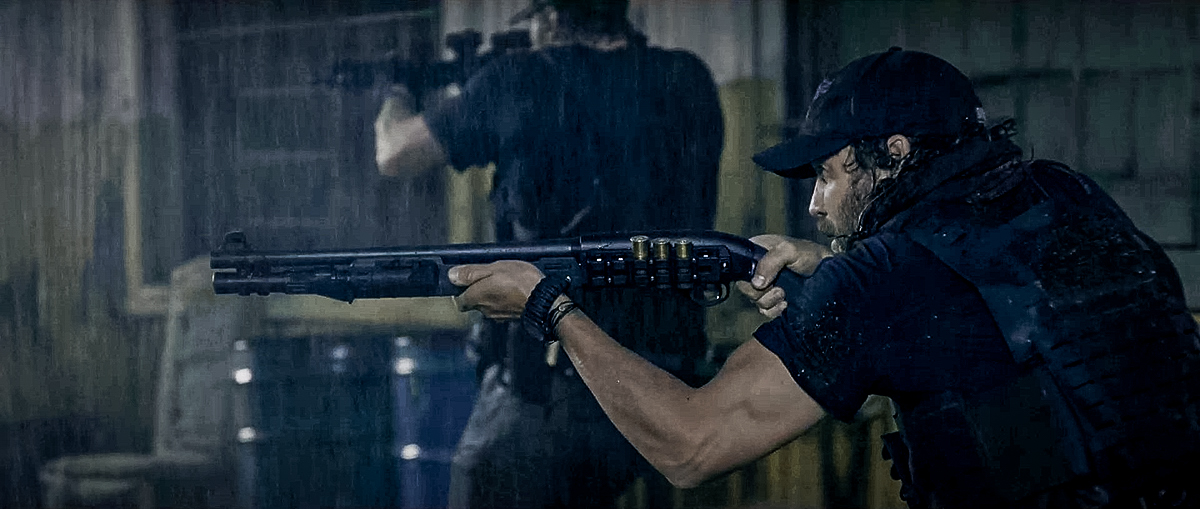 Mossberg's 500 pump-action shotgun is arguably one of the best platforms for home defense, especially if you don't want to spend big on a tactical shotgun. The 500 lineup has multiple variants, many of which have push-button stock adjustability for a better fit and rail mounting options that allow you to add lights and optics.
Militaries and police departments have long relied on the 500 and the beefier Model 590 platform, which is essentially a rebuilt 500 with tactical applications in mind. Both have proven to be effective and reliable firearms for decades, likely because the design was based on one of the best pump shotguns ever made, the Remington 31. A variety of both the 500 and 590 are available to the general public, and most are legal in all 50 states.
If you're looking for a semi-automatic, Benelli's M4 Tactical, the go-to tactical shotgun for the U.S. Marine Corps, is a perfect choice. Unlike the Italian gunmaker's sporting shotguns, which run on an inertia-driven system, the M4 is a gas gun for the reasons mentioned above. It runs on the piston-driven Auto-Regulating Gas-Operated (A.R.G.O.) system, which uses two small metal rods to work the action after shotshell ignition.
The rods sit right in front of the bolt. There are no linkages — most shotguns use a piece of metal affixed to the bolt and a sleeve that slides over the magazine tube or a plastic sleeve — needed to run the bolt, making the M4 much more efficient.
The Benelli M4 Tactical holds six rounds and is equipped with a Picatinny rail and ghost-ring sights. Of course, you pay for all these amenities — the gun costs more than $2,000.
---
Which Tactical Shotguns Do the Military Use?
The list of historical military tactical shotguns is long. The first combat shotguns were reliable pumps with a heat shield welded over the barrel (guns run extremely hot in a firefight) and a bayonet lug affixed under the muzzle. Those firearms were built for the trenches, but modern tactical shotguns are used for sweeping homes or buildings and as a breaching tool.
Most military shotguns are adaptations of sporting firearms. The Remington 870 Modular Combat Shotgun (MCS), Mossberg 590A1, and Benelli M4 (the M1014 with a collapsible stock and eight-round capacity is the military version used by USMC) are all still in use today.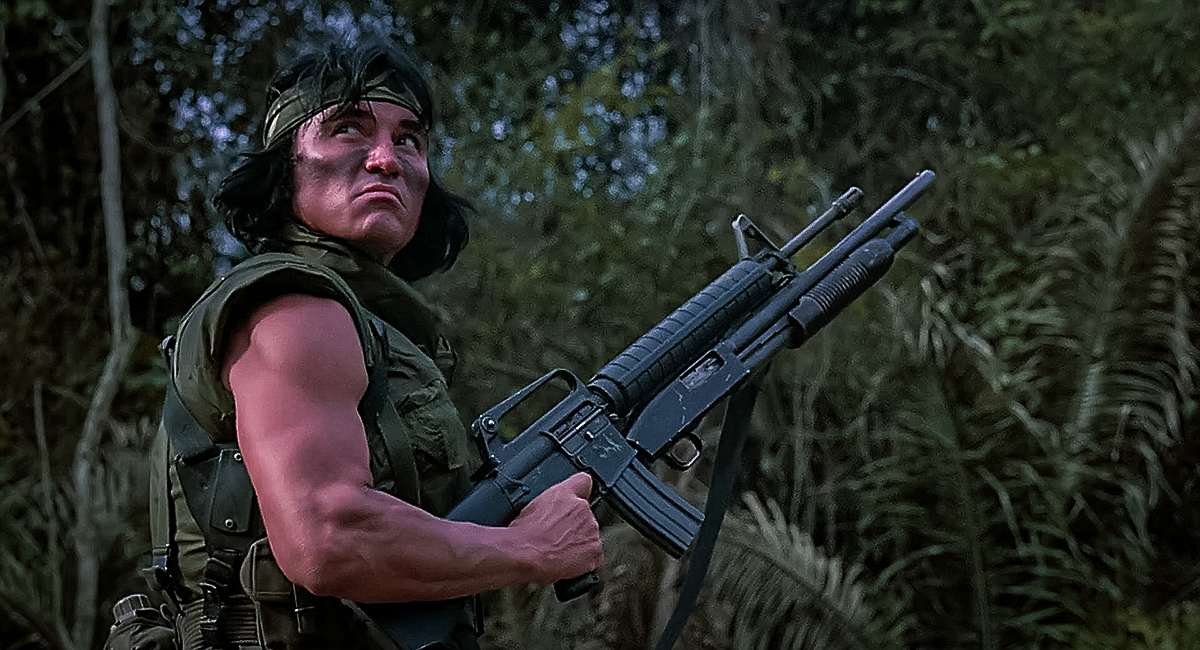 There is also the M26-MASS, which is a shotgun that mounts to an M4 carbine. The M26 has a three- to five-round detachable box magazine and is mostly used with specialized slugs for breaching. It can also fire less lethal loads when militaries are dispatched to quell riots or any kind of civilian uprisings that need to be subdued.
---
READ NEXT – Potential World-Record Lake Trout Caught in Colorado – First Look!