Scott Enloe caught what is likely the new all-tackle world-record lake trout in Colorado on May 5 — it's almost certainly a state-record fish. The absurdly huge laker weighed in at 73.29 pounds and measured a stunning 47 inches long with a 37-inch girth. Scott was fishing with his son, Hunter.
The current International Game Fish Association (IGFA) all-tackle record lake trout is a 72-pound fish caught by Lloyd Bull on Aug. 19, 1995, in Great Bear Lake in Canada's Northwest Territories. That fish is also a 30-pound line-class record.
Until yesterday, the largest Colorado lake trout on record was a 50.35-pound fish caught by Donald Walker in 2007 — a record that should be easily smashed by the Enloe fish.
Free Range American got the exclusive story on this once-in-a-lifetime catch from Scott Enloe himself, just after his great day on the lake (the specific location is not being reported at the Enloes' request).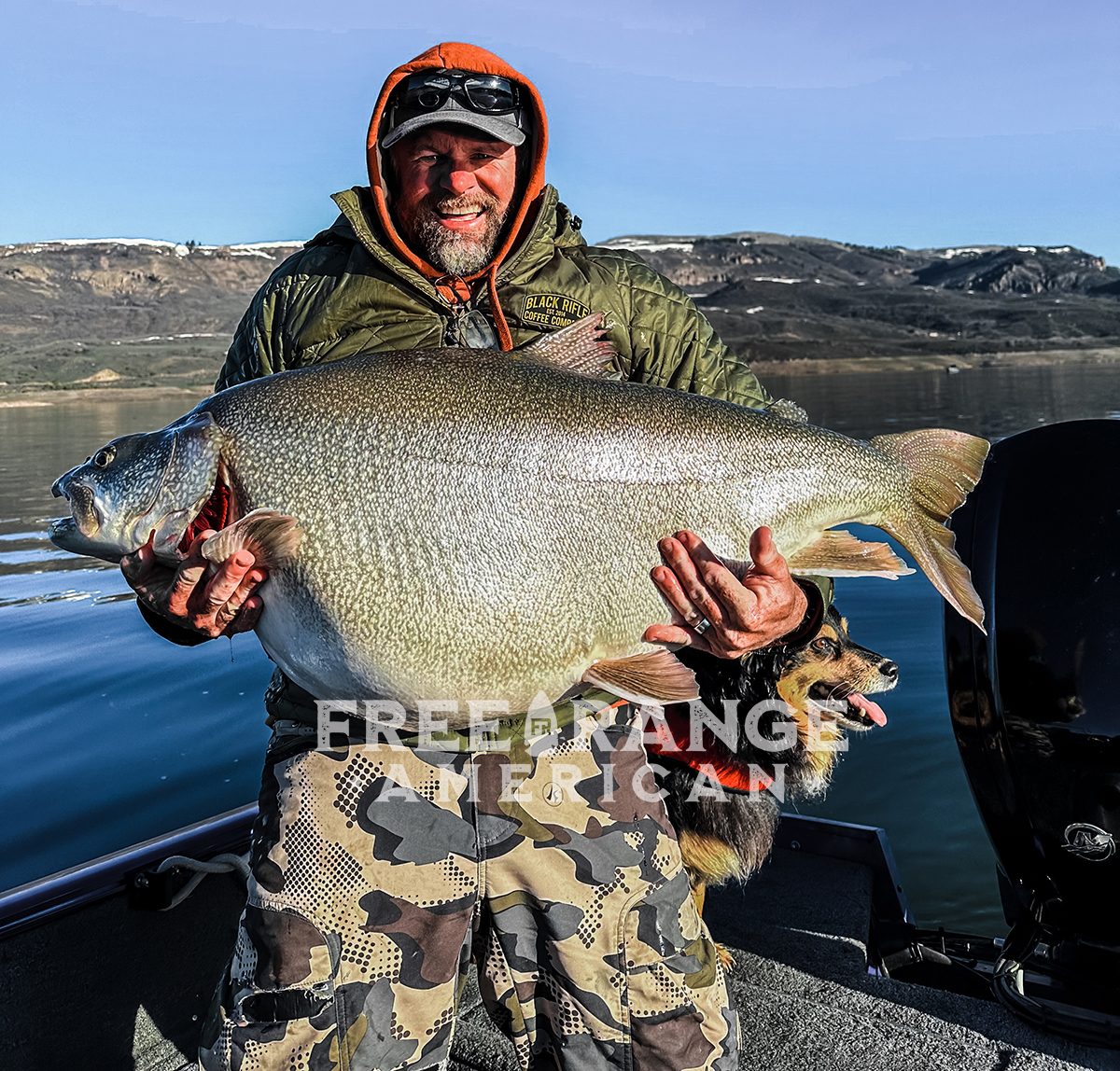 BASS BOAT GIVEAWAY: BRCC Is Giving Away a Tricked Out Bass Cat Cougar FTD Bass Boat! ENTER NOW!
---
The Tackle
Scott and Hunter were accomplished anglers even before this record-breaking catch. They both competed for Fly Fishing Team USA (Hunter has three world titles to show for it) and Scott caught a 23.75-pound brown trout in 2021 — a Colorado record at the time. Hell, Hunter caught a 31-pound lake trout half an hour before his dad's record-breaker.
Ironically, the two weren't expecting anything out of the otherwise ordinary the morning that became a day on the water they'd never forget. They weren't fly fishing, either.
Scott was using an Abu Garcia baitcasting reel and a heavy Okuma rod to get a solid hook set, but that combination was paired with 10-pound test Seaguar fluorocarbon line. At the business end was a 6-inch Basstrix tube jig. The hook that caught the monster trout was made right in Colorado by GSO Fishing.
---
Fighting a World-Record Lake Trout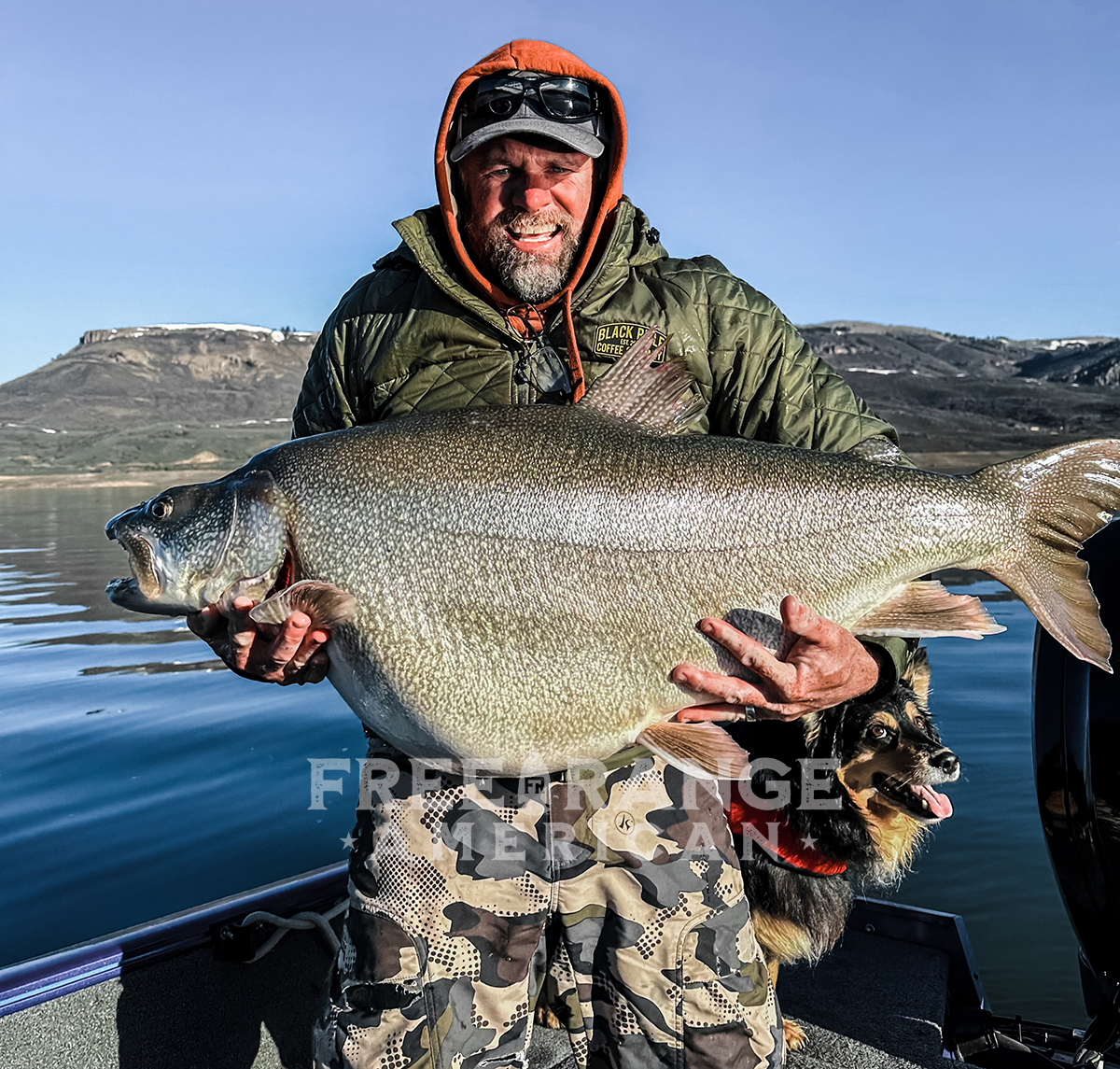 Between the light line and the savvy old lake monster, it was a catch that required a lot of skill. Lake trout (especially the larger ones) are notorious for rushing to the surface and diving back down as soon as you set the hook. If you're not careful, it's a great way to lose a fish.
After Scott hooked his fish, Hunter moved to raise the trolling motor out of the way. In the few seconds that took, the fish came to the surface and made a sharp dive out of sight. Scott instantly felt he had at least a 50-pound fish on his line, right in the ballpark of the state record.
For 13 minutes, he and his trout played the chess match of a lifetime. By the time it was over, it took both men to pull the fish onboard — their net wasn't cutting it.
"I've got the largest net that Frabill makes, and it wasn't big enough," Scott said.
The boat's livewell wasn't big enough either, so they had to get creative.
"On this one, it wouldn't fit in the livewell because it was too big," Scott said. "But I had the livewell full, so we stuck its head in, with the tail and whole body sticking out."
RELATED – Insane Smoky Mountain Largemouth Bass Action
---
Weighing and Measuring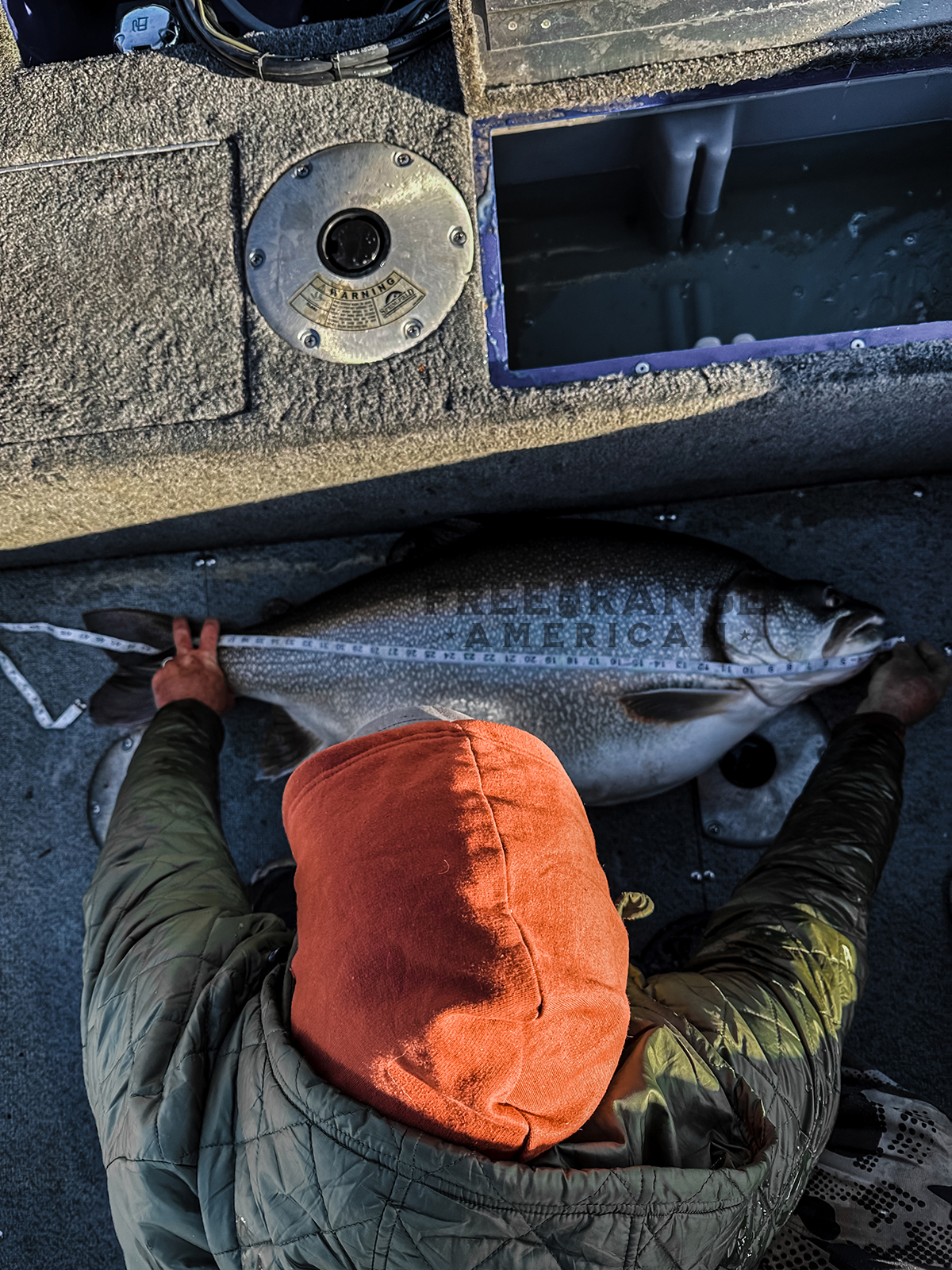 Wrapping your arms around a fish to dunk its head underwater is definitely an unorthodox approach, but it worked for the few seconds it took the anglers to prepare their tape measure, scales, and camera. Weighing a fish that big isn't easy.
"I can just look at it and say, 'That's a 35-pounder' and it'll be 35.2," Scott said. "But when they're this big, I had no clue what that fish weighed. I was just like, 'I know it's a record. It's just too big!'"
A formula based on the length and girth of a trout suggested that the fish should weigh around 80 pounds. Hunter's scale topped out at 50 pounds and just read "Full." Scott's scale read 73.29 pounds. That same scale was certified when he weighed his record-breaking brown trout to within an ounce of the official measurement.
After about two minutes, the fish was swimming free again.
"We didn't even fish anymore because, you know, how you gonna top that? We just sat around the boat and laughed," Scott said.
RELATED – Crushing Big Bass With Oliver Ngy, Brandon Palaniuk, and Roland Martin
---
Word Spreads Fast
Good news travels even faster than the Enloe's Bass Tracker Pro Guide V-175 could make it back to the landing. Everyone from local law enforcement to strangers across the country wanted to congratulate him.
"I've had people call me from Texas, Indiana, Michigan — I don't even know these people," Scott said. "I just caught it this morning. It's just like 'Dude, we saw that fish,' and I'm like 'Who are you?'"
So far, the feedback has all been positive. If anything, Scott has earned praise for releasing such an incredible — and old — fish. As a rule of thumb, lake trout over 30 pounds are basically a year old for every pound. By that math, the fish Scott Enloe caught could potentially be older than the lake it lives in — a little more than 42 years old.
"I never even considered killing the fish," he said. "Didn't even cross my mind."
Even though he doesn't blame anglers who do keep their fish, he's happy to let his go.
"That's the luxury of fishing [compared to hunting]; at least I can release it. I do have a choice in that matter. And I choose to release them every time."
He may not have kept the actual fish, but you'd better believe that Scott is going to get a Living Waters replica of his record-breaking catch and hang photographic proof on the wall right next to it. There's no form for such a trout so this replica will have to be a custom job. He's probably never been happier to pay an upcharge.
RELATED – Cutts, Cutties, and Cutthroats: America's Frontier Trout
---
A Good Team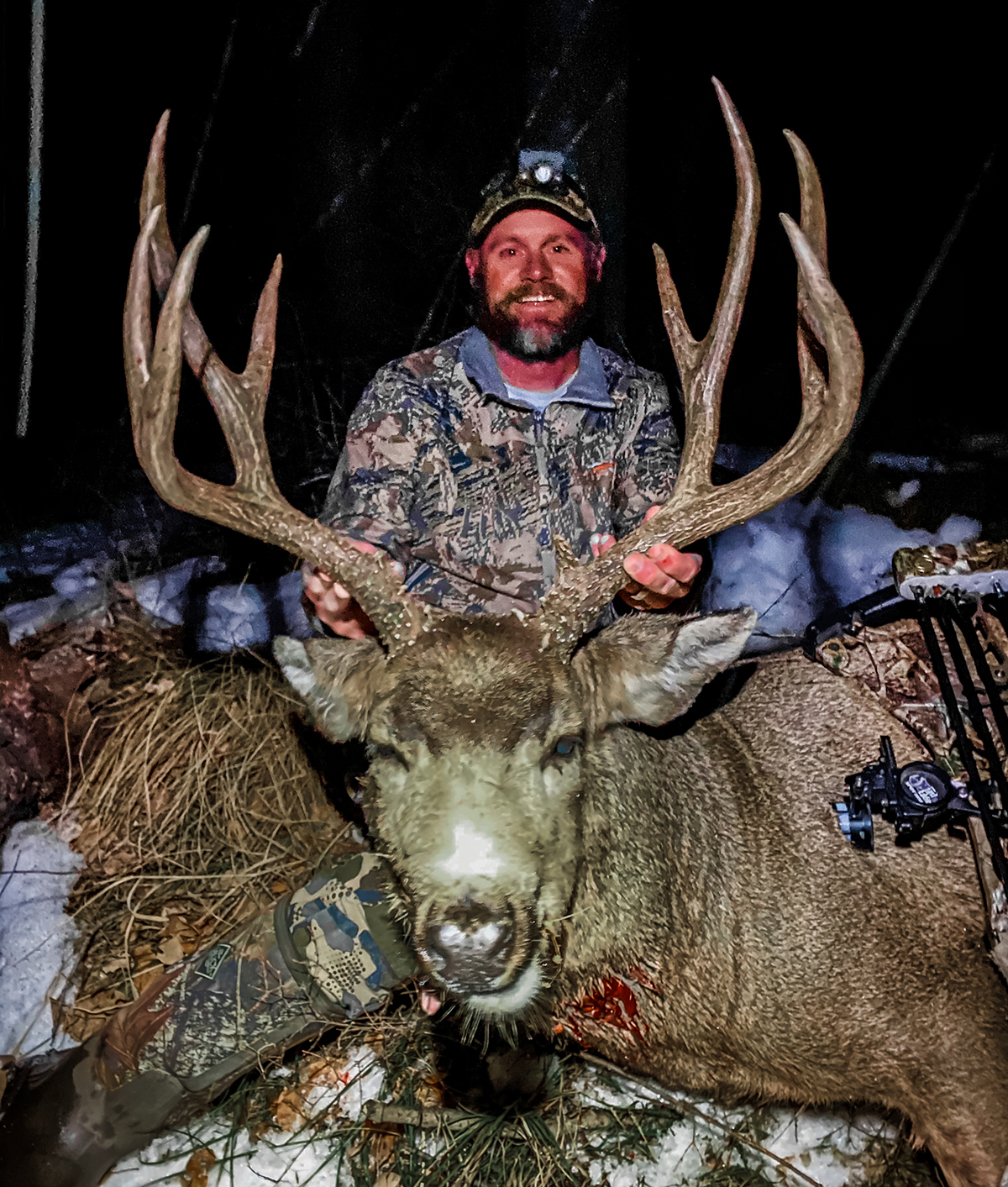 This father-son duo gets into the outdoors to do epic shit year-round.
"We've done a lot together," Scott said. "We've killed a lot of elk together, we bowhunt — that's all we do — so we've killed a lot of elk together and killed a lot of mule deer together."
In fact, Scott said that he only fishes to fill the gaps between hunting seasons. Let that settle on your ego for a second.
And with the duo both drawing mountain goat tags this year, they already have more adventures on the horizon.
Despite being prolific bowhunters, Scott says nothing he's done in the field with Hunter has compared to that catch on May 5, but it isn't his favorite memory of being in the outdoors with his son.
"As far as hunting with my son, I was sitting in a tree stand, filming him when he was eight years old killing his first deer with a bow. I'd say that ranks right up there with this," he said.
---
Good Luck Topping This Likely World-Record Lake Trout
"The world record for rod-and-reel was 72 pounds, and that was a snagged fish," Scott said. "I don't know the circumstances, but if you read about it, it actually says it was a snagged fish. And this one wasn't, it was caught 100% legal right in the upper lip."
If the Enloes' story has you frantically loading your tackle box and eyeballing your favorite fishing hole on a map, besting their catch is going to be one hell of a task.
"I don't know that it'll be beat," the new record-holder said. "It could be beat tomorrow, but I don't know. This one's gonna be a hard one to top for anybody."
Now, the Enloes just have to wait for their IGFA certification, hopefully, and get ready for bow season.
---
READ NEXT – 7 Ugly Fish and Why We Love Them