The Revenant (TR) was a hugely popular movie released in 2015, and it earned a slew of awards, including three Oscars. It's a gorgeous, naturally lit film, and it's certainly an exciting ride, even if it isn't exactly true to the utterly remarkable real-life survival story of Hugh Glass. (You can read all about the differences between the Hollywood and historical versions of the story here.) But many don't realize that TR wasn't the first movie to adapt Glass' story.
Man in the Wilderness (MIW), starring the incomparable Richard Harris, was the first to give it a go back in 1971, and while it's not Oscar-caliber stuff, the movie is a hell of a lot better than you might expect.
Hugh Glass was a legendary mountain man who survived a ton of wild adventures, the most infamous being the time he was mauled by a bear and left for dead by his fellow trappers during an 1820s fur-trapping expedition.
Completely on his own, with no supplies, Glass set his own broken leg, wrapped himself in the hide of the bear that mauled him, and began crawling the 200 miles to Fort Kiowa. When he got to the Cheyenne River, he fashioned a simple raft and floated downstream to the fort, healed up, and set about hunting down the two men who left him to die.
Both TR and MIW follow this basic structure, though the films couldn't be more different.
A Land Boat and Mules
MIW is firmly historical fiction and doesn't try to be a biopic. The real-life General Ashley 1823 Trapping Expedition becomes the 1820 Captain Henry Expedition, as explained in the movie's text intro, and Hugh Glass becomes Zachary Bass. Harris gives a performance on par with DiCaprio's — and he grows a way better beard — even if MIW doesn't look half as good.
It begins with a wildly different tone. The fur trappers have been at it for two years and are transporting their only remaining fur-laden riverboat overland on a flatbed wagon pulled by a team of mules. Their destination is the Missouri River and the way home. I have no idea why they didn't leave the boat at the river and take actual wagons back and forth to wherever they were doing their trapping, but I feel like I'm owed an explanation because it's weird.
Most of the movie was filmed in Covaleda, Soria, in the Castilla y Leon region of Spain, and in a couple of other places in and near Coconino National Forest in Arizona, which resulted in an arid, dusty spaghetti Western atmosphere for the first half of the movie. However, there are some snowy, mountainous scenes toward the end. Overall, it's a well-paced movie that holds your attention despite having very little dialogue.
The Bear Attack
The infamous bear attack comes even sooner in this movie than it did in TR. After an opening montage, Bass and a young hunting partner — a character standing in for the yet-to-be-famous mountain man Jim Bridger — fire their rifles at a pair of scrawny deer. The kid misses and hits his deer low. Bass reloads his flintlock (skipping one or two steps in the process) and gets ready to follow the blood trail.
Bass tells the kid to take the deer he shot back to camp and sets out to trail the wounded animal alone, which is when the bear strikes.
Considering when this movie was made and its meager budget, I wasn't expecting much from the bear attack scene, but I was happily surprised. Some footage of a real bear is spliced with shots of a dude in a bear suit clawing at Bass, but I don't mean that as a detraction. The footage matches really well, and good editing and some frenetic camera work make it all feel scary and intense, especially for a very brightly lit scene. There's a decent amount of bright red 1970s movie blood, and Bass sustains some pretty gruesome-looking injuries.
The Jim Bridger stand-in shows up, and instead of shooting the bear attacking Bass, he runs off for help. A group of trappers arrive and shoot the bear dead as it's playing around with Bass' unconscious body.
Unlike DiCaprio, Harris doesn't even get a lick in during the fight. When the bear attacks, he fires a quick rifle shot from the hip that misses, and the rest is just mauling. In TR, Glass gets a shot into the bear and ultimately kills it before anyone from his party arrives. The real story is a mix. Hugh Glass reportedly wounded the animal in the attack before his companions shot it to death and skinned it.
Comparing the two bear-attack scenes is kind of silly, considering they were filmed 44 years apart, and MIW didn't have the benefits of CGI or modern visual effects. The scene in MIW definitely fits the rest of the film and was well done for the time.
Left for Dead
With the bear dead, Bass' comrades, who are shocked he's even alive, sew him back together as best they can, and the expedition leader orders two men to stay behind with him until he dies. The young hunter from earlier steps up, feeling guilty about Bass getting mauled going after his gut-shot deer, along with an older man. If Bass doesn't die by morning, the two men are told to kill him. Now, this doesn't seem so terribly cold at the moment, just grimly practical, but when you realize these guys are traveling with an entire boat on wheels, you have to wonder: Couldn't they just put him on the damn boat on the off chance he makes it? It's not like they had to carry or drag him across a mountain on a litter, which were the circumstances in TR.
And later, instead of taking revenge on the guys who didn't let him ride their land boat, Bass helps them defend it when it gets attacked!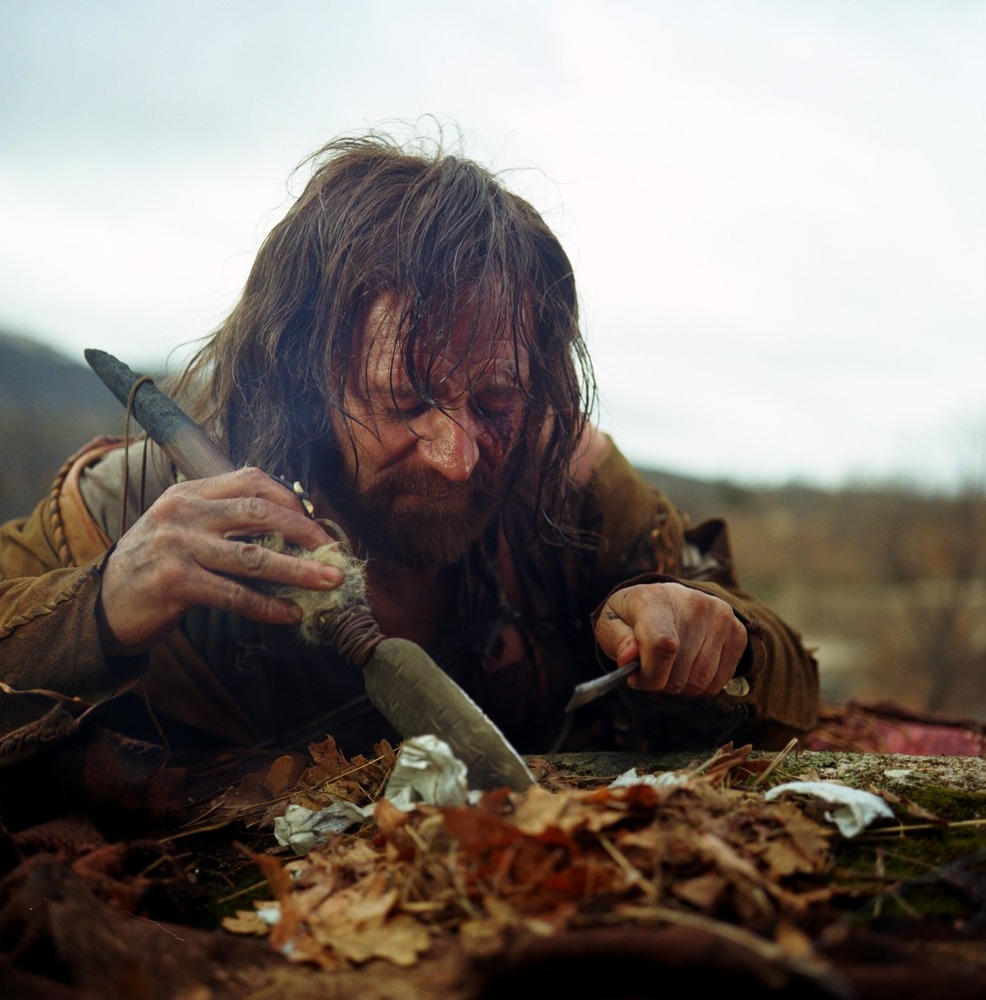 During the night after the mauling, a war party comes perilously close to the mangled Bass, and the two men who stayed with him run off in fear, leaving him alone. This somewhat absolves the two men of any real wrongdoing and largely removes the story's revenge element. In TR, John Fitzgerald (Tom Hardy) lies to Jim Bridger (Will Poulter) about an incoming war party as an excuse to leave Glass behind to die.
Of course, he doesn't die, managing to survive against huge odds and with grievous injuries. That's the same in both movies.
A particularly gruesome scene in MIW that's right up there with Leo chomping on some raw liver shows Bass come upon a group of coyotes eating at a small buffalo that's still kicking a bit. Bass, who is still limited to crawling, uses a stick to chase the yotes away long enough to grab a hunk of bloody meat for himself and chow down. I'm not sure whether that was a real dying animal or not, but it sure looked and moved like one.
Also, while surviving and trying to make his way out of the wilderness, Bass snares a mountain lion, and as it's thrashing around, kills it with a handmade spear. Leo sure didn't do that.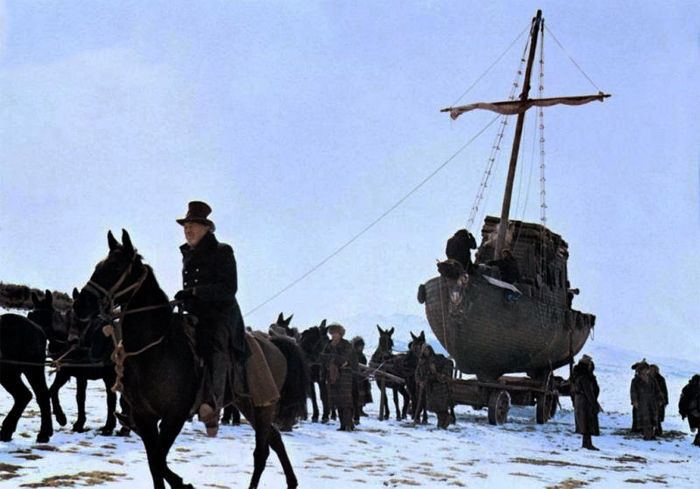 Old Versus New
While MIW doesn't hold a candle to TR in terms of production quality, direction, or cinematography, it's a decent flick, and Harris does a hell of a job holding down an entire film with only a scant few bits of dialog. This was made in the prime of the actor's legendary drinking days, so a role in which he crawls around grimacing most of the time might have fallen right in line with his hangovers.
MIW gives Bass a bit more depth by including feverish dream sequences that tell the story of his life before becoming a mountain man. After snippets from his childhood, we see Bass as a younger man, newly married and expecting a child. Later, it's revealed his wife died in childbirth. After leaving the baby in the care of his dead wife's family, he sets out for a life in the wild.
I think the flashbacks are a nice touch that somehow doesn't feel hokey. The captain also provides some backstory about how Bass was a sailor when the captain first met him. This sort of lines up with Hugh Glass' story about how he was captured by pirates in the Gulf of Mexico in 1816 and was forced to sail with them for two years, which may or may not be true.
I actually like how MIW revealed the main character's backstory more than I did the surrealistic flashbacks in TR and the latter movie's addition of a Native American family the real Hugh Glass most likely never had.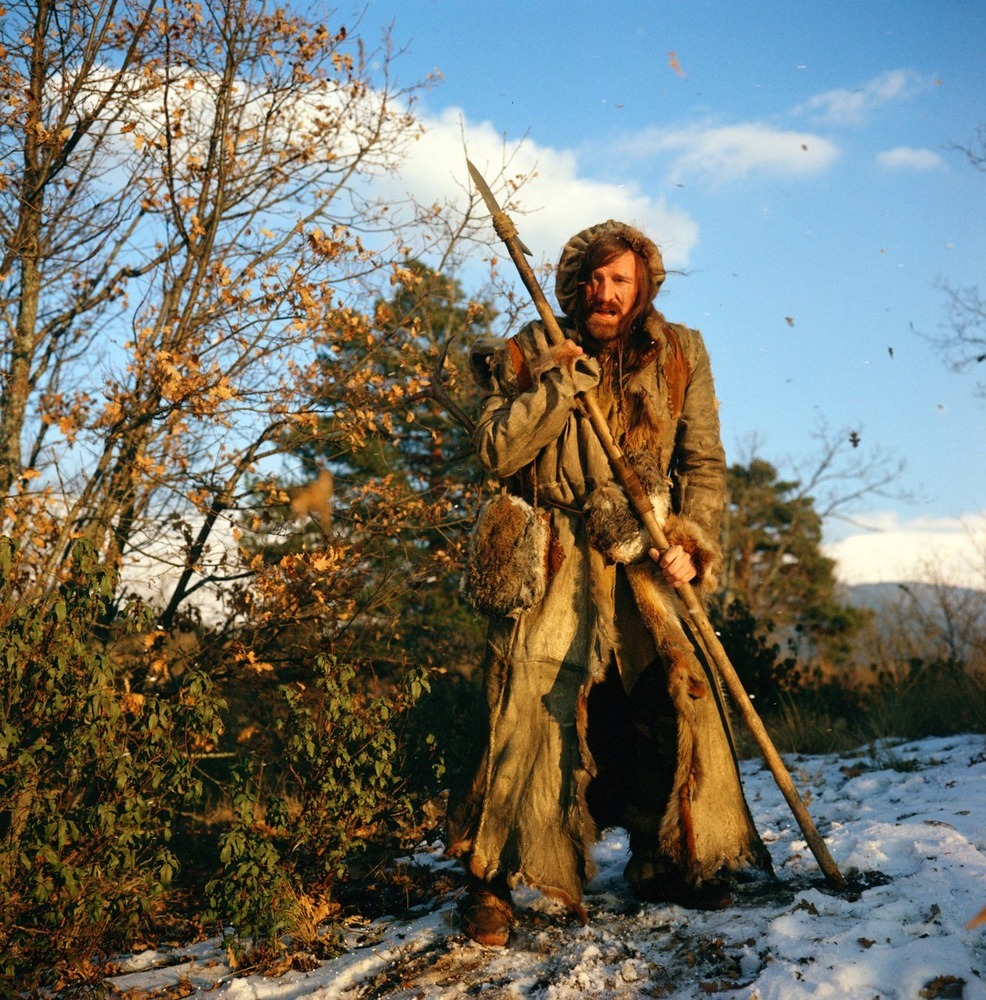 The Final Verdict
The makeup and special effects folks who worked on this movie deserve some belated credit. The bear attack looked pretty damn good for 1971, and so did Bass's bloody wounds and slashed, swollen face, which gets a lot of close-up screen time.
This one is definitely worth a watch if you come across it. Man in the Wilderness is way better than any 50-year-old low-budget flick has a right to be. But the land boat is still kind of weird. How or why that super slow-moving target didn't get attacked until the end of the movie remains a complete mystery.
Read Next: How Dances With Wolves Changed Westerns Forever