The shotgun market is one of the most diverse segments of the firearm industry. An over-under, side-by-side, single-shot, pump gun, semi-automatic (inertia or gas), and even the occasional lever action are all still options in the 2020s. But what about the relatively obscure triple barrel shotgun?
You've undoubtedly seen one or two variations in your time, but even though they've been around for ages, they never saw wide acceptance in any shooting circles. Perhaps they're obscure for a reason.
Triple-barrel shotguns have struggled to find something they're better at than other types of shotguns. Plus, they're difficult to manufacture, and the end product is usually a pretty heavy firearm.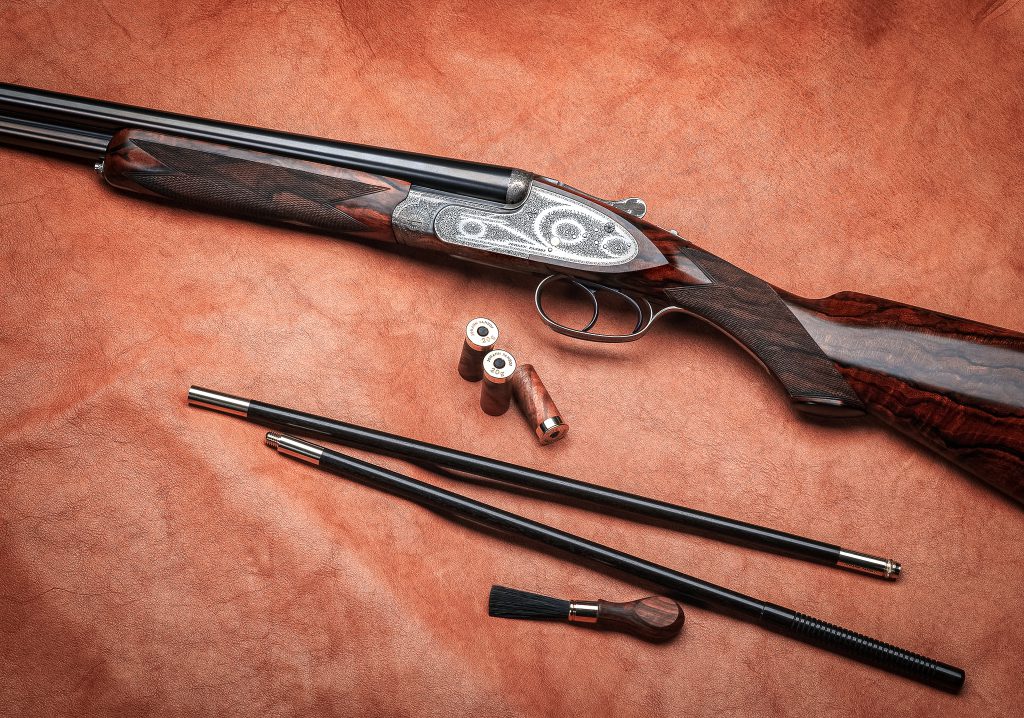 Now, there's a slight but significant difference between a true triple barrel shotgun and an old-school drilling gun, which also has three barrels and is partly a shotgun.
A drilling has at least one barrel in a different chambering than the other two — a typical configuration is two smoothbore shotgun barrels combined with a rifled barrel in a small caliber for small game hunting or in a heavy caliber for large or dangerous game. They were all designed as game getters for hunters who shot quarry of opportunity. For the, it was very advantageous to have two to three different loads that could be quickly chosen and fired when presented with a deer, a pheasant, or a squirrel.
But that doesn't mean people didn't and don't still call a gun with three shotgun barrels a drilling now and then.
Today, when people talk about a triple barrel shotgun, they're usually referring to something like the guns sold under the Charles Daly brand that are essentially a side-by-side with an additional barrel stacked on top or below, creating a triangle of muzzles and offering a break action that can fire three shots without reloading instead of two. But there's way more to the history of the triple barrel shotgun than that.
---
History of the Triple Barrel Shotgun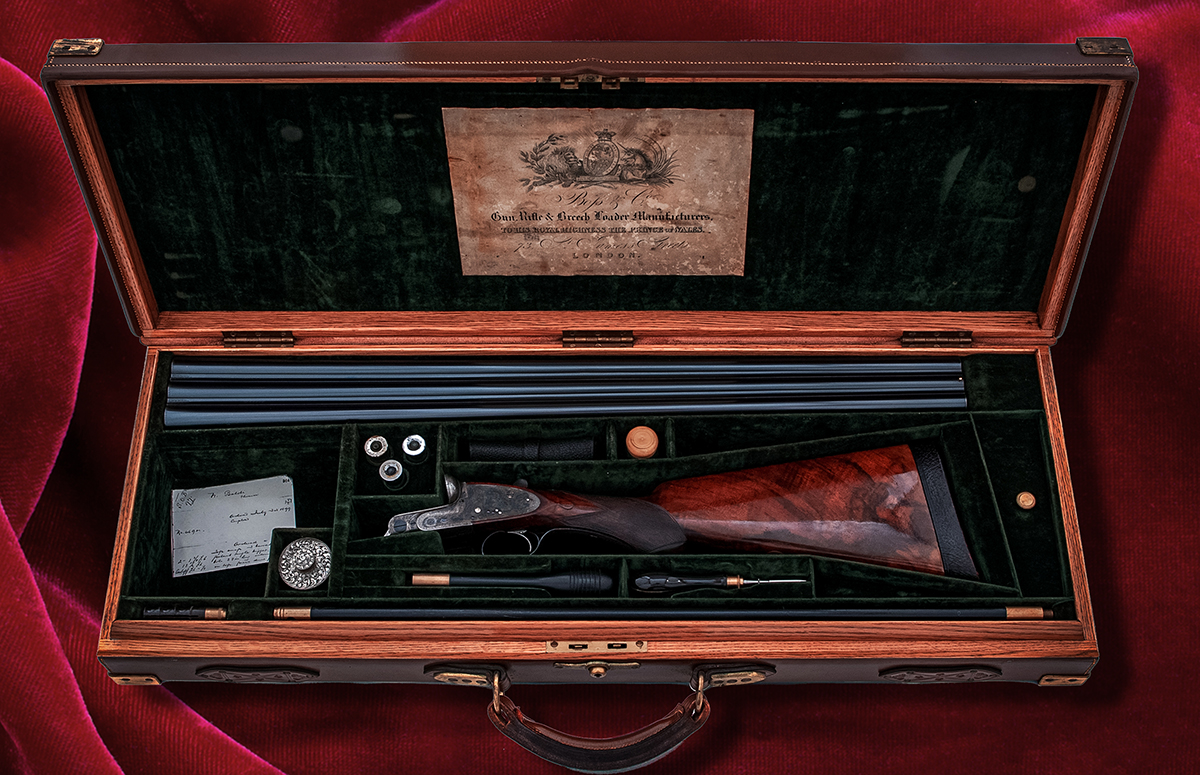 The first triple barrel shotguns date back to the early 1900s when British gunmakers Boss & Co. and John Dickson & Sons introduced a small batch of them. The most famous was the Boss & Co. side-by-side-by-side (above). You read that correctly. Three barrels all line up one after another horizontally. It looked ridiculous. It was ridiculous. But it was also ingenious.
It was a way for the designer, John Robertson, to prove the merits of his single-trigger design. Unfortunately, the shotguns were prohibitively expensive and time-consuming to produce.
German and Austrian gunmakers also developed a version of a triple-barrel gun. While it went by many names — combination gun, forester's gun, or drillings — it had three barrels configured to shoot either a shotshell or rifle round. The original idea was hunters could use it to rapidly engage a variety of game during a hunt instead of a single type of animal.

The drilling concept proved more enduring than the triple barrel shotgun, particularly among safari hunters. One person who believed in the design was none other than Teddy Roosevelt, who owned several three-barreled guns and used at least one to hunt in Africa.
Today, Roosevelt's triple-barrel firearms are on display at the National Museum of American History, the Theodore Roosevelt National Park in North Dakota, and the West Texas A&M University in Canyon, Texas.
The second best-known example of a drilling gun was intended for survival. During World War II, the Luftwaffe M30 drilling turned up at Nazi air bases in Northern Africa as a survival firearm for use by downed pilots. Designers equipped it with two 12-gauge shotgun barrels and one 9.3x74R rifle barrel. Like other survival guns, the idea was that you could hunt with it or use it to fend off attacks from wild animals.
---
Common Features and Triple Barrel Shotguns You Can Buy Today
There are a few things to note about triple barrel shotguns or, more generally, triple barrel guns. Regardless of its barrel configuration or if it has one trigger or two, the one common thread that runs through all three barrel firearms is that they have a break-action. Therefore, all triple barrel shotguns use ejectors and extractors to remove spent shells.
Triple barrel shotguns and drillings are an acquired taste, typically of affluent buyers with a penchant for international trophy hunting. As a result, these guns almost always use exquisite materials and feature excruciatingly detailed engravings.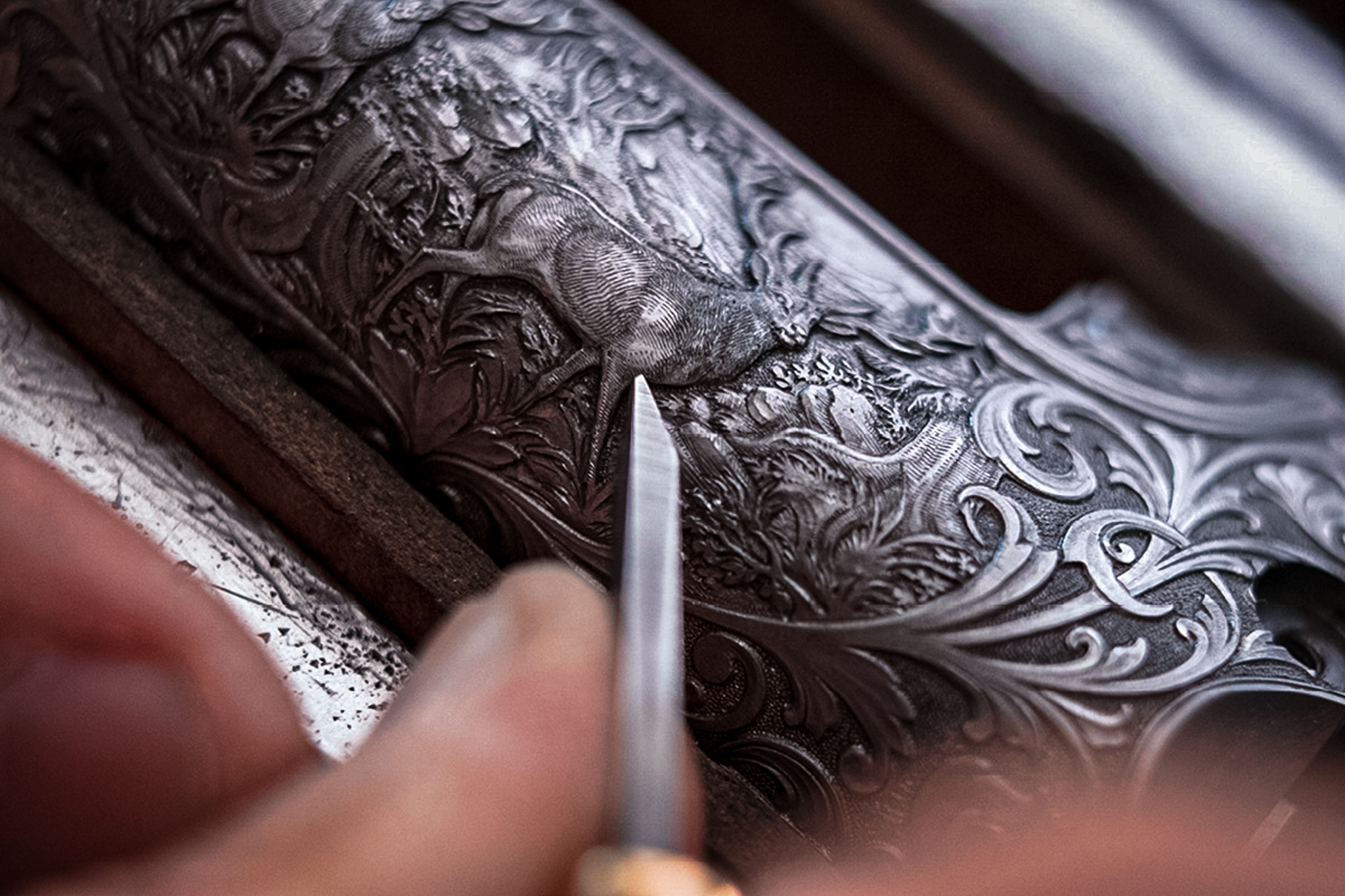 Components are hand-fitted to create actions that are buttery smooth and reliable as a hammer. The cost of entry into this world of firearms is high, but the shotguns hold their value so well that you might consider them more of an investment than a collectors' item.
---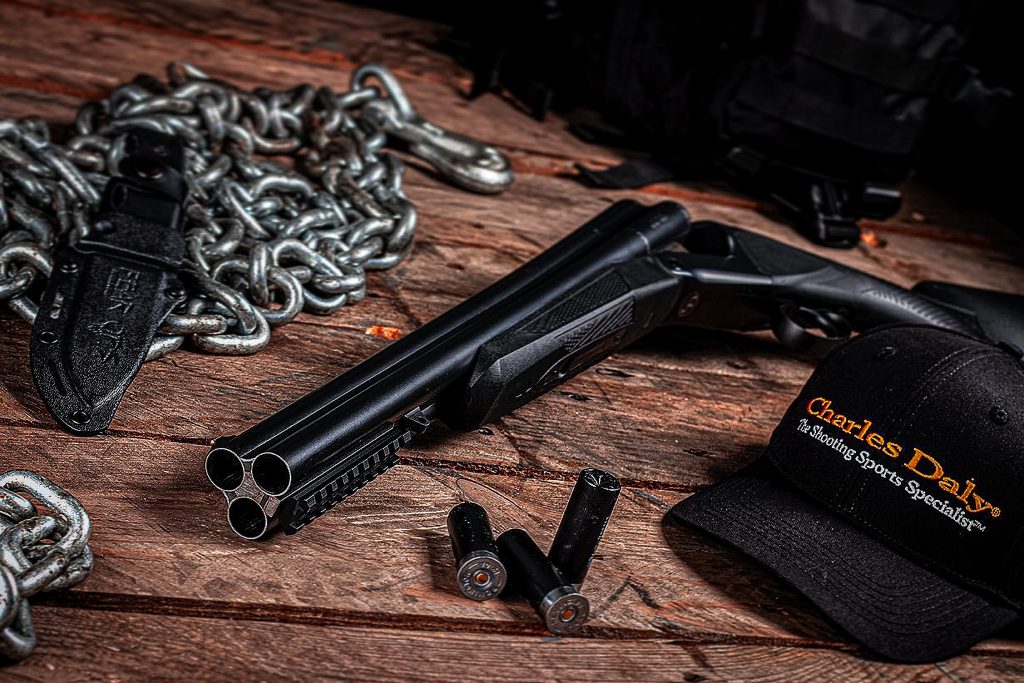 With a recommended retail price of $1,480, the Charles Daly Honcho is decidedly the most affordable three-barrel shotgun option on this list and the most fun. The Honcho is a short, defense-minded version of the company's triple-barrel line, which also includes several long-barrel sporting versions.
The Honcho features three 18.5-inch barrels chambered for 3-inch 12-gauge shells, a synthetic pistol-grip stock, and an under-barrel accessory rail. Charles Daly also offers the Triple Crown and Triple Magnum shotguns for the field and the range. Prices for those start around $2,000.
---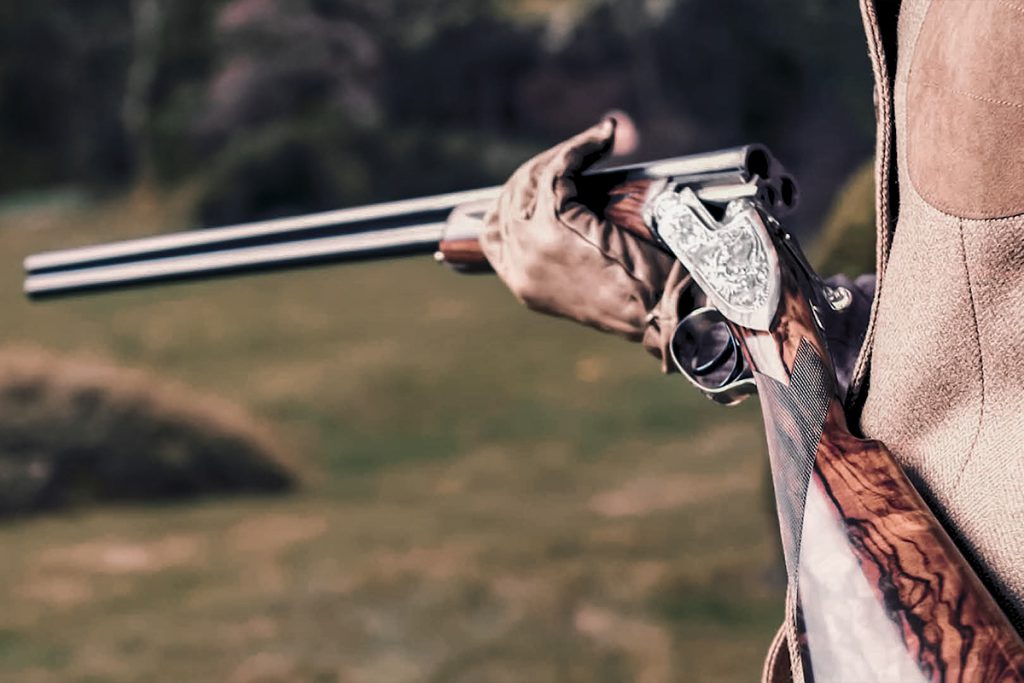 If you're unfamiliar with the Johann Fanzoj brand, you must not shop for hand-built Austrian firearms very often. The company says it takes pride in "producing the finest individual pieces for the most discerning and individual of people — ultra-customized tools for the adventure of a lifetime," and its pricing reflects that sentiment. It's one of those deals where, if you have to ask how much, you probably can't swing it.
Unlike shotguns from Charles Daly (and Chiappa before that), the Johann Fanzoj Triple Shotgun features two top barrels, one bottom barrel, and two triggers. One trigger operates the right barrel and then the left barrel, while the second one works the bottom.
READ NEXT – Mauser M18 Rifle Now Available in 2 Old-School Camo Patterns
---
Ludwig Borovnik Three-Barreled Shotgun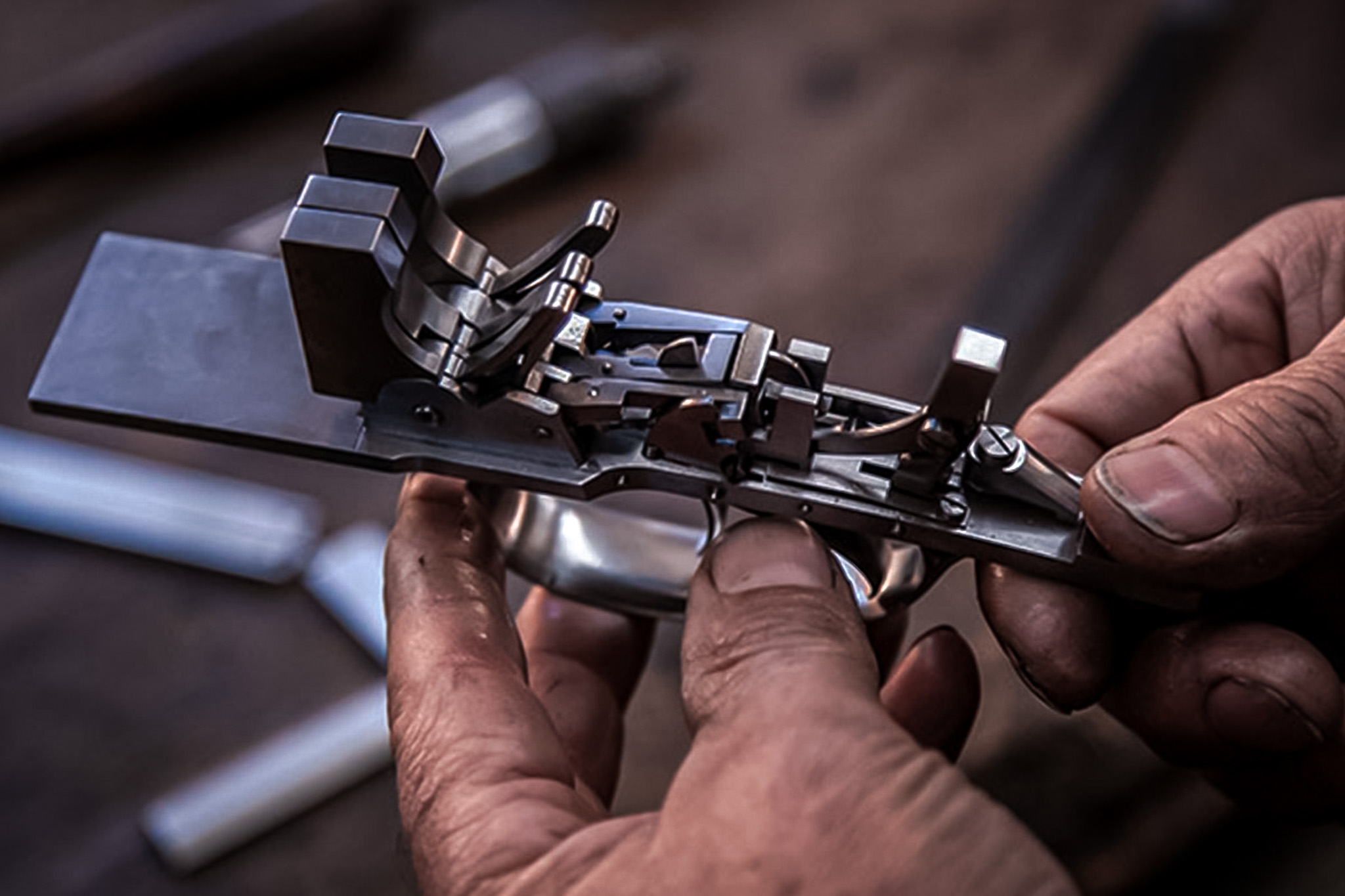 Ludwig Borovnik is another Austrian gunmaker that uses the two-over-one barrel configuration. Like the competition from Johann Fanzoj, the Ludwig Borovnik Three-Barreled Shotgun is a master class in artistry and obsessive attention to detail. This one, however, can be made with one or two triggers.
All three barrels share a single bore: your choice of 20-gauge, 28-gauge, or .410. Ludwig Borovnik describes its triple barrel shotgun as "technical perfection," and it's hard to disagree. We can only imagine what one of these guns costs.
---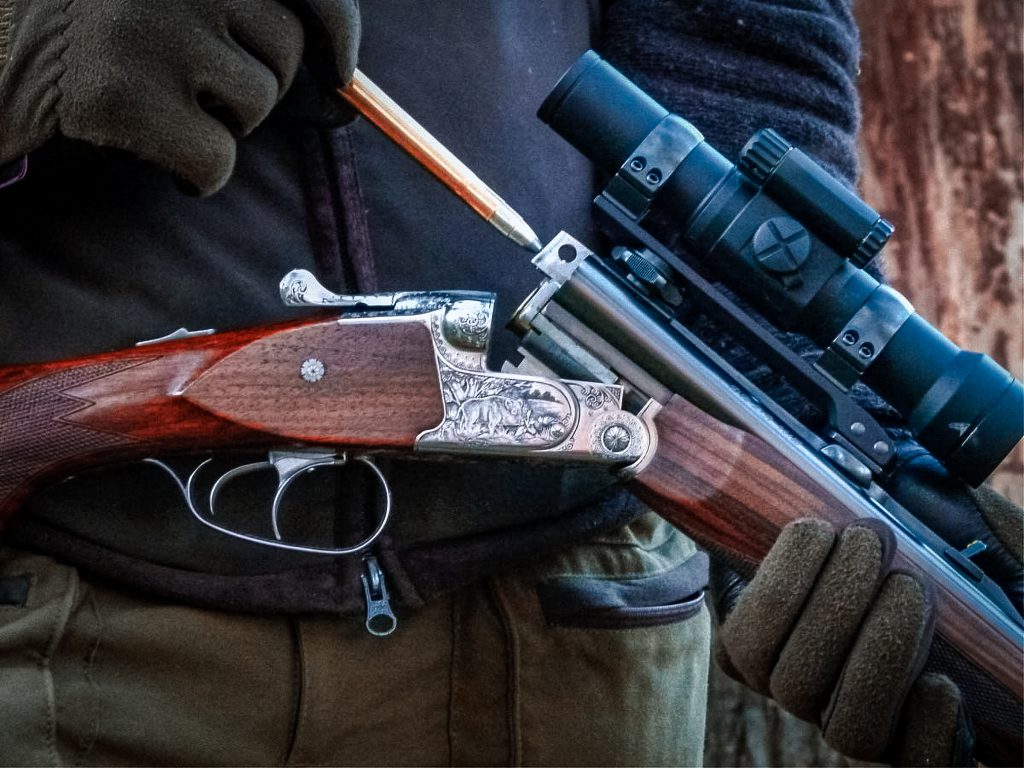 The Merkel Drilling 96K is a true drilling with two shotgun barrels and one rifle barrel. This German forester's rifle comes with side-by-side shotgun barrels chambered for either 12- or 20-gauge shells.
The bottom-mounted rifle barrel comes chambered for 6.5x57R, 7x57R, 7x65R, .30R Blaser, 8x57IRS, or 9.3x74R — so if you want one, enjoy trying to find rifle ammo for it in the U.S.
Merkel doesn't list prices, but I've seen the Drilling 96K listed for around $5,000 stateside.
---

The Blaser Drilling D99 also combines two shotgun barrels with a rifle barrel, but unlike the others, the rifle barrel is mounted on top. Blaser's website lets customers choose from a selection of calibers, stock types, and scope mounts.
Blaser builds its firearms to a high standard but intends for them to work hard in the field. As a result, the Drilling D99 is far less ornate than some of the other three-barreled firearms out there. Tracking down a Blaser Drilling D99 in the U.S. isn't easy, but the company's New Zealand website lists this gun for $12,249, or about $8,000 in the States.
GOOD GEAR – Get It on With BRCC's Fellow Ode Gen 2 Grinder
---
Parting Shots
Triple barrel shotguns are beautifully weird. They've been around for over a century, and I suspect they'll stick around for a while longer. What began as a way to increase ammunition capacity for small-game hunters has evolved into an art form that allows artisanal firearm manufacturers to flex their muscles with premium materials, delicate firing mechanisms, and immaculately ornate engravings.
Are any of us going to trade in our Remington 870 or Browning Citori for a triple barrel shotgun? Not without a fat wad of cash to seal the deal. There probably isn't a triple barrel shotgun under anyone's bed for home defense, either. There will always be people willing to shell out ungodly amounts of money to put one of these shotguns in their collection, though. I know because I'd be one of them if I had the money.
---
READ NEXT – Fight Is on To Kill the ATF's Impending Pistol Brace Ban