Uintah Precision has turned heads at the 2023 SHOT Show with its unique Modern Sporting Muzzleloader. The uncommon rifle is a Frankenstein-like mashup that combines an AR-15 lower receiver with a muzzleloader upper — and it totally works.
At first glance, this thing looks like a run-of-the-mill AR, but if you look closely, you'll see a telltale muzzleloader ramrod just over the top of the barrel. Uintah Precision has either taken an old-school approach to the modern sporting rifle, or they've put an ultra-modern spin on great-grandpa's muzzleloader. However you want to look at it, the results are pretty rad.
Uintah also offers the muzzleloader upper on its own so it can be pinned to any AR-15 lower without any trigger compatibility issues. The beauty of this setup is that you can swap out the muzzleloader for a semi-auto or bolt-action upper and use one firearm for the entire hunting season.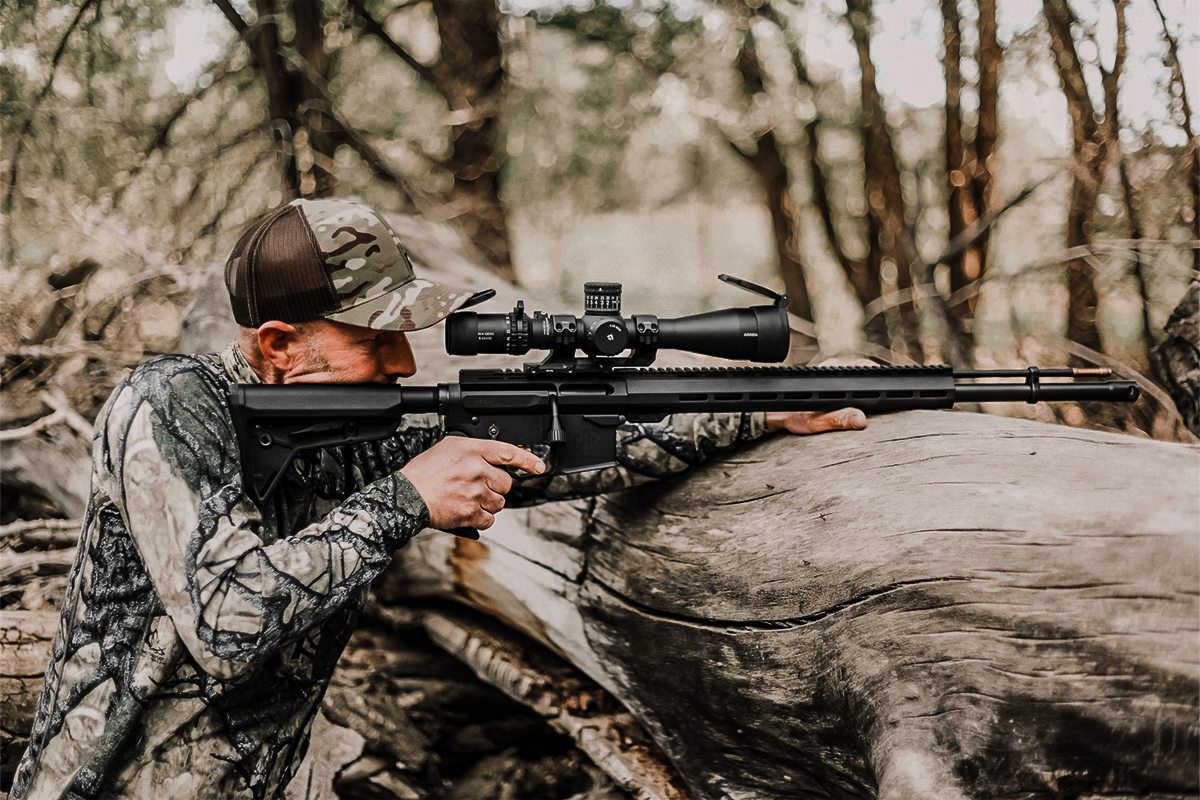 At SHOT Show's Industry Day at the Range, Uintah had the Modern Sporting Muzzleloader zeroed at 350 yards. Even the best standard muzzleloaders have a hard time reaching beyond the 150-yard mark. But this isn't a standard muzzleloader.
The 24-inch barrel with a 1:20 twist rate that helps stabilize full-bore diameter projectiles enables you to milk every ounce of range and accuracy possible from this muzzleloader. Uintah also includes a two-port muzzle brake, which helps tame the recoil that helped earn black-powder rifles a lousy reputation for shoulder brutality.
The gunmaker included a top-notch Velocity Classic trigger, and the Uintah Modern Sporting Muzzleloader uses standard 209 primers. Spent primers are extracted by the bolt, which has dual extractors to ensure primers don't get stuck.  
This new muzzleloader runs best on full-bore .45-caliber bullets. The company says you can use sabot rounds if that's more your style, but you'll probably sacrifice some accuracy in the process.
With the ability to customize ergonomics and controls and plenty of Picatinny and M-LOK real estate, this should appeal to black-powder hunters with an itch to accessorize. 
The Uintah Modern Sporting Muzzleloader comes with a ramrod and a hard-shell Plano All Weather Double Rifle rolling case.
A word of warning: This is far from a primitive weapon and definitely isn't your typical muzzleloader. The complete Modern Sporting Muzzleloader is built on an AR-15 lower, so it can only ship to an FFL.
GOOD GEAR — Spartan Kick Your Tastebuds With the BRCC Ready To Drink 300 Vanilla Bomb
---
Uintah Precision Modern Sporting Muzzleloader Full Specs
Caliber: .45
Barrel Material: 416R stainless steel
Barrel Finish: Black Cerakote
Barrel Length: 24 inches
Twist Rate: 1:20 
Lower Receiver: 6061 billet aluminum
Upper Receiver: 6061 billet aluminum
Grip: Polymer Magpul MOE
Stock: Adjustable Magpul PRS Lite
Trigger: Velocity Classic 3-pound single stage
Price: $1,776
---
READ NEXT — Muzzleloaders in Movies: Hollywood's Coolest Smoke Poles