Movies that paint muzzleloaders in a badass light are kind of rare. It's tough to make an exciting action movie with firearms that put out about 3 rounds per minute (flintlock musket) unless it's a war movie with tons of guns and troops. That's not to say it hasn't been done and done well.
In the right filmmaker's hands, muzzleloaders add a bit of extra drama to an action sequence. Every shot matters more because reloading takes a long time and is pretty much impossible if the enemy is close. A typical movie solution is to combine early firearms with flurries of hand-to-hand combat, just like it went down in real life when a fight got inside bayonet range. 
If these movies don't have you pricing out smoke poles and wondering if you could, indeed, cast your own lead ball ammo, nothing will. And hey, modern inline muzzleloaders are pretty easy to use, and in many states, owning one can significantly extend your hunting season, so it's a totally worthwhile investment.
Captain Alatriste: The Spanish Musketeer (2006)
Director: Agustín Díaz Yanes
Starring: Viggo Mortensen, Elena Anaya
Don't feel bad if you haven't heard of this one; it's hard to find on streaming services or even on hard copy media. However, you can watch the entire movie for free on YouTube. It's an interesting flick set in 1620s Spain, a time and place we don't often see through a modern filmmaker's lens. Yes, it's a Spanish film, but if Viggo could do all his dialog in Spanish, you can certainly read some subtitles. 
At the time, flintlocks were just starting to hit the scene in the form of muskets and pistols, but matchlock muskets were still the most common firearms available, which is why most soldiers are seen using them. If anything, flintlock pistols are far too common in this movie for the era. 
The opening scene shows just how difficult it was to use a matchlock in the field. Viggo plays the titular Capt. Alatriste, a beloved and heroic soldier-turned-mercenary who fought during Spain's imperial wars of the 17th century.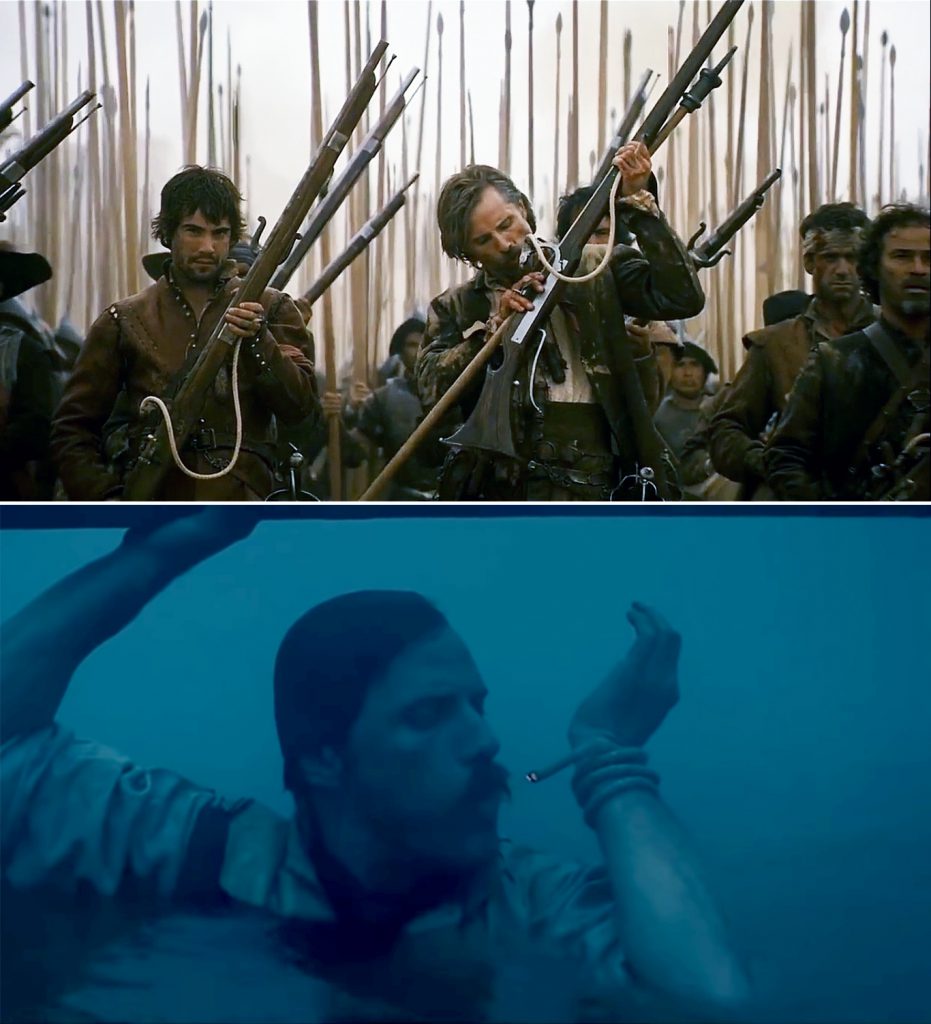 He leads a group of attackers through chest-high water as they prepare to assault a sleeping enemy camp. Alatriste moves slowly, carrying his heavy musket over his head with both arms. The gun's burning match is wrapped around his left wrist, which he is also most careful to keep away from the water. Every so often, he blows on it gently to keep the cherry glowing in the dark. 
When the attack begins, the muskets and flintlock pistols are used straight away to dispatch as many enemies as possible before the fighting moves on to swords and daggers.
While guns got easier to use and a bit faster to reload in the following years, this was pretty much how fighting was done for centuries: fire muskets and cannon at a distance until that distance was closed, and then it was time for bayonets and swords. That basic rhythm didn't change much until repeaters became more common at the end of the 19th century.
Related: Davy Crockett – The Silver-Screen History of a Frontier Legend
Last of the Mohicans (1992)
Director: Michael Mann
Starring: Daniel Day-Lewis, Madeleine Stowe, Russell Means
Yes, the famous hunting scene from the opening of this movie where men are running full-tilt through the forest, literally chasing a deer, is pretty absurd. But it sure is exciting, and so is that moment when Nathaniel "Hawkeye" Poe (Day-Lewis) takes a shot at a running whitetail with his long rifle. It's the kind of scene that makes you want to go out right away, buy a flintlock muzzleloader, and kill something with it — shirtless. 
The rifle Day-Lewis uses is a Pennsylvania Flintlock Rifle, which was developed from the German Jaeger rifle, but with a longer barrel, slimmer stock, and smaller bore. Pennsy flintlocks were typically chambered for .50 caliber, while the older Jaeger rifles were .62 caliber.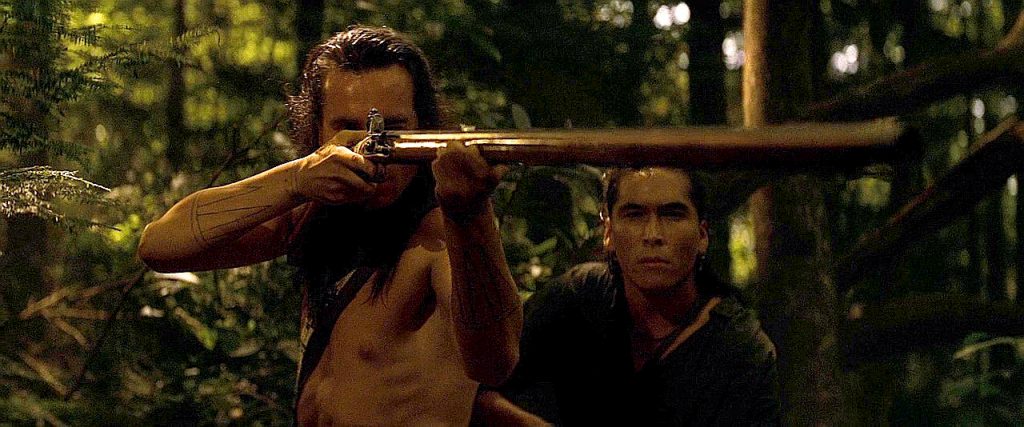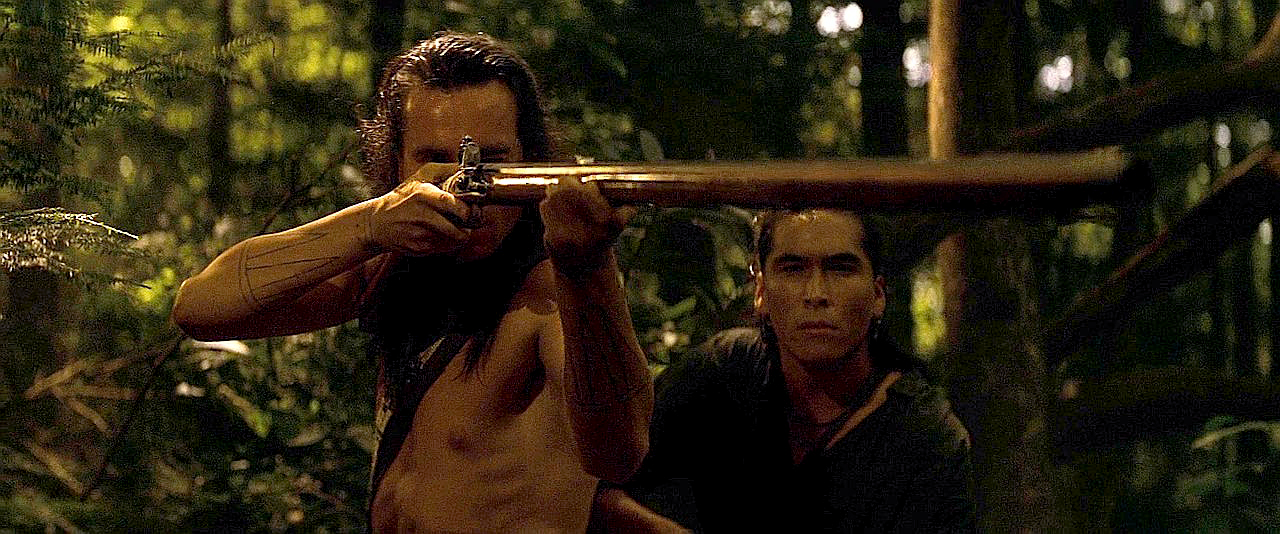 The story takes place in the heart of both the French and Indian War and the flintlock era. The British troops all carry the classic Brown Bess Infantry musket, made from 1722 to 1768, in .75 caliber. Hawkeye also uses one when necessary. The French soldiers are armed with the Charleville Musket, which we see most during the Siege of William Henry and when the fort is handed over. 
The rest of the muzzleloader flintlocks in this movie are meant to depict so-called Trade Guns. These flintlocks were unadorned firearms built as simply as possible. They were made to be issued to colonists for use in barter with Native Americans. Many of these Trade Guns (typically smoothbore muskets) were issued to British Native allies when the war began, which means the historical accuracy of the muzzleloaders in this movie is spot on.
Related: Why The Hell Are There No Movies About Daniel Boone?
Master and Commander: The Far Side of the World (2003)
Director: Peter Weir
Starring: Russell Crowe, Paul Bettany, Billy Boyd
Pirate flicks and movies about war at sea once comprised an entire film sub-genre, but as the decades passed, so did interest in sword-and-sails flicks (the Pirates of the Caribean series aside). When Commander was released, despite being based on a popular novel series and starring Russell Crowe's at the height of his post-Gladiator career, it failed to make a box-office splash. 
Still, it's a pretty great movie that lets you bask in the high seas adventure of the early 1800s aboard the HMS Surprise and it lets your imagination run around like a kid for a little bit. Of course, there are lots of cannons, and lots of flintlock pistols tucked into big leather belts.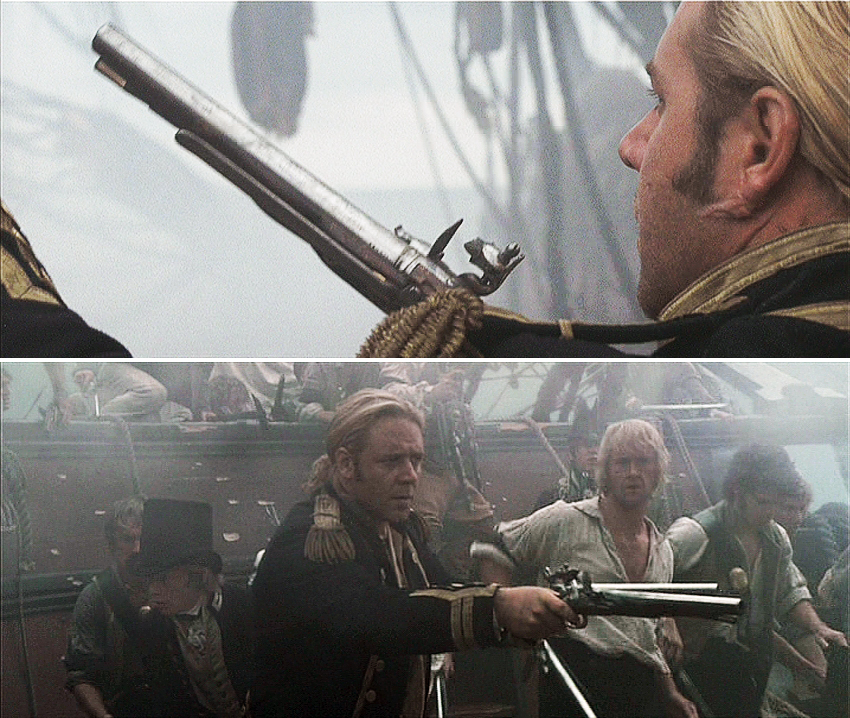 Flintlock pistols were mainly used as defensive weapons since their short, smoothbore (most often) barrels didn't offer much in the way of effective range. However, they could be loaded with shot and used as a very effective single-barrel shotgun at short distances while supported by a sword, cutlass, or dagger.
In the movie, we see Tower Sea Service flintlock pistols used by several characters, including Capt. Aubrey (Crowe). There are also plenty of British Brown Bess flintlock muskets, which are the standard arm of the British Marines. Howard (Chris Larkin) uses a Brown Bess to try and shoot an albatross for meat when he accidentally shoots Dr. Maturin (Bettany) in the abdomen.
When we finally see some French sailors, they're armed with Charleville Model 1777 Muskets, which would have been standard-issue at the time.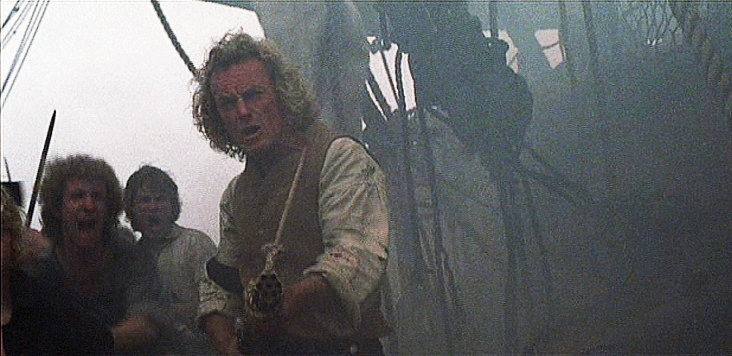 The movie also features a strange and uncommonly seen muzzleloader: a Nock Gun. It's used briefly by Aubrey's men during the siege of the Acheron. This contraption had seven smoothbore barrels arranged in a honeycomb formation. Since all seven barrels fired at once, it was only useful as a volley gun and could only be fired by a stout seaman. As one can imagine, it was cumbersome and difficult to load and use, so it wasn't very popular in combat — but it looked badass. 
There was never a sequel made, but if this movie really gets your juices going, Patrick O'Brian wrote a total of 21 books in his Aubrey-Maturin nautical history series. Master and Commander is the first, but The Far Side of the World is the 10th book in the series, which doesn't matter because this movie pulls elements from 13 different books to assemble its story.
Be Warned: If you aren't ready for pages upon pages of dense, exhausting, and intricate descriptions of period ships, their rigging, and how they operate in the most minute detail, along with heaps of indecipherable 1800s British sailor jargon, maybe steer clear. 
Related: 7 Great and Criminally Underrated Westerns
The Witch (2015)
Director: Robert Eggers
Starring: Anya Taylor-Joy, Ralph Ineson, Kate Dickie
The matchlock musket was nothing more than a downsized cannon with a wooden stock roughly shaped so a human could hold it, but not comfortably. Often the barrels were so long and heavy that a wooden pole with a bracket on the end had to be used as a shooting stick for firing. 
They were primitive, very reluctant to function around moisture, and required the user to keep a length of cord constantly burning to fire it — and it would be a couple of centuries before the lighter or match would come along, so if it went out, you were pretty much boned. 
Along with being one of the creepiest goddamn movies ever made that scares you with atmosphere and great performances alone, The Witch also features the only matchlock hunting scene in a movie that I've ever come across. The paterfamilias, William (Ineson), is stalking a hare with his son Caleb (Harvey Scrimshaw) and a bulky matchlock musket, likely loaded with shot.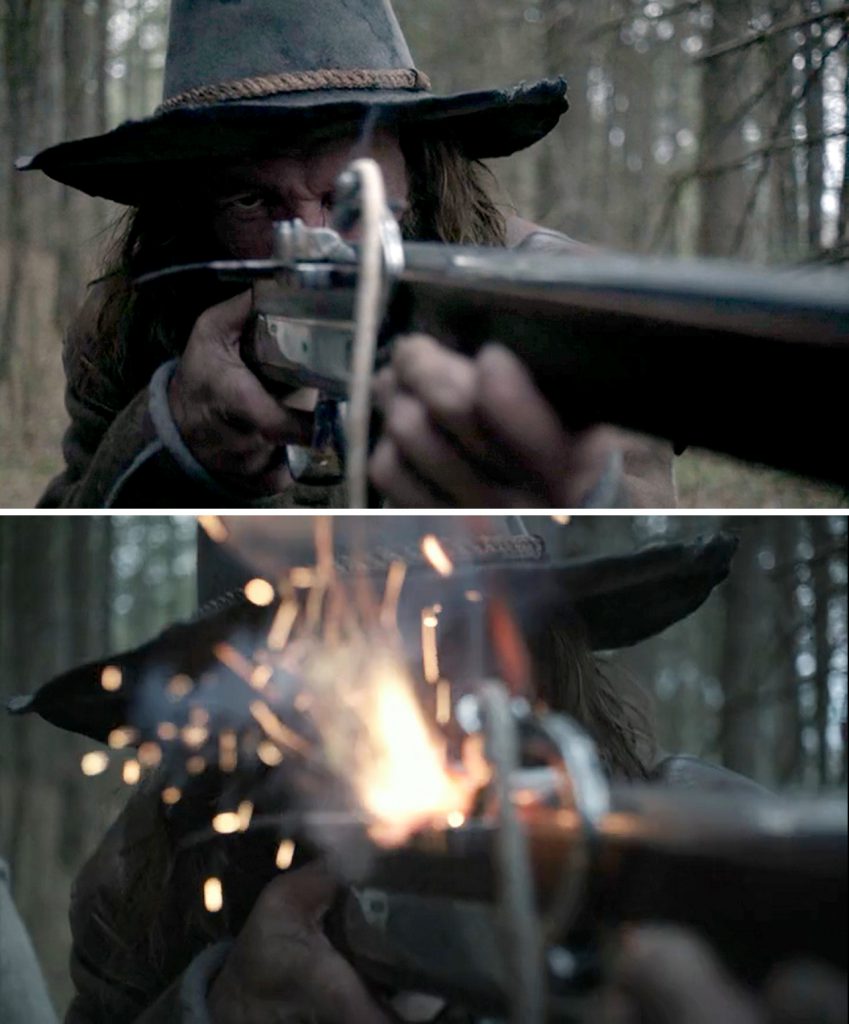 The rifle takes a comical amount of time to set up as the hare just chills, unafraid. William blows on the end of the cord to get a good cherry going, shoulders the gun, and pulls the lever-like trigger, which touches the burning cord to the pan of gunpowder. Either William put too much powder in the pan, or the gun backfires. Either way, there is a large flash, and he goes to the ground with a nasty powder burn, though his eyes have been spared, along with the hare. 
There isn't too much on the surface of this scene, but take a moment to think about Puritan settlers, like the family in the movie, who went into the untamed wilderness of the new world to carve out little towns and forts from seas of forest with thousands of miles and an ocean between them and their homeland. 
These settlers were there in the middle of all that wild country and had no method of hunting game for food but this ungainly contraption. Farmers like William likely couldn't make or use a bow, and William certainly doesn't display any trapping skills. That's really scary. 
Related: American Monsters – 5 Terrifying US-Made Original Horrors
The Revenant (2015)
Director: Alejandro G. Iñárritu
Starring: Leonardo DiCaprio, Tom Hardy, Will Poulter
Of course, this movie is on the list. The oscar-winning critical darling saw its leading man go through the requisite method-acting torture to receive a statue for Best Actor, and it also has some really excellent muzzleloader action with all the benefits of modern visual effects.
Hugh Glass (DiCaprio) uses a custom Pennsylvania Flintlock Rifle at the beginning of the film to hunt and in battle, along with at least one flintlock pistol. After a bear severely mauls him, John Fitzgerald (Hardy) takes the rifle until Glass catches up with him, much later on, and takes back his bespoke gun.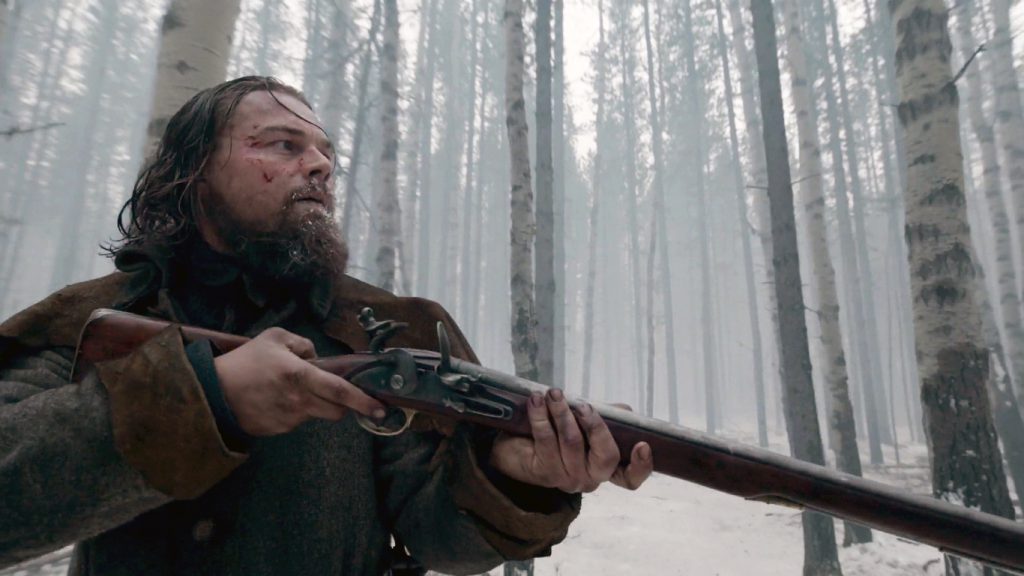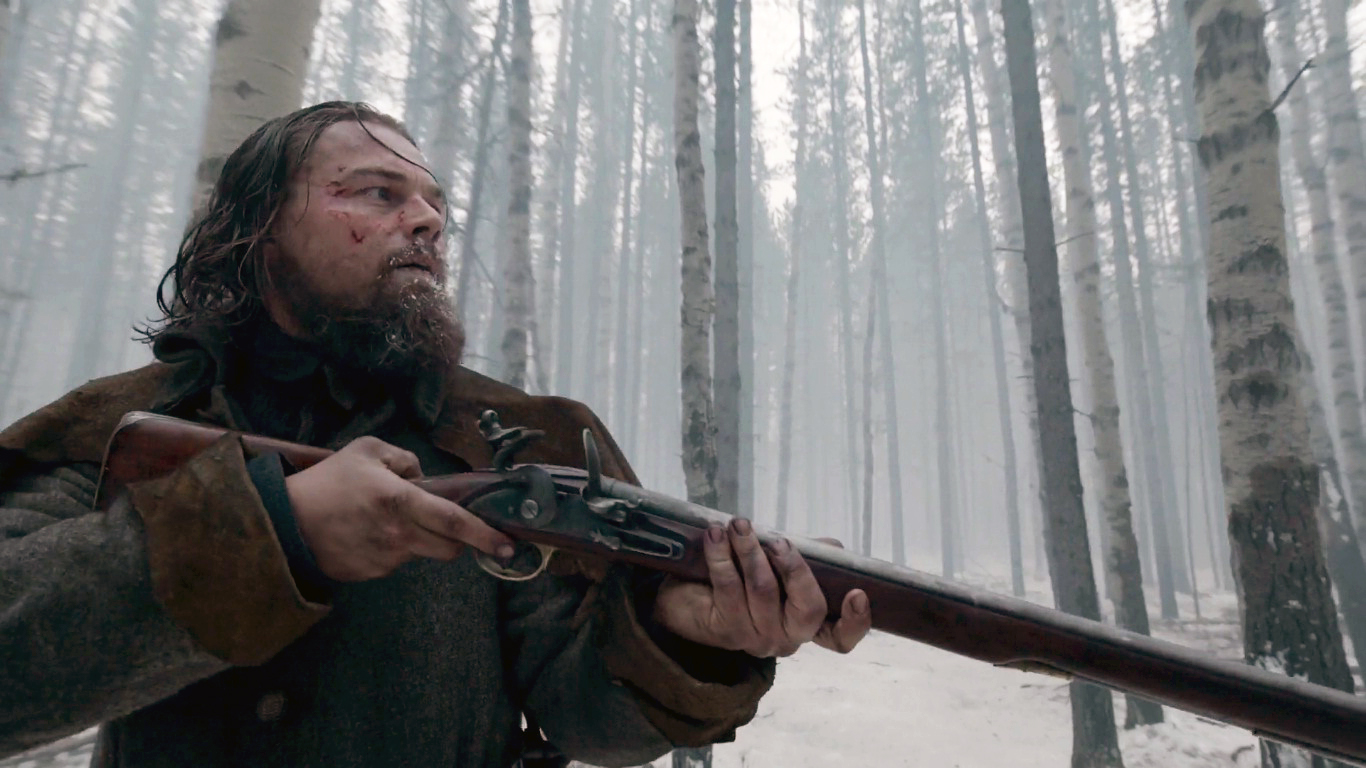 Ron Luckenbill made two identical guns for the production based on a real Pennsylvania Flintlock Rifle that was made by John Shuler of Bucks County, Pennsylvania. The production team then cut down the barrels of both replica guns so they could be used more easily on horseback, as described in the novel on which the movie is based. Reportedly, Luckenbill refused to shorten the barrels himself.
The other characters in the film all use Brown Bess flintlock carbines and several flintlock pistols. Glass memorably uses a flintlock pistol in a surprise side-saddle attack when he finally catches up with Fitzgerald.
Related: Man In The Wilderness – The Other Hugh Glass Movie
Jeremiah Johnson (1972)
Director: Sydney Pollack
Starring: Robert Redford, Will Geer, Delle Bolton
When the classic Jeremiah Johnson was released with its great muzzleloader hunting scenes, American interest in muzzleloaders was being rekindled, just as archery was also growing in popularity. There was a new demand for reproductions of old-school muzzleloaders. The popularity of this movie was a reflection of that, and it also served to increase the public's demand. 
The real Johnson carried a Colt Walker revolver with rosewood grips that matched the handle of his bowie knife, and he carried his famous Hawken rifle. In the movie, Johnson carries .30- and .50-caliber reproduction Hawken rifles and a caplock pistol. 
Hawken rifles were prized by hunters and marksmen in the 1800s. It was an excellent time for muzzleloaders in general. Breechloaders and metallic cartridges were right around the corner, but muzzleloaders were more accurate and reliable than ever before.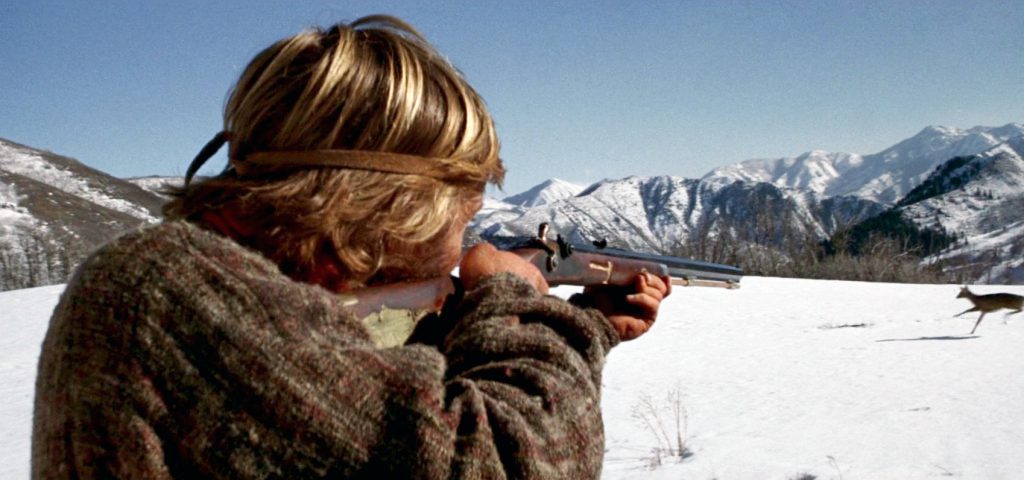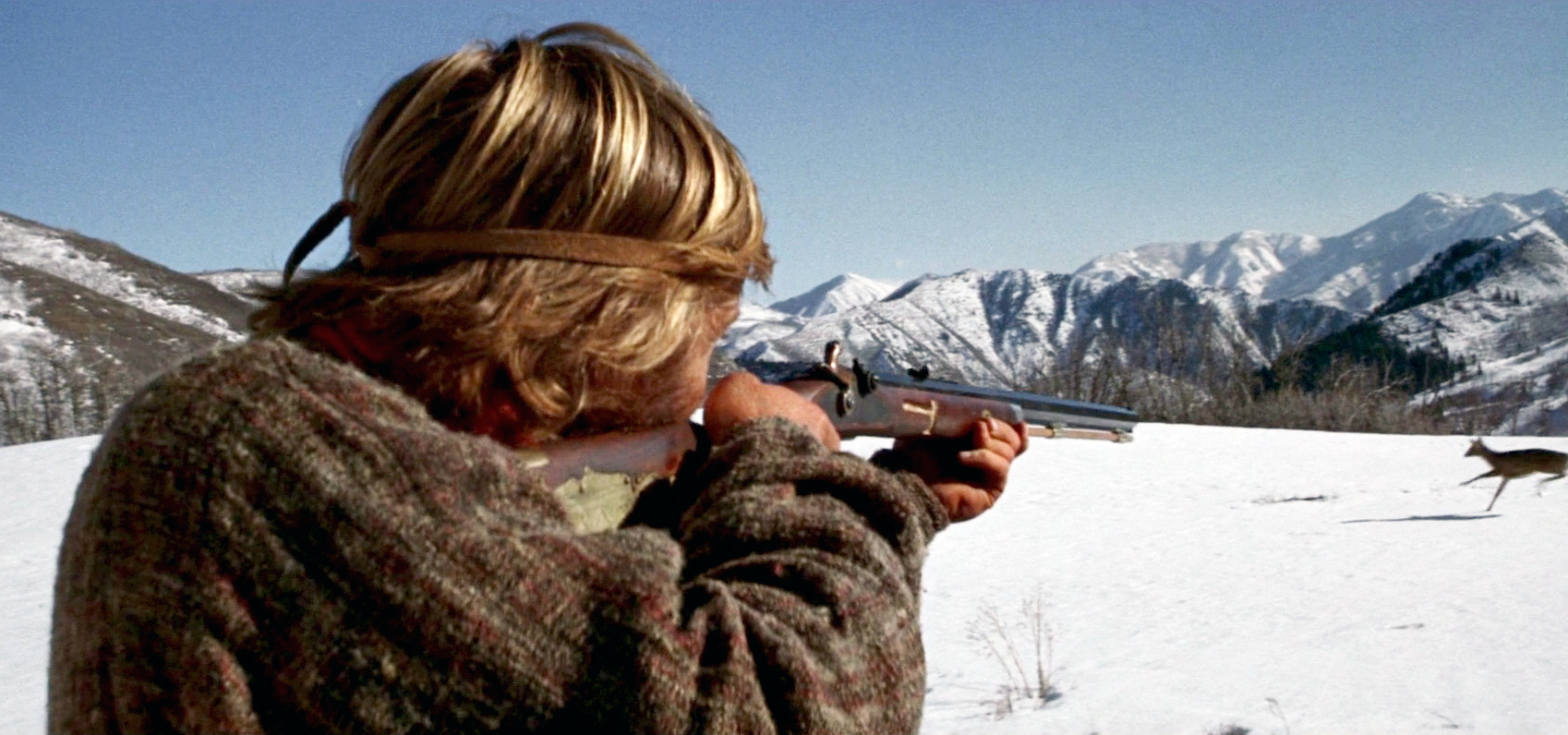 Rifled barrels were capable of extreme accuracy with the correct load and projectile, and new guns relied on percussion caps instead of flintlocks for ignition: a big step forward in reliability and weather resistance. A Hawken rifle was the best of the best.
When the Rocky Mountain fur trade began to pick up steam, brothers Jacob and Samuel Hawken left the East Coast where they'd been trained as gunsmiths by their father and began cranking out guns for the rough people coming West. 
The Hawken brothers built these bespoke muzzleloader rifles in their St. Louis, Missouri, shop from 1815 to 1858. (Other operators kept the shop going until 1915.) These guns were made for the West. They were robust, light enough to carry all day, and had chamberings large enough to take the biggest North American game at range. The Hawkens called their guns "Rocky Mountain Rifles," and they quickly gained a sterling reputation among trappers, traders, hunters, and explorers alike.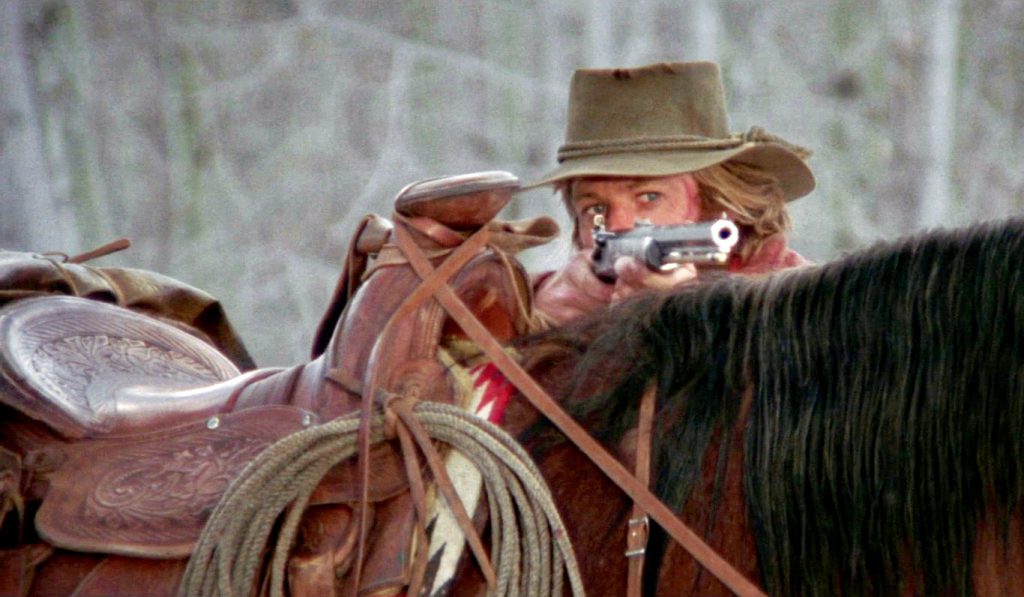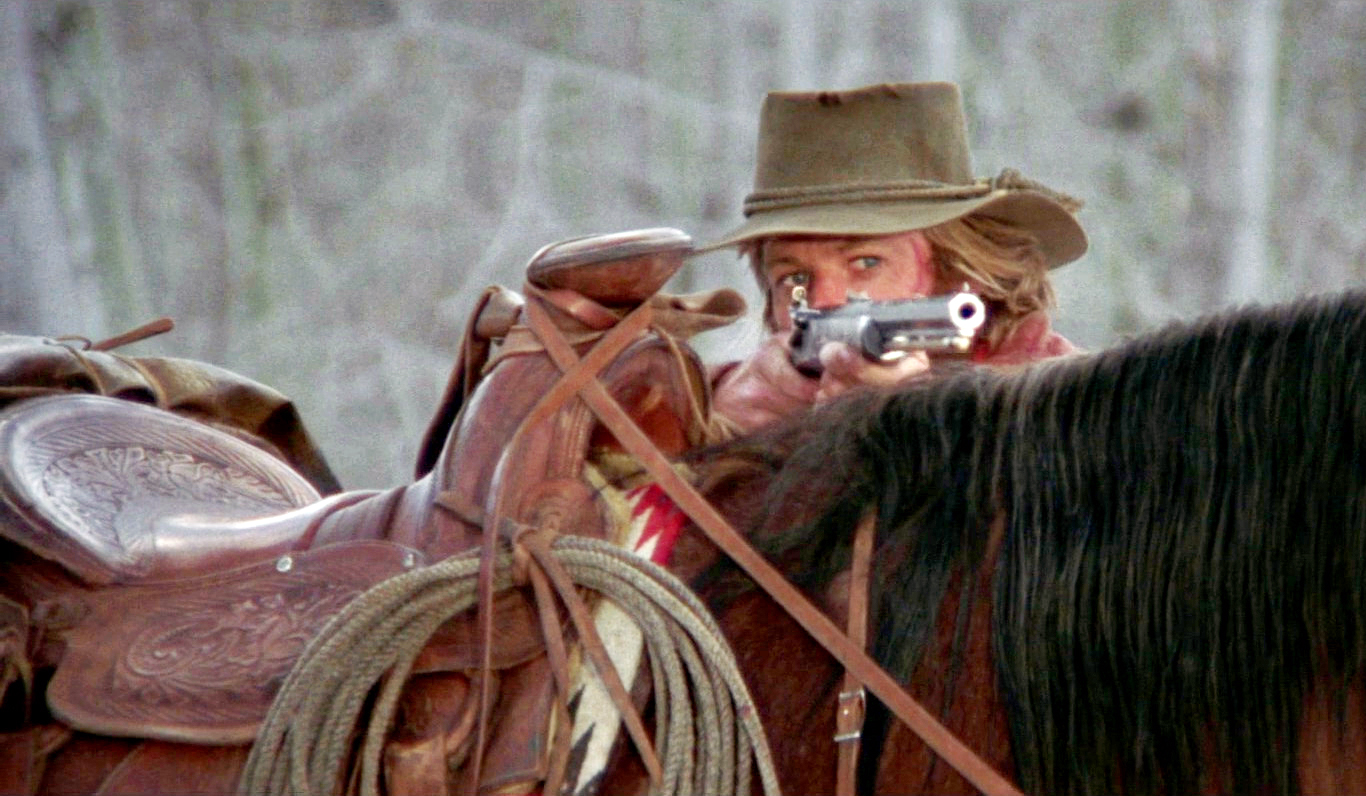 Every Hawken rifle was 100% handmade, one at a time, and they were carried by many famous mountain men and outdoorsmen like Hugh Glass, Jim Bridger, Kit Carson, Jedediah Strong Smith, and Theodore Roosevelt.
In the movie, Johnson starts his journey into the mountains with a .30-caliber Hawken percussion rifle. He finds the frozen body of a mountain man he later learns to be Hatchet Jack, holding a handsome .50-caliber Hawken. Jack scrawled out a final will before dying that bequeathed his rifle to whoever found his body, so ol' Jeremiah didn't have to feel bad about adding it to his kit. 
Related: The True Story Behind' Jeremiah Johnson': What We Know (and Don't)
The Patriot (2000)
Director: Roland Emmerich
Starring: Mel Gibson, Heath Ledger, Jason Isaacs
If any movie figured out how to do circa-2000 action with muzzleloaders, it's The Patriot. Is this movie almost complete historical fiction? Yes, it is. Are the action and war scenes over-the-top and ridiculous? Absolutely. And it's thoroughly awesome, with a good bit of cheese on top and some of the most badass depictions of muzzleloaders in movies.
Whatever its faults, The Patriot is a lot of fun; it's fun to root for Benjamin like he's some kind of colonial Rambo, and there are enough genuine historical beats that even people who slept through every American History class can put the events in context.
And the ambush scene. My god, the ambush scene. The whole movie is worth that scene.
It perfectly illustrates how a small and coordinated force of marksmen armed with slow-firing muzzleloaders could successfully engage a column of regular soldiers from cover, especially when the targets are courteous enough to wear bright red coats.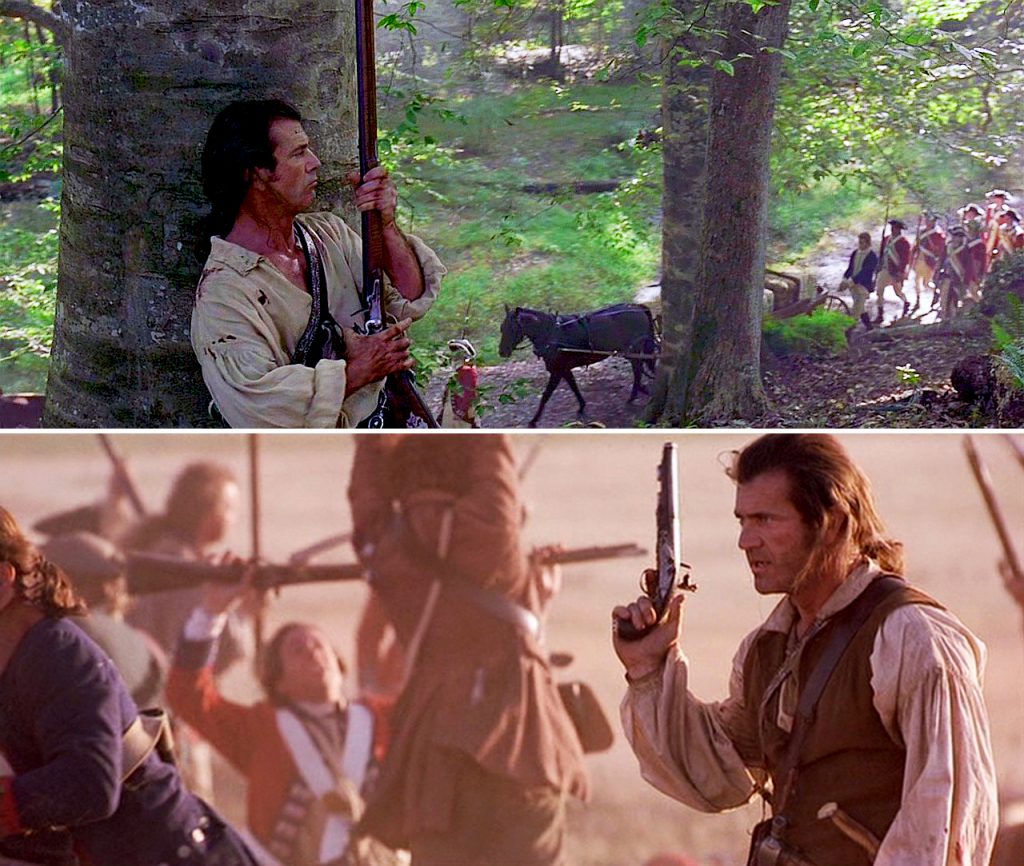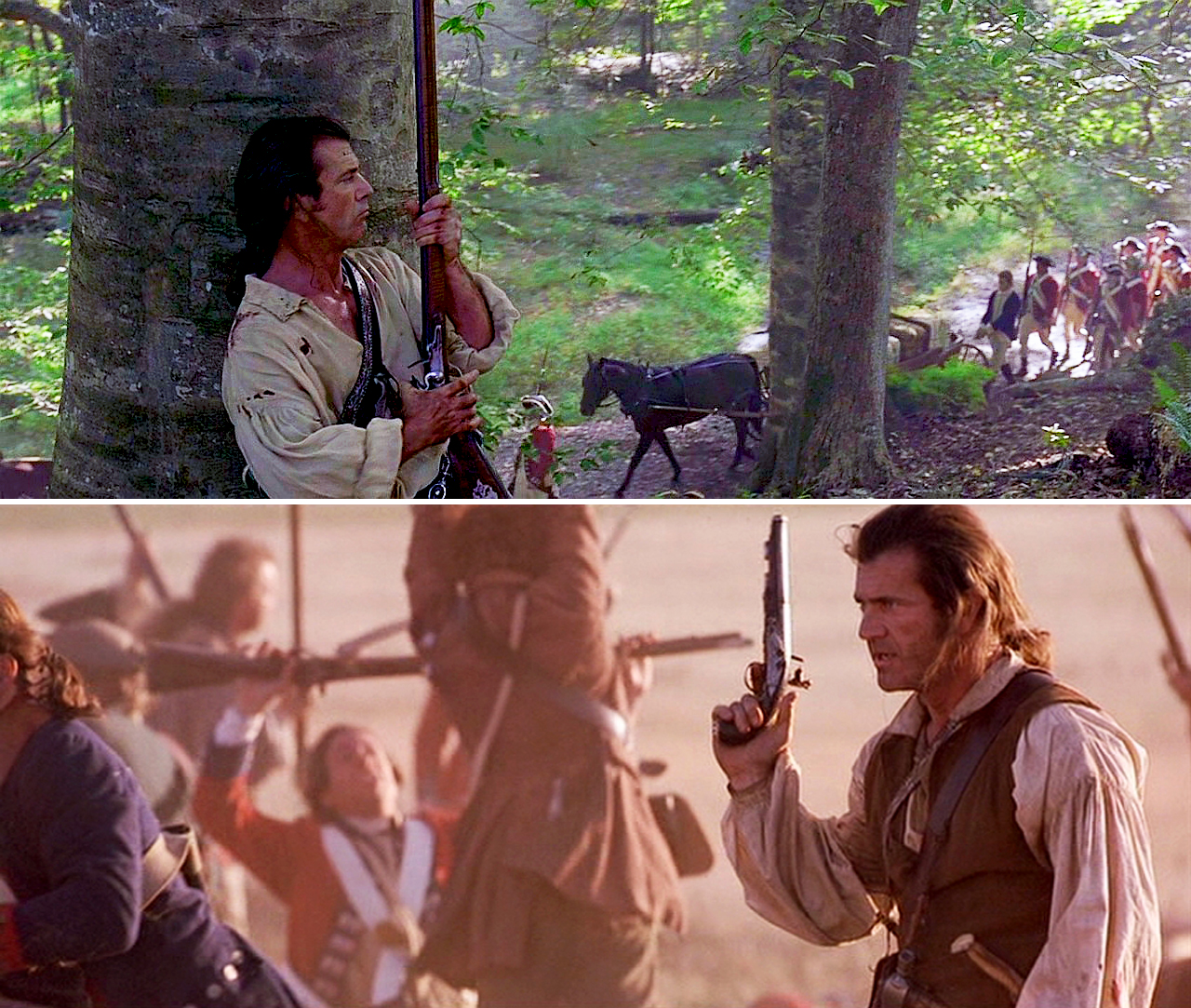 Go ahead, watch the clip above. You know you want to see the tomahawk berserker part again anyway. 

All too often, you see actors pouring powder directly from a horn into the bore of muzzleloaders in movies, and the camera conveniently cuts away before they have to use the ramrod, but there was an exceptionally good trainer on the set of The Patriot, and though there's a faux pas or two and plenty of Hollywood flourishes, the mechanics and shooting of the period firearms is pretty spot on. If anything, the projectiles don't seem to do enough damage at close range (and the pistols are far too accurate).
Read Next: The Remington 870 Shotgun – 5 Most Badass Movie Moments