It's painfully easy to romanticize the Old West. Whether reading stories or watching them unfold on a screen, people can't help but gravitate toward the idea of a righteous gunslinger with a dusty brand of chivalry — or at the very least, a loose moral code — who helps those who cross his path. It's a reincarnation of the knight on a noble quest, or a ronin samurai roaming the land with the incongruous pairing of a good heart and deadly hands. 
The big screen loved the gunplay and horse chases that came along with the genre that would be called Westerns from the very beginning. One of the most popular early silent films was The Great Train Robbery, made in 1903 for Edison Manufacturing Co., about a gang of outlaws who hold up and rob a locomotive at an anonymous train station somewhere in the Old West, including the famous close-up shot of Justus D. Barnes playing the outlaw leader, firing his revolver directly at the camera.
Even though, when this film was made, not much time had passed since the actual Old West had simply become the West (Wyatt Earp didn't die until 1929, for context), Hollywood didn't hesitate to put a spin on frontier myths — a spin that dime novelists had been perfecting for decades with great success.
When movies became the cornerstone of America's pop culture, the Western was a big part of it. Hell, the romanticized vision of cowboys on horseback in white hats that never get dirty, despite the dusty country, valiantly fanning their six-guns at the black-hatted bad guys was so attractive that it was even widely embraced in European countries, especially Spain and Italy.
If you do any reading about that time period, you'll quickly learn that the reality was something more like Cormac McCarthy's novel Blood Meridian than Shane or Rio Bravo. You also find out the line between good guys and bad guys was super blurry and mostly circumstantial, if it even existed at all.
Westerns had their heyday on the big screen during the '50s and '60s, but even Hollywood couldn't keep up the entire facade for long. Some of the best Westerns from that era are the outliers with unconventional plots or imperfect protagonists like John Wayne's Rooster Cogburn in True Grit (1969) and Clint Eastwood's low-budget Man with No Name flicks. While there were still some great big-budget Westerns made in the 1970s, their overall popularity was waning, especially with younger moviegoers.  
By the 1980s, the genre was close to dead. Audiences had tired of the imagery and the stories that had been so pervasive for so long, and the electronic glitz and glam of the decade didn't mesh well with stories about cowboys on the range, especially as new action heroes made their way to theaters. Things started bad in 1980 with the notorious Michael Cimino flop Heaven's Gate. There was the ensemble flick, Young Guns, which did well enough to warrant a sequel, and Silverado and Eastwood's Pale Rider came out in 1985, but most of the Westerns from this decade were made for the small screen. (Did you know Doc Holliday himself, Val Kilmer, played Billy the Kid in a 1989 TV movie written by Gore Vidal? Yeah, me neither.)  
By the end of the decade, however, Hollywood was ready to give the genre another chance, albeit tentatively at first. Movies had come a long way since the days of Sergio Leone's cheaply made, badly dubbed spaghetti Westerns. When Dances with Wolves hit theaters in 1990 and went on to collect a handful of Oscars, it showed audiences what the Old West could look like in a modern film, with a grand scope like the Westerns of old, and it got producers believing that star-studded, big-budget films could work in the genre again.   
Two years later, Unforgiven was released with the king of Westerns himself, Clint Eastwood, not only in the starring role but also in the director's chair. What would be the legendary actor and director's last Western was a massive box office and critical hit, and has since held a spot in pretty much everyone's "top 10 Westerns" list, if not the top spot.
Not Like Any Other Western
While it was a huge hit when it came out, subsequent years of analysis and rewatching have proven that not only is Unforgiven likely the best Western ever made, it's actually a genius film overall that turns the conventions of the genre on their head in the most wonderful and seamless way, so that the audience is sort of duped into thinking it's a classically structured Western, when it's actually anything but.
Unforgiven takes several well-trodden themes and injects them with a grim dose of reality, including the elements of the spaghetti Westerns that made Eastwood a star. It's almost as if he used Unforgiven to retcon a lot of the imagery and, frankly, bullshit established by older movies while also using the film to put a big period after a long era of Westerns that were too cut and dry, with the "good" and "bad" guys too well defined. 
The opening shot of William Munny's beautifully silhouetted farm against an orange sunset is accompanied by a simple but sadly pretty score and the old-timey introduction:
"She was a comely young woman and not without prospects. Therefore it was heartbreaking to her mother that she would enter into marriage with William Munny, a known thief and murderer, a man of notoriously vicious and intemperate disposition. When she died, it was not at his hands as her mother might have expected, but of smallpox. That was 1878."
Right there you're set up for a redemption story about an old killer who lost his wife and now has to come to terms with things. Then, you're promptly slapped in the face by an opening scene of terrible violence as two men brutally assault a prostitute in the town of Big Whiskey, Wyoming, slashing her face with a hunting knife.  
You know you're watching something different when you first hear Gene Hackman's Sheriff "Little" Bill Daggett come in from the pouring rain and bluntly ask the other girls tending to the "cut-up whore," Delilah, "She gonna die?" (As an aside, I feel this is Hackman's best performance in a career of amazing performances.)
The language is real, the cursing is real, the attitudes are complicated. Bill doesn't like having prostitutes in his town, and he thinks very little of the women plying the so-called world's oldest trade. But, it being a ranching town, there were the needs of the ranch workers that had to be met come payday, and we can be sure Little Bill got a cut of the action at Greeley's. So, he allows it, so long as it's talked about as "billiards" even though the pool table had long ago been burned for firewood, and Skinny keeps those whores in line. None of this is explicitly explained, mind you, but it's all clearly implied. 
When Bill confronts Alice after she says the fine he levies on the cowboys instead of a whipping isn't fair, he's smiling the whole time, and it's scary as hell. The sheriff isn't supposed to be the scariest guy in the room. He's not supposed to be mean to a woman who has been brutally assaulted, even if she's a prostitute. He's not supposed to nearly beat feverish men to death.  
Unforgiven, while shot in color, is all shades of gray. This should have been expected of Eastwood, seeing as how most of the characters he played in prior Westerns included more antiheroes than straight-up heroes, but this film goes further.
We meet three true gunfighters in this movie: Little Bill, English Bob, and William Munny. While they're all quite different, they all serve to show the audience that the bar has been moved to something more in line with reality. The sheriff is not totally good or moral by modern standards, the "gunslinger" with the big reputation isn't all he's cracked up to be, and the truly bad man who has led a life of viciousness is actually a person after all, one that you can even root for.     
Making the Audience Love a Monster
What Eastwood did with William Munny in this film is nothing short of remarkable. For nearly the entire movie, he has us rooting for a man who leaves his two young children alone on an ailing pig farm in Kansas and rousts his old killing partner from a quiet life on a farm with his wife to go all the way to Wyoming to kill two men for a few hundred dollars each. The whole ride he talks about the horrible things he did when he was a drunk riding with a gang of outlaws. This is our hero. 
At the same time, from the very start he has us rooting against Little Bill, who — despite his not exactly being sympathetic to the plight of whores in his town — we only see do one thing that can be universally considered wrong. I'm not saying Little Bill isn't an asshole. He totally is, and he has some very serious rage issues. But what does he actually do?  
He heavily fines two men for committing what we'd call aggravated assault with a deadly weapon today. That seems mild, but his only other options appear to be whipping and hanging, and again, we can readily assume the town survives on the trade from surrounding ranches, so he can't piss their owners off too bad.
He gets mad when he finds out the other prostitutes at Greeley's have offered a thousand dollars to whoever kills the two men who cut up Delilah, seeing as how an offer like that would undoubtedly bring a steady stream of armed assassins through his town, but he doesn't do anything to them.  
Lo and behold, a man from Bill's past, now a somewhat famous gunfighter, shows up to collect the bounty. So what does Bill do? He kicks the crap out of the annoyingly British professional killer to set an example, before locking him up for a couple of days and putting him on a coach out of town. Based on what we find out about English Bob, Bill could have probably shot him dead in the street when he first saw him and been totally justified. When a few more assassins of less repute show up, he does the same to them, just without the jail time — though he does seem to enjoy doling out beatings a bit too much.
Later, when the killers finally do murder their quarry, he rounds up a posse to ride them down. This all sounds perfectly reasonable, and like things sheriffs do in Westerns.    
But Little Bill does one thing that irreversibly turns us against him — killing Ned. Morgan Freeman's Ned Roundtree is a man who did some bad things in his youth, but Ned wasn't a cruel man in his heart. Did he cheat on his wife? Yeah. But when it came time to shoot the ranch hand, Davey, he couldn't bring himself to do it. Whatever had allowed him to once do bad things to people was gone; it just isn't in him anymore and he knows it. That's why he rides off right after the first killing, even trying to leave his Spencer rifle with Will. Of the three, Ned least deserved to die, especially the way he did — whipped to death while being interrogated by Little Bill.
"Now, Ned," Little Bill whispers to a bleeding Ned. "Them whores are gonna tell different lies than you. And when their lies ain't the same as your lies … well, I ain't gonna hurt no woman. I'm gonna hurt you. Not gentle, like before. But bad." 
That's some brutal shit.
And that's where Eastwood puts the audience right before Munny's last ride into Big Whiskey: rooting for a cold-blooded killer to take vengeance against the asshole who killed Ned and displayed his body with a sign on it. It feels no different than rooting for Rooster Cogburn when he grips the reins in his teeth and charges the bad guys — but in this case, the guy riding into town has personally admitted to once shooting a drover in the mouth, sending his teeth out the back of his head, for a reason he can't quite recall.
Violence and the Final Shootout
The violence in Unforgiven is, in a word, perfect. There are no well-rehearsed, drawn-out gun battles or any amazing once-in-a-lifetime rifle shots — no severing a hangman's rope with a bullet from 1,000 yards. The gunfire and violence comes in sloppy bursts and leaves blood and death in its wake.
The aforementioned opening scene of Delilah's assault isn't particularly graphic — it's filmed dark so you can't really see much — but it is incredibly brutal, regardless, and probably more so than if you could see more.
The first time we even see anyone get shot is halfway through the movie when Will, Ned, and the Kid kill Davey from cover up in the rocks overlooking a group of ranchers. Ned first shoots his horse with the Spencer rifle.
As Davey and his broken leg try to crawl for the cover of some nearby rocks, Ned gives up the rifle, unable to kill the young man. Will takes the gun and misses twice before hitting Davey in the gut, which kills him, but not right away. They then sit and listen to him cry for help and beg for water, and his friends curse them as cowards from a distance. That is not the way Hollywood usually portrays professional steely-eyed killers. 
The next bit of gunplay occurs when Will and the Kid take out the second cowboy. The Kid surprises him while he's in an outhouse taking a shit, reaching for his gun hanging on the door. He shoots him three times in cold blood with his Schofield revolver before running off. He and Will exchange gunfire with the other men in the cabin as they mount their horses and ride off, but the shots are wild and nobody hits anything on either side. Again, there's no Lee Van Cleef cold-killer panache here.  
As they wait for the payment for their deeds, watching a girl from Greeley's slowly ride up to them in the distance, the Kid wrestles with the murder he just committed. The gravity of it hits him like an anvil, and he confesses to never having killed anyone before and not being like Will at all.
Will: Well, you sure killed the hell out of that fella today.  
The Kid: Hell yeah. I killed the hell out of him, didn't I? Three shots and he was takin' a shit.
Will: Take a drink, kid.
The Kid: Jesus Christ. It don't seem real. How he ain't never gonna breathe again ever. How he's dead. And the other one, too. All on account of pulling a trigger.
Will: It's a hell of a thing, killing a man. You take away all he's got, and all he's ever gonna have.
The Kid: Yeah, well, I guess they had it comin'.
Will: We all have it comin', Kid.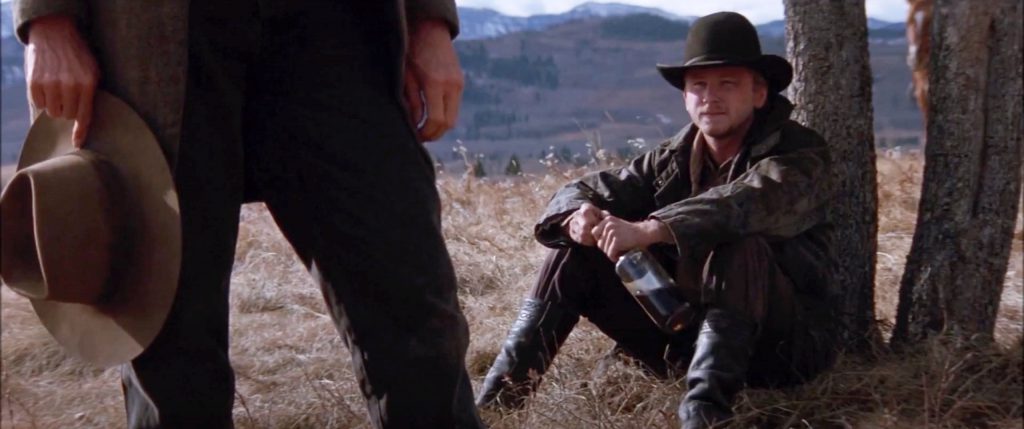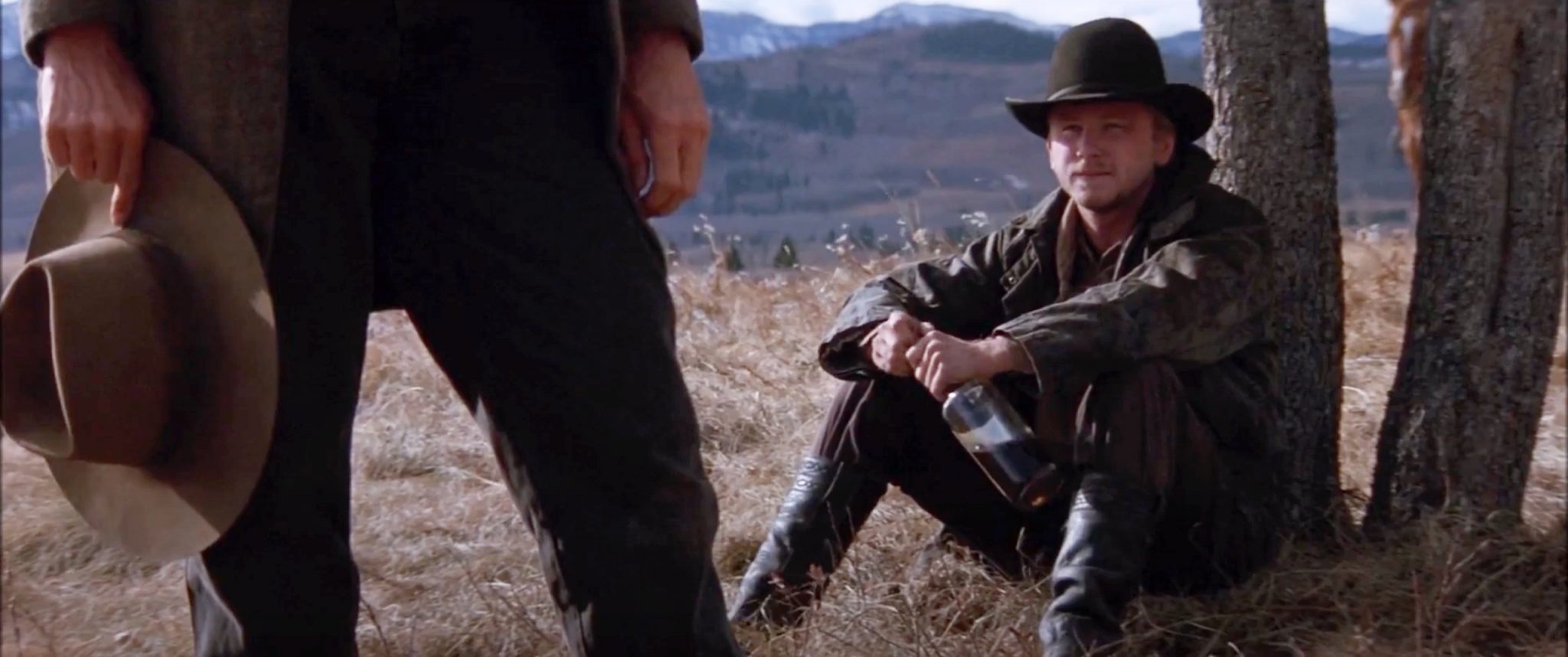 The audience knows Ned has been captured by Little Bill, but Will and the Kid don't know yet. Just as you're pumped for the duo to ride into town to rescue Ned, the girl from Greeley's finally reaches them and drops the bombshell that Ned died while Little Bill was beating on him. 
You see a switch beginning to flip in Will. It's not subtle. When he tells the Kid to give him his revolver, it's not the same man we've been watching for two hours. The voice is different, the way he moves his hands is different. He takes the whiskey and just begins drinking, the rage breaking through the walls he'd built between the man he is and the man he was, and the Kid starts treating him like a coiled rattlesnake. Will gives in.
When he rides into town, he has no plan other than to kill the men he wants to kill, and Eastwood puts you in Will's shoes, literally moving the camera to his point of view as he tosses the now empty whiskey bottle from atop his horse into the mud and rides up to Greeley's, seeing Ned's body on display out front. It's clear whose side the audience is intended to be on, and we're with him all the way, rewarded by an epic display of balls.
Will straight up walks into the saloon, face still not fully healed from the beating Little Bill gave him, into the midst of an entire posse who intended to ride him down in the morning. He's armed with just a double-barrel shotgun and a six-shot revolver (if he took any spare shells from the Kid, we didn't see it). 
Several armed men stand and watch in disbelief as he singles out Skinny as the owner of the bar and shoots him down right there for putting Ned's body up outside. It's a display of cold-blooded violence that not even Little Bill expected, and it straight up rattles the rest of the men in the room.
We get a little bit of Hollywood here, in that Munny gets an opportunity while aiming the second barrel of his shotgun at Little Bill's head to deliver a short speech, but it's so good that we forgive it:
Bill: Well, sir, you are a cowardly son of a bitch. You just shot an unarmed man.
Munny: Well, he shoulda armed himself, he's gonna decorate his saloon with my friend.
Bill: You be William Munny out of Missouri. Killed women and children.
Munny: That's right. I've killed women and children. I've killed everything that walks or crawls at one time or another. And I'm here to kill you, Little Bill. For what you did to Ned. You boys better move away.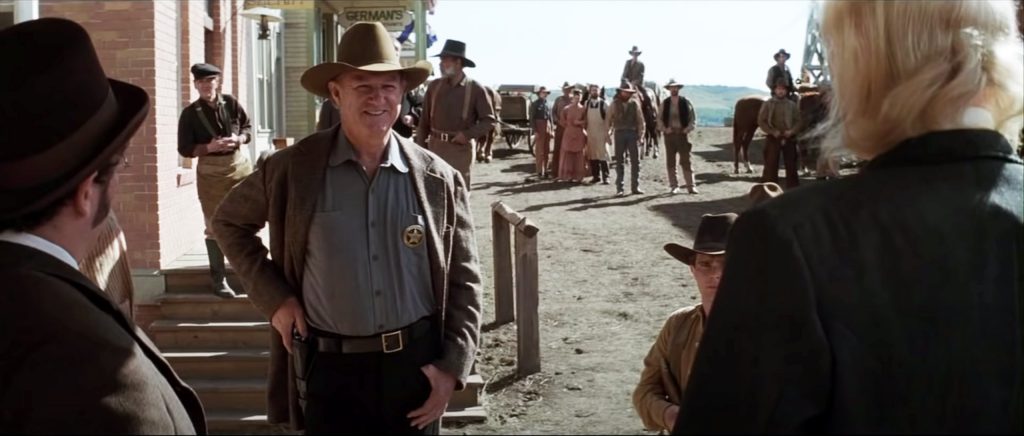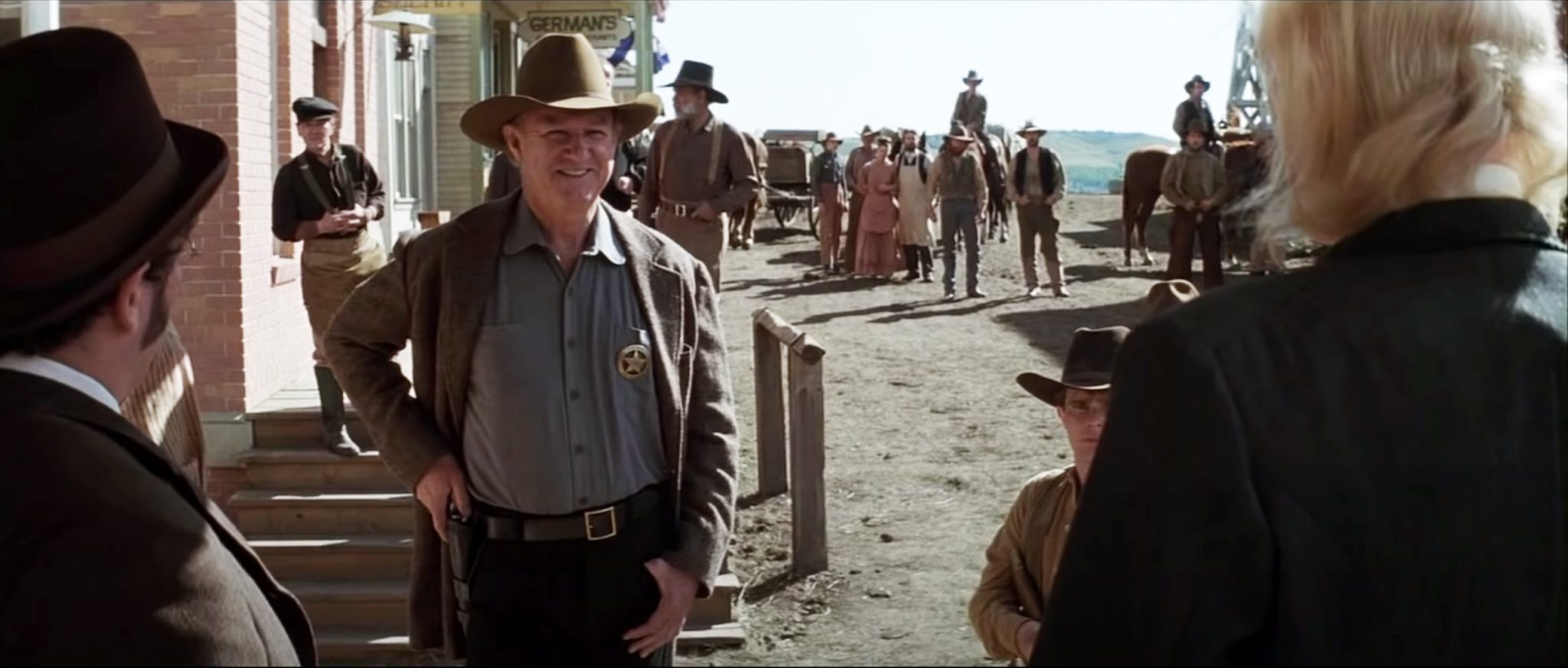 And then his hammer falls on a dead shell, something that was fairly common when using paper-hulled shotshells in heavy rain. The petrified men are snapped out of their stupor and finally draw their guns, including Little Bill, but Munny doesn't flinch.
He throws the empty 10-gauge shotgun at Bill, buying himself enough time to draw his pistol and go down on his knee. Anyone who got their gun out in time shoots high as Munny's first shots take down Bill and several of his men. It's over in a few seconds, with the Fat Man being last to go down. Munny shoots him in the back as he tries to flee (his character's name is actually Fatty Rossiter).
When the shooting stops, Munny tells anyone who doesn't want to get killed to clear out the back, and they do, fast. He pours himself a drink as Mr. Beauchamp struggles out from beneath a dead body and hands him Ned's Spencer rifle and a box of shells. Munny loads the rifle. He does this instead of reloading the Schofield, which tells me he didn't have any additional shells for the revolver — meaning he walked into a room of guns with only eight shots that turned out to be seven. 
The core sentiment of the film isn't laid out until the final exchange between Munny and Little Bill. Bill is still alive after being shot in the chest and attempts to raise his revolver, before Munny steps on his hand and points the Spencer at his head. 
Bill: I don't deserve this. To die like this. I was building a house. 
Munny: Deserve's got nothing to do with it.
Bill: I'll see you in hell, William Munny. 
Munny: Yeah.
And that's it right there. In Unforgiven, like in the real world, sometimes the bad guy wins. Sometimes justice is served, sometimes it isn't and never will be. Nothing is fair. Sometimes the good guy is the villain and the bad guy is the hero, and sometimes, like William Munny, instead of riding into a dreamy sunset with a beautiful woman watching him longingly, he rides out of town in the dead of night through a driving rain as the shocked women who brought him into their midst watch him go in silence, eight bodies total left dead in his wake.   
But for all the grim scenes and depressing conclusions, we also get a bevy of wonderful, memorable scenes that could only have been crafted by someone who spent their life making Westerns. This movie isn't a chore to watch, not by a sight, and looks amazing from beginning to end. It doesn't beat you over the head with the point it's trying to make, but it doesn't sidestep opportunities either, and somehow, it manages to have a bit of humor peppered in, even if it is a bit dark.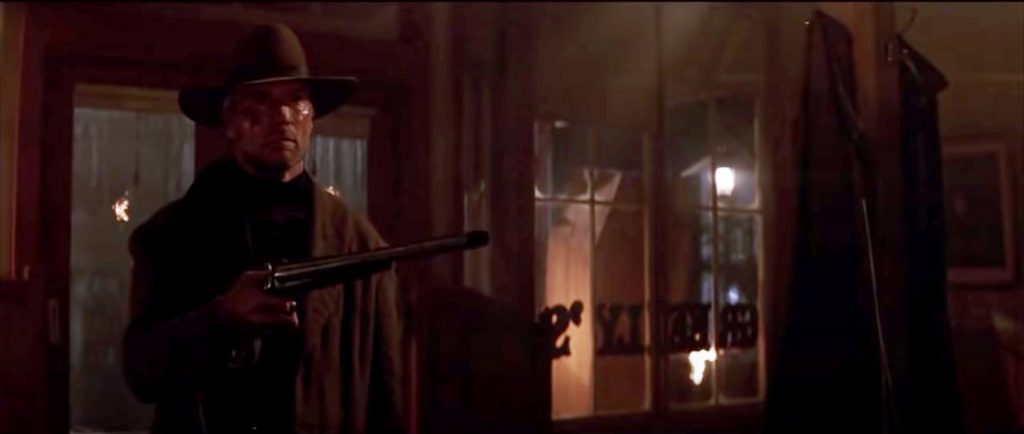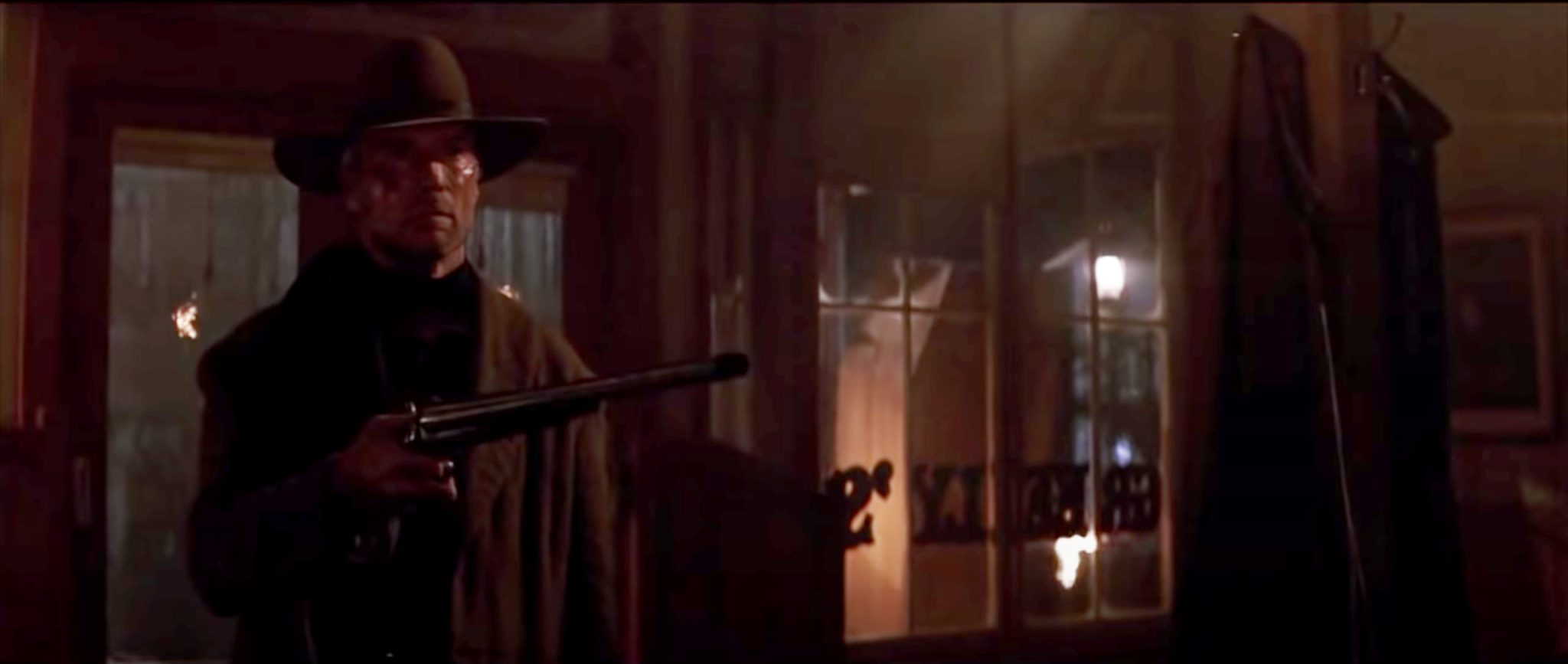 Unforgiven bridges the disconnect between the fanciful high action tales of the Old West as penned by people like Mr. Beauchamp, and the grim realities behind their colorful words. We can easily imagine Beauchamp's flowery description of the events he witnessed in Greeley's that night, and how far they will undoubtedly stray from the truth, just like the severity of Delilah's injuries was inflated each time the tale of the "whore's gold" was repeated. But we witnessed what William Munny did in Greeley's, too, and know how it happened. We can then put a reverse filter on every Western we know, imagining the grim realities behind the stories told by actors pretending to sneer through the gun smoke.
And what becomes of the vicious William Munny? We're provided with a brief coda that tells us as much as it omits. Suffice it to say, he lives on:
"Some years later, Mrs. Ansonia Feathers made the arduous journey to Hodgeman County to visit the last resting place of her only daughter. William Munny had long since disappeared with the children … some said to San Francisco where it was rumored he prospered in dry goods."
And oddly enough, a movie that could be considered an anti-Western ushered in a new age of movies set in the frontier, many of them reverting to the high style and outlandish stories of old, like Tombstone retelling the Gunfight at the OK Corral or the remake of The Magnificent Seven. Or maybe it just proves that Unforgiven fools viewers a little too well.
Read Next: 7 Great and Criminally Underrated Westerns