Barbecue season is here, and it doesn't matter whether you burn a charcoal kettle grill, fire up the propane, slow-roll pellet smoke, or have hickory chunks soaking — meat and heat are summer AF.
Of course, it's easy to get into a barbecue routine that we tend not to wander too far from. We can get comfortable — become that one-trick pony with our cooked meats — and that's okay. Nothing wrong with being consistently really good at fall-off-the-bone, no-teeth-required ribs.
But if you're looking to flex some of those dry-rub and tong-wielding muscles to surprise your grilled-meat-eating faithful with something that'll knock them out, here are five killer summer barbecue recipes for you to try out.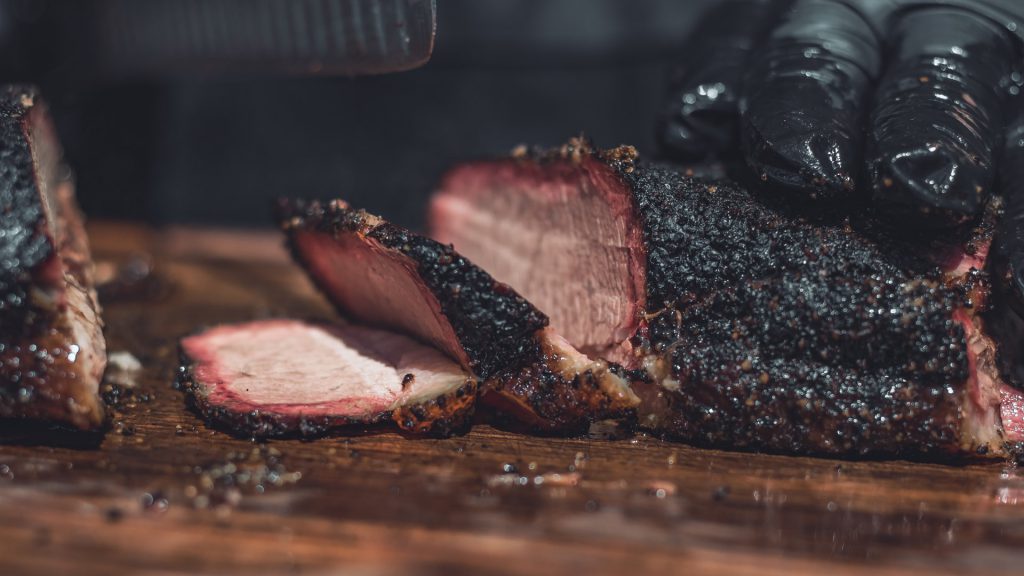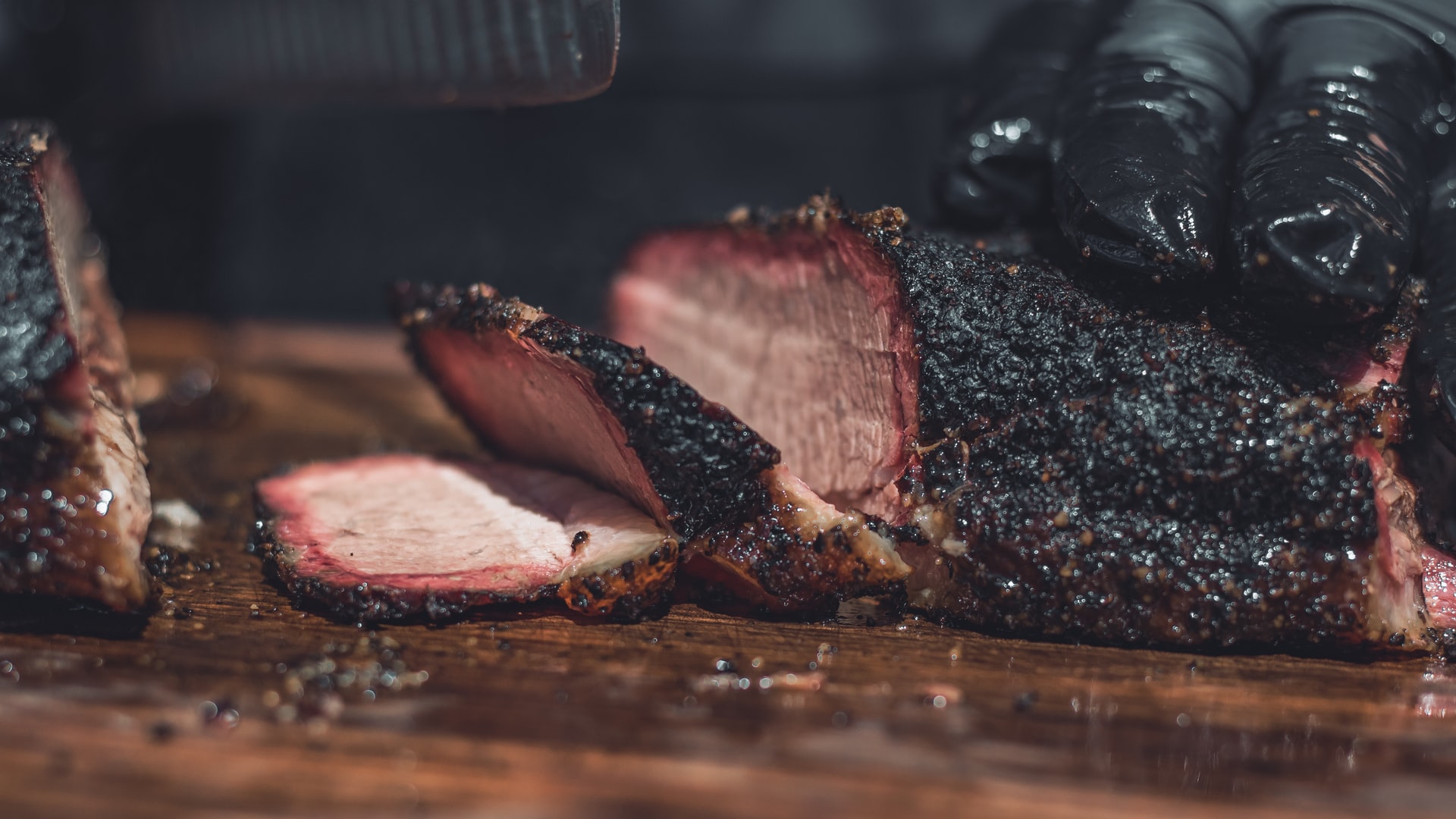 Robb Walsh's Texas Barbecue Brisket
Robb Walsh has written the book on barbecue. Literally. He's a James Beard Journalism Award winner for his food writing and is one of the most respected voices in the culinary world. Of course, he knows his way around barbecue recipes of his own, as well.
Ingredients
1 whole, 9-pound beef brisket
Sea salt
Freshly ground black pepper
4 tablespoons unsalted butter
3 large garlic cloves, smashed
1 teaspoon ground coriander
1 cup barbecue sauce
1 cup low-sodium beef broth
Instructions
Generously season the brisket all over with salt and pepper. Place the brisket on a large, rimmed baking sheet, cover with plastic wrap, and refrigerate overnight.
Heat smoker to 275 degrees. Cover and smoke for 2 hours. Add more lit coals and/or wood as needed to maintain the temperature and smoke level.
In a small saucepan, combine the butter with the garlic and coriander and cook over moderate heat for about 2 minutes or until fragrant. Add the barbecue sauce and beef broth and simmer the mop for 5 minutes. Season with salt and pepper.
After 2 hours, brush the brisket all over with the mop. Turn the brisket fat-side up. Continue to cook, mopping every 30 minutes for about 6 1/2 hours, until the thickest part of the brisket reaches 165 degrees.
Transfer the brisket to a large sheet of heavy-duty foil. Brush the remaining mop and garlic all over the brisket and wrap it in the foil. Put the wrapped brisket in a large, disposable aluminum roasting pan. Set the pan in the smoker and cook the brisket about one hour longer, until it reaches 185 degrees.
Slice the brisket thinly across the grain and serve it with its cooking juices.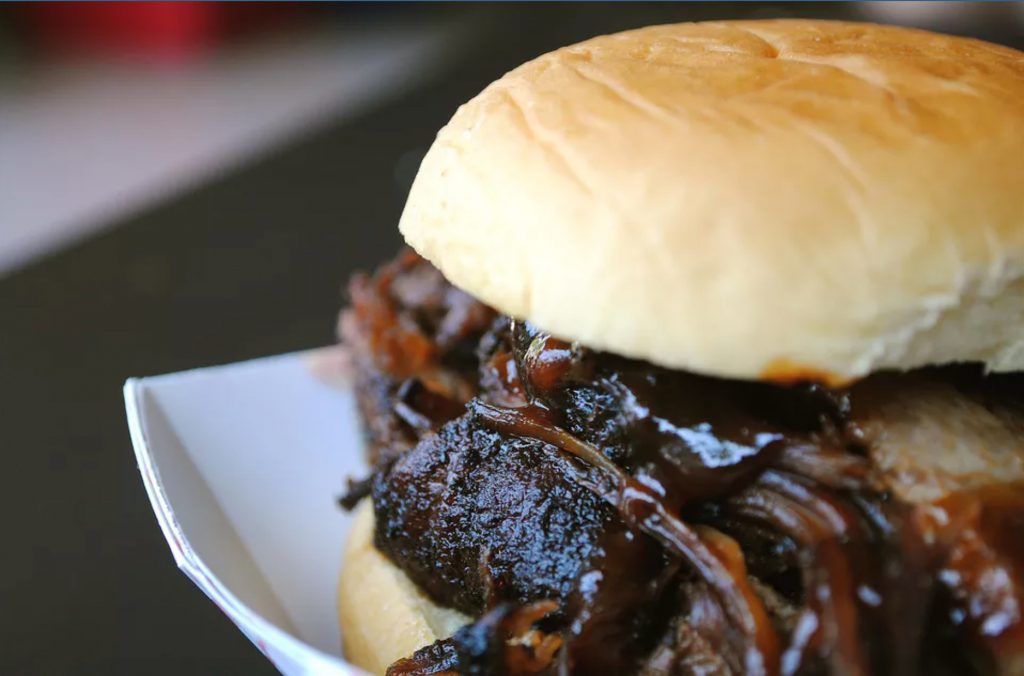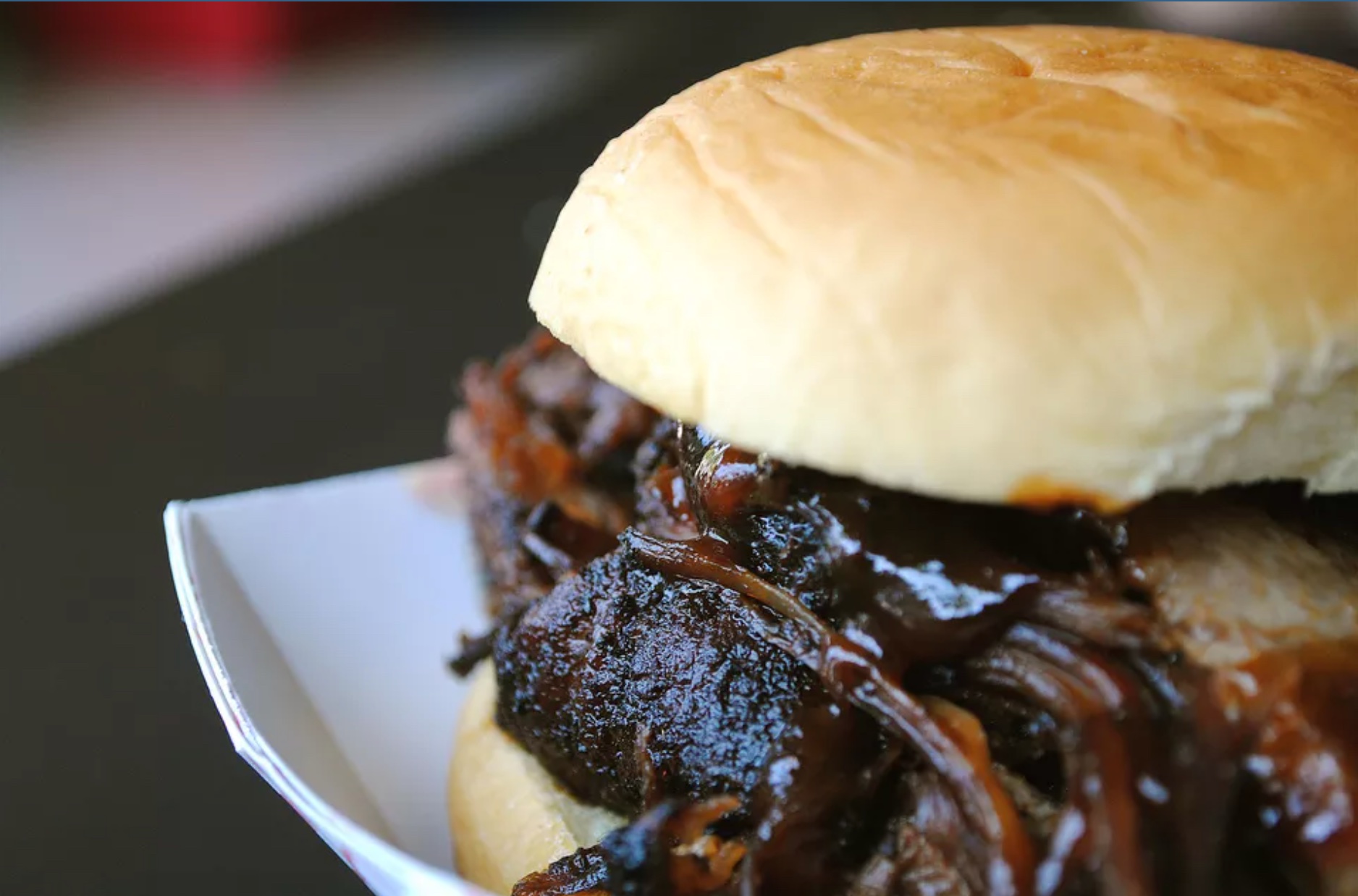 Dotty Griffith's Memphis-Style Barbecue Pulled Pork Shoulder
Dotty Griffith was the food editor and critic for the Dallas Morning News for more than four decades and is a respected cook in her own right. She's written 12 books, including Celebrating Barbecue, which features this recipe.
Ingredients
One 4- to 5-pound pork butt or shoulder roast
The South Shall Rub Again (see below)
Memphis Mop (see below)
8 to 10 sandwich buns, optional
Red pepper sauce, such as Tabasco or Texas Pete, optional
Instructions
Sprinkle a generous layer of the rub on all surfaces of the pork roast. Rub the mixture into the meat. Wrap the meat in plastic wrap and refrigerate for at least 3 hours or overnight.
Remove the pork from the refrigerator and unwrap it about 1 hour before placing it on the grill, letting it reach room temperature.
Soak the wood chips in water for at least 1 hour before you begin grilling.
Smoke the pork shoulder for 4 to 6 hours, turning it every hour or so, until it is tender and the internal temperature reaches 195 degrees on an instant-read thermometer.
Tend the fire by adding wood (or wood embers from a separate fire) or coals to keep it from going out and to keep the temperature inside the cooker between 225 degrees and 300 degrees. Brush on the mop when turning the pork or after tending the fire. Add soaked chips as needed to maintain the smoke flavoring.
Remove the pork from the cooker and allow it to rest, covered loosely with foil, for about 15 minutes.
Peel away and discard the skin layer and pull the pork into thin pieces about 1 by 2 inches.
Pile on buns with generous slathers of barbecue sauce and crowns of coleslaw.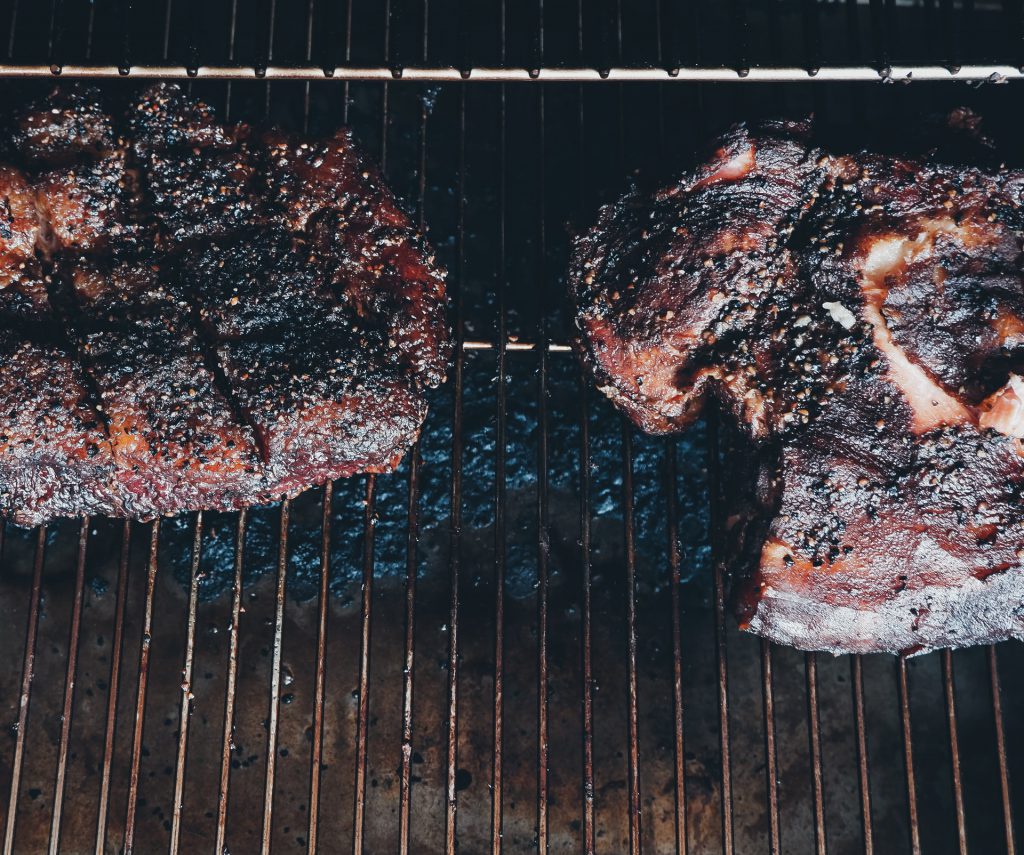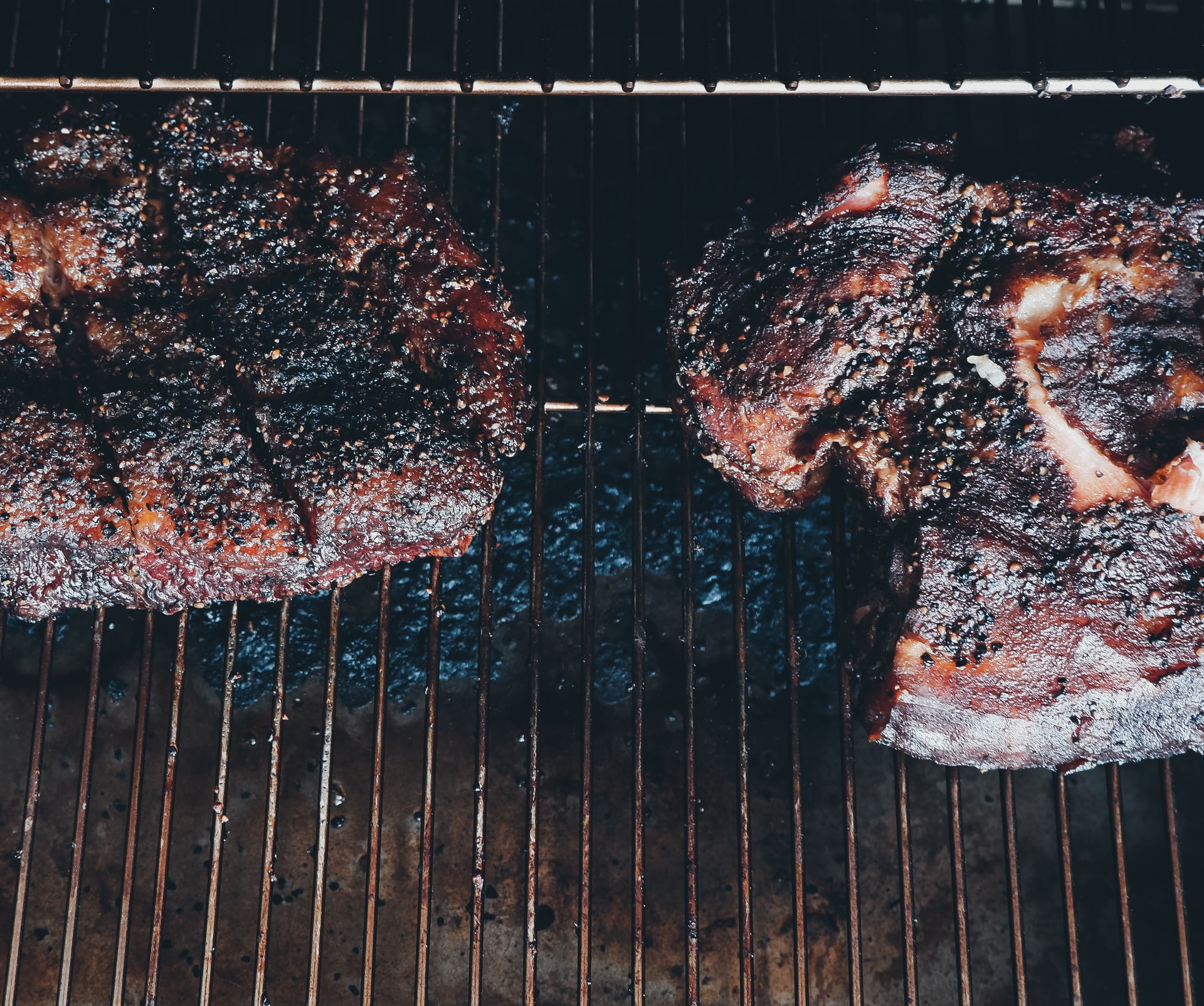 The South Shall Rub Again
3 tablespoons granulated garlic
3 tablespoons paprika
3 tablespoons sugar
2 tablespoons salt
1 tablespoon black pepper
2 teaspoons ground sage
2 teaspoons ground ginger
1 teaspoon ground cumin
1 teaspoon dry mustard
1/2 to 1 teaspoon cayenne pepper
In an airtight container with a lid, combine all the ingredients. Shake to mix well. This will keep for up to a year in a cool, dark place. Makes about 2 cups.
Memphis Mop
2 cups cider vinegar
1/4 cup (1/2 stick) margarine or butter
2 tablespoons yellow mustard
1 tablespoon salt
1 tablespoon black pepper
1/4 cup molasses, optional
1/2 to 1 teaspoon red pepper sauce, optional
In a small saucepan, combine the vinegar, margarine or butter, mustard, salt, and pepper. If desired, add the molasses and/or red pepper sauce. Bring to a boil over low heat (tester's note: we used high heat). Reduce the heat to very low and simmer for about 10 minutes. Makes 2 to 3 cups.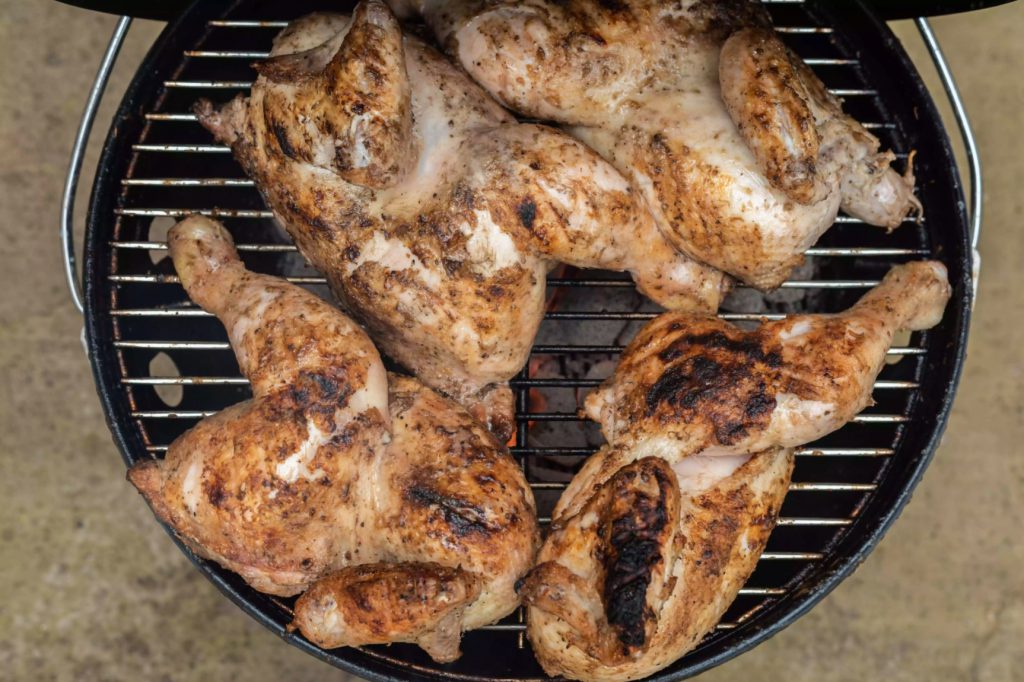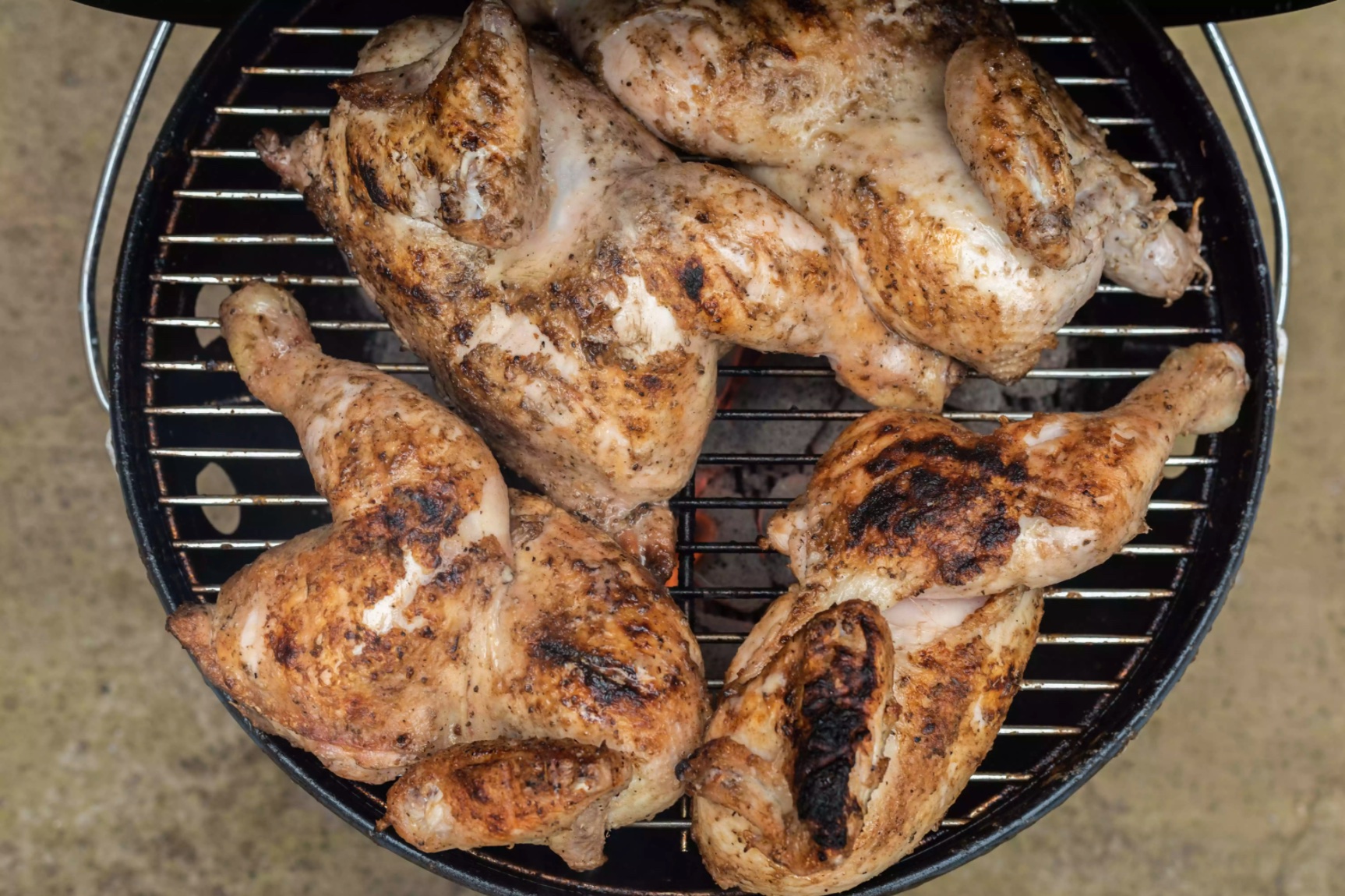 Dr. Baker's Original Cornell Chicken
According to Dr. Baker's Cornell original chicken recipe, barbecued broilers without sauce are like bread without butter. This upstate New York sleeper recipe makes an incredibly juicy and complex-tasting barbecue chicken and proves that great 'cue can be made north of the Mason Dixon.
Ingredients
4 or 5 whole chickens (2 1/2 to 3 pounds each), cut in half
Cornell Sauce:
1 pint cider vinegar
1 cup vegetable oil
3 tablespoons salt
1 tablespoon poultry seasoning
1/2 teaspoon ground black pepper
1 large egg
Instructions
Combine the basting-sauce ingredients in a blender and mix thoroughly.
Place up to 4 chicken halves in large zip-seal plastic bags and pour in 1/2 cup of the sauce.
Seal the bags and shake gently to coat the chicken evenly. Refrigerate for 2 hours.
Remove the chicken from the marinade and wipe off excess sauce from the surface. Discard the marinade in the bags.
Grill over charcoal, turning often and liberally basting with the remaining unused sauce every 10 minutes for about 1 hour, or until cooked through.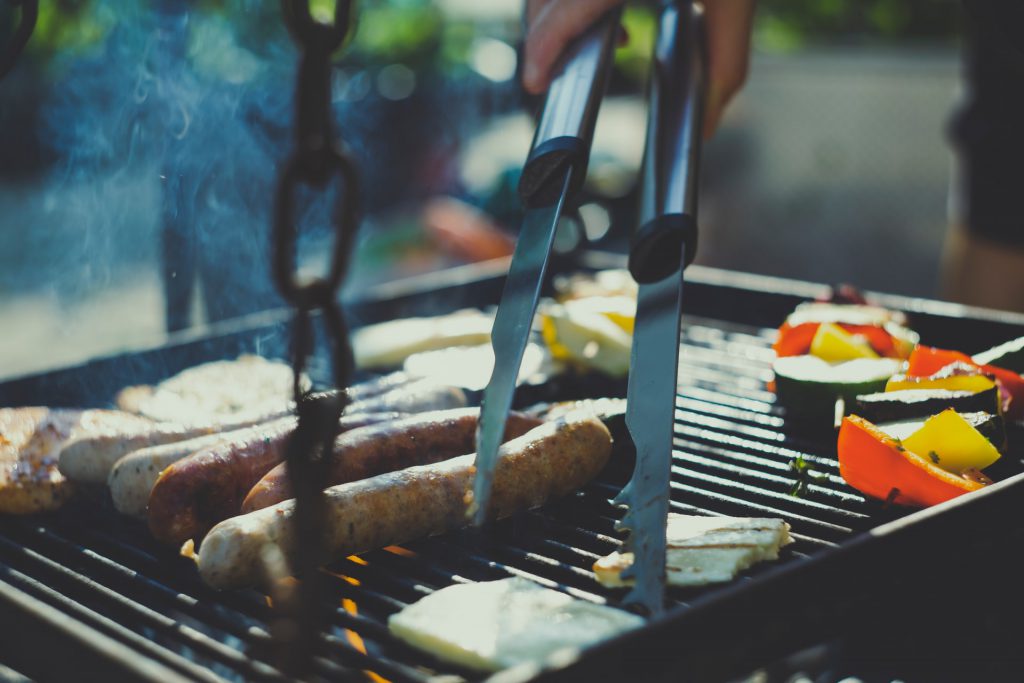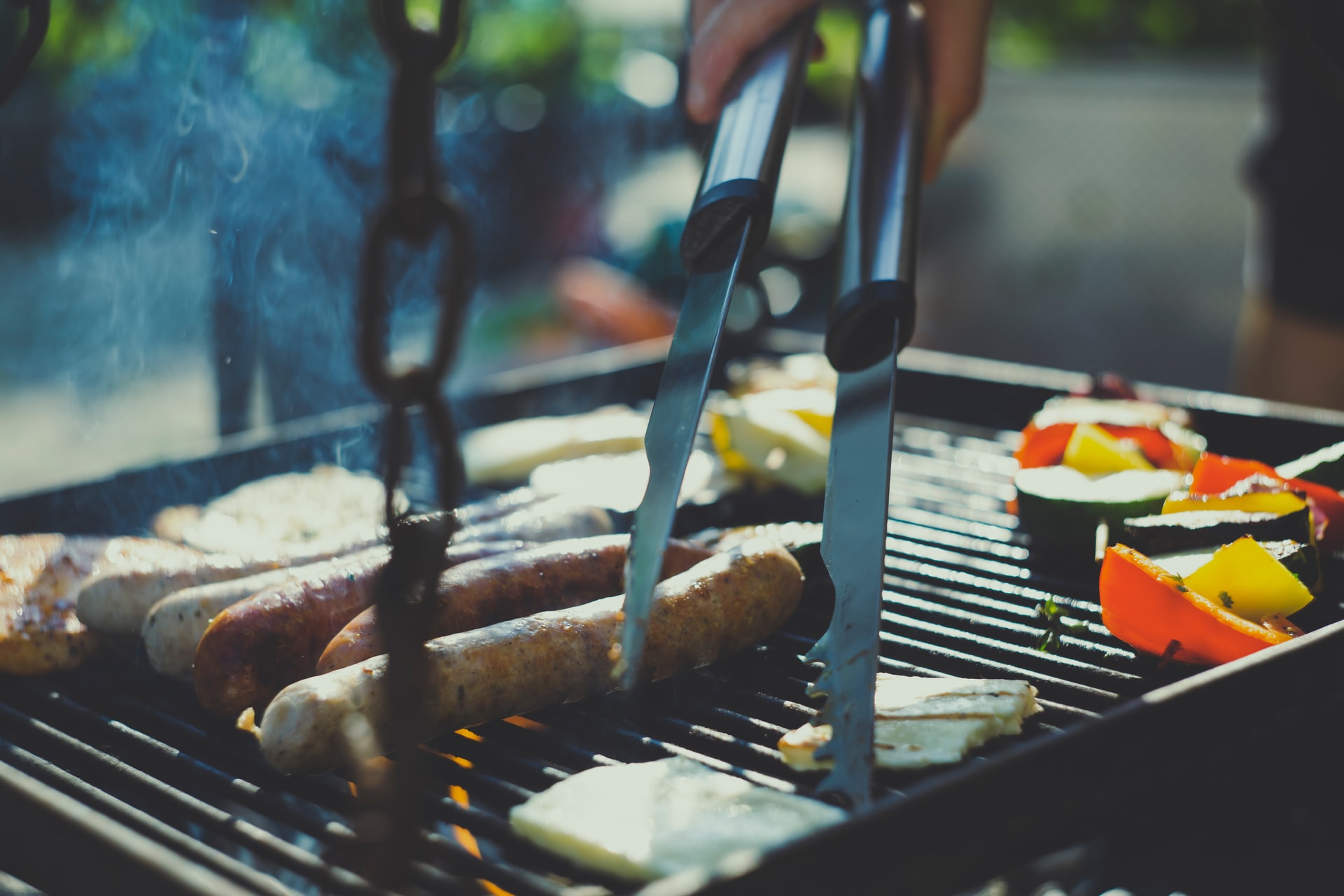 Simple Grilled Sausage and Peppers
Sometimes the simple route can provide the best results. Don't just run to the local chain grocery store for brand-name sausage. Find your local butcher and bring home something different. Your hungry masses will thank you.
Ingredients

1 pound sweet peppers (green, red, and yellow, if available), seeded and cut into eighths
2 large yellow onions, peeled and cut into large coins
3 to 4 tablespoons extra-virgin olive oil, more to taste
1/4 teaspoon salt, more to taste
2 pounds locally sourced sweet or hot Italian sausages, bratwurst, kielbasa, andouille, or other fresh sausages
Instructions
Build a fire in your grill, leaving one side free of coals. When coals are covered with gray ash and the temperature is medium, you are ready to cook.
Toss peppers and onions in a bowl with oil and sprinkle with salt. Lightly prick sausages all over so that they do not burst.
Put peppers and onions in a grill basket or directly on the grill for 10 to 12 minutes, turning occasionally until they are softened and dark at the edges. Move them to the side of the grill without coals.
Place the sausages on the hot side of the grill, cover, and cook for 8 to 10 minutes, turning occasionally until they are cooked through.
Transfer the peppers and onions to a platter, and top them with the sausages. Drizzle with olive oil, or sauce of your choice, and serve.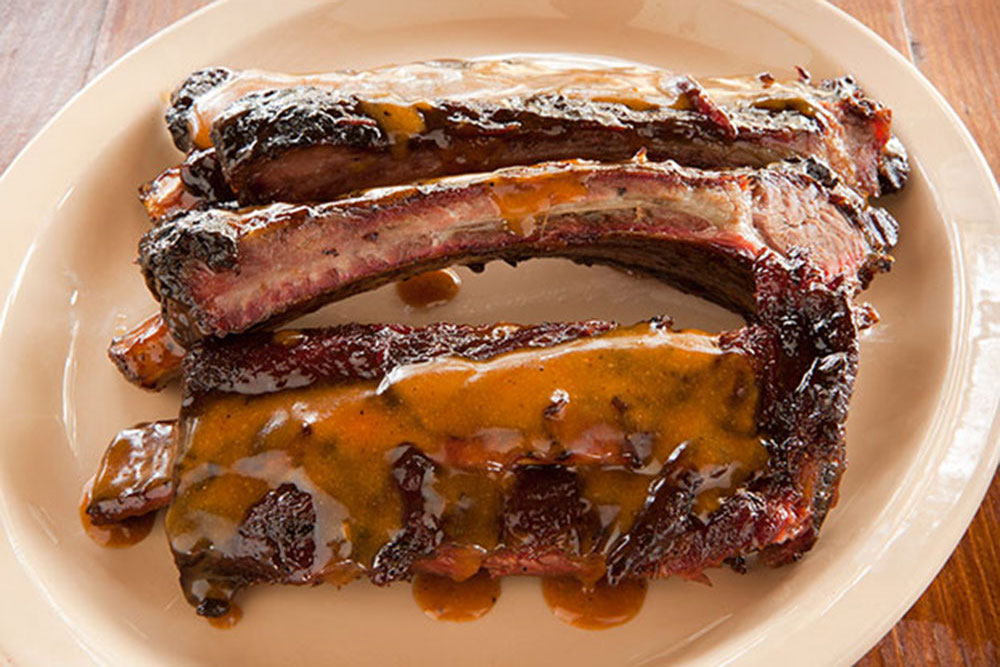 Salt Lick Texas Beef Ribs
We've written about Salt Lick here before, so of course, there's some oh-my-goodness grilling included from them. This particular barbecue ribs recipe is an excerpt from Scott Roberts' entry in The Salt Lick Cookbook: A Story of Land, Family, and Love.
Ingredients
1 rack beef back ribs
1 bottle favorite dry rub, or the Salt Lick's dry rub (see below)
1 bottle favorite barbecue basting sauce (one without tomatoes)
Salt Lick Dry Rub
7 1/2 ounces Morton salt
3 ounces ground black pepper, medium grind
1 1/2 ounces ground cayenne pepper
Instructions
Heat smoker to 225 degrees.
Remove skin from the bone side of the ribs and discard.
Rub each rack of ribs with dry rub for a moderately heavy coating.
Place ribs meat-side down in smoker midway from the main heat source. Cook for 30 minutes.
Lightly baste each rack with the barbecue sauce, then turn over and baste the meat side. Let the temperature of the smoker cool to 180 degrees. Baste every 1 1/2 hours for a total cook time of 6 1/2 hours.
Check the internal temperature of the ribs. They're ready for removal when they're at 160 degrees. Remove to wire cooling rack on a flat sheet pan. Baste ribs once more, and separate individual ribs with a sharp knife. Serve immediately.
Read Next: Local Smoke: 5 of the Best Barbecue Joints in America