When you hear the term salmon burger, you can't help but think of some overpriced menu item at a pretentious restaurant or some flaccid, flavorless recipe out of a weight-loss magazine. Some of us can even still taste the metallic canned-salmon burgers we choked down as kids.
Childhood traumas and negative associations aside, a salmon burger doesn't have to be something to recoil from. In fact, it's an excellent way to enjoy salmon, especially one you've caught yourself.
Now, don't tear my head off. I can hear angry fingers furiously typing, "Why would you grind up a perfectly good piece of fresh salmon?!" I'm not telling you to throw that sushi-grade filet in the food processor — unless you want to. But a salmon burger is an excellent way to use up tail-end cuts, filets that get accidentally mangled, fish that's spent a little too long in the freezer, or salmon left over from dinner last night.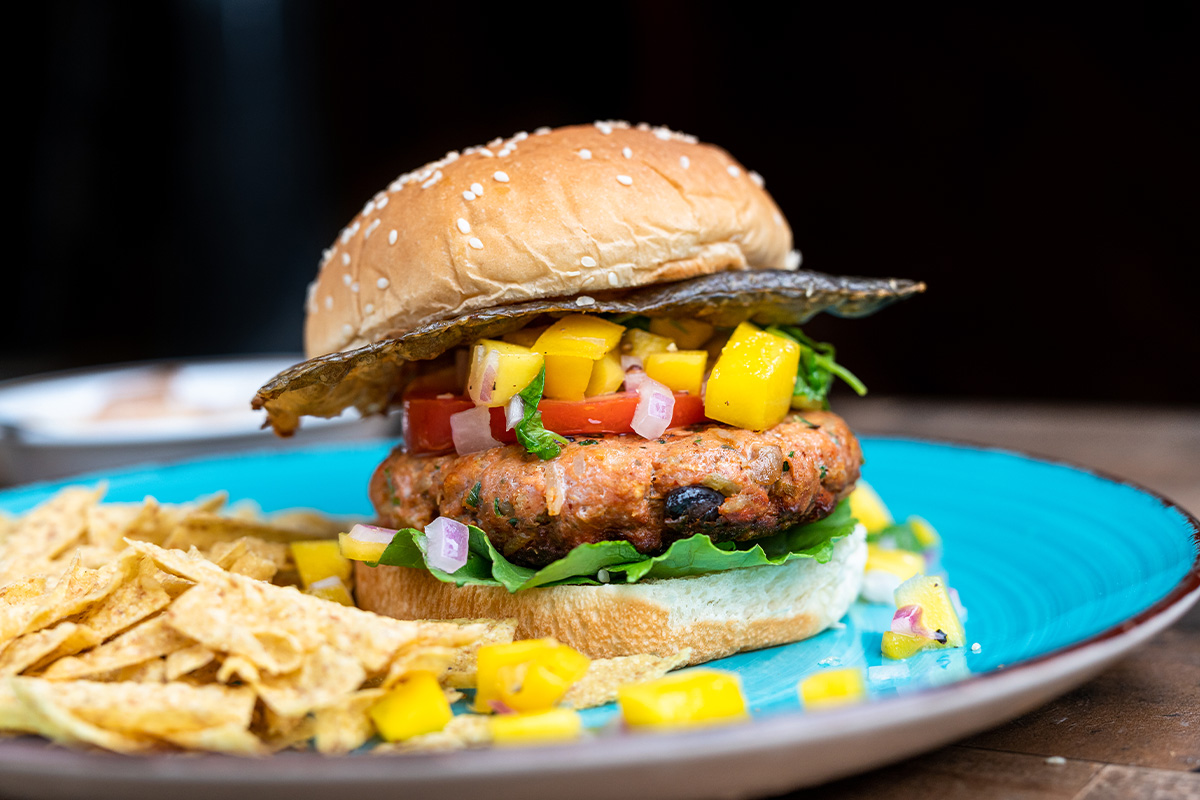 If you have some extra salmon kicking around and you're not sure what to do with it, don't write off salmon burgers until you give this recipe a try.
A lot of salmon burger recipes are either Asian-inspired or follow the classic hamburger model with the addition of a tartar-like sauce or something similar. For this recipe, I wanted to go with a slightly nontraditional approach and decided on a Southwestern theme.
The salmon burger itself is well seasoned and includes hatch chiles, black beans, and rice for added texture. It is served on a soft sesame bun with chipotle sour cream, mango salsa, lettuce, and tomato, plus a chip made of salmon skin, just to be fancy. If fish skin isn't your thing, you can obviously skip that part, but it's a cool and tasty way to use something you might otherwise throw away.
Ideally, the mango for the salsa should be a little under-ripe so it has some texture and a slight tartness. One important trick: While forming the burger, make sure the black beans are firmly pressed into the patty and not sticking out around the edges. Otherwise, they may fall out when cooking.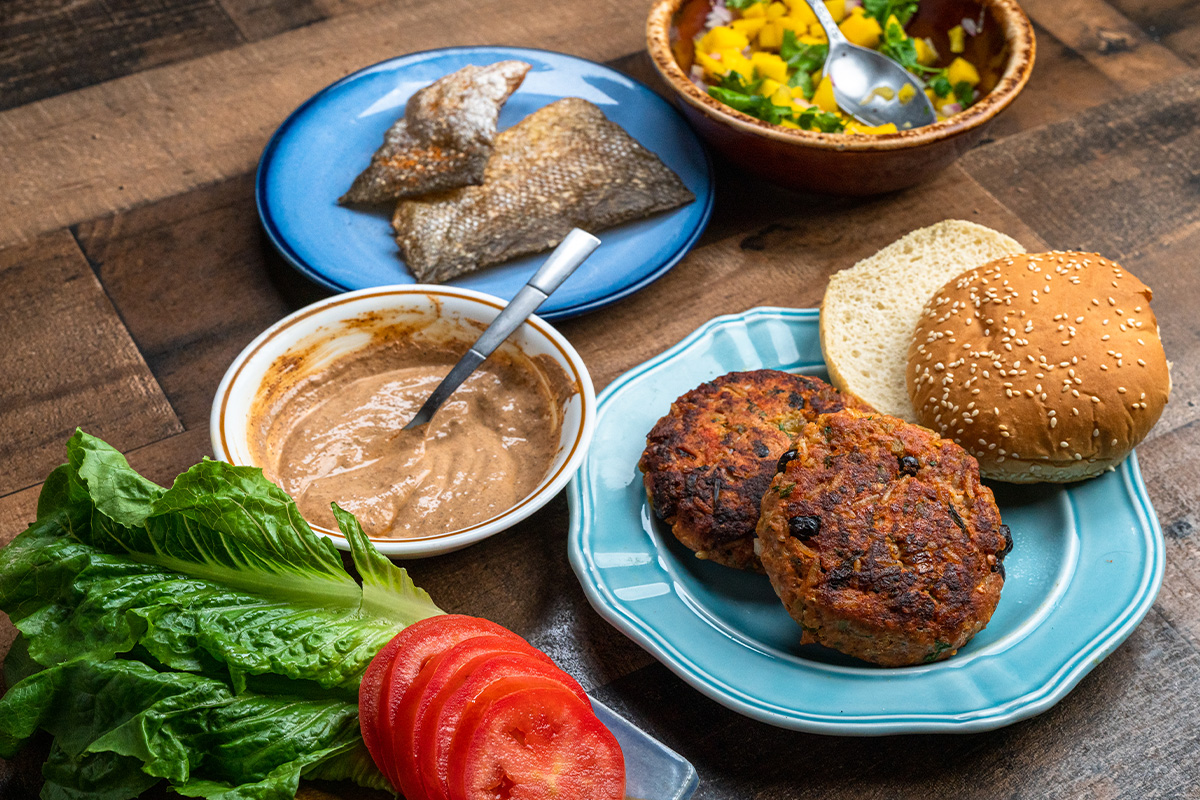 Don't be afraid to riff a little on the recipe, especially by switching up the sauce or adding toppings like avocado. You can use pretty much any popular salmon species or substitute trout or another firm but flaky fish.
If you like salmon, try this easy-to-make recipe, especially if you don't have the most pleasant associations with or memories of salmon burgers. I think you'll be surprised how much you dig it.
Yields 4-6 salmon burgers.
RELATED – A Venison Kebab Recipe That Will Impress Everyone
---
Salmon Burger Ingredients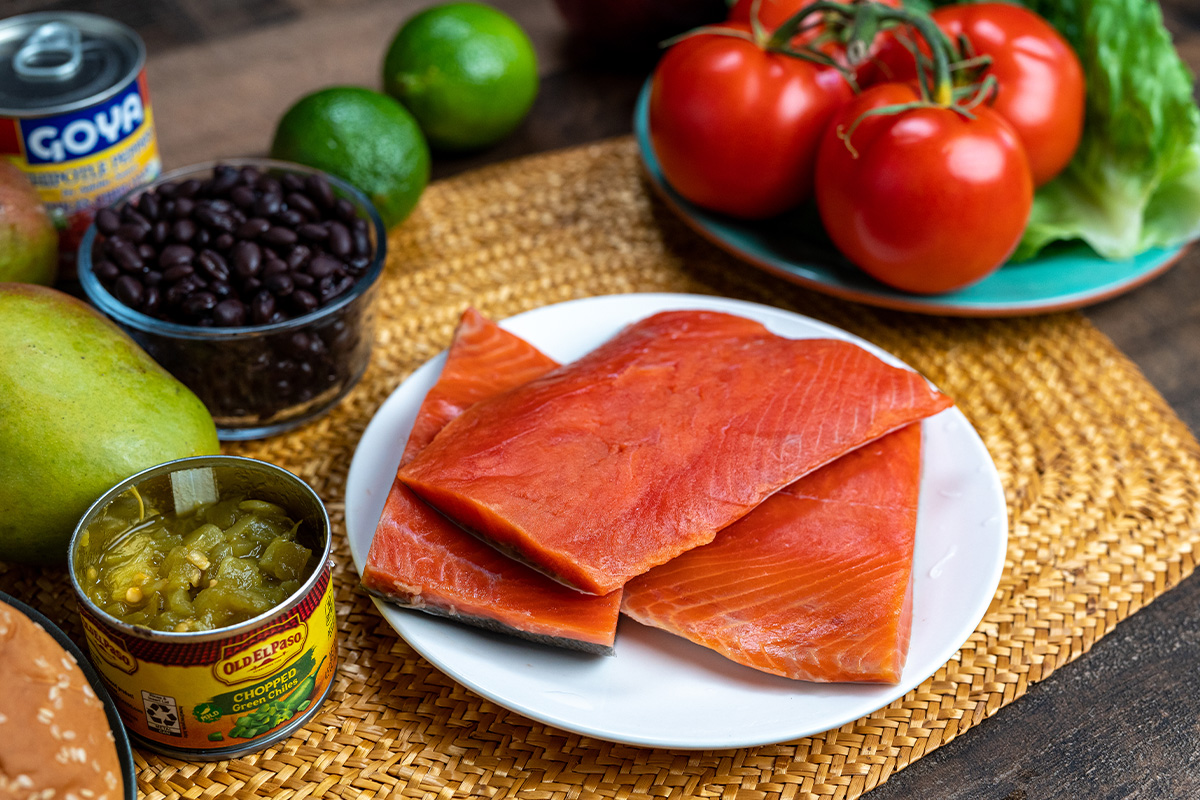 12-16 ounces salmon
1/2 cup black beans, cooked
1/2 cup long-grain white rice, cooked
1 tablespoon ginger, peeled and chopped
1 egg white
1/2 cup scallions, chopped
1/4 cup cilantro
1 teaspoon kosher salt
1 teaspoon chili powder
1 teaspoon dried oregano
1/2 teaspoon paprika
1/2 teaspoon cumin
1/4 teaspoon ground black pepper
1/4 teaspoon onion powder
1/4 teaspoon garlic powder
1/8 teaspoon cayenne pepper
1/2 cup hatch chiles, canned
1/4 cup panko bread crumbs
Salsa Ingredients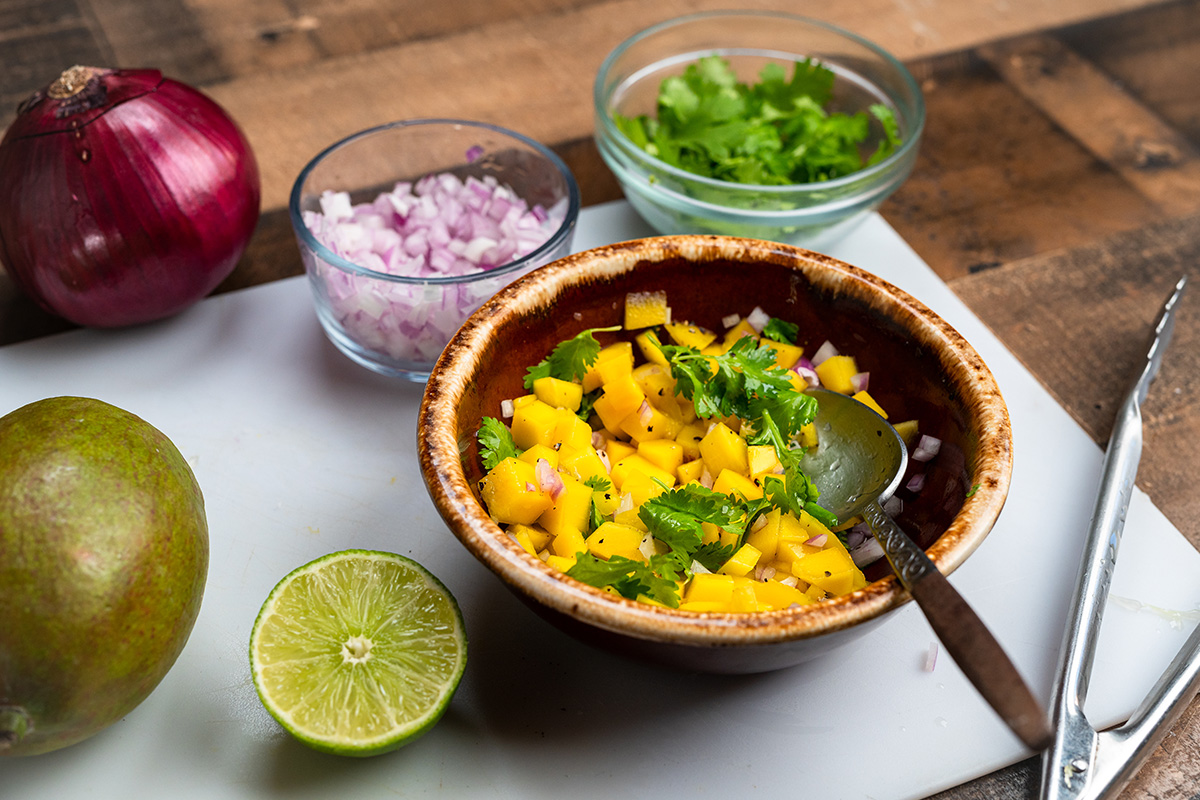 1-2 mangos
1 lime, juiced
1/4 cup red onion, diced
1 tablespoon cilantro leaves
1/8 teaspoon kosher salt
Salmon Burger Toppings and Accoutrements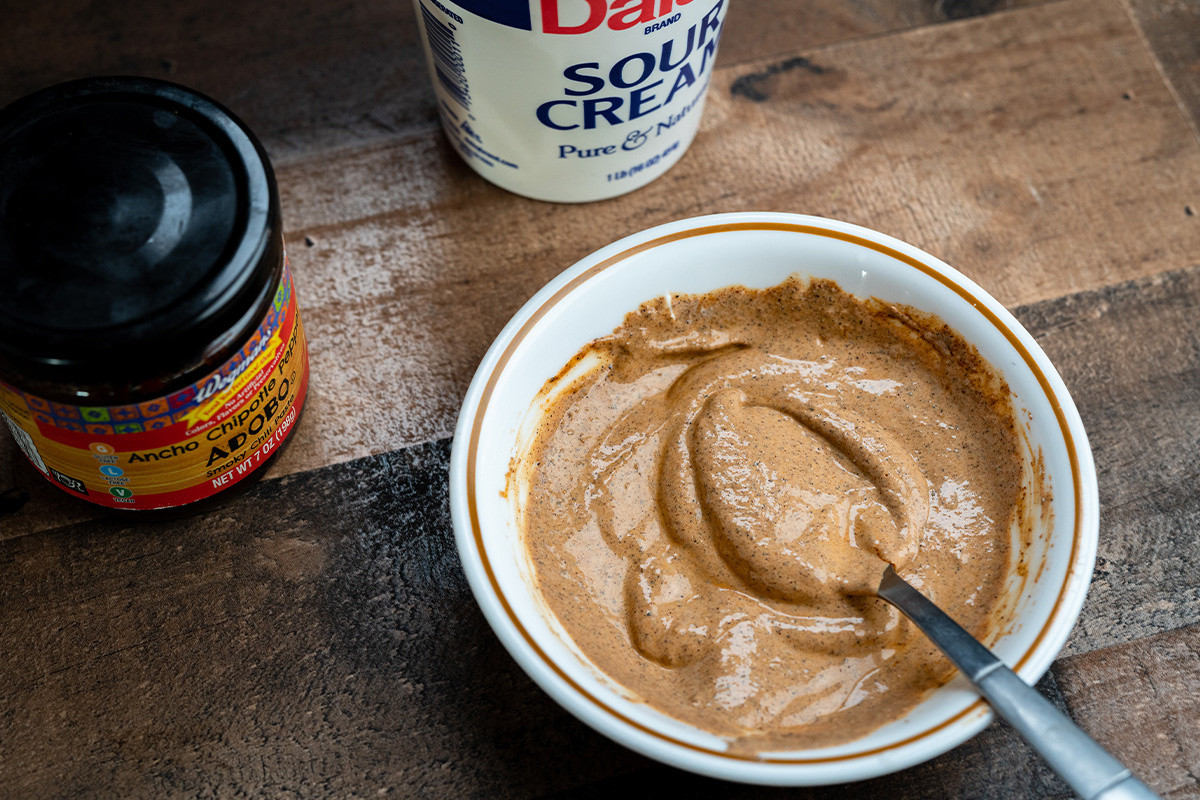 1 sesame seed burger bun
1 leaf romaine lettuce
1-2 slices tomato
1 tablespoon chipotle pepper in adobo paste
2 tablespoons sour cream
Tajin or similar seasoning blend to sprinkle on the salmon skin chip
GOOD GEAR – Conquer Your Taste Buds With the BRCC AK-47 Espresso Roast
---
Directions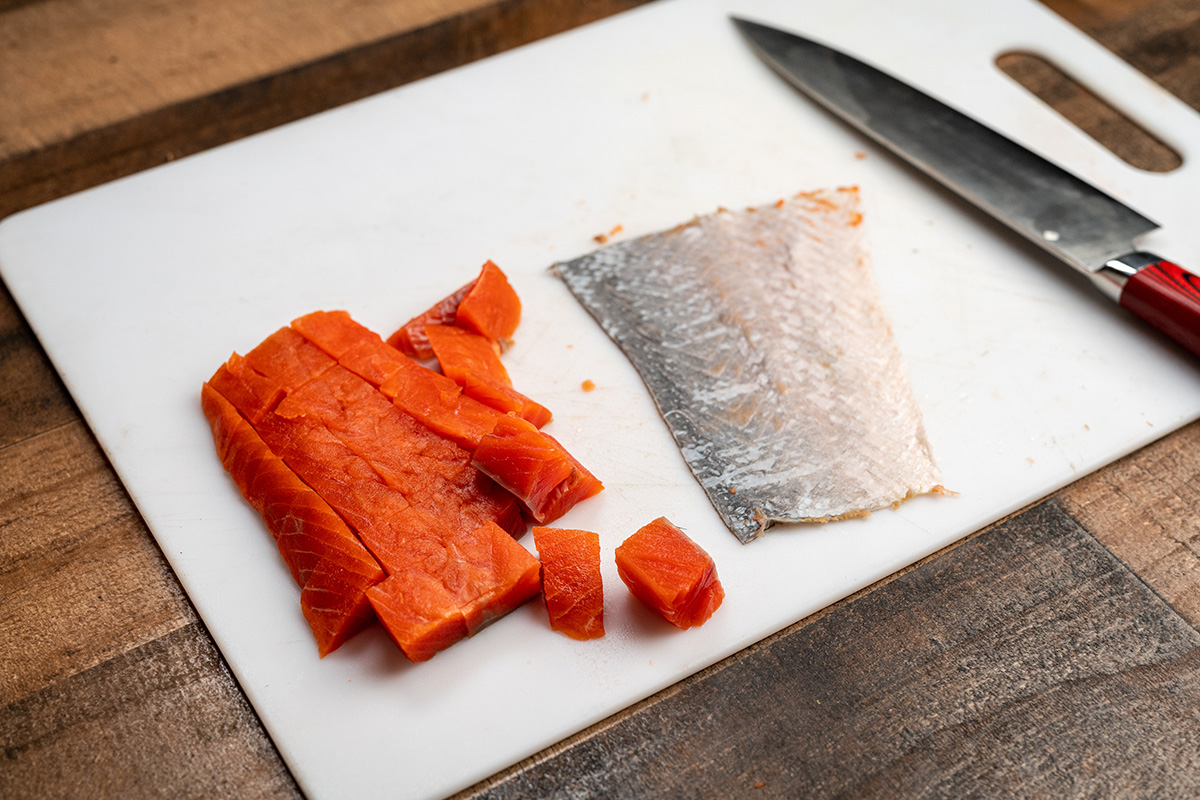 Descale and remove the salmon skin from the filet, then cut the salmon meat into cubes and set the skin aside.

Thoroughly rinse and cook the rice. Soak and cook your dry black beans or rinse and drain a can of black beans (recommended).

In a food processor, add the peeled and chopped ginger and an egg white and blend on high for roughly 30 seconds.

Add the cubed salmon, scallion, cilantro, and all the spices and seasonings, and pulse until the meat is slightly chunky but not quite a paste. It should be about as coarse as ground beef, but wetter.
Transfer the salmon to a mixing bowl and add the rice, black beans, hatch chilis, and panko bread crumbs. Fold everything together and mix thoroughly. Add more panko if needed to bind the mix. Refrigerate for at least 30 minutes.

Peel and slice the mango into cubes, dice about a quarter of a red onion, and pick a handful of cilantro leaves. Combine everything in a mixing bowl, squeeze in lime juice, and add a pinch of salt and pepper.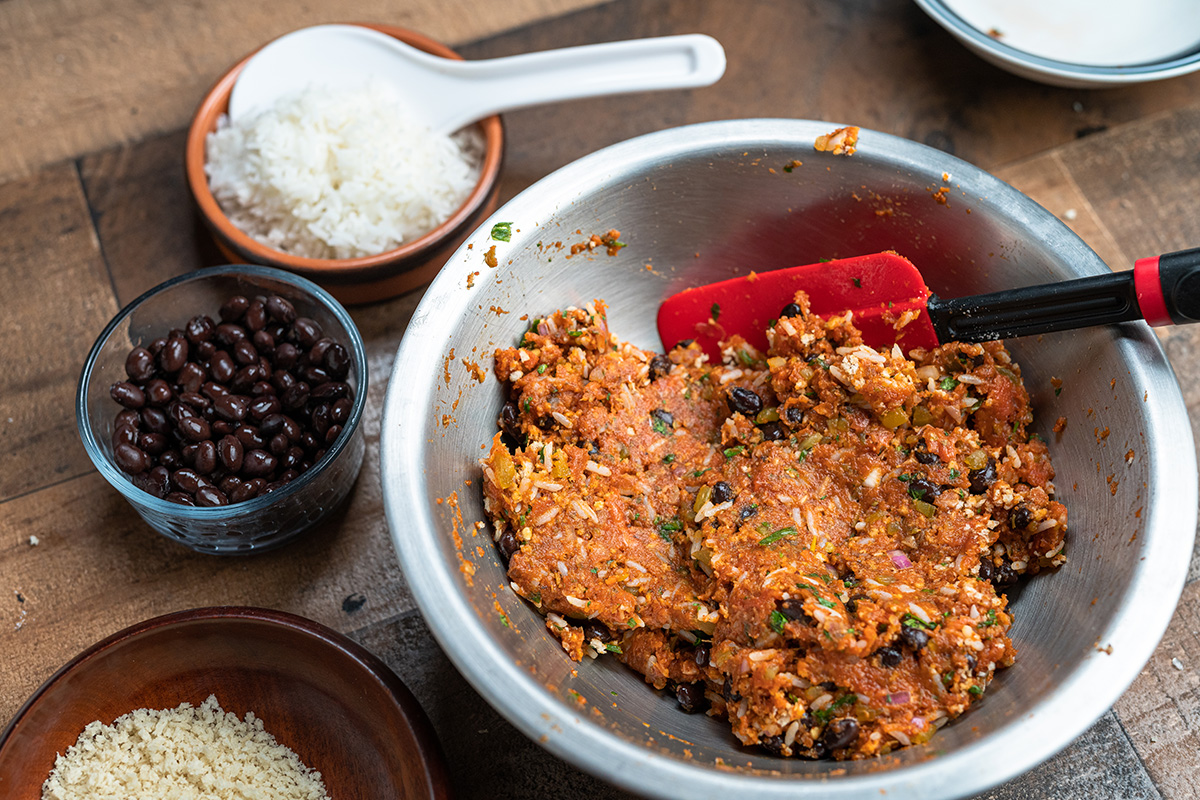 For the salmon skin chip: Preheat an oven to 400 degrees. Scrap off any remaining meat and fat from the salmon skin with a spoon, then pat it completely dry with a paper towel. Assemble a wire rack and sheet pan, then lightly brush the wire rack with vegetable oil.

Alternatively, you could skip the rack for a piece of parchment paper. Place the skin flesh side down on the rack and sprinkle it with a pinch of kosher salt. Bake for roughly 15 minutes or until the skin is completely dry and brittle.

Flip the skin for the last few minutes of baking. Remove from the oven and sprinkle the chip with Tajin or a similar seasoning.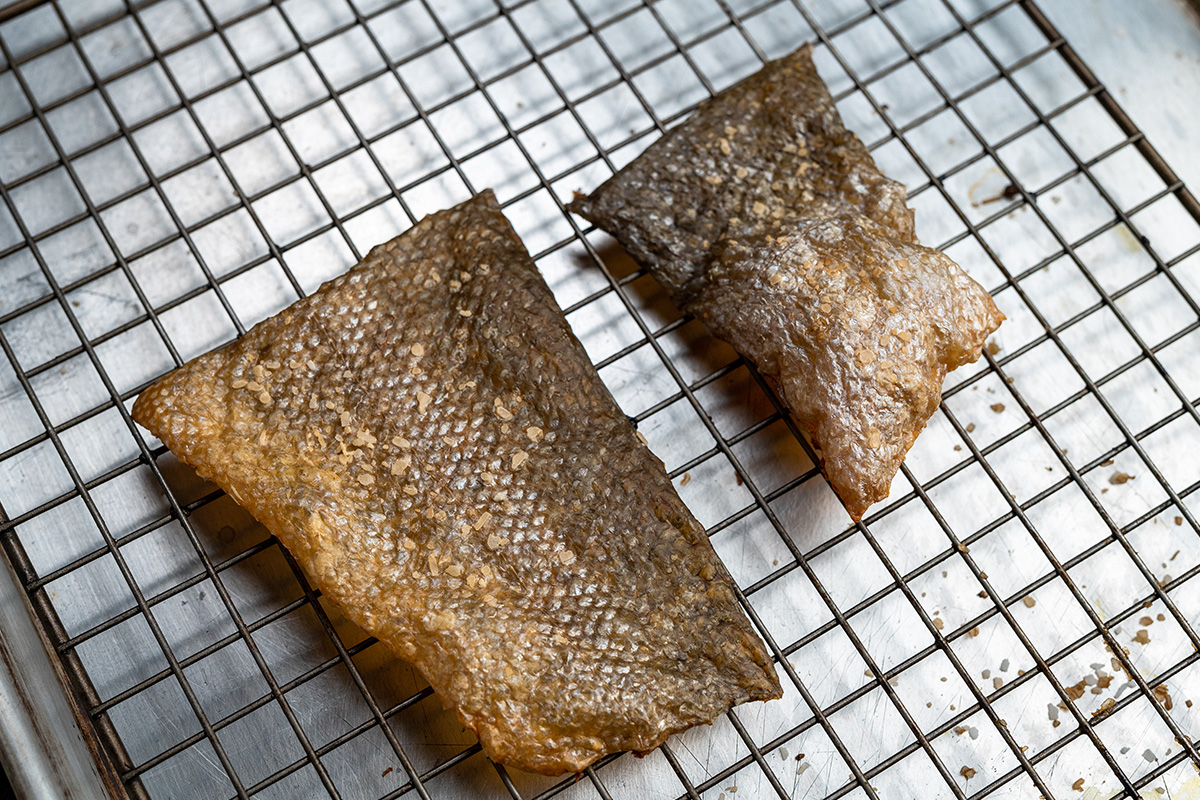 Heat a saute pan on medium and add about a teaspoon of oil. Form the salmon burger patty and sear it on both sides, 1 to 2 minutes per side. Cook until both sides are seared and the burger is mostly firm to the touch with just a little bit of springiness in the center. Grilled salmon burgers are certainly an option, but make sure your patties are firm, so they don't fall through the grate. You're looking for a golden brown color.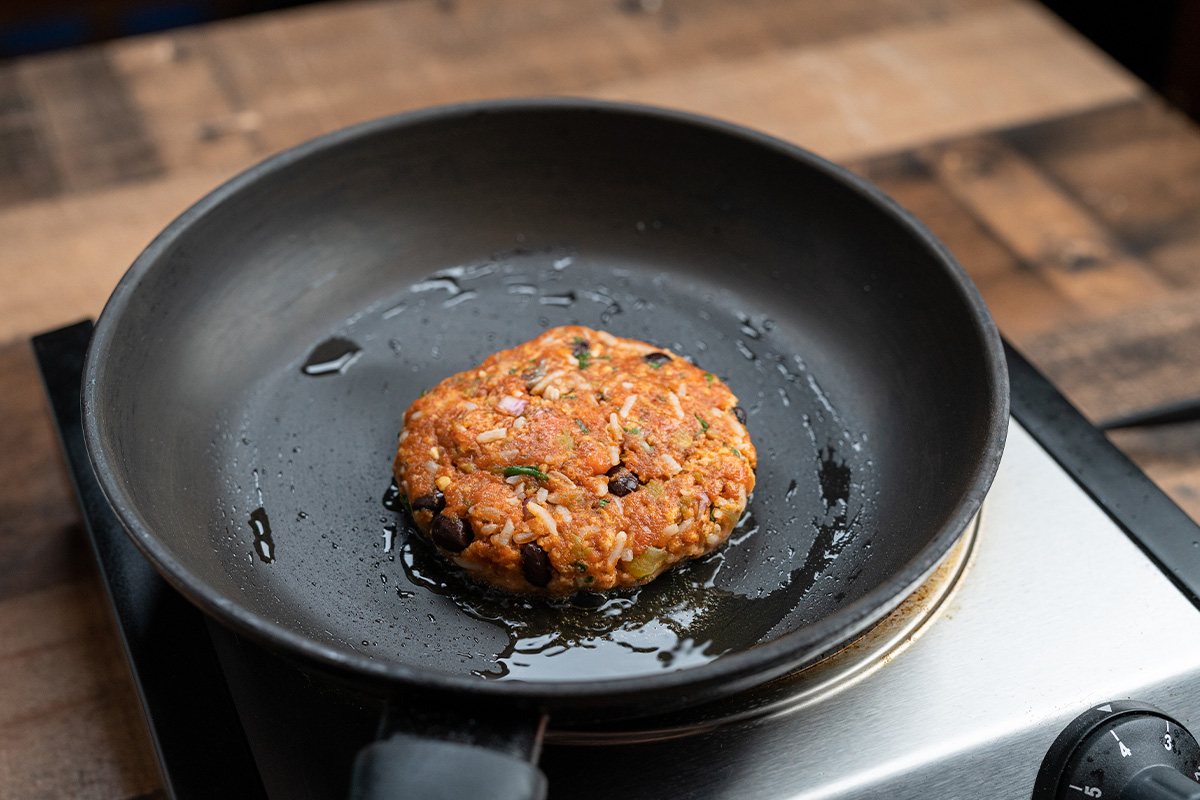 Mix about a tablespoon of chipotle pepper in adobo paste with about 2 tablespoons of sour cream.
Assemble the burger by spreading a spoonful of chipotle sour cream on the inside of the bun, then adding the salmon patty, followed by the lettuce and tomato, then the mango salsa. Top with the salmon skin chip.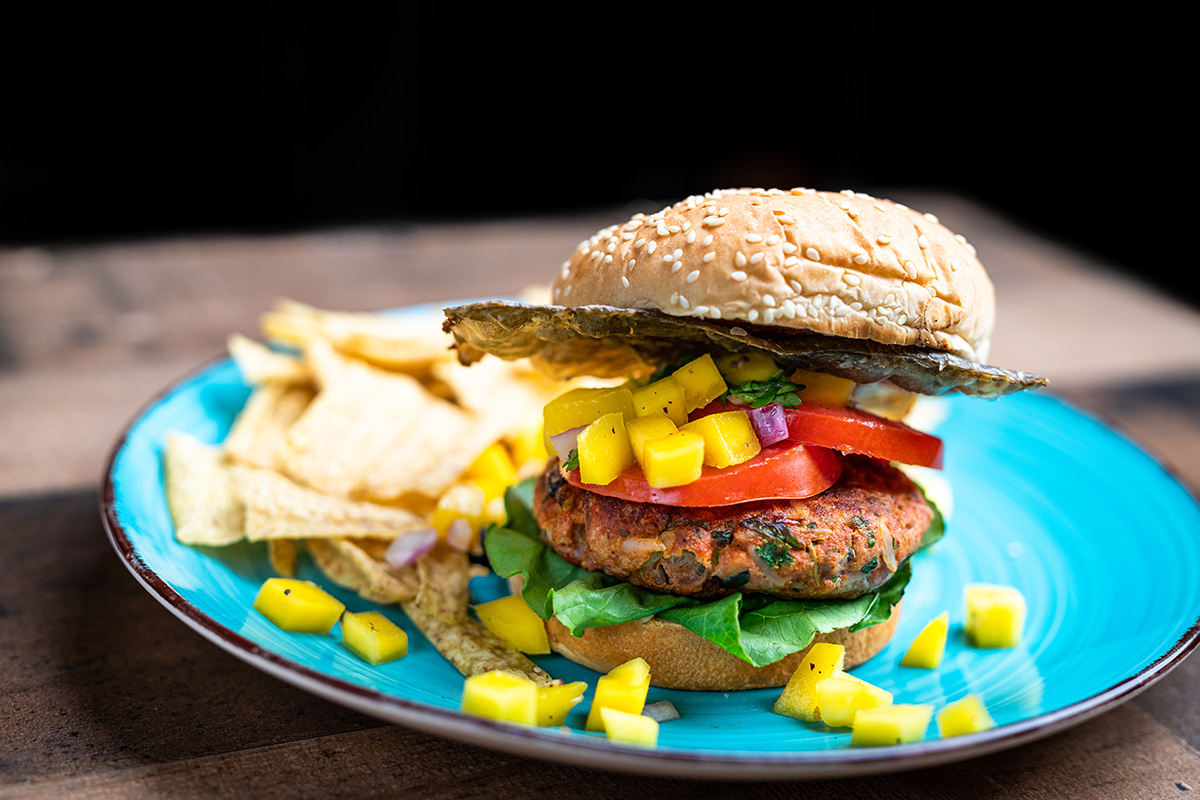 If you want to save time or aren't a fan of chipotle sour cream, you can top these salmon burgers with your favorite tartar sauce, and a little mayonnaise, or keep it simple and fresh with a squirt or two of fresh lemon juice. Again, don't be afraid to try different flavors.
---
READ NEXT – How To Make an Awesome Smoked Trout Dip