After a successful trip to hog country last year, I found myself with a pile of ground meat to play with, in addition to the primal cuts. As I brainstormed new recipe ideas, I wanted to draw on the places where feral hogs live. I have made plenty of Southern and Southwestern-inspired hog meals, but then it dawned on me that Hawaii is one of the most hog-rich environments in the states. A Hawaiian burger was the next obvious step.
At first, I was going to make a Hawaiian burger using feral hog meat, inspired by classic Hawaiian burger joints, but then I stumbled upon a pack of King's Hawaiian rolls at the supermarket, and sliders seemed like the right direction to take the idea.
Having spent most of my life in northern states, I'm not going to pretend to be an authority on feral hogs, but let's get one thing straight. Feral hog meat is good to eat, and I'm sick of hearing that it's not.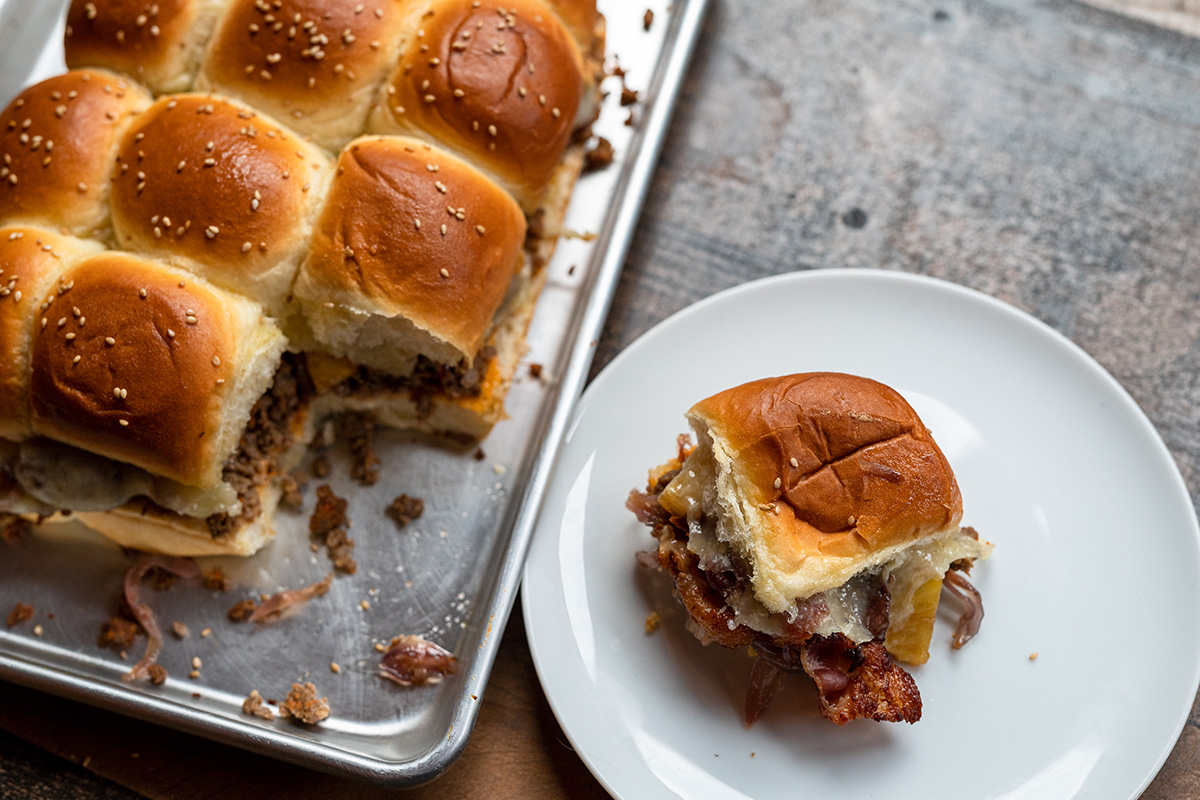 Plenty of folks eat and enjoy their hunted hogs, but there is a loud minority that can't stomach the idea. Sure, there are some stanky, rutted-up hogs out there, but boar taint and truly inedible hogs are the exceptions rather than the rule.
Hog meat combines the flavor and texture of venison and pork, providing a lean and tasty protein. It's a versatile animal that takes well to many cooking techniques and preparations.
Beyond the roasts, loins, ribs, and other great cuts you can get from feral pigs, I'm a big fan of grinding hog meat, and I use it in sausages, pasta sauces, and lettuce wraps, to name a few. A Hawaiian burger, while typically made with beef, seemed like a great way to utilize groundhog meat, and sliders were the right vehicle to bring the idea to life.
It is hard to pinpoint precisely what makes something "Hawaiian," but to me (hopefully without causing too much offense), Hawaiian cuisine is a mix of American, Asian, and Polynesian influences.
There's nothing authentically "Hawaiian" about his recipe beyond the influence of some of the ingredients, but it's meant to be an accessible and relatable starting point for people to eat their hunted hogs.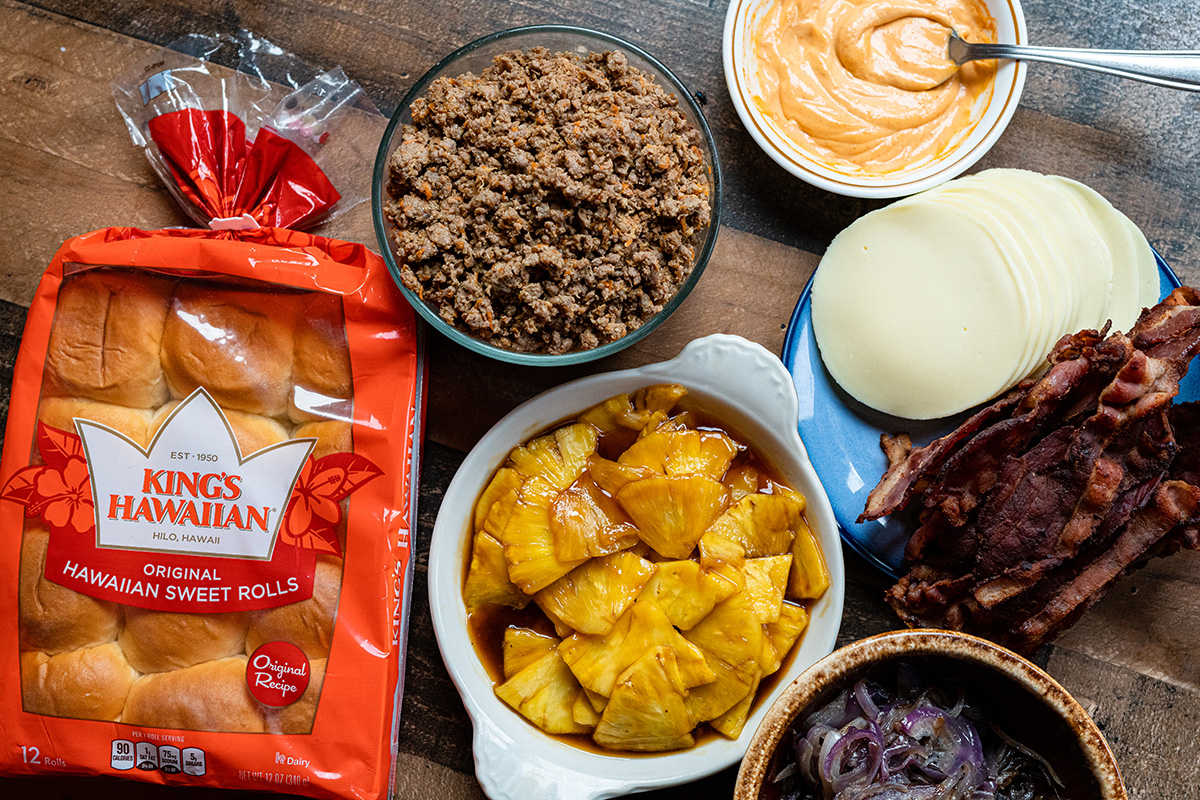 This recipe can also be easily adapted to make the full-blown Hawaiian burger that inspired it, but whipping up these sliders is a bit quicker once the grinding is done, mostly because you don't have to make burger patties.
My wild pork Hawaiian sliders feature savory ground pork cooked with ginger and fish sauce and are paired with teriyaki glazed pineapple, Sriracha mayonnaise, caramelized onions, crispy bacon, provolone cheese, and a soft, sweet Hawaiian roll to tie it all together. And while this recipe doesn't include classic burger toppings like lettuce and tomato, you could certainly add them if you'd like.
These killer sliders are easy to make and a fantastic dish to bring to any party or game night. If you'd prefer to eat the whole thing yourself at home in your underwear — it's great for that too. I know from experience.
GOOD GEAR – Conquer Your Taste Buds With the BRCC AK-47 Espresso Roast
---
Hawaiian Burger Ingredients
1-2 pounds hog meat
1 carrot
2 tablespoons ginger
1 clove garlic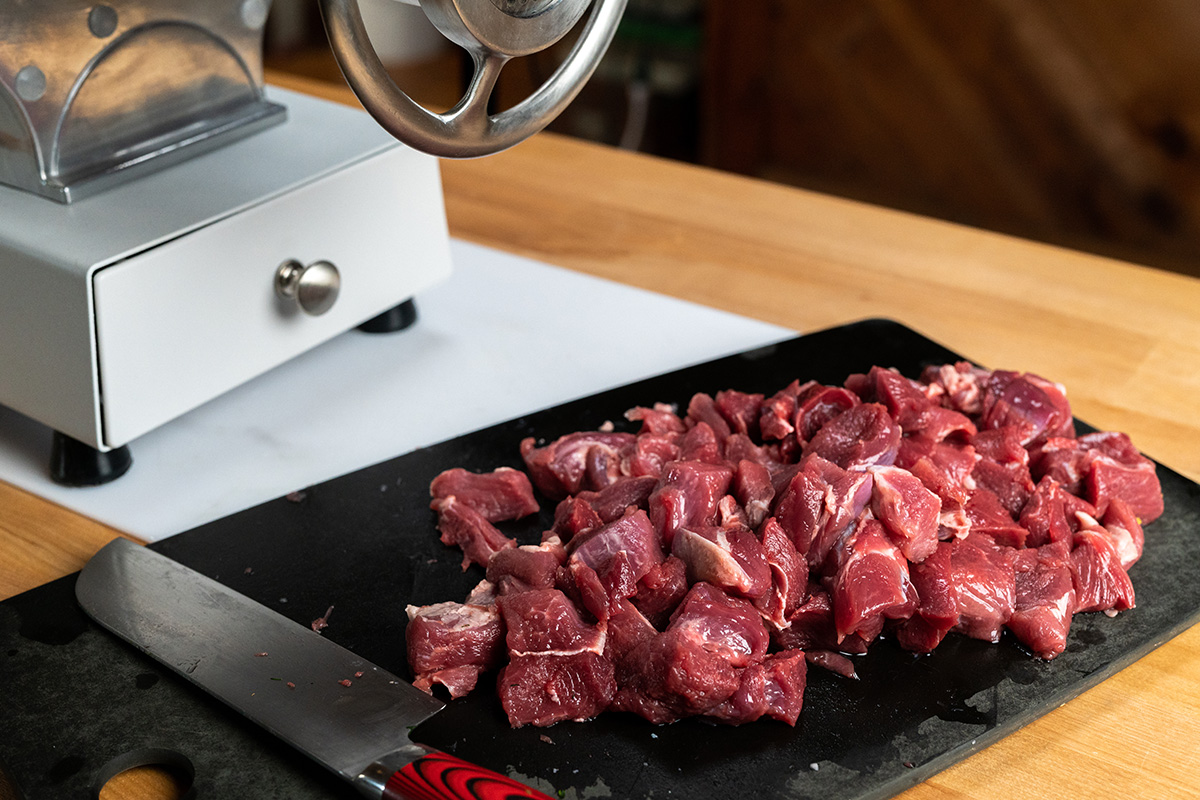 1/2 teaspoon garlic powder
1/2 teaspoon onion powder
1/2 teaspoon ginger powder
1/2 teaspoon kosher salt
1/4 teaspoon white pepper
1/8 teaspoon ground nutmeg or clove
1 teaspoon fish sauce
1 teaspoon hot sesame oil
1/2 pineapple
1/2 cup teriyaki sauce
2 red onions
1 package King's Hawaiian rolls or similar slider roll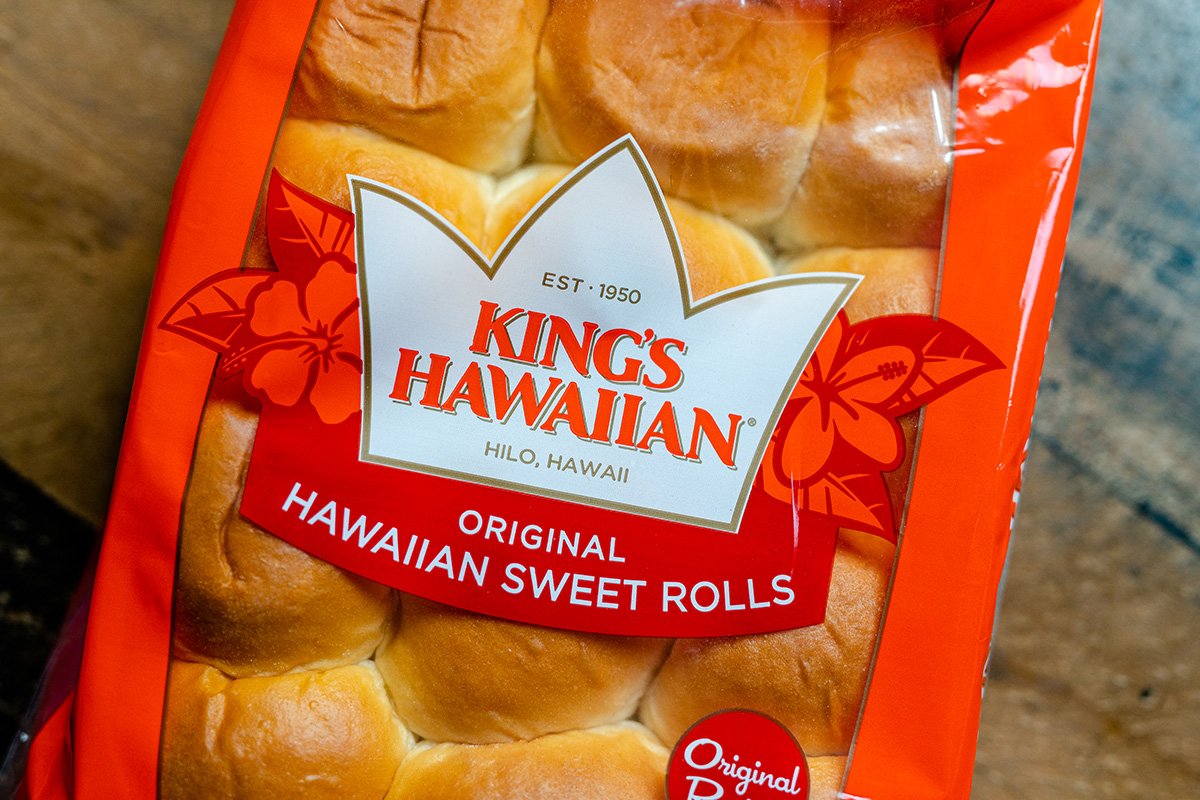 6-8 slices provolone cheese
1 pound bacon
1/4 cup sriracha
1/2 cup mayonnaise
sesame seeds
butter
READ NEXT – How To Make an Awesome Smoked Trout Dip
---
Hawaiian Burger Directions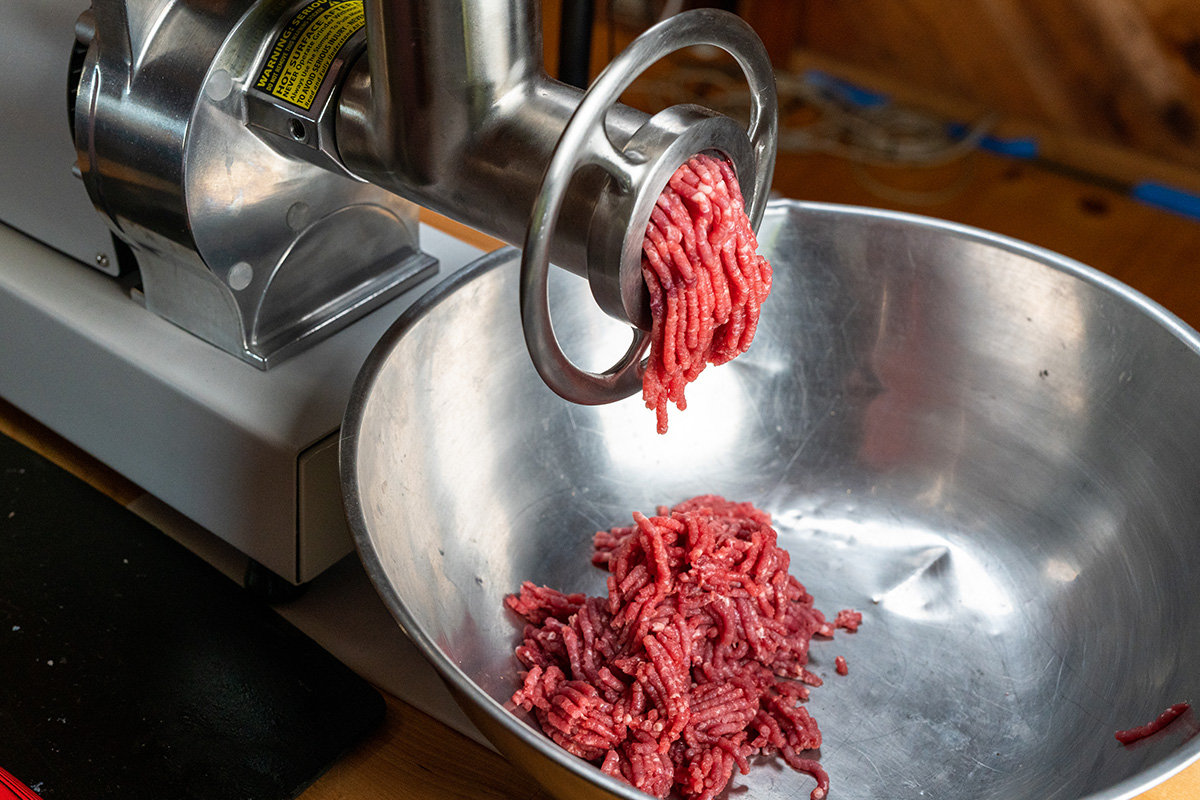 1. Preheat the oven to 350 degrees.
2. Run the hog meat through a meat grinder twice using a small or medium plate (4.5mm to 6mm). 
3. Transfer the ground meat to a mixing bowl and grate the carrot, ginger, and garlic into the bowl using a fine grater.
4. Add the seasoning, fish sauce, and hot sesame oil, and mix everything thoroughly. 
---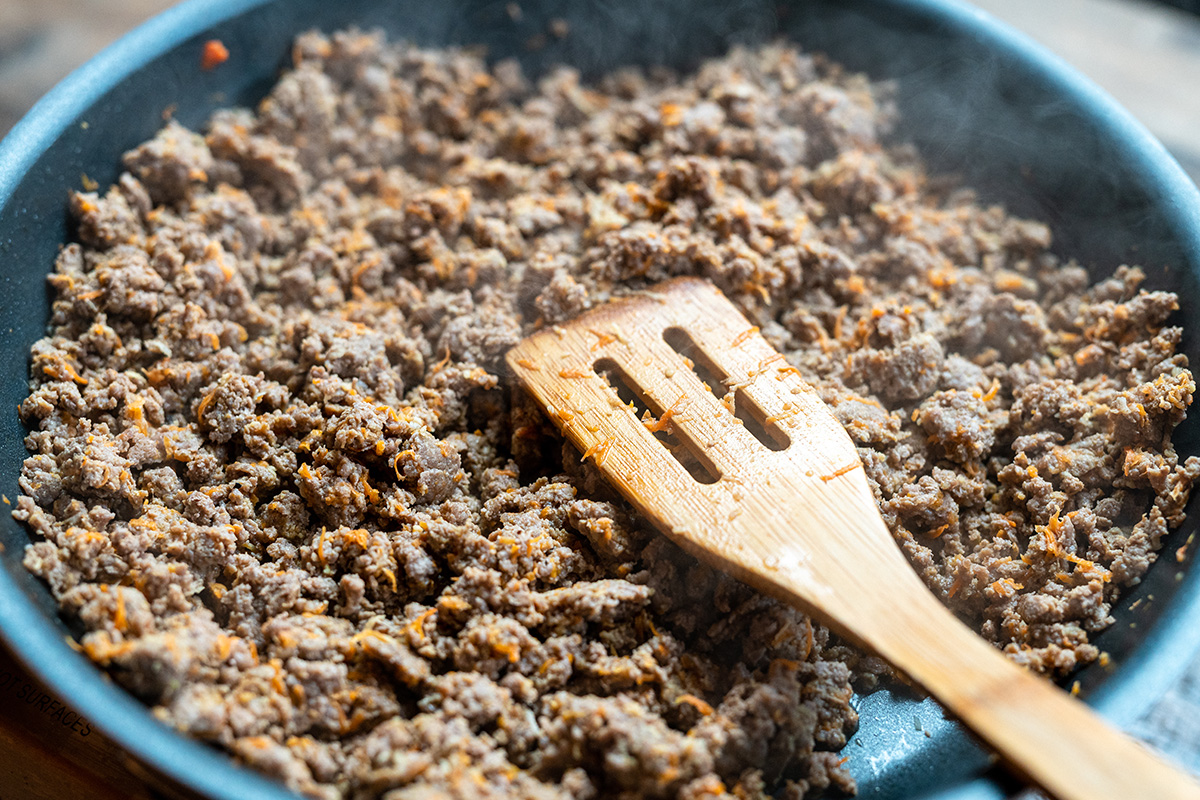 5. Lightly saute the ground pork mix in a pan with a bit of oil until fully cooked. Make sure the meat is broken up and not clumped.
6. In a separate pan, cook the bacon until crispy, then drain and set it aside on a paper towel.
---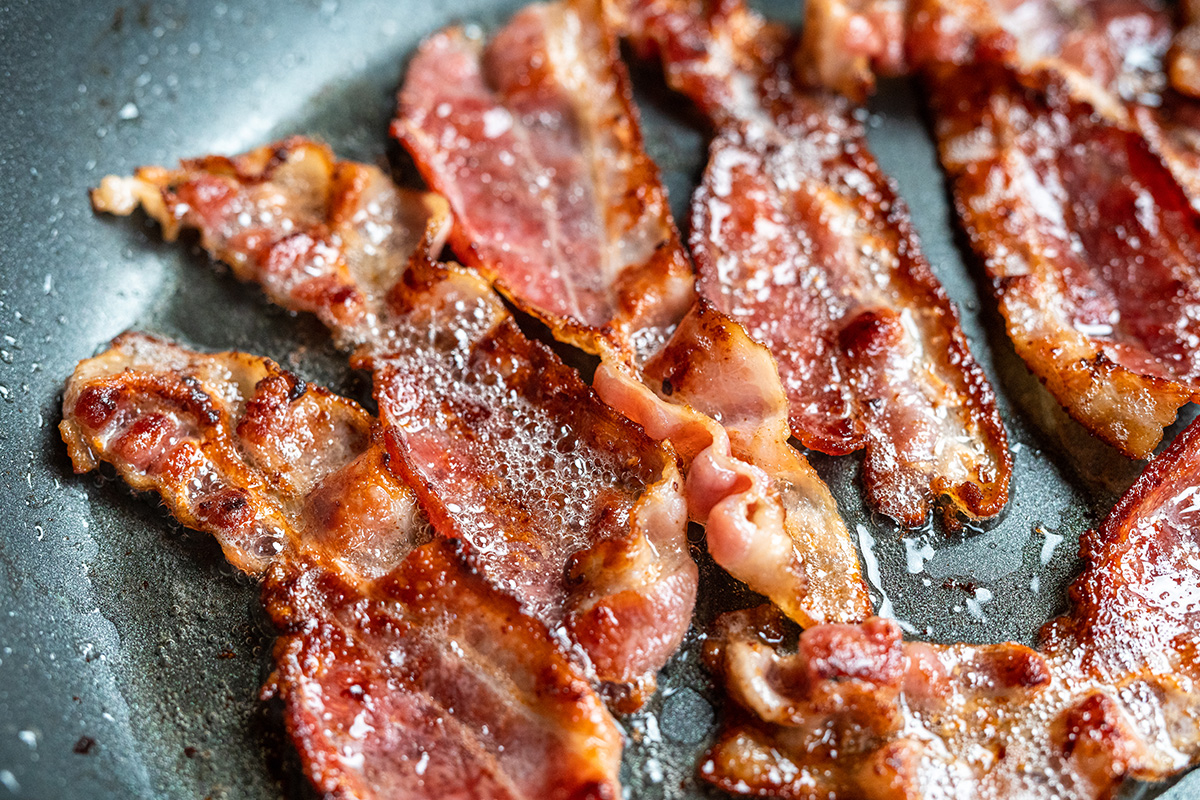 7. Mix the sriracha sauce and mayonnaise in a small bowl and set aside. 
8. Thinly slice the onions and caramelize them in a pan with a dash of olive oil. I like to leave a little texture in the onions.
9. Remove the skin and core from the pineapple and cut the fruit into thin slices. Place the pineapple slices in a pan with the teriyaki sauce and simmer on low until the fruit is glazed and slightly cooked (about two to three minutes).
---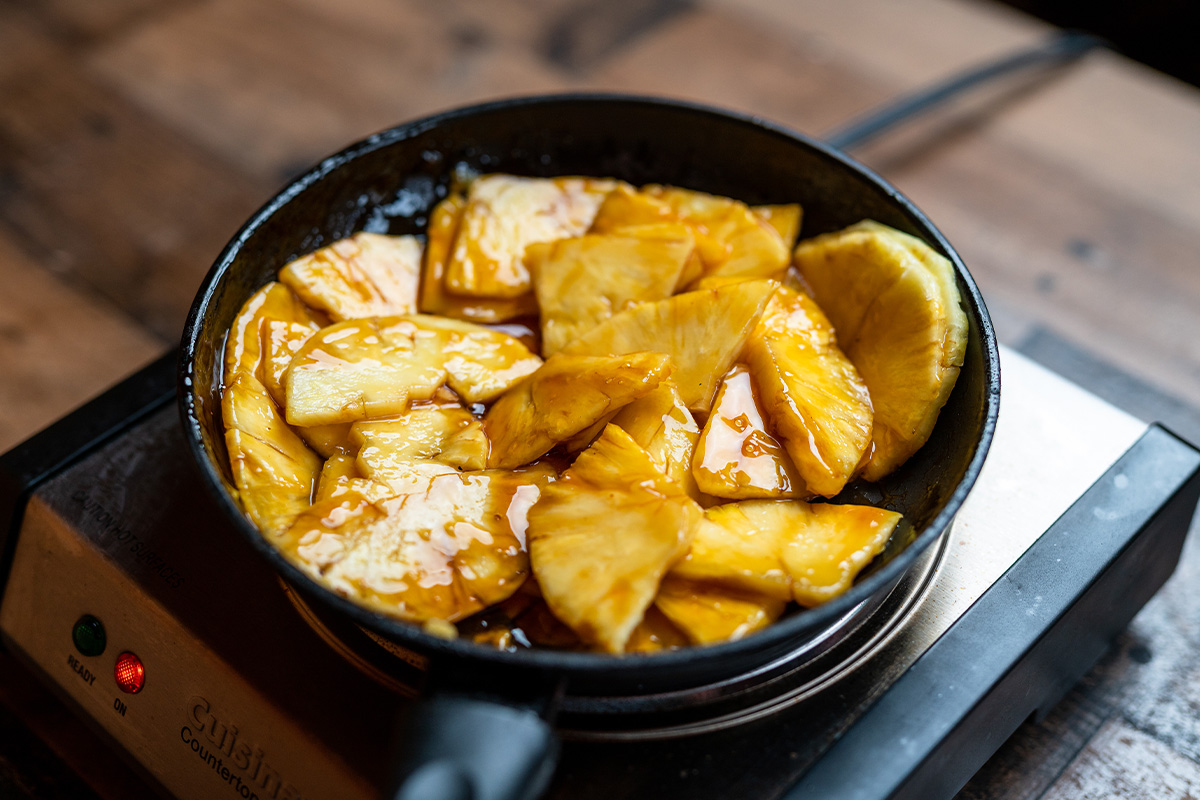 10. Using a long bread knife, cut the whole pack of Hawaiian rolls laterally so there is a top and a bottom section.
Spread the sriracha mayonnaise evenly on the inside of both sections of the rolls.
---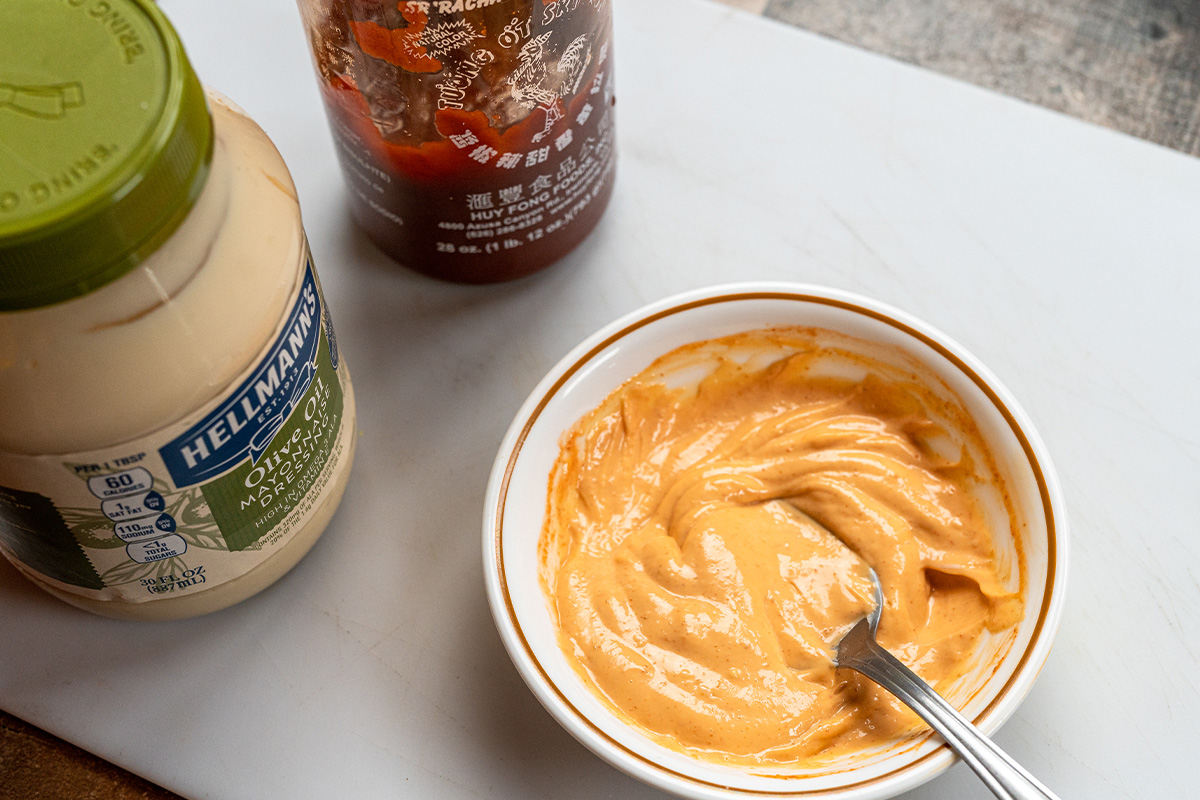 11. Place the bottom section of the rolls on a lightly oiled baking sheet with the sauced side facing up.
Evenly distribute the ground pork, bacon, caramelized onions, teriyaki glazed pineapple, and provolone cheese on the bottom section of the rolls. Carefully place the upper section of the rolls on top and brush the whole thing generously with melted butter.
---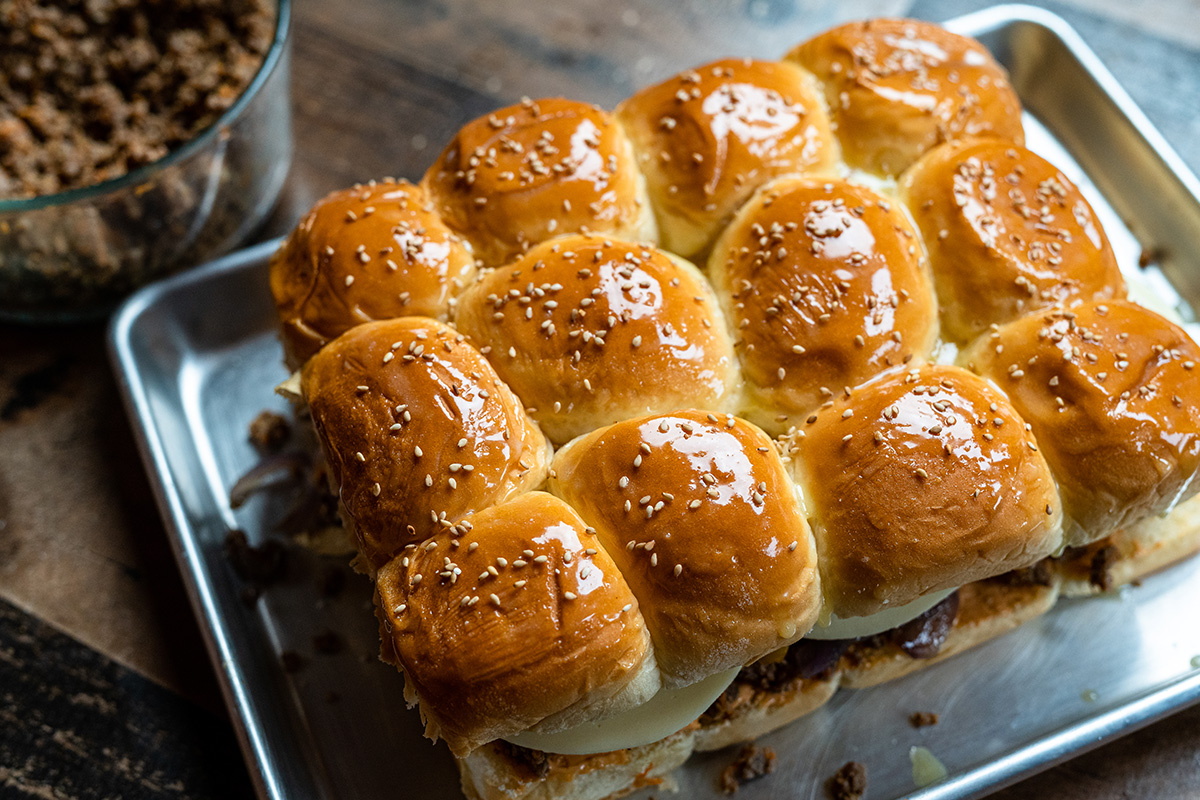 12. Sprinkle some white sesame seeds on top and bake in the oven for roughly 15 to 30 minutes, until the cheese has melted and the rolls are lightly browned.
Tear off a slider and enjoy.      
---
If you want, you can whip up a mayo teriyaki sauce to top your sliders. Hell, we've already totally strayed from a traditional Hawaiian burger recipe, so go for it. A lot of people like to grill pineapple slices for their burgers, but I like simmering them in the sauce better for the contrast of flavors.
GOOD GEAR – Make the Perfect Cup of Coffee With the BRCC 10 Cup Chemex
---
Wrap-Up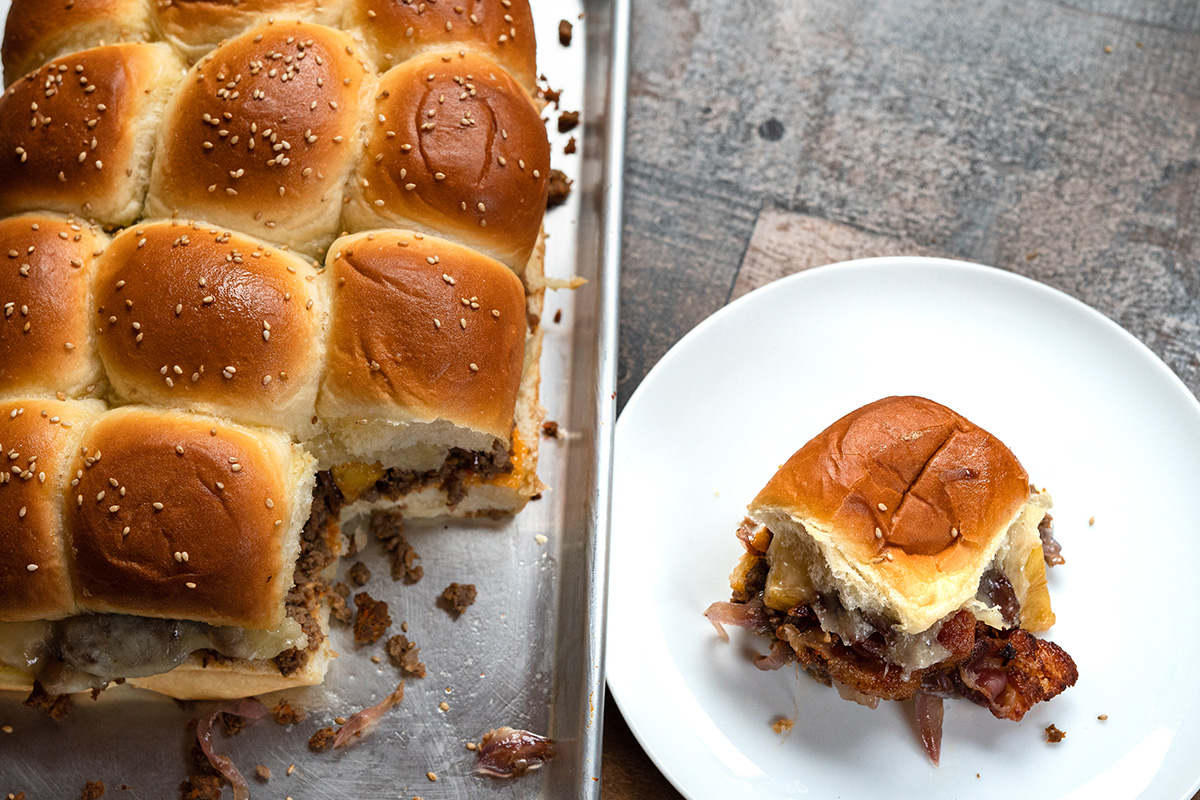 These Hawaiian-style feral hog sliders and the Hawaiian burger that inspired them are delicious and foolproof ways to use feral hog meat.
Feral hogs are prolific and incredibly destructive, and many people choose to hunt them to control the population.
Despite the naysayers, feral hog meat is delicious and a fantastic way to provide yourself with healthy protein. If you're not convinced, give this recipe and try, and don't be afraid to play around with it and make it your own.
---
READ NEXT – How To Make the Perfect Salmon Burger