With gun control bills flying around left and right, the Senate promising a slew of bipartisan gun laws coming down the pike, and gun violence once again at the forefront of the national conversation, the process for confirming President Joe Biden's nominee for the new head of the ATF is moving along and has a good chance of being confirmed this week.
It turns out that the guy who will likely soon be running the government agency that oversees everything to do with firearms has, by his own admission under oath, never owned a firearm.
The Senate Judiciary Committee deadlocked with an 11-11 vote last week on whether or not former federal prosecutor Steven Dettelbach will be the new head of the Bureau of Alcohol, Tobacco, Firearms and Explosives (ATF). The nomination was then discharged from the committee. That clears the way for a full Senate confirmation vote that could potentially be held Thursday, June 23.
RELATED – No, the AR-15 Was Not Designed to 'Blow Targets Apart' or Cut off Heads
---
Majority leader and notoriously anti-gun politician, Sen. Chuck Schumer (D-NY), said after the committee vote that he would begin the process to advance Dettelbach's nomination on the Senate floor as soon as June 23 and that getting Dettelbach installed in the ATF is one of his "top priorities," according to rollcall.com.
During testimony before the committee on May 25, Dettelbach, whom one gun-rights advocacy group labeled an "anti-Second Amendment zealot," revealed that he has never owned a firearm of any kind in a cut-and-dried exchange with Sen. Tom Cotton (R-AR).
"Have you ever owned a firearm?" Cotton asked him during the most recent committee hearing.
"No," Dettelbach replied. He added that he has never been "issued a firearm in any professional capacity" either.
"It is interesting, to say the least, that the man who will be charged with regulating the firearm industry has no first-hand experience filling out the ATF's Form 4473 or the efforts the industry undertakes to ensure responsible firearms ownership, which includes keeping firearms out of the hands of those who cannot be trusted with them," said Mark Oliva, the managing director of public affairs for the National Shooting Sports Foundation (NSSF), the trade organization for the gun industry.
"Should [Dettelbach] be confirmed, it is our earnest desire that he works with the firearm industry to learn about our Real Solutions campaign that includes partner programs with the ATF," Oliva added.
Dettelbach served as a U.S. attorney for the northern district of Ohio during the Obama administration before resigning in 2016. During an unsuccessful campaign for Ohio attorney general in 2018, Dettelbach said he wanted to reinstate an "assault weapon ban" and that he was a proponent of "universal background checks."
Biden first announced Dettelbach's nomination from the White House Rose Garden in April when he also announced his new restrictions on so-called "ghost guns."
RELATED – House Passes Expansive Gun Control Bill That Will Likely Die in Senate
---
Sen. Ted Cruz (R-TX) asked Dettelbach about his calls for an "assault weapons" ban, asked him to define the term, and asked if he agrees with Biden's sentiment that they are "weapons of war." He further asked Dettelbach if he agrees with Congress' definition of "assault weapons" as defined in the 1994 Federal Assault Weapons Ban. The 1994 ban was signed into law by President Bill Clinton and remained in place for 10 years before being allowed to expire via a sunset clause in 2004 under President George W. Bush.
"Currently, there is no definition of 'assault weapon' in federal law," Dettelbach responded to Cruz. "As I said during my confirmation hearing when I was a candidate for office, I did talk about restrictions on assault weapons, and it would be for the Congress ultimately to define that term if it chose to legislate on that issue.
"If Congress did seek to legislate in this area, I would pledge to support those efforts with expertise, data, and technical assistance that ATF can provide to members of Congress, so Congress can make evidence-based decisions that protect the public consistent with the Second Amendment."
Biden's earlier nominee for the ATF top spot, David Chipman, was forced to withdraw his nomination after skeletons in his closet were revealed that had Democrats turning their backs on him.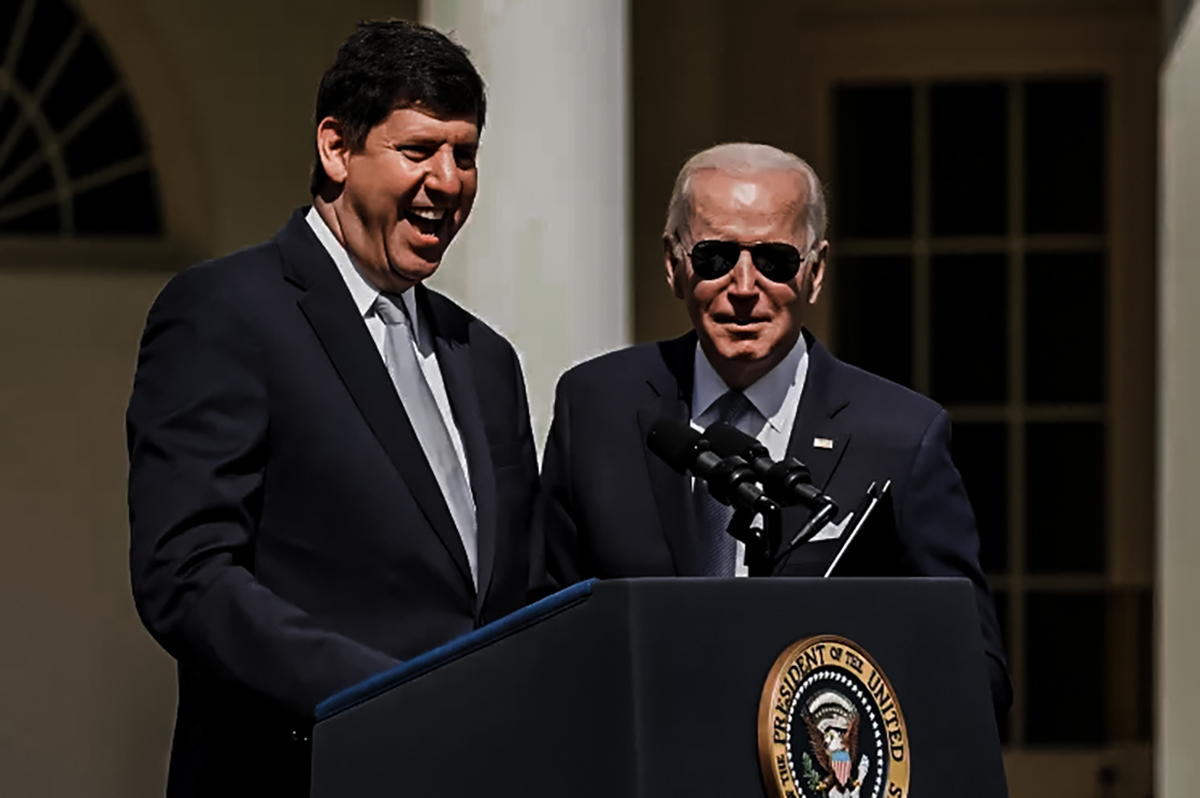 When Dettelbach was testifying at an earlier hearing before the committee at the end of May, Cotton also asked him about his calls for an "assault weapons ban" and his endorsements from gun control groups like Everytown for Gun Safety.
"What is an assault weapon? Could you define it for me?" Cotton asked.
Dettelbach admitted he could not do so, saying, "I did talk about restrictions on assault weapons. I did not define the term, and I haven't gone through the process of defining that term. That would only be for the Congress if it chose to take that up to do."
"So you're running for public office, and you called for a ban on assault weapons, but you don't have a definition for assault weapons?" Cotton responded. "Is it because that there's really not a category of weapons known as assault weapons? I mean, there's rifles, there's shotguns, there's pistols."
"I acknowledge that's a very difficult issue. That is for this body to decide," Dettelbach said. The NSSF says Dettelbach may get the nod from the Senate since Sen. Angus King (I-Maine), who said he wouldn't support Chipman, has already said he supports Dettelbach; Sen. Joe Manchin (D-WV) and Sen. Jon Tester (D-MT) have both said they are open to Dettelbach's approval, along with a handful of Republican swing votes in the Senate.
---
READ NEXT – Senators Reach Deal on Bipartisan Gun Control Legislation' Framework'