Speed is the name of the game when it comes to varmint cartridges. Flat-shooting little bullets excel in this realm, minimizing fur damage and hitting like a lightning bolt. Previously, this world of cartridges was very niche and mostly reserved for those willing to handload. However, in 2012, Winchester shook the market with its rimfire 17 Winchester Super Magnum (17 WSM).
The 17 WSM is an often overlooked cartridge among shooters and sportsmen. Its performance is unmatched in the rimfire world and is better than some centerfires in its class. Largely considered the ultimate backyard varmint cartridge, defending the garden from pests with precision, this little spitfire-of-a-cartridge was born in 2012 from a nail gun blank.
A big step forward in the evolution of rimfire technology, it is the first and only rimfire cartridge to break a velocity of 3,000 fps. The little Super Magnum has everything going for it, but it didn't catch on as well as some would have hoped.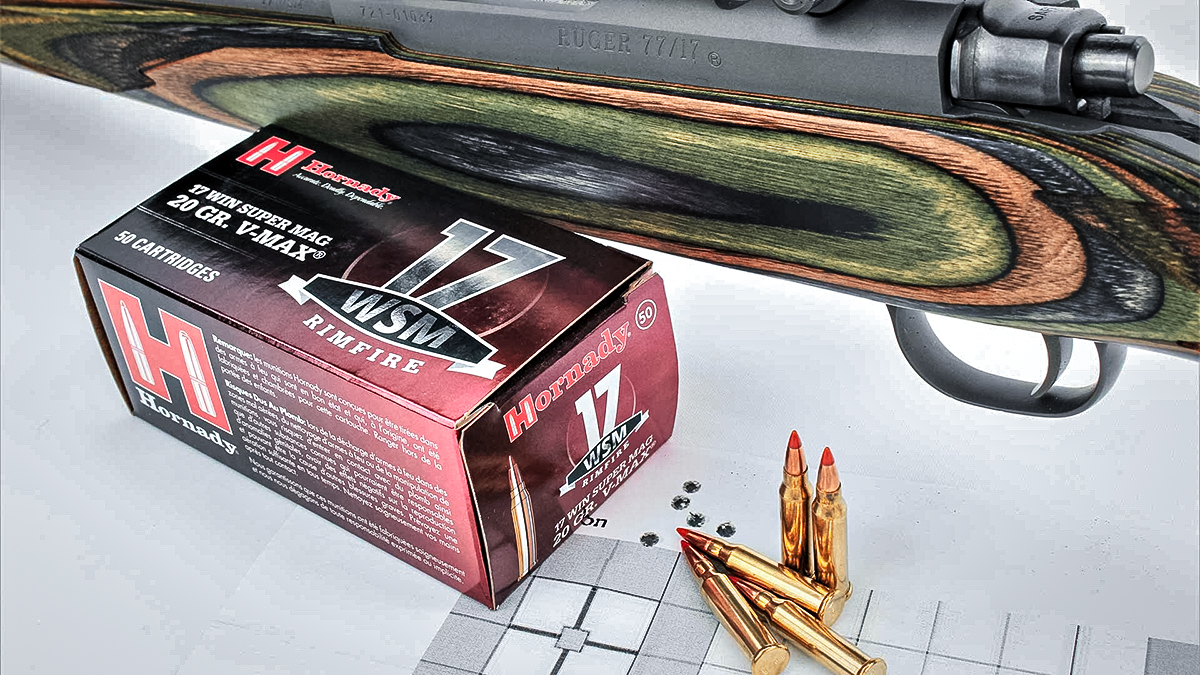 RELATED — Ruger Precision Rifle: Lots of Long-Range Value on a Budget
---
How Winchester Developed This Superfast Rimfire
Winchester ads touted the 17 WSM as "the most revolutionary rimfire cartridge in the company's 150-year-old history." The cartridge is faster than any other rimfire on the market and is deadly on small game and varmints. Improving a class of cartridge this much takes a whole lot of engineering and a little bit of trial and error.
With the increasing popularity of small, high-velocity rounds for small game hunting, Winchester wanted a rimfire cartridge that could perform better than anything else on the market. Reaching velocities never before seen by rimfire cartridges has its challenges, primarily due to increased pressures.
The engineers at Winchester quickly discovered that those high pressures were just too much for the rimfire casings in production at the time. To safely handle those pressures, they needed a thicker brass casing. While they could just engineer one, retooling is expensive and, in many cases, not worth it. So they took a trip to the hardware store.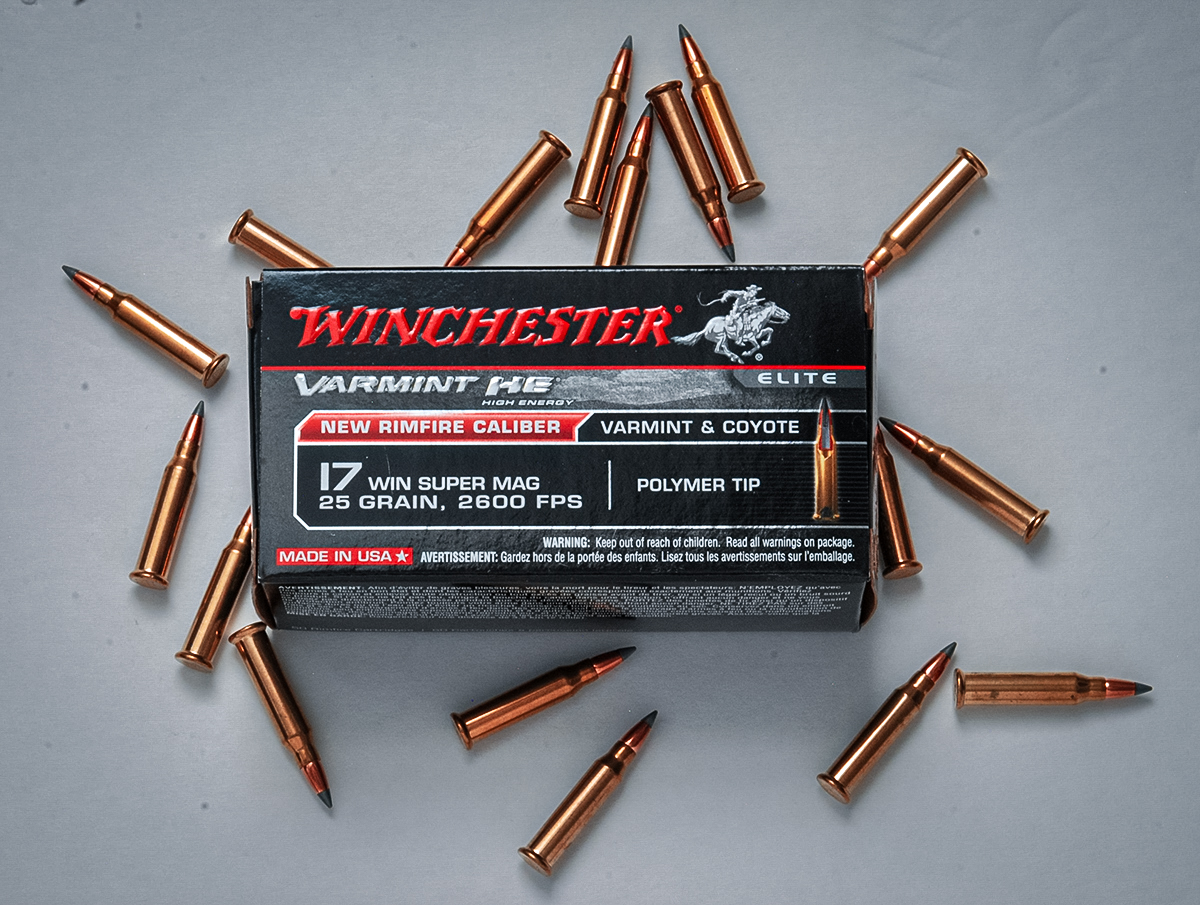 A nail gun was the answer to all their pressure problems. A .27-caliber nail gun blank, typically found on construction sites, was the perfect solution. The nail gun blank had a much thicker case and, when modified and necked down to .17 inch, could easily handle the 33,000 psi that the new round produced.
When all was said and done, the 17 Winchester Super Magnum could launch a 20-grain projectile at velocities that exceeded 3,000 fps, over 600 fps faster than its nearest competition, the .17 Hornady Magnum Rimfire or .17 HMR. Those ballistics, however, are nothing to write home about compared to some .17 centerfires on the market, so what was all the fuss about?
You may even wonder why Winchester didn't just make it a centerfire. The company wanted the cartridge to remain affordable, and rimfire ammunition is cheaper to manufacture than centerfire. Plus, a rimfire cartridge capable of precision kills out to 250 yards is pretty damn cool.
GOOD GEAR – Embody the Ethos of the Quiet Professional With the BRCC Silencer Smooth Roast
---
17 Winchester Super Magnum Ballistics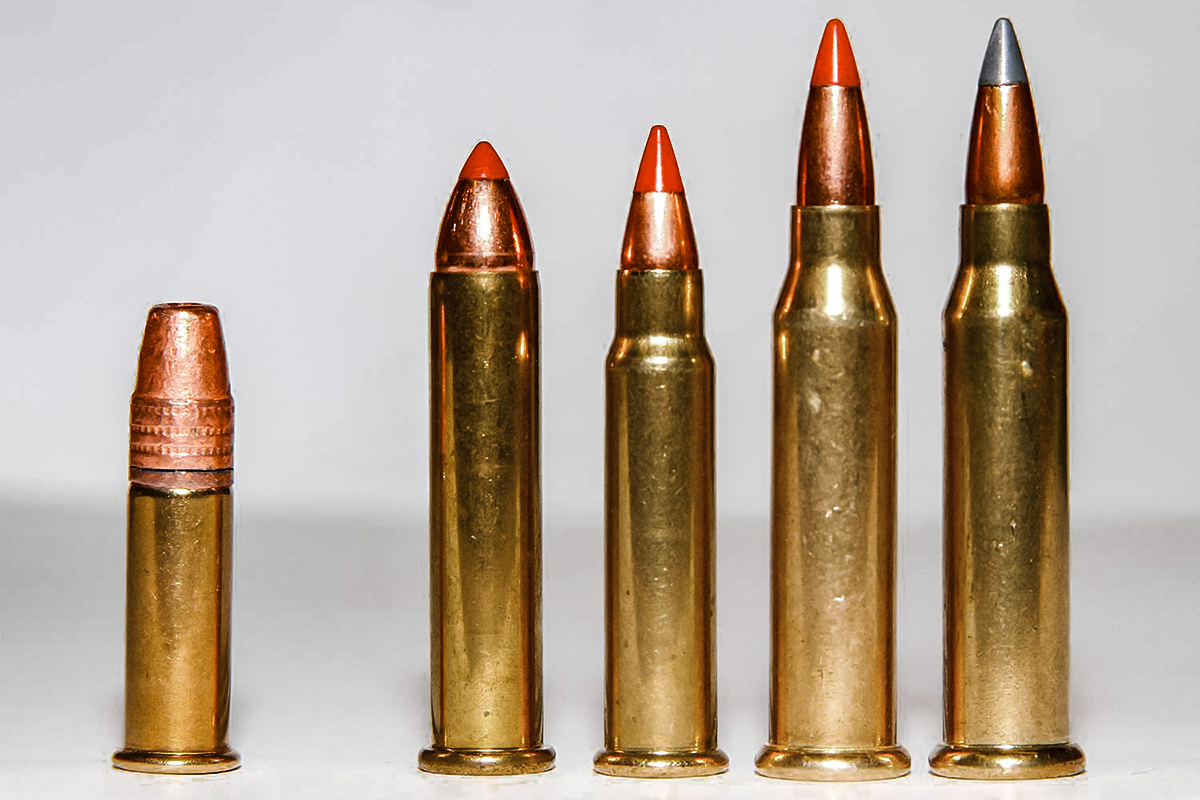 The 17 WSM shines in the ballistics category compared to the other rimfires. Its range, ability to buck the wind, and lack of drop make it a step ahead of others in its class.
This 17 typically comes with 20-grain bullets moving at 3,000 fps or 25-grainers launched at 2,600 fps. This speed, in combination with the little pointed .17 caliber bullets, makes for a pancake-flat trajectory.
When sighted in at 50 yards, the 17 WSM drops only 5 inches at 200 yards. That's a foot less drop than the .22 Magnum and a 4-inch advantage over the .17 HMR.
This flat trajectory extends the expected range of a rimfire. In the old days, back when the .22 Long Rifle and .22 Magnum were the only rimfires on the market, one could expect acceptable accuracy at 100 to 150 yards if you knew your trajectory.
At 250 yards, a 17 WSM bullet drops as much as the .17 HMR does at 200 yards. At 300 yards, the little WSM drops only about 16 inches, or the same as a .22 Magnum at 200. This flat trajectory parallels its wind-bucking performance as well.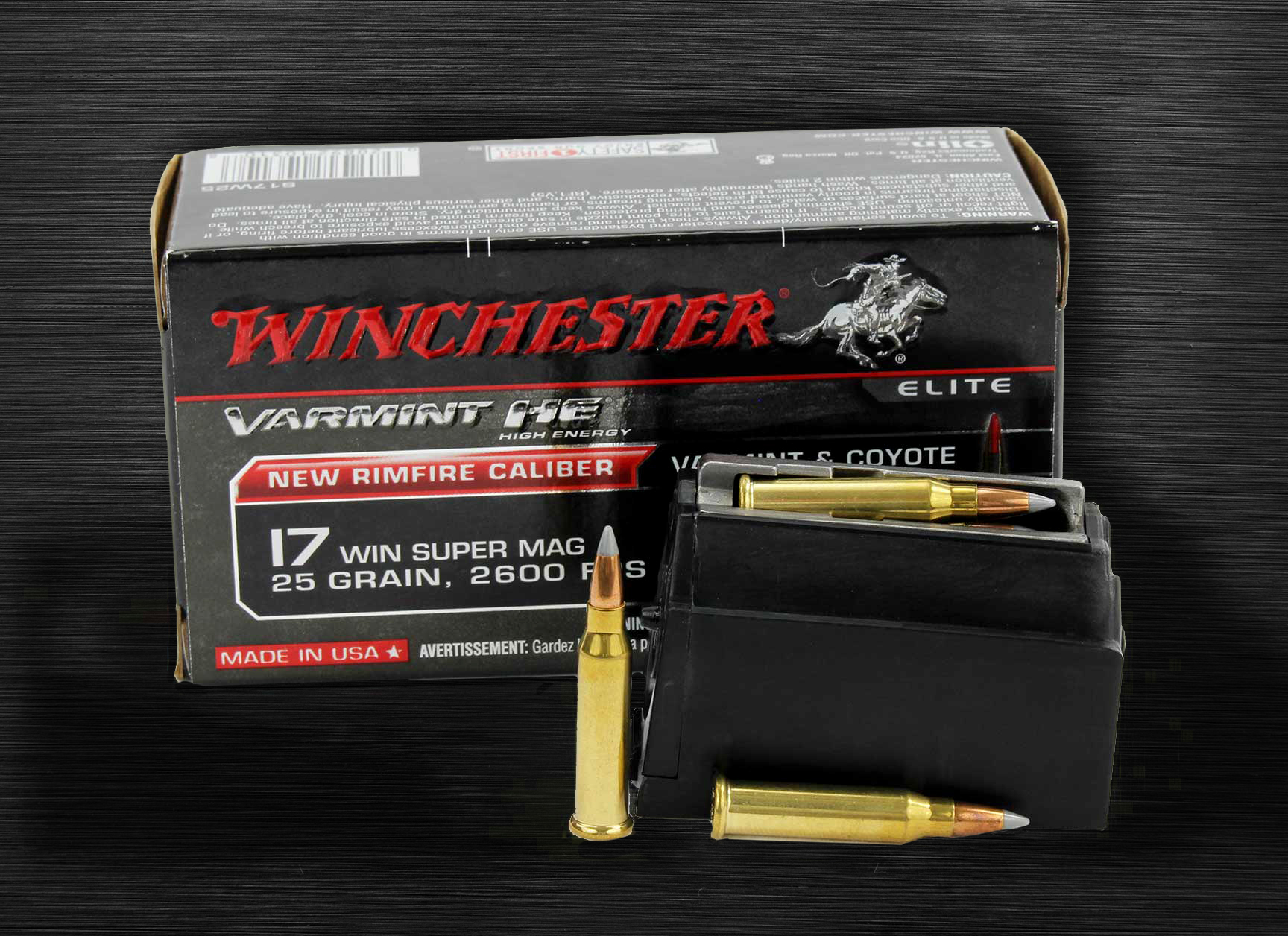 A shooter can expect to be effective from 200 to 250 yards on a calm weather day. At those distances, the 17-caliber bullet is still packing enough punch to easily take rabbits and ground squirrels. Larger varmints like red and gray foxes should be limited to about 150 yards. Coyotes are a whole other story.
RELATED — 22 Eargesplitten Loudenboomer and Other Cool Wildcats
---
17 WSM vs. Coyote
While we have already established this cartridge to be an excellent varmint round, the question often comes up: Can a 17 WSM kill a coyote?
Squirrels, prairie dogs, rabbits, raccoons, foxes, and even bobcats all make the list of what the 17 WSM can tackle. However, if you've ever watched Wile E. get smacked around on Saturday morning cartoons, you know coyotes are durable critters.
The 17 WSM can kill a coyote, but shot placement is critical. Unlike ground squirrels, which often seem to be made of Tannerite, 'yotes are super tough and can take a serious beating.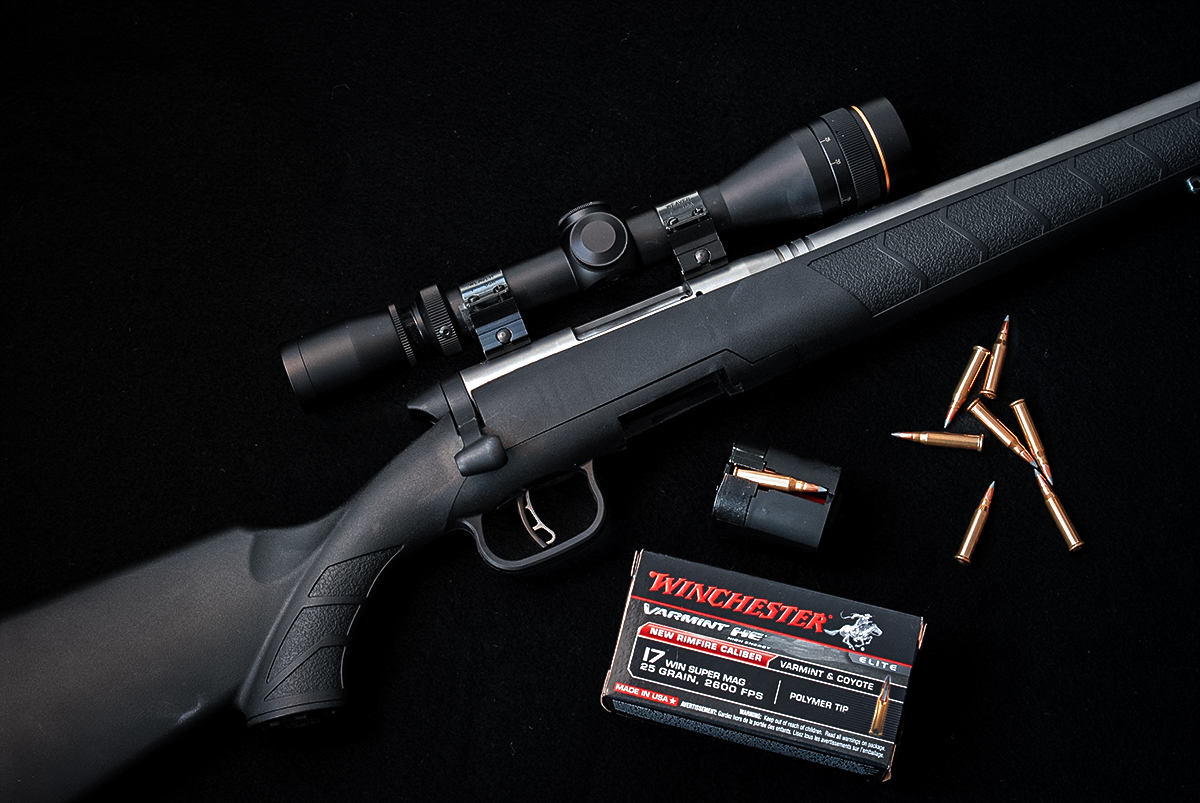 A well-placed shot under 100 yards with a 17 WSM will stop a coyote in its tracks. Trying to take a song dog beyond that range is a gamble.
RELATED — Coyote Calling: Match Prey Sounds To Kill More 'Yotes
---
The 17 Winchester Super Magnum: On Its Way to Obscurity
Sometimes, cartridges just don't stand the test of time. Poor market conditions, availability of components, and lack of consumer interest are all factors in whether any given cartridge survives. However, in the case of the 17 WSM, ammunition tolerances seem to be the problem.
A rifle is only as good as its ammunition. Reloaders have always sworn by this statement and have been able to counter deficiencies in factory ammunition by making hand loads. However, with a rimfire cartridge, you don't have that option.
Volquartsen Firearms, a company known for making some of the most accurate rimfires in the world, attempted to tackle the 17 WSM in some of its rifles but couldn't get the accuracy to live up to its standards. The company determined available ammunition just wasn't up to its standards. Rim thickness varied greatly from lot to lot. On rimfire cartridges, rim thickness affects headspace. Having inconsistent headspace from shot to shot makes it impossible to get dialed in. Because of this, Volquartsen discontinued its 17 WSM models.
GOOD GEAR – Keep Your Coffee Hot or Cold With the BRCC Coffee Saves Tumbler
---
Best 17 WSM Rifles
Savage B.Mag Sporter
MSRP: $429

The Savage B.MAG Sporter was tailor-made for the 17 WSM. The action uses a center-feed rotary magazine to help feed those tricky rimmed cartridges smoothly and efficiently. It features strong, accurate rear-locking lugs. The cock-on-close design makes for smooth, fast operation. All of this comes in at a pretty affordable price.
---
Franklin Armory F17-X
MSRP: $1,489.99

The Franklin Armory F-17 X is a semi-auto 17 WSM platform styled like a classic AR-15. The rifle is interesting because it was the first gas piston-driven rimfire rifle. It features a 16-inch barrel and comes with an integrated optics-ready accessory rail. The F17-X also comes with a 20-round mag, so you can make shot after shot without reloading. This one is perfect for hunting prairie dogs.
RELATED — Squirrel Hunting To Build Big Game Skills: This Is the Way
---
The Future of the 17 WSM
We are seeing exciting advancements in the rimfire world every year. These little cartridges, historically reserved for backyard plinking, are now reaching out to previously unheard-of distances. These advancements are covered heavily in Michael R. Shea's book Rimfire Revolution. Unfortunately, the 17 WSM is having a hard time keeping up.
It is nearly impossible to find 17 WSM ammo at this time. Most online retailers list the cartridge as out-of-stock or even discontinued. This is terrible news for a cartridge that can't be hand-loaded. While we can hope and pray to see some hit the market soon, this super-fast little rimfire may be going the way of the dodo.
---
READ NEXT — 17 HMR: The Ultimate Rimfire Cartridge?