Bicycles, since their advent, have been an economical and efficient way to traverse moderate distances while hauling a decent amount of gear or supplies in various ways. And the truth is, bikes can go some places that no other vehicles can. Today, more and more people are climbing on bicycles for getaways, as a way to efficiently get around without burning fuel, or to reach cool places to do cool shit.
Anglers and hunters are using bikes to hit old logging roads or cutlines to reach new water and woods. Campers are using them to find remote, unimproved roads that lead to the perfect patch of ground. Long-distance enthusiasts are heading for farther and farther horizons using two wheels.
To help those with two-wheeled wanderlust get where they want to go with what they need, TRXSTLE has introduced the Geryon Bike Packing and Rack System.
Free Range American's staff writer Matt Smythe traveled to the International Fly Tackle Dealer Show in Salt Lake City this year to survey the landscape of new and cool products — and the Geryon easily made the cut. It's definitely an upgrade from that handlebar basket with the plastic flower on it.
"It's a perfect add-on for your mountain bike or e-bike," Smythe said. "It gives you the opportunity to pack up to 30 pounds of gear on the front and back of your bike. It's great for fly fishing and great for hunting. It has an extra piece that adjusts to allow you to carry a compound bow or a rifle."
The simple design and 6061-T6 anodized aluminum construction make the entire system extremely durable but still keep the overall unladen weight to only three pounds.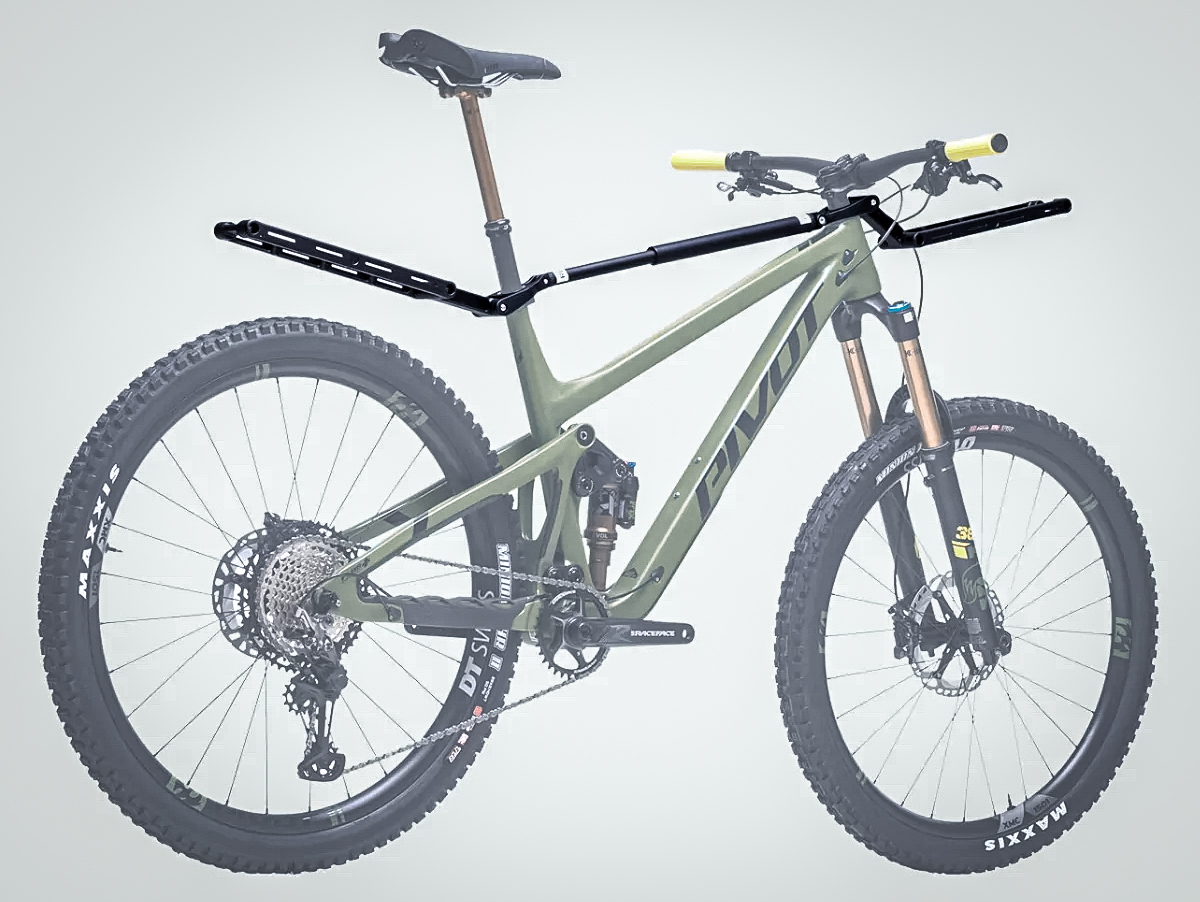 The universal fit design also keeps your gear clustered near your center of balance, especially in the front, where it doesn't actually mount to your forks.
"It mounts to the frame on the front, to the neck, and to the seat post on the back," Smythe said. "What's nice about that is that it's separate from your handlebars, so when you turn your handlebars, you don't have a bunch of gear flopping back and forth. It stays right in the front, and your handlebars stay clear of all the gear."
The front and rear platforms are adjustable to account for any mounting angle, won't interfere with any shocks on the bike, and stay clear of the back tire as well. The utility straps work with the system to lash down bulkier items like dry bags, tents, or camping gear.
This is a perfect bike pack-and-rack system for those who have their kit dialed in and ready to go. If you're the type who packs their rig and looks like the Clampetts riding down the road, this could be your chance to join the ranks of the minimalist-minded.
---
READ NEXT – How to Pack for a Big Outdoor Trip — Adventure 101