Endurance athletes have long known the power of salty, high-protein, high-fat bone broth for in-event energy and post-exercise recovery. Health food companies have caught on, too, with a litany of frozen broths and powder concentrates available now at grocery stores everywhere. What's lesser known is that bone broth is simple to make at home with a pressure cooker or Instant Pot. The whole process takes 10 minutes of prep time and 2 to 4 hours of set-and-forget cooking.
The benefits of bone broth are numerous. It's incredibly filling with a high healthy-fat content — a big win for people looking to lose weight. Healthy fat converts directly to energy, especially for people on low-carb diets. It's ideal for anyone experimenting with the ketogenic diet or similar high-fat diets, too, as it's an easy way to get the right calories without carbohydrates. Bone broth, or rather the nutrients therein, can also help with gut health and digestion, especially for people with "fast stomachs" of the eat-and-blow variety. It's loaded with collagen, which can help with joint health and hair, nail, and skin issues. Just ask the Kardashians.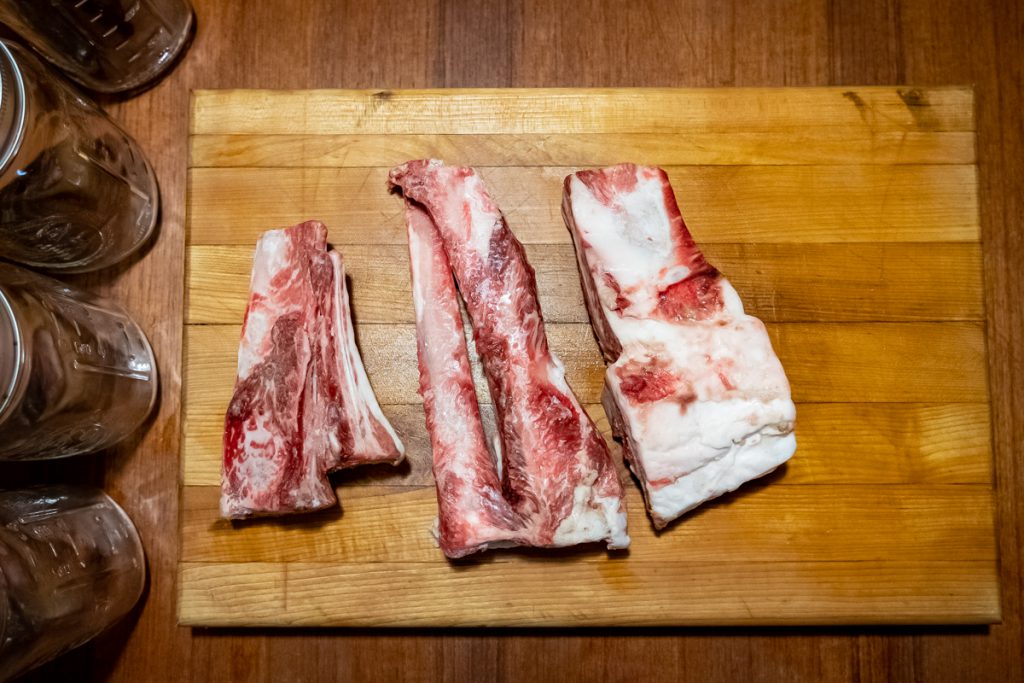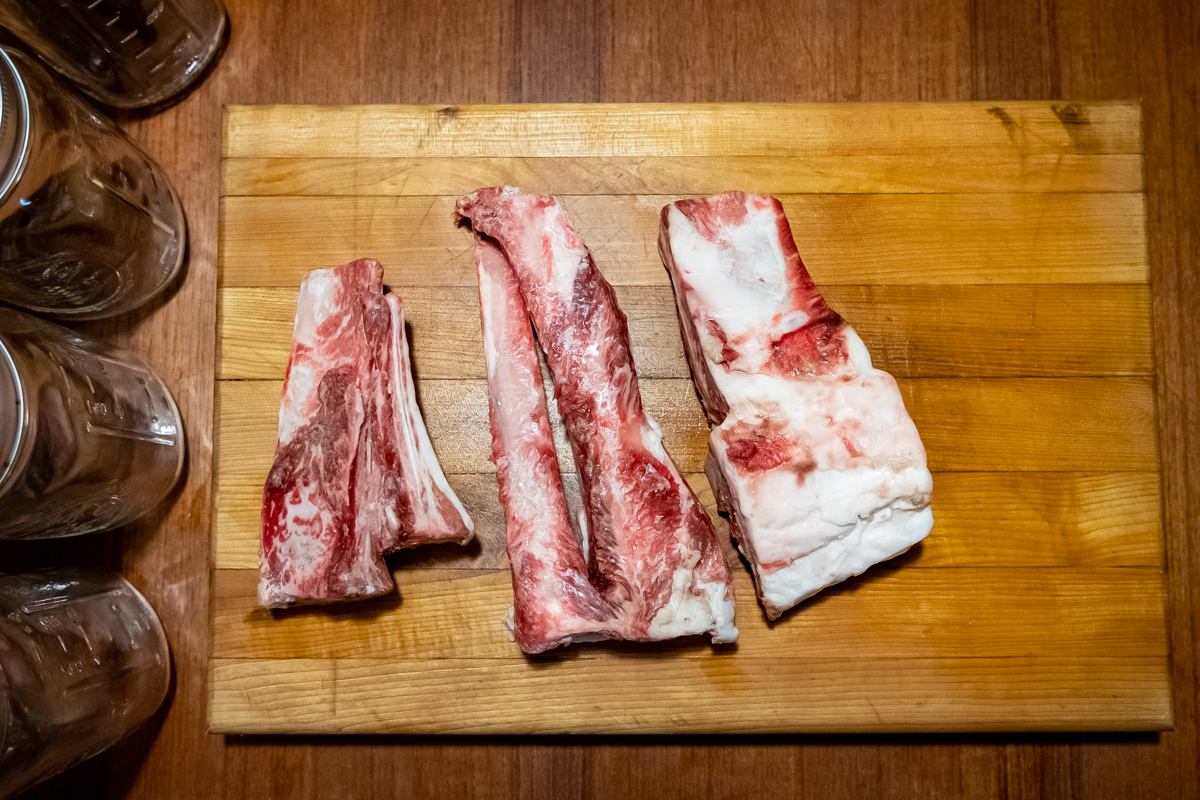 To source bones, call your local butcher or grocery meat counter. Most cut and save beef femurs, backbones, and ribs, then freeze them for broth fiends and as all-natural chew bones for dogs. Every few months, I call ahead to our local butcher and pick up 20 to 30 pounds of bones and keep them frozen in a chest freezer. This keeps us in broth year-round at a burn rate of about 8 quarts a week. We drink a lot of broth. How delicious is it? For my kids, it quickly replaced hot chocolate as the beverage of choice after a cold day outside.
Beef bones make the best broth. Full stop. Pork bones work but are typically higher on heavy fats, which are later skimmed away — see below. Venison, elk, bison, and other wild game animal bones work well, too. Broths can also be made with poultry bones like chicken, turkey, and duck.
What type of bones make the best broth is debatable. I'm partial to neck, backbone, and leg bone broths, which I think impart more flavor because they contain more marrow than ribs. Joint bones like knees and hip socks make a fattier, more collagen-rich broth.
Instant Pots are the fastest, easiest way to make bone broth. Other pressure cookers work, too. It can be made on the stovetop in a stockpot, but you end up with less liquid as it boils off while cooking with an open top.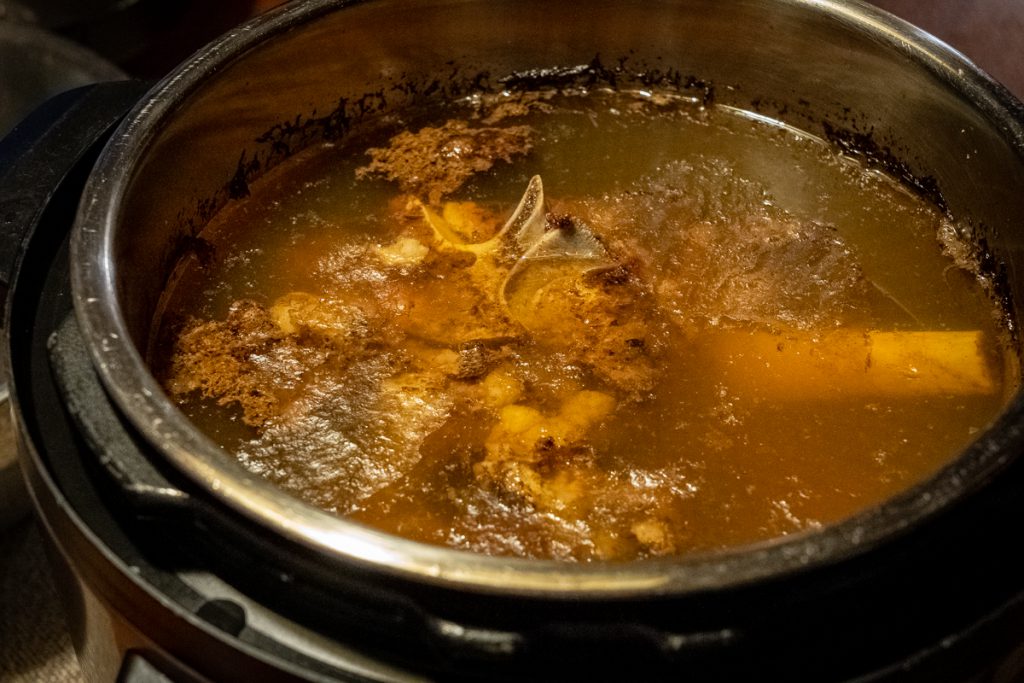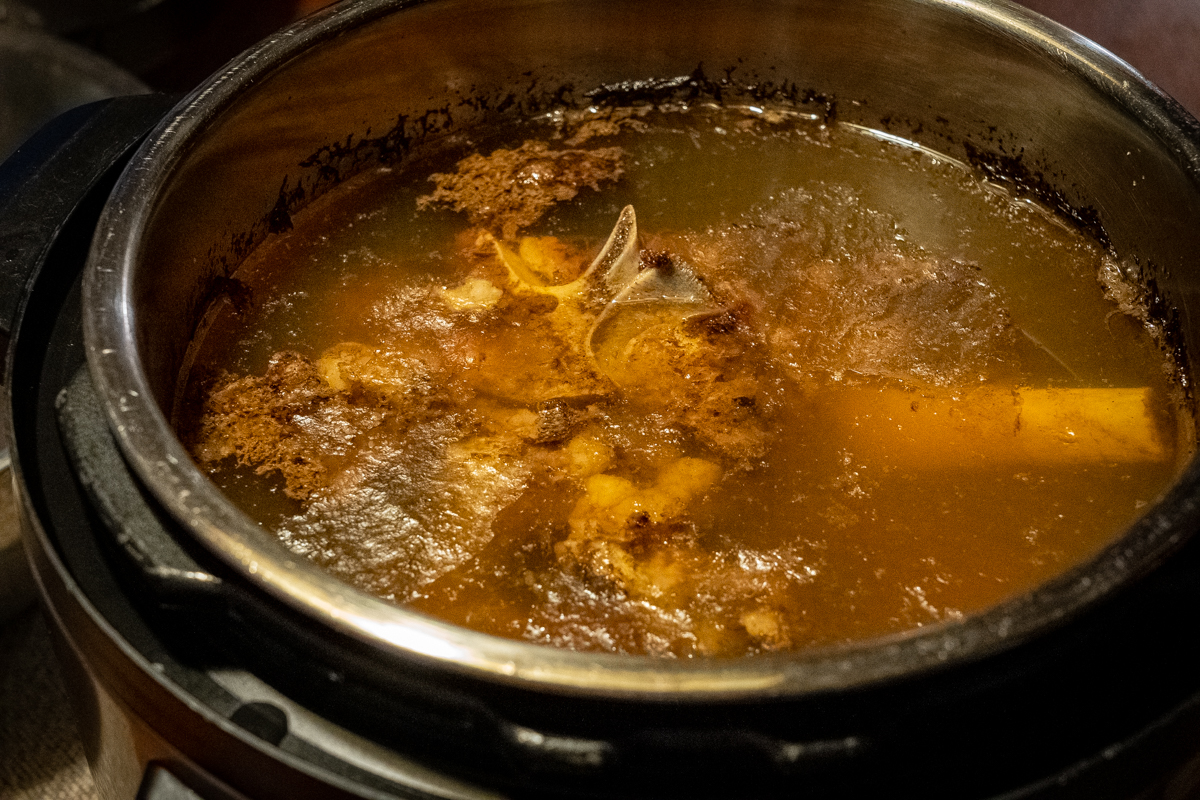 Bone Broth Step-by-Step
Fill an Instant Pot pot — or whatever pot you're using — with bones. Then fill with cold water, so the bones are completely covered. There's a max fill line on the side of an Instant Pot pot that's my go-to guideline.
Add salt. For an 8-quart batch, I use 1/4 cup of coarse sea salt. This makes a very salty batch. If you're worried about sodium or don't like savory flavors, cut that back to 1/8 cup to start.
Add whatever else you want. Salt is the only required ingredient after bones and water, but we often spice it up with black pepper, bay leaves, and cut vegetables. Onions, carrots, garlic, and leafy greens from a fridge cleanout make for a more nuanced flavor package. Turmeric is an excellent addition.
Set the Instant Pot to soup mode for a max of 240 minutes. You can get good broth with less time, but you can't overcook them, either. For regular pressure cookers and stovetops, I recommend simmering for at least 4 hours.
Let the Instant Pot or pressure cooker naturally depressurize. I will typically set this up in the morning before work, and the batch is ready for step six around dinner time.
Remove the bones with tongs. Make sure to pick off the cooked meat and save it. It's fatty and delicious.
Pour the broth through a fine-mesh strainer. I do this twice — once into a large stainless mixing bowl, then I clean the Instant Pot and strain back into the original pot. This process removes any fine bone sediment.
Let the pot cool on the counter for several hours. The broth will develop a few millimeters of surface or heavy fat. Once that's good and formed, I remove it with a spoon and toss. You can leave it, but it makes the broth feel oily.
Pour the broth into quart-sized mason jars. An 8-quart batch will typically fill four or five jars. They'll keep for two weeks in the fridge and indefinitely when frozen.
Energy, recovery, and a sugar-free hot drink, bone broth serves multiple roles in our active household. In the fridge, it thickens into a consistency like Jell-O, but two minutes in the microwave, and it's ready to drink.