An Idaho bowhunter stumbled upon a set of human remains on Friday, Sept. 17, while hunting near Hayden Creek in the Idaho Panhandle National Forests. When authorities arrived, they found a rotted wallet with the body that identified it as a fellow bowhunter who went missing on a hunting trip 53 years ago.
The unidentified hunter made the bone-chilling discovery when he decided to take a shortcut from one hunting area to another. He called the Lemhi County Sheriff's Office at about 4 p.m. to inform them he had discovered long decomposed human remains.
"It's pretty wild, ain't it? You have another bowhunter looking for a shortcut who stumbled upon a bowhunter from 53 years ago," Lemhi County Sheriff Steve Penner told reporters.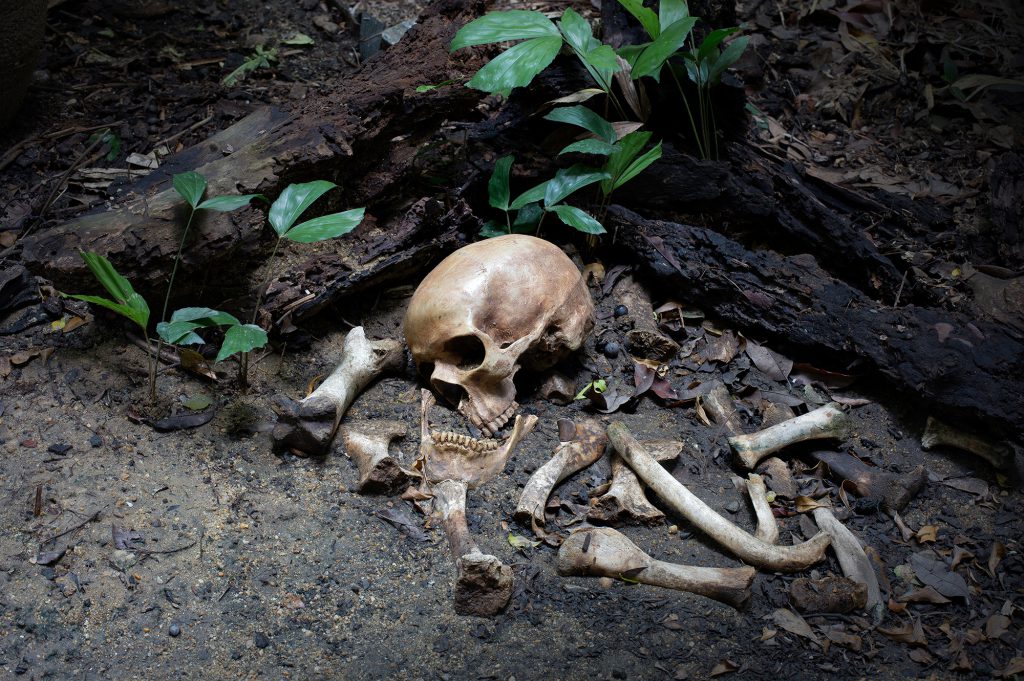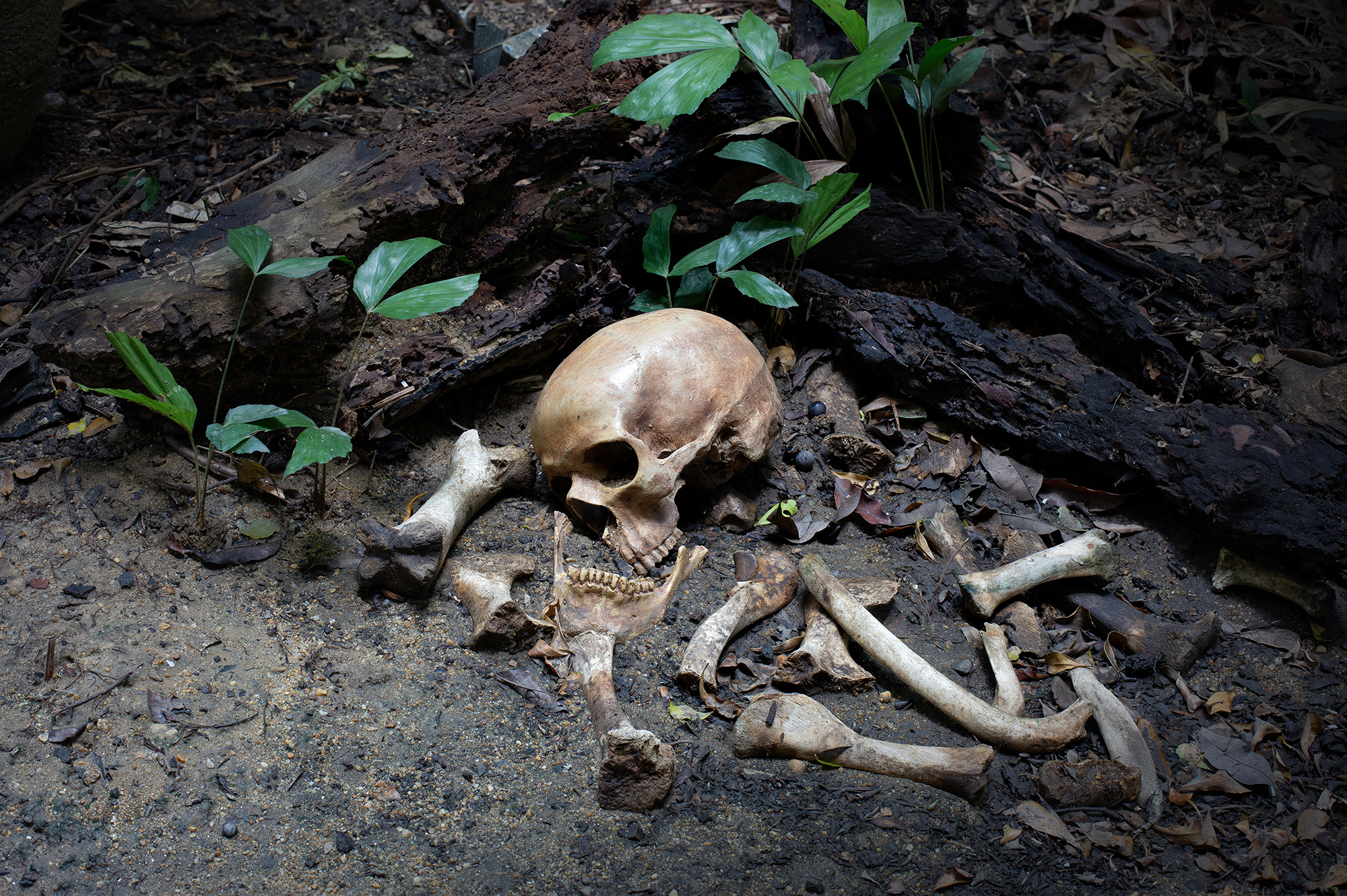 Not wanting to traverse rough backcountry terrain in the dark, authorities waited until the next morning to begin recovery efforts.
After making their way to the remains, deputies discovered part of a wallet with contents identifying the body as Raymond Jay Jones of Salmon, Idaho — a man who left his hunting camp in the area back in 1968 and was never seen again, until now.
Jones' wife at the time of his disappearance is now 93 years old; she and his family were notified of the discovery.
Jones was last seen on Sept. 7, 1968, (his 39th birthday) when he left the camp he'd been sharing with several hunting buddies to venture out alone in hopes of tagging a mountain goat.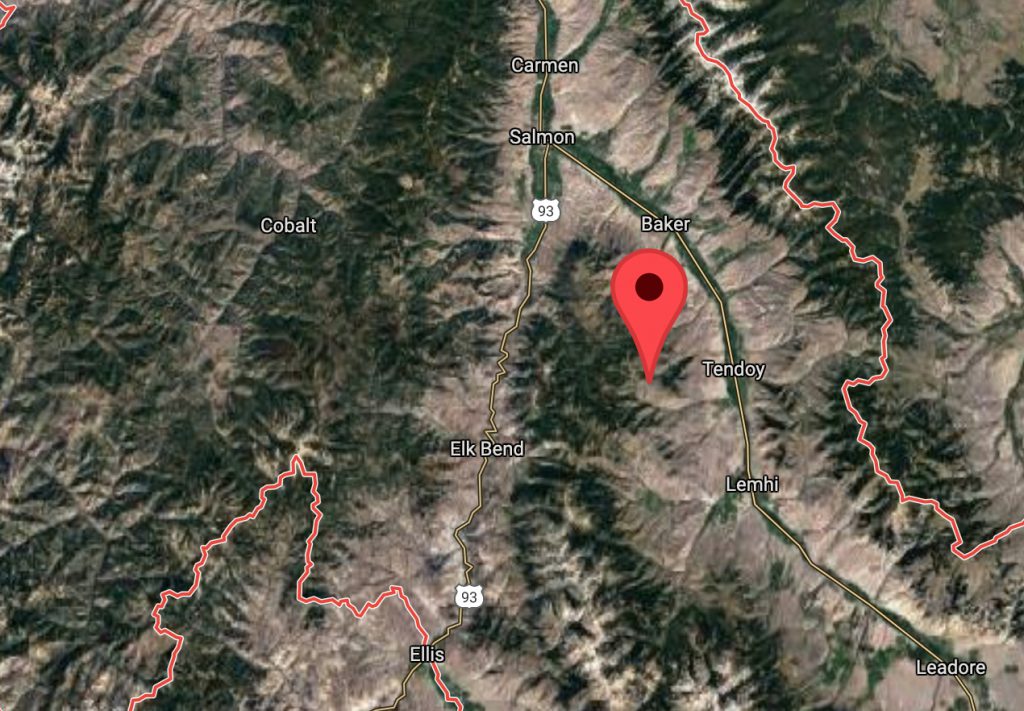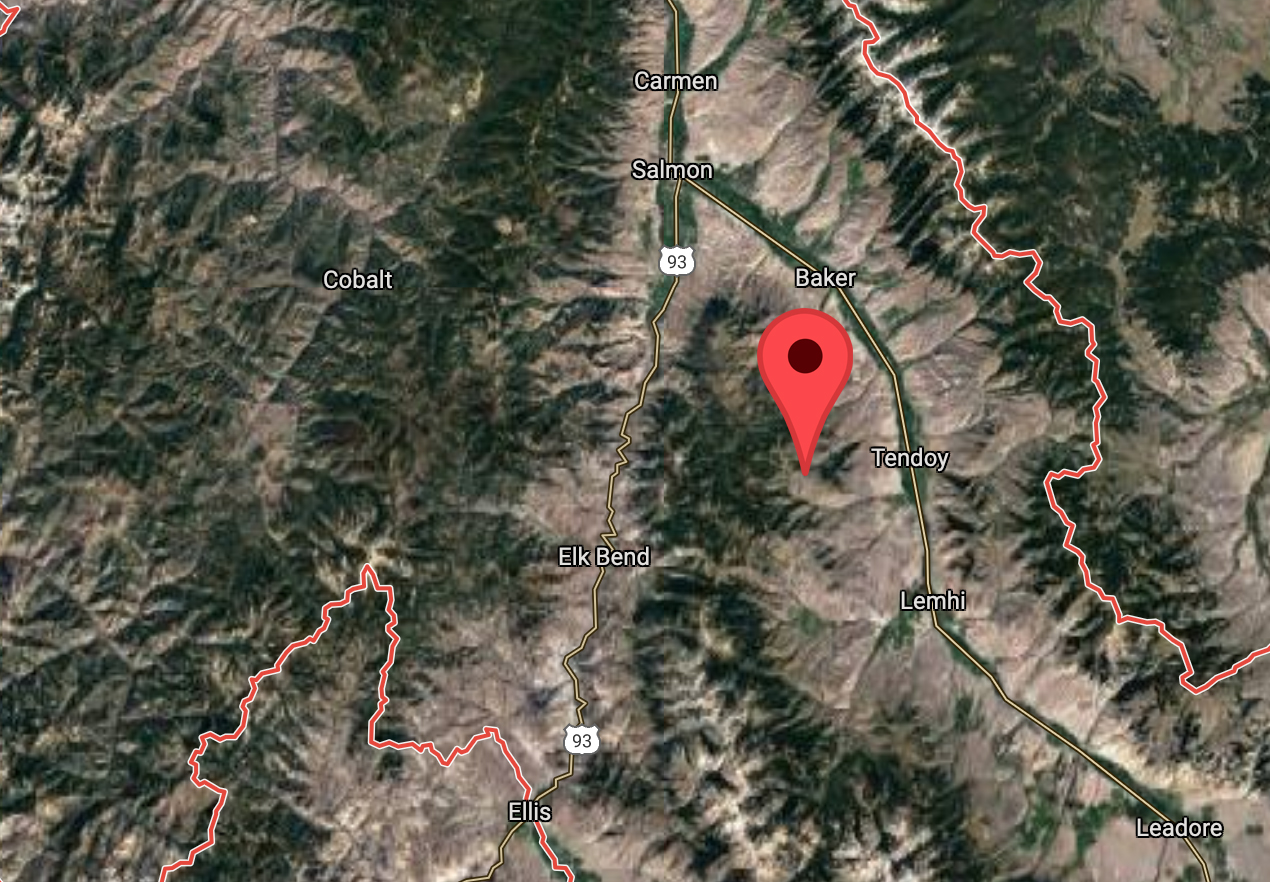 Jones' hunting companions contacted the local sheriff at the time, Bill Baker, the day after he disappeared. An official search was launched on Sept. 9, including 70 people, tracking dogs, and a helicopter. It was eventually called off due to severe snowy weather. The search was briefly resumed after footprints were discovered on a ridge between Hayden Creek and Pahsimeroi Valley, according to the Idaho State Journal, but was obviously unsuccessful. 
Jones was legally declared dead in 1970, two years after his disappearance. Even after finding his remains, precisely what happened to him over five decades ago on that fateful hunting trip remains a mystery.
"It's a real rocky, cliffy area, and we are not really sure what happened," Penner said. "He was in goat country, and that can be pretty perilous."
As for Jones' body, it's finally headed back to his family.
"The family will claim [the remains], and he will be turned over to them," Penner added. "It is still pretty fresh, so they probably need a little bit of time to figure things out."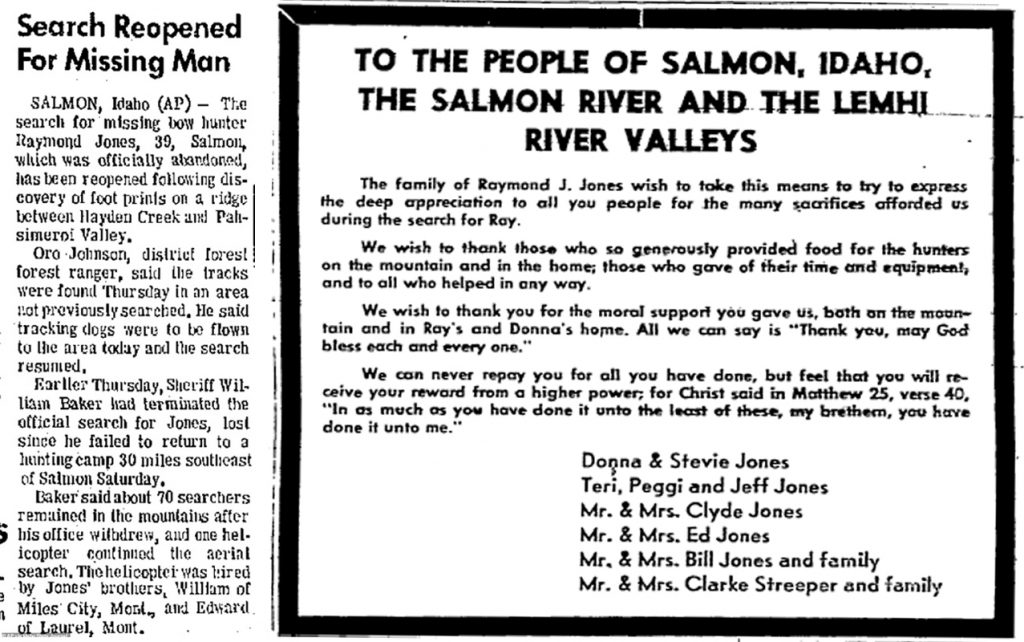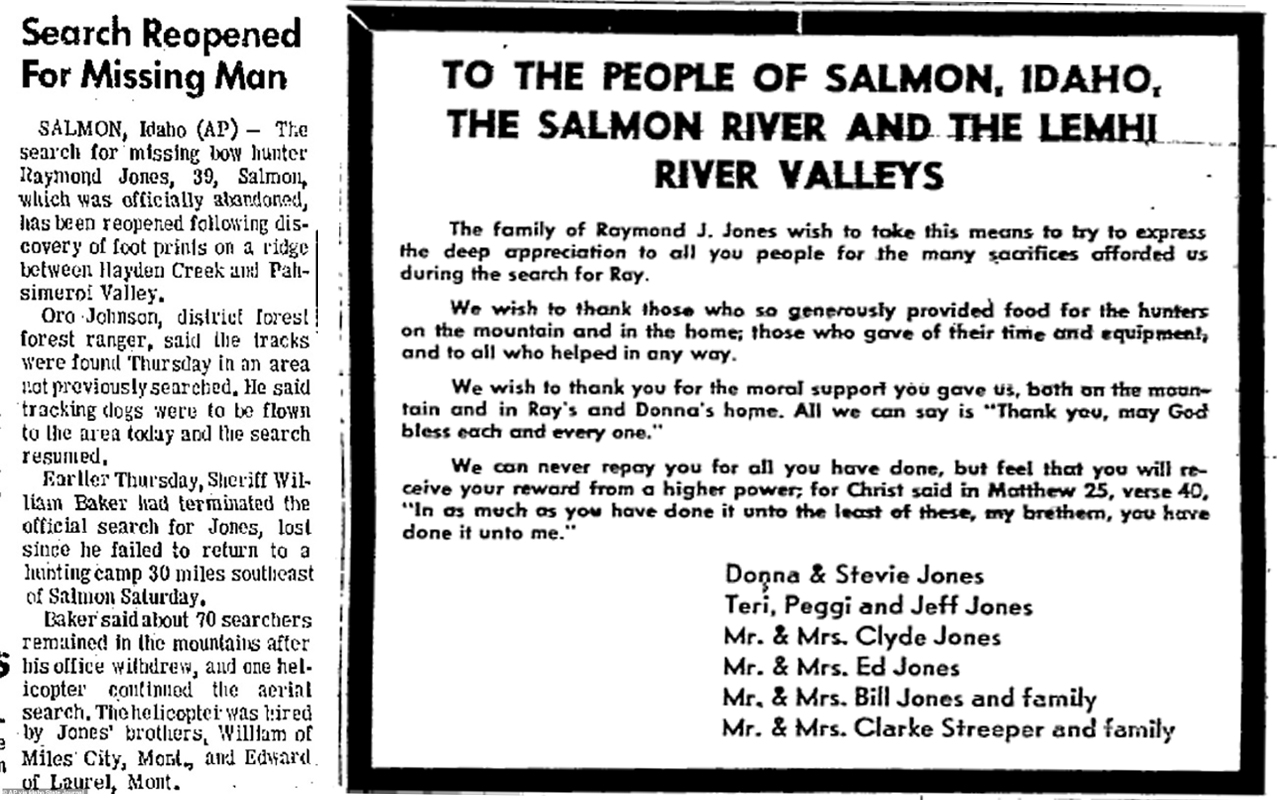 Hunters Find a Lot of Dead Bodies and Human Remains
According to the National Missing and Unidentified Persons System, better known as NamUs, over 600,000 people disappear each year in the United States. Most are eventually found alive, but an average of 4,400 unidentified bodies are found each year.
Although NamUS does not record the number of outdoorsmen who discover human remains, a fair number of those 4,400 bodies are found by hunters. For example:
Deer hunters came across the decomposing body of a missing Mississippi man in October 2020.
In December 2020, an Alabama duck hunter discovered the remains of a man who had been missing for several weeks.
On Sept. 4, 2021, hunters in California stumbled upon the remains of an unidentified woman in the hills above Lake Matthews in Riverside County.
These are just a recent handful of instances reported by news outlets in which hunters have found human remains while in the field. NamUs lists hundreds of open cases on its website involving unidentified bodies discovered by outdoorsmen and women.
With well over 10 million licensed American hunters heading into the country's wild places every year, it's not so surprising that they are the unfortunate people who often find bones or dead bodies in remote backcountry locations. Hunters regularly wander far from established trails while pursuing game, places people don't typically venture for any other reason. And while plenty of hunters have a hard time locating the mayonnaise jar tucked in the refrigerator door, they seldom have trouble spotting the tip of an antler, or a bit of bleached bone, the next ridge over.
If you do happen across human remains while hunting or any time you're in the woods, it is important to leave the scene undisturbed.
"Bodies can begin decomposing very quickly. Do not touch skin or body fluid, as the body may contain potential blood-borne pathogens that can infect you and others, " says Aftermath, a professional crime scene cleanup company, on its website. Plus, you don't want to mess with a potential crime scene or evidence that might help investigators, even if the remains are only bones.
It is important to contact authorities as soon as possible. Stay where you are and dial 911 if that's an option. If you find human remains in an area without cell service, mark the location somehow. Use GPS mapping to drop a pin or mark the way with trail tape so you can help guide authorities to the remains later if necessary.
Read Next: Colorado Hunting Accident: Muzzleloader Hunter Shoots, Kills Bowhunter