The bond forged between a hunter and his dog runs far deeper than the typical pet-and-owner relationship. If you've ever shared a duck blind with a good retriever, you know exactly what I'm talking about.
Hunting is complicated. It's about much more than killing. Pursuing game is a profound experience that kindles a level of intimacy and understanding between hunting partners (both human and canine) that few other things even come close to.
So it's no surprise that few animals outshine a good hunting dog in terms of loyalty, and there are few things tougher than watching a hunting dog slow down with cranky hips and joints, except maybe that last goodbye.
What we wouldn't give for one more misty morning in a duck blind, watching the rising sun spread orange over calm water, that dog's eyes staring down a pair of pintails coasting in toward the decoys.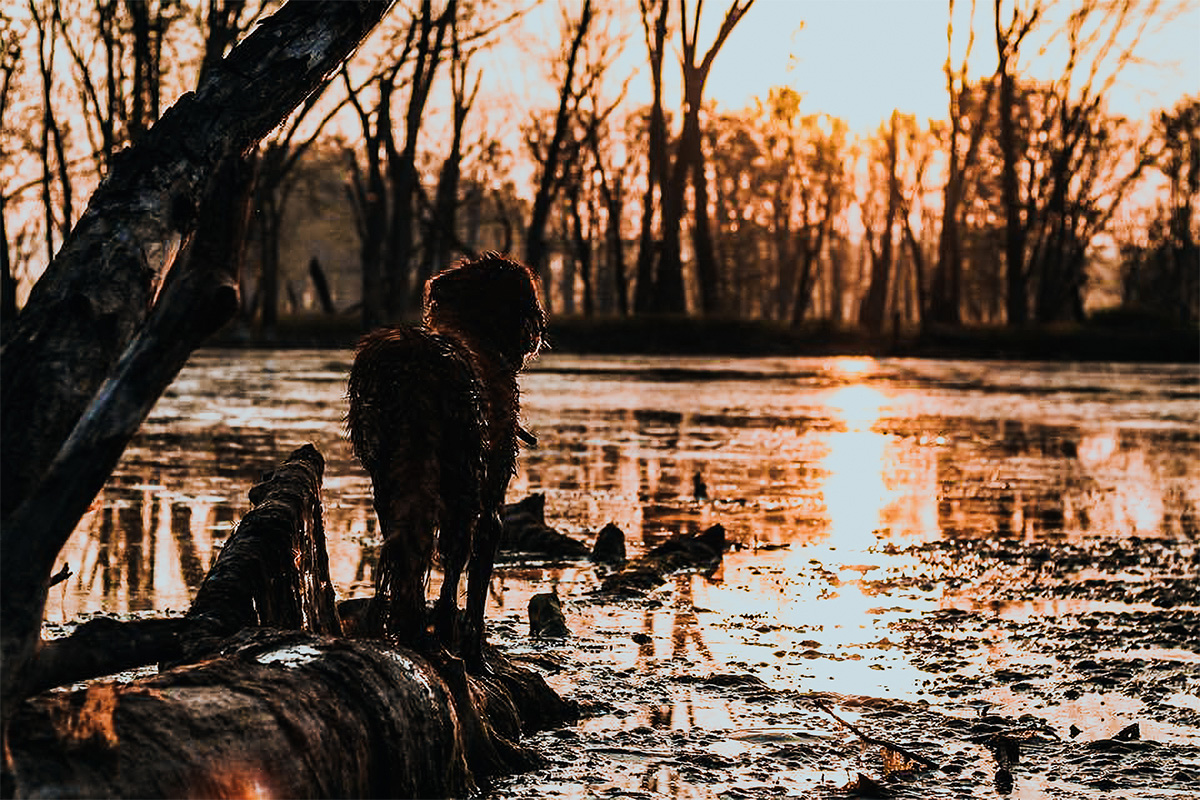 If you've ever wanted to keep hunting with your best bud, even after he's crossed the Rainbow Bridge, Iowa Hunting Products (IHP) can ensure you have the opportunity. The company, owned by Brandon Knopf, specializes in making duck and goose calls that incorporate the earthly remains of your canine hunting partner. They call them Man's Best Friend calls.
RELATED — 6 Simple Steps for Duck Hunting Creeks: Guns, Gear, and Tactics
---
Finding Purpose
One morning, 12 years ago, avid lifelong hunter and now IHP's owner Brandon Knopf woke to excruciating, unexplainable back pain.
"I woke up one day, and my right hip hurt, and the pain just wouldn't go away. I had a herniated disc and had three surgeries in three months. On the last one, they said, 'There's really nothing we can do to help you,'" Knopf told Free Range American.
Knopf had developed a rare and debilitating condition called adhesive arachnoiditis. This inflammatory disease affects the lower back and causes adhesions and excessive scar tissue to form inside the spinal canal.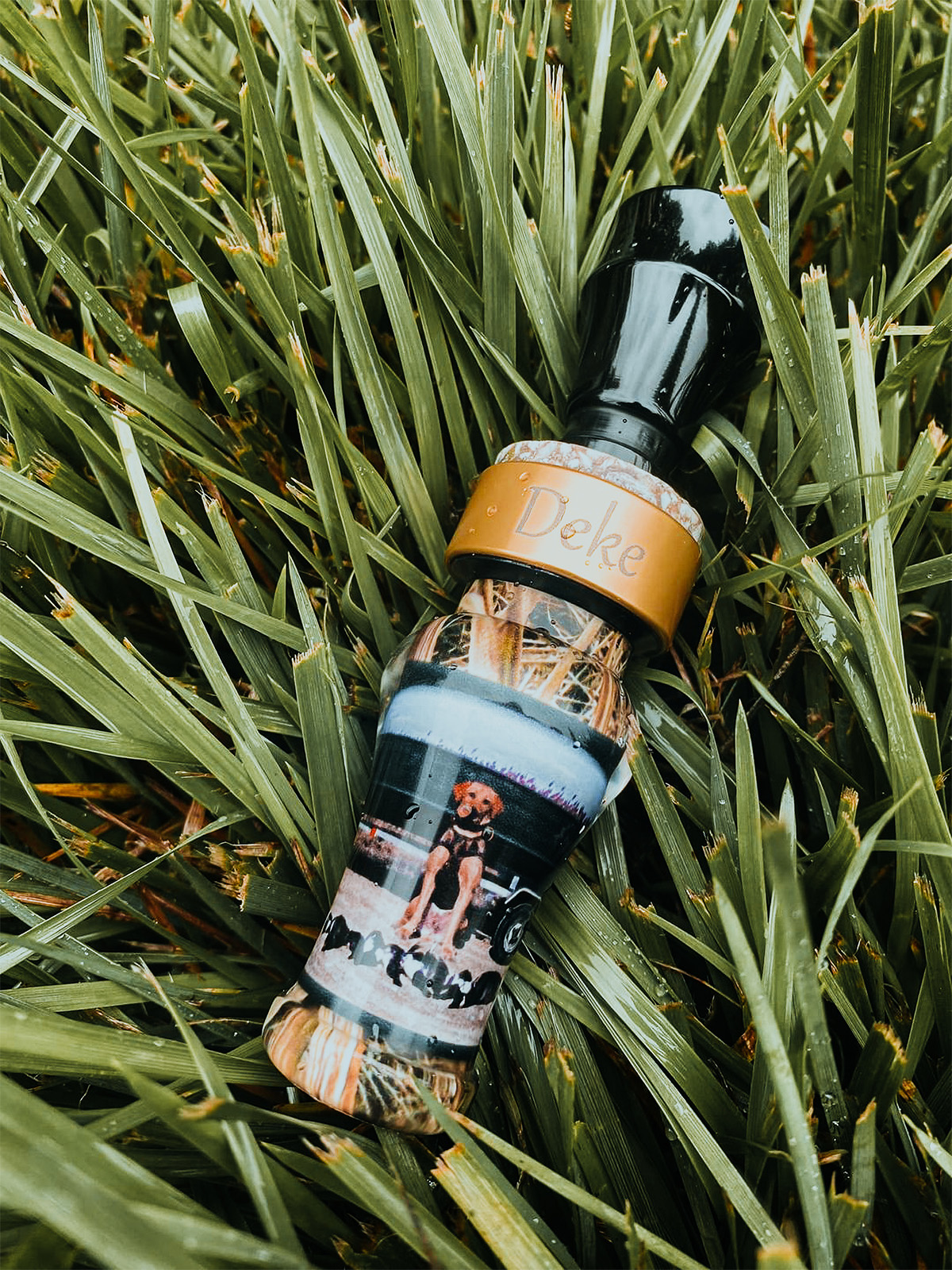 "I had to figure out how to manage around that. I spent a few years at the Mayo Clinic in Rochester, Minnesota, trying to get everything figured out and find a way to have a somewhat normal life.
"With my back and a total of six surgeries, it took away my career and most of my ability to hunt," Knopf said.
Both were a major blow. Knopf grew up hunting, and it was a significant part of his identity.
"When I got out of college, I was either working or I was hunting," he said. "That was the way I spent my time. It was a big part of my life, but once my back went bad, I couldn't do it like I wanted to. I went from straight working and hunting to sitting on the couch.

"I needed a hobby to fill the void, so I taught myself how to make duck calls."
He started with a four-by-four table, a lathe, and a Skill saw. Although he didn't know what he was doing, he was determined to figure things out. He went through probably 50 tone boards before he got something that sounded like a duck. But once he got that sound, he was hooked. Iowa Hunting Products was born.
Since then, Knopf has moved up from his tiny square table to a 1,000-square-foot facility, with a high-tech CNC machine and several employees.
"I enjoyed it. It was good for me physically and mentally. I figured I needed to find a way to make it a valid business."
That's when Knopf got a letter from his uncle telling him about a newspaper article on a Minnesota company called Deadshot that was making custom duck calls that contained the ashes of deceased bird dogs. They called these unique memorials the Man's Best Friend call. Although he didn't come up with the idea, he knew these calls were something special.
"I thought it was pretty cool, so I called the guy and asked him if he wanted to sell the business."
Knopf acquired the rights to the Man's Best Friend call about five years ago, and he said it's the best thing he ever did.
"You can fight the pain side of things, but that's an easier battle than the mental one. I needed a purpose, and making these calls gave me that. There's a lot of meaning in building these Man's Best Friend calls. It's not the same as just making a regular call that someone will throw in a drawer next week. These are something special."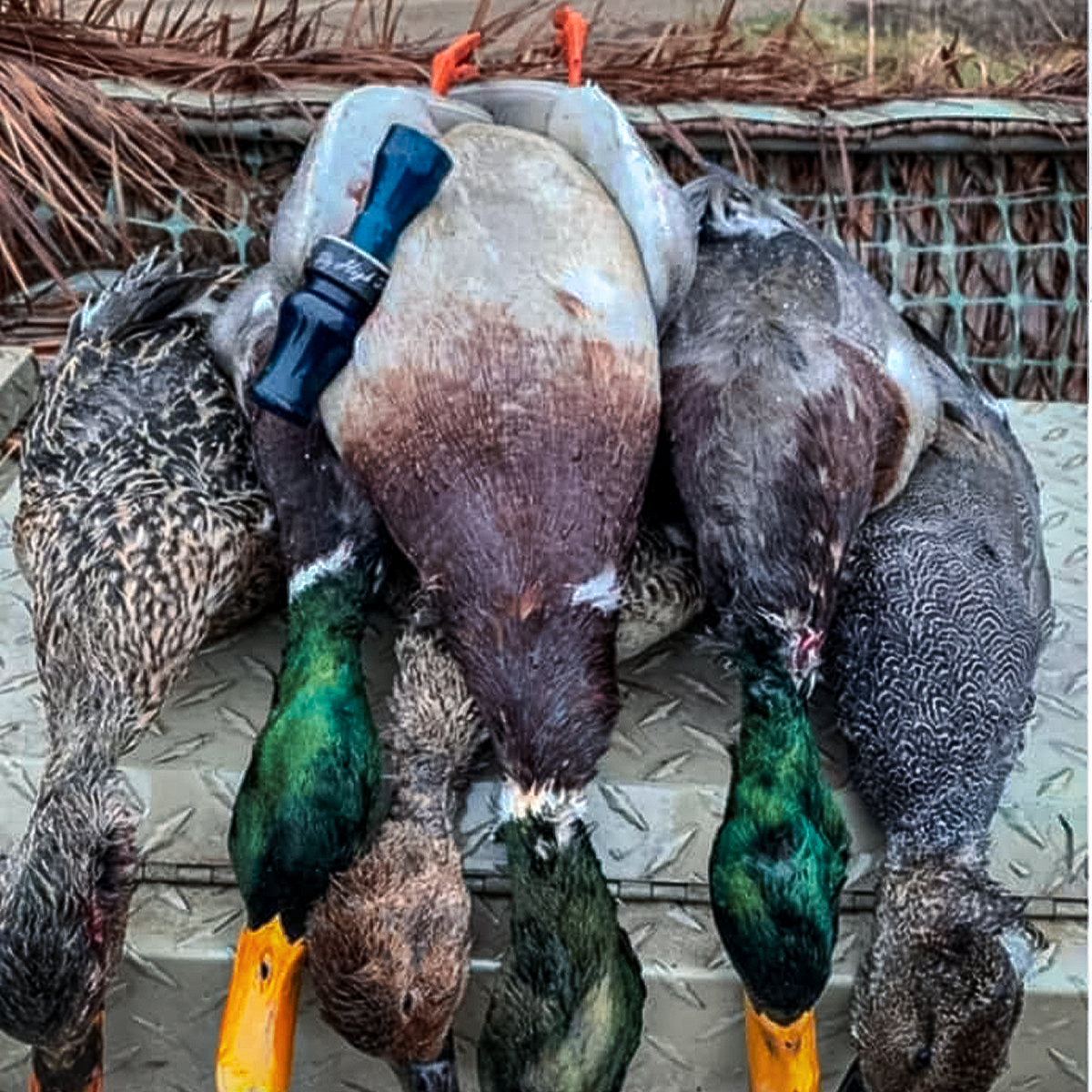 GOOD GEAR – Keep Your Coffee Hot or Cold With the BRCC Coffee Saves Tumbler
---
The Making of Man's Best Friend Duck Calls
Knopf uses a proprietary process to cast a small collection of ashes in acrylic. He then uses that acrylic as part of a custom-designed duck or goose call.
You don't have to do anything special to ship your best buddy's ashes to IHP. Just wrap up a small amount and send it in via the mail carrier of your choice.
If you're worried about your best bud getting mixed up with some stranger's dog, Knopf said there's no need. The company may have as many as nine calls going simultaneously, but it has strict internal processes to ensure Fido and Rover make it into the right calls and back to their rightful owners.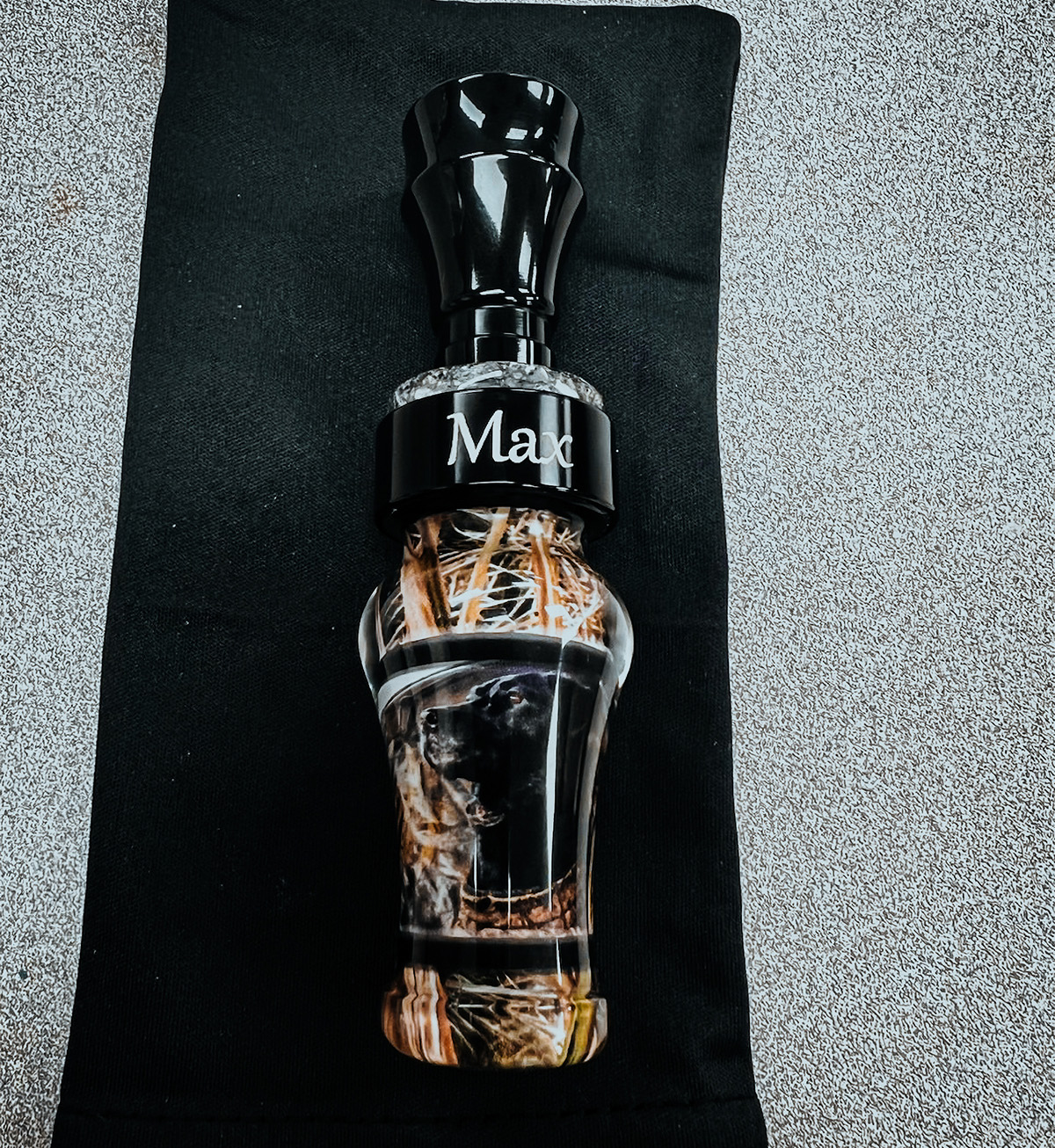 RELATED — Deer Hunting With Dogs: An Old and Controversial Tradition
---
Hunting Dogs Are Special
Colton Bradley's 15-year-old black lab, Max, passed away in July 2022, and he sent a portion of his friend's ashes to IHP to make a couple of duck calls.
"He hunted 13 seasons with me," Bradley told Free Range American. "I got him in the fourth grade, so he had been around almost my whole life. He hunted with me and my dad, who got me into duck hunting."
Bradley got two calls made with his ashes — one for him and one for his dad. He also had another call made with just Max's picture.
"I took the call with Max's ashes with me down to Arkansas this past year because that was a trip I had always wanted to make with him, but we never ended up getting around to it. It was a trip I've wanted to take ever since I got into waterfowl hunting," Bradley said. "I made sure that call made the trip and made it into the lodge to hang out with us while we were down there.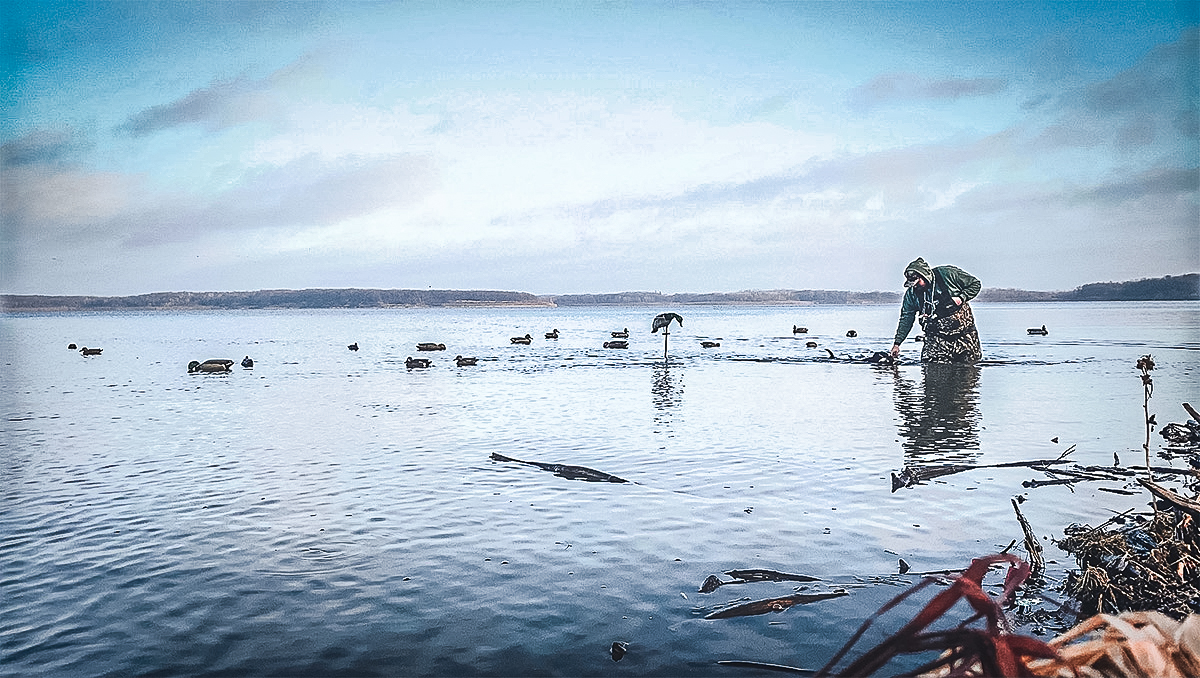 "Looking back, I wish I could have made the trip with him, but at least I could say I took him to Arkansas. That he got to be there in some shape or form is something I cherish."
When Bradley got the finished calls, he teared up at seeing the finished product, and so did his dad.
"You have such a huge bond with these animals, and then losing them is like losing family. Having a piece of them that you can use in the way they used to love to interact with you is definitely something special."
Bradley isn't the only one to have an emotional response to these unique memorial duck calls. The IHP Facebook page is full of posts from dog owners expressing gratitude to the company for allowing them to keep their former hunting partners with them in the blind for seasons to come.
"When I received my duck call, I literally was at a loss for words, and tears came down my cheek. He brought my dog back to life with this one-of-a-kind call," said Joel Campbell, a duck hunter from Minnesota.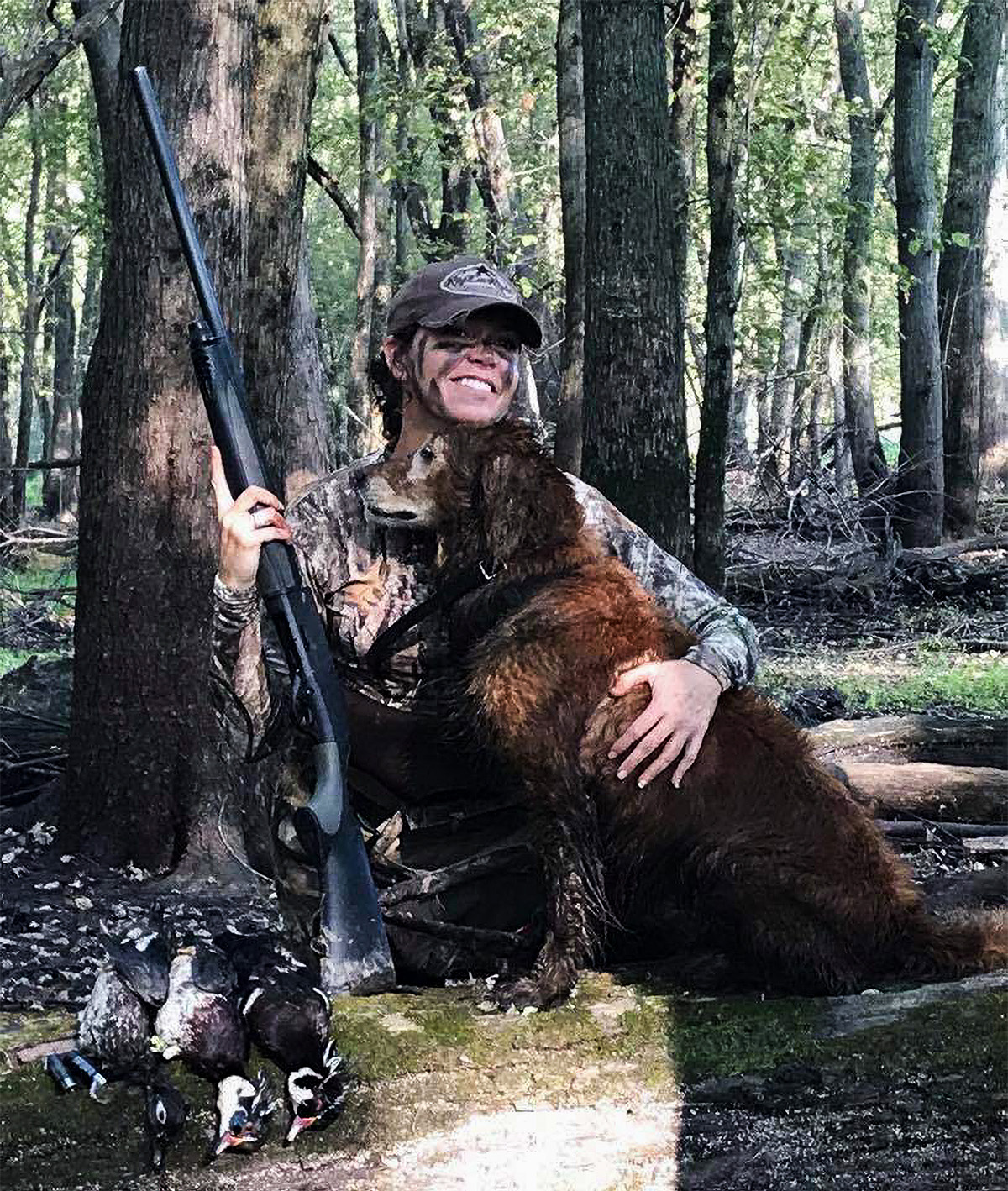 "Even though it's been almost two months since my girl crossed the bridge, I still have times that I expect to see her by my side. Fifteen years and eight months took a huge chunk out of my heart, but this beautiful call helps a lot," said Andy Ellingson of Iowa.
GOOD GEAR – Enjoy the Perfect Blend Between Salty and Sweet With the BRCC RTD Espresso Salted Caramel
---
Beyond Ashes and Duck Calls
But IHP does more than just duck and goose calls and 6-in-1 whistle calls. They can also incorporate your pup's ashes into a custom gundog whistle, so you can still take him into the field, and he can help train the next generation of hunting dogs.
And if the deceased hunting companion you want to carry into the field isn't canine, that's okay. Iowa Hunting Products will also incorporate human ashes into a call. So if you want to share another spring morning in the turkey woods with Grandpa, you can order a custom pot call made with his ashes. He was always a better turkey caller than you, anyway. This could be your chance to channel some of that prowess.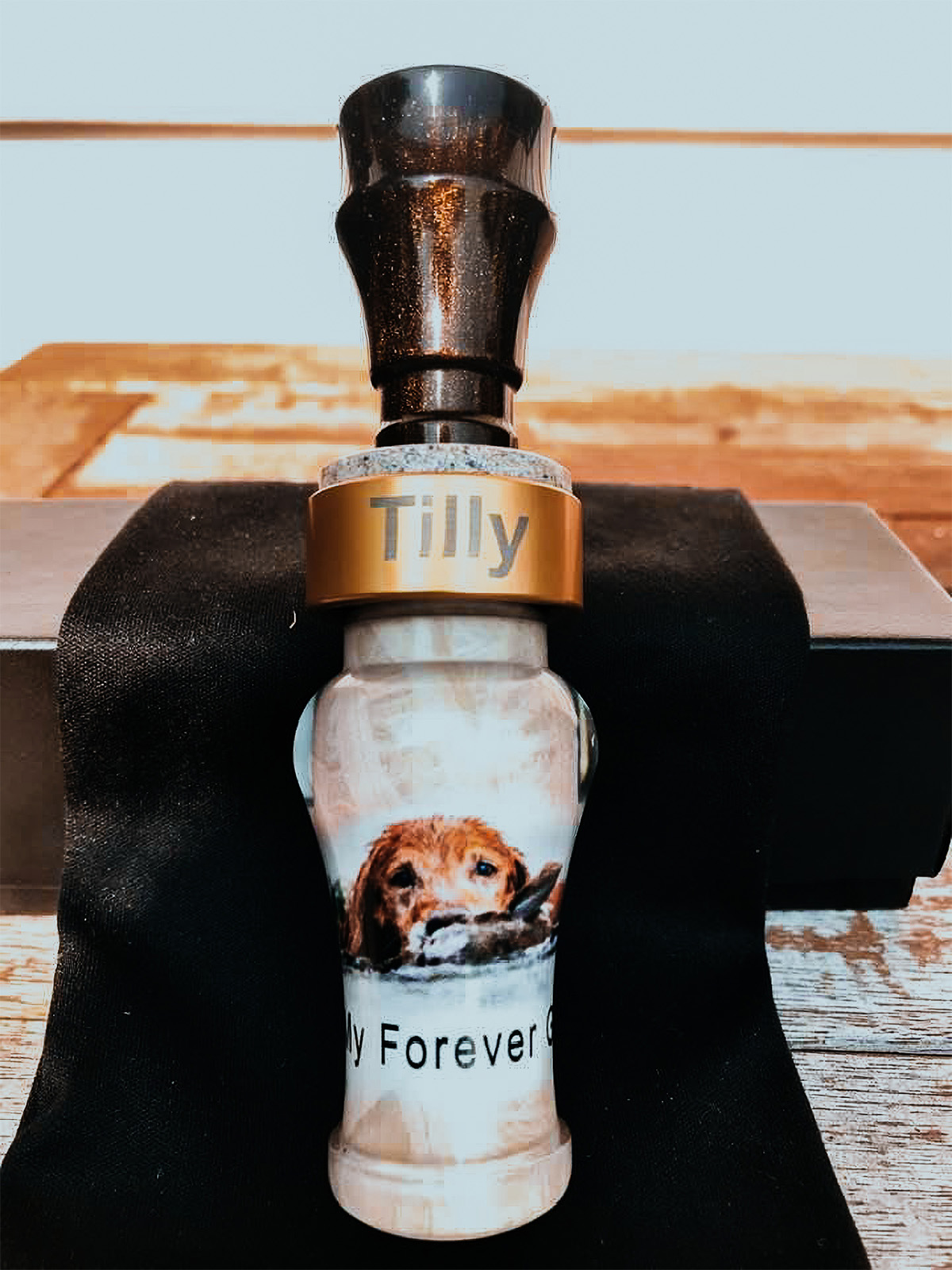 For some hunters, a call made from the ashes of a dead loved one may seem morbid. IHP also does a lot of memorial calls without ashes. They make a lot of tribute calls with customer-provided images.
"We'll take a digital image, size it, and cast it in-house," Knopf explained. "The image is inside the acrylic, and we cut the call after we get the cast. We also started a polycarbonate line. We can take custom imagery and put it inside injection-molded parts.
"I get that some people think this is morbid, but the people who have dogs — especially hunting dogs — they have that unique bond with them and just want to take them hunting again."
---
READ NEXT — Underdogs: 4 Hunting Dogs That Beat Death and Got Back in the Field