If you were fishing on the Clearwater in Idaho, the Metolius in Oregon, or the Elk River in BC and left your sandwich on the shore while you walked off to take a leak, there's a chance that a bull trout would take your lunch — probably your beer, too, if that was nearby.
They are bullies itching for a fight, plain and simple.
As indiscriminate as they may be when it comes to crushing flies or lures, bull trout are complete primadonnas about where they live.
Bull trout must have gin-clear water that stays below 60 degrees. Any sediment in the gravel beds at all will choke out their eggs when they spawn, thus their pickiness.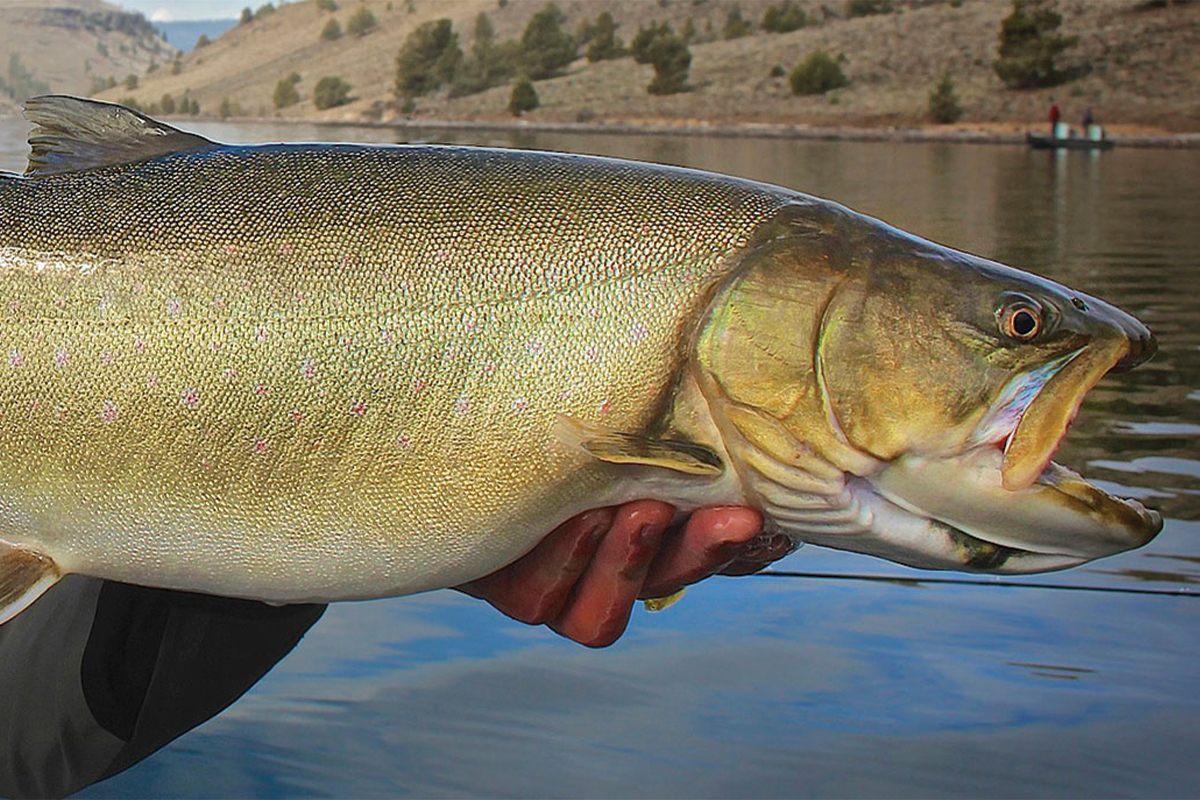 But it's these pristine bodies of water that make chasing these fish so much fun.
There's nothing like the adrenaline dump of watching a big bull trout spot and track your fly 15 or 20 feet from the bottom of a deep, completely transparent pool and then hammer the bait imitation like it stole something.
Migratory bull trout have been recorded that measure up to 41 inches in length and weigh as much as 32 pounds, whereas resident bulls rarely exceed 4 pounds.
To get a better understanding of this underrated gamefish and why it would be in your best interest to try and catch one, let's take a look at what makes them tick.
RELATED – Carp Crazy: A Fly-In Fly Fishing Adventure on Lake Michigan's Beaver Island
---
Bull Trout Background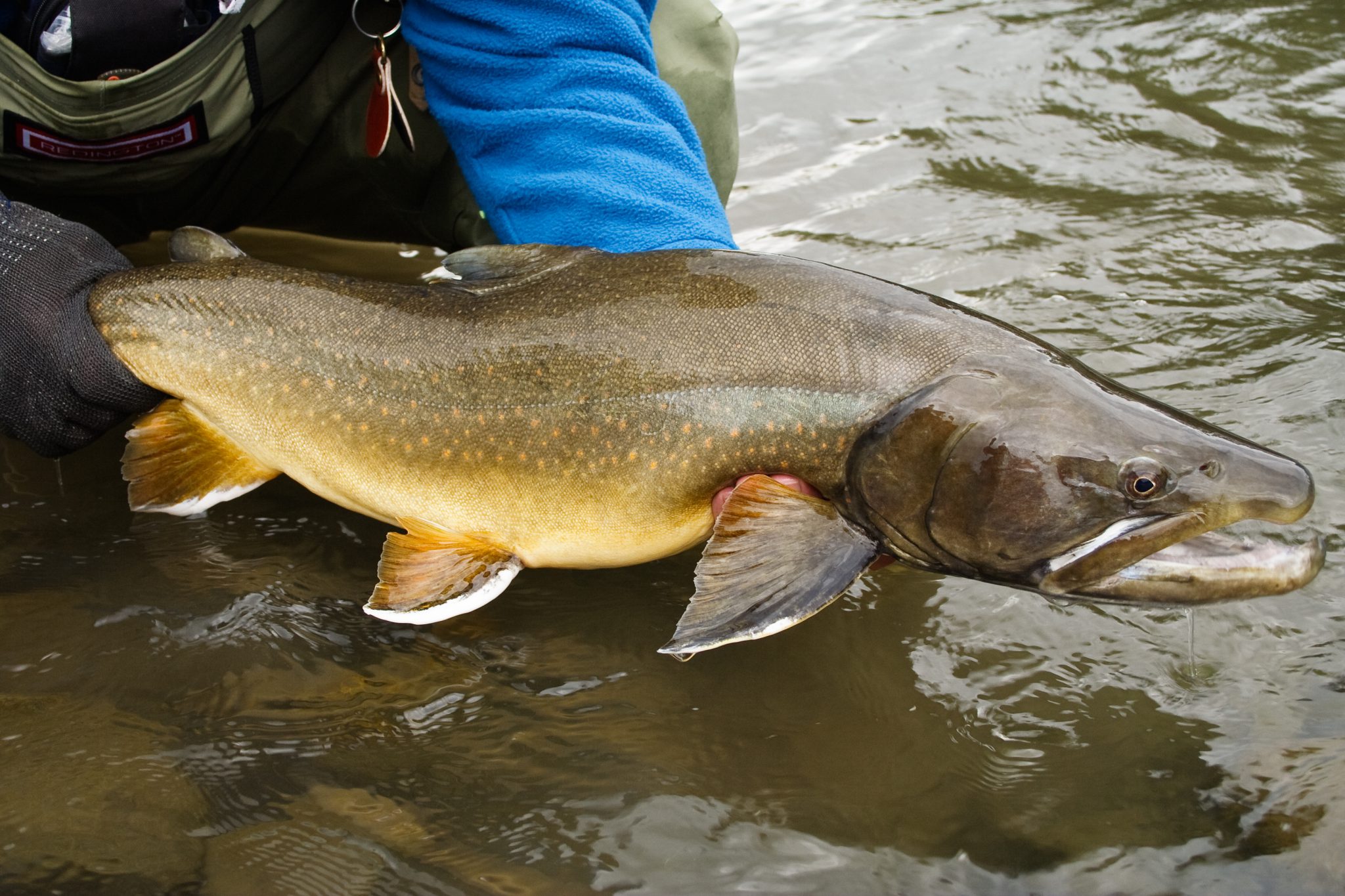 Bulls are native to northwestern North America: Yukon, British Columbia, Washington, Oregon, Idaho, and western Montana. There is a population in Jarbige River in Nevada, and also east of the Continental Divide in Alberta.
Up until they were reclassified as their own species in 1980, Salvelinus confluentas, or bull trout, were actually considered Dolly Varden (Salvelinus malma) because of their similar physical traits. The distinction was made that Dolly Varden are an anadromous species, meaning they migrate to and from the sea, and bull trout are strictly inland.
Bulls have no distinct spots on the dorsal fin, but they do have yellow, orange, or salmon-colored spots on the back. Their pectoral, pelvic, and anal fins also have white leading edges.
Resident bull trout tend to stay in a very specific range within a river, but migratory bulls will move great distances throughout a river system to spawn.
Bulls reach sexual maturity between four and seven years of age and can live as long as 12 years. They spawn in the fall after temperatures drop below 48 degrees.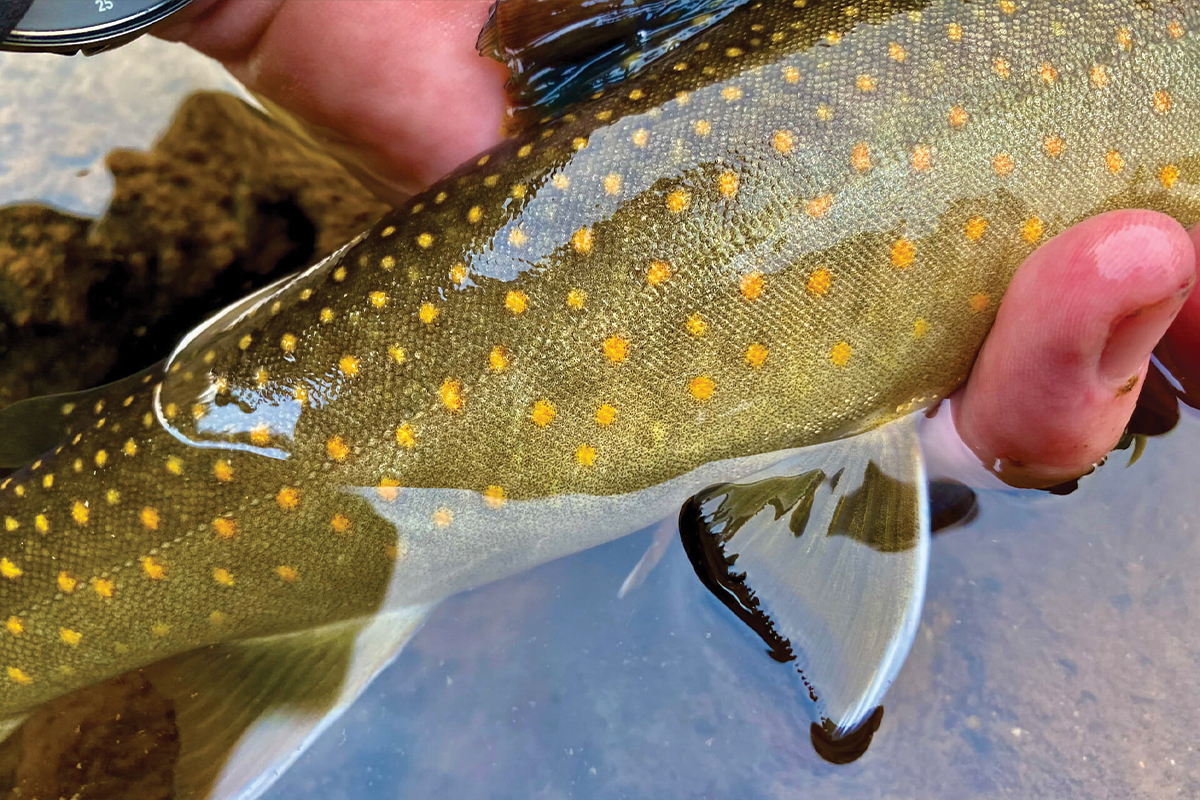 Bull trout were listed as a threatened species under the U.S. Endangered Species Act in 1998 and also as vulnerable on the IUCN Red List of Threatened Species. Overfishing isn't the issue, in this case, it's habitat degradation and hybridization with non-native brook trout.
Bulls are an indicator species because of their need for cold clean water. If a body of water becomes uninhabitable for bull trout, most likely because of the impacts of logging, road-building, or impassable barriers like dams, the fish are pushed into smaller and smaller ranges, which affects reproduction.
Speaking of reproduction, bull trout and brook trout (which are an introduced species) are able to spawn with each other, but their offspring are sterile — and sterile fish are genetic dead-ends.
While it's illegal to target bull trout when fishing in Washington and Montana, except for the South Fork of the Flathead River, it is legal to fish for them in the rest of their native range as long as they are returned to the water unharmed.
---
Best Places to Fish for Bull Trout
---
North Fork – Clearwater River, Idaho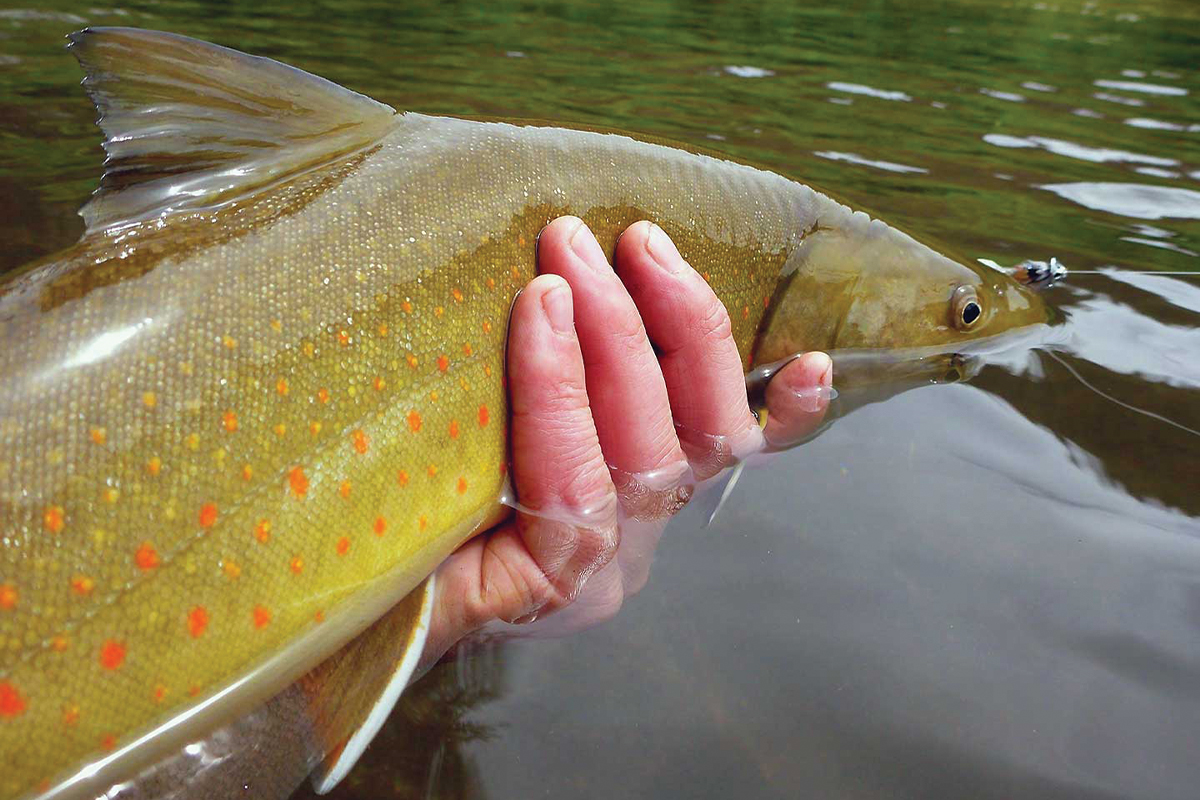 The North Fork of the Clearwater River starts in the Bitterroot Mountains of eastern Idaho. The roughly 135-mile-long river is cut off from the main stem of the Clearwater River by the Dworshak Dam, but it holds stud bull trout and world-class cutthroat, too.
The North Fork and its tributaries are coldwater havens for bulls. During their spawning season, tagged bulls have been recorded traveling as far as 100 miles upstream from the Dworshak Dam Reservoir. They also stay very active throughout the winter, unlike most of their trout cousins.
Local knowledge, of course, is the key to finding where the big fish are located — so make a point of stopping by.
---
Located in the southeastern Kootenay district of British Columbia, the Elk River originates near the Continental Divide, joins the Kootenay River at Lake Koocanusa, and eventually flows into the Columbia River just north of the Canadian border in Montana.
A native westslope cutthroat trout mecca, the Elk is just as well known for monster bull trout that will hammer a full-grown cutthroat that just ate one of your dry flies. Pack big streamers if you'd rather cut out the middle-man — and eat your Wheaties before you hit the water.
Before you hit the river, check in with a local fly or tackle shop to get the lowdown on current conditions and what they're eating.
---
South Fork – Flathead River, Montana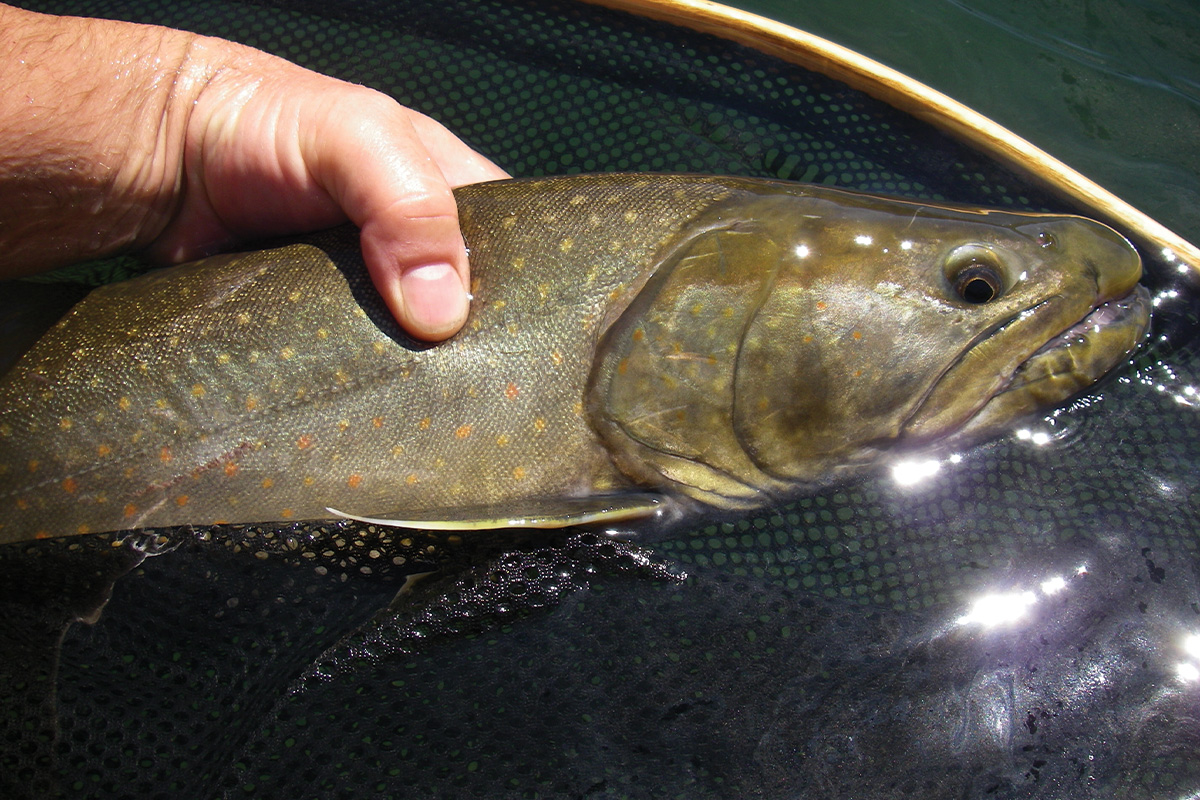 The South Fork is one of the few places in Montana where anglers can legally target bull trout. Fishing is open the third Saturday in May through July 31 and is catch-and-release only. There is no targeting them outside of those dates.
Of course, the river is loaded with bulls in the early fall when they run upstream from Hungry Horse Reservoir. Fortunately, bull trout are present throughout the system in the summer. Be ready for an ass-whoopin', since South Fork bull trout can weigh up to 15 pounds or more.
You'll need a South Fork Flathead Bull Trout Catch Card in addition to a license if you plan on fishing for them. Make sure you grab one at a local fly shop so you're covered.
---
The Metolius is a burly, intimidating, fly-fishing-only, glass-clear river that flows from two groups of springs emerging from the base of Black Butte. Every winter, bull trout follow the Kokanee salmon spawning run out of Lake Billy Chinook. Of course, they follow the salmon to gobble both them and their eggs.
Bulls can get into the double-digits from a weight standpoint. They are voracious meat-eaters, so throw massive streamers and bring a sinking line to get down in the heavy, fast current and 30-foot deep pools.
If you go, make sure you check out one of the local shops for hot flies and valuable advice:
RELATED – Rooster Fish: Get Tropical and Be Ready for a Fight
---
The Gear You'll Need
Fortunately, fishing for bull trout is not rocket science. The most difficult part of the whole deal is getting to their home water, which is half the fun.
Fly fishing and spincasting are both popular ways to tempt bulls into biting when on the river. Whichever you choose, look for oxygen-rich areas around rocks, root balls, and blowdowns, and pools with moving water.
All trout are notoriously lazy and will hold in a spot where food generally comes to them and they can eat without much effort; but bulls are fierce predators and will chase down a good meal if it's going to fill their belly.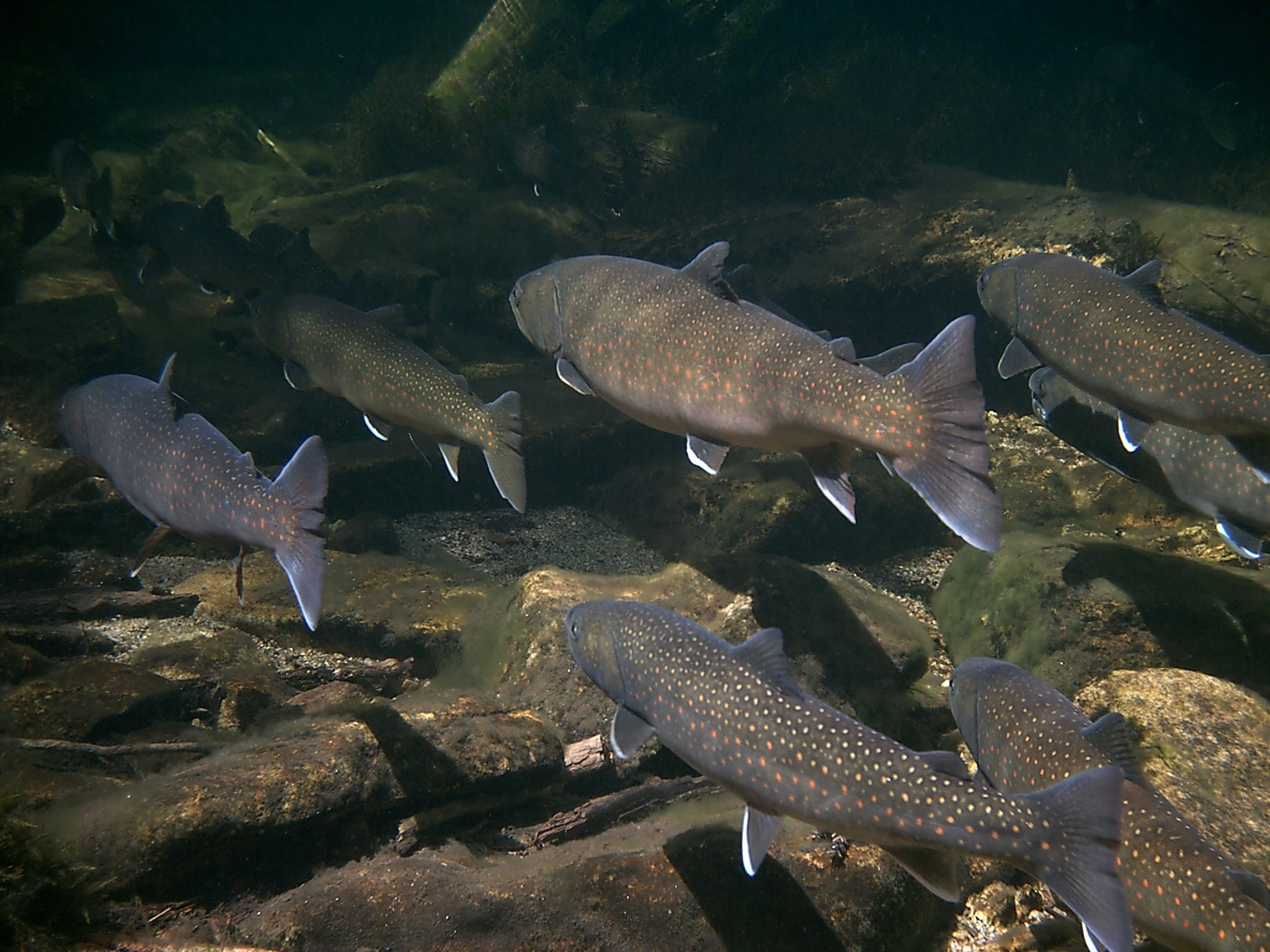 Because they get big and also know how to use the current to their advantage, if you go the spincasting route, take a 7-foot medium-fast action rod — like the Pflueger Trion spinning combo — with 8- to 12-pound test line.
If you're fly fishing, a 9-foot 8-wt. rod with a smooth-drag reel — like the Orvis Clearwater Outfit — will keep you from getting beat up too badly.
The best flies and lures are ones that resemble baitfish. Spincasting with jigs, minnow-imitating crankbaits, spoons, and spinners are all solid options. Swinging flies like Mini Leeches, Kreelex Minnows, or Strolis' Single Ice Pick will produce some vicious bites, too. 
Single egg patterns also work well during spawning season on any streams or rivers that also hold salmon. Also, since catch-and-release is the law of the land for bull trout, single barbless hooks are the way to go to make sure fish are released with the least amount of harm.
---
Before You Go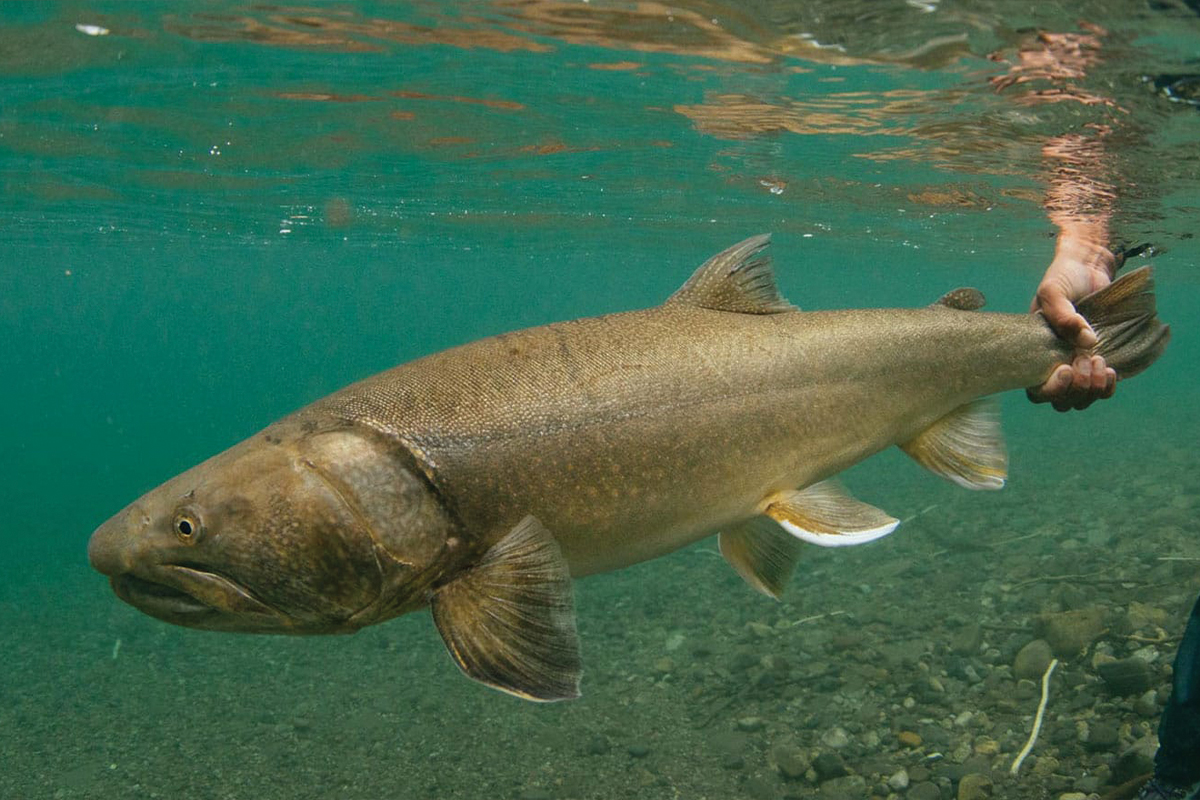 Make sure you do your research on the water you want to fish. Because bull trout are listed as threatened, it's really important that you're clear on what water is in-bounds and at what time of year. Check state or province fish and game sites for details.
The single barbless hook recommendation is worth repeating. Bull trout are dynamite fighters and won't stop till they're laying in the bottom of a net. The faster you can get their nose back upstream with the least amount of resistance when removing the hook, the faster they'll recover and live to grow another day.
---
READ NEXT – Brown Trout: The American Badass Jekyll and Hyde of Gamefish