Brown trout in the US are two fish trapped in the same body, switching from one to the other, like Jekyll and Hyde, depending on their mood.
One minute they'll be gently sipping mayflies from the surface like they're holding up their pinkies at tea. The next minute they'll bolt from the shadows and eat your pet guinea pig if you let it swim.
There's a possibility that their dualistic nature could come from the fact that every brown trout in the US is, in fact, primarily a blend of German and Scottish genetics. Well, there is a tiny bit of English DNA in there as well, which might account for the mayfly "sipping."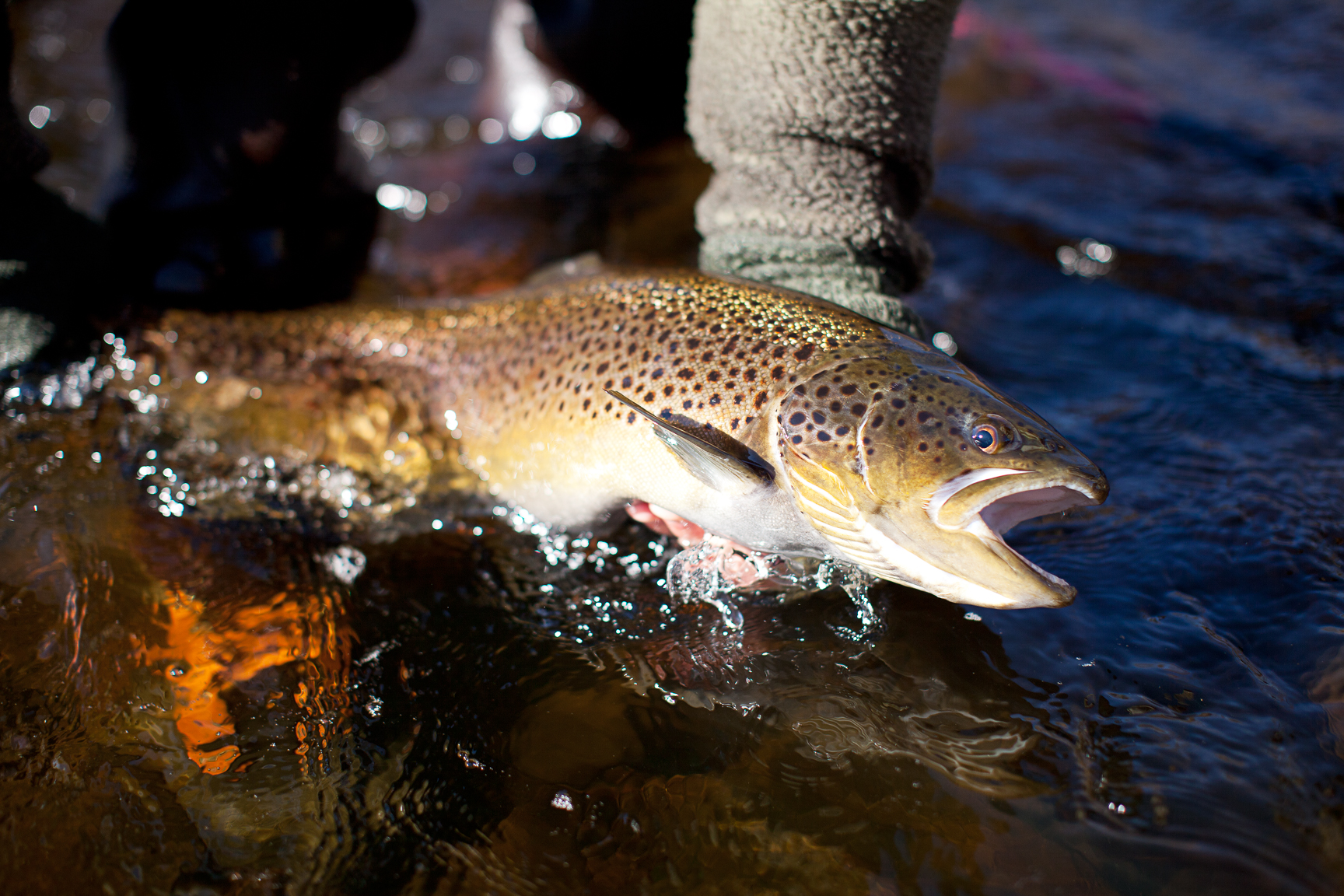 This genetic mix became what renowned wildlife biologist Robert Behnke, aka Dr. Trout, called the "American generic brown trout," a fitting fish for a country that's known as the Great Melting Pot.
With self-sustaining populations in 34 states, their carnivorous appetite, sometimes freakishly large size, and stamina-testing fight have made them one of the most sought-after freshwater gamefish in the country.
Here's a deeper look at the brown trout's biology and origins in the US, some of the best places to find big specimens, and the gear you'll need to chase them.
RELATED – Rooster Fish: Get Tropical and Be Ready for a Fight
---
Brown Trout Biology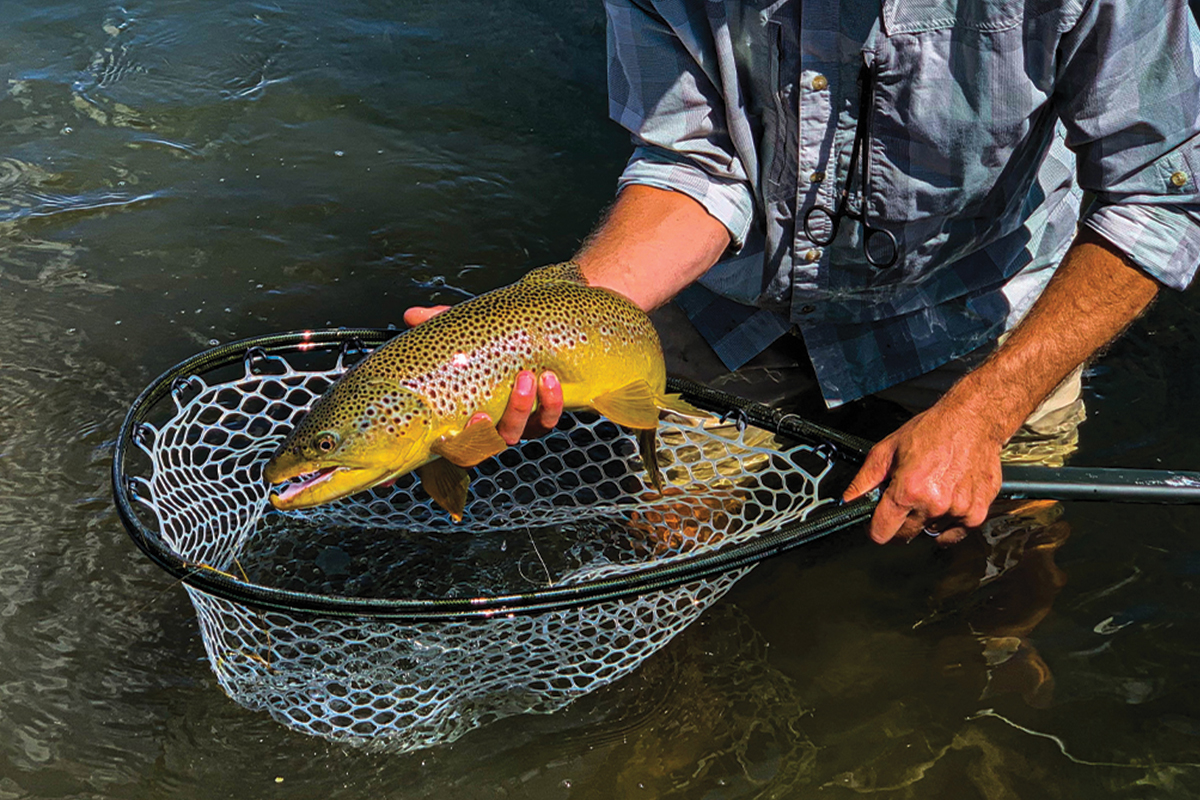 A brown trout's appearance can vary significantly from one to the next. Some are a rich cheddar yellow and pumpkin orange. Some are almost completely dime-bright silver.
There are definitely times when their colors become more impressive, like during the spawning season. But generally, browns are olive-green to brown on top, shading to a creamy, golden yellow on the sides and an off-white along the belly. Their cheeks often shine with an iridescent purple.
Most brown trout are covered with black spots along their sides, back, and dorsal fin, with each spot surrounded by a light halo. Frequently, the spots near the lateral line are red. Their tails have few, if any, spots.
Globally, brown trout exist as one of three different morphs or distinct behavioral populations within a species. Brown trout are all Salmo trutta, but their morph is based on their primary habitat.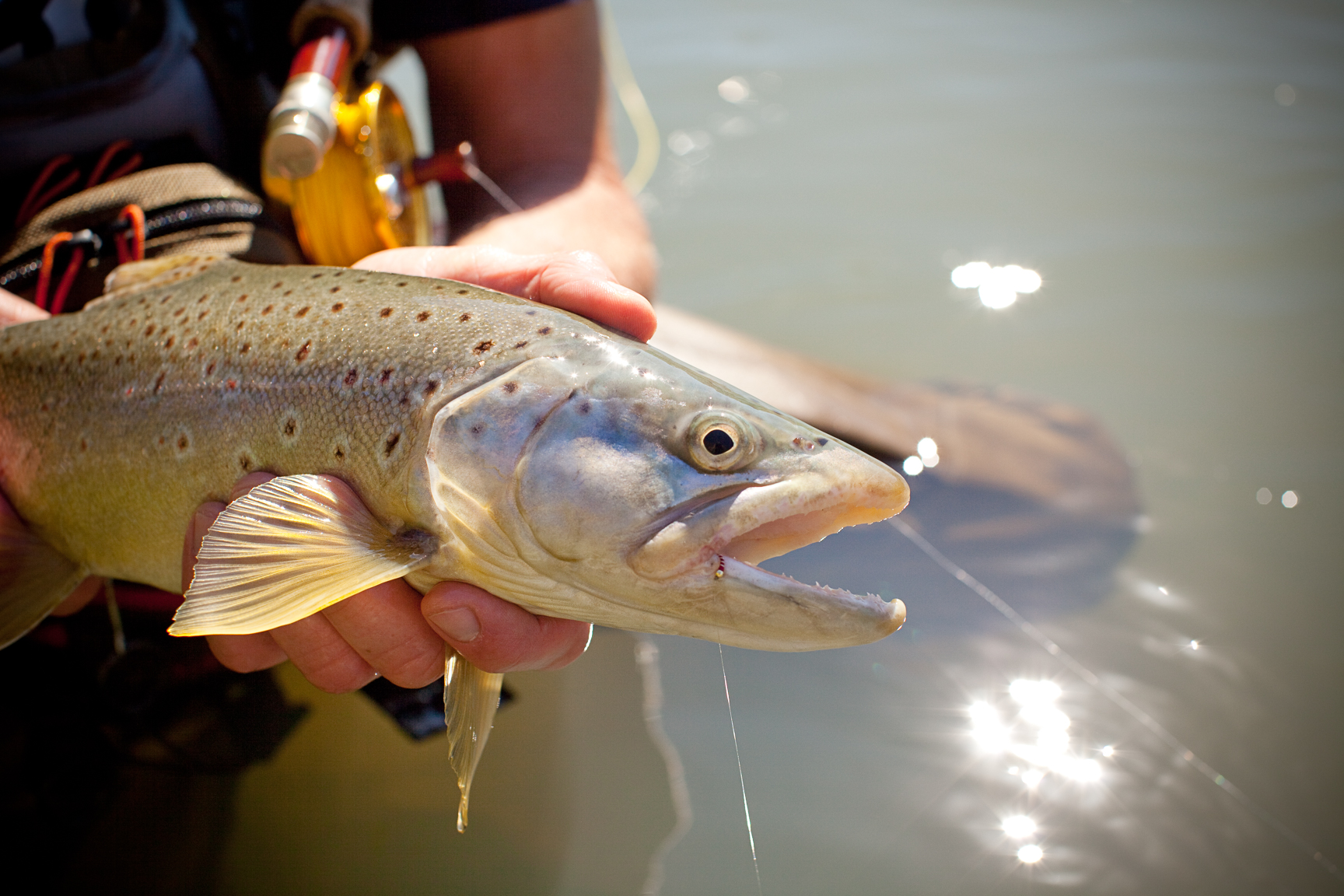 Fish that live full time in freshwater rivers are Salmo trutta morpha fario. Those that roam the depth and breadth of lakes are Salmo trutta morpha lacustrine. The third, Salmo trutta morpha trutta, is anadromous, meaning it lives in saltwater but migrates to freshwater to spawn.
Migratory browns can grow to freakishly large sizes because they have access to abundant forage fish in the waters where they spend most of their lives. Those waters also give them more room to roam, which cuts down on predation.
With a lifespan of up to 20 years, brown trout are opportunists and will eat when a meal presents itself, day or night. They can be super aggressive in rivers, chasing a panicked minnow or goby 20 feet across a stream. Or they can be lazy as hell, holding in slack water, waiting for tiny bugs to hit them in the face or float directly overhead.
RELATED – Carp Crazy: A Fly-In Fishing Adventure on Lake Michigan's Beaver Island
---
American Brown Trout Origin Story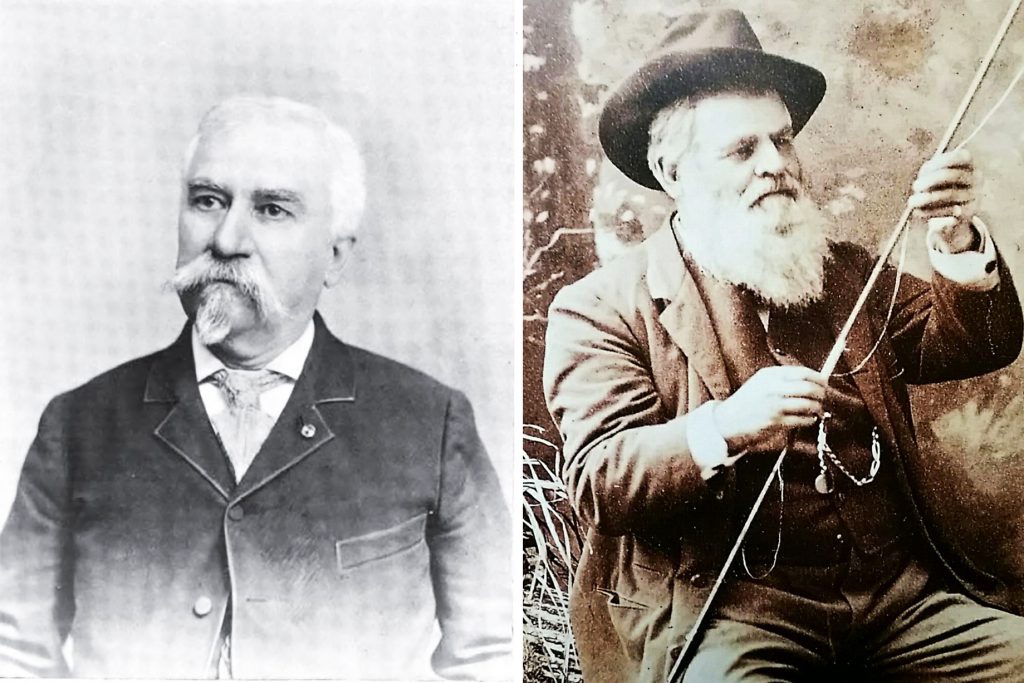 Brown trout have more worldwide acclaim than most people know. Their native range covers northern Norway and Russia's White Sea tributaries from the Arctic Ocean to the Atlas Mountains in North Africa. Iceland was their western limit, while their range extended east all the way to the Aral Sea tributaries in Afghanistan and Pakistan.
Currently, you can fish for brown trout on six of the seven continents.
Brown trout first appeared in the US in 1883 when Fred Mather obtained brown trout eggs from the president of the German Fishing Society, Baron Lucius von Behr. Mather, a hatchery expert, and angler, brought them back from Germany with the blessing of the US Fish Commissioner.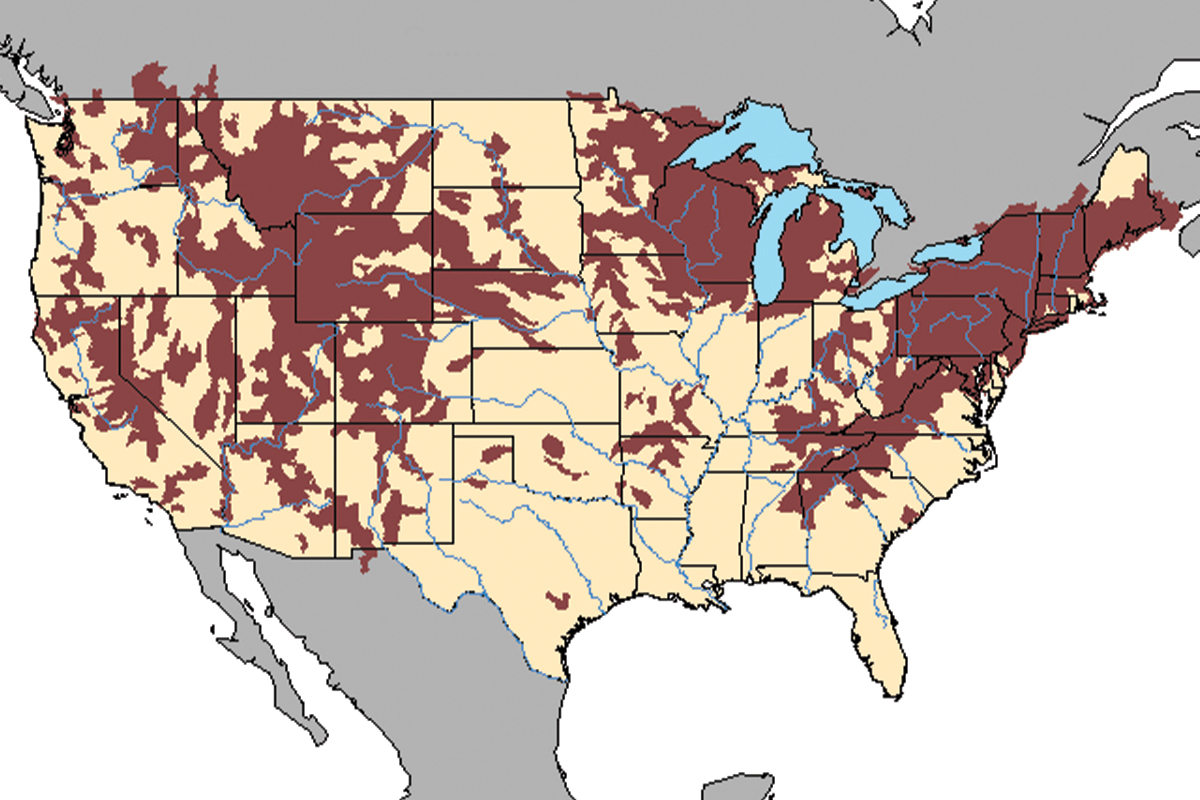 The German, or von Behr, eggs came from fish in mountain streams and large lakes in the Black Forest region of Baden-Württemberg. The original shipment of eggs was split between three hatcheries: Mather's Cold Spring Hatchery on Long Island, New York, Seth Green's hatchery in Caledonia, New York, and another hatchery in Northville, Michigan.
In 1884, the very first brown trout swam free in US waters when the hatchery released 4,900 brown trout fry into Michigan's Baldwin River.
The next year, brown trout eggs from Loch Leven in Scotland arrived in New York and were split between the same hatcheries. The Scottish eggs were blended with von Behr eggs, and over the next few years, additional eggs from England were shipped to American hatcheries as well.
RELATED – Urban Angling: Five of the Best Big Cities for Anglers
---
Best Rivers for Big Browns
Trout don't live in ugly places. But some places do grow them bigger than others. With populations in 34 of 50 states in the US, everyone has their go-to big fish spots. Here is a handful of the best if you're just starting to put your big-brown list together.
Missouri River, Montana
The Missouri is a river with big shoulders. It drains one-sixth of the United States and flows 2,341 miles from the confluence of Montana's Gallatin, Madison, and Jefferson Rivers in Three Forks, Montana, to the Mississippi River at St. Louis, Missouri.
The river produces great bug hatches — mayflies, caddis, stoneflies, and midges — which keep the fish looking up and feeding like it's last call at the buffet. It's possible to tangle with 20- to 30-inch specimens in October, but healthy browns can be found in spring and summer as well.
If the Mo is your destination, here are a couple of shops that will get you headed in the right direction: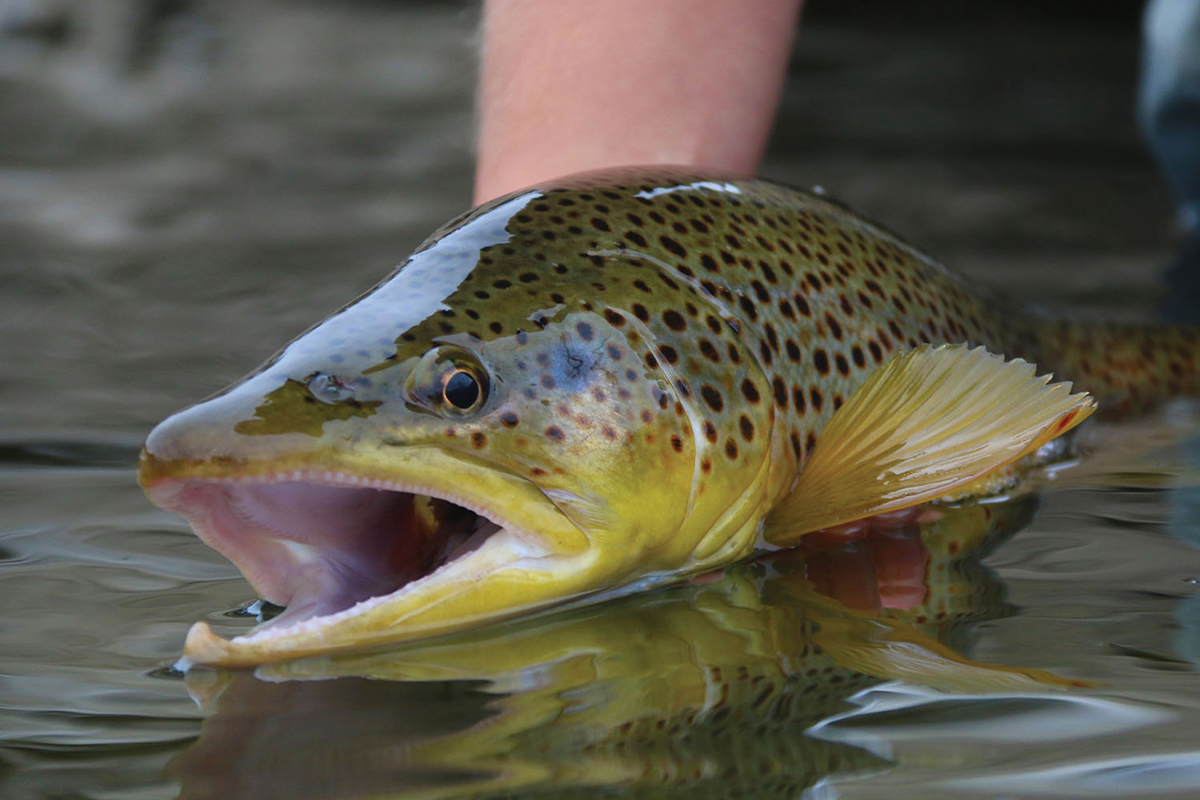 Green River, Utah
Flowing roughly 30 river miles through the high desert sandstone of Flaming Gorge to the border of Colorado, the Green is one of the finest tailwater fisheries in the country.
The river has three sections: A is 7 miles long, B is 9 miles, and C is 12. Conflicting sources claim there are between 8,000 and 14,000 fish per river mile in section A — or as many as 20,000. That's a lot of fish. But sections B and C have the greatest opportunity to produce fish that hit the 30-inch mark.
And with steady water levels and water temperatures almost year-round, there's plenty of trout food to keep that pile of fish fat and happy.
Here are a few local shops that'll get you hooked up:
Lake Ontario Tributaries, New York
Anglers in the East dream about heading West for big browns. Anglers in the West think the monsters are all back East — specifically in the 20 tributaries of Lake Ontario from the Niagara River in the west to the Black River in the east.
Fall is the magic season when lake-run toads bulldoze their way from deep water to their spawning grounds. These are fish measured in pounds (occasionally double-digits), not just inches, with kyped jaws and piss-poor attitudes. Egg patterns and bait imitations get them moving, but water temps need to be right for them to get grabby. When they're eating, be ready for a workout.
For the best intel on local trib fishing, here are the fly and tackle shops you should check out: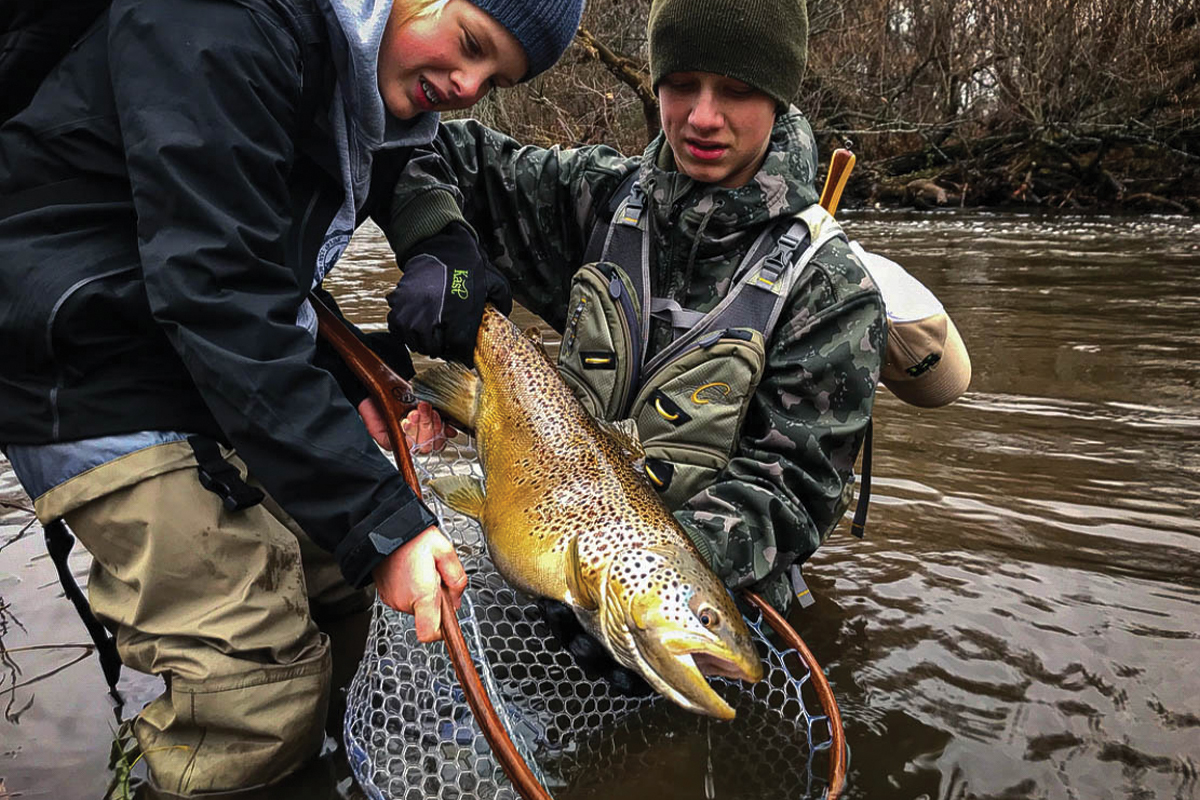 North Platte River, Wyoming
The North Platte covers 716 river miles from the foot of a dozen 11,000-foot mountains to its confluence with the South Platte, forming the Platte River in Nebraska. This is the river where the trout population just about outnumbers the human population in the counties it flows through.
Even with those numbers, North Platte brown trout are notoriously difficult to catch. That being said, those that have cracked the code know that North Platte browns eat like brown trout are supposed to. That means throwing bigger flies and lures all day long. Bring your lunch pail and be ready to put in the work.
Here are a couple of local experts that'll help get you on the water:
South Platte River, Colorado
The South Platte is considered to be one of the most technical but rewarding rivers in the country. Anglers know the river by its sections: Dream Stream, Elevenmile Canyon, Cheesman Canyon, Deckers, and Denver South Platte (DSP).
Situated between Spinney Mountain Reservoir and Elevenmile Reservoir, the Dream Stream is a 3-mile stretch that holds lake-run stud browns in the fall. That being said, fishing is crazy-productive throughout the rest of the 439-mile river as well. Aside from technical fishing, you'll also have a hard time peeling your eyes away from the stunning landscape.
If the South Platte is your destination, these are great shops that can help you plan: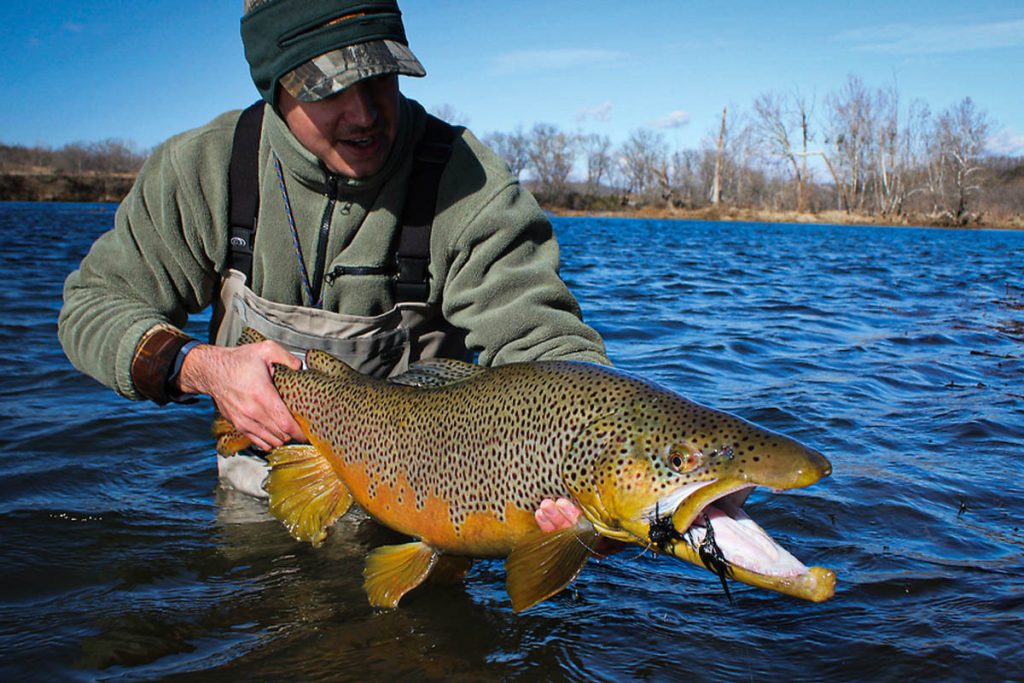 White River, Arkansas
Running 720 miles through the Ozark Mountains to Arkansas' lower delta region, the White River is the home of big — seriously big — brown trout. After five dams were built on the White and two of its tributaries, cold tailwater trout streams wound up being established below them.
The White has produced two world record brown trout: a 38-pound, 9-ounce giant pulled from the Norfork Tailwater in 1988 and a 40-pound, 4-ounce tank caught in 1992 from the Greers Ferry Tailwater. If you want to target giants, late fall to early winter is the window you want to plan for.
Here are a couple of local shops to call for advice:
Manistee River, Michigan
The Manistee has just cause to claim its status as one of the best trout fisheries east of the Rockies — a 41.45-pound brown was landed there in 2009, unseating the 40-pound White River record. The river, much like Lake Ontario tributaries, gets fall-run browns that push in to chow on salmon eggs and flesh and then spawn later in the season.
All 190 miles of river has sand, silt, and gravel bottom with fallen logs, undercut banks, deep runs, beautiful pools, and sharp bends, which are all primo holding habitat for big, hungry trout.
As you get your plan together, give these shops a call for good intel:
RELATED – Hemingway's Top 5 Hunting and Fishing Stories
---
Brown Trout Gear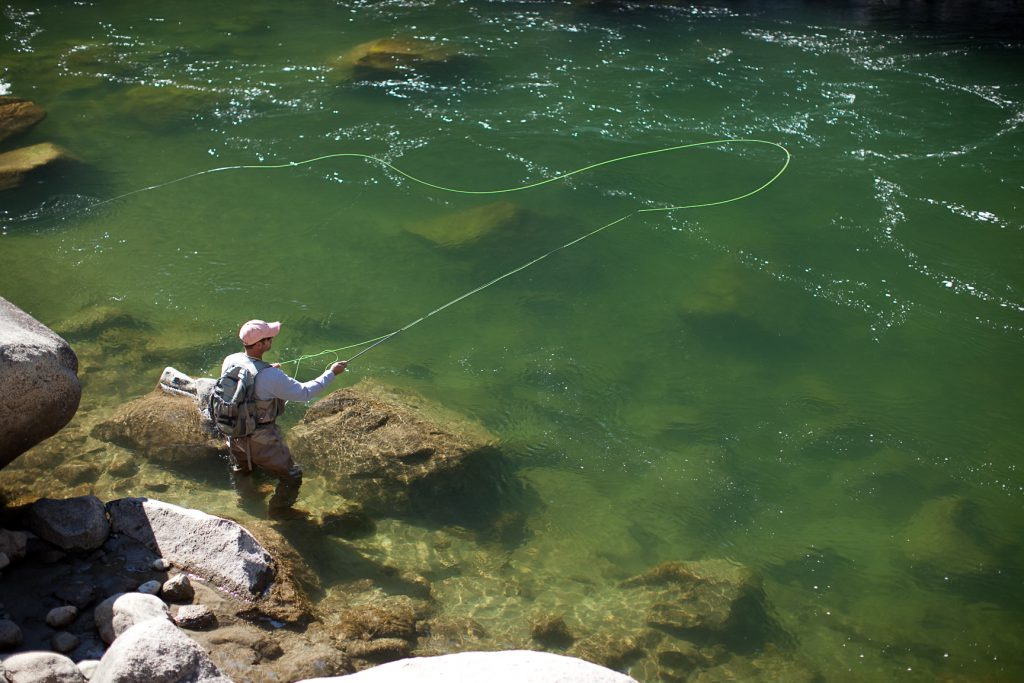 Rods and Reels
If you're a conventional angler, use an 8- to 10-foot, light- to medium-action rod with 6- or 8-pound-test line. Browns get to be unreasonably line or leader shy because of increased fishing pressure, so a lighter line will tend to get more hook-ups. Plus, the light- to medium-action rods will help absorb the hit, so you'll have fewer break-offs if you don't horse the fish.
Pflueger President Spinning Combo — $126
Ugly Stik GX2 Spinning Rod and Reel Combo — $59.99
If fly fishing is your jam, a 9- to 10-foot six- or seven-weight medium action rod will do the trick. Again, browns get spooked easily, so a lighter line — no heavier than 3X (8.5-pound test) — is a good starting point. That being said, when the big fish are eating tiny midges, you might need to go as low as 6X (3.5-pound test) just to tie on your fly. The longer rod length and smooth reel drag help protect the strength of the line if that toad bites, too.
Orvis Clearwater Fly Rod Outfit — $398
Redington Vice I.D Reel Outfit — $299.95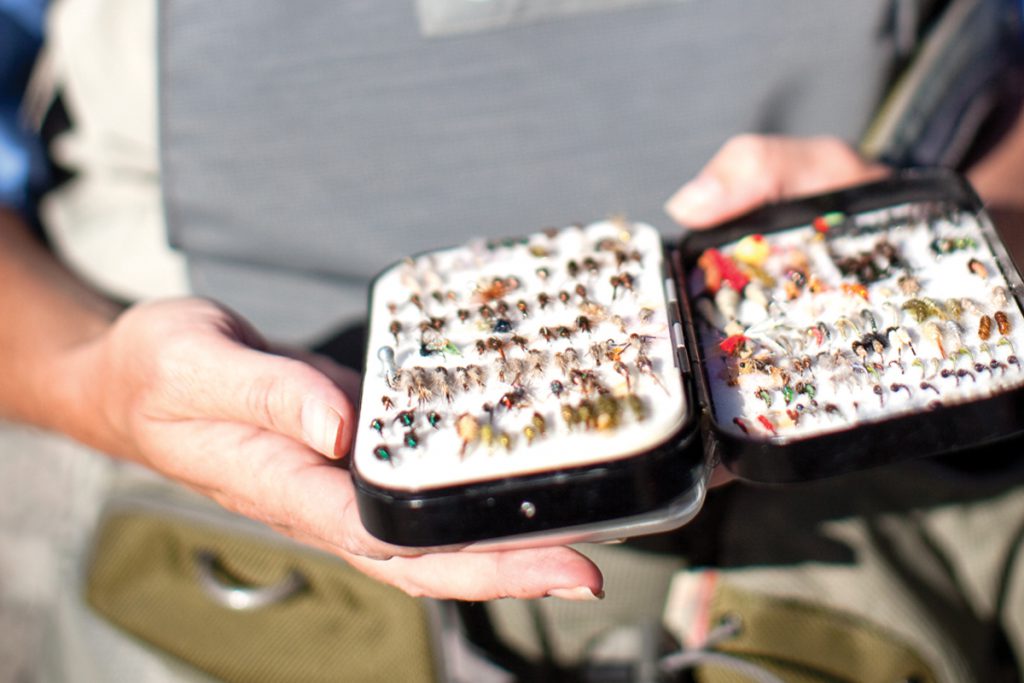 Flies and Lures
Brown trout are voracious eaters but can be infuriatingly picky when it comes to biting what you're presenting to them. Their diet runs the gamut from midge larva no bigger than the head of a pin to 8-inch baitfish and every living thing in between.
Each body of water has its own unique approach to catching browns just by virtue of its size and physical makeup — small or large stream, even or varied depth, lots of structure or more free-flowing, stable or fluctuating temperature, and regional attributes, just to name a few.
Layer in variables like time of year, resident bug and forage species, water flows and clarity, and the tactics for fooling a fish grow exponentially.
There are fly and lure selections available for trout online, but the best way to crack the code on what, where, and how to fish any body of water is to visit a local fly or tackle shop and ask. They will have the most up-to-date intel as well as the most effective lures and fly patterns — or bait — that you'll need.
RELATED – 10 Fishing Podcasts Every Angler Should Check Out
---
Before You Go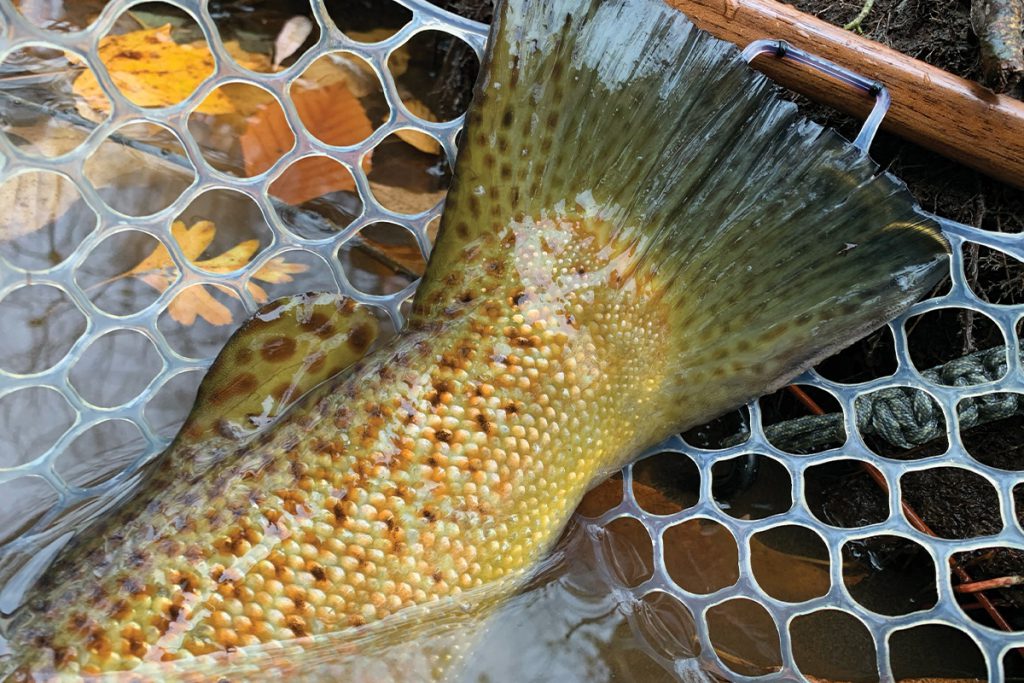 If you're planning a trip to chase browns, whether it's in your home state or across the country, there are a few things you need to have on your prep list.
The first thing you need is a license. The simplest way to take care of staying legal is to visit takemefishing.org. They have every state's online licensing portal in one place, so you don't have to wade through any of those labyrinthian fish-and-game sites.
Pack clothes for contingencies. You will never be sorry for having extra sun shirts, base layers, socks, footwear, or sunglasses, but you will be pissed if you don't have them and something goes sideways. Nobody likes overspending to buy stuff on the road.
Get to know the regs on the water you're going to fish. Aside from the usual open and closed seasons, there could be designated fly-fishing-only areas, catch-and-release-only water, single-hook sections, hoot-owl restrictions, private water, or other local ordinances you need to be aware of. Check state and local fish-and-game department sites for this info; local fly and tackle shops will have it, too.
Speaking of local fly and tackle shops, call a couple of them in advance for recommendations on lodging, wading versus floating certain water, top-notch guides, and even where to find the best burger. When you walk into the shop, and they remember your conversation, you'll be glad you took the time to connect.
READ NEXT – Sex Dungeon? The Best-Named Fly Fishing Flies of All Time