It's a cat-eat-dog world in Nederland, Colorado. The small town is facing a big cat problem as Colorado mountain lions seem to have developed a taste for the local canines. Lions have been accused of killing and injuring more than 15 dogs in the area since Nov. 1, 2022.
Nederland is a scenic mountain town with a population of barely 1,500 people located 17 miles west of Boulder. A gateway to the Roosevelt State Forest and Indian Peaks Wilderness Area, the burg is a quaint stop on the way to more exciting outdoor adventure spots.
But a string of recent mountain lion attacks on the relatively sleepy community's canines has left residents worried about the safety of their pets and their families.
Attacks have been so frequent that a resident created an online wildlife tracker to help neighbors monitor local lion-on-canine violence. The tracker logs the date and location of fatal and non-fatal incidents involving area dogs, and there were plenty in 2022.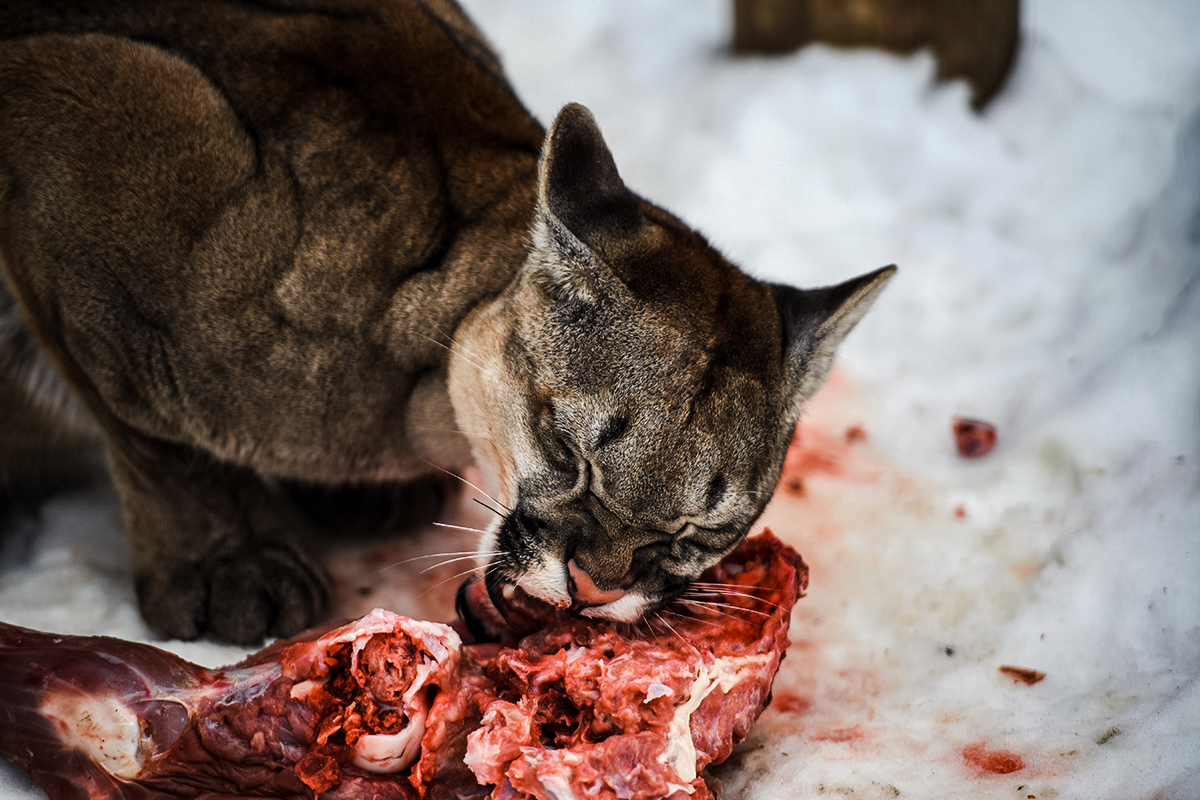 RELATED — Here Kitty Kitty: The Delicious Ins and Outs of Mountain Lion Hunting
---
Not Just Killing Lap Dogs
Surprisingly to some, mountain lions haven't only attacked the dogs in question while they're unattended in empty yards late at night. Dogs have been attacked in the presence of their owners and even while walking on leashes. And we're not just talking about chihuahuas and Shih Tzus. The big cats near Nederland are going after big dogs, too.
One victim was a 100-pound Doberman. A mountain lion killed it and dragged the body over the family's fenced-in yard.
There were 21 recorded incidents in November and December of 2022, including encounters with dogs on leashes. In many situations, dog owners could not scare the lions away from their pets, even after firing gunshots. It's illegal to shoot a mountain lion in Colorado if it's only attacking a dog and there are no people involved, but more on that in a bit.
Colorado mountain lions can reach 8 feet in length and can weigh 150 pounds. Their diet typically consists of deer and elk, but they are well known for attacking domestic animals, including pets. They lurk in cover and ambush their prey, killing with a powerful bite, usually to the base of the skull that breaks the neck. The cats then typically drag the carcass away from the kill site to feed.
---
Can Hunting Colorado Mountain Lions Help?
Nederland is part of Colorado Parks and Wildlife (CPW) Game Management Unit 29. With approximately four mountain lions per 36 square miles, GMU 29 is relatively cat dense. Colorado contains thousands of acres of prime mountain lion habitat, and the state's mountain lion population is estimated to be somewhere between 3,000 and 7,000 cats.
During the 2021-22 hunting season, 2,493 Colorado hunters pulled mountain lion tags statewide. Only 486 of those tags were filled: a meager 19% hunting success rate.
There are two mountain lion tags available annually for GMU 29. However, no cats have been killed there since 2005.
According to Sam Peterson, the wildlife manager for Area 2 Boulder South District, the number of lions in the area is "higher than what we want them to be in relation to our management plan." But there is little the CPW can do to help the area's cat-plagued residents or their dogs.
"As morbid and messed up as it sounds, if we just have a dog getting attacked or killed and no human involvement, then it's just lions doing lion things. And we can't kill them," Peterson said in a public meeting.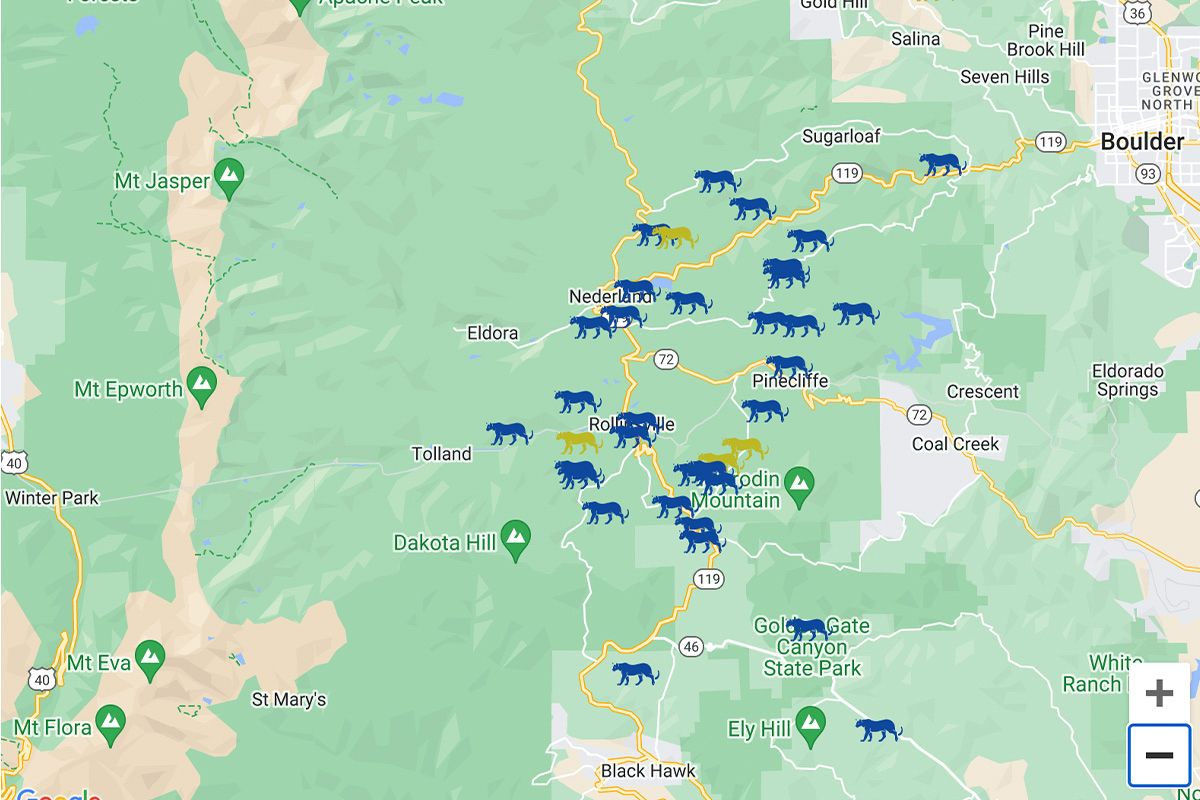 RELATED — Man Versus Mountain Lion: A Near Deadly Encounter Caught on Video
---
Choosing the Dog Over the Law
Even though it's illegal in Colorado to kill a mountain lion to protect a pet, one area resident decided to take matters into their own hands.
On Dec. 27, a lion attacked Coda, an 80-pound husky, 10 feet away from its owner Stephanie Andelman and her partner, Phil Chappell, in their yard off South Beaver Creek Road. Luckily, Coda's Andelman and Chappell were able to scare off the big cat.
Later that evening, the animal attacked another dog at a home about 400 yards away from Andelman's house. According to CPW's deputy regional manager Kristin Cannon, the owner of the second dog shot and killed the lion during the attack.
Authorities have decided not to press charges against the dog's owner due to the "totality of the circumstances."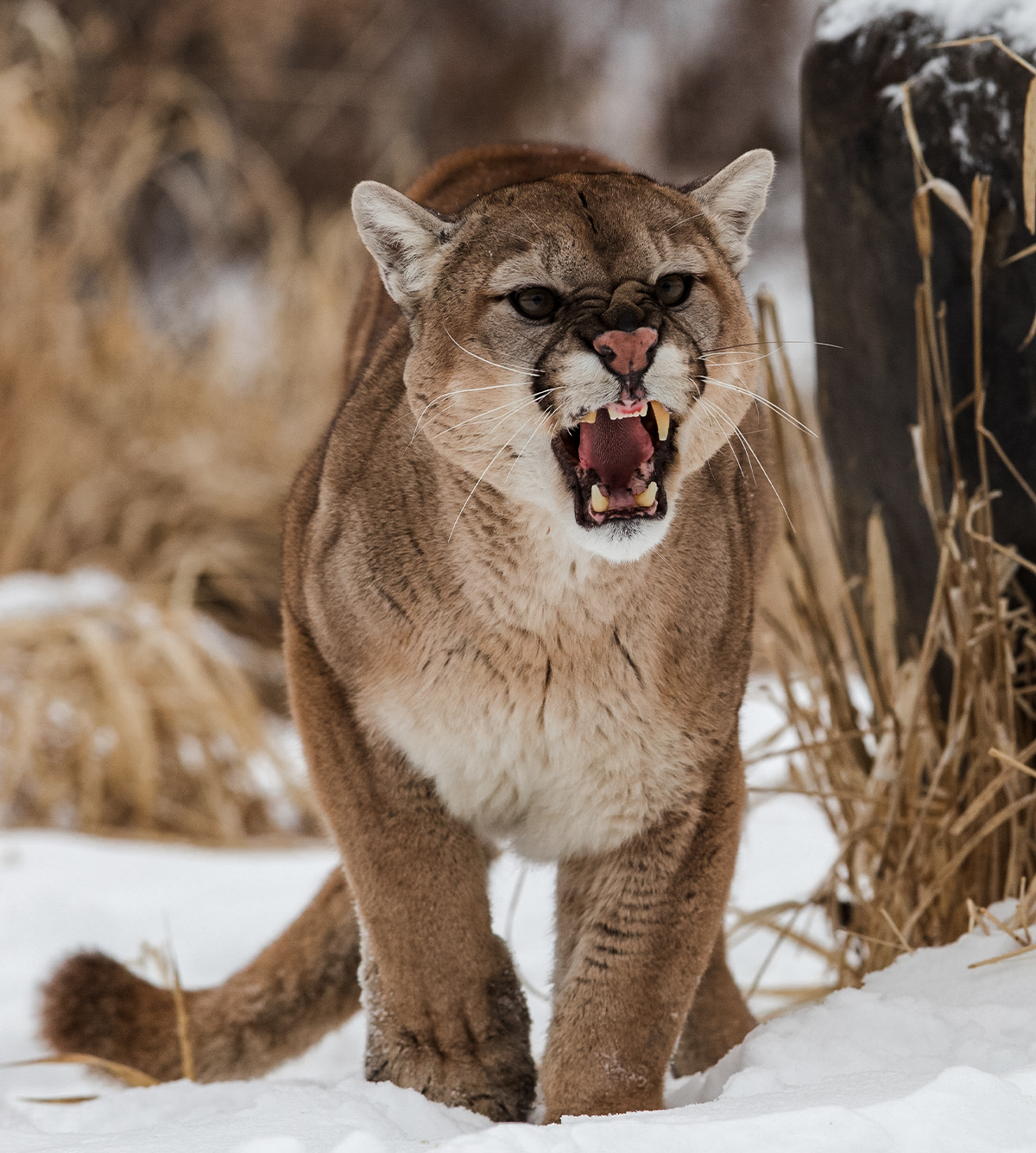 The lion's ears were marked with green tags, indicating that CPW had relocated the animal from another area. This specific cat had been lurking around Colorado University's Boulder campus, although according to Cannon, the cat "was not behaving in a bad way."
After its 2021 capture, the mountain lion was released into Roosevelt National Forest. It traveled more than 20 miles from the release site to reach the Nederland area.
"We are going to relocate a lion to lion habitat," Cannon said in defense of the cat's relocation. "That is something people are going to have to live with. Because anyone living in the mountains has to live with wildlife."
Unfortunately, many of Nederland's dogs no longer get the chance to live at all, and under the law, their owners are powerless to protect them if a mountain lion decides they are prey.
---
READ NEXT — Mountain Lion and Other 'Bad' Meat Is Actually Delicious