Many anglers relish the arrival of spring, and crappie fishing is one of the reasons why. Black and white crappie are among the many species of fish that respond to the warming water temperatures of spring.
In lakes all across the country, crappie fishing begins to kick into high gear and provides an opportunity for fast action and good eating. If you're new to crappie fishing, here's what you need to know to get started this spring.
---
Crappie Basics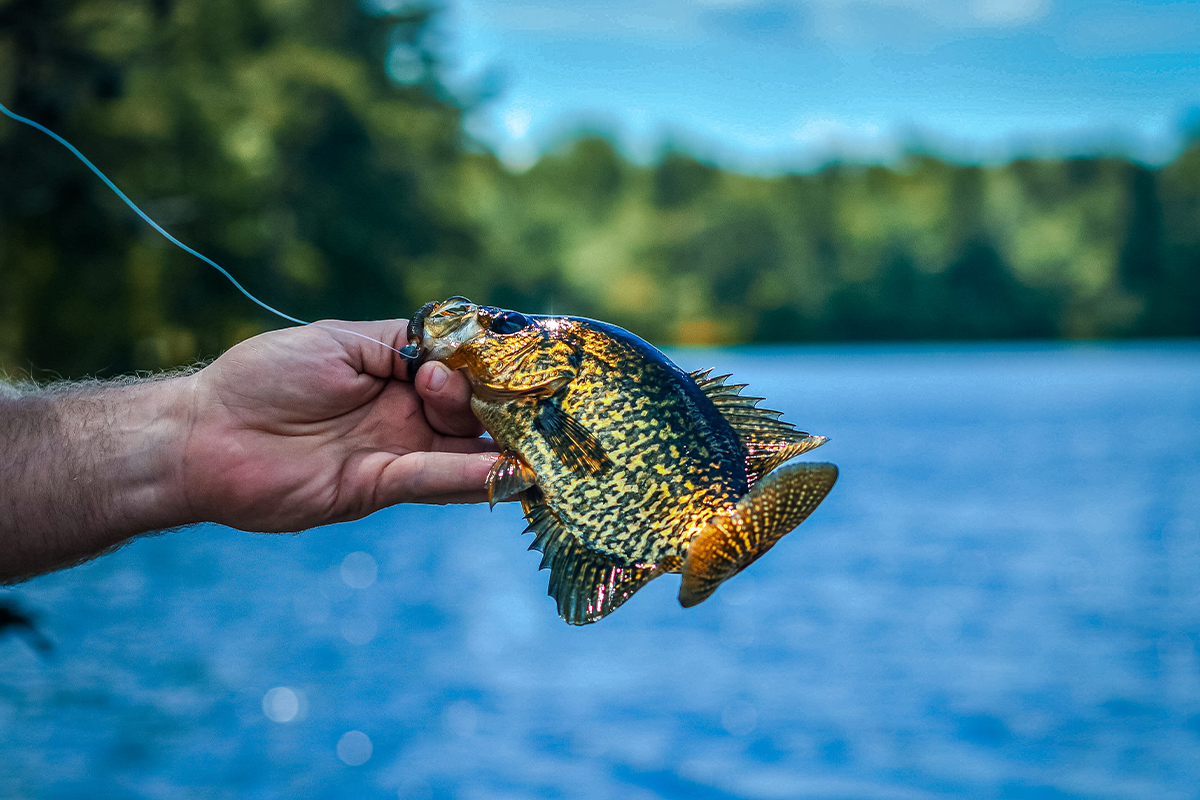 Black and white crappie are both members of the sunfish family.
Crappie have been widely and routinely transplanted, and today, populations of one or both species exist in all of the 48 contiguous states. Both fish have a similar panfish shape, though white crappie can be a bit more elongated. Black crappie often have a bit darker and more mottled appearance, whereas white crappie frequently have vertical bars or bands of darker color.
However, the truth is, coloration for both species can vary dramatically, depending on water turbidity and other environmental factors.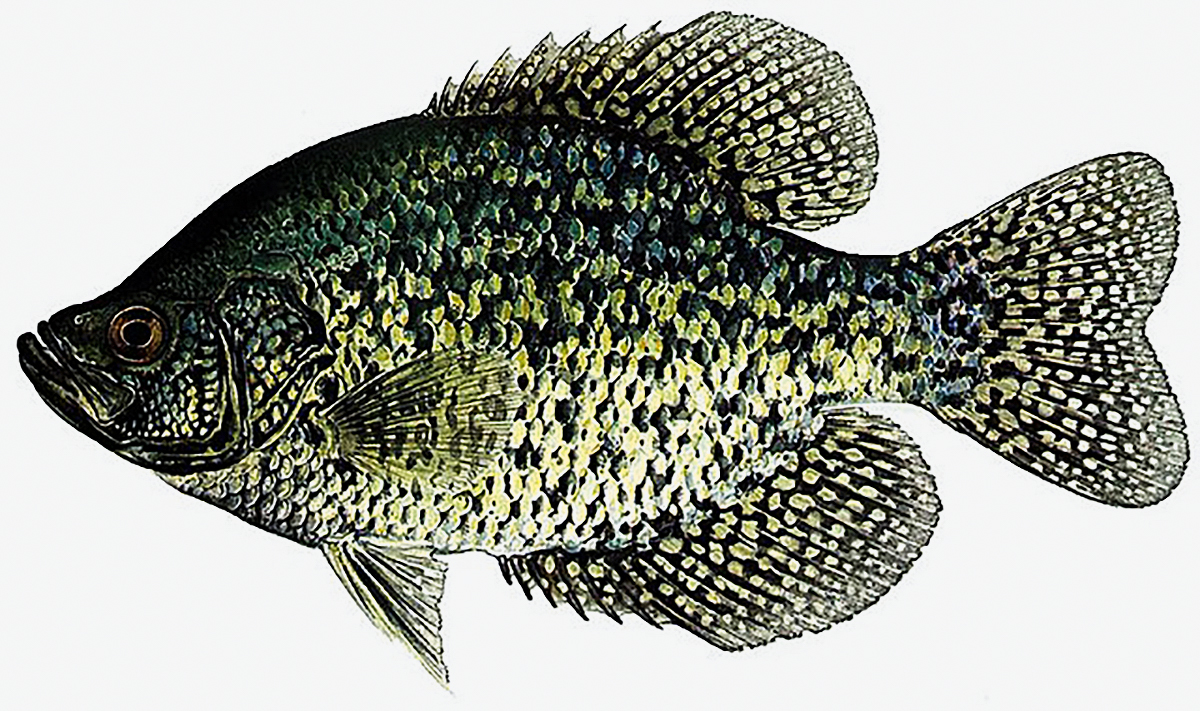 The easiest and most accurate way to determine the difference between species is to count the spines of the dorsal fin — white crappie have six and black crappie have seven or eight.
They are commonly included in the group of fish known as "panfish," referring to their size and the fact that they make for excellent eating. A crappie of two pounds or over is considered a trophy anywhere they swim.
Black crappie tend to have a more varied palate than their white crappie cousins, eating a wider variety of insects, larvae, and crustaceans. As they grow in size, they will focus more time and attention on baitfish.
Both species of crappie are schooling fish but black crappie orient to structure more consistently, favoring submerged brush, timber, and aquatic vegetation, such as cattails. Manmade structures such as boat docks and boathouses are also prime locations for these fish.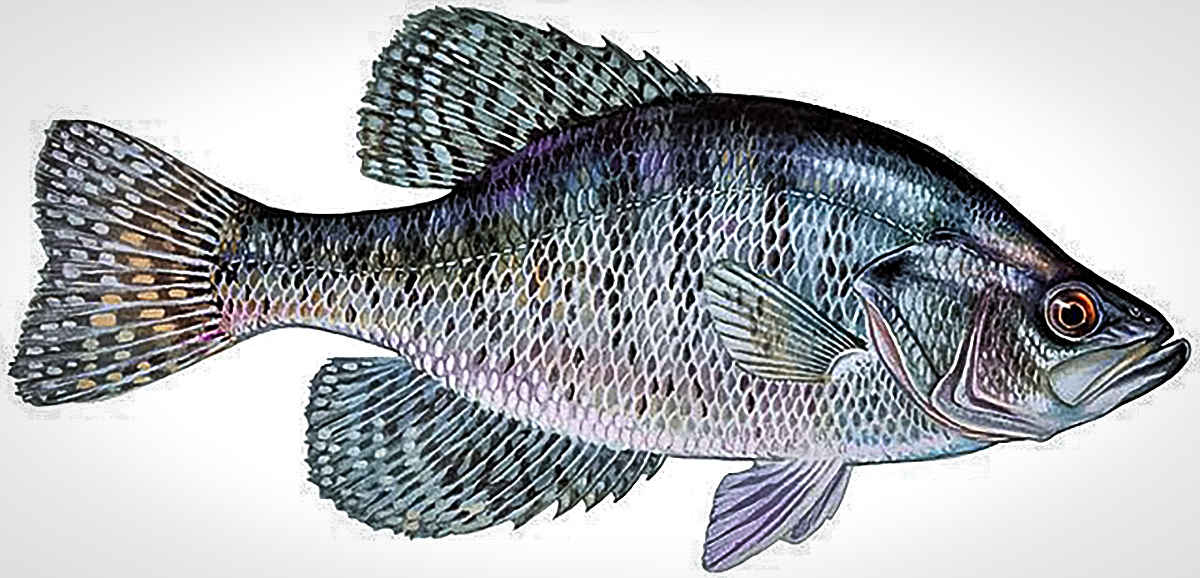 White crappie tend to be more heavily oriented toward an all-baitfish diet and are more likely to be found in open water. White crappie often roam in search of the next school of baitfish; this is especially true from late spring through early fall.
READ NEXT – 8 Gauge Shotgun: Why They Went Extinct
---
Crappie Fishing Tackle
Tackle for crappie fishing need not be sophisticated, and it's quite likely you already have gear that will get the job done.
A 6 to 71/2 foot spinning rod, with either a light, ultra-light, or medium-light action and matching reel spooled with 4- to 8-pound monofilament is all you need to get started. For trolling, you might want a slightly stouter rod; once you've located fish, you can switch to a lighter rig.
For gear-heads who really want to dive into the world of crappie fishing, Mr. Crappie is a great place to start. The site recommends a variety of rod lengths for covering various techniques from trolling to shooting jigs.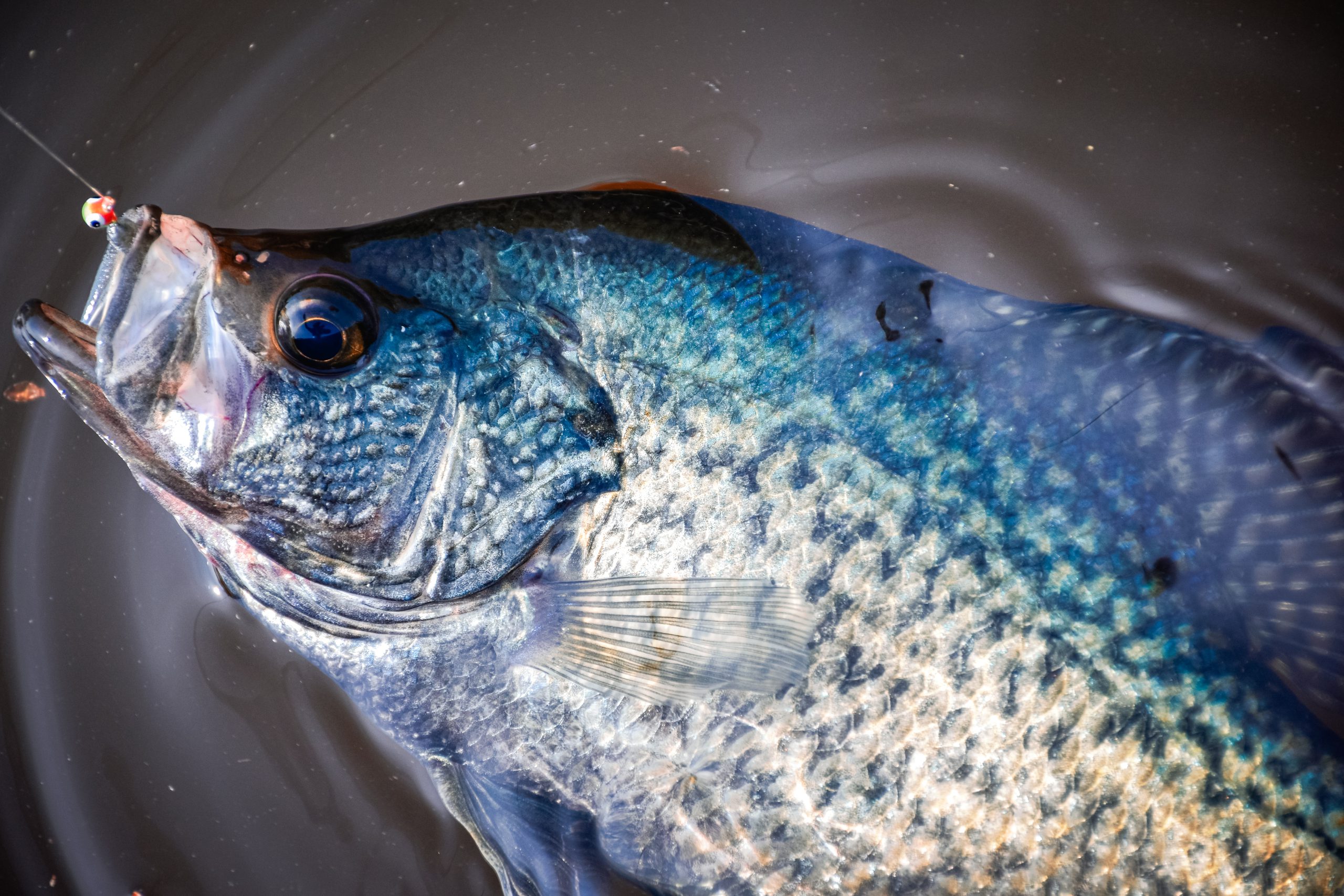 GOOD GEAR – Fuel Your Next PR With BRCC's Fit Fuel Blen
---
Rigging: The Loop Knot
When it comes to crappie fishing, as well as a variety of other types of angling, the use of a loop knot matters. I've used loop knots in a variety of ways, from fly fishing with streamers to fishing lures with gear in the ocean.
I have also used a loop knot in a variety of freshwater fishing scenarios, including fishing small flies and jigs for panfish. However, when it comes to fishing for crappie, I decided to check with one of the masters, Mr. Crappie himself, Wally Marshall.
Marshall is the OG of crappie fishing tournaments — he's qualified 32 times for the Crappie Classic National Championship, won the championship in 2003, and placed second in 1997 and 1999. Most recently he's focused his energies as a goodwill ambassador promoting crappie fishing as well as his popular brand, "Mr. Crappie."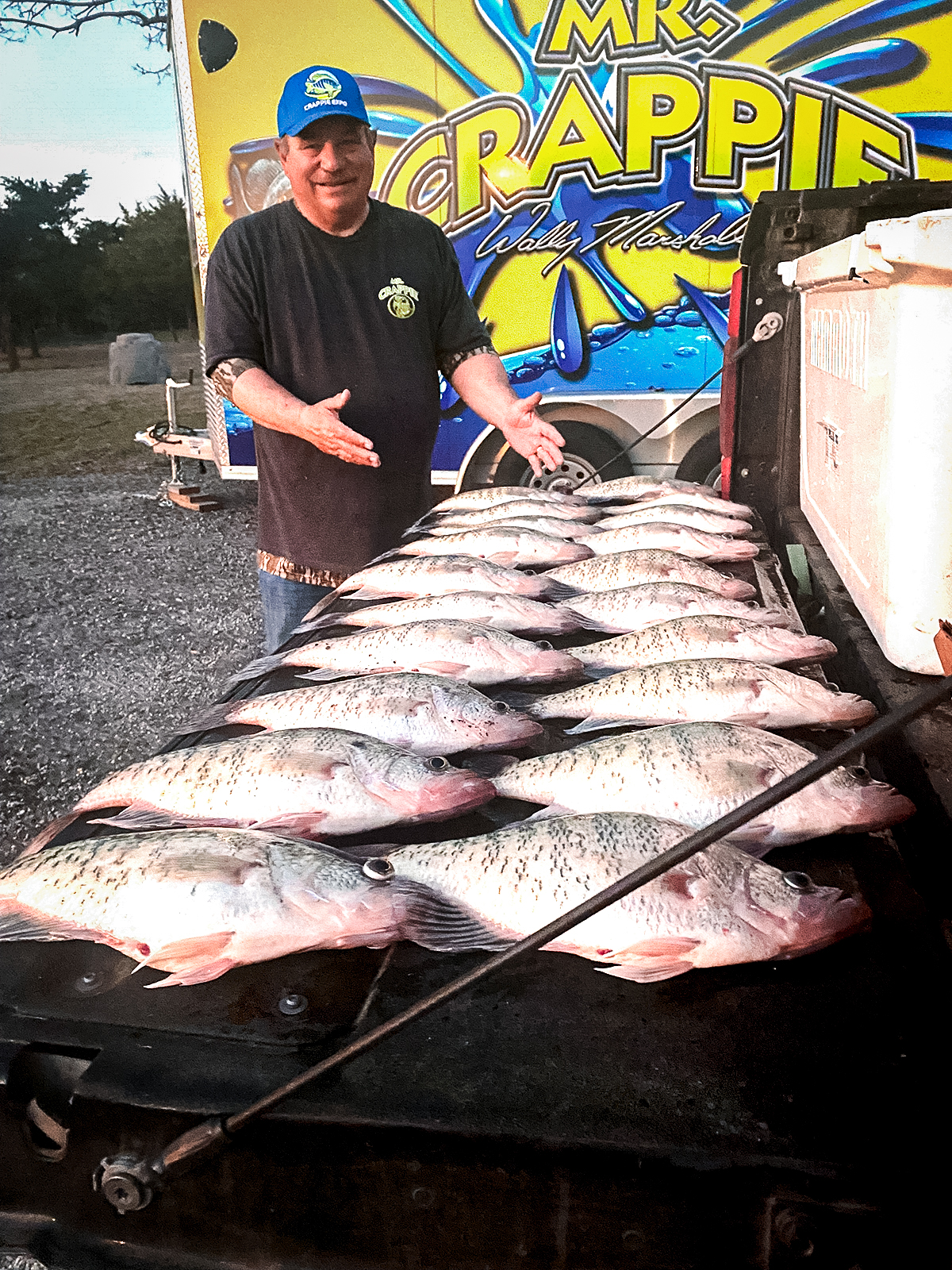 When talking with Marshall, I asked him how important the use of loop knots was to his success as a crappie angler. He said they're critical and that he uses a loop knot for almost all of his angling.
Marshall related a story from the 1980s when he was attending a popular outdoor show. As he walked past Jim Bagley of Bagley Lures, Bagley challenged Marshall to a test, betting him 10 dollars that Marshall's best knot would fail before Bagley's "Silver Thread" brand of fishing line did. Marshall won the bet.
Elaborating on the key points of the knot, Marshall noted that, besides its strength, the loop knot allows the lure to ride horizontally, especially when vertical jigging, and allows for greater movement. This is the most critical point to understand when thinking about the use of a loop knot. Simply put, it can be the difference between getting a bite or not.
Here's how to tie Marshall's favorite loop knot:
READ NEXT – Dead Drift: Fly Fishing Apparel You Want To Wear off the Water
---
Crappie Tactics
Both black and white crappie are fun to catch on light tackle and make for excellent eating. But before you can eat them, you gotta catch them.
A well-rounded angler has multiple presentation skills to cover varying conditions, fish behaviors, and seasons. For crappie, four methods will go a long way in your pursuit of a full fish bag — bait and bobber rigs, jigs, crankbaits, and trolling.
---
Bait & Bobber
Bait & bobber rigs are particularly effective when targeting schools of crappie in shallow water during the spring, prior to the spawn. Use the bobber to keep your bait suspended off the bottom. The most effective all-around bait are small minnows, followed closely by the good old garden hackle, a.k.a. worms.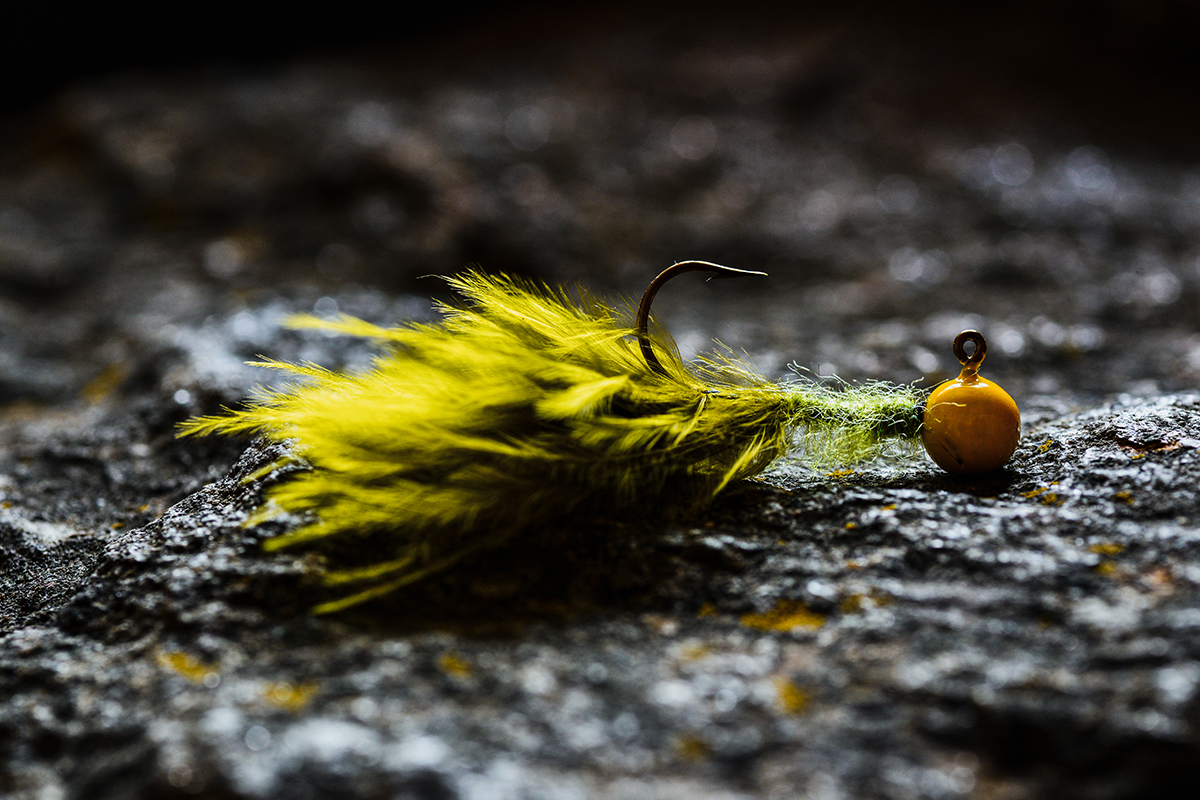 This rig can be blended with the use of a small jig. As crappie often suspend at a given depth or adjacent to a specific structure, the bobber keeps the jig riding in the strike zone. To further enhance the effectiveness of this rig, add a small minnow, worm, or maggot to the exposed hook.
---
Gettin' Jiggy With It
Jigs are a favorite throughout the crappie world. Three sizes of jigs/jig heads will cover the majority of scenarios throughout the seasons — 1/32 ounce, 1/16 ounce, and 1/8 ounce. Marabou jigs are great for their action and simplicity. If the marabou jig alone isn't getting it done, add your bait of choice to raise the appeal level; if in doubt, go with a minnow.
One of the most popular and versatile jig setups is to pair a standard jig head with your favorite soft plastic bait in colors such as chartreuse, white, yellow, pumpkinseed, shiner, or electric chicken. Two-tone plastic baits with contrasting colors can sometimes make a difference so it's worth adding a few of them to your tackle box.
Jigs are versatile and can be fished with a horizontal jigging retrieve or jigged vertically. Vertical jigging is particularly effective when fishing over submerged structures such as brush piles or weed beds.
---
Casting Jigs: How to Shoot
Shooting jigs is an effective variant of basic jig fishing. This is a great technique for catching crappie that are deep in the shadows beneath docks, boathouses, or other overhanging structures.
While holding the rod with your casting hand, draw the jig back with your off-hand — think drawing a bowstring. With the rod bent or loaded, aim for the gap beneath the structure and release. When done properly, the jig will shoot beneath the dock for a surprising distance.
One of the secrets to this tactic is the jig size, with the ideal being a 1/16-ounce jig or jighead. The lighter weight isn't enough to properly pull the monofilament line behind for the desired distance. Heavier-weight jigs always plummet the moment they hit the water's surface.
The 1/16-ounce size is just enough weight to shoot but still light enough to skip across the surface (sometimes), allowing for additional distance.
---
Crankbaits
Crankbaits are great for covering water and searching for fish. Choosing a lure that doesn't dive too deep is useful in the spring and summer when crappie will often be shallow and oriented to a structure. Casting parallel to crappie magnets like brush piles and weed beds can be an effective search strategy.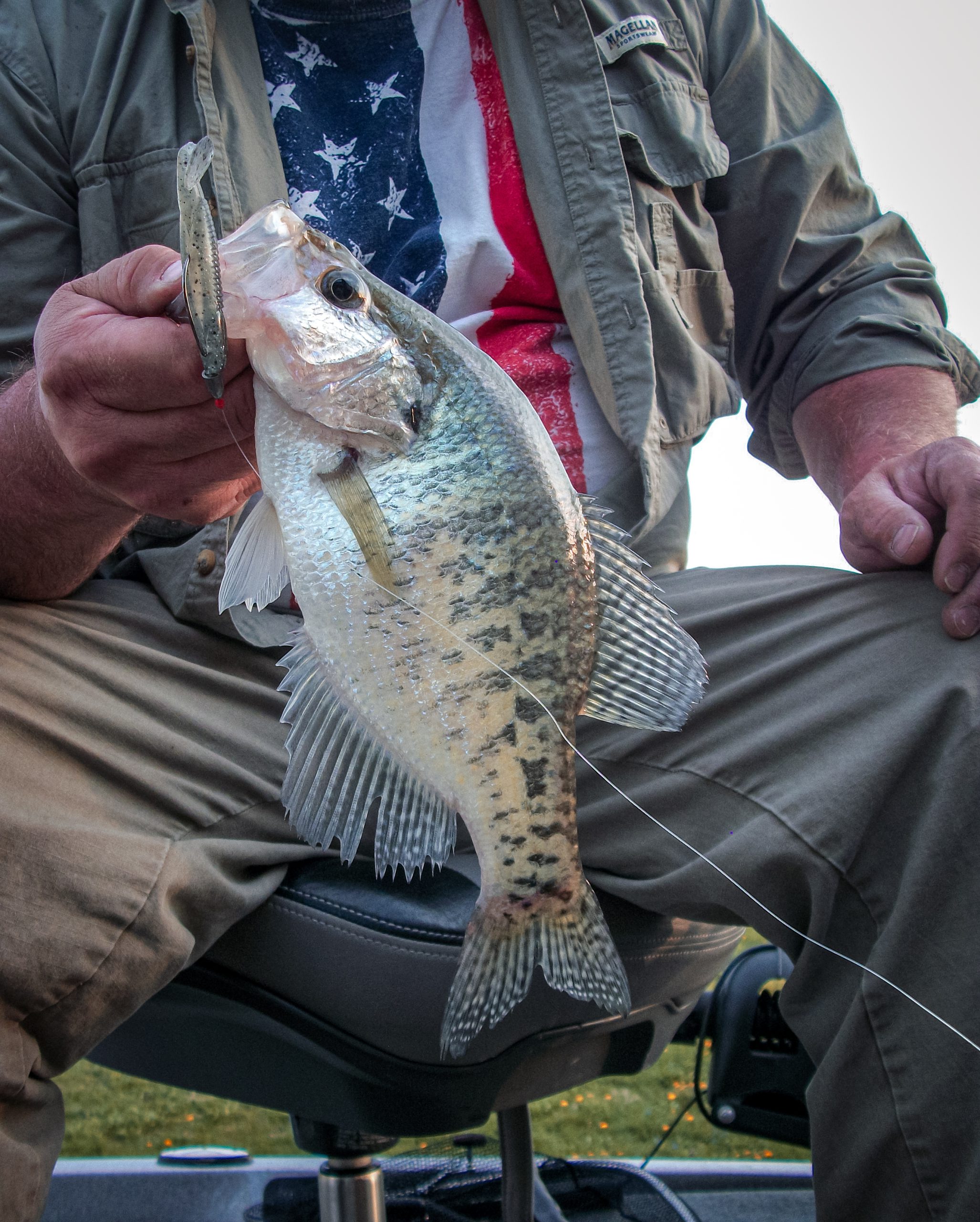 ---
Trolling
Trolling is another technique that's useful when searching for crappie. During the summer and early fall, schools of crappie can be scattered and more difficult to find; trolling can help you track them down.
A variety of trolling combinations can be used. One simple example is to use 1/8 and 1/16 ounce jigs, trolled behind a Mini-Planer like those manufactured by Off Shore Tackle. The 1/8-ounce jigs will ride 10 to 12 feet deep, while the lighter offering will travel in the 6- to 7-foot zone. Use a soft tube-type plastic and for a tantalizing kicker, add a small 1 1/2- to 2-inch minnow.
Trolling between 0.5 and 0.7 mph with an electric motor is an ideal pace for your crappie search patterns.
GOOD GEAR – Explore the Unkown With BRCC's Beyond Black Roast
---
Prime Time for Crappie Fishing
If I had to pick one time of year to fish for crappie, it would be in the spring, prior to the spawn. Longer periods of daylight and more direct sunlight begin to warm the water. As water temperatures approach the high 40s to low 50s, crappie are typically on the move, seeking the warmest water. This is most readily found in the shallows.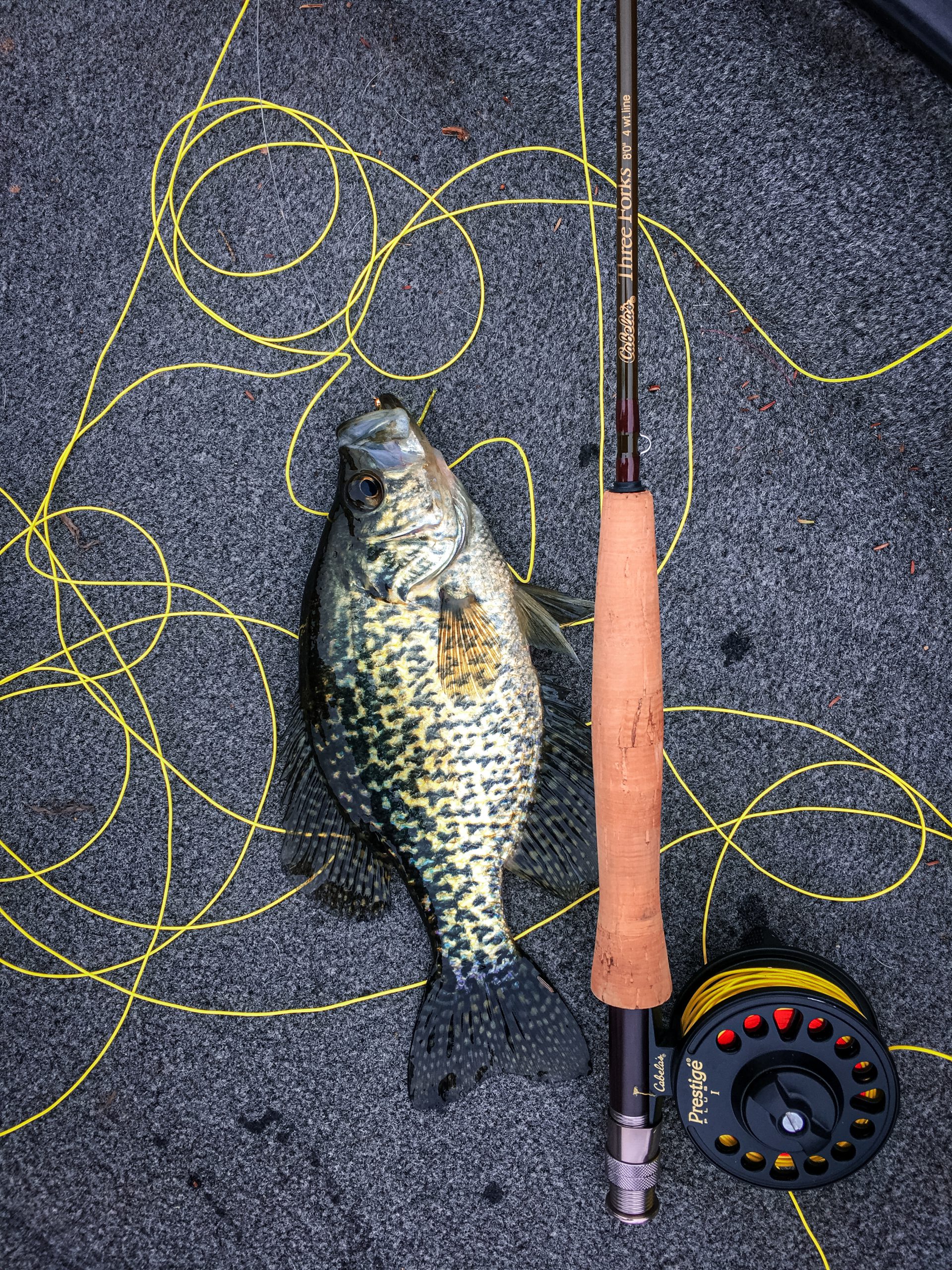 Some anglers mistakenly assume the migration to shallow water is immediately related to spawning, but this isn't true. The initial behavioral change is driven by the search for food and comfort.
Crappie are looking for schools of baitfish, which also move into shallow areas with abundant structure, such as sunken brush, weed beds, docks, and boathouses. Crappie are schooling fish — find one crappie, and you'll find lots of their friends. The shallow-water action is also great for shore-bound anglers, who can have just as much success as those fishing from a boat.
The spring season does eventually lead to the spawning season when the water temperatures reach the mid to high 60s. This is the one time of year when the fish are least interested in feeding. Following the spawn, crappie can be sluggish and nonresponsive and remain difficult to catch.
---
Crappie are Slab-a-licious
Don't let the name fool you. Crappie bring thousands of anglers a boatload of fun each year. Begin with an understanding of the seasonal patterns specific to your local waters. Crappie are a four-season gamefish, but if you have to pick one season to chase these tasty panfish, spring is king. Learn to tie a loop knot, get yourself a selection of jigs and small lures and get after these tasty panfish.
---
READ NEXT – How To Choose the Best Fish Cleaning Table