Beyond essentials like a filet knife and a scaling tool, a dedicated fish cleaning table should be in every angler's arsenal. Catching fish is a lot more fun than cleaning fish, and at the end of the day, when you grab your stringer or pull up to the dock with a full livewell, you want to be as fast, efficient, and clean as possible so you can get on with your life.
The last thing anyone wants to do is spend more time on their feet getting covered in slime and fish scales. But it's got to be done, and the only thing standing between you and the delicious fish dinners to come is a little time behind the knife. Having the right tools and a dedicated space for the job will get a beer in your hand and your ass around the campfire faster.
A fish cleaning table might not have the same "cool factor" as other tools and gadgets, but it is highly utilitarian. It's the kind of thing you don't think you need until you actually use one. Sure, you can get the job done squatting over a cutting board on a cooler top, but a dedicated fish cleaning table is a worthwhile investment if you meat fish with any regularity or have a fishing boat, cabin, or lakehouse.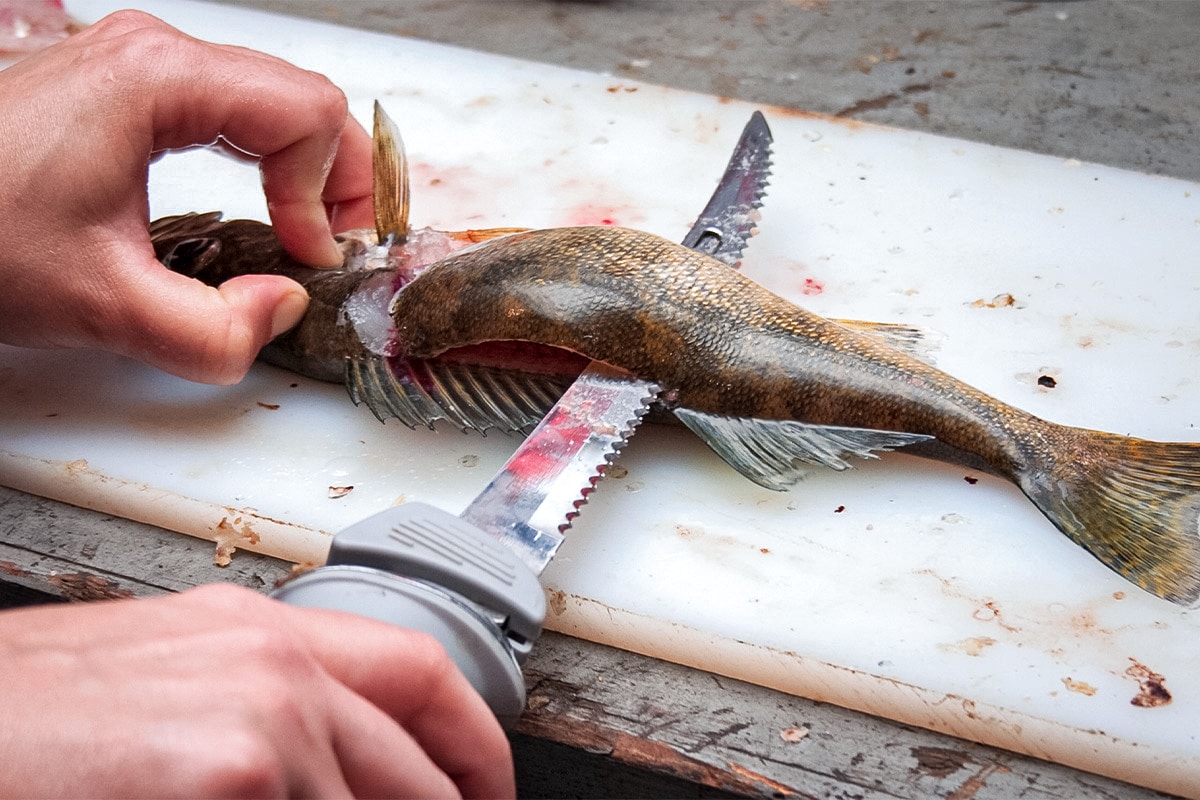 Fish cleaning tables make the whole process of breaking down fish more organized and sanitary. A dedicated cleaning table also keeps the mess of fish fileting confined to the cleaning table, so you don't take the mess home with you.
If you don't feel like building your own, there are a ton of different cleaning stations on the market, depending on your specific needs. Some are lightweight and portable, while others are heavy-duty and made to last. Many come with hose attachments, knives, cup holders, and other features to make the job of cleaning easier. But picking the best fish cleaning table is as much about where and how you fish as it is about materials and design.
Here's a quick guide on picking the right fish cleaning table for you.
GOOD GEAR – Stay Warm in the Duck Blind With the BRCC Reticle Duck Camo Pullover Hoodie
---
Lightweight Plastic Fish Cleaning Tables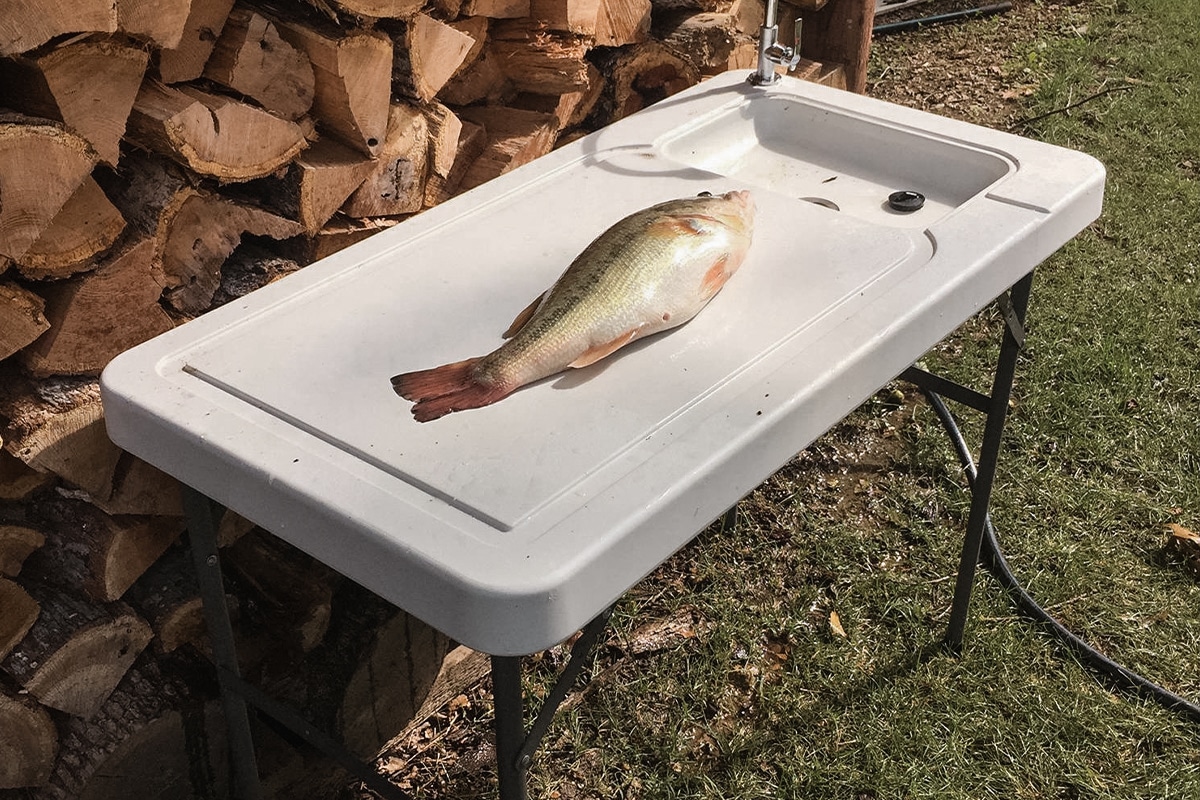 Some of the most popular fish cleaning tables are lightweight plastic folding tables.
Most tables like this are made of inexpensive molded plastic, although some include a hard plastic cutting surface. Many have built-in sinks and added accessories like a knife and pliers holder, as well as hose attachments.
They're popular because they're portable, relatively inexpensive, and can be folded up for storage when not needed. The main drawback of this type of fish cleaning table is that it lacks durability and stability compared to a heavier, higher-quality table.
RELATED – Free Fly Fishing Video Series Sets up Beginners for Success
---
Heavy-Duty Fish Cleaning Tables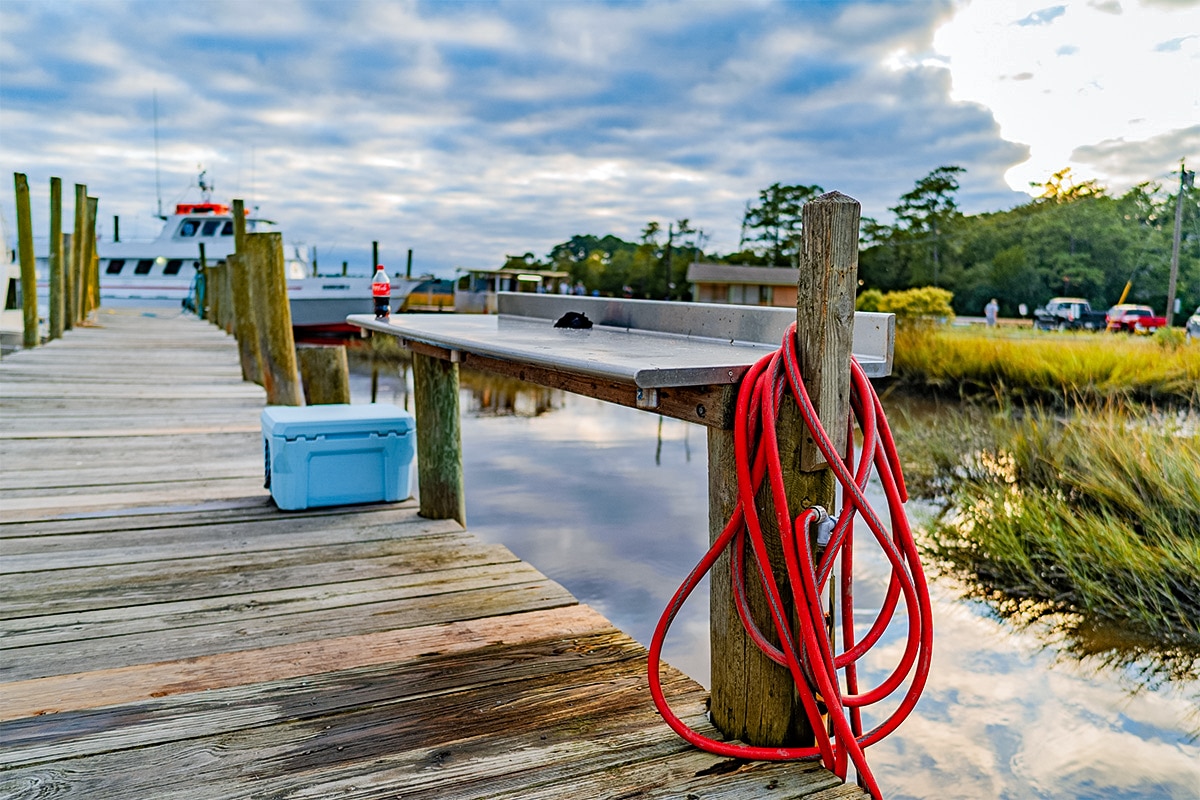 High-quality fish cleaning tables are made out of heavy-duty marine-grade materials. The cutting surface is usually a dense polymer such as King StarBoard, and the peripheral parts are made from high-quality materials such as marine-grade stainless steel, powder-coated aluminum, and premium mounting hardware. Because of this, a heavy-duty plastic fish cleaning station is the best choice for high-volume fish cleaning and corrosive saltwater environments.
But that quality comes at a price, which means these tables can be costly. If you can justify the expense, it's well worth it in the long run.
Some heavy-duty fish cleaning tables are freestanding and are more or less stainless steel prep tables. These are excellent choices for large and high-volume fish cleaning. They also are great for butchering wild game, and other large food projects.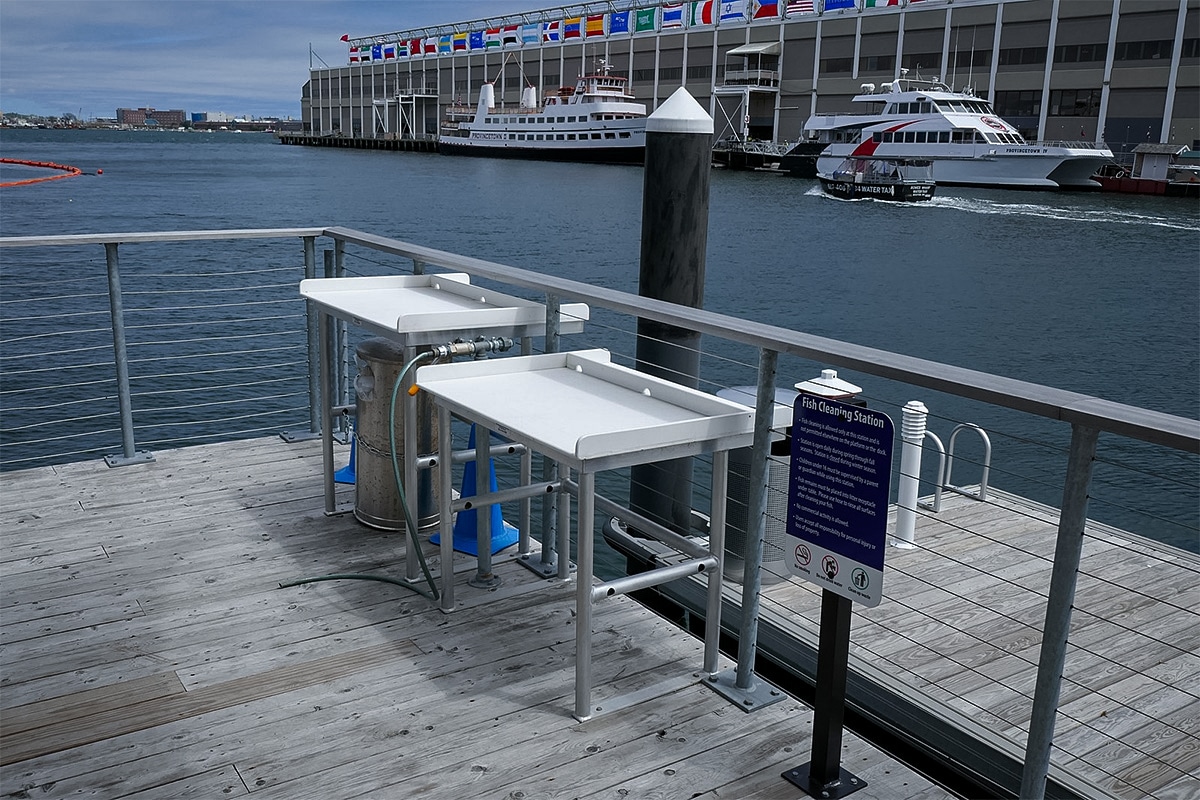 Other heavy-duty fish cleaning tables are mounted to your boat or dock. A dock-mounted table is probably the best and most useful type of fish cleaning table because it is both comfortable to use and lets you leave the mess of fish cleaning on the water.
Boat-mounted cleaning tables allow for cutting up bait as well as on-the-water fish cleaning. Unless we're talking about a decent-sized ship with space for an actual cleaning station, most boat-mounted cleaning tables mount to the rod holders or bolt onto the handrails.
RELATED – 5 of the Best Shark Fishing Spots in the Nation
---
Cooler- and Bucket-Top Fish Cleaning Tables
A cooler or bucket-top fish filet table is a great option for those who don't need the space and features of a larger standalone or mounted fish cleaning station. These are simply cutting boards that fit on top of a 5-gallon bucket or attach to a cooler top. Given their size and minimal features, they are generally more affordable.
These are great for camping trips, low-volume fish cleaning, or pimping out your bait bucket. Many cooler-top cleaning tables are designed for specific makes and models of coolers so make sure everything is compatible before you make a purchase.
---
Top Fishing Cleaning Tables
---
Boat Outfitters Rod Holder Mount Filet Table
Price: $160.74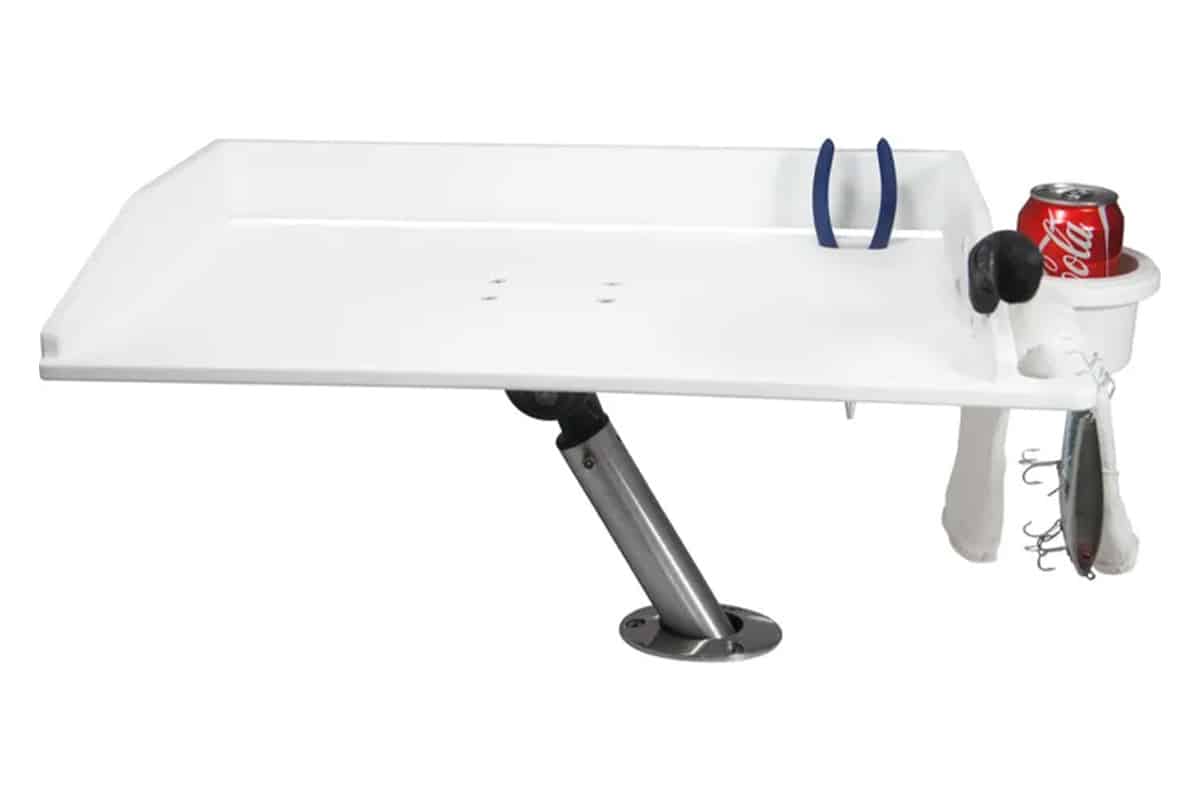 This rod holder-mounted table from Boat Outfitters is a great value for on-the-water bait prep and fish cleaning. The table measures 24.7 x 12 inches of half-inch King StarBoard. The marine-grade plastic is easy to clean and can withstand UV damage and rot. The table features a knife, pliers, lure, towel, and drink holder.
It is compatible with any flush-mouth rod holder so no additional drilling or modification is necessary. One nice feature is the pivoting mount that allows you to level the cutting board or create a slight incline so water and blood go overboard.
---
5 Gallon Bucket Top Cutting Board Insert
Price: $26.72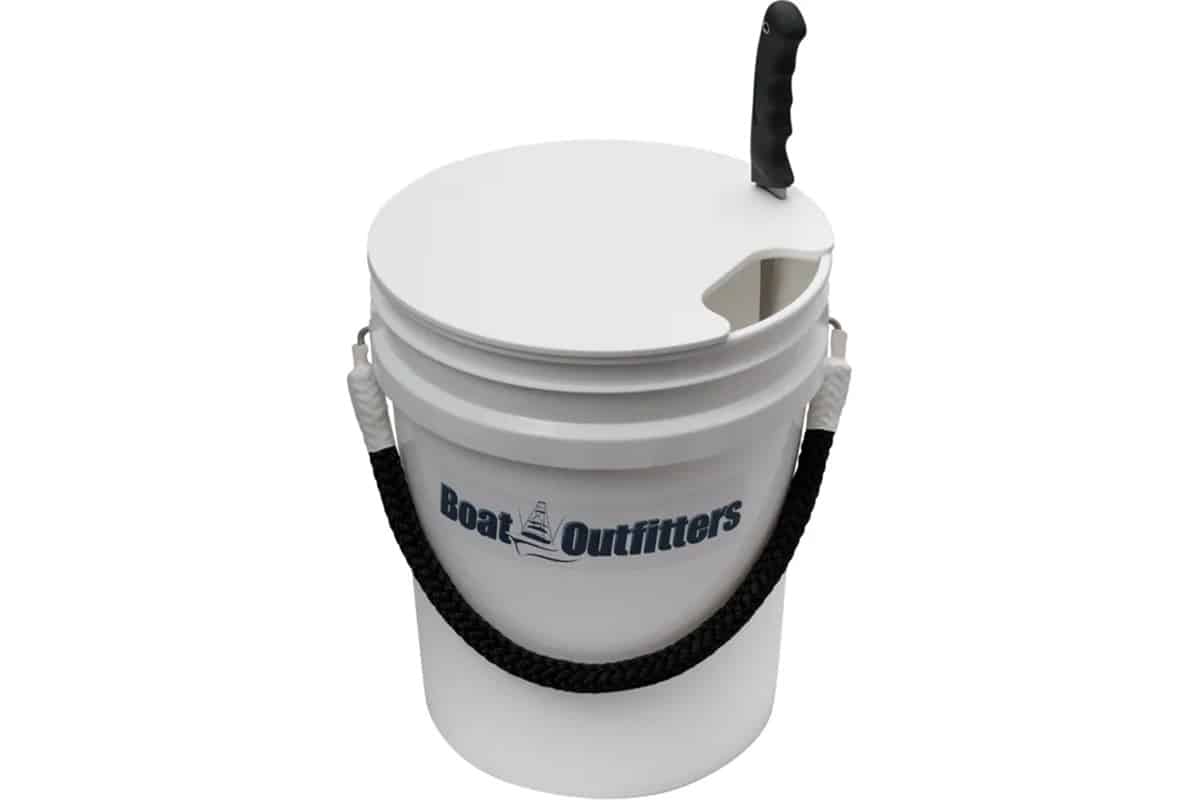 This 5-gallon bucket cutting board insert is the perfect accessory for your bait or chum bucket and is a viable option for cleaning panfish and other small fish. It works great without the bucket too if you're ever in a pinch for a cutting surface.
The round inset sits snugly on top of most standard 5-gallon buckets. Made of high-quality King StarBoard, it is extremely durable and resistant to the elements. There's also a slot where you can hang your filet knife.
---
Sportsman Series Folding Table with Faucet
Price: $69.99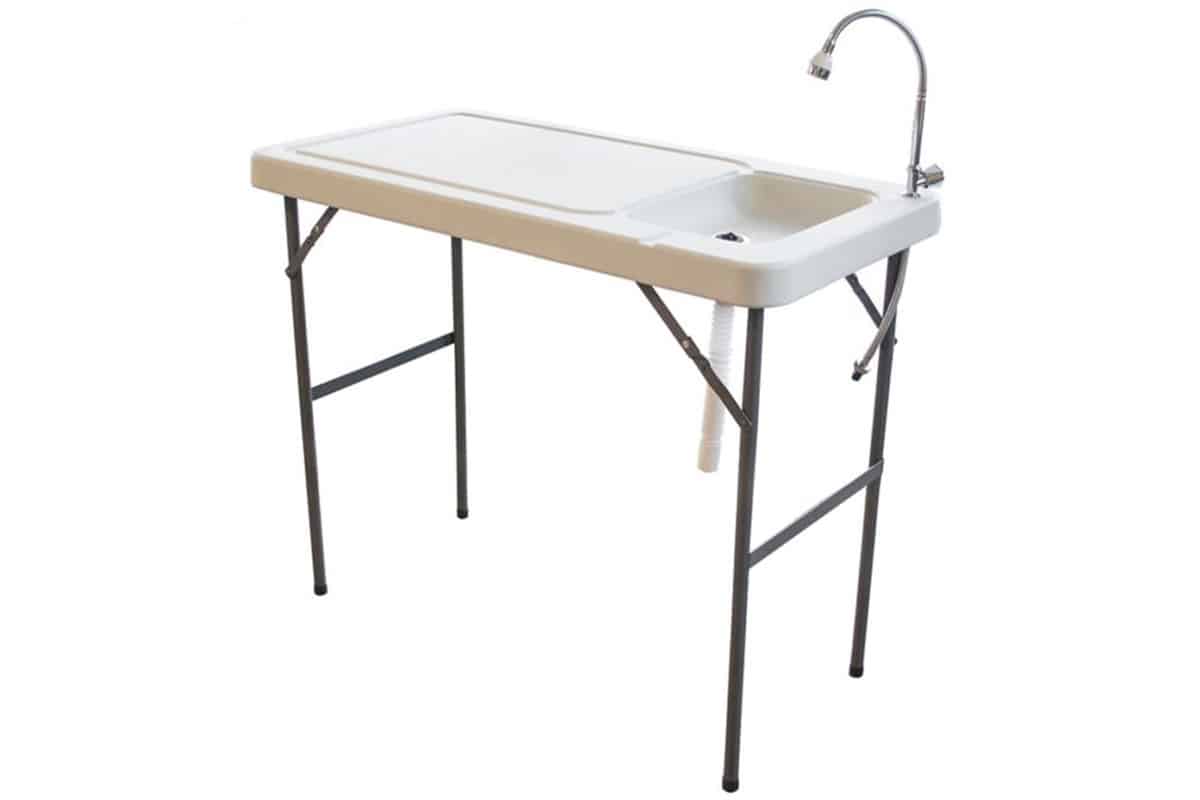 This Sportsman Series table is a great budget-friendly fish cleaning table. Its weight and folding legs make it an excellent portable option. The plastic table top measures 46 x 23.5 inches and features drainage grooves around the cutting surface as well as a built-in sink with drainage and a flexible 360-degree swivel faucet that attaches to a nearby hose or water source.
The table is what you'd expect for the price and is not comparable to a high-end table. Still, it's an excellent portable fish cleaning table you'll be thankful to have at camp.
---
Deep Blue Marine Products FT48 Fish Filet Table
Price: $622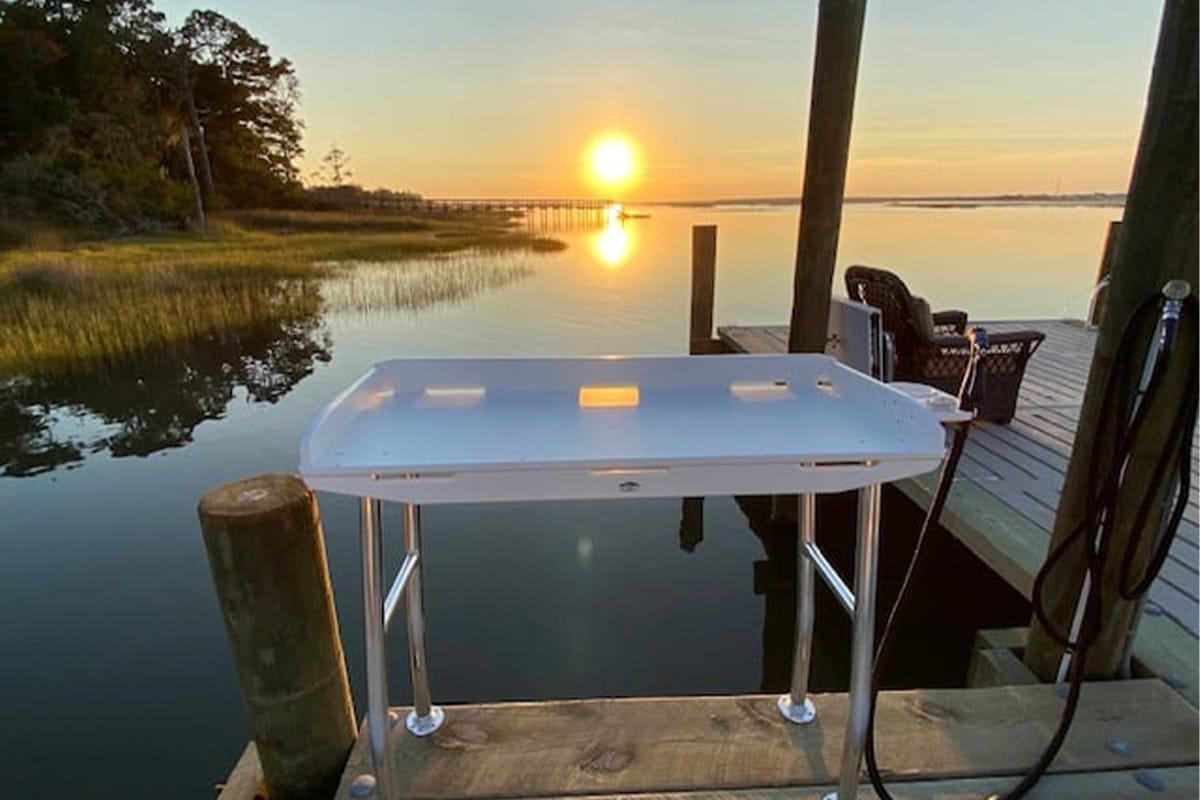 The Deep Blue Marine Products FT48 Fish Filet Table is a phenomenal balance of quality and price. Dock-mounted cleaning tables can get insanely expensive pretty quickly, and while this unit is by no means cheap, the FT48 is a bargain compared to some of its competitors.
Built to withstand a harsh saltwater environment for many years, it features a 48-x-21-inch marine-grade polymer work surface with anodized aluminum legs that bolt to the dock with the included stainless-steel hardware.
The FT48 features a side station that includes a knife sharpener, covered knife holder, pliers slots, hose holder, umbrella hole, and drink holder. If you're playing the long game and have the money to spend, the FT48 is an excellent no-compromise dock-mounted cleaning table.
---
READ NEXT – The Best New Fly Fishing Packs, Wading Boots, and Apparel