US National Parks welcomed 237 million visitors into their 423 national gems last year, and 168 million people trekked into the wilds of our national forests. Hundreds of thousands more laced up their trail shoes to recreate in the great outdoors at the state-park level. You can't have that many people wandering around on some of the most pristine landscapes left in this country and expect everyone to behave. Nope. As long as bison roam free, there will be dumb-ass tourists.
There are the tourists who tried to build a campfire with fossilized wood in Arizona's Petrified Forest National Park (illegal) and then took it home as a souvenir when they realized it was actually rock (also illegal). There's the Instagram artist who tagged rock formations in seven national parks with her art in acrylic paint and markers (super illegal). She conveniently included her IG handle.
Related: LOL: Oregon Poaching Ring Done-In by Text Messages
Then there were the Boy Scout leaders who showed their scarf-clad posse how to push over a hoodoo that was more than 145 million years old in Utah's Goblin Valley State Park. Oh, and we must not forget the methhead who hid in the trunk of a 3,500-year-old bald cypress tree in Florida called "The Senator" to get high and promptly burned the fucker down.
The well is bottomless. Clearly, this is not a new phenomenon.
Year after year, stories of baldfaced tourist idiocy make the news, but our addiction to social media has upgraded and magnified that idiocy, and people seem to give less than a shit about common sense or consequence. They're doin' it for the 'gram.
Last October, David Lesh, a Colorado resident and the owner of an outdoor apparel company, decided to explore some Rocky Mountain backcountry that he'd failed to visit in his 15 years of living in the state.
Related: Joe Rogan Hunts Triceratops: Does the Man Have no Shame?!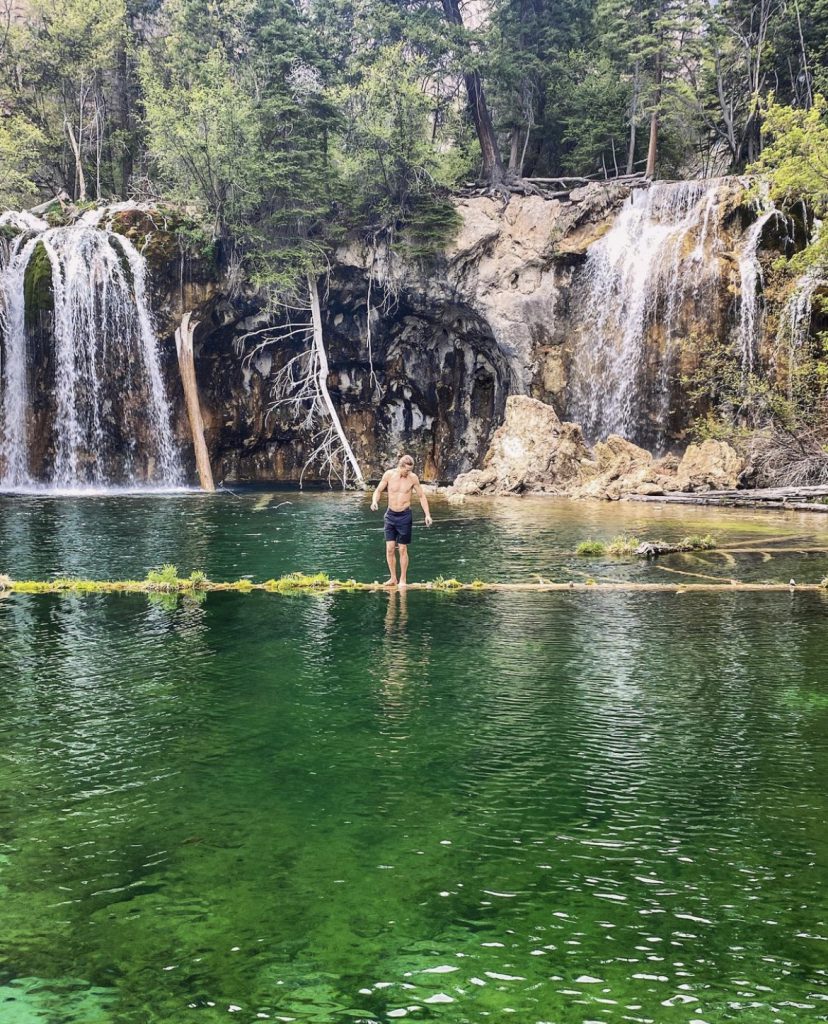 Lesh was just busted two weeks earlier for a stunt at Hanging Lake but figured it would be a killer idea to take a healthy shit in Maroon Lake. He posted an image of the effort two weeks later to prove his you're-not-the-boss-of-me outdoor ethos.
His caption: "Moved to Colorado 15 years ago, finally made it to Maroon Lake. A scenic dump with no one there was worth the wait."
That's not quite in line with "carry in, carry out."
Earlier this year, comedian Jake Adams accepted a challenge to hit a golf ball in all 50 states in one month. He started posting videos of his shots on Instagram. In California, he teed off at the Hollywood sign. He swung a mid-range iron from the 50-yard line of the University of West Virginia football field. He even wedged over the Providence River in Rhode Island.
Everything was copacetic until he hit three balls into Yellowstone National Park. Now there's a federal case in the works. Hitting 50 golf shots in 30 days is a pretty rad idea, but damn, Wyoming is big country. Find a ranch with the Tetons in the background.
Related: World's Dumbest Poacher Must Wear GPS Tracker All Fall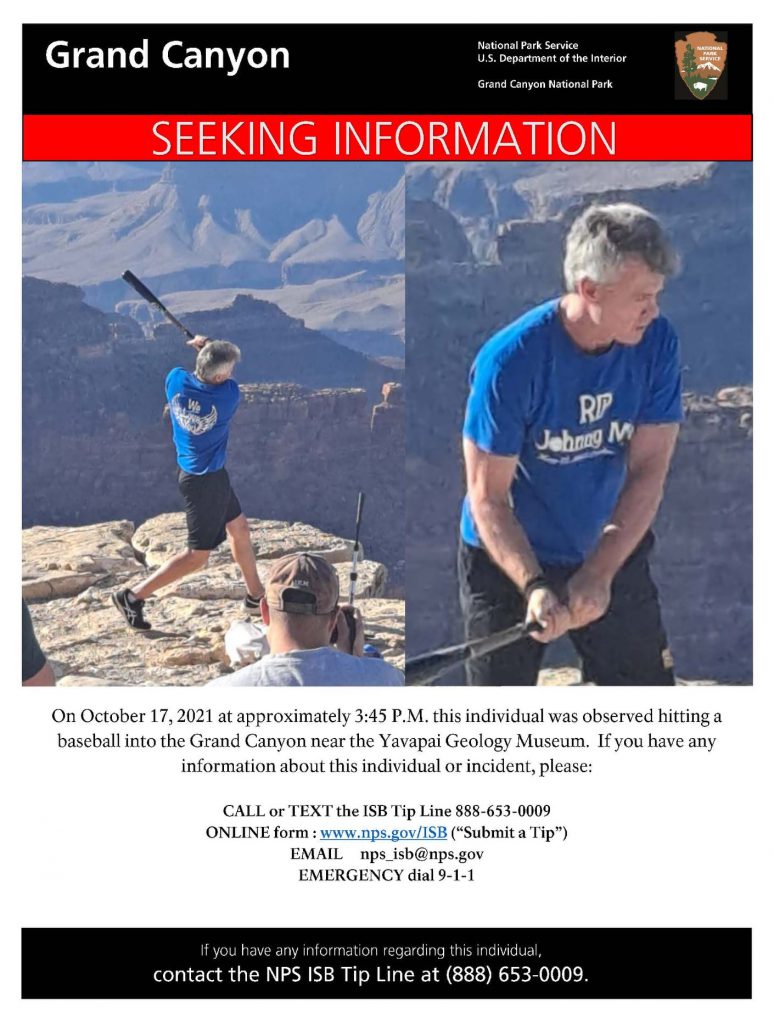 Our most recent addition to the list is the anonymous slugger (above) who teed up a baseball near the Yavapai Geology Museum on the South Rim of the Grand Canyon and uncorked a doozie into the Big Quiet.
From the looks of his tshirt, this could've been a tribute swat for a departed buddy or family member. Everybody probably rallied around the need for an epic celebration-of-life idea. Even so, you would think that after all the bad press people are getting for doing stupid shit in national parks, someone would've said, "Hey, this probably isn't so smart."
Anything blindly tossed or hit over the edge of a cliff is some serious shit that can have dire consequences. In 2007, Peter Absolon, the Rocky Mountain director of the National Outdoor Leadership School (NOLS), was struck in the head by a rock thrown over the edge of a mountain cliff while climbing in the Wind River Range, Wyoming. He was killed instantly.
The dinger was memorialized on TikTok (on a private account), and the Park Service fielded the error. It's reported that they have located the man, but no information about charges has been made available.
Read Next: 12 of the Hardest-Hiking National Parks