Tip-up barrel eliminates the need to rack the slide
Chambered for light-recoiling .380 ACP
13+1 capacity
Price: starting at $498
For some people, manipulating a handgun's moving parts can be just as intimidating as actually firing it. Arthritis, missing fingers, dexterity issues, and stature can all present barriers to owning a firearm for self-defense, and people who deal with such issues shouldn't be precluded from carrying or using a firearm. Turkish gunmaker Girsan is making those hurdles easier to clear with its new MC 14T, and the pistol comes to the U.S. via European American Armory (EAA). 
The tip-up barrel — a design that has mostly been relegated to a few pocket pistols like the Beretta 86 Cheetah — makes it incredibly easy to chamber a round in this semi-auto for practically anyone. And it makes loading the handgun to full capacity easier for everyone. Plus, it's priced under the $500 mark.
"With the MC 14T, we wanted a handgun that was not only small and compact but also allowed people that may have issues with racking a slide the ability to carry," Chase Duffey, the national sales and import manager at EAA, said in a company statement.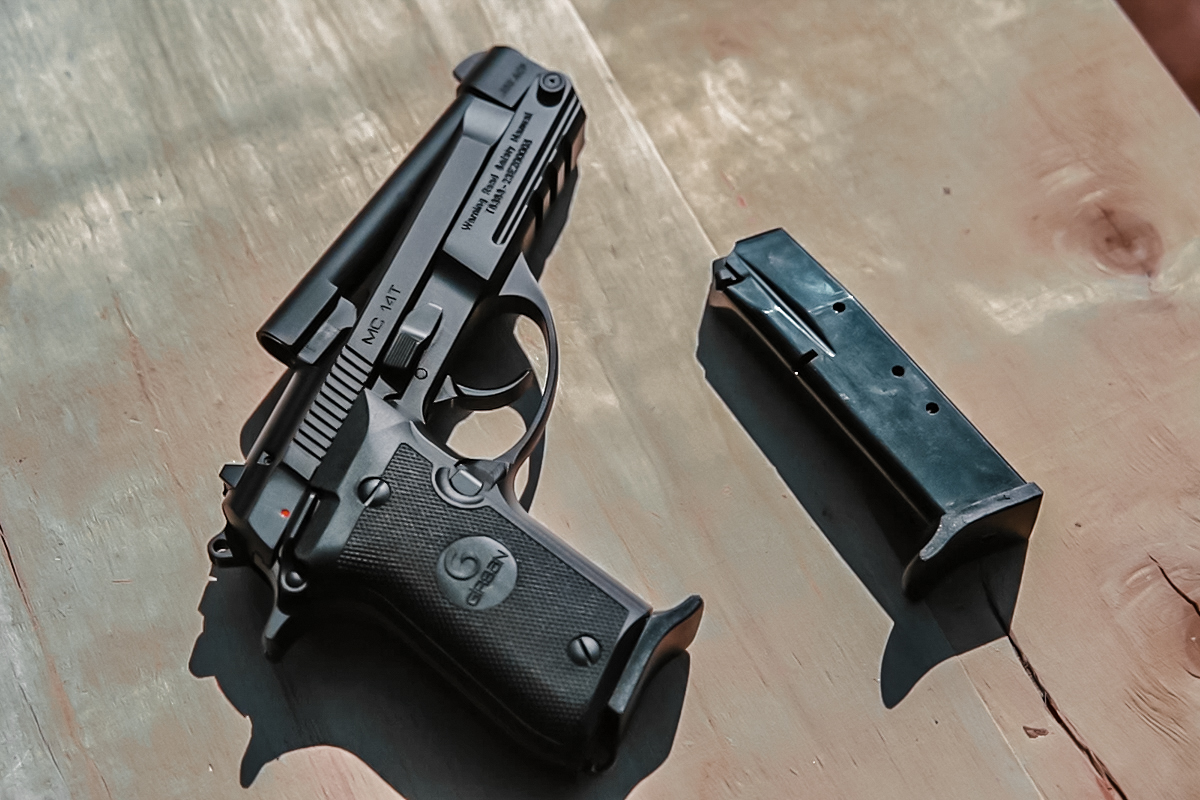 The MC 14T only requires the user to pop the chamber open, load a round, and snap it closed. There's no need to lock open a slide under the full tension of the recoil spring before inserting a magazine, though you can do that, too. You can also rack the slide when necessary. 
And while the 13-round capacity is a little short these days for a defensive handgun, extended mags could be on the way, and as I mentioned before, the tip-up barrel makes it easier to load the pistol to full +1 capacity. 
In terms of physical exertion and ease of use, it doesn't get much easier than the MC 14T. The Walther PDP F-Series and Smith & Wesson Shield EZ pistol lines were designed with easy chambering as a main feature, but the MC 14T is easier.
Here's the order of operations:
Insert a loaded magazine.
Press the barrel release so it can tip up and expose the chamber.
Insert a round directly into the chamber.
Lock the barrel back into place. The pistol is now loaded and chambered.
Disengage the manual thumb safety when ready, and fire.

The slide still reciprocates when the pistol cycles, so it behaves like any DA/SA pistol when firing. That also means you can rack it like any other slide — again, you have a choice.
"Once we started to work with the MC 14T, we quickly realized that loading and unloading, as well as training, is easier with a Tip-Up design pistol, as it simply eliminates the need to rack the slide altogether," said Keith Bernkrant, the president of EAA, in a company statement. "I wish that we had worked on this project earlier after seeing just how simple and intuitive it is."
EAA is offering the Girsan MC 14T out of the gate as a carry gun. Despite the 4.5-inch barrel, the whole pistol measures just 6.8 inches long and weighs 22 ounces — less than the popular Glock 19 on both accounts.
As for controls, the MC 14T — since it's a DA/SA — comes with an ambidextrous thumb safety and an exposed hammer.  
Color options other than black cost extra and include dark earth, gold, black-and-silver two-tone, black with gold hardware, and — sigh — a pink model. I swear, some manufacturers are still convinced women are only interested in pink guns.
The sub-$500 price tag is very accessible but comes with a few concessions. The MC 14 T's slide is not cut for optics, and the iron sights aren't adjustable. Nobody is going to stretch the limits of pistol range with a .380, but being able to mount a red dot would be nice. 
As with any double-action/single-action pistol, the MC 14 T's trigger may take some getting used to, especially if most of your shooting has been with a striker or single-action-only handgun. 
With a DA/SA, unless you keep it cocked and locked like a 1911, you have to get used to the double-action trigger pull for the first round and single-action pull for subsequent rounds. Some people have trouble with this; others don't. 
And bonus: Anyone with trigger time on a Beretta 92/M9 pistol is going to feel right at home.
Switching off the manual safety is another step to incorporate into your muscle memory that isn't part of the manual of arms for most modern defensive pistols. Again, this isn't unique to the MC 14T. There are plenty of other handguns with a thumb safety (optional or otherwise), a grip safety, or both (looking at you Springfield XD and every 1911 ever made). If an extra layer of reassurance will make someone more apt to carry a defensive pistol with a round in the pipe, that counts as a win.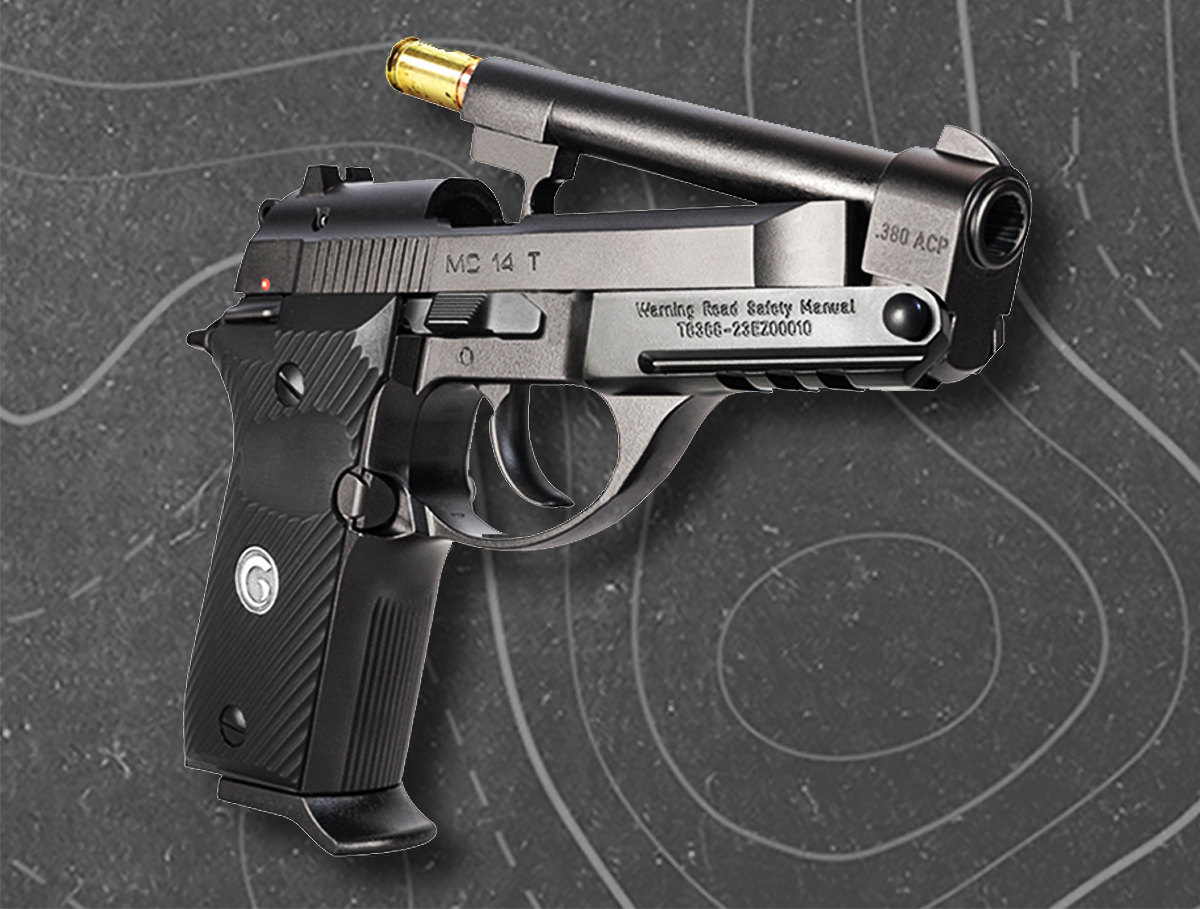 Getting into shooting and carrying concealed are big enough challenges on their own. Being able to make a pistol ready without struggling to rack the slide might open up handgun ownership for people who otherwise wouldn't have the opportunity. This pistol is no gimmick; it's a viable way to make defensive firearm ownership and effective self-defense accessible to people who would otherwise be excluded.
Currently, there is no state-compliant version of the MC 14T. With more reduced-capacity pistols like the 10-round Springfield Hellcat Pro hitting the market, maybe that will change.
Girsan offers clones of several popular name-brand firearms, including the MC P35 (a Browning Hi-Power clone), MC 1911 (yet another 1911), and Regard MC (a Beretta M9 clone). The brand has earned a solid reputation for reliability and often provides compelling value.
---
EAA Girsan MC 14T Specs
Caliber: .380 ACP
Capacity: 13+1
Action: Double action/single action
Barrel length: 4.5 inches
Sights: Fixed iron sights
Optic ready: No
Safety: Ambidextrous thumb safety
MSRP: $498
---
READ NEXT – UFC's Cowboy Cerrone Takes Us Inside His Badass BMF Ranch