Hunting the prince of the plains with a bow is no easy task. They inhabit wide-open spaces where they can use their large, powerful eyes and nearly 320-degree field of vision to detect predators up to four miles away — plus, they can reach speeds of around 55 mph, which gives them their "speed goat" nickname. Pronghorn antelope are endlessly interesting animals.
They're commonly referred to as "American antelope" but aren't related to antelopes of other continents at all. They are prehistoric creatures unique to North America; in fact, their closest living relative is the giraffe, believe it or not.
Their behavior isn't typical, either. Unlike most big-game animals, which are active right after sunrise and right before sunset, pronghorns are active all day. Archery pronghorn season is also among the first big-game seasons to open in the West. So if you want to get after them, there's plenty of opportunity, but that doesn't mean it's easy — far from it.
There are two primary techniques for bowhunting pronghorn antelope: You can spot and stalk or post up in a ground blind near a water source or some sort of funnel, like a fence crossing.
Regardless of technique, defeating their wary, binocular eyes can be an exercise in frustration, and you can expect to be in the field all day long. This is some of the gear I never forget when I chase pronghorns:
---
Sitka Core Lightweight Hoody
Price: $129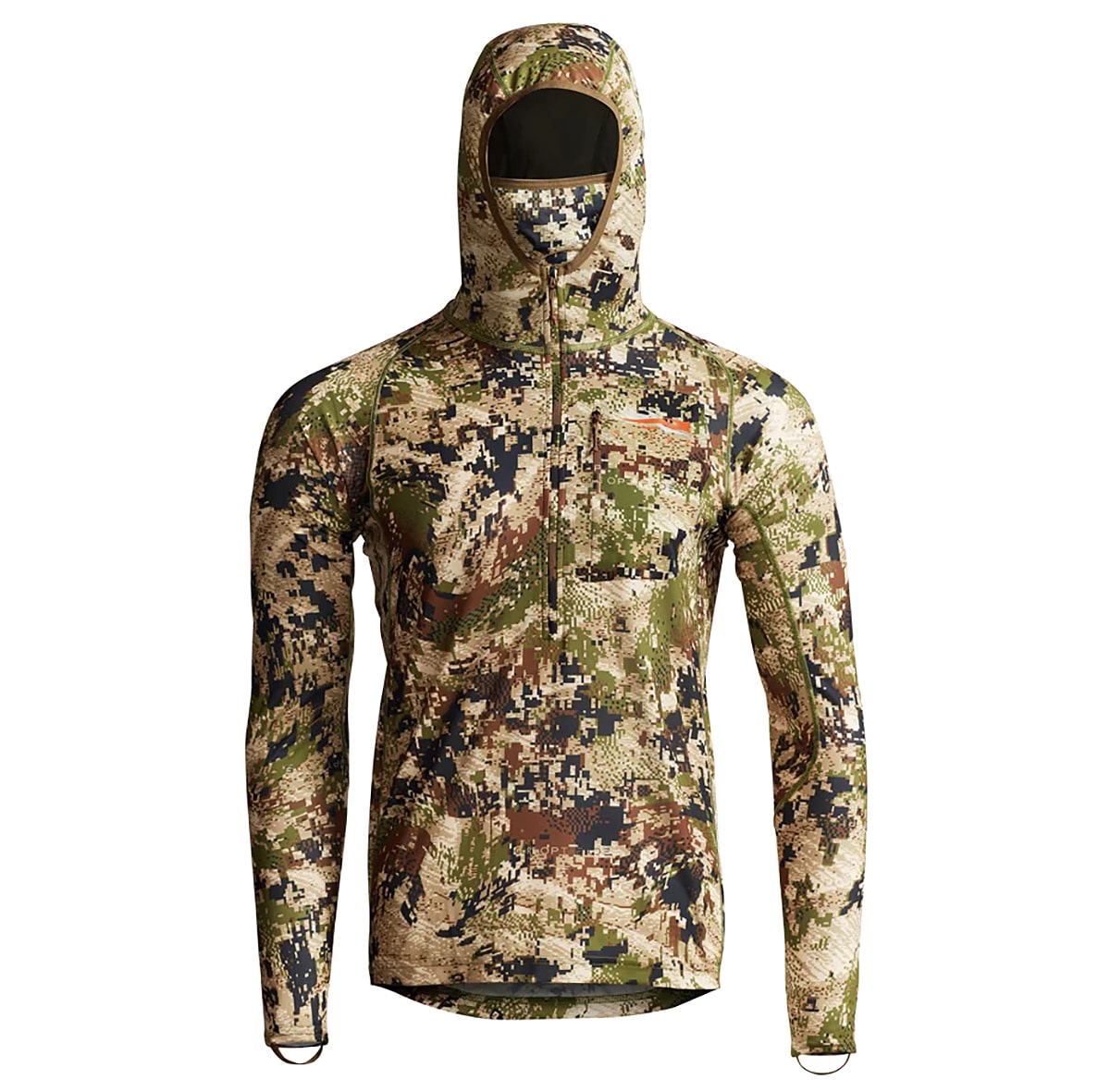 It's hotter than the devil's dick in the middle of August. You want a base layer that will wick away sweat and protect you from the sun without insulating you to the point of overheating. The Core Lightweight Hoody from Sitka is the perfect base layer.
First, it comes in black, which is critical for sitting in a blind and blending into the shadows. There are camo options for those who intend to spot and stalk. The Core Lightweight Hoody is made from a super-breathable and quick-drying polyester, which is what you want when you're out in the heat.
I have found myself wearing the hood even when it's hotter than 80 degrees to protect my ears and neck from the sun. The hood also has a built-in face mask, which is absolutely clutch. I don't care what the "internet experts" say — covering your face is critical to success when hunting animals.
---
Tac Hunt Fish Athletic Shorts
Price: $36.50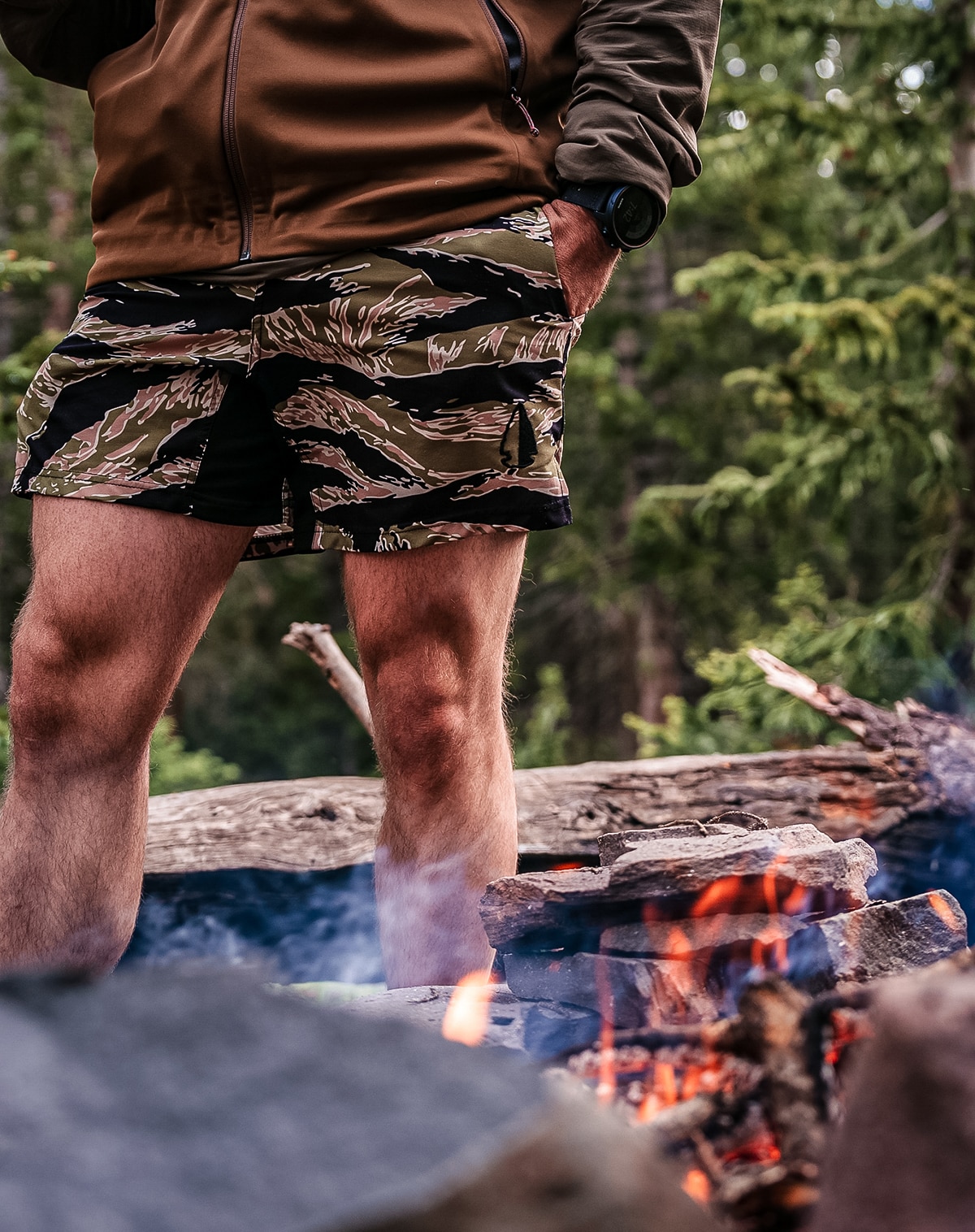 Sitting on your ass in a blind all day isn't fun. It's even less fun with swamp ass.
I discovered Tac Hunt Fish (THF) at the beginning of the summer, and I have been wildly impressed. I wore these under my pants on a recent New Mexico antelope hunt with the full intent to strip down to them when I got too hot sitting in the blind. Thankfully, I filled my tag within an hour and a half of zipping the blind shut, so I didn't have to strip. I did, however, wear them while dressing, skinning, and quartering my antelope buck.
The shorts are 90% polyester and 10% spandex, making them extremely lightweight and breathable. The Athletics don't have a liner, which provides your hang-down or hoo-ha with plenty of breathing room. The crotch has a spandex section sewn in for increased breathability and flexibility for any activity, and the waistband is ultra-comfortable. They are slightly longer and taller than typical athletic shorts, and the waist features a piece of semi-rigid elastic with spandex sewn over it for maximum comfort and a little added durability.
Finally, the company itself is active LEO-owned and fully supports the run-and-gun lifestyle. The name says it all Tac — Tactical; Hunt — Hunting; Fish — Fishing.
---
Crispi Thor II GTX Boots
Price: $330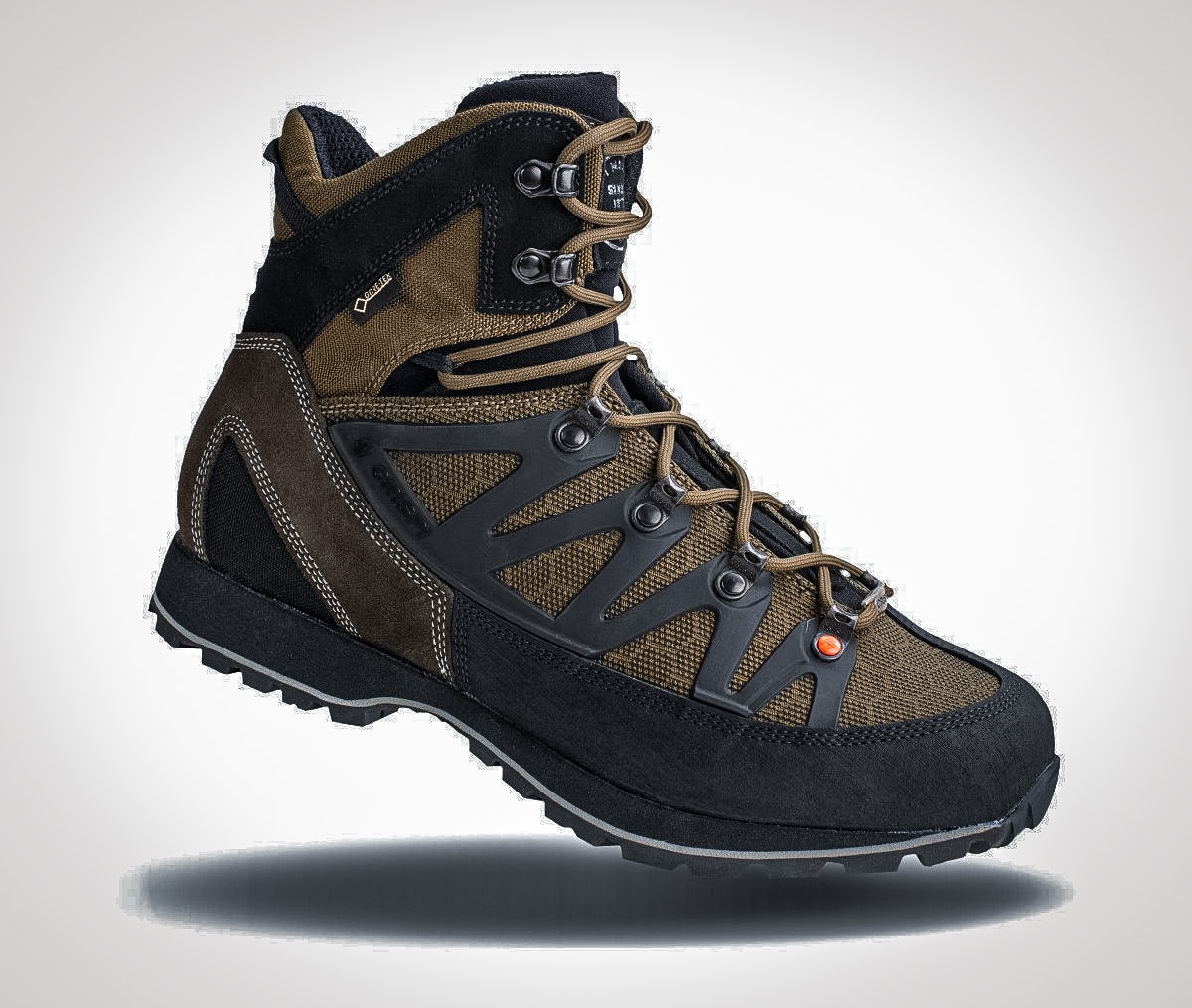 When it comes to boots, I have tried to find a balance between lightweight, sturdy, and waterproof and not cooking my feet like an oven. I have tried damn near everything, including hardcore trail running shoes. The trail runners work, but if you encounter cacti or do any side-hilling, you'll wish you had boots. The best I have found is the Thor II GTX.
These boots are sturdy enough for an elk hunt but light enough that they won't slow you down while chasing the fastest land mammal in the western hemisphere. If you're going early and want to keep it lightweight, these are the boots.
They have an upper made of suede and PUtek Spider fabric. PUtek is Cordura with threads of polyurethane woven in. This makes the boot super breathable but still able to handle anything you throw at it. A removable mesh insole also helps these bad boys keep your dogs from drowning in a sea of sweat. They're lined with Gore-Tex for waterproofness, and the sole is stiff enough that your feet won't be screaming after a day of side-hilling.
---
Primos Smokescreen Hunting Blind
Price: $249.99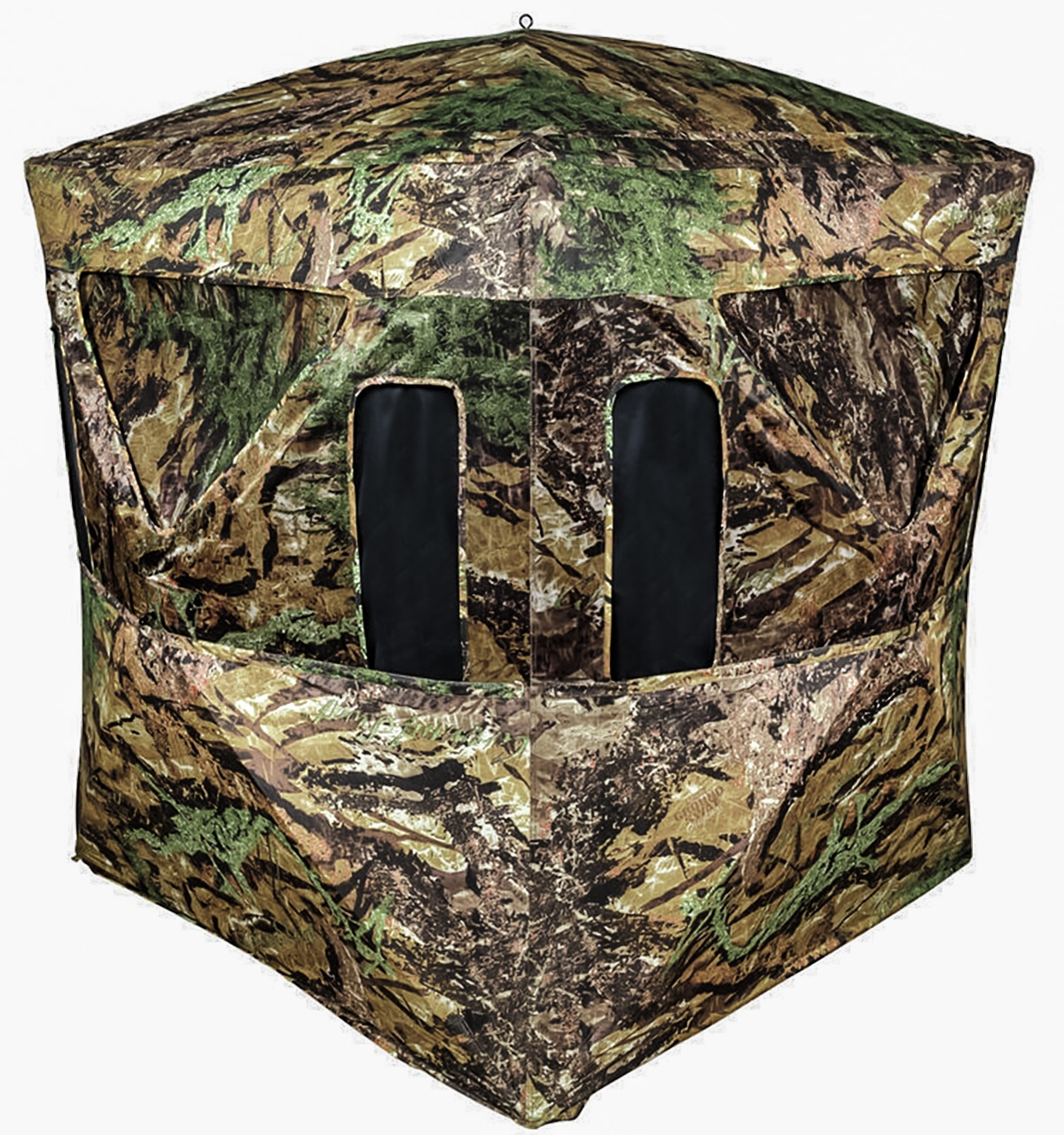 If you're going to sit over water, a good ground blind is essential. If you're like me and don't have a prescription for Adderall but probably should, it's fucking miserable sitting in a blind for 15 hours.
If you have ever sat in a traditional ground blind, you know the pain of staring out one or two open windows at the same view for hours. The Smokescreen from Primos helps with its one-way Total View mesh walls. A better field of view also means more light entering the blind, making it easier for animals to catch movement or see you when windows are open.
Having one black wall helps reduce light and gives you something to blend in with. These blinds are built like tanks. I arrived at a pasture to find that the cattle had snapped all of the guy lines. I was able to locate the blind 500 yards away, and it was still in great shape. The size is just right, too: Floor space is 56 by 56 inches, and the height is 67 inches. I have seen a bowhunter and cameraman fit inside and still kill out of one of these blinds.
This model helps me hold still and keeps me occupied better than traditional ground blinds because of the panoramic views. No more moving around and peaking out windows to see what's happening in other directions. I can see everything going on in three directions, which helps make the sitting a little more enjoyable.
---
Yeti Tundra 65 Hard Cooler
Price: $375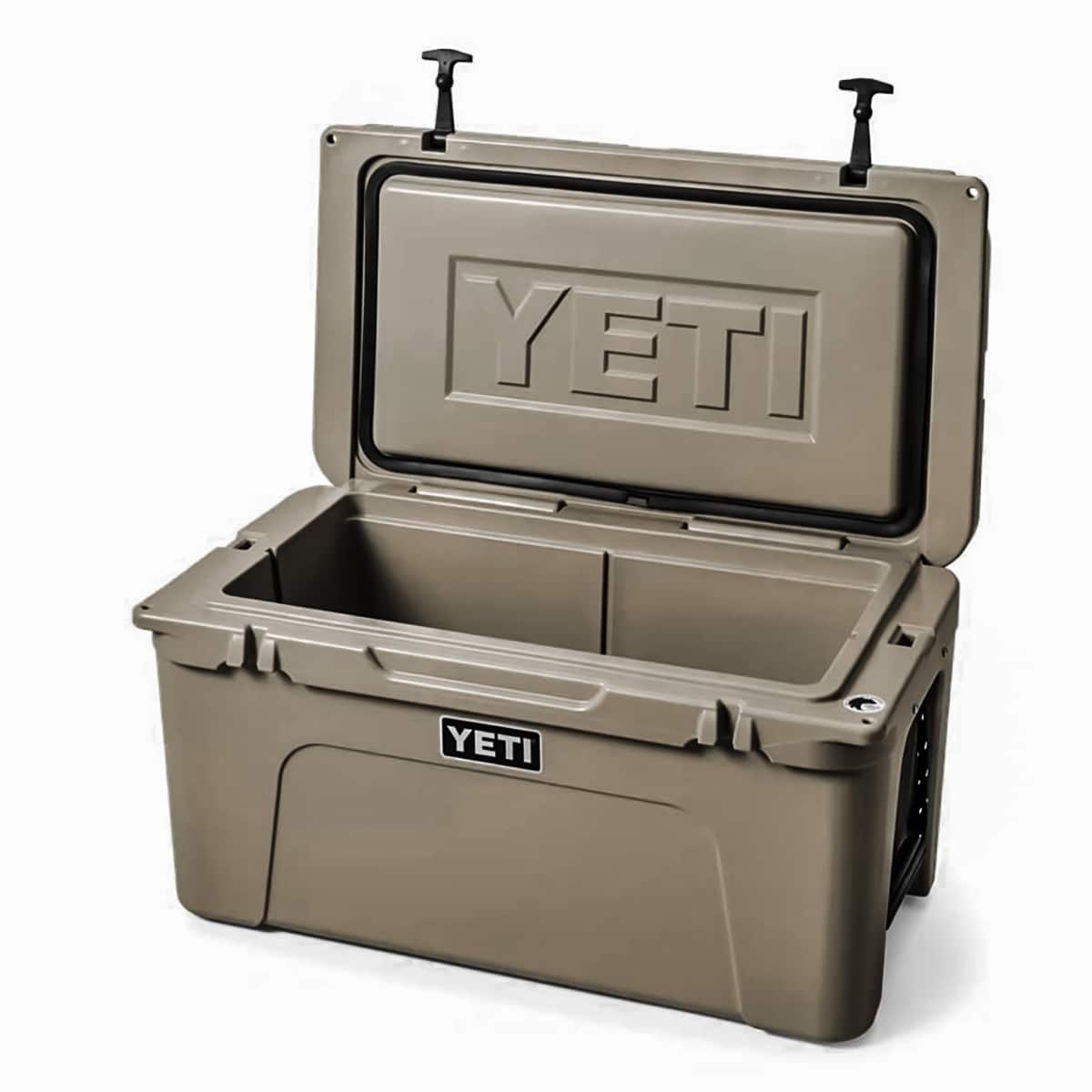 When you smoke an antelope at 11:30 a.m. on a 98-degree day in the high desert, the name of the game is beating the heat. I keep a Yeti 65 full to the rim with ice at all times while I'm on the hunt.
You can't talk about quality coolers without the name "Yeti" popping up early in the conversation. Some say they're the OG of rotomolded coolers. The Tundra 65 is just right for this type of hunt. It holds ice for days, even when sitting in the back of my truck in the 80-to-100-degree heat. Most importantly, it's a perfect size.
If my arrow finds its mark, I quickly dump the guts and skin and quarter the animal on the spot. Then I package it neatly inside the 65. This cooler can fit a quartered pronghorn with enough ice to last a few days until you can get home and get the meat taken care of.
---
Yeti M20 Backpack Soft Cooler
Price: $325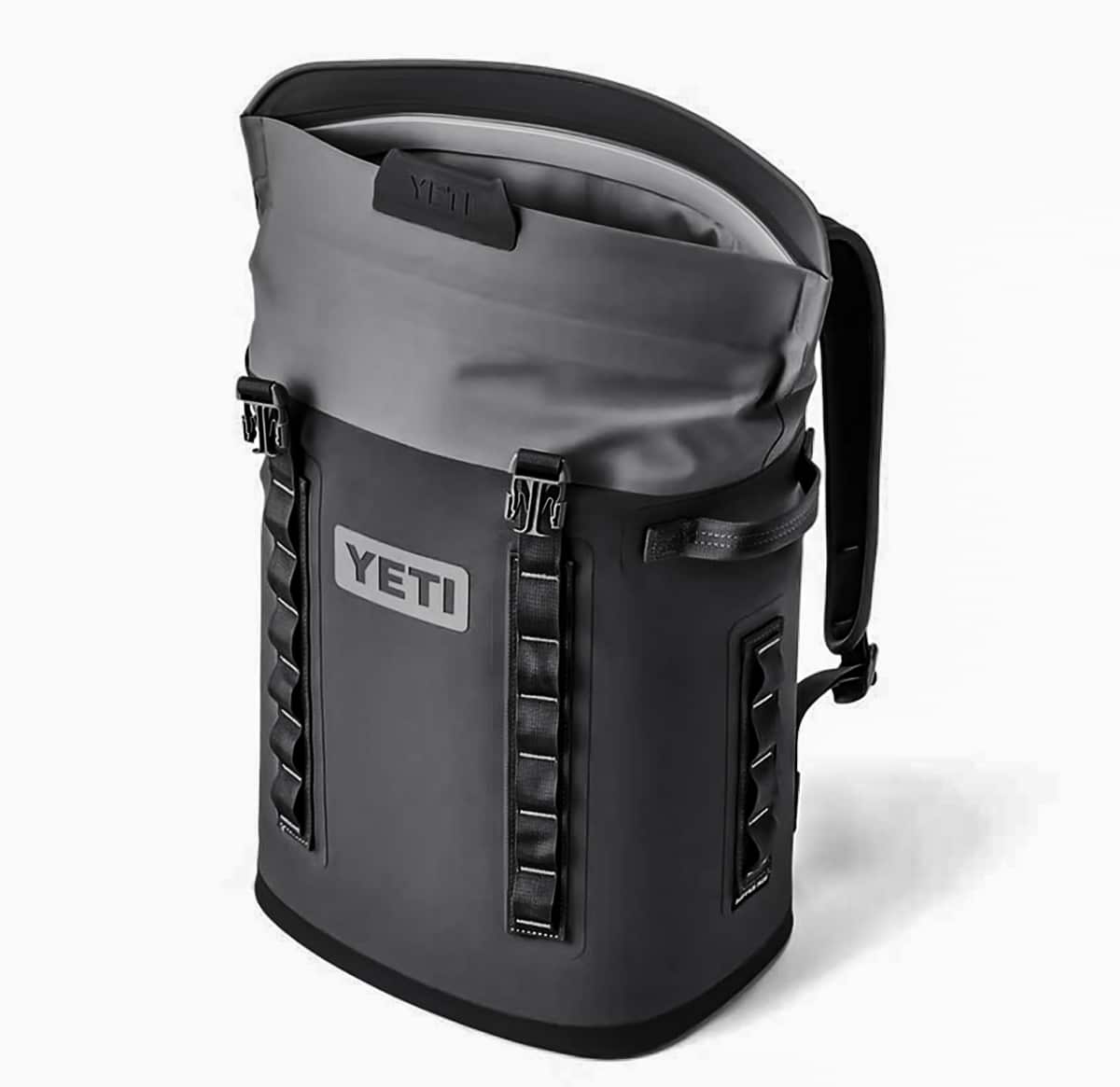 If you're going to sit in a blind, this thing is your best friend. Being cooped up in hot blind sucks less when you have cold beverages and snacks.
This little gem has been a constant companion for many hot days in the field. If you're hunting antelope from a blind, you need to be prepared to sit all day in what is essentially a sweat lodge. Taking an M20 with real food like sandwiches and some cold water is one way I make my stay a little more enjoyable. I'm not hiking for miles with this thing on, but the shoulder straps are a great help when my hands are full with my bow and camera.
Aside from food, I will stuff other items that might come in handy, like a battery bank for my phone, my camera, and a book. Plus, the new MagShield access allows you to open and close the cooler without noisy zippers. When you're baking in the heat in a sweatbox, especially for multiple days, it's the little things that count.
---
Kifaru Hellbender Pack and Duplex Lite Frame
Price: $362 to $391; $423 to $460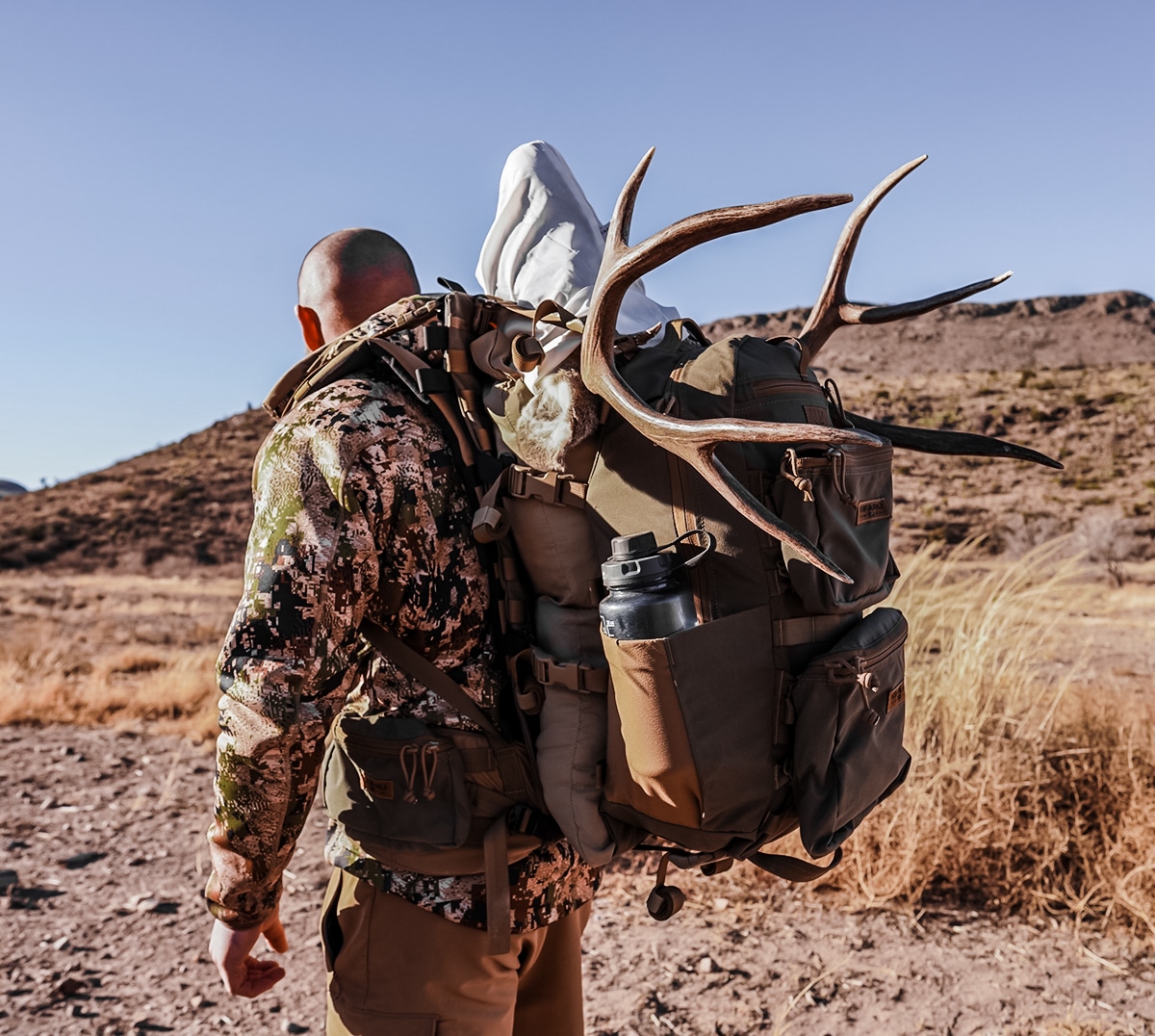 If I had to choose one pack for day hunts for the rest of my life, this would be the bag.
If you're getting aggressive and ranging the Great Plains in search of pronghorn, this is the bag for you. The Hellbender is the third iteration of Kifaru's sling-style load-hauling packs. This pack is built for hauling meat.
The sling itself is made from Kifaru's Xpac material, which repels water and helps make cleanup easier after a successful hunt. The outside has a water bottle pocket on each side, great for storing things like tripods and spotting scopes for quick and easy access.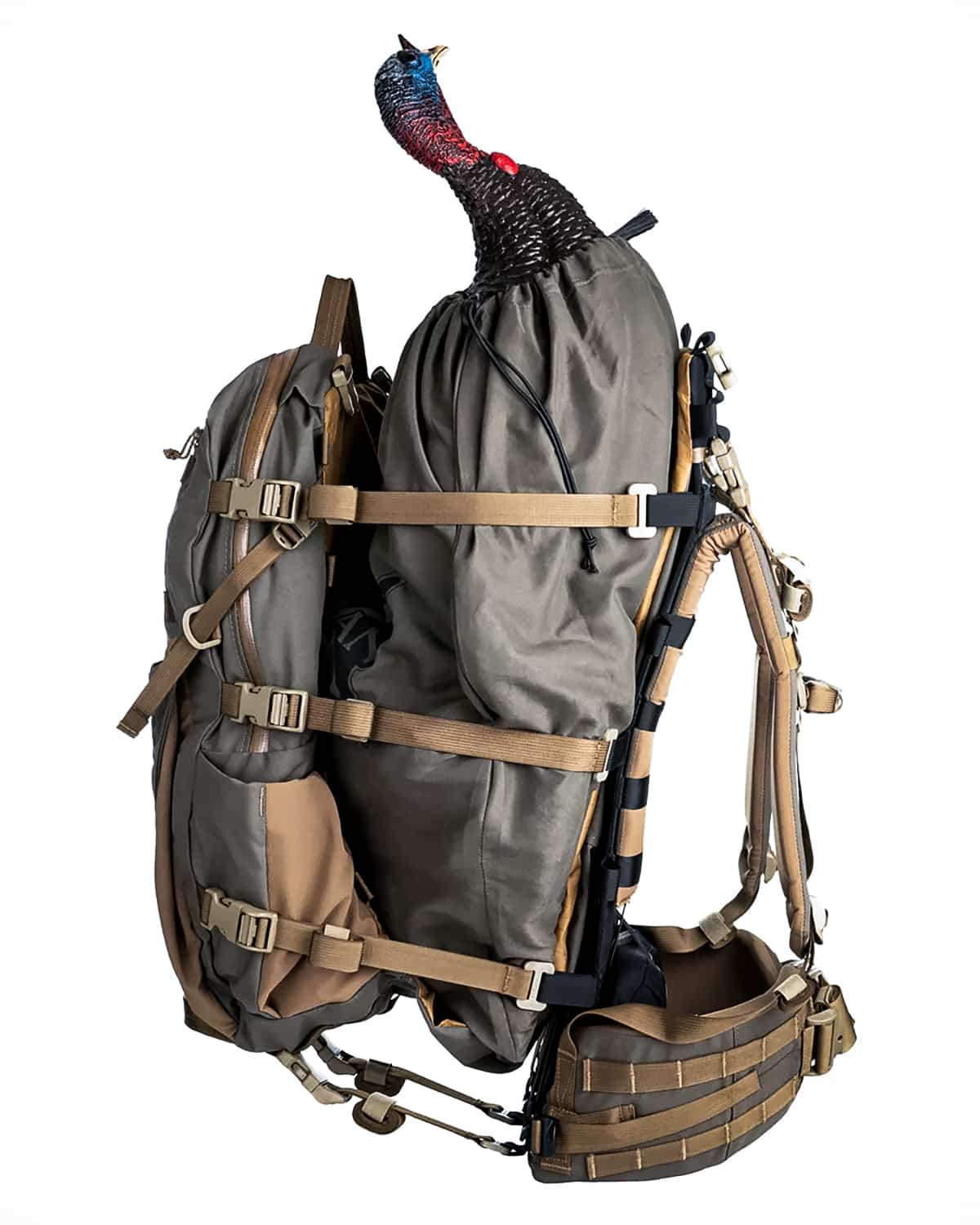 The face of the pack also features a stash pocket that's perfect for storing things like wet gear and trash to keep the main bag clean.
The main bag is plenty big enough for even the most hardcore day hunts. The pack attaches to the frame and secures loads using six compression straps. I have seen Aron Snyder pack out aoudad rams whole with this pack. So packing antelope quarters or whole beasts will be no problem if you carry the weight.
---
Marsupial Gear Enclosed Bino Pack
Price: $130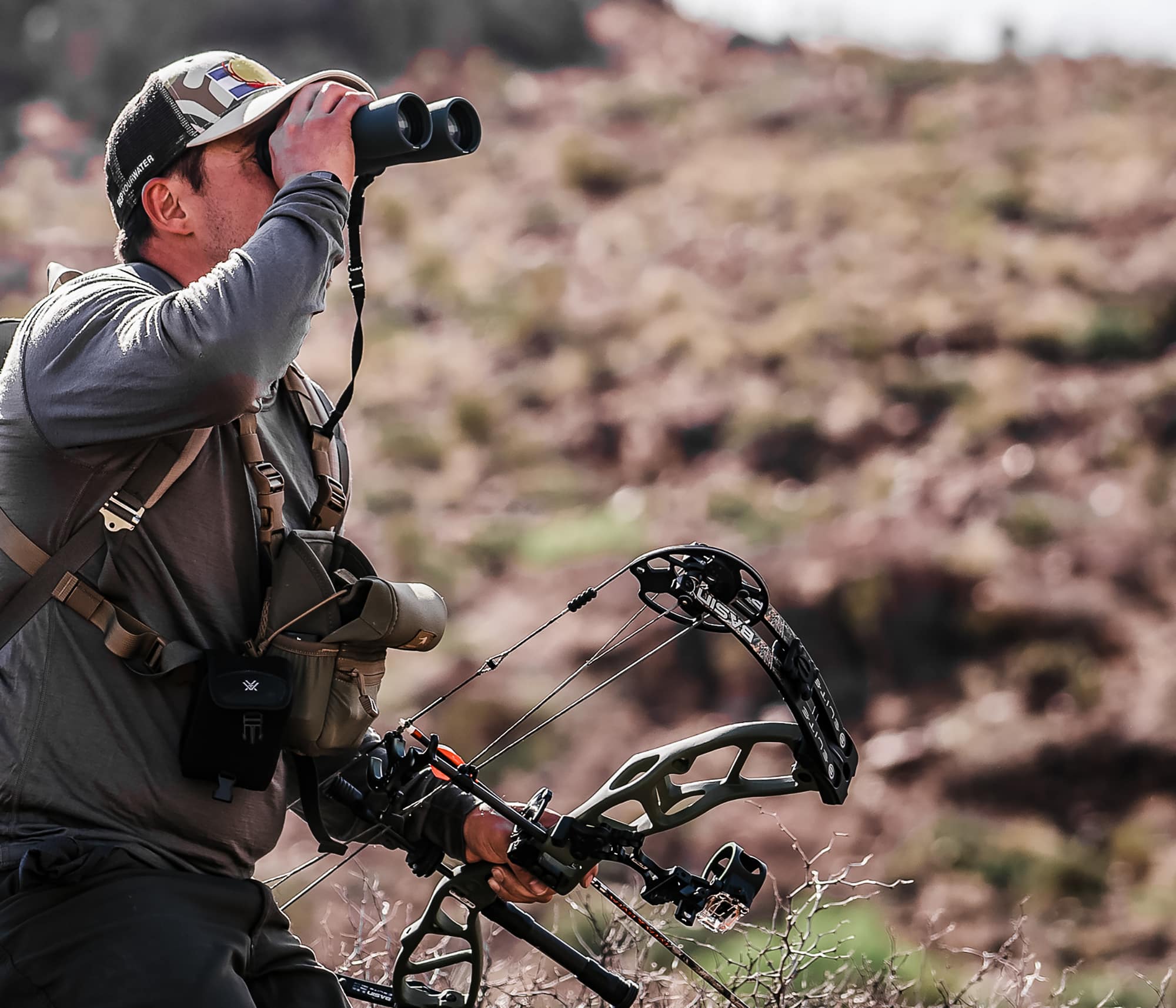 The Free Range American crew has tested nearly every bino harness on the market, and Marsupial Gear's enclosed bino pack still reigns supreme.
Marsupial's enclosed bino pack has become a must-have in my hunting kit. This pack offers full coverage for your binos, keeping dirt, dust, and rain off your glass. Easy one-handed operation is just one feature that makes this my go-to harness. Magnets open and close the pack, making it easy to have the pack open for quick access to your glass. Structured foam side walls hold the shape of this harness, so there's no messing around when you need to put your glass away and haul ass.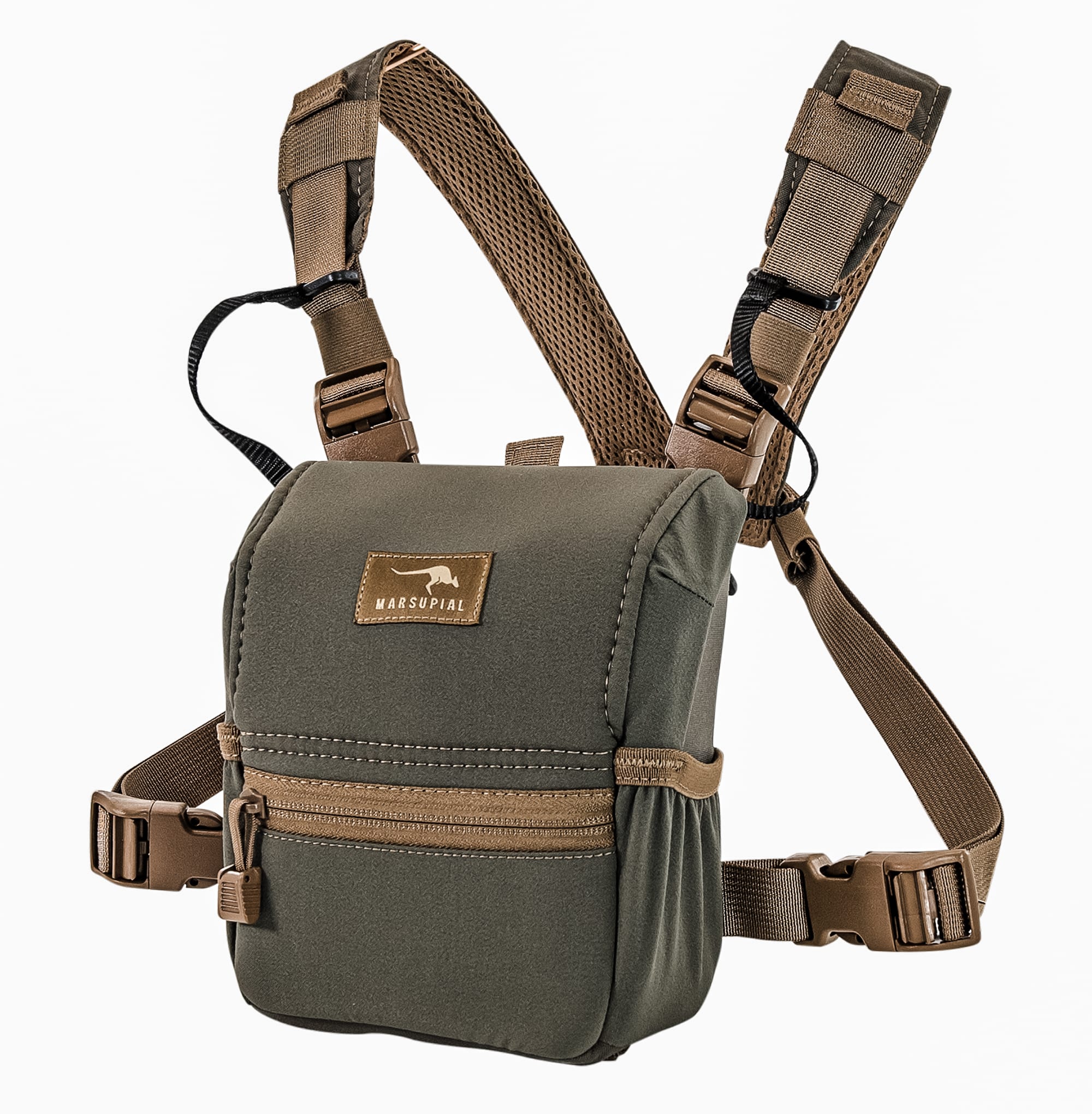 The harness is made from a durable stretch fabric that makes the front zipper pouch more usable than others I have tried. The side pockets are perfect for placing small knives, wind checkers, and other small items inside. The harness itself is the most comfortable I have worn. It's built wide enough to keep the straps from riding up on your neck. You'll need to purchase the Rangefinder Pouch for maximum convenience at $36.
---
SIG Sauer Zulu5 12x42mm HD Binos
Price: $609.99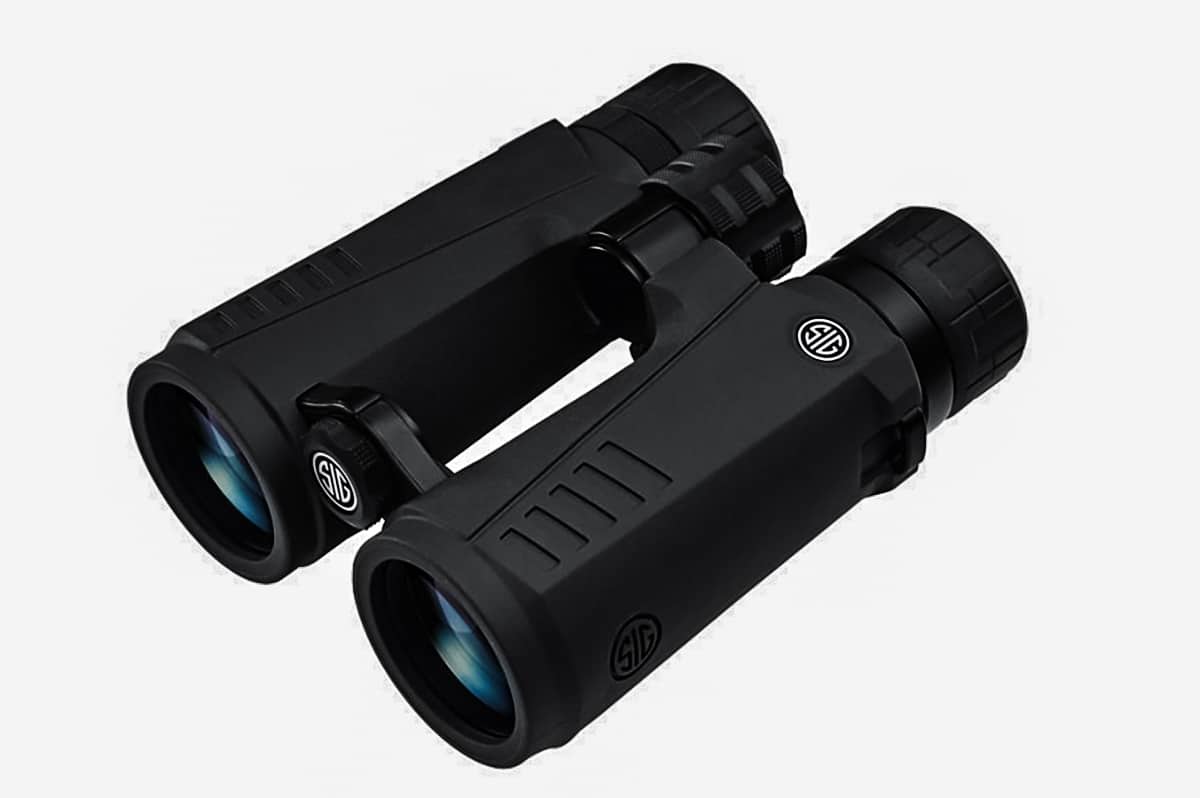 When hunting open country for antelope, I like to crank up the power on my glass while remaining light and mobile. SIG's 12x42mm HD binos fit the bill perfectly.
The Zulu5s are built with a lightweight and durable magnesium body weighing in at 25.1 ounces. For the price, you're getting sharp resolution and really good light transmission. On top of that, these binos are crystal clear — antelope that normally blend in with the dry brown prairie pop against the background when your scanning with these binos. I generally run 10x binoculars, but when I'm chasing the prince of the plains, I like to up the power to 12x. This helps me better pick apart the vast expanse of land the antelope call home.
These binos feel good in the hand and are easy to hold for extended periods as long as you're in a comfortable, stable position. I like to sit when I can and rest my elbows on my knees or use a trekking pole for standing to help reduce shaking. SIG's LensArmor coating helps protect these binos from the dust that will find its way into every nook and cranny when you are out on the plains.
---
Leupold RX-FullDraw 5 Range Finder
Price: $499.99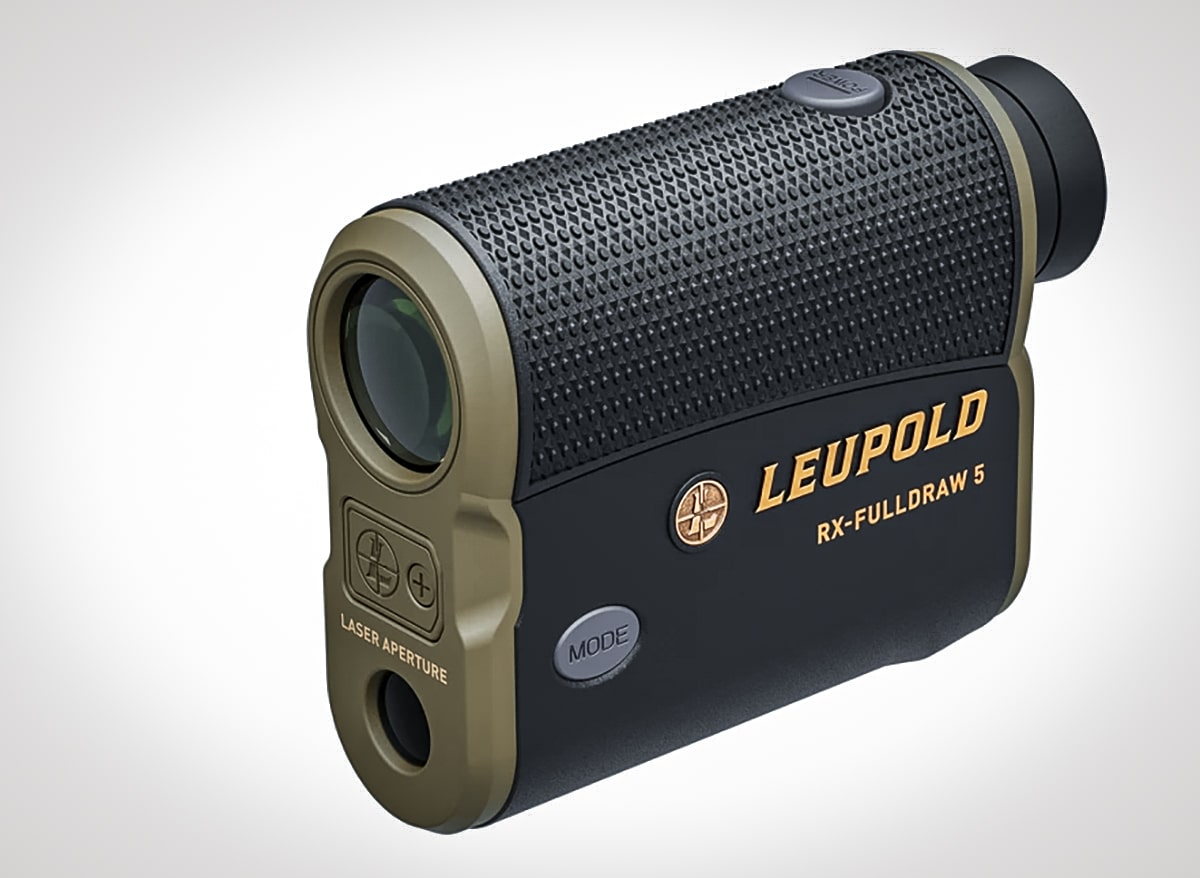 The FullDraw 5 is the second iteration of Leupold's advanced archery-specific rangefinders. This thing is loaded with features that make it the most accurate rangefinder I have used.
Leupold partnered with Archers Advantage to make the most accurate archery rangefinder on the market. Archers Advantage is an archery software best known for building sight tapes. This software requires you to input several data points, including arrow weight, speed, spine, bow model, and peep height, to produce a ton of data points. This powerful software is integrated into the FullDraw 5, making this rangefinder accurate.
The FullDraw 5 requires the user to input bow velocity, peep height, and arrow weight to calculate accurate ranges based on your specific setup. It is the only thing like it on the market. The FullDraw 5 will also show you the maximum ordinance or highest point of flight of your arrow between you and the target so that you can judge if obstacles will be an issue. I have had trouble with every rangefinder I have owned when shooting steep angles until I got my hands on the RX FullDraw 5. It's as accurate as my shooting ability.
Speed and accuracy are critical to hunting any animal; however, it's vital when hunting predator-weary pronghorns.
---
Ultimate Predator Pronghorn Doe and Buck Stalker Decoys
Price: $149.95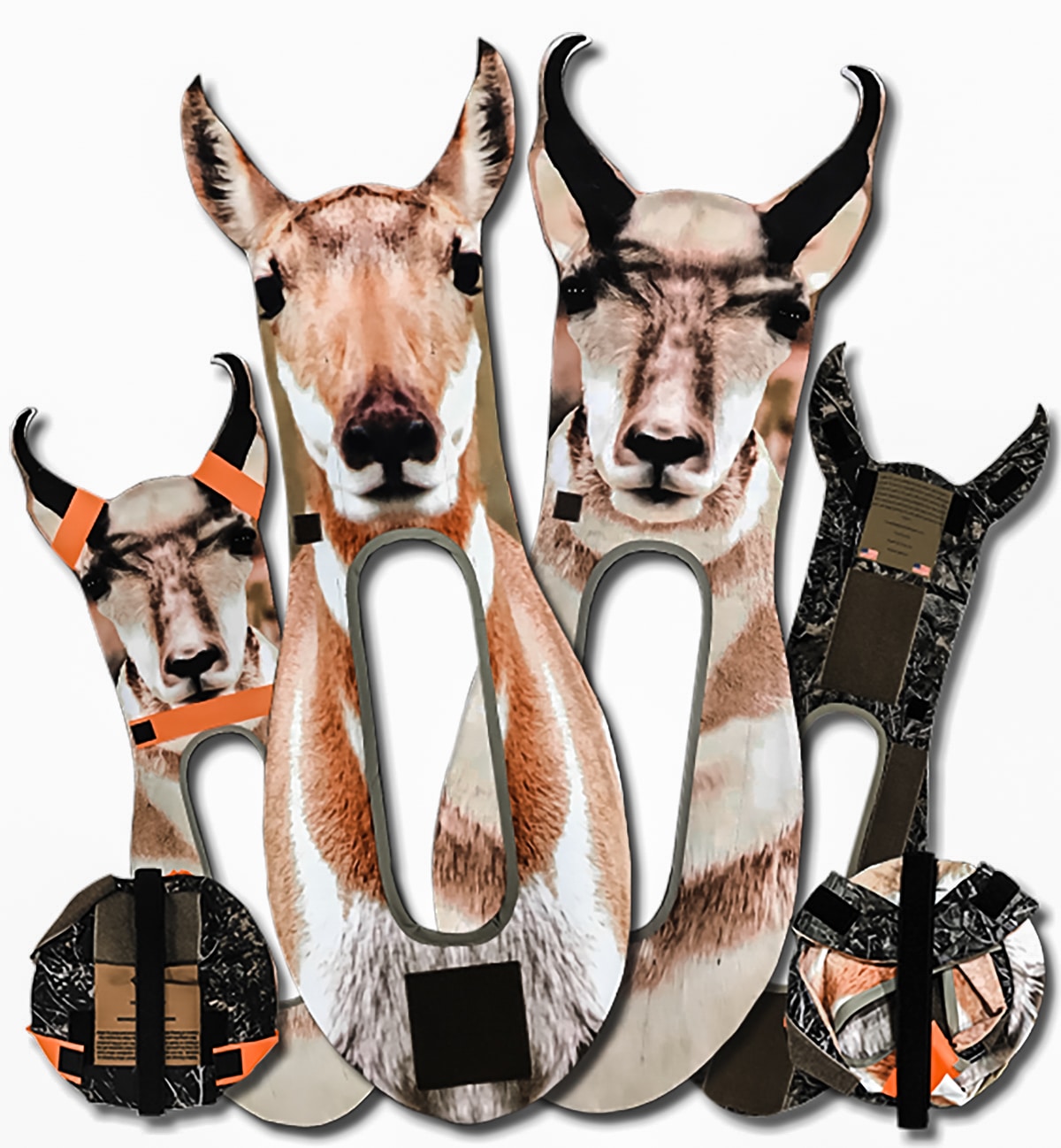 I affectionately refer to these as Plan B. When you're in the open country, sometimes a little luck and a decoy can make the difference between getting within bow range and to full draw.
These are unique decoys in that you can mount them to your bow. Although decoying antelope works better during the rut, it helps to have one to cover your movement and approach when in open country.
There are several mounting options, including the Stalker Quick Connect, which attaches to your bow with neoprene straps and a patch of velcro on the front. This allows you to attach and remove the decoy quickly. It works well with my 30-inch ATA bow, but you may have some trouble with longer bows. The Stalker Spider Wraps will fit any sized bow. Spider Wrap consists of a flexible rubber-coated metal gear tie with a velcro strap for attaching the decoy.
With the combo, I mount the doe to a tripod and the buck to my bow. Sometimes, just poking the buck over the top of a rise toward a live buck is all you need to get him started heading your way. These decoys are a good option if you are constantly blowing stalks and running out of time.
---
Pack Em Out Kill Kit
Price: $249.99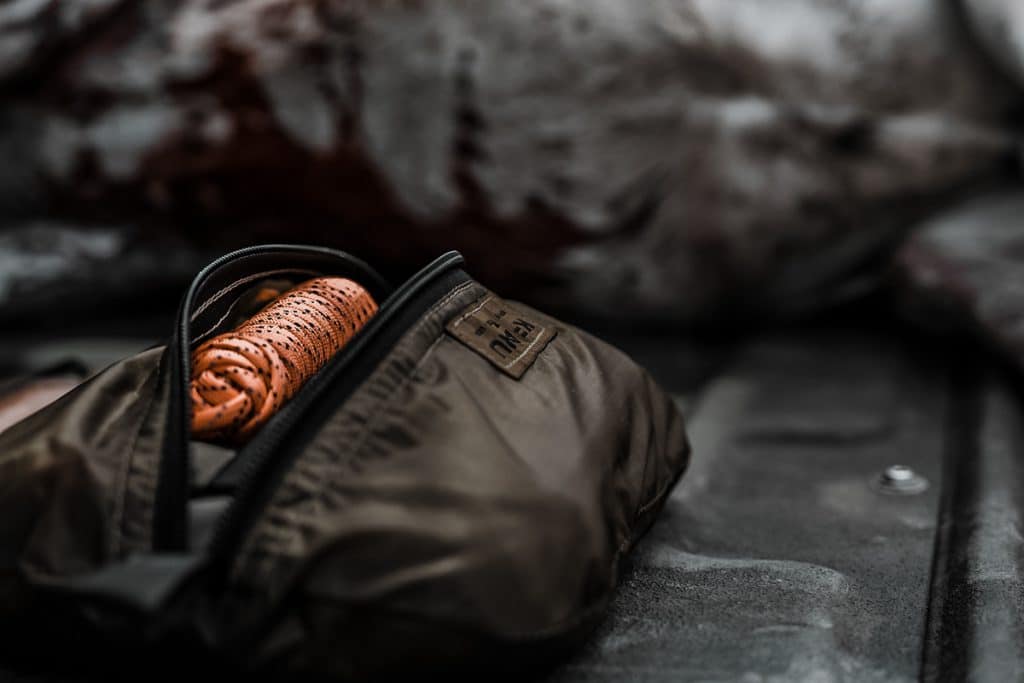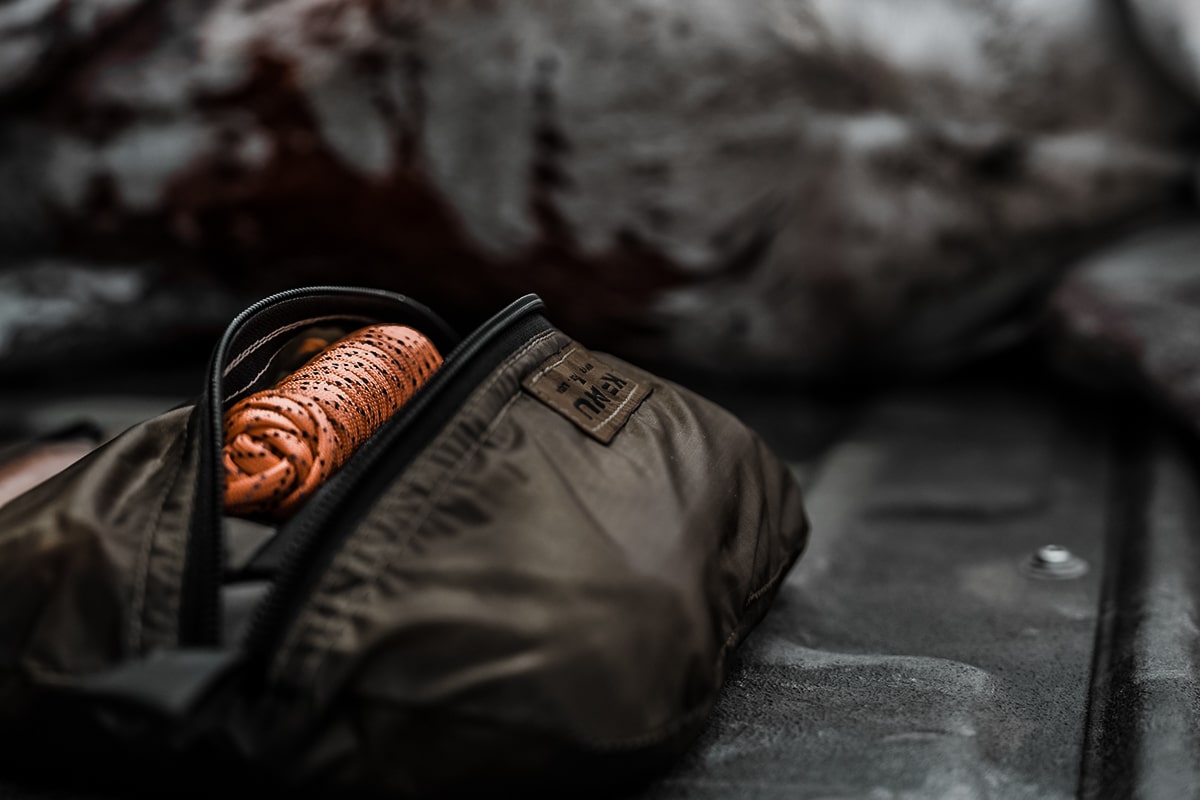 You can put a kill kit together yourself, or you can order one from my friends over at Pack Em Out. They sent me one to try out for the 2022 season, and I have been impressed. This kill kit contains everything you need to break down an animal in the field.
Their kit comes with four of Kifaru's Hybrid Game Bags. These bags are designed to pack out entire smaller ungulate quarters like deer, sheep, or pronghorn. For larger animals like elk, all you have to do is get the meat off the bone, and you can pack them out with no problem. These game bags use proprietary American-made nylon for a great strength-to-weight ratio to ensure they'll last more than a couple of seasons without needing to be replaced.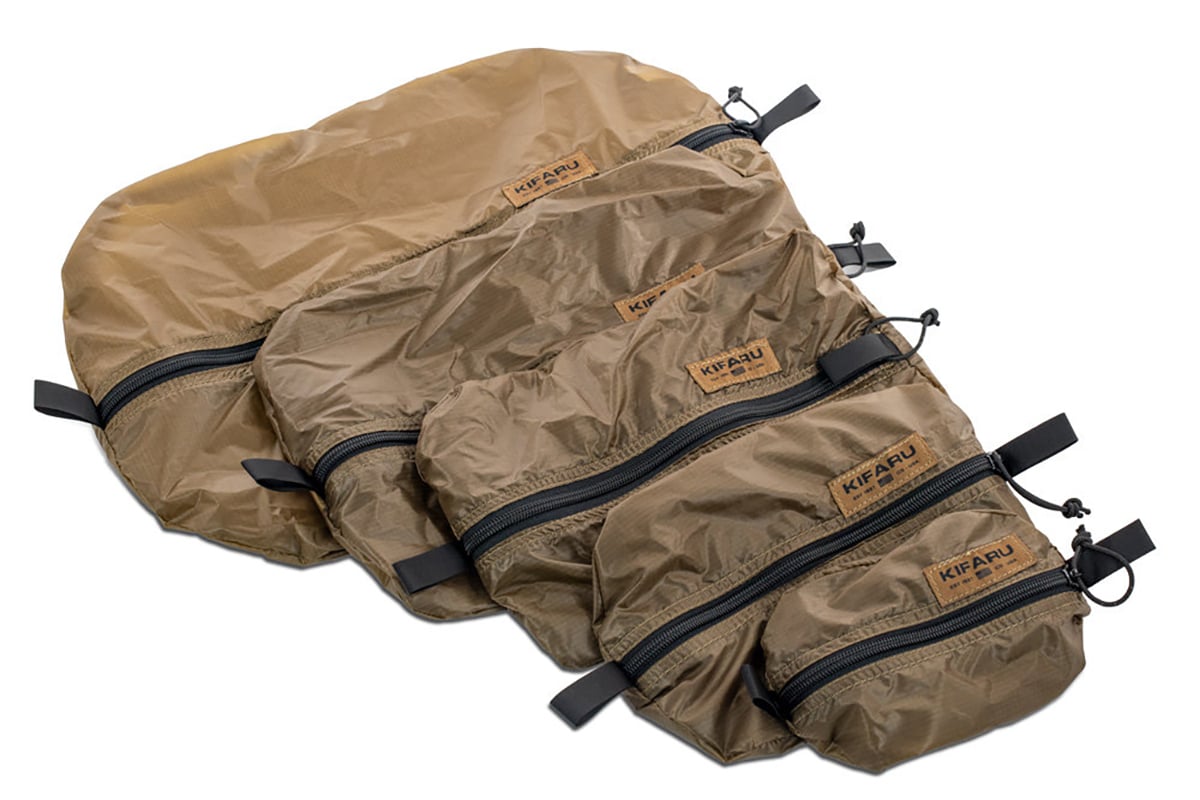 The knife Pack Em Out chose was one of the top performers in Free Range American's Replaceable Blade Knife Test. The Tyto Finisher is a lightweight, compact, and simply designed replaceable blade knife that is great for gutting, skinning, and quartering. The kit includes 10 replacement blades.
Also included are three large sets of rubber gloves for keeping your hands clean and 15 feet of reflective paracord. The paracord came in handy when I needed to string my antelope up from a fence for skinning and quartering, keeping my meat as clean as possible. The only thing that I would add to this kit is some flagging tape. The kit comes neatly packaged in a Kifaru Ultralight Pullout (pictured above).
---
Montana Knife Company Speedgoat Fixed Blade
Price: $225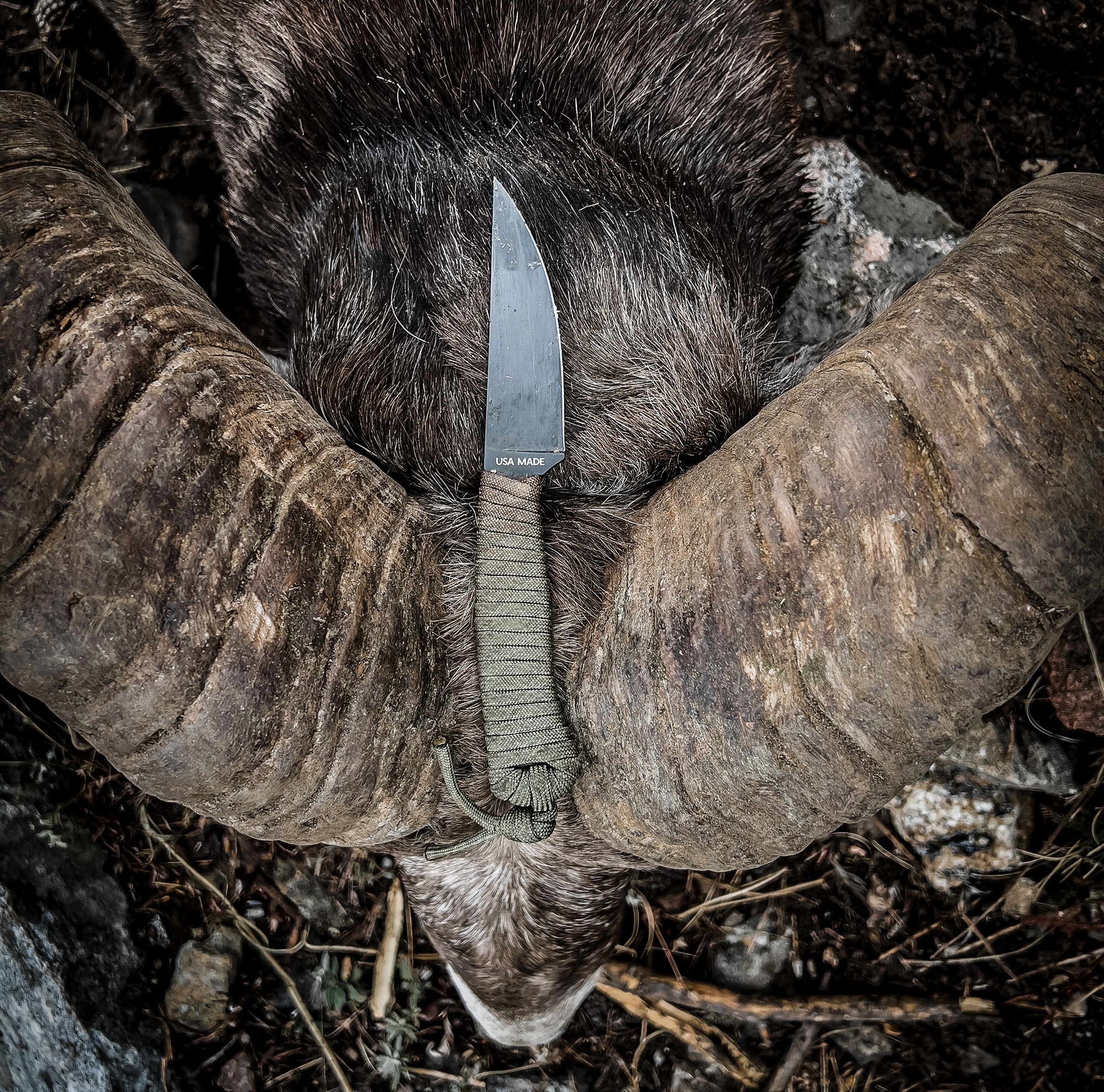 As much as I love a replaceable blade knife, there's no substitute for a good fixed blade. When I'm breaking down a freshly killed pronghorn, the first fixed blade I grab is the Speedgoat from Montana Knife Company.
The man behind the knives is Josh Smith. At the age of 19, Smith was the youngest bladesmith ever to earn the title of Master Bladesmith. Smith's years of experience and attention to detail are apparent with each blade that leaves the MKC shop.
The Speedgoat is a nickname for pronghorn. Named for its goat-like appearance and speed, its only natural MKC would name one of its lightest and most versatile blades after the American antelope. The knife has an overall length of 7.75 inches and weighs 1.7 ounces, and is made from 52100 ball-bearing steel with a paracord handle.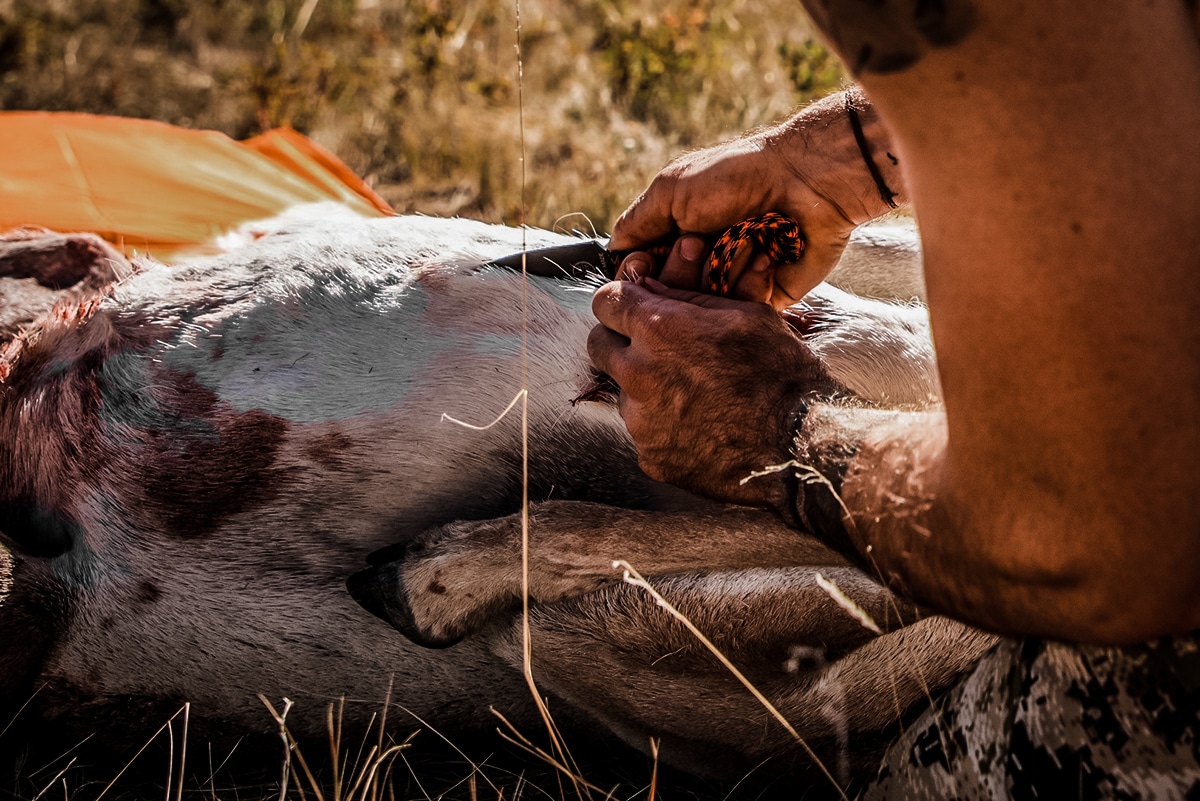 Each blade is cryogenically heat-treated, helping improve durability and edge retention. When you dull this blade, it's easy to sharpen with a small stone, and that is huge. Anyone who has spent any time sharpening a knife will tell you the easier, the better. A fixed blade like the Speedgoat is especially handy for splitting the sternum for easy gutting.
---
PSE EVO XF 30
Price: $1,199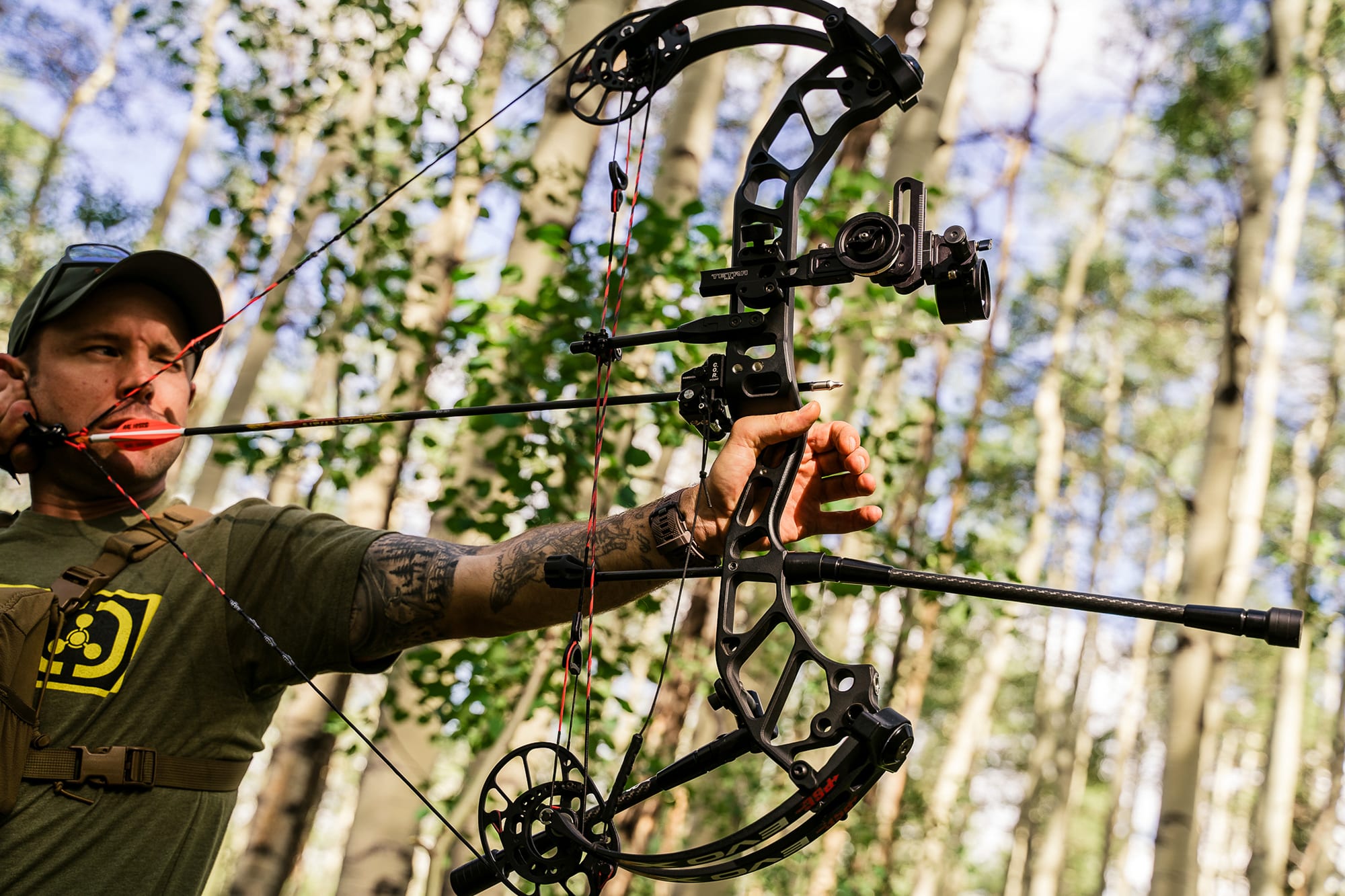 When I made the switch from my 33-inch axel-to-axel bow to the PSE EVO XF 30, I was expecting to lose a little speed and accuracy. What I found was quite the opposite.
After hunting out of a blind a couple of times in the 2021 season with a larger bow, I found it much easier to get to full draw inside of a confined space with the XF 30. Having a shorter draw length requiring the PSE's S2 cam, I expected the draw cycle to be a little harsh — nope, it's pretty damn smooth. There is a small dump at the end getting into the valley.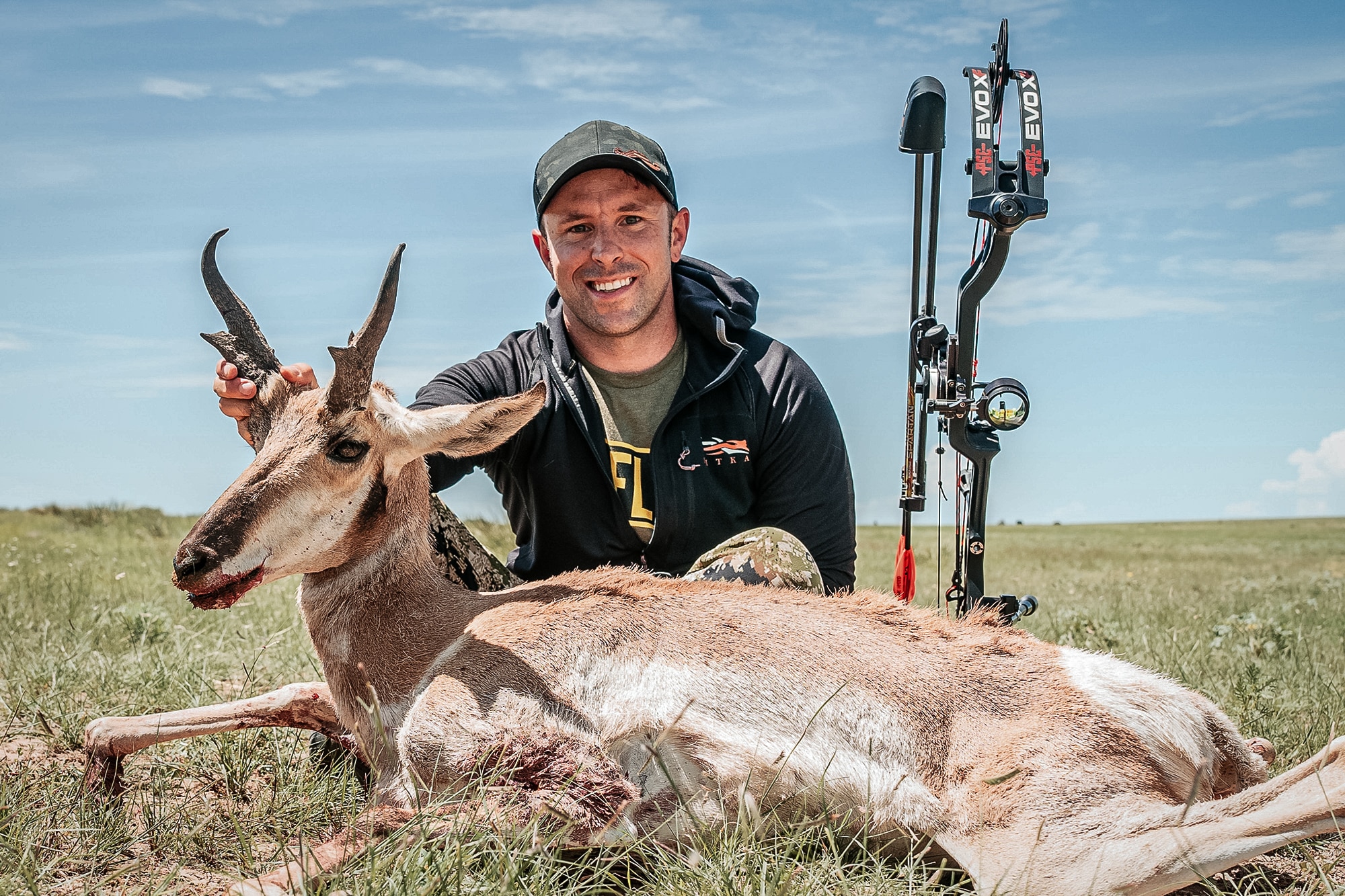 Tuning this bow was also easy. I set up the center shot, made some adjustments to the Precision Buss Tuning System, and had her shooting bullet holes in no time. Likewise, it didn't take much rest adjustment to bring my field points and broadheads together at 60 yards. I put this bow to the test in the blind last week, and it performed.
I shot a pronghorn buck from the blind at 35 yards on the first day of the hunt.
---
Sevr Titanium 2.0 Broadhead
Price: $15.99 each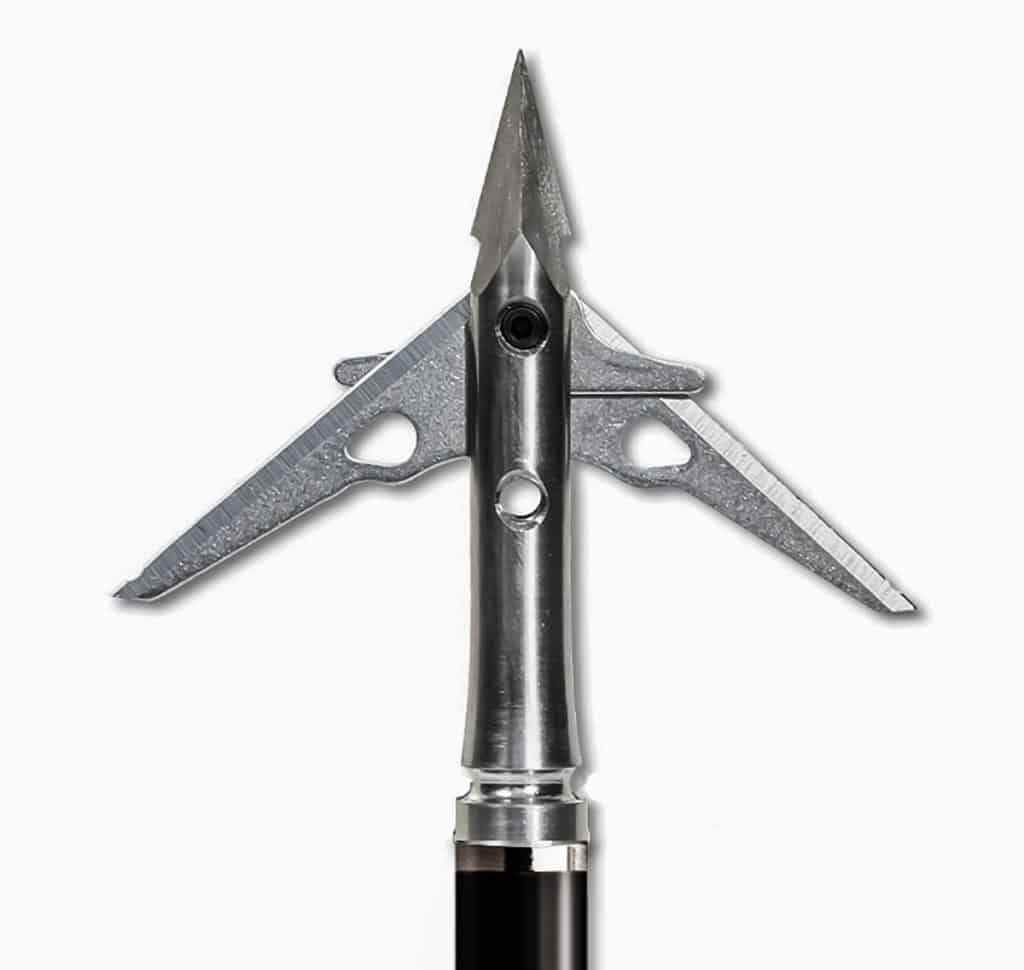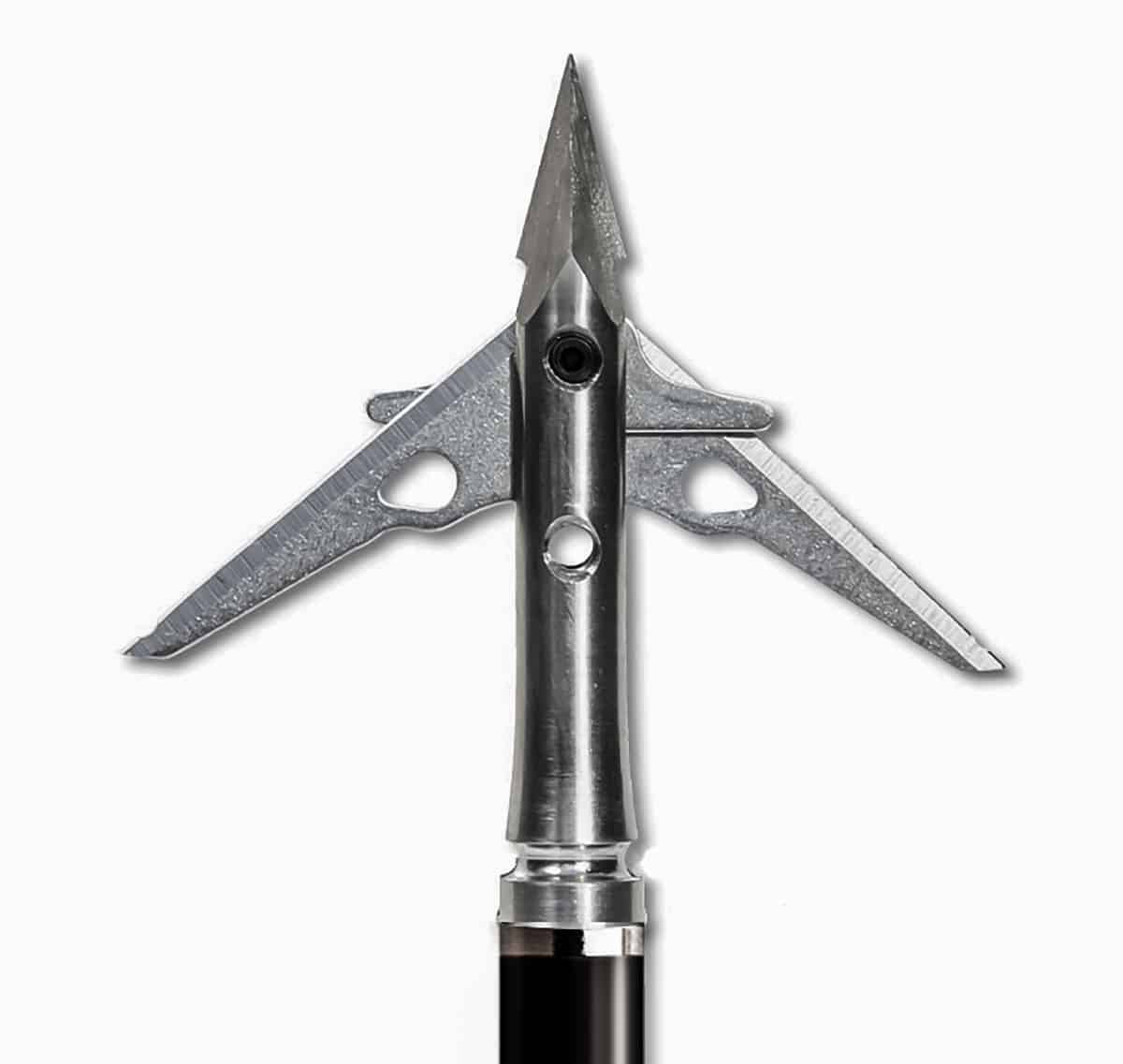 I don't always shoot mechanical broadheads, but when I do, I use the Sevr Titanium 2.0. I have been nothing but impressed with Sevr's 2.0s since I killed my first animal using them last season. I keep a minimum of one in my quiver at all times during hunting season for 60-to-70-yard shots.
They feature Lock-and-Pivot rear-deploying blades that absolutely wreak havoc on game. The blades lock open and pivot left and right, helping the arrow navigate its way between or through ribs and into the lungs and heart. The 2.1-inch stainless-steel blades also leave a massive entry and exit wound for easy blood trailing.
They also feature Practice-Lock; simply add the supplied additional screw to the second hole, and your blades are locked closed. This is critical for practice and broadhead tuning. Gone are the days of buying a three-pack of heads that come with a practice point that isn't quite the same as the actual head you're shooting. The 2.0 I killed my antelope with was the same one I had shot at my foam target hundreds of times in the weeks leading up to my hunt.
Each head is sold individually, allowing you to buy custom quantities. This can save you a ton of money in the long run. No more buying a three- or four-pack of broadheads at a time. In most cases, all you need to do is replace the blades, which are also available for purchase. If you find yourself needing one more broadhead to fill the quiver, look no further than Sevr.
---
The Comfort Crisis
Price: $28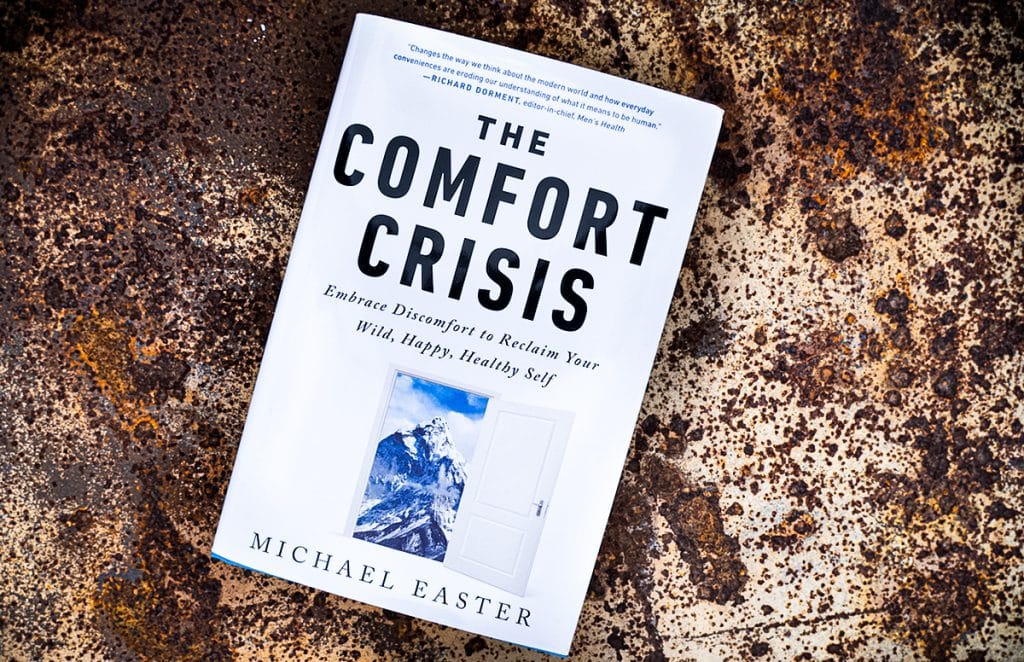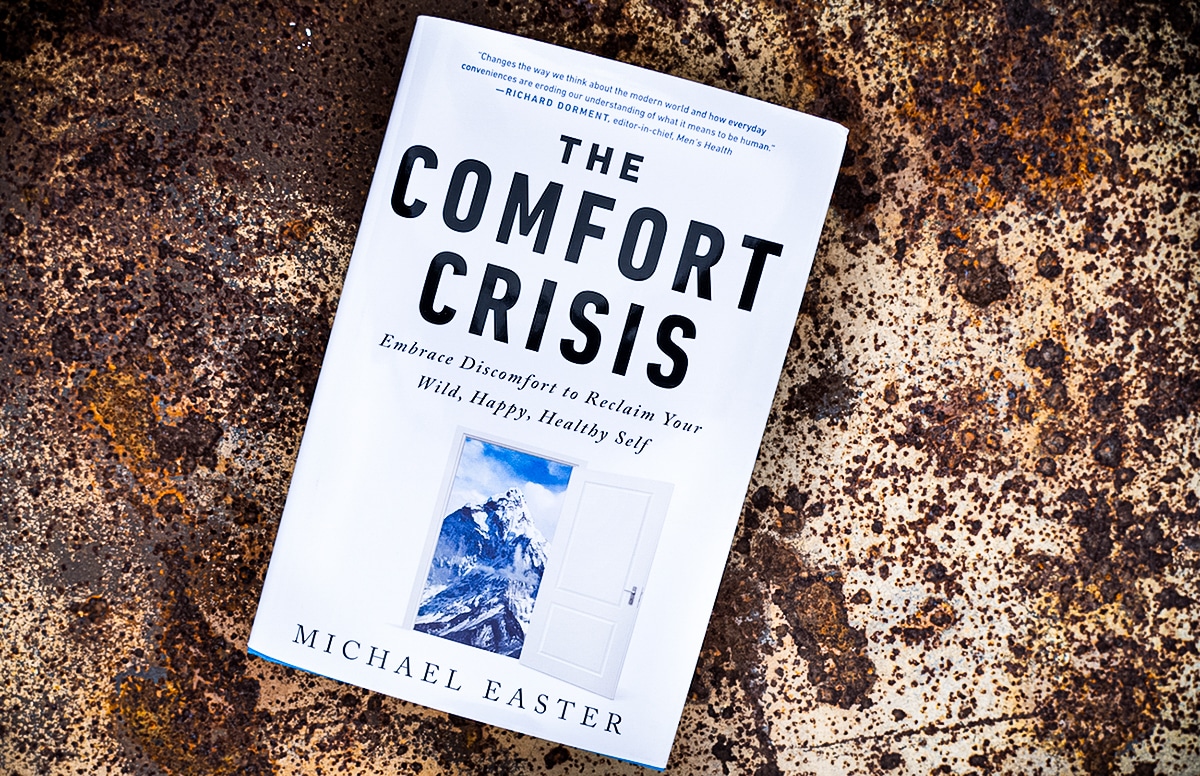 If you're doing an all-day ground blind sit, you're going to need something to pass the time. You can only punch your clown so many times in a day, and that takes up about 10 minutes of a 12-to-15-hour sit. Reading or listening to a book is a good way to keep from losing your mind or rubbing yourself raw while on a stakeout for pronghorn.
The Comfort Crisis by Michael Easter is a good choice for passing the time. If it's a slow day and there's not a lot of action, you will probably contemplate your life choices or long for air conditioning at some point during your stay.
The Comfort Crisis examines our current culture and way of life. For some, it will give you a different perspective on life and the world. For others, you may read it and say, "That's what I've been saying for years." Easter dives deep into our work-life balance. What do we work for today? In the not-so-distant past, say 200 to 500 years ago, we worked to live. We endured harsh conditions, and we managed just fine.
Fast forward to 2022, and we work our lives away to pay for cars, houses, air conditioning, and other comforts. This a fitting book for hunters to read while they sit in 80-to-100-degree heat, hoping a good pronghorn buck comes in for a drink.
---
These are just some of the essentials needed to ensure you have a fun and hopefully successful pronghorn antelope hunt. At the end of the day, the important thing is getting into the field and gaining experience, so if you can't grab everything on this list, no sweat, get out there and get after it anyway.
---
READ NEXT – Pronghorn Hunting: The 5 Best States for Speed Goats