We sat under an old blue tarp trying to stay dry in a stout rain while glassing a narrow drainage in the Bitterroots. I had just killed a good bear in Idaho a few days before and pressed on into Montana hoping to tag No. 2. "What are you going to do with all that meat?" Tuck asked after I showed him a photo of the Idaho bear.
"I don't know," I said. "Fillets and roasts. Grind the rest to burger."
"Make brats," he said. "Every year, my buddies and I get together and make a huge batch of bear brats. You can't beat 'em, man."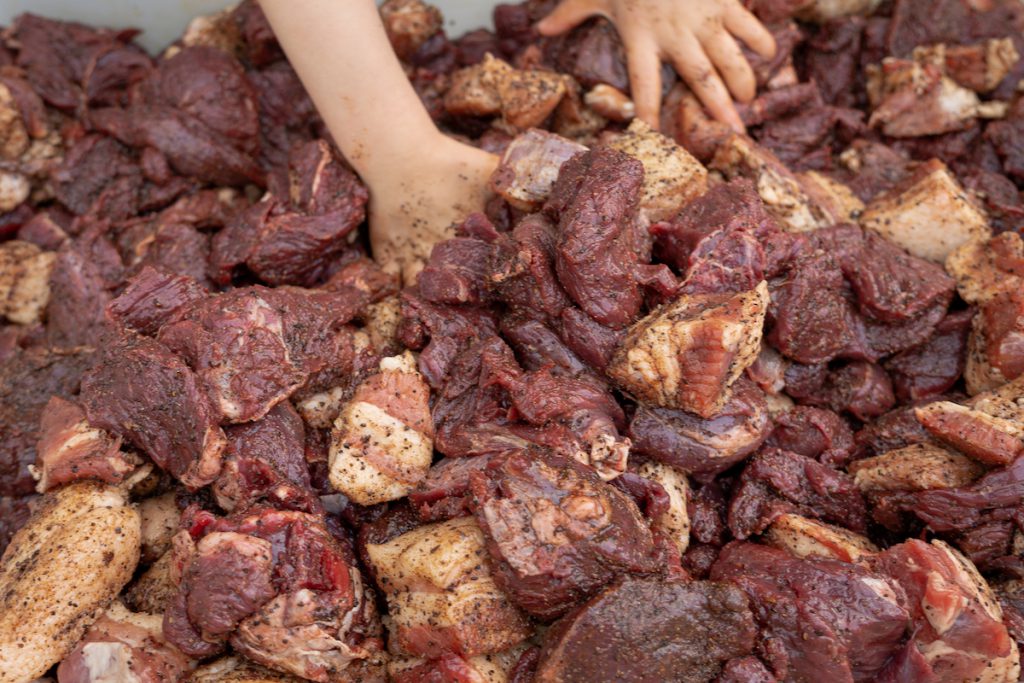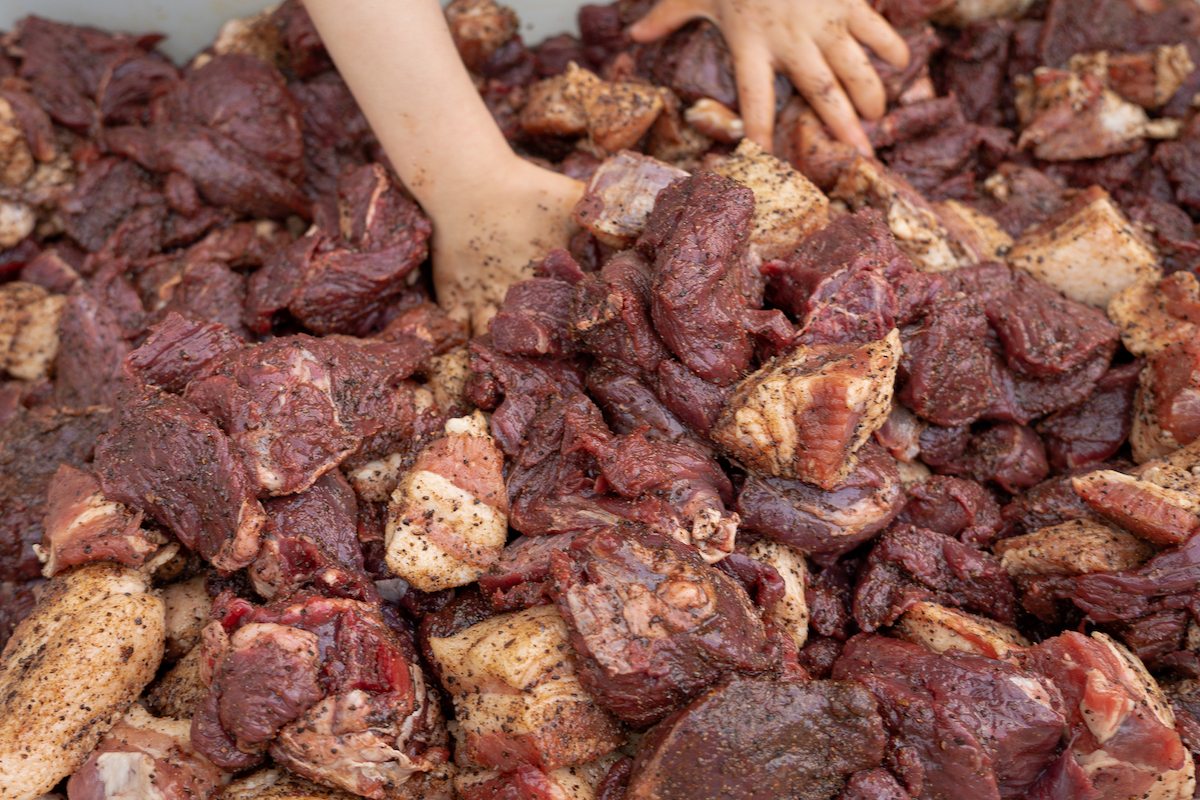 Smart money listens to good guides, so back home a few weeks later, I filleted steaks off the bright-red, 60-pound pile of North American black bear and fired up the grinder.
Bratwurst is a German sausage typically made from pork, or sometimes veal, seasoned with ginger, nutmeg, coriander, or caraway. Some recipes call for cream or eggs, which can give the brats that finished off-white color. Brats are always a fresh link sausage, not dried or cured like an Italian salami. This recipe bends the definition of bratwurst some. I made it with my children, so I opted for the easy button with canned spices that hit the right notes. The only cream added was from the cream ale used instead of water to soften the mixture.
This recipe requires a grinder and a sausage stuffer.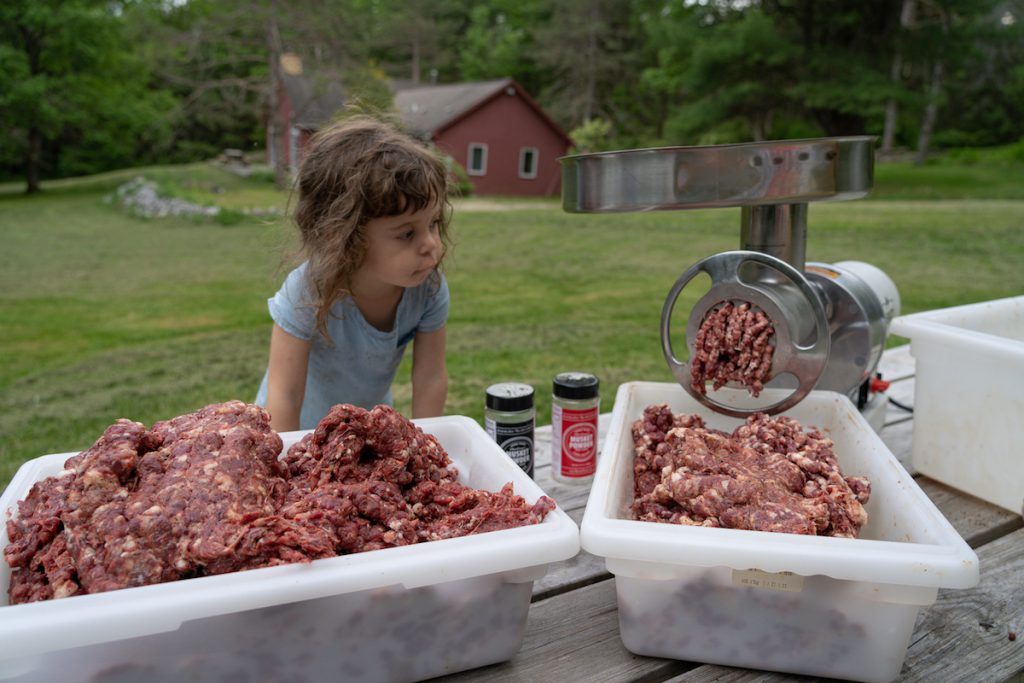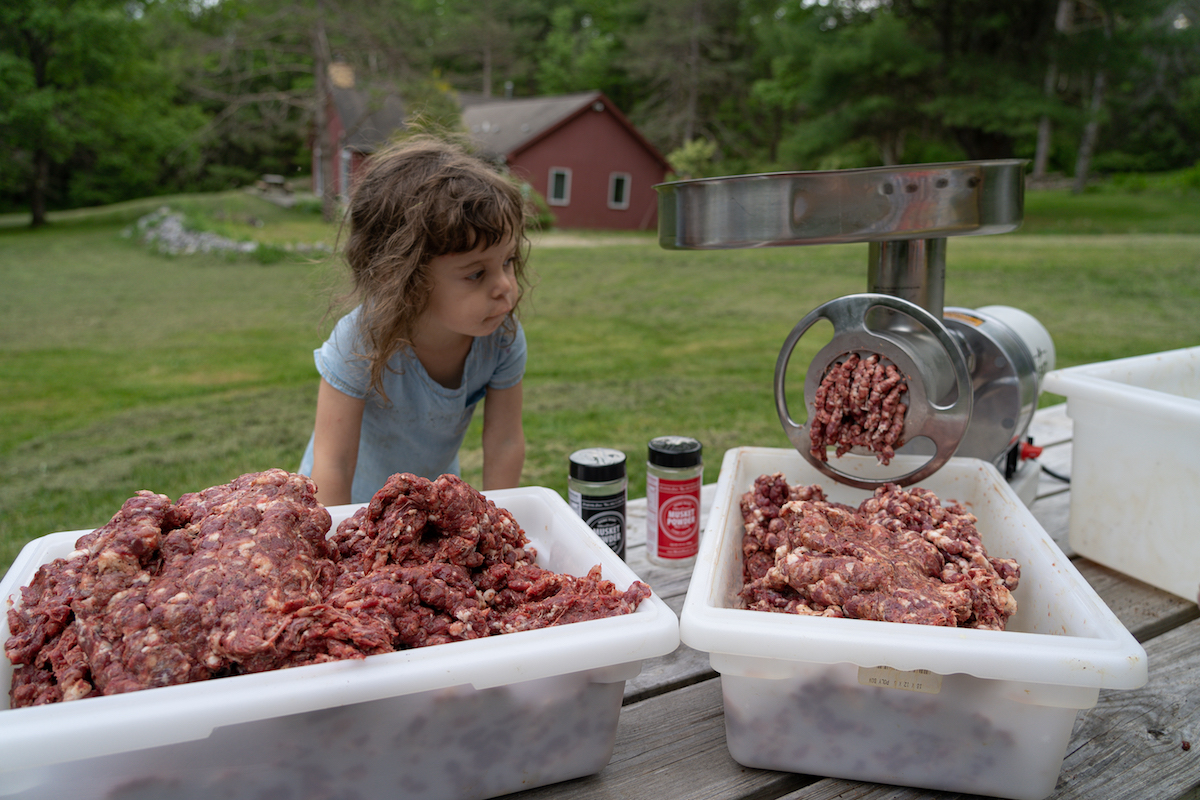 Ingredients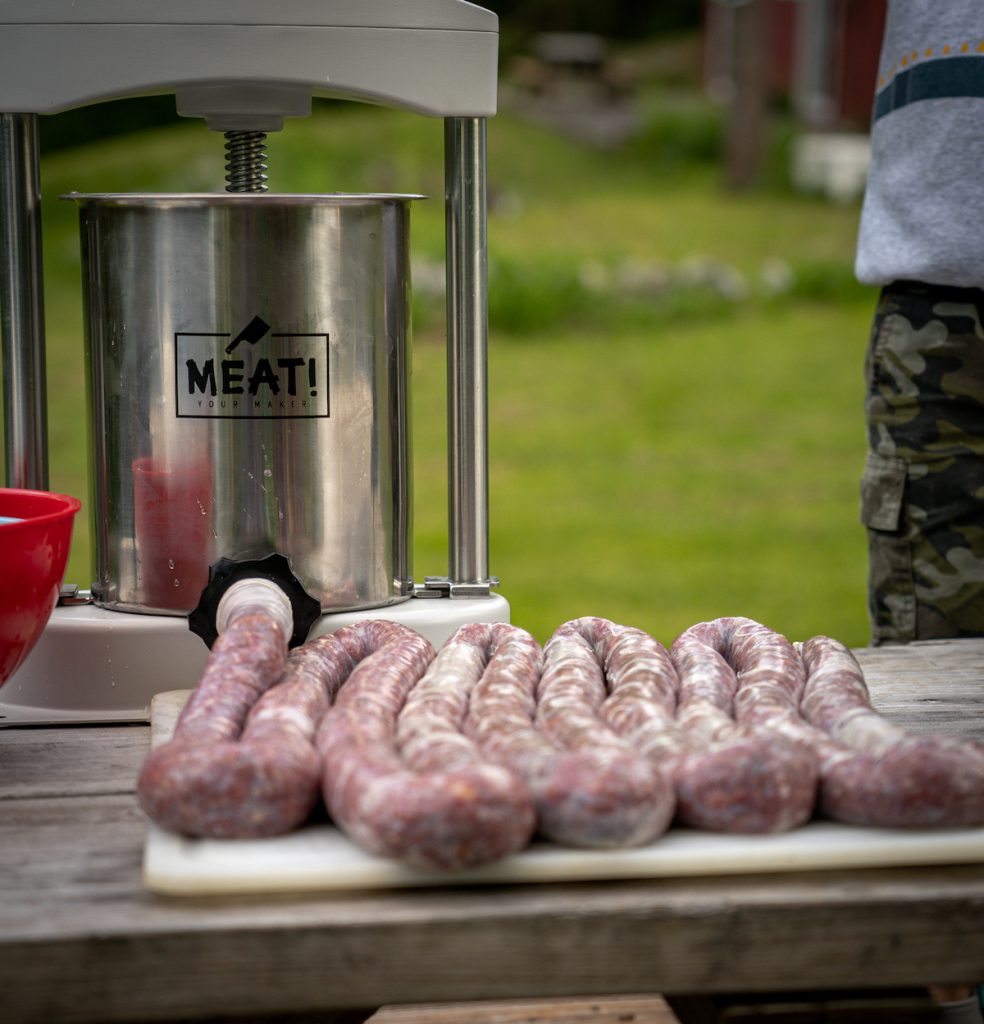 Directions
1. Chunk the bear meat and pork into rough cubes small enough to get through your meat grinder, about 1 inch.
2. In a large tote, mix the bear meat and pork thoroughly, adding in the crushed bay leaves and seasoning. Let this sit in the refrigerator for up to 48 hours. This helps bring out myosin, a type of protein in meat that acts as a binder. Salt activates myosin and makes for a stickier texture that helps hold the finished sausages together.
3. After the meat has a day or two in the fridge, break out the grinder and install a medium-sized plate, such as a No. 10 or No. 12. When grinding, alternate two pieces of game meat for each piece of pork, which helps mix the meat while you grind it.
4. When the whole batch is ground, mix it aggressively by hand or crank, then grind it again with a finer plate, such as a No. 8. The finished consistency should be uniform — but not a mushy texture like hot dogs. Using the correct-sized grind plates prevents overgrinding.
5. Add 1 or 2 bottles of beer or a few cups of water and mix well. The liquid ensures the seasoning really gets into the meat and helps it move more easily through the sausage stuffer.
6. Load the meat into your sausage stuffer. Press it in by hand to eliminate as many air gaps as possible. Most stuffers come with various-sized tubes for the casings. You want to use the one that fits snugly to the diameter of your hog casing but that isn't so tight that the casing will rip under pressure when filled. When everything is set, begin cranking.
7. Linking sausage is an art form. Do it poorly, and they'll come apart when moved. Some do it when the sausage rope is at a finished length of 3 or 6 feet. Others do it as it's coming off the stuffer. The key is to keep the brats uniform in size, so they grill together evenly. After you measure and twist off a good length, fold that first brat back toward the rope and use it to guide the pinched-off length of the others. The best way to figure this all out is to spend a few minutes on YouTube.
8. When the brats are finished, wrap them in butcher paper for the fridge or a vacuum seal for the deep freezer. This recipe makes a ton of brats, but if you kill a bear, you'll have a ton of meat to work with.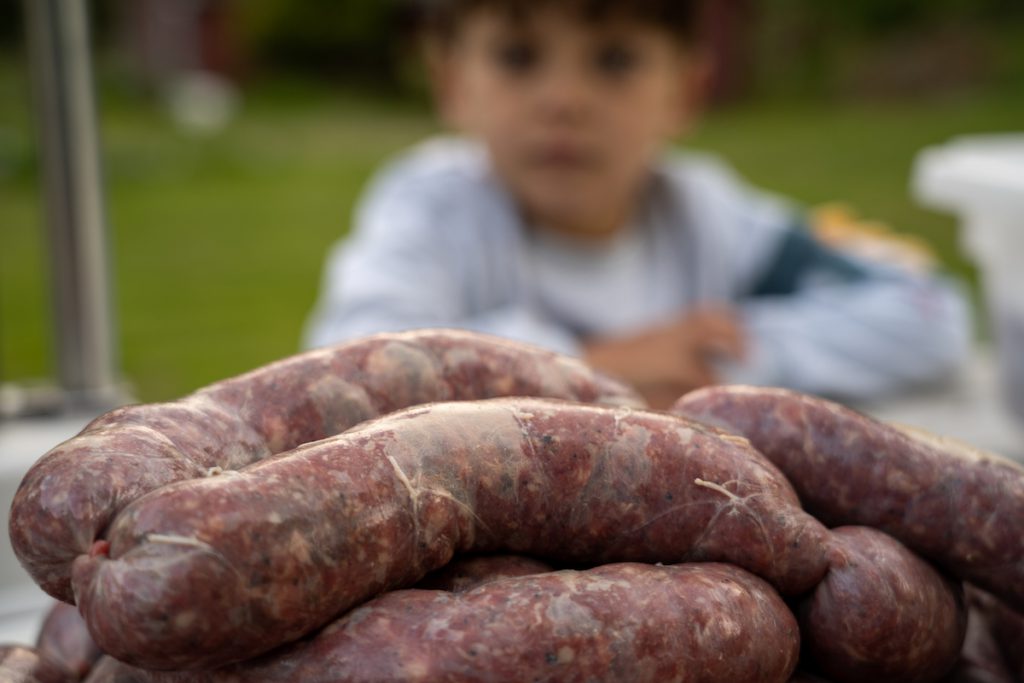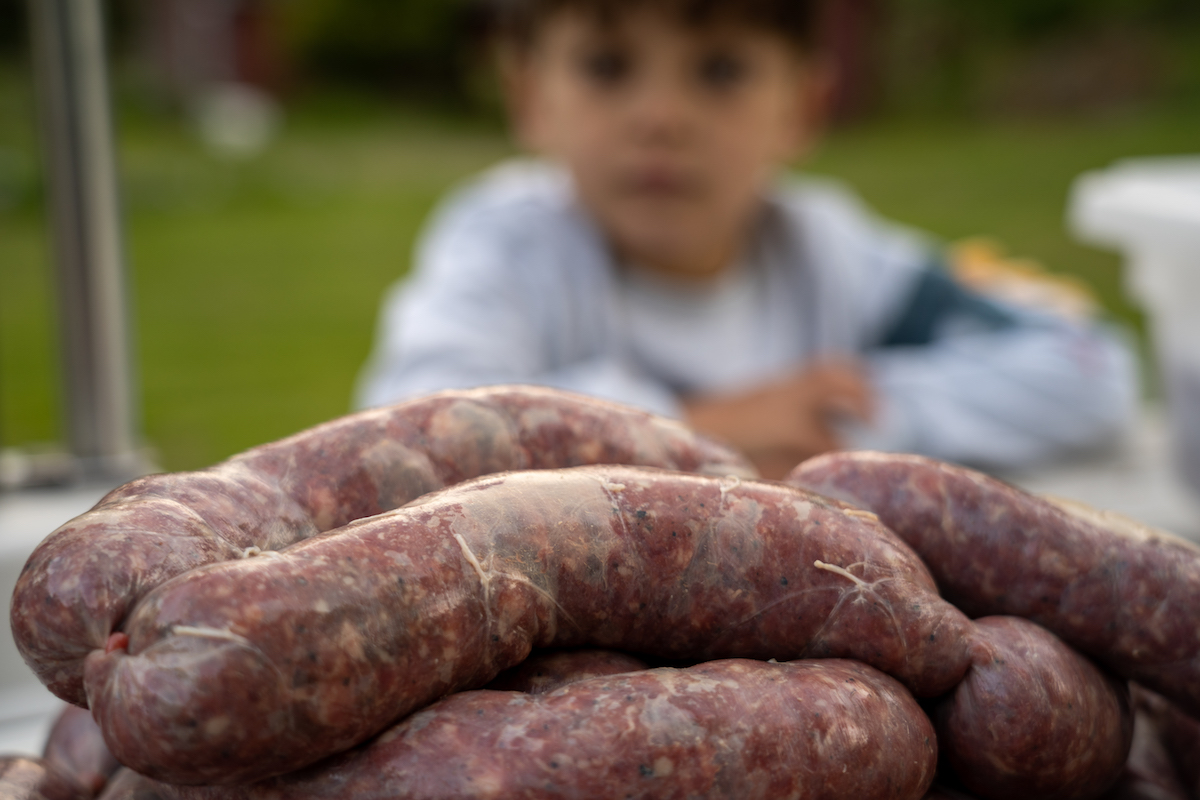 Bear meat is delicious roasted or as steaks, but the seasoning and high pork-fat content of these brats neutralize some of the wild taste, making this recipe an excellent option for apprehensive game eaters.
We've been cooking them up all summer, and my kids can't get enough — always grilled to medium or until the casing gets a golden-brown char. There is also no better way to steal your buddy's thunder than by showing up to his barbecue with bear meat for everyone to try.
They make ho-hum Nathan's hot dogs feel not so famous and have the mystical power to transport you and your friends right back to that mountainside, huddled up against the rain, glassing drainages and hoping for a speck of jet black to poke out through the alders.
Read Next: The Bear: Hunting Ursa Major in the Idaho Wilderness