Two gutsy Indiana duck hunters apparently gave zero fucks about pissing off riverfront dog walkers. In a serious case of thinking outside the typical duck blind, the hunters trolled along the Jeffersonville, Indiana, waterfront and anchored up to snatch a few shots at some downtown waterfowl.
With a population of just over 50,000, Jeffersonville isn't exactly a booming metropolis. It is, however, the county seat of Clark County and lies directly across the Ohio River from Louisville, Kentucky. Jeffersonville also has a variety of restaurants, shops, and public green spaces along the riverfront. However, floating duck blinds are not a normal part of the downtown scene. 
Some residents turned salty over the hunters' blind, decoys, and gunshots, which were first reported at the end of Jeffersonville's Spring Street, a road that runs through the downtown area and ends at the edge of the Ohio River. 
"A gentleman downtown here made a complaint," Jeffersonville City Councilman Bill Burns told WDRB News. "He was out walking his dogs, and he heard the gunshots that went off, and his dogs kind of got scared.
"We obviously don't want to impede their rights to hunt or anything. But we just would like for them to be a little more friendly and not be right in the middle of downtown," Burns said.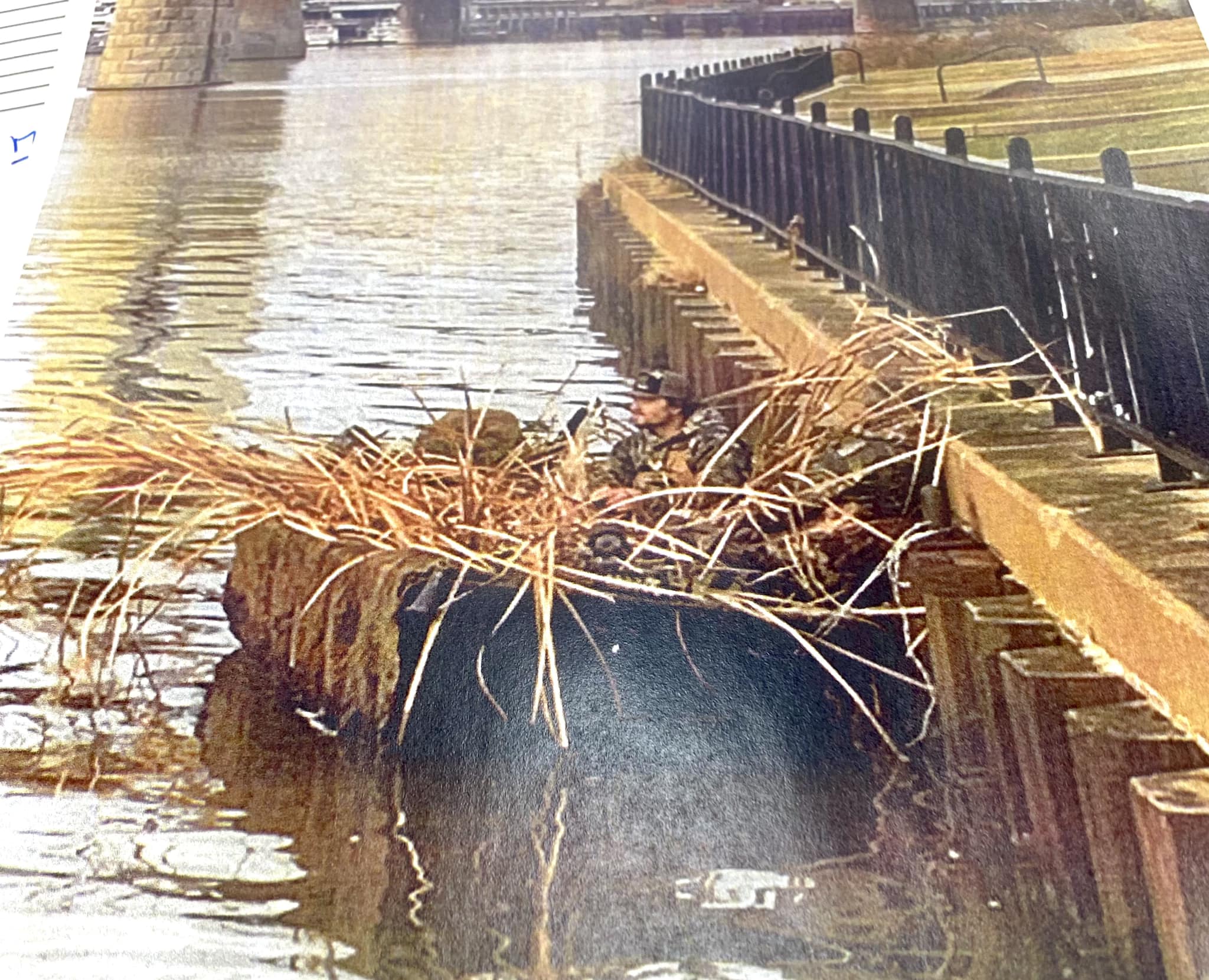 Ford Miles, a resident of Jeffersonville for more than 40 years, spotted the hunters' blind bobbing offshore. 
"I looked out, and I saw something bobbing in the river. I think it was last Sunday," Miles said in the report. "Finally, they turned around, and I saw the motor on the back of it. That's when I realized it was some camouflage boat for hunting."
The floor was opened to public comment on the issue of hunting along the town's waterfront at a Jeffersonville City Council meeting held on Monday, Dec. 5. At least one resident brought up safety concerns since the duck hunters parked their blind near a walking bridge and downtown businesses.
Social media is also abuzz with self-righteous indignation about the indecency of hunting along a built-up and populated waterfront. Critical comments question everything from public safety to the intelligence of the offending duck hunters.
Some comments say being so publicly visible makes hunters look bad. Others are in full support of the duck hunters with brass cojones.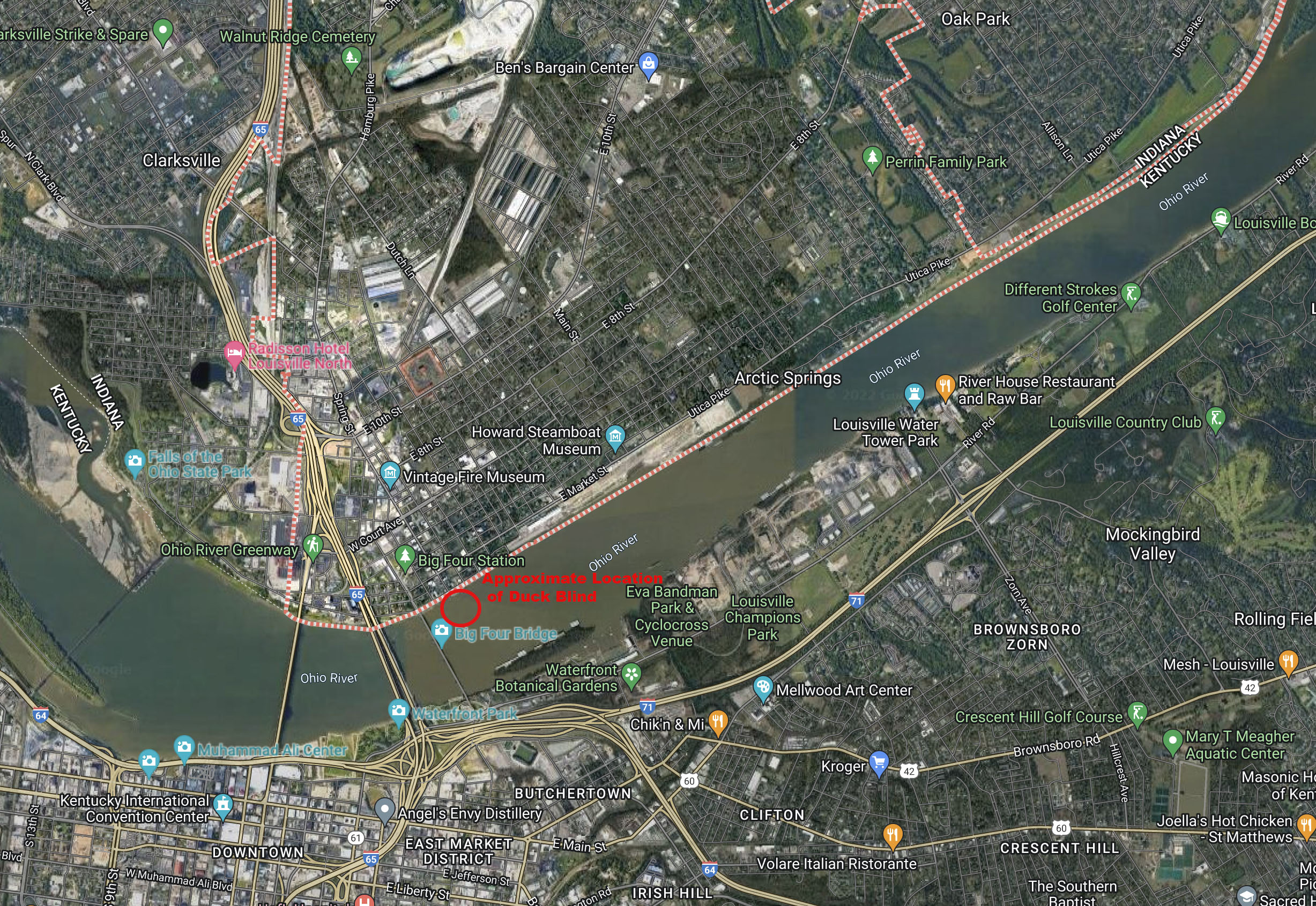 "If they are as responsible as most hunters are, it shouldn't be a problem whatsoever except for people trying to stop someone from enjoying their best life. Not unusual these days," said James Vincent in a Facebook post about the duck hunters. 
Despite public criticism, legally, duck hunters have every right to be on the water near Jeffersonville during duck season.
"Being on the river, you're allowed to hunt as long as it's in season," Bronson Abrams, a conservation officer with Kentucky Fish and Wildlife, told the News and Tribune. 
"The one thing I would say is that, no matter what you're shooting at or if you're a hunter, you're responsible for where your shot goes," Abrams cautioned.
When hunting the main stem of the Ohio River, including along the Jeffersonville waterfront, duck hunters must have a valid Kentucky or Indiana hunting license and appropriate waterfowl stamps.
---
READ NEXT — 6 Simple Steps for Duck Hunting Creeks: Guns, Gear, and Tactics