One-handed operation
Six sewn-in pockets, plus MOLLE webbing for attaching extra accessories
Minimalist straps
Flip-away hood for quick-and-easy access
MSRP: $125 (standard package), $175 (deluxe package)
Kifaru has dropped its new Deluxe Bino Harness for early pre-sale this week before it begins shipping later this summer. Since the company has a hard-earned reputation for designing sturdy, well-built, American-made packs, we're pretty freakin' stoked about it.
Free Range American's Michael Herne got his hands on one of these awesome new harnesses early and ran it through its paces at the Korbin's Archery Glassing Camp, and the harness did not disappoint. 
For a compact bino case, this bad boy is bursting with pockets. The main bag is perfect for stashing expensive glass and features two side-pull cords that adjust to create a glove-like fit no matter what size binoculars you're running. Each Kifaru bino harness also comes with a 1/2-inch foam shim that slips into the bottom of the bucket to adjust the ride depth, so shorter binos don't sit too deep. 
The hood of the main bucket pouch also has a lined spacer, which is a convenient spot to stash a diaphragm call. With the hood flipped down, the front pocket holds most smartphones (or an estrus call, if that's more your style) and provides a handy, hands-free way to grab some video footage of your hunts.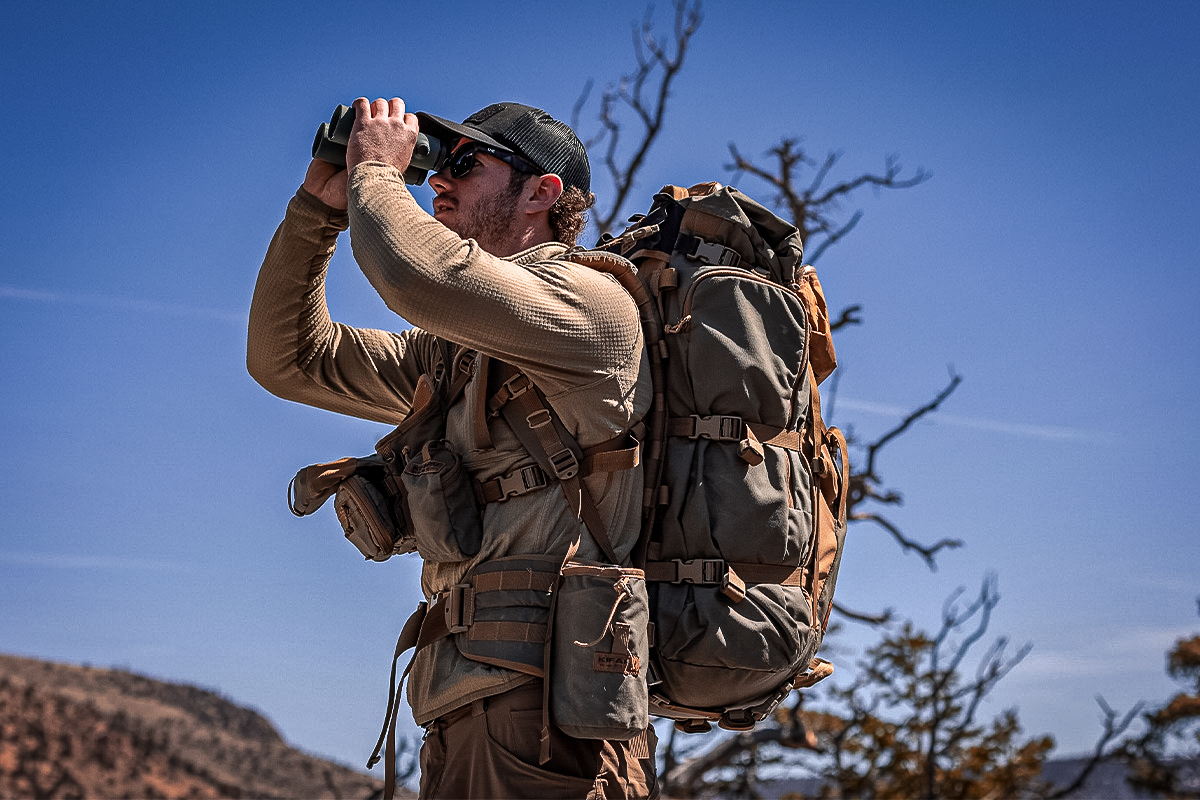 "I like to have my phone in that pouch so I can mark stuff on the map, grab my knockers, put them up and glass, and then go right back to my map," Herne said. "It gives me easy access to everything right here on my chest as I'm sitting on a glassing point."
The back pocket is an ideal spot for stashing flat items like tags, licenses, and paper maps, and the two small pockets in the lid hold extra mouth calls or lip balm.
The Deluxe package also tacks on a handy rangefinder pouch, a nav pouch, and a utility pouch with internal slip pockets perfect for stowing water purification tablets, a backup release, a tin of Copenhagen, or a few extra snacks.
While storage space and organization are great, the straps are where the rubber meets the road for bino harnesses. Crappy, uncomfortable straps are an absolute pain in the. . . shoulders. . . and can turn a hunt miserable in a heartbeat. And Kifaru really came through in the strap department.
"Instead of running a male-female buckle on the top of the shoulders, like a lot of other harnesses, Kifaru decided to run with a friction adapter. I've been running the harness all [through] glassing camp, and I haven't had any issues with it coming loose," Herne said.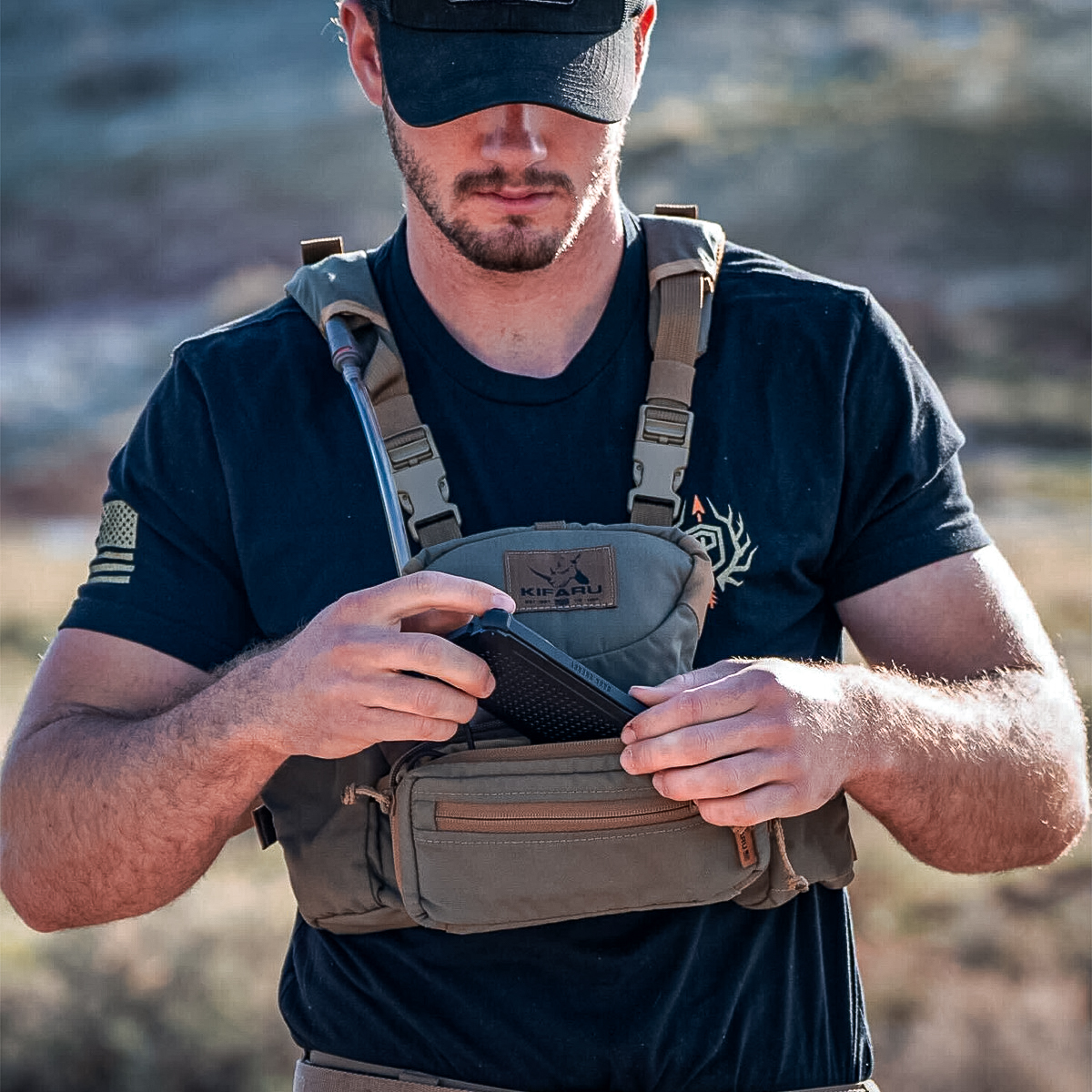 "The back side of the harness is a Rhodesian-rig-style, or an X-harness style. It helps keep the straps off of your neck. It's super comfortable. It's super minimal, so it's not getting in the way if you're wearing a backpack."
While you can't actually get your hands on one of these badass bino harnesses just yet, they are available for preorder. They should ship to buyers in late June or early July, which is plenty early enough for you to add them to your bow season loadout.
RELATED — Rifle Backpack Guide: Buy One That Doesn't Suck
---
Kifaru Deluxe Bino Harness: Features and Specs
Bucket weight: 9.9 ounces (small), 10.5 ounces (medium), 11.8 ounces (large)
Harness weight: 2.6 ounces (regular), 3.1 ounces (large)
Bucket dimensions: 7x6x2.5 inches (small), 8x6x2.75 inches (medium), 8×6.5×3 inches (large)
Adjustable hood
Six pockets (three in the front, one in the back, and two small pockets in the lid)
MOLLE webbing on the front and bottom
Adjustable one-inch Rhodesian-rig style webbing straps
Deluxe package includes bino bucket, bino harness, rangefinder pouch, and accessory pouch
MSRP: $125 (standard package), $175 (deluxe package)
---
READ NEXT — What I Learned After Living in Kifaru's Supertarp for Two Weeks