Choosing a rifle backpack that doesn't suck is no easy task. Why? Because most of them suck! Plenty of thought goes into the design of a backpack. However, few companies seem to put any real thought into adding features that help hunters, soldiers, and recreational shooters carry rifles in, on, or around them.
Not only did we do a little research to come up with a list of rifle backpacks that don't suck, but we also compiled a list of bags that are best for hunting, heading to the range, and traveling.
---
Considerations for Choosing a Rifle Backpack
Choosing a rifle backpack requires careful consideration. There are several factors and features to consider before swiping your credit card.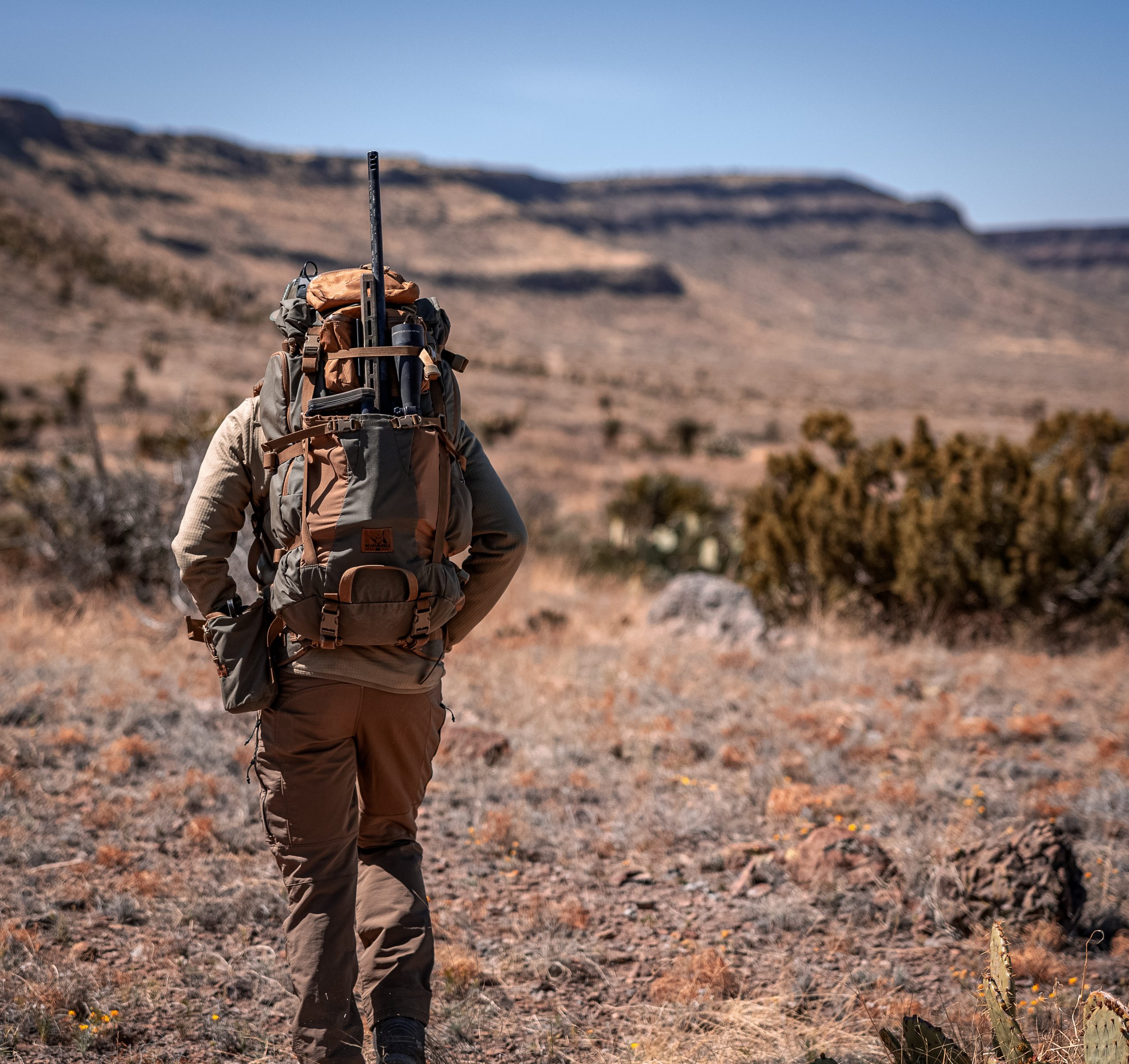 Purpose
Determine the purpose of the rifle backpack. Are you using it for hunting, hiking, camping, or traveling? The intended use will dictate the features and specifications you need.
Rifle Size
A pack that won't fit your rifle isn't going to do you much good. Before you buy, measure the length of your rifle, including any attachments, to ensure that the backpack you choose can accommodate it securely and comfortably.
Some rifle backpacks are designed specifically for certain types of rifles, such as bolt-action rifles or AR-15s, so make sure the backpack is compatible with your rifle.
Capacity
Consider the capacity or storage space of the backpack. Think about what other items you need to carry along with your rifle, such as ammunition, optics, accessories, and personal gear. Choose a backpack with enough storage pockets, compartments, and attachment points to accommodate all your items effectively.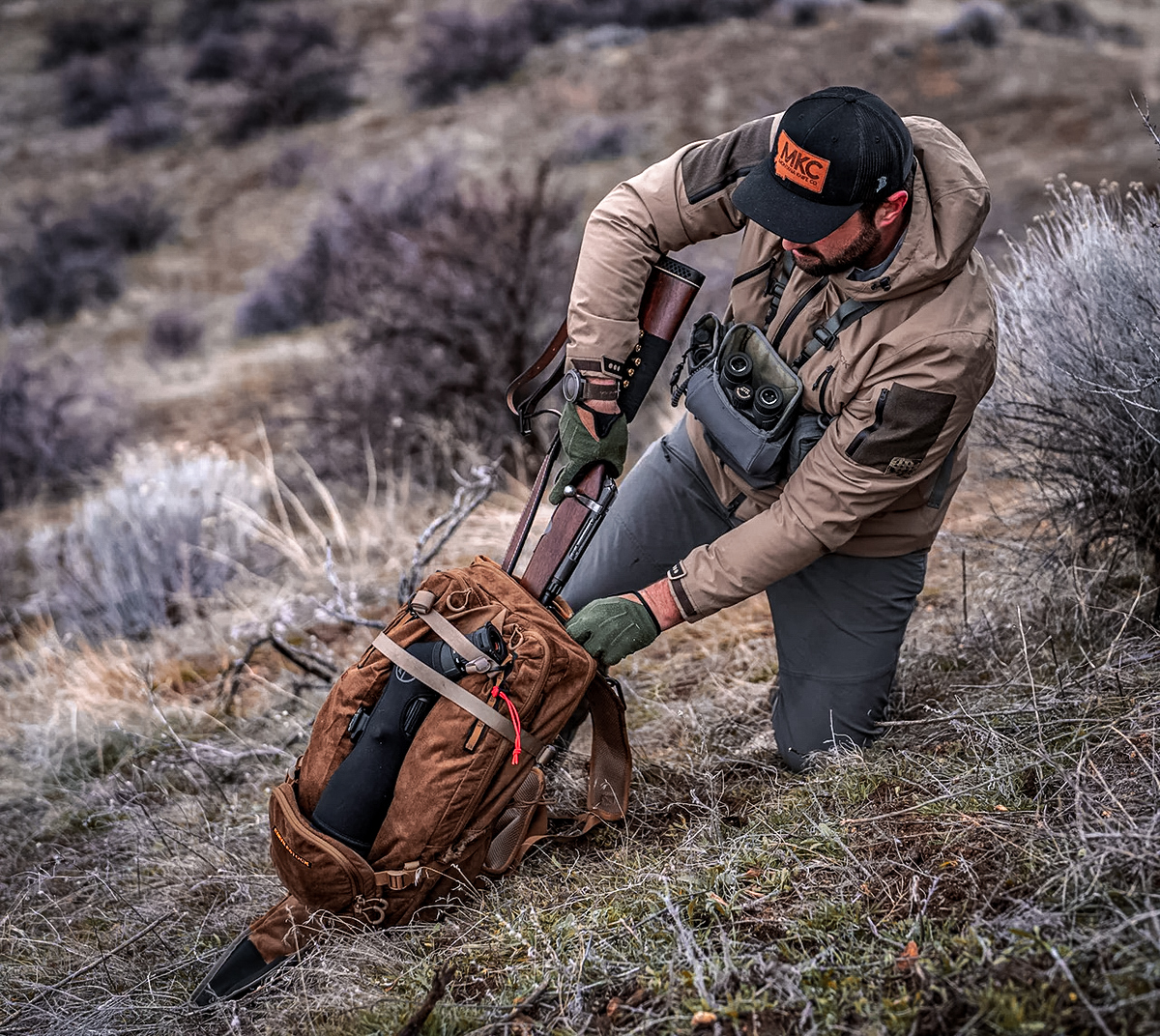 Comfort and Fit
Comfort and fit are crucial factors to consider. Look for a rifle backpack with padded shoulder straps, a waist belt, and a back panel to provide proper support and distribute the weight evenly.
Adjustable straps and harnesses allow you to customize the fit to your body shape for maximum comfort during long hikes.
Material and Durability
Consider the material and durability of the backpack. Look for a backpack made from high-quality, durable materials, such as nylon, Cordura, or polyester, which can withstand tough outdoor conditions and protect your rifle and gear.
Security
Look for a rifle backpack with reliable and secure fasteners, zippers, buckles, and closures to keep your rifle safely in place and prevent accidental loss.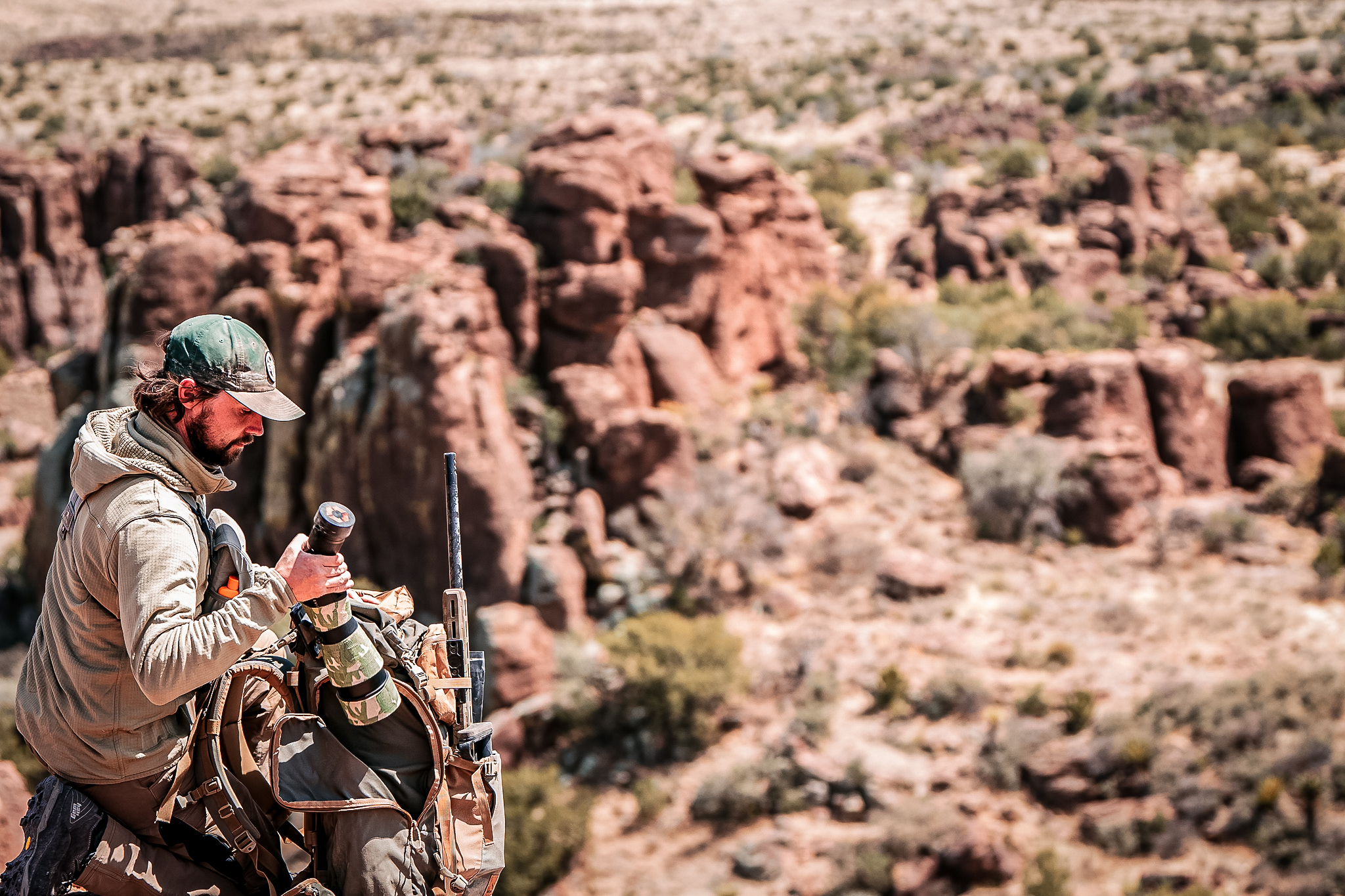 Budget
Set a budget for your rifle backpack and stick to it. While it's essential to invest in a high-quality backpack that meets your needs, be mindful of your budget and choose a backpack that offers the best value for your money. And you don't want to drop a good amount of coin on a back you aren't going to be happy with in the long-term.
READ NEXT – Potential World-Record Lake Trout Caught in Colorado – First Look!
---
Best Rifle Backpack for Backpack Hunting
Kifaru Bedlam
Price: $350 (frame sold separately)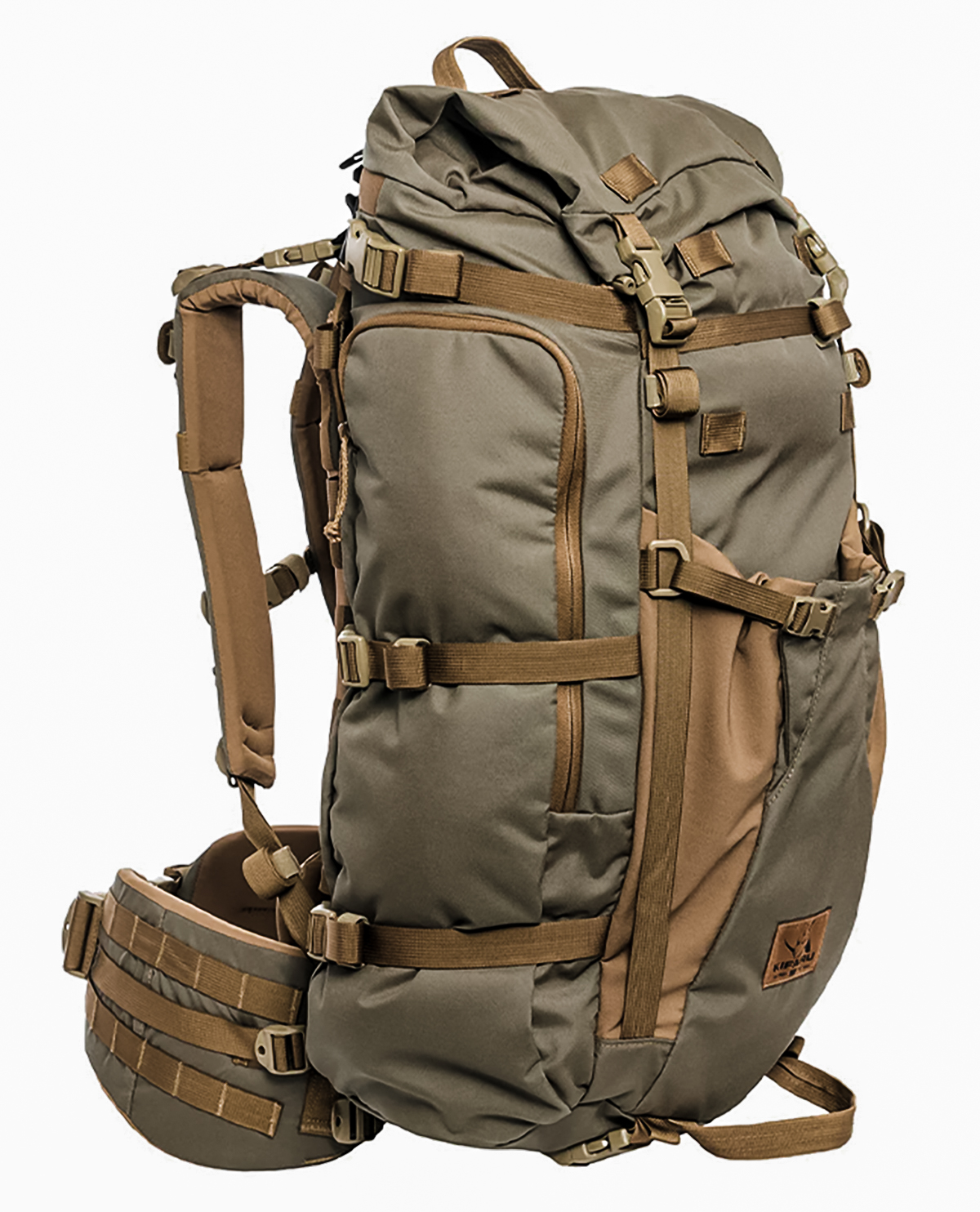 Pros
Two carry options for rifles
Made in the USA
Stretch pockets for more than rifle carry
The main bag has room for plenty of gear
Modularity allows for customization
Cons
Price
Must purchase a frame with the pack
The newly released Kifaru Bedlam is a backpack hunter's ideal choice. So much so that it sold out in under three minutes when it was released. Kifaru claims it's a three- to four- day pack, but a skilled hunter can easily get five to seven days out of this pack by including pouches and a lid. Most of the bag is made from 500d Cordura, which has been tried and tested both in combat gear and backpacks.
The Bedlam has a zippered pocket on its left side. The zippered pocket is great for storing things like spotting scopes. The reinforced four-way stretch Tweave water bottle pocket on the right side isn't just for water bottles. The stock of a rifle fits snugly inside.
Slide the stock of your favorite bolt gun in and secure it using one or two of the three compression straps that run up the side of the bag and you're ready to rock and roll.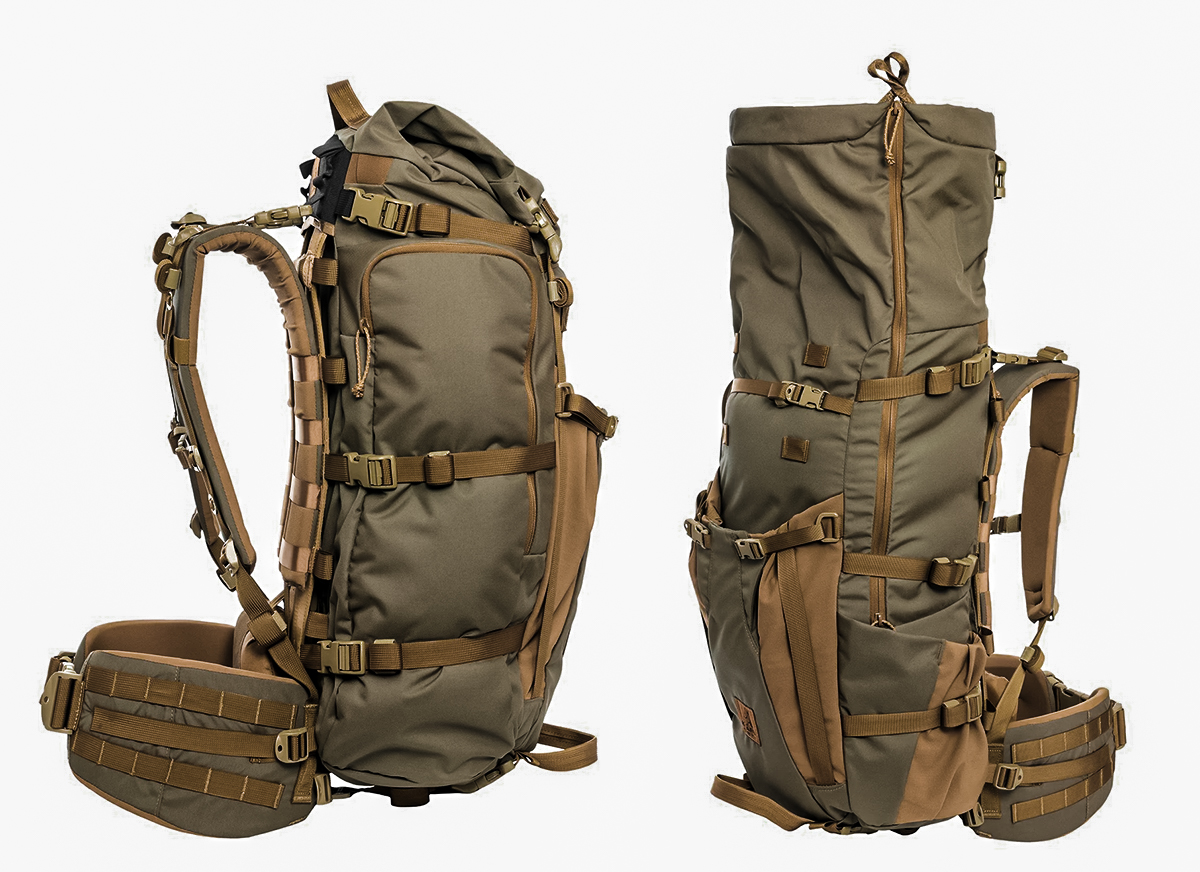 The Hellbender-style pocket on the front of the bag can also support a rifle. This pocket is better suited for a chassis-style rifle with a folding stock, like the Bergara MgLite. The pocket has 3/4-inch webbing compression straps that secure the lower section of your rifle and another 3/4- -inch strap at the top of the pack can be tightened around the optic and barrel to keep your gun secure.
A full zipper on the right side of the pack allows users quick and easy access to the gear inside the main bag. This bag has it all — multiple rifle carry options, an asymmetrical pocket layout for tons of gear storage options, and the ability to add and remove pouches and lids as needed. Kifaru's frame and pack system can handle all the weight you can throw at it, and you can trust it to get your gear in and out of the mountains.
GOOD GEAR – Fuel Your Next PR With BRCC's Fit Fuel Blend
---
Best Rifle Backpack for Heading to the Range
Eberlestock X1A3
Price: $229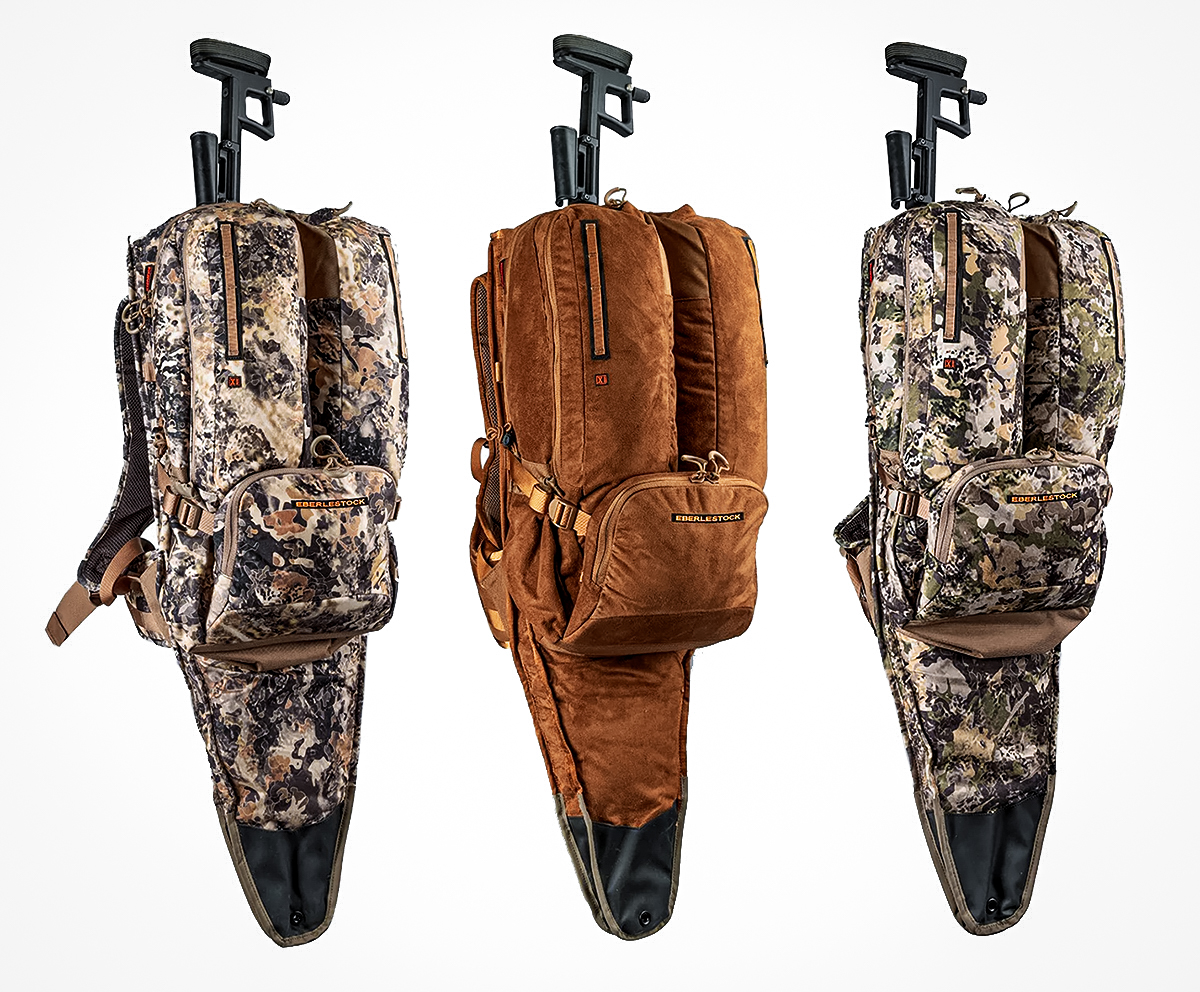 Pros
A rifle scabbard integrated into the pack
Spotting scope pockets
Adjustable shoulder harness
Price
Cons
Not made in America
Can't carry heavy weight comfortably
The X1A3 from Eberlestock is an excellent option for people not looking to carry a ton of gear. This pack makes a great day pack and range pack. The pack features a front zipper pocket for quick and easy access to gear. Two tubular side pockets fit spotting scopes or other range day essentials, and another large storage compartment can fit a few extra layers and other gear.
The pack is made from 210D suede nylon, making it an excellent option for reducing noise. While the material is quiet, it isn't quite as durable as other fabrics.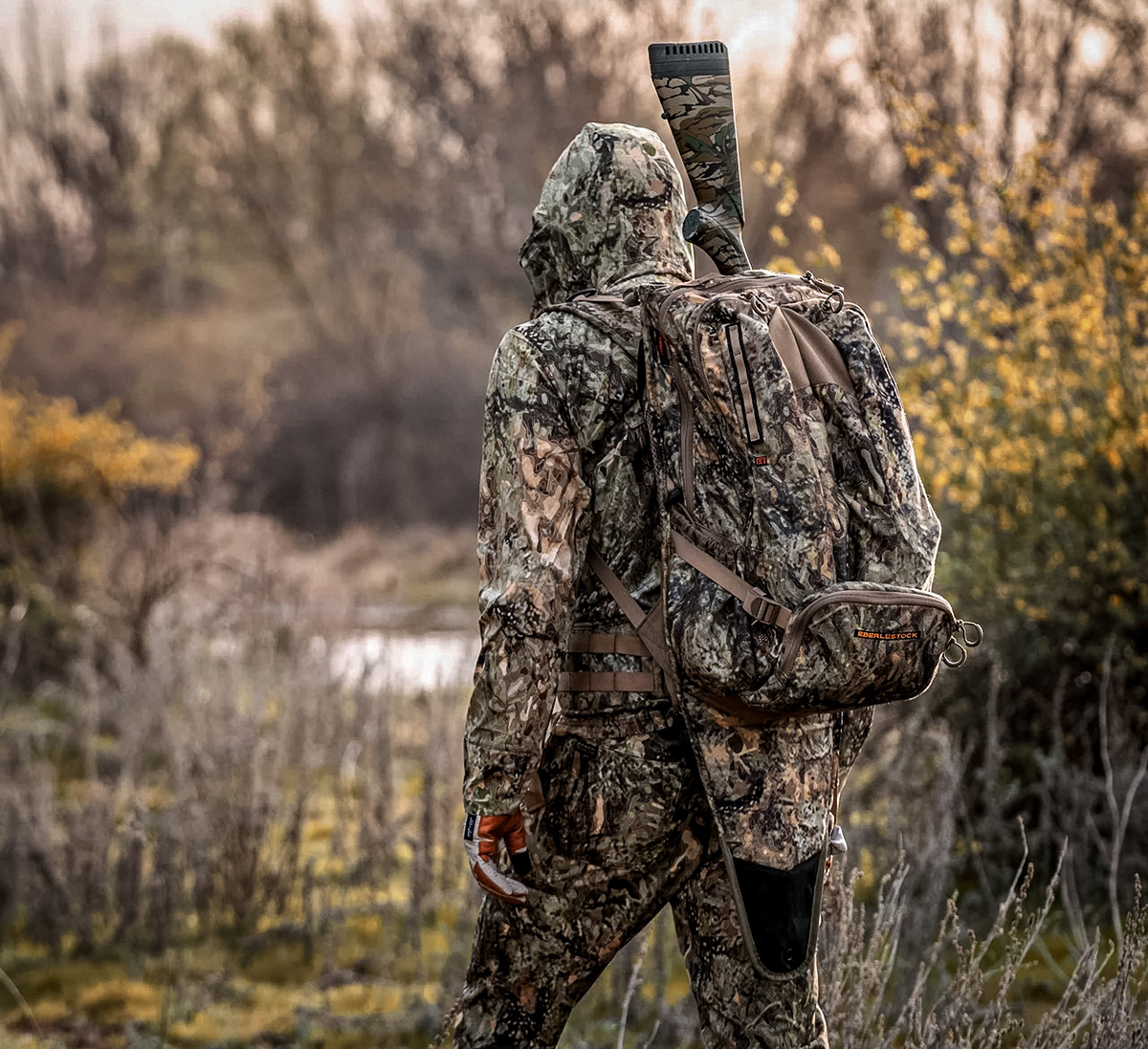 Where this bag really excels is Eberlestock's patented scabbard system. Eberlestock changed the game when they invented their back scabbard system. The system is essentially a rifle scabbard between the frame and the main bag of the pack. The rifle enters the scabbard barrel down, leaving the buttstock protruding from the top of the pack.
Users can also purchase an optional cover to go over the stock for complete rifle coverage while in carry mode. This pack has everything you need for range days and day trips into the timber in search of game.
READ NEXT – Dead Drift: Fly Fishing Apparel You Want To Wear off the Water
---
Best Pack for Travel and Discreet Carry
5.11 LV M4
Price: $130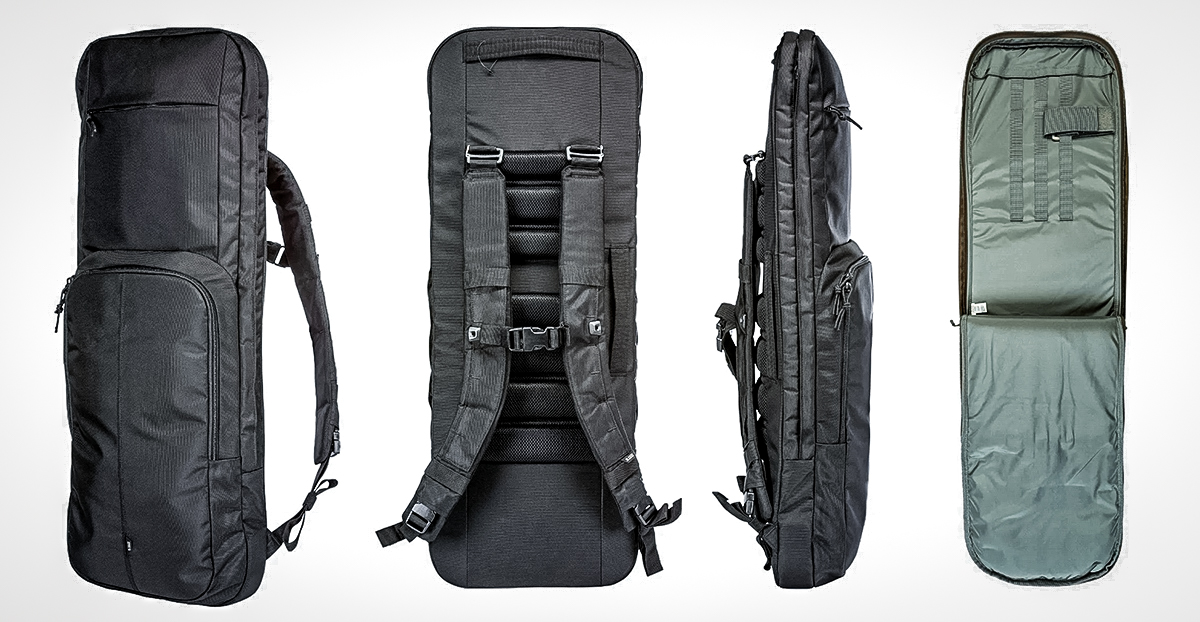 Pros
Low profile for low-vis carry
Internal MOLLE platform with rifle retention strap
Water-resistant 840D nylon
Cons
Can only carry rifles 32 inches or smaller
Not made in the USA
The LV M4 was named bag of SHOT Show in 2019 and for good reason. This pack is a stellar rifle-carry travel bag for those wanting to remain low-vis. The bag even has tuckable logos, so users can hide the famous 5.11 tactical branding.
The LV M4 allows users to choose how they want to carry their rifle. Removable shoulder straps allow for dual carry like a standard backpack, or users can opt for a sling-style pack using the cross-body strap. Top and side grab handles allow users to also carry their rifle like a standard soft gun case.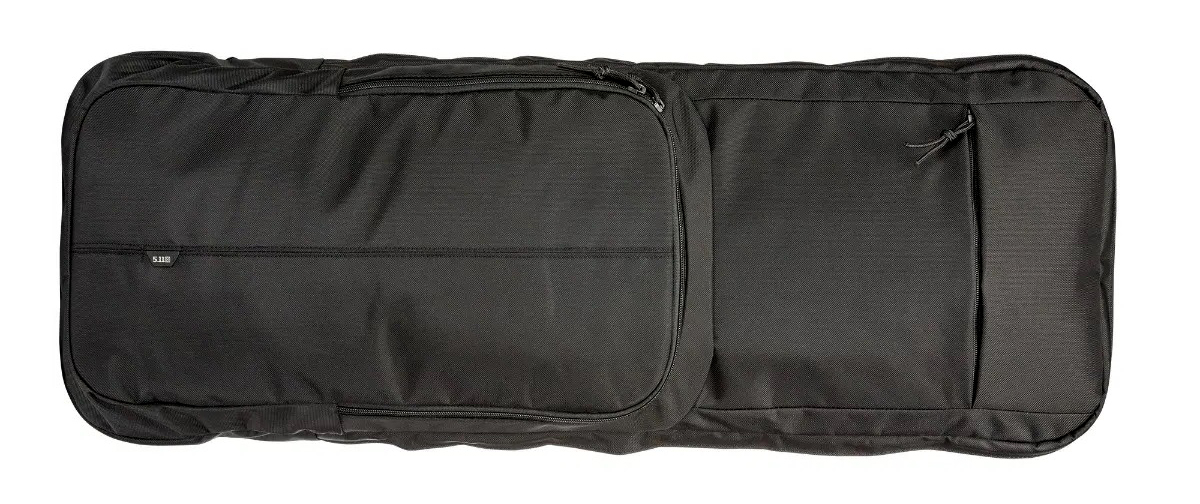 Unlike the other packs in this guide, the LV M4 encloses up to a 32-inch rifle in a fully padded zippered case. MOLLE paneling on the inside of the case allows users to add and remove pouches and straps as needed. The only real downside to this pack is the size limitation on the rifle that fits inside.
This pack is best suited for users carrying AR-15-style rifles or more compact options. It definitely isn't going to fit a standard shotgun or bolt-action rifle.
GOOD GEAR – Embody the Ethos of the Quiet Professional With BRCC's Silencer Smooth Roast
---
Attachments for Hands-Free Rifle Carry with a Pack
For users that don't necessarily need a rifle backpack or want to have their rifle readily accessible, like hunters and military members, here are a few options that make pesky slings obsolete.
---
Kifaru Gun Bearer
Price: $50–$60
The Kifaru Gun Bearer comes in two different models — a Kifaru-specific model and a universal model for any backpack. Both models require users to have and use a waist belt on their pack.
A cradle for the rifle stock is attached to the waist belt, and a quick-release strap is attached to the shoulder strap of the backpack. This allows a user to safely and comfortably carry their rifle hands-free, yet quickly access it using the quick release on the shoulder strap.
Because the rifle attaches at the shoulder strap, it is in between your arm and your body and in front of you, allowing for easy access.
---
Stone Glacier Quick Release Sling
Price: $25
Stone Glacier's Quick Release Sling is designed specifically for their packs. The sling has a similar cradle and upper strap to the Kifaru model but is attached to their pack frame, keeping the rifle behind you.
The only real drawback to this system is it requires a Stone Glacier pack. While we have heard of users pairing the SG Quick Release Sling with other brand packs, we have not tried it and can't confirm its functionality on another bag.
---
READ NEXT – Dead Drift: Fly Fishing Apparel You Want To Wear off the Water