For months, Union Pacific Railroad cars passing through Los Angeles have been repeatedly robbed by thieves who have made off with millions of dollars in merchandise, including TVs, appliances, and clothing. After local officials have, apparently, found no solution since last summer and piles of shredded packaging and boxes have become a common sight along LA rail lines, firearms can now be added to the list of goods stolen in this unprecedented rash of train robberies.
Officials recently revealed 82 newly manufactured firearms were among many items stolen from freight trains near LA in recent months. The haul included at least 36 handguns and 46 semi-automatic shotguns stolen from a container car bound for Tennessee in August, police say. Only four or five of the firearms have reportedly been recovered.
"This is bigger than we thought. They aren't just stealing shoes and stuff. This is an organized crime to the level they are stealing guns," said Capt. German Hurtado, who oversees the LAPD's Hollenbeck Division, where the rail yards are located.
How can train robberies happen so often and so regularly? The train cars that have become easy targets for thieves are essentially unguarded and unmonitored for long stretches of track, much of which is hidden from ready public view. Burglars playing Butch Cassidy can take hours to rob train cars unopposed with little risk of being caught before police are alerted.
The thieves wait until the freight trains stop on the tracks and then cut through the locks with bolt cutters before helping themselves to whatever may be inside. If they find something that can't be flipped or fenced, it's discarded on the side of the tracks; it's that simple.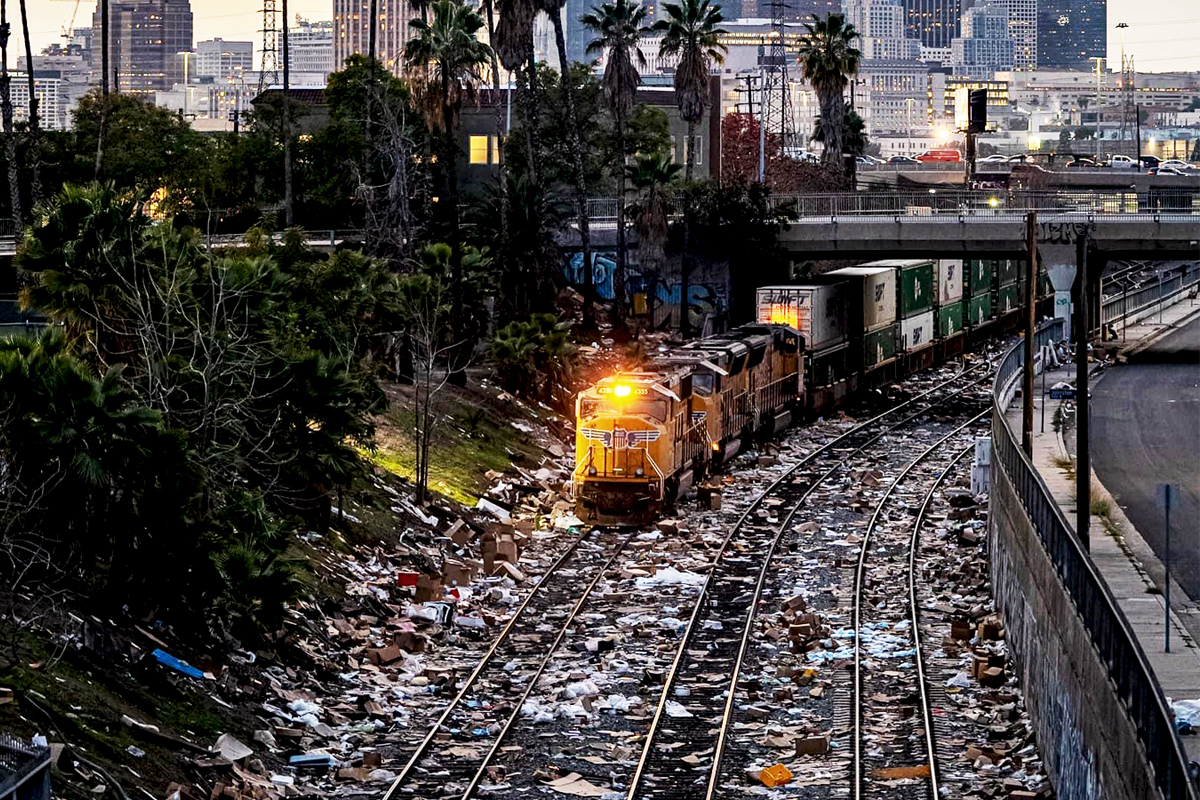 Police say the guns in question were stolen from trains as they passed through the Lincoln Heights neighborhood and that an East LA gang is thought to have orchestrated the thefts. The Los Angeles Times reports investigators are not sure how many other firearms may have been stolen over recent months.

Union Pacific manages nearly 280 miles of track in the county.
"I've got 24 years in LAPD, ex-military, secret clearance, and I have to wait 10 days to get a new firearm, and these guys are going into these containers with no locks and getting guns," Hurtado told the Associated Press. "These guns were unguarded, unprotected […] God knows how many guns have been stolen that way."
Nortoriously anti-gun California Gov. Gavin Newsom did not mention the stolen firearms when he led a cleanup of the rail yard recently after footage and photos of thousands of boxes discarded by thieves along the railway near the city center made national news. The boxes were from major retailers like Amazon and Target, and carriers like UPS and FedEx were shipping them.
RELATED – Gun Sales 2021: 5.4 Million Americans Bought a Firearm for the First Time
Since December, Union Pacific has seen a 160% increase in thefts in Los Angeles County.
"In October 2021 alone, the increase reached 356% compared to October 2020," Union Pacific said in a letter to local authorities.
The train robbers upped their efforts during the weeks before Christmas as freight volumes increased. On average, more than 90 containers were vandalized and robbed every day in LA County in the last quarter of 2021.
Even though law enforcement has been making arrests, it hasn't seemed to have interrupted burglary and grand theft on the railroad.
Last week, police arrested six people, and more than 120 suspects have been arrested under suspicion of breaking into rail cars and stealing merchandise.
Damages from thieves incurred during 2021 are estimated at $5 million, which doesn't include losses to customers.
RELATED – Supreme Court Gun Cases 2022: Concealed Carry in the Spotlight
The Bureau of Alcohol, Tobacco, Firearms, and Explosives (ATF) has not commented on the issue.
"[The stolen guns] are going to end up on the street, and they're going to be used in crimes as an absolute certainty," Scott Sweetow, former ATF special agent in charge, told NBC News in a TV interview. "Once someone is able to break into the train, they can actually look at the labels on these boxes, and they can figure out that it's a firearm. They can literally steal it as easily as they could steal a box of iPads."
Dozens of Union Pacific special agents have been moved to the area, and security cameras and fences have been added along the route. But NBC cameras caught an opened railcar rolling through LA while randomly filming B-roll on Jan. 29.
"Despite the ongoing efforts by Union Pacific Railroad to install some additional security elements, we still have people that are still drawn to this location, simply by greed," said LA Police Chief Michel Moore.
READ NEXT – Gun Owners Required to Buy Liability Insurance Under New San José Law