The second episode of "Fishing the American Dream" rolls into the Great Smoky Mountains, where Oliver Ngy and Austin Neary go big-show with big bait for big largemouth bass.
Ngy has heard stories about trophy bass that haunt lakes in the Smokies and he's finally getting the chance to fish with one of the region's top big-bait/big-bass guys — Austin Neary — to see if the rumors are true.
Neary, owner of Dream Catcher's Fishing tackle shop and guide service is chomping at the bit to get Ngy on some fish.
"This lake specifically," Neary says, "has the North Carolina state record smallie. 10-8. We live in that kind of area where things can get a little freaky…there's a lake that has prehistoric monsters in it, and it's this one right here — Lake [REDACTED]."
As long as 80 years ago, dams were constructed on rivers throughout the Smokies, resulting in huge impoundments that submerged tens of thousands of acres in valleys. An exponential jump in habitat brought a similar jump in fish abundance and size.
According to Neary, lakes in the area are loaded with trout and blueback herring — a significant source of forage for huge largemouth bass.
Figure in pre-spawn conditions, a warming trend, and fish that have been holding in deep water now moving in shallow — both anglers are fired up at their big-bass prospects.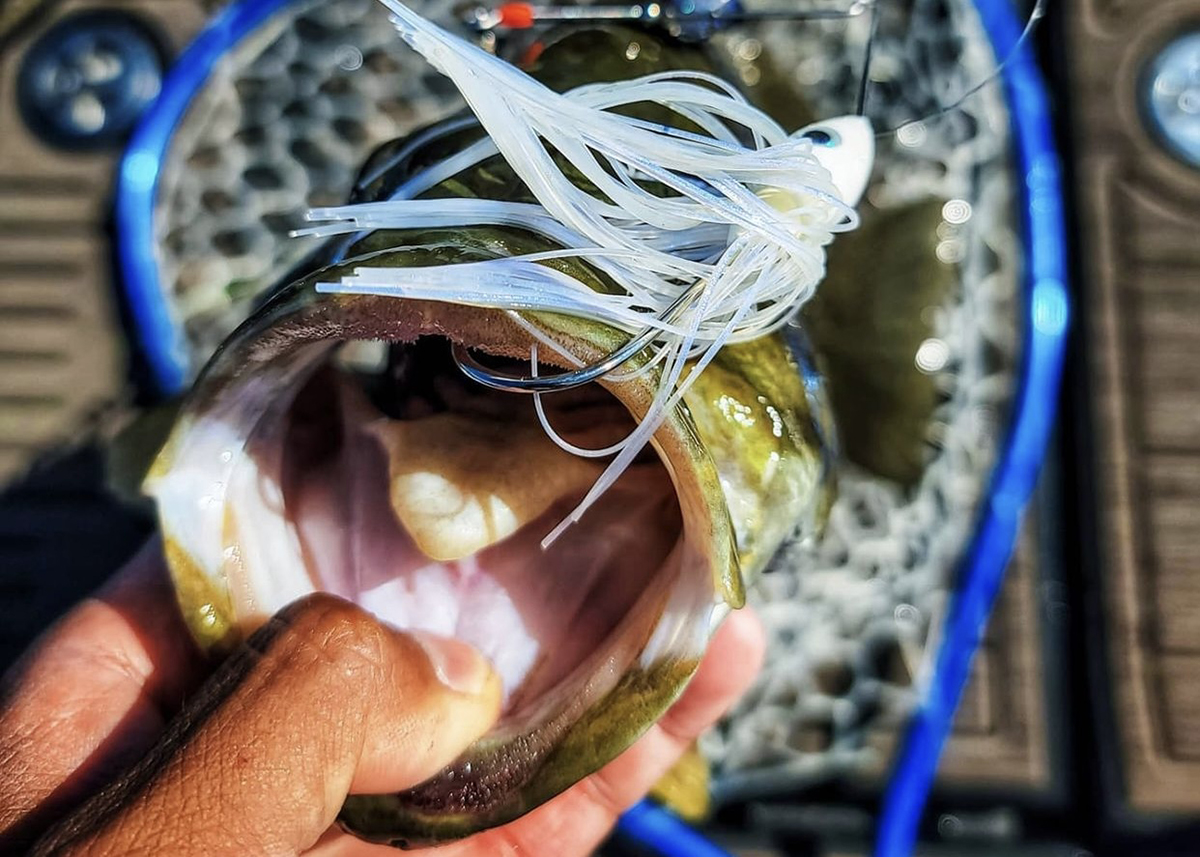 While they work to find the right pattern to unlock the bite, the guys cover as much ground talking as they do covering water — everything from Ngy's favorite tour stops and being committed to big baits to "matching the hatch" and largemouth bass all-you-can-eat filet mignon bars.
It's a run-and-gun kind of day for the guys as they hit spots hard and move on to the next cutback or blowdown. Ultimately, they're following the forage fish as they move.
"That's the thing about a herring lake," Neary says. "They are constantly [on the move]."
When the bite turns on, Ngy and Neary put the wood to a pile of fish — from 12" bass and 10" brown trout hammering a 10" swimbait to some beautiful 4- and 5-pounders that have them wound up like hounds on a scent.
While the true double-digit dinosaurs manage to avoid getting hooked, it's still a solid day. Ngy's first taste of Carolina largemouth bass already has him looking forward to his next visit.
---
READ NEXT – Brown Trout: The American Badass Jekyll and Hyde of Gamefish