As the weather cools, the days shorten, and copious amounts of disgusting candy corn hit the grocery store shelves, it's time to pull out the creepiest stories we can muster. One that makes the rounds every spooky season is the tale of everyone's favorite hellish, flaming-pumpkin-brandishing, decapitated equestrian — The Headless Horseman.
The legend of the beheaded banshee is often considered the first original American ghost story, but tracing the origins of the Headless Horseman legend is a lot more complicated than one might think.
Most Americans are familiar with Headless Horseman lore thanks to Washington Irving's 1820 short story The Legend of Sleepy Hollow and the many animated and film adaptations that have since been made.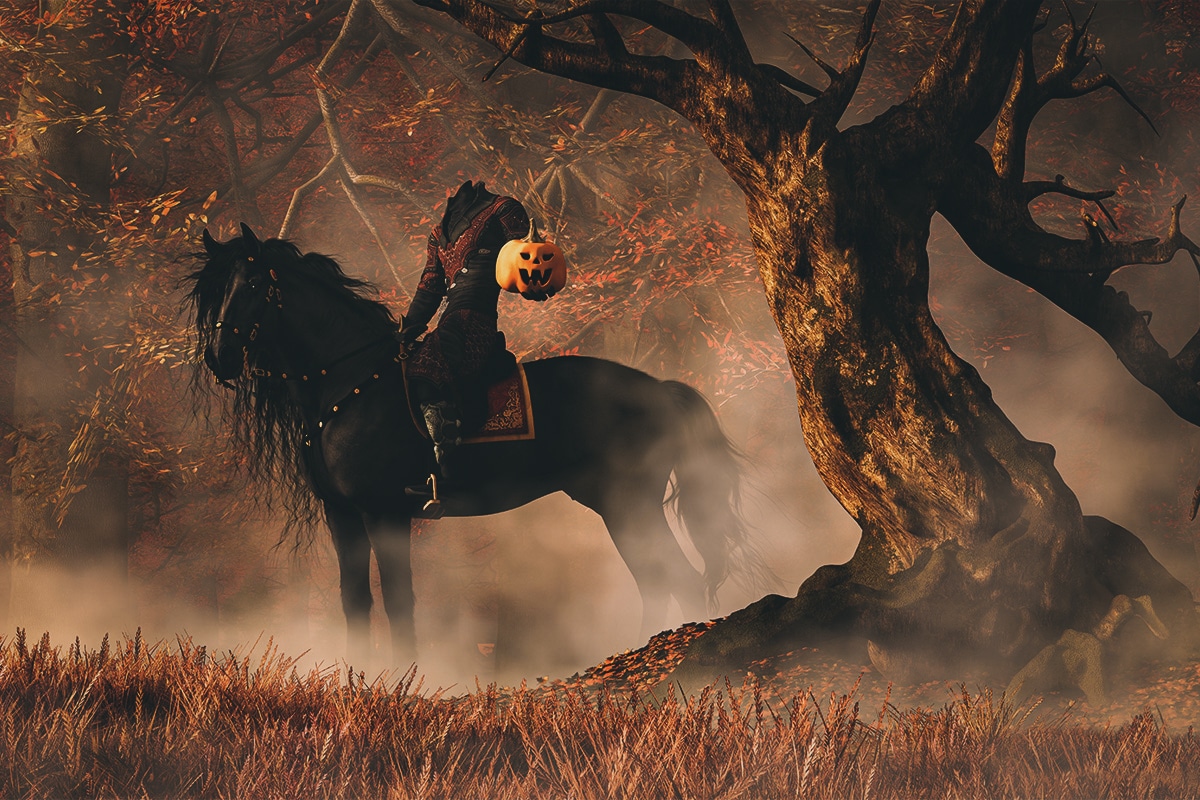 If you didn't fall asleep in high school English, you probably remember the tale of a nerdy beanpole outsider from Connecticut named Ichabod Crane, who arrives in Tarrytown, New York, to be the new schoolmaster. The town is tucked away in the glen of Sleepy Hollow, which already had a dark and spooky history.
Irving describes Crane as "tall, but exceedingly lank, with narrow shoulders, long arms and legs, hands that dangled a mile out of his sleeves, feet that might have served for shovels, and his whole frame most loosely hung together."
In short, this guy seriously needed to hit the gym.
Crane falls for 18-year-old Katrina Van Tassel, a wealthy farmer's daughter, and almost immediately tries to slide into her DMs. However, Katrina has another rustic admirer, Brom Bones. In a 20th-century story, Brom would definitely be the athletic jock who dominated the social scene during his high school glory days.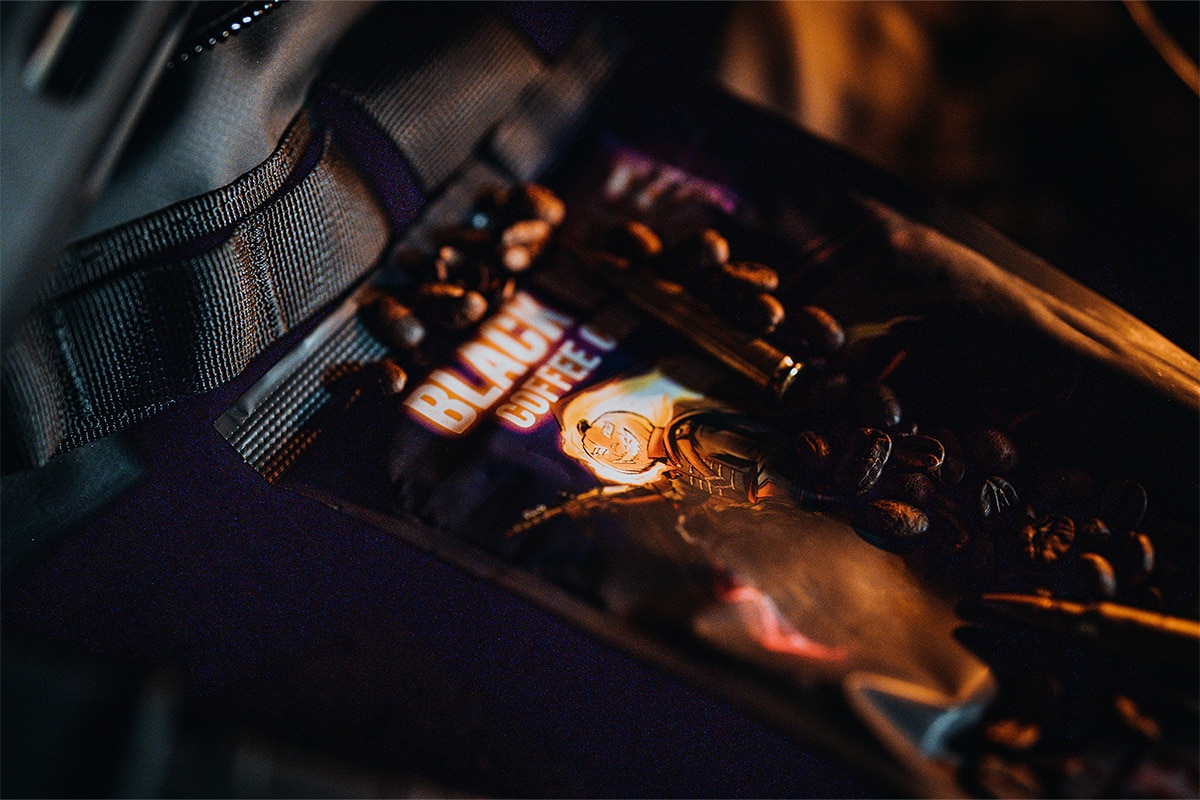 GOOD GEAR – Spartan Kick Your Tastebuds With the BRCC Ready To Drink 300 Vanilla Bomb
To make a short story shorter, Ichabod and Katrina rip up the dance floor one night at a totally bitchin' party, which makes Brom super salty.
The party winds down with some spooky storytelling, including tales of the ghost of a Hessian mercenary who literally lost his head in the area during the Battle of White Plains in October 1776. Ever since the Hessian's head was blown to smithereens by an American cannonball, his pissed-off ghost materializes from his grave each night, complete with a fiery-eyed ghost steed, to search for his missing braincase.
Ichabod is a bit of a jumpy guy. On his ride home, he's chased by a pitch-black steed straddled by what looks like a decapitated Johnny Cash, whose missing noggin is perched on the pommel of his saddle.
Ichabod races his horse, Gunpowder (the horse has a much cooler name than his rider deserves), toward the old church bridge, which the locals have claimed the specter cannot cross, but to no avail. Before Ichabod reaches the bridge, the goblin pitches his severed dome dodgeball-style and pelts Ichabod smack dab in the cranium, knocking him from his horse.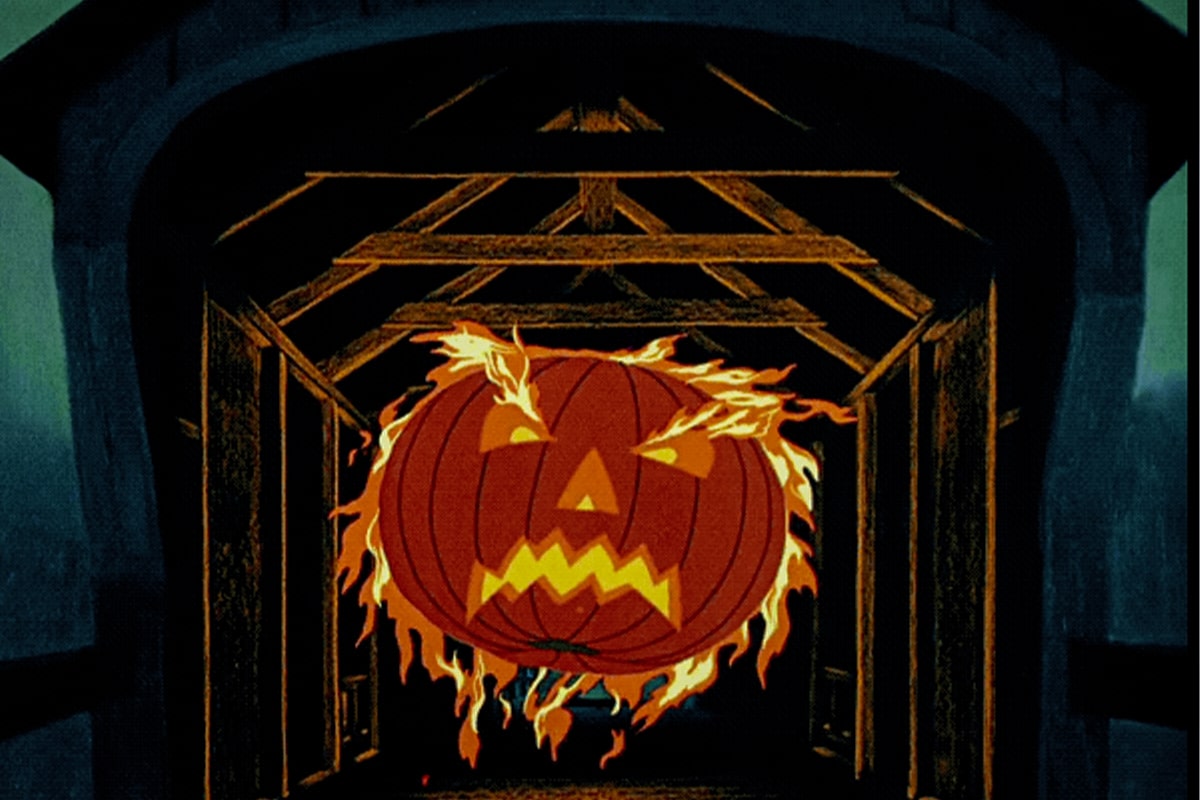 Walt Disney's 1949 retelling of the tale replaces the ghoul's head with a flaming pumpkin, which provides slightly less nightmare fuel for the kiddos. However, the severed head may have been a figment of Ichabod's wild imagination all along. The story hints that it was, in fact, Brom posing as the Horseman with a jack-o'-lantern standing in for the severed head upon his saddle. The Tim Burton film version of the tale Sleepy Hollow (1999) shows Brom doing exactly this — before the real Horseman shows up.
In the traditional story, and in Irving's version, Ichabod is never seen again. The townspeople manage to locate the scene of the scuffle and find Ichabod's hat and a smashed pumpkin.
Brom consequently marries Katrina, and nobody really misses the awkward outsider who they assume was carried away by the "Headless Hessian." Everybody goes on with their lives, although there's some speculation that Ichabod just up and left town motivated by sheer terror and possibly some morning-after embarrassment over his part-time dance moves.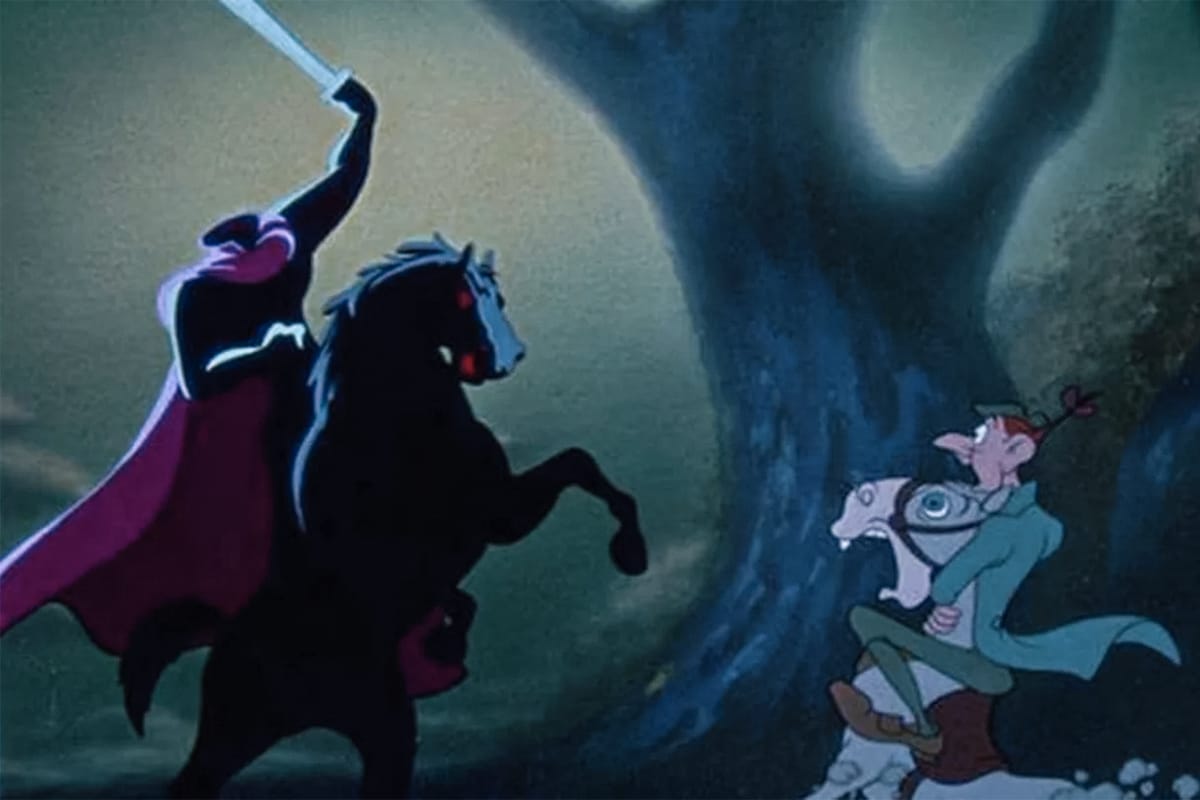 The way it's put in the story, which is quoted wryly in Stephen King's novel, The Dead Zone, was: "As he was a bachelor, and in nobody's debt, nobody troubled his head any more about him, the school was removed to a different quarter of the hollow, and another pedagogue reigned in his stead."
Although the Headless Horseman is often trumpeted as America's first ghost story, the tale borrows heavily from several European storytelling traditions. Traditional folklore is actually swarming with decapitated riders — from Celtic mythology to the collected fairy tales of the Brothers Grimm.
GOOD GEAR – Keep That Freedom Engine Running With the BRCC Freedom Fuel Roast
---
The Irish Headless Horseman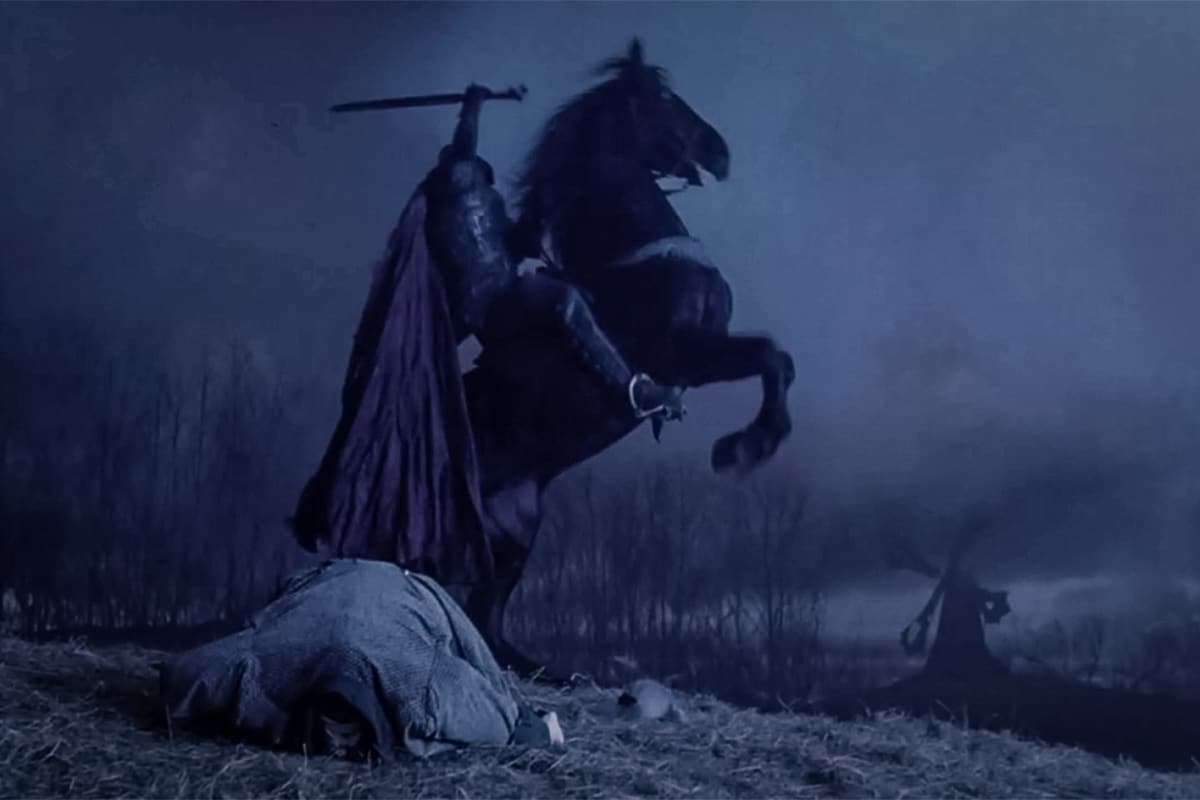 One of the most badass specters to ever haunt the planet, the Dullahan (pronounced DOOL-a-HAN) is a sinister villain of Irish folklore with roots in Celtic mythology. A harbinger of death, the Dullahan may be an adaptation of the Celtic fertility god, Crom Dubh, who demanded blood sacrifice through decapitation.
Although Crom Dubh mostly left Ireland with the spread of Christianity, his influence still lurks in the legend of the Dullahan, a demonic fairy who clasps his own decaying head under one arm and swings a whip made of human spines in the other. If that image isn't already on a heavy metal album cover somewhere, someone needs to get on it.
GOOD GEAR – Be The Stuff Of Legends In The Tacticock T-Shirt
---
Ewen the Headless
Not to be outdone by their Irish neighbors, the Scots have their own spectral headless rider. Although Ewen the Headless isn't flailing whips made of skeletal remains, he is riding a headless steed, which is pretty freakin' metal in its own way.
Ewen is believed to be Eoghan a'Chinn Bhig (which translates ironically to "Ewen of the Little Head"), the only son and heir of old John, fifth chief of the MacIaines of Lochbuie.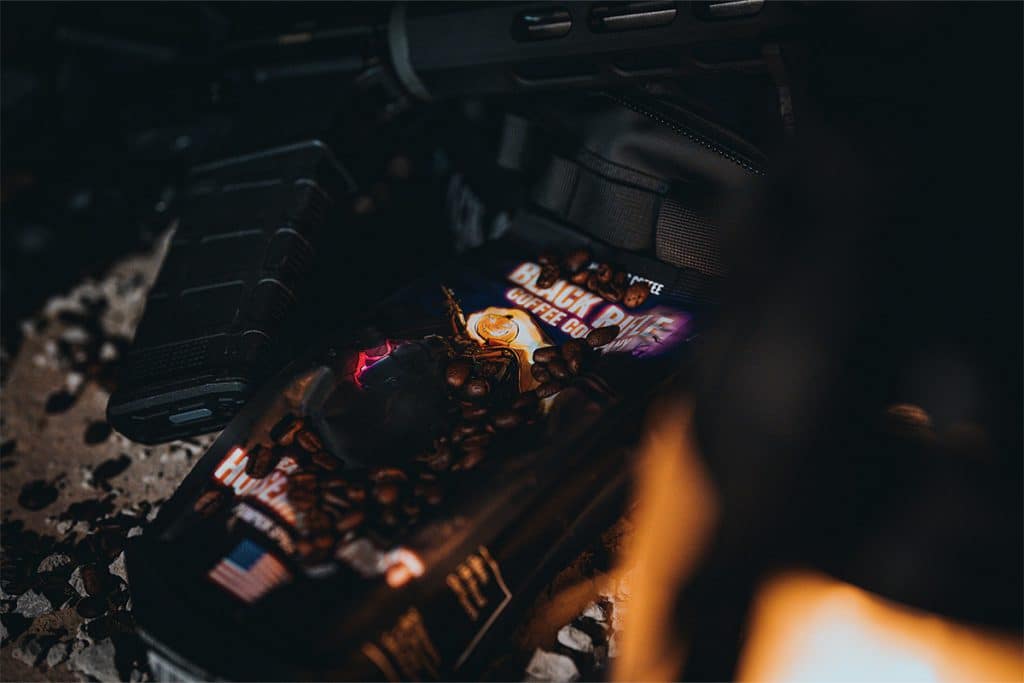 He was urged by his nagging and greedy wife to seek more land from his father. After some pitiful begging and pleading, Dear Old Dad put his foot down.
Ewen threatened to take Pop's real estate by force, but anyone who has seen Braveheart knows the Scots don't give up land without a fight.
Ewen lost his head in the skirmish on the Isle of Mull in 1538. The locals believe he and his nag (the equine nag, not his wife) still haunt the area.
GOOD GEAR – Encounter Sasquatch With the BRCC Tactisquatch Green Mug
---
Headless Horsemen Poetry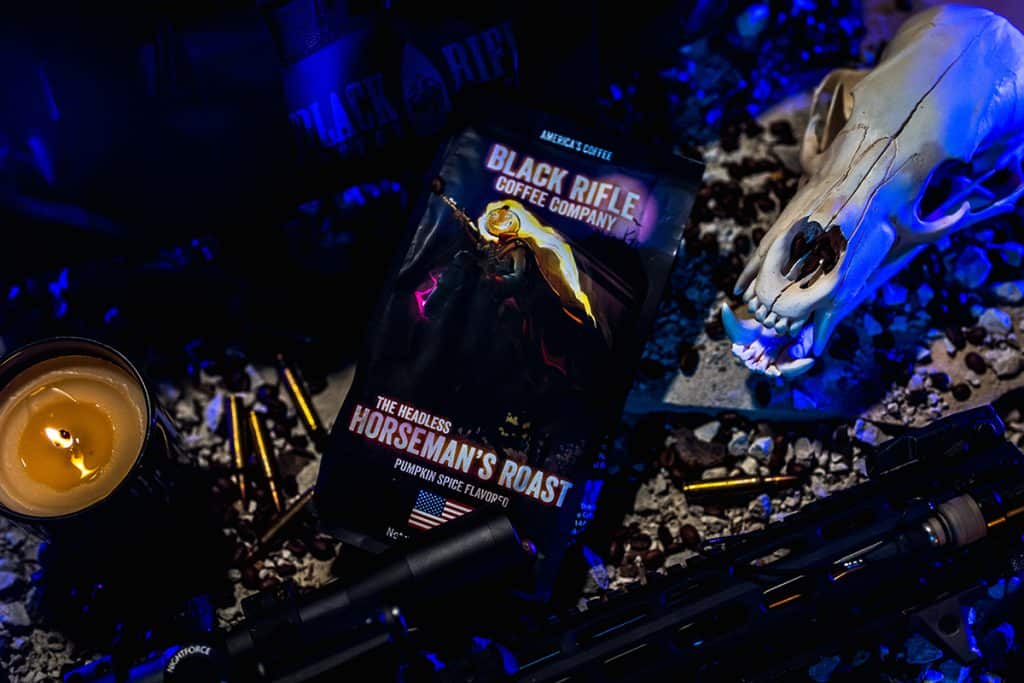 A headless horseman also makes an appearance in the 14th-century British poem Sir Gawain and the Green Knight. The poem survives in one original manuscript and describes how Sir Gawain, a knight of King Arthur's famous round table, accepts a dare from a mysterious "Green Knight" who challenges any daring chevalier to whack him in the head with an ax.
After Gawain hacks off his head, the Green Knight retrieves his severed dome and rides from the hall as his noggin threatens Gawain with a rematch in 366 days.
GOOD GEAR – Make Perfect Coffee When You Need It Most With BRCC's 3-Cup Chemex
---
The Grimm Headless Horsemen
Sleepy Hollow's Headless Hessian isn't the only decapitated German horseback rider. Jacob and Wilhelm Grimm, the famous Brothers Grimm, collected two different folk tales featuring headless hunters, both set in Saxony.
The first is the tale of a woman out gathering acorns when she hears the bugle of a hunting horn. When she turns toward the sound, she sees a headless rider in a long gray coat sitting on a gray horse. Pretty boring as far as headless horseman stories go.
The second is a little wilder. It features a man named Hackelberg, who was so devoted to hunting that he didn't want to go to heaven. Instead, he begged God to let him hunt on Earth until Judgment Day. The Almighty wasn't exactly happy with the hunter's request and probably thought he'd lost his head (insert rimshot here).
God grants Hackelberg's request, and the dude becomes "The Wild Hunstman," roaming Germany on a never-ending hunt with a pack of fiery black hounds, which honestly doesn't sound all that bad, even if he did lose his head in the process.
GOOD GEAR – Enjoy the Perfect Blend Between Salty and Sweet With the BRCC RTD Espresso Salted Caramel
---
The Headless Horseman Legend: A Melting Pot of a Story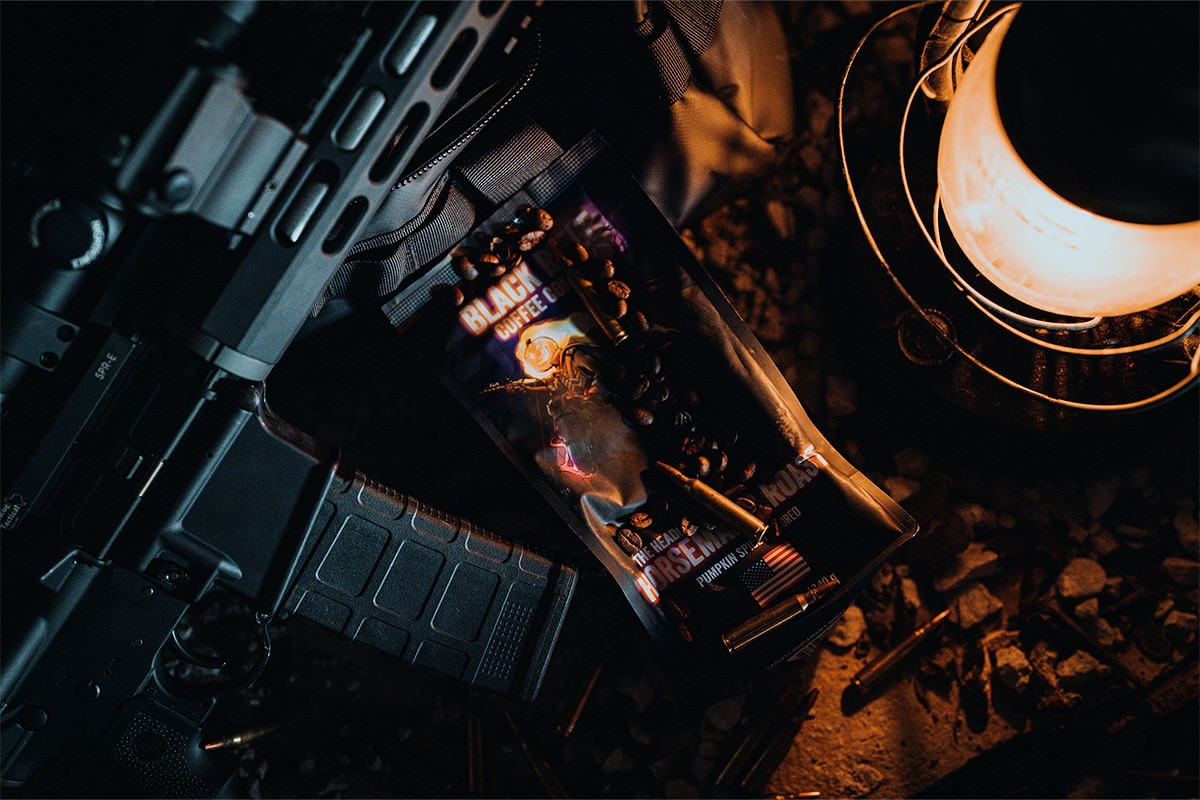 Irving's headless ghoul isn't a complete American original. What he served up is, after all, a stew of European folklore with a heaping helping of true Revolutionary War history. He sprinkles the tale with actual American landmarks and genuine colonial family names and then stirs it all together with his own chilling imagination.
As Elizabeth Bradley, a historian at Historic Hudson Valley, described it, "It's a melting pot of a story, and thus totally American."
"It inspires people because it reminds them that there are still some American mysteries, some half-truths that may never be fully known — and that's the whole point," Bradley said. "The 'Legend' lends itself to any interpretation, and it continues to fascinate and terrify us in the best possible way."
---
READ NEXT – American Monsters: 5 Terrifying, U.S.-made Original Horrors