It took 43 years for the old record to fall, but the Michigan Department of Natural Resources has officially announced a new record king salmon for the state, and for Lake Michigan. The kicker is, the catch was hauled in by a teenage salmon-fishing novice on a family fishing trip with his mom and sister.
Luis Martinez, 19, fought and landed the 47.86-pound, 47 1/2-inch record-breaker near Big Sable Point in northern Lake Michigan on Saturday. The catch unseated a 46.06-pound, 43 1/2-inch fish snagged in 1978, literally and legally, in Kent County's Grand River. Snagging is currently prohibited in Michigan, but was allowed in 1978.
Capt. Bobby Sullivan of Icebreaker Charters said they landed the fish shortly after 7 a.m. following a fight that lasted about 45 minutes. 
"The kid was tired but excited," Sullivan said. "I don't think he really knew what the size of the fish meant. When I got it in the net, I think all my yelling and excitement was enough for everyone."
According to his mother, Maria Lemaster, this was Martinez's first time out for king salmon (aka chinook salmon), even though she invites him on the trip every year. Beginner's luck struck big-time when the fish hit his Moonshine Lures Magnum spoon in Raspberry Carbon and promptly took 350 feet of line.
Sullivan said they were fishing around 60 feet down in 200 feet of water.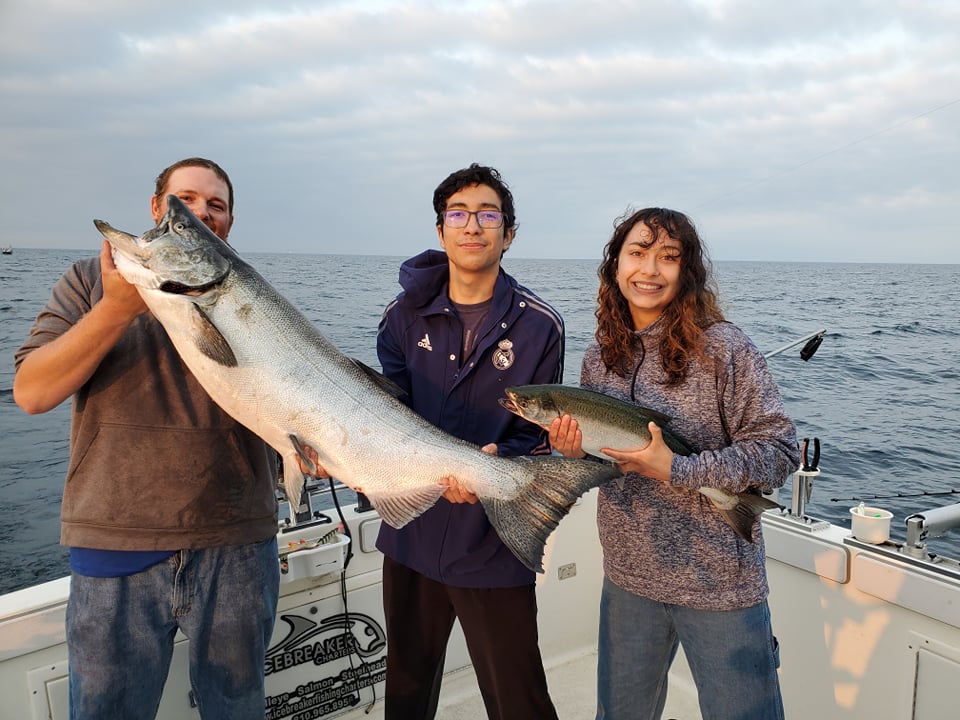 "It took that one big run, and then it turned around," Sullivan said. "The fish got into a couple of boards on the one side, but once we got that untangled, and we got it on board, I just said, 'Oh man, this thing is a giant.'"
The weight of the king salmon was later certified by the Michigan Department of Natural Resources and officially became the new state and Lake Michigan record.
The cherry on top is that Martinez's first-ever salmon is also likely the largest chinook caught in any of the Great Lakes.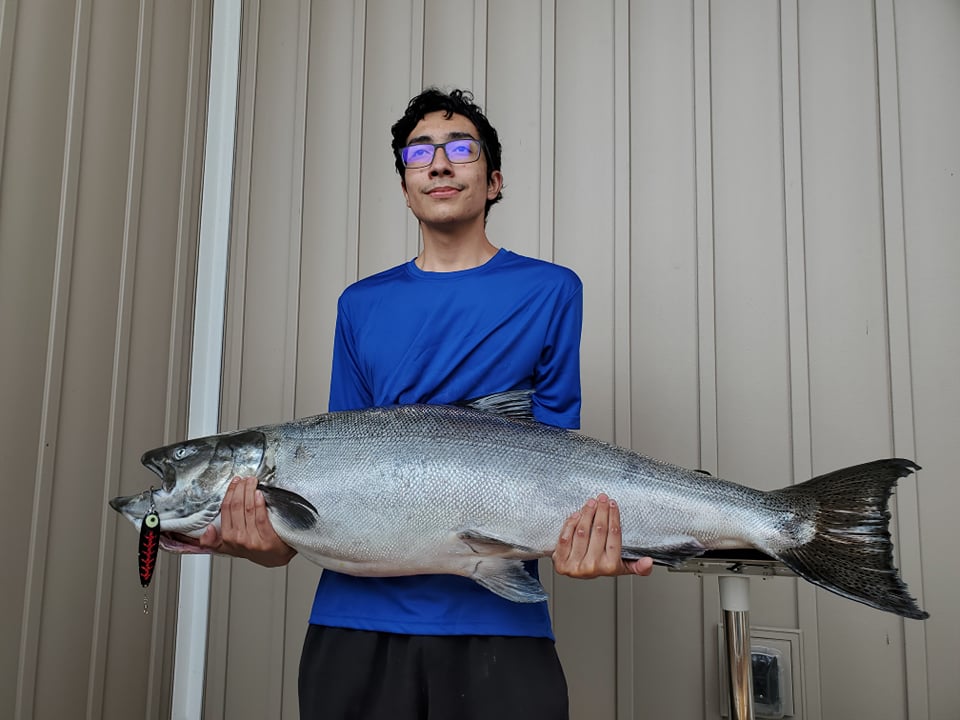 According to the Ontario Federation of Anglers and Hunters, the largest Great Lakes chinook was a 46.38-pound, 47-inch specimen landed near Oakville, Ontario, in Lake Ontario. So, Martinez stands to collect another record for his catch when those books are updated.
Lemaster, an avid angler, said she couldn't be more proud of the newly minted record holder in her family.
"I love fishing. This charter was my husband's Christmas present for me, and it was so special since Luis was there trying to get his first salmon," Lemaster said. "That's why he had the first turn on the rod that morning.
"I just cannot tell you in words what it feels like seeing him shine like this on a first-time experience. It's the best Christmas present ever. But in August."
Read Next: 5 States That Totally Blew it With Their State Fish