Whitetail hunters in the Big Sky Country have received an early Christmas present: the Montana deer season has been extended through Feb. 15, 2022, in several southwestern districts.
This is good news for hunters who ate tag soup during the regular season, and those who still have more room in their freezer, but Montana Fish, Wildlife, and Parks (FWP) has pushed back the end of the season for serious wildlife management reasons.
"The primary goal of this hunt is to reduce white-tailed deer density to slow the spread of CWD among whitetails and reduce the probability of spread to mule deer, elk, and moose," according to an FWP statement. "FWP also hopes to increase understanding of CWD distribution and prevalence through continued testing of hunter-harvested deer."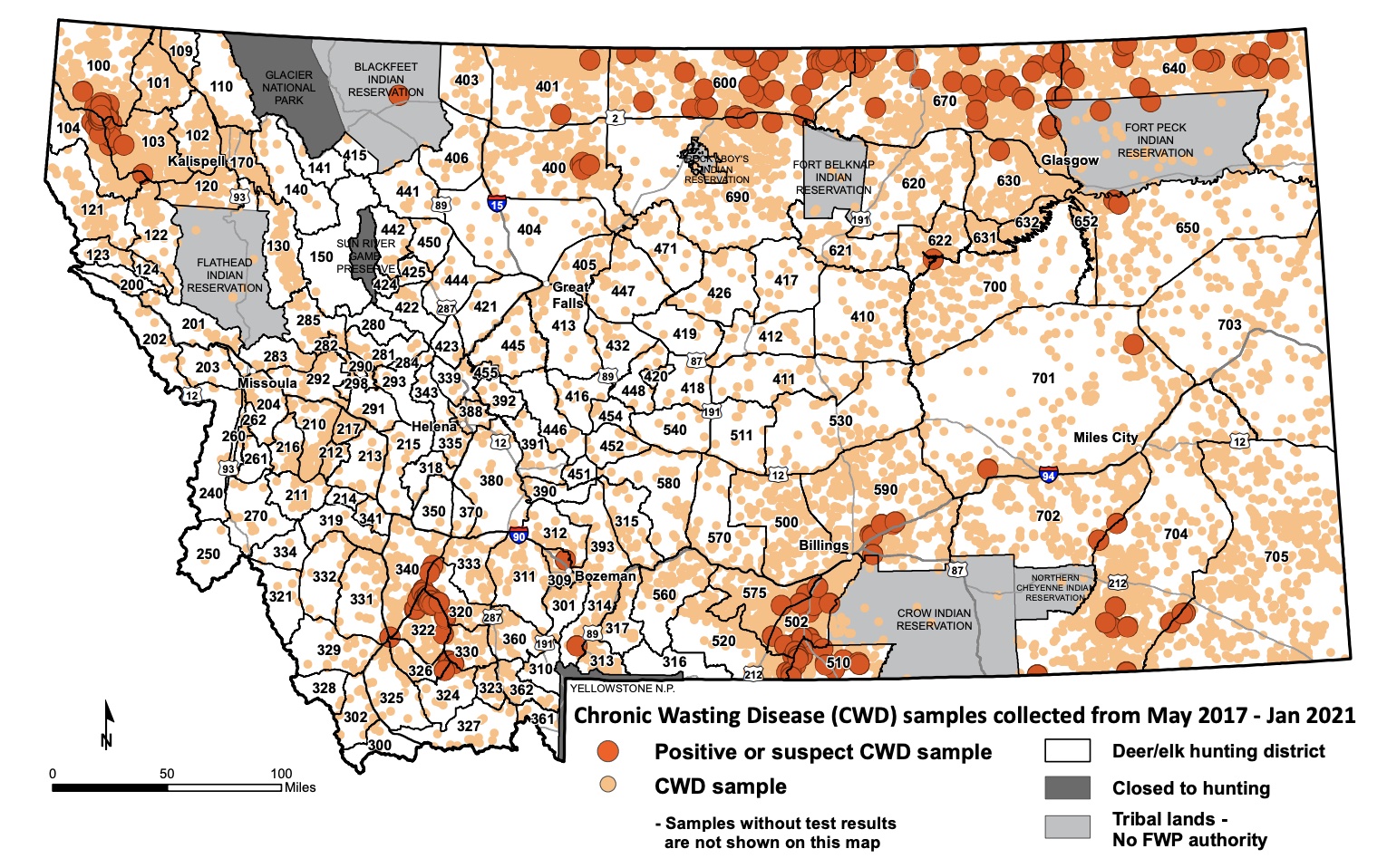 While the disease has been found across the state, districts within the CWD management hunting area are all located within Region 3 on both public and private land.
In Montana, hunters who have an unfilled 2021 general deer license, "003-00 white-tailed deer B" license, "white-tailed deer B" licenses from any other hunting district, or "399-00 white-tailed deer B" license are eligible to hunt under the extension. The 399-00 license will remain available for purchase throughout the hunt with a limit of five per hunter.
All licenses, including B licenses, are good for either-sex deer.
CWD was first detected in Montana's wild herds in 2017. The first whitetail deer with CWD was found in the Ruby River Valley in Southwest Montana in 2019.
The Ruby River Valley population is contiguous with other whitetails and moose throughout the Jefferson, Beaverhead, and Big Hole valleys. They are also seasonally connected to populations of elk, moose, and mule deer.
The proximity to Idaho has the Gem State keeping a close eye on their own herds.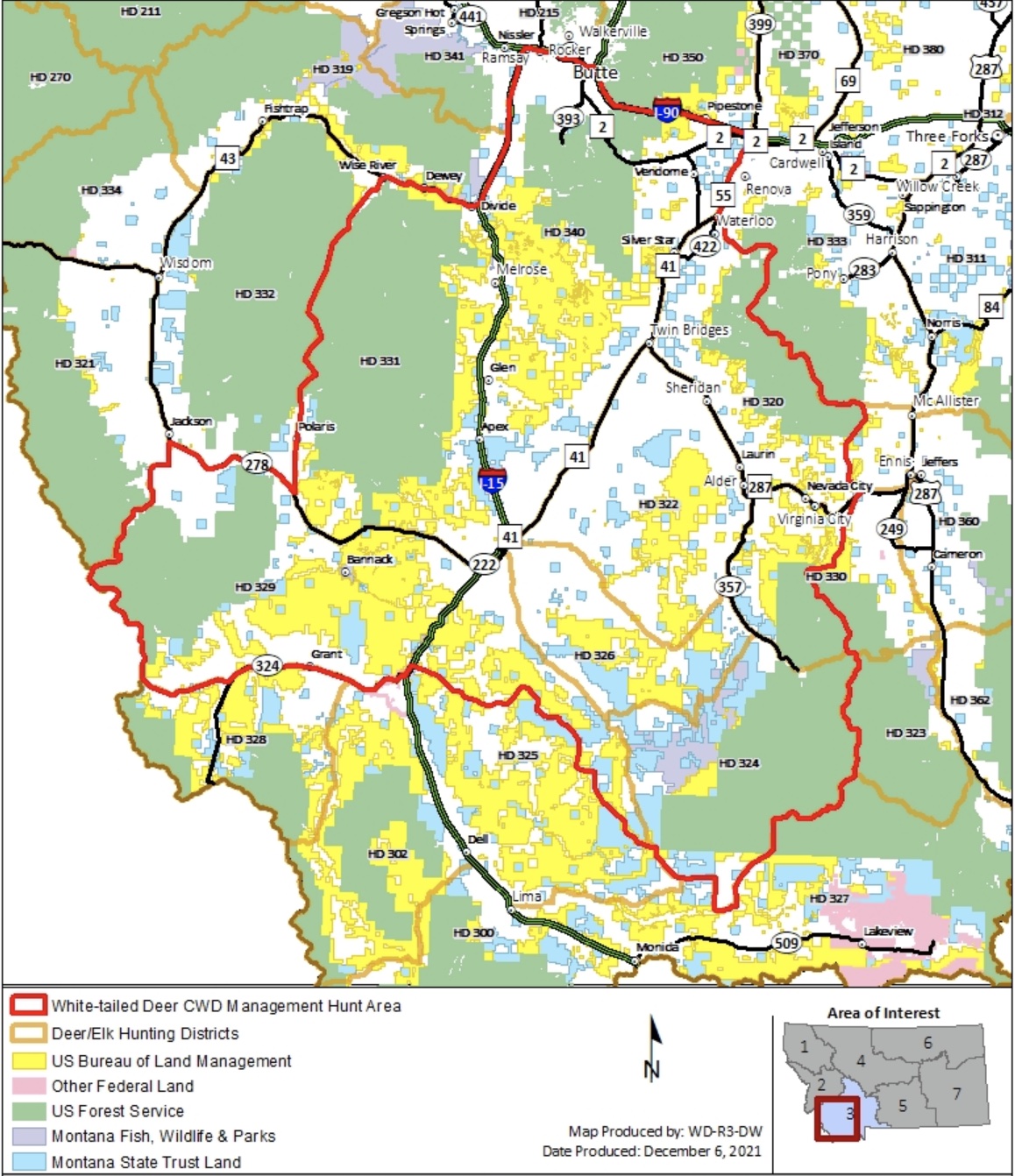 In October, the Idaho Fish and Game Department discovered CWD in two mule deer, near Riggins, on the west side of the state. The department made 1,500 additional licenses available this season to help identify the prevalence and scope of the disease in the state.
The federal government has also taken note of the gravity of the situation.
The US House of Representatives recently passed the Chronic Wasting Disease Research and Management Act, a bipartisan bill that would allocate $70 million annually specifically for CWD research and management through 2028.
"CSF applauds the House for moving quickly to pass the Chronic Wasting Disease Research and Management Act – a thoughtful, bipartisan, and meaningful piece of legislation to combat one of the most pressing wildlife conservation challenges, CWD," said Congressional Sportsmen's Foundation President and CEO Jeff Crane in a release.
CWD is a contagious neurological disease that infects deer, elk, and moose. The disease is 100% fatal, and there is no known cure. Animals may not present symptoms for as long as three years, which makes tracking by observation alone nearly impossible.
FWP encourages hunters who participate in the extended Montana deer season management hunt to submit samples for CWD testing, though it is not mandatory. FWP has provided resources to help hunters collect and submit samples for testing on their own. These resources and more info on the hunt can be found on FWP's website.
Read Next: Idaho to Hold CWD Deer Hunt, Joins 26 States Battling Disease